I love having hardwood floors. We have them in every room, but the kitchen and bathroom, and they are generally very easy to keep clean. Besides vacuuming and mopping the only other maintenance I do is to fix the occasional small scratch. Our house was bank owned before we bought it and besides painting all the walls and putting in a new kitchen, they refinished the hardwood floors. The day we closed on the house they were shiny and perfect, but the day after we moved in they had several large scratches from trying to move big furniture into small spaces.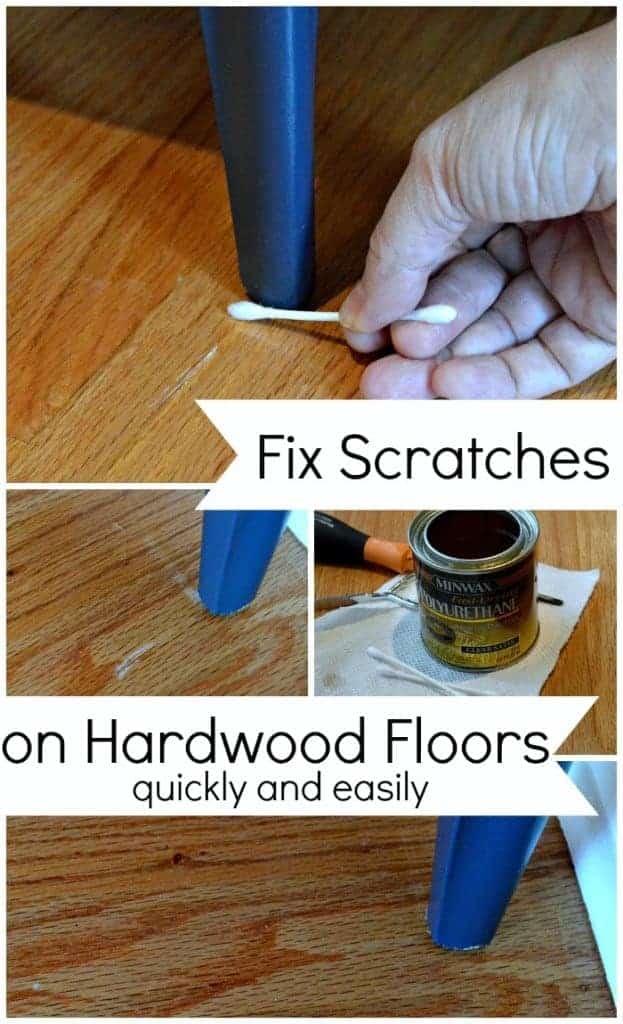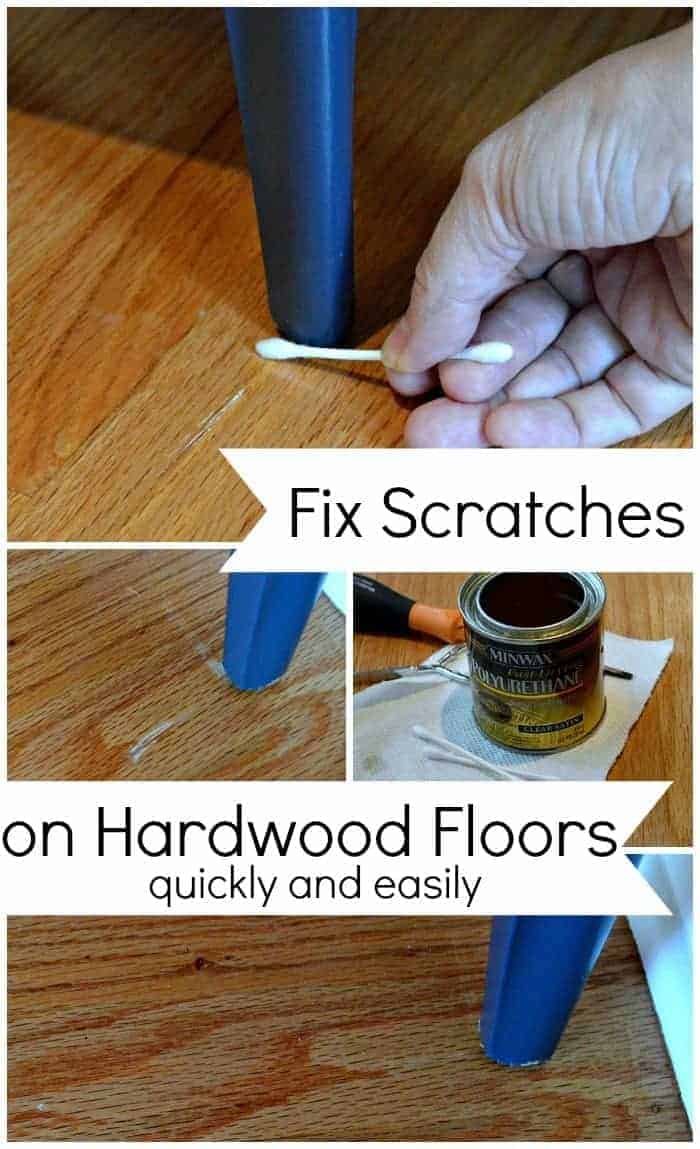 Instead of getting upset (ok, ok…I did get a little upset when it first happened) I used an old trick I've used in my other homes with hardwoods. This tip is for scratches that are generally caused from moving furniture and aren't deep so I have never felt the need to use sand paper.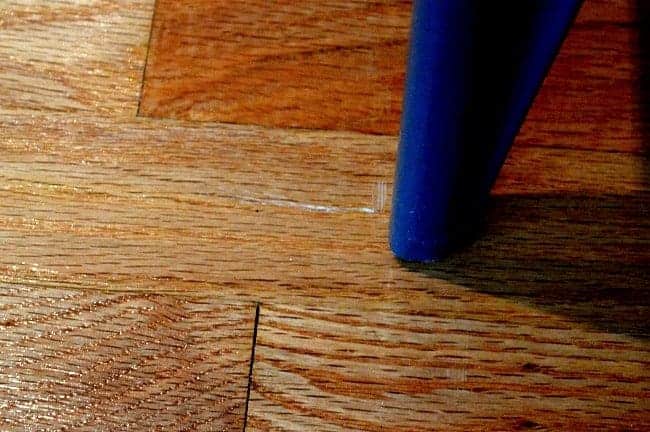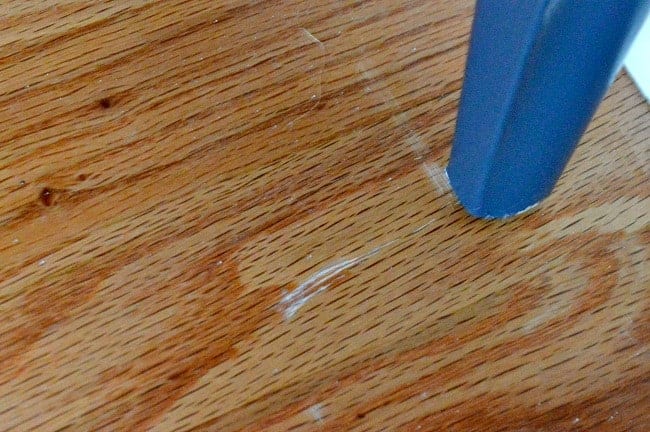 After I make sure the floor is clean and vacuumed I take a cotton swab and dip it into some polyurethane (you will want to make sure that the finish of you poly matches your floor, I'm using clear satin on mine). A little bit goes a long way.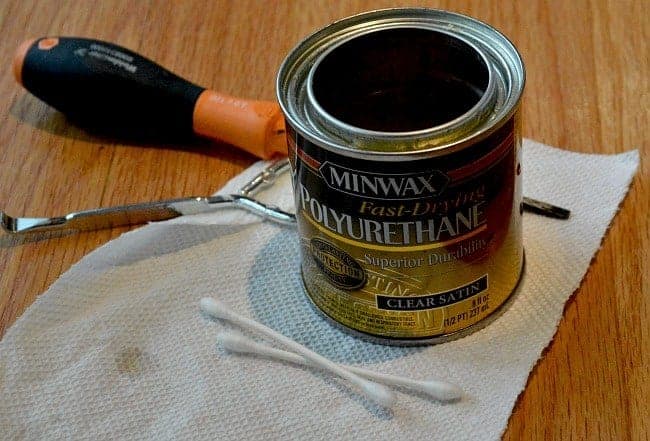 Lightly rub the cotton swab over the scratch until its covered. You want to try to only get poly on the scratch and not rub it all over the surrounding area. Also, be careful to not put too much on the swab or you will be able to tell when it dries.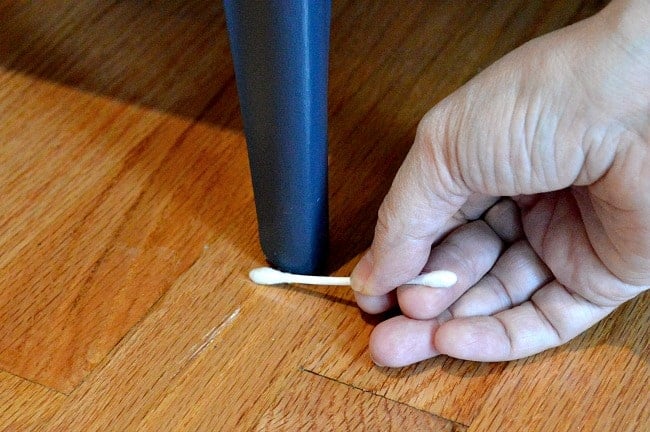 I usually work in small sections at a time and place my little step stool over the spot until it dries. That's it. Scratch be gone!
Remember to protect your beautiful wood floors and put felt pads on the legs of moveable furniture and rubber pads on furniture that you don't want to move.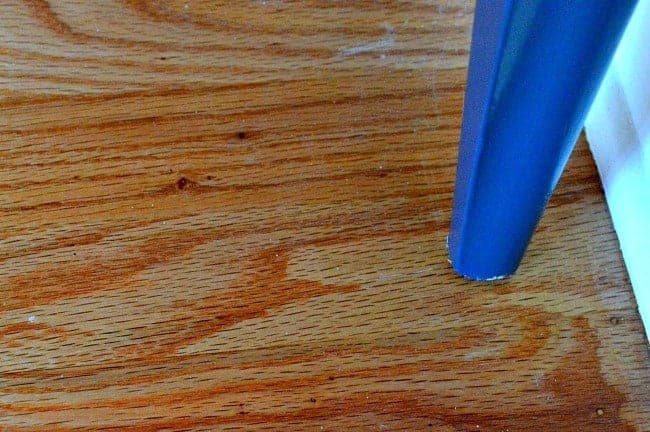 This tip is really good for small scratches that aren't too deep. If you have a large area that needs work, it's probably best to rent a sander and refinish it or call a professional floor refinisher.
Have you ever tried this to fix scratches on a hardwood floor? Do you have any useful tips to fix scratches?
My daughter is visiting from California for a few days so I'll be off spending as much time with her as I can. 🙂 Hope you have a great Labor Day weekend and if you are traveling…safe travels to you.
Check out some of my most popular posts…