I would have never guessed that I would get excited over building a refrigerator cabinet, not when there's a new plank ceiling and red cabinets painted white to admire but I'm here to tell you that I'm giddy with happiness. The Mr. did most of this project, and I think he did a great job giving me exactly what I asked for.
Lets start at the beginning. Our kitchen is small and was built with standards for the 50's. They didn't have the huge behemoth refrigerators you find today so of course the refrigerator space was small. When we bought our house we had to buy a refrigerator and we needed something with specific measurements so we could a). get it in the house and b). fit it in its premade space in the kitchen. We were able to do both but this thing is huge and imposing in such a small space and it extends out past the bedroom door trim. We could have gotten a counter depth fridge and it probably would have fit a little better but they are pretty expensive and we had to buy an a/c unit for the house too.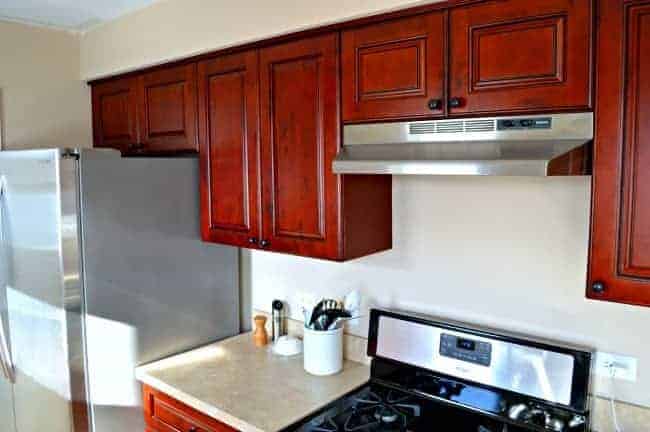 When we were planning this kitchen reno one of the items on my wish list was to build in the fridge to make it look less imposing. There was a cabinet over the fridge but because the fridge is so deep, you can only get into it with a stool and the doors don't open all the way because of the fridge doors. We really went back and forth with this because the hubs didn't think we could fit a cabinet around the monster but we were able to do it.
The first thing we did was to remove the cabinet and knock the ugly soffit down.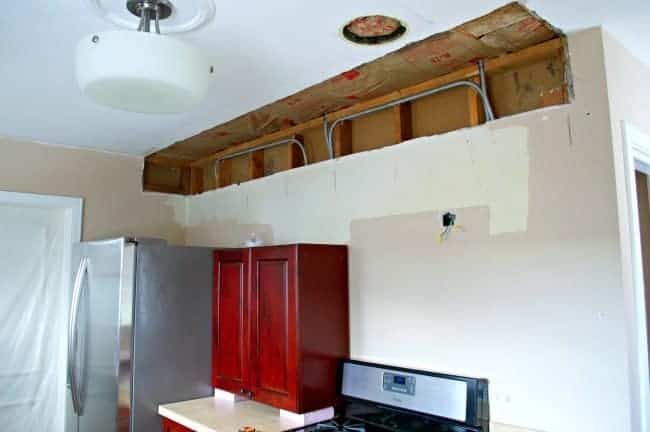 After the soffit was patched up and spackled, we moved the stove and cabinets on this wall down away from the fridge about an inch, which required taking the cabinets out and putting them back in. It was a pain to do but doing this gave us more room to put a wood panel next to the fridge in order to build a cabinet.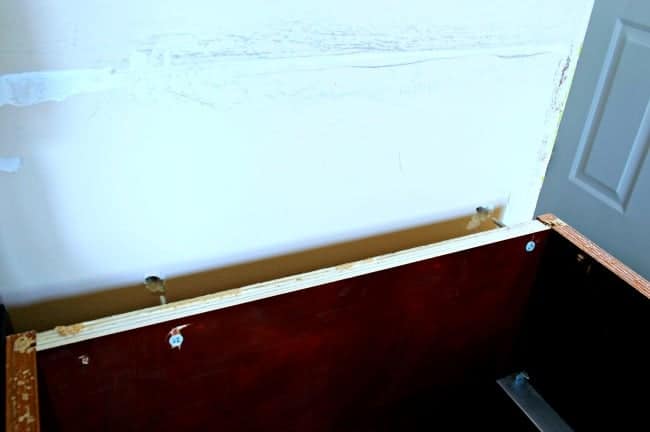 Normally you would build or buy a cabinet and just screw it to the wall and then trim it out. But because our kitchen is so small and the refrigerator so large, it would have been difficult to install a ready-made cabinet by yourself. We have all the tools necessary to build a cabinet in place so Mr. C² decided it was best to just build the cabinet himself right in place.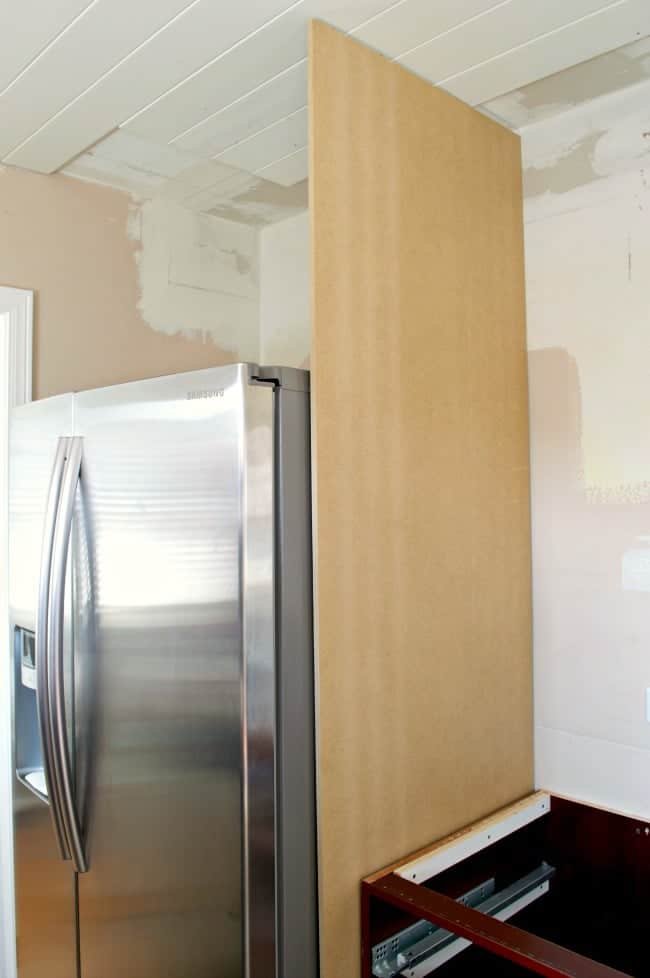 This really wasn't a difficult thing to do. The basic pieces are a wood panel for the side and a box for the cabinet.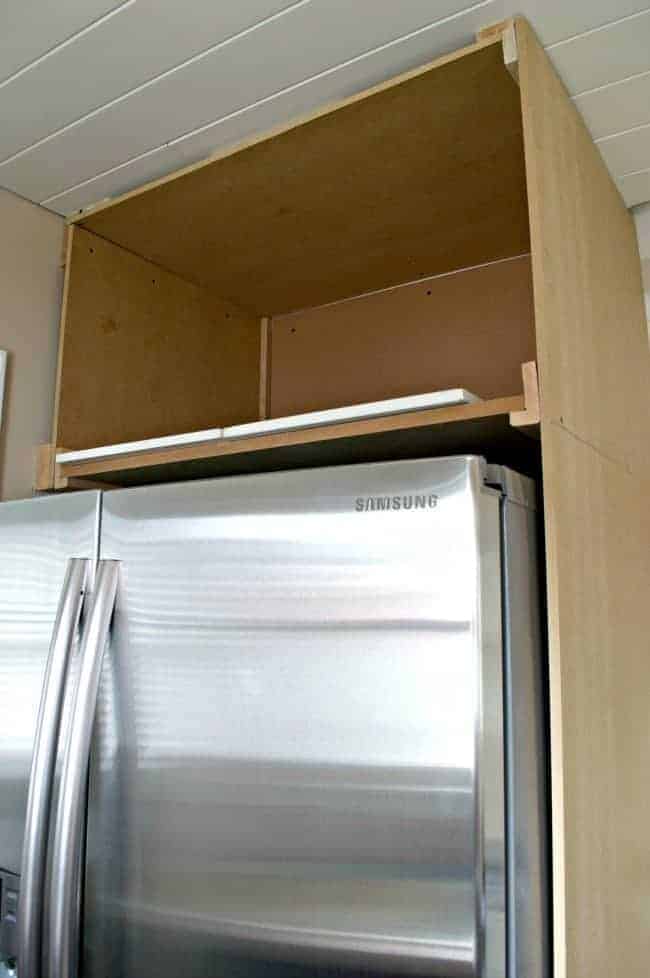 He did say though that the hardest part was constructing the front face frame for the doors we purchased at ReStore. This piece had to be built to exact measurements or the doors (we bought at ReStore) wouldn't fit.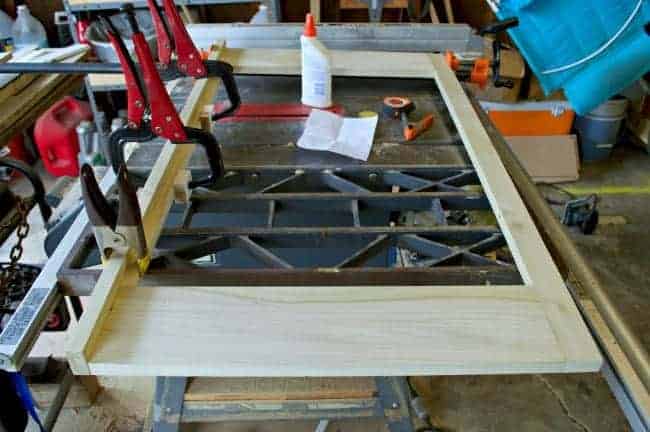 We ended up using the hardware from the cabinet that was previously up here. The doors couldn't be used here because, with the soffit removed, this cabinet is much taller.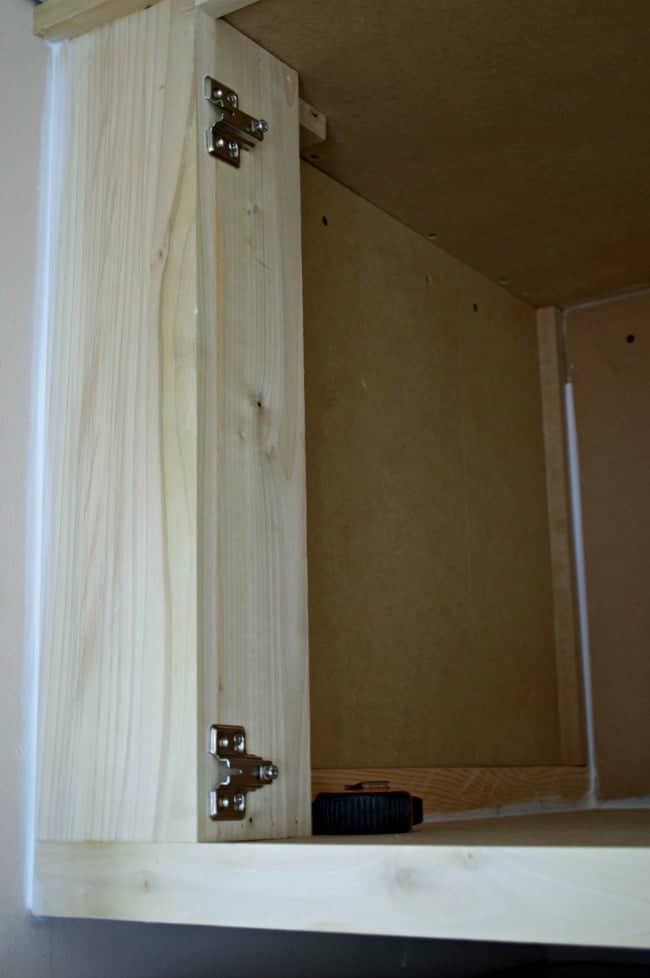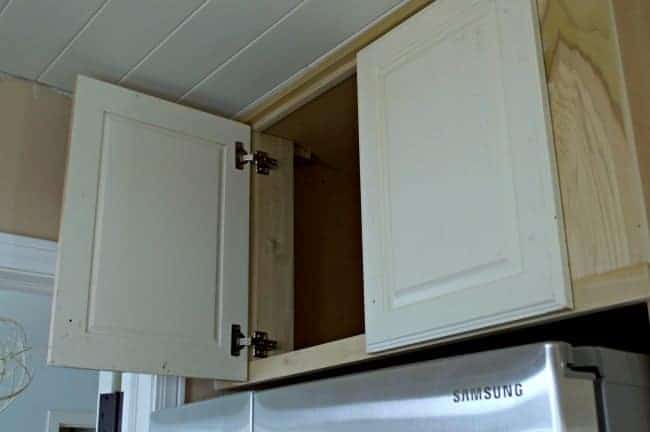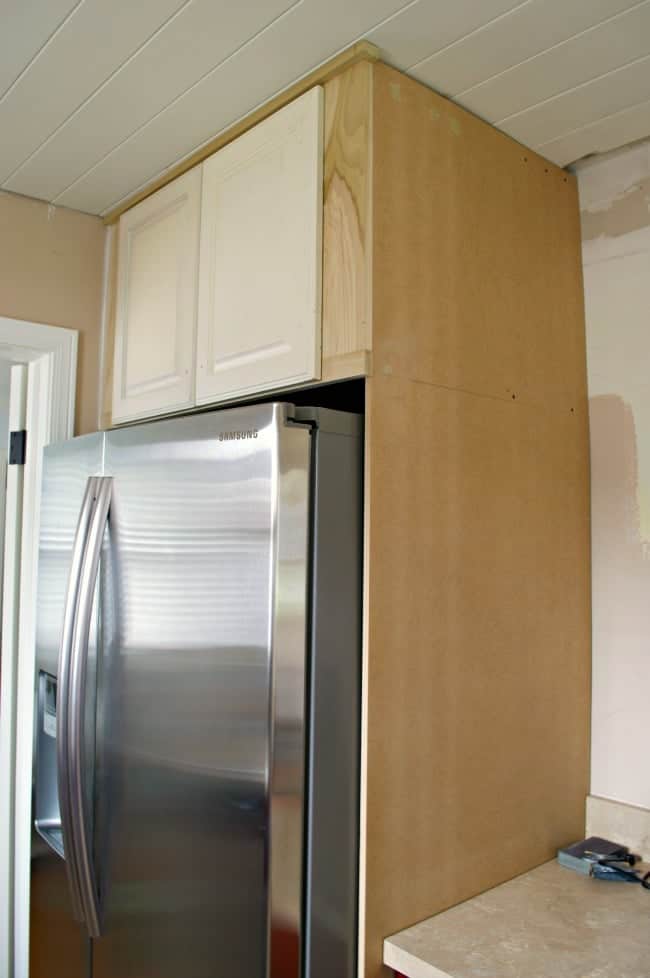 I"m so happy with how this turned out. Not only does it hide the fridge (as much as it can be hidden) but I have some great new storage space that I can actually reach. My Mr. did a great job don't you think? We need to add some trim yet and I've already started patching holes and sanding it to get ready for paint. I can't wait to show you the completed cabinet when it's done and looking not-so-bare.
Next project is the range hood cover. I am traveling with the hubs this week for his job so not much physical work will get done but we'll be able to hash out plans for the design this week.
Hope you have a great week.