When we moved into our house a month ago, there were no window coverings on any of the windows. We are on a corner lot and our front faces a street and the back of the house faces the side of our neighbors' house. There is about 8 feet from our house to theirs and they have a deck on the side of their house that faces the back of our house. Are you following me here? 😉 In other words, we are close, very close, and we can't get away without any window treatment on any of our 15 windows.
I have used bamboo shades before in our other homes and really love the texture that it adds to a room, so I thought I would use them again. The first two rooms we concentrated on where the living/dining room and the master bedroom, since they are our most used rooms. I ordered bamboo shades from Blinds.com and I have had a good experience with them so far, even though we had a little difficulty with the family room blinds, more on that later.
This is the master bedroom windows right after we moved in. Three windows together, in a corner…no other windows. (The paint color in this photo is not a good representation of the pinky beige color it really is ;))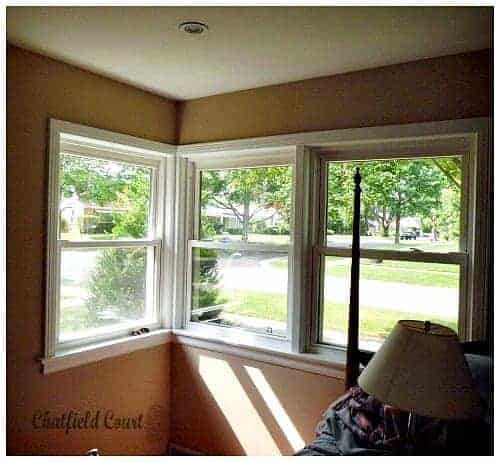 I ordered the shades with an edge binding of dark brown and a blackout liner that is white. You can't see the blackout liner through the blinds from the inside so the white is good. This window gets some sun and I was afraid that if I got a brown liner, the sun would fade the color. The blinds are very nice and well made. They are a little dark, not as dark as in the picture, but they are up during the day so I think I can make them work. That's the hard part about ordering something like this online. Although I did get samples in the mail, they are very small and you don't really know what you are getting until they are delivered.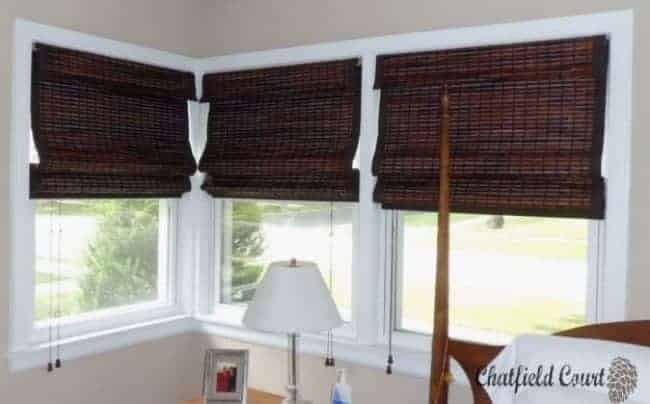 The living room has a huge picture window and faces the road in front of my house, as well as a single window, in the dining area, that faces the side yard.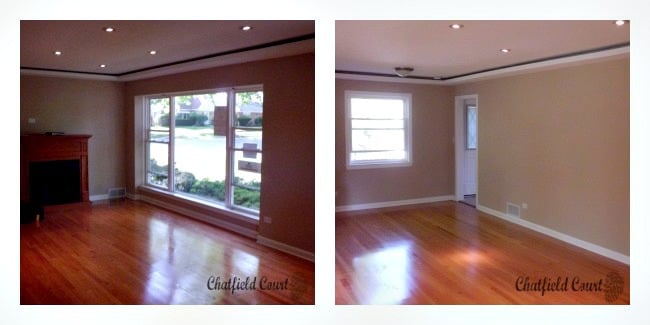 In here, I ordered something different, a little lighter in color, and a different texture. On the big window in the living area, I still got the dark brown edge binding on the shades, but I didn't get a liner attached. We had to order three separate shades for this window because there are three windows and one huge shade would have been too much to put up and down. I ordered them with a continuous loop cord, which is a good idea when you have wide width shades that you put up and down every day, but no liner because they were starting to get expensive and everything you add on costs extra, plus I figured that it was the living room and we didn't need any light blocked out. (Huge mistake)
We put them up and they looked great until nighttime came and the lights came on. We went outside to admire them and you could see everything. It was like there was nothing on the window! Not a good thing when you are trying to relax on your sofa at night in your pjs. I also wasn't crazy about the way they hung in the window. They don't lay straight, they lay at an angle, plus the middle shade, the largest one, is sagging in the middle. I emailed Blinds.com, and they tried to help me figure out why they are hanging the way they are, and after several emails and phone calls over a two week period, they offered to make me three new shades. I need to take the shades in my living room window to a Habitat for Humanity Resale Store and donate them. Once I have a receipt for them and send a copy to Blinds.com, they will make my new shades with a credit from the old shades. The only thing I need to pay for is any additions to the order.
Now the dining area window needed a shade, and I wanted to get something that matched the living area shades. While all of this back and forth was going on with Blinds.com, I ordered the same shade I ordered for the living area. Same dark brown edge binding, but with a liner. I know, I know…you are wondering why I ordered another shade after I was not satisfied with the ones on the large window? Even if you are not wondering 😉 …the reason why is because I ordered it after the first two emails. I just figured that Blinds.com would give me some suggestions about how to "fix" the shades so that they hung a little better, I never thought they would offer to replace them (they kinda told me in the first email that I could reorder if I wanted and get a 25% discount on new ones, and I was not going to do that). I though that I didn't have much choice, and I needed a shade to match since the windows are in the same room, so I ordered the shade, this time with a liner. A week after I ordered it is when they told me they would replace the others (it was too late to stop the order for the new blind). Now I either have to order the same blinds and just get a liner put in the new ones (if I do this though, I will not order them with an edge binding. I think that the binding breaks up the lines of the shades, too distracting), or get something different and try to get a similar color, which is not easy with bamboo. Not too sure yet what I am going to do. I know that I want to be happy with them because they are expensive and I will have them for a long while.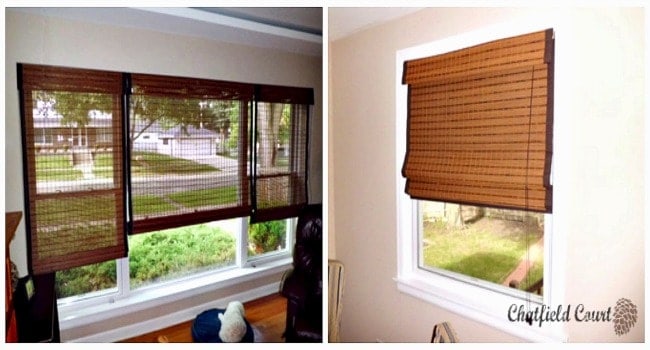 Phew! Thanks for staying with me through this long post…I am happy I got my shades, they were easy to put up, it's was easy to order them and Blinds.com has had good customer service. I think they achieve the look I am going for and they add texture to my rooms.
7 windows down…8 to go!!!