Happy Monday! Hope you had a great weekend. I have been in San Francisco since last Friday visiting my youngest daughter. Unfortunately, I ended up breaking my foot, after being there for only 1 hour, and have a lovely big, black boot as a souvenir, that I get to enjoy for 6 or so weeks.
Anyhoo, on to Christmas decorations. So the title says Christmas House Tour 2013, but really it's mainly the living room/dining/entry that's decorated. I've decorated a little in the kitchen and a couple of things in the bathroom, but not as much as I would have liked to have done (because almost all of the rooms are still ripped apart while we continue our redo that we started when we moved in in July). I usually keep things pretty simple and traditional anyway, and I bought a few things, but most everything is stuff that I've had for years. I also bought some fresh greens to decorate with, love using natural materials, and used touches of red here and there.
Welcome to our new home dressed for the holidays.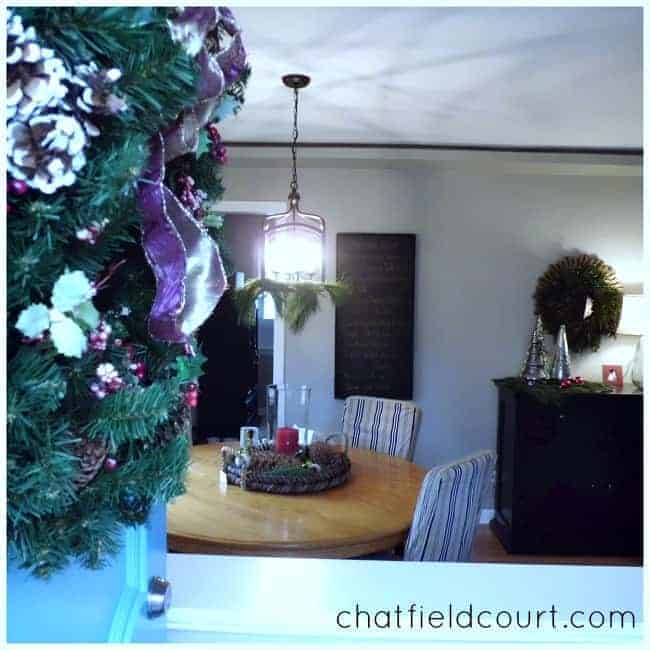 This is my newly painted living/dining/entry room. In the dining area, I just hung a fresh boxwood wreath on the mirror and put some fresh pine greens around my mercury glass Christmas trees. My, made by me lamp, rounds out my black buffet cabinet.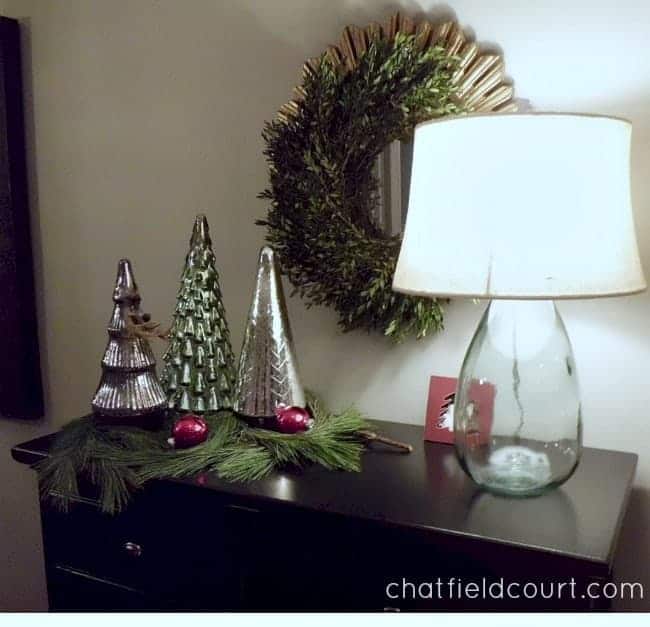 I dressed up my couch with a some new plaid pillow covers and my fun lumbar pillow cover that I got at Pottery Barn last year.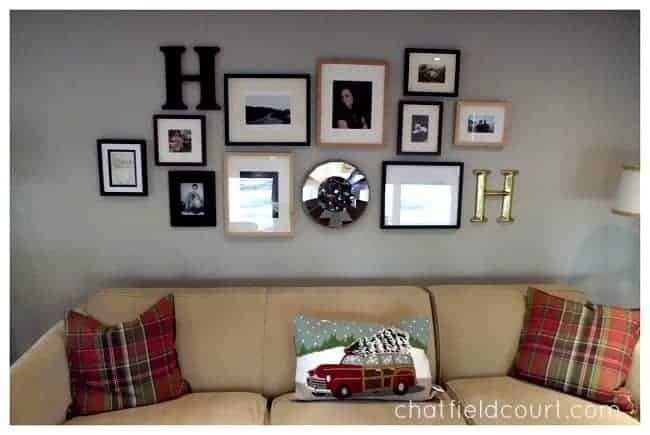 I just used some of my leftover greens in my new (dining area) lantern.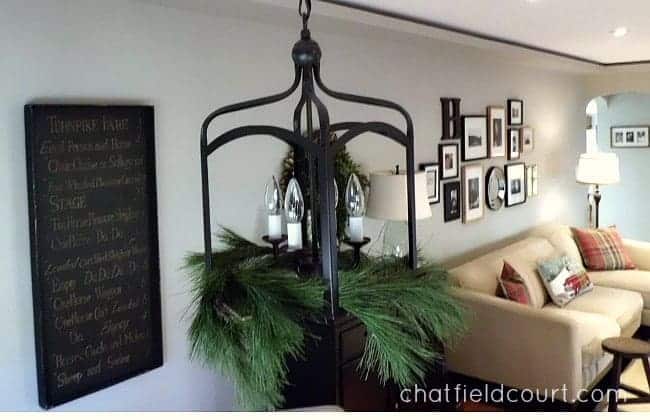 We ended up putting our tree, which is artificial, in front of the picture window, one year we found out the hard way that I'm allergic to real trees (boo) and yes, the greens I use do bother me some, but not as much as a tree. I just decorate it with all of the different ornaments that my girls got when they were growing up, things that hold special meaning for us all. We love to look at the pictured ornaments and see all the changes they went through from year to year. Someday, they will take them to their own homes for their trees, but for right now they are still with me. 🙂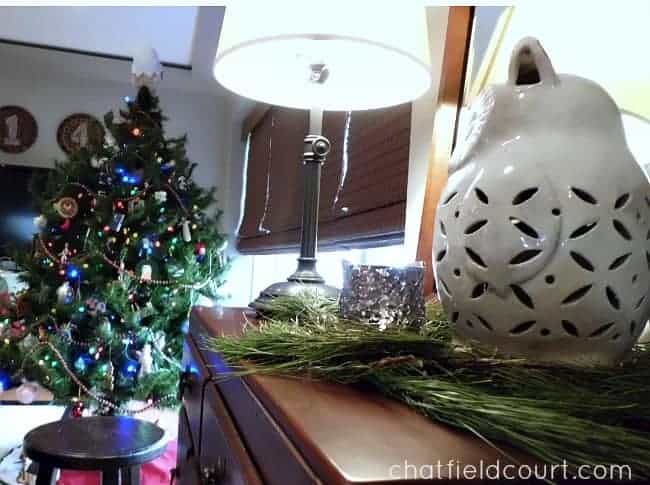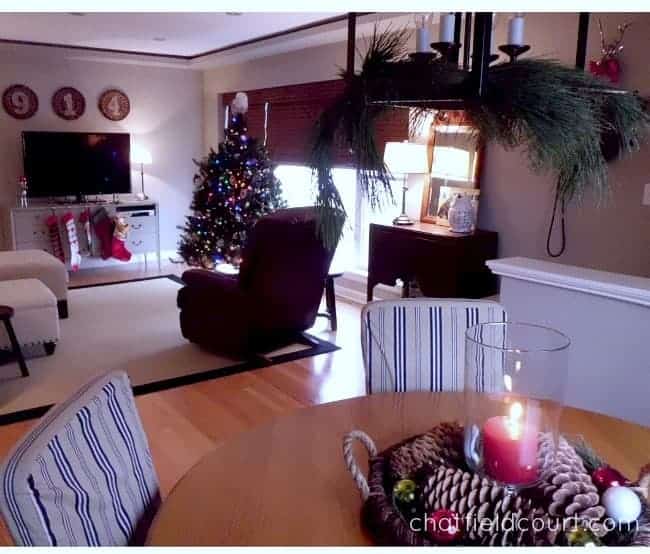 We don't have a mantel, so I had to find a spot for our stockings. I'm not sure they will be there next year, but it's good for this year.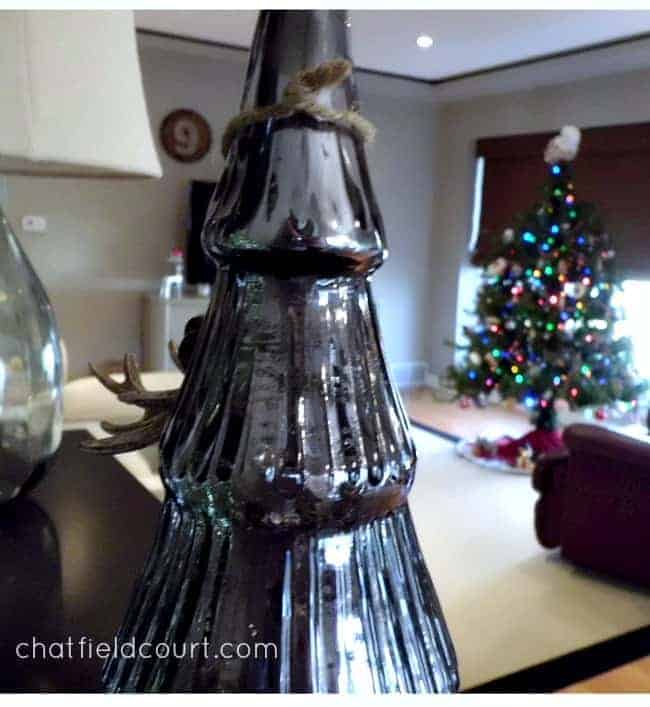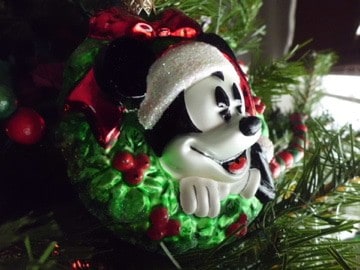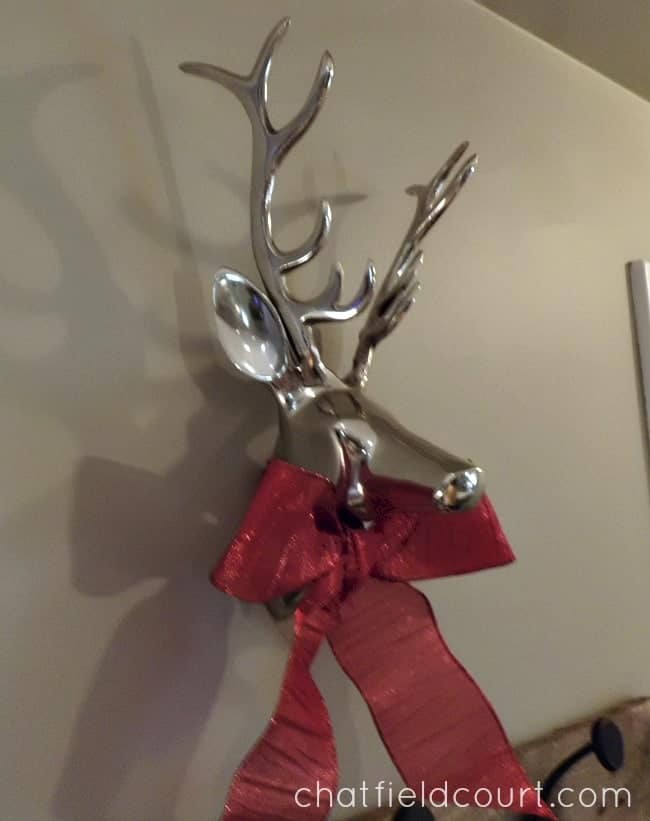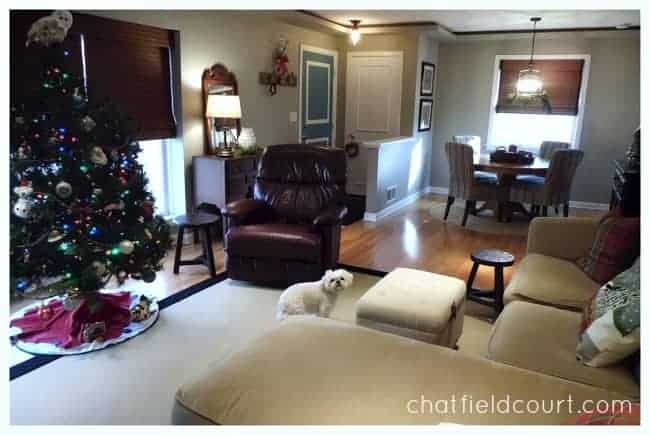 This was my first attempt at chalkboard art (?), which is on the door that you use to go to the basement. I used some inspiration from Pinterest and although I'm no artist, it was so fun to do!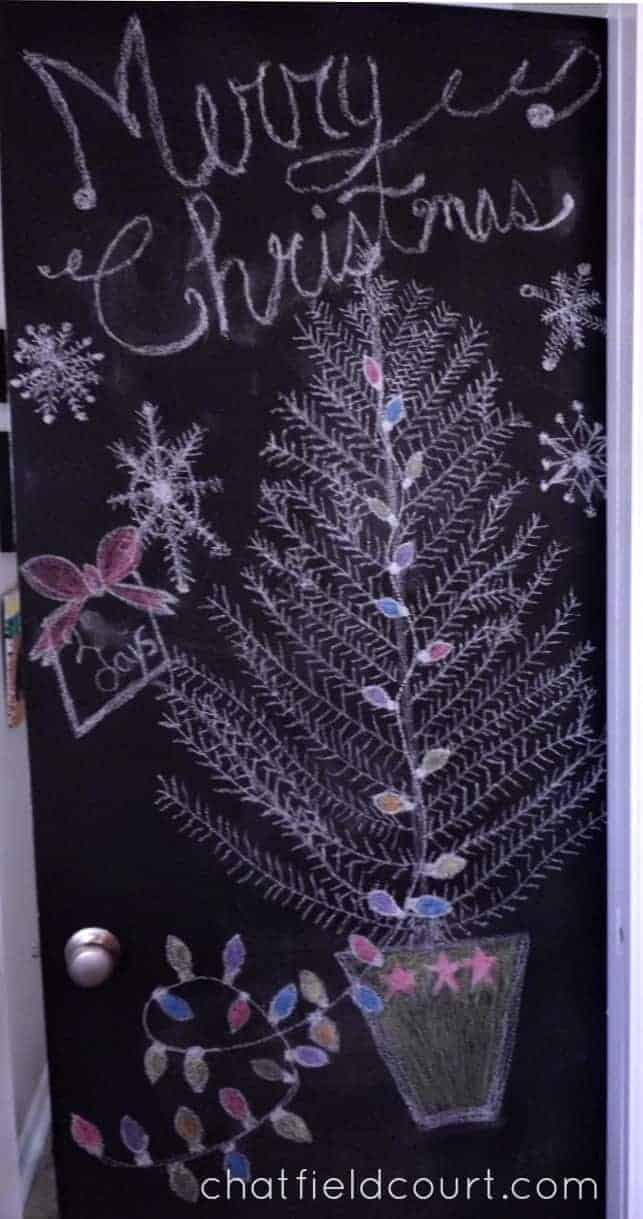 Here is our little helper. This is Finn's second Christmas and he doesn't know what to make of the tree. He just sits there and stares at it or tries to squeeze under it and lay on the skirt.
Like I said, simple with some fresh greens spread around. Enough to make it look festive without being too much (for me anyway).
I'm so glad you could come to visit!