Decorating a Long Narrow Living Room
This post may contain affiliate links, please see our policy for details.
Decorating a long, narrow living room to create a cozy lounging spot for family and friends.
There are many tough design challenges when you move into a new home. For most of us, one of the biggest challenges is trying to fit our current furniture into certain rooms.
We definitely faced those challenges in every space in the new house but our long, narrow living room was especially difficult.
At just 10 feet wide by 18 feet long, it's not a particularly large room. Add on a wall with a fireplace, a wall of bookshelves, a back door, a step up into the kitchen and an iron railing instead of a wall, and you have the mother of design challenges.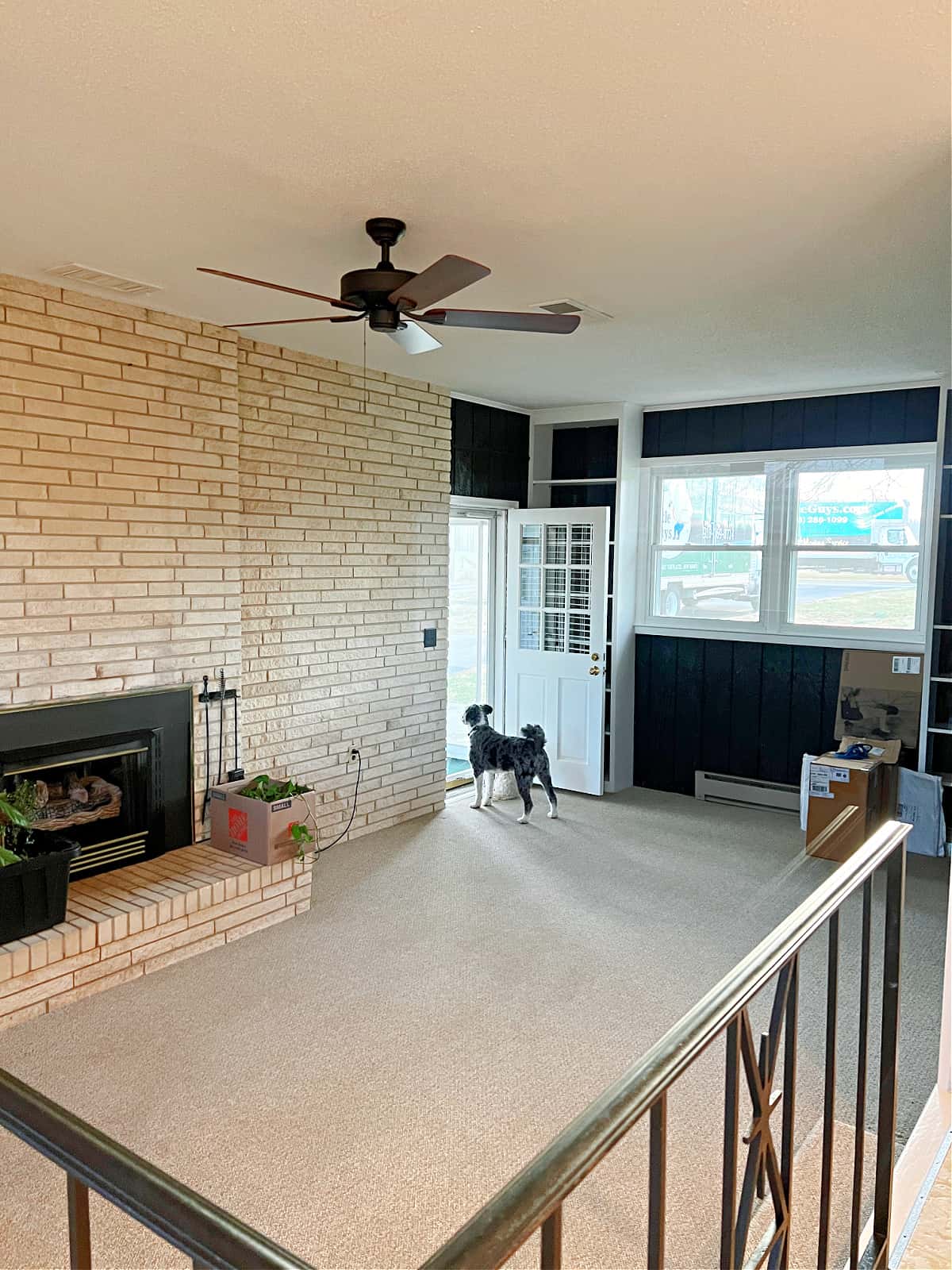 So not only is it long and narrow, but we don't have any full walls to place furniture.
This room caused more than a few sleepless nights for me but I think I figured out a way to make it a cozy spot where we can relax.
How do you layout a narrow room?
The very first thing I did, before we even moved in was to find a free online room design software to layout the space with our existing furniture.
I measured the space, including the bookcases, the back door and the step up into the kitchen, and measured the furniture that I thought I wanted to use.
What I found out was that it really was a small space and fitting everything in that I wanted was going to be difficult.
So I scrapped the first plan and started a list with just the necessities.
Must Haves for a Small Long and Narrow Living Room
We would be watching tv in this space so that was a must.
A couch for me was also a must, plus a chair for Roger.
Making a list with our must-haves made this seem a bit more doable.
With the necessities figured out, I went back to my online layout.
The biggest piece that we needed to fit was my sofa. Since we only had one wall that could handle it, it made sense to put it there.
Another necessity, the TV, would either go over the fireplace or next to it on the small wall. Since the fireplace is solid stone, hanging it wouldn't be easy, so I decided to put it on a cabinet.
The last piece to place was Roger's chair. In a perfect world his chair would be next to the sofa, or across from it, for optimal TV viewing.
The sofa took most of the space, and we needed to keep the walkway clear from the back door to the kitchen, so the chair had to go in the far corner of the living room.
Not ideal but we didn't have much of a choice.
With all of the furniture in place, on the online design layout at least, I had to wait until we moved in to see how it all really worked.
How to Decorate a Long Living Room
Paint a lighter color to open up the space
Paint all trim a bright white
Remove rug and install hardwood flooring
Lay an area rug (this is the one I chose)
Move in furniture
Add lighting
Bring in decor, pillows and plants
Once we had the keys and moved in the real work started. I had big plans for this space even before we placed any furniture.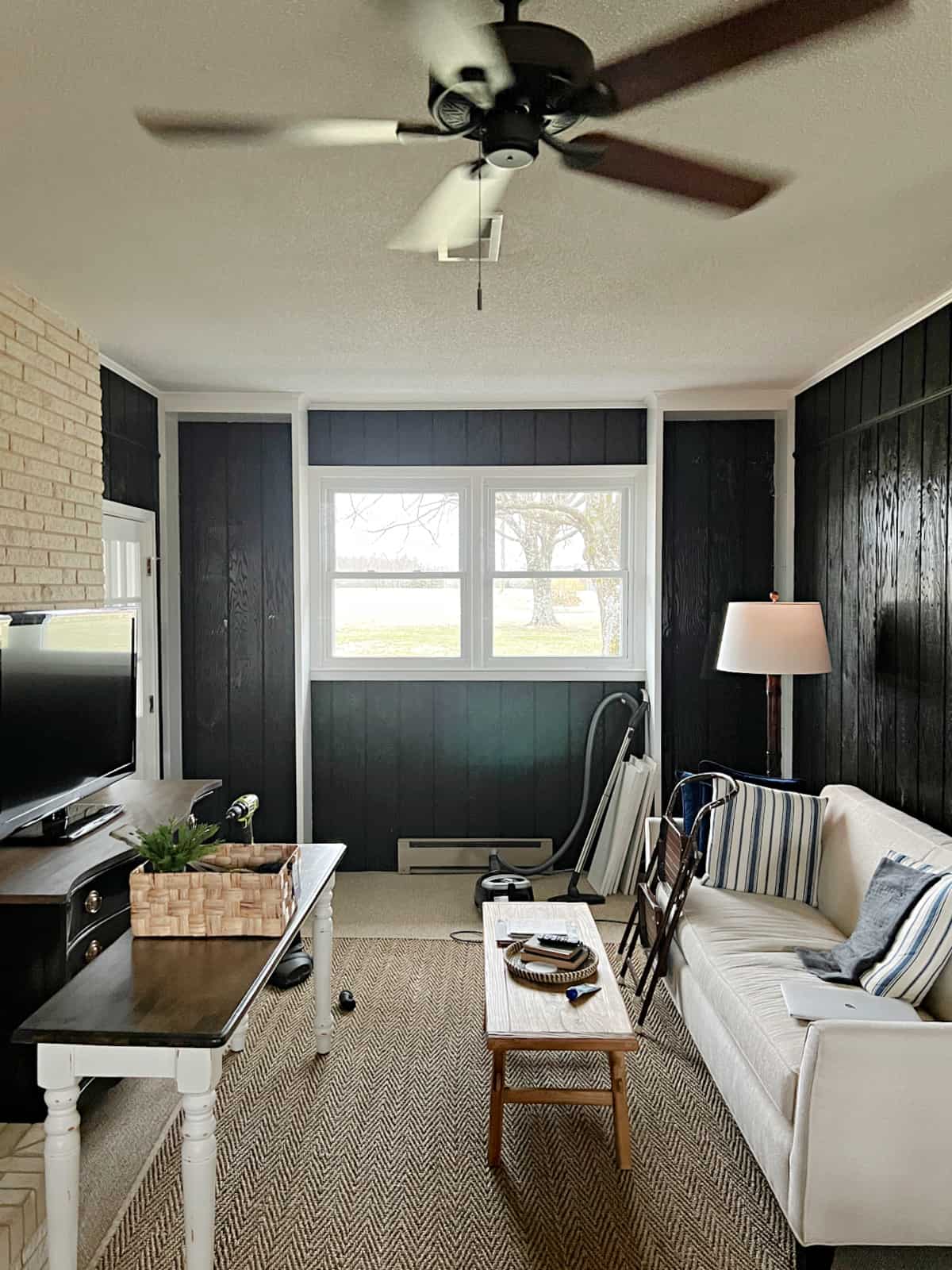 The paneled walls were stained black. I'm certainly not opposed to a moody black accent wall but I wanted to open up this space and keep it light.
To do that, I caulked and primed all the walls and painted them with several coats of Benjamin Moore Halo.
Such a big difference, right? That's the power of paint!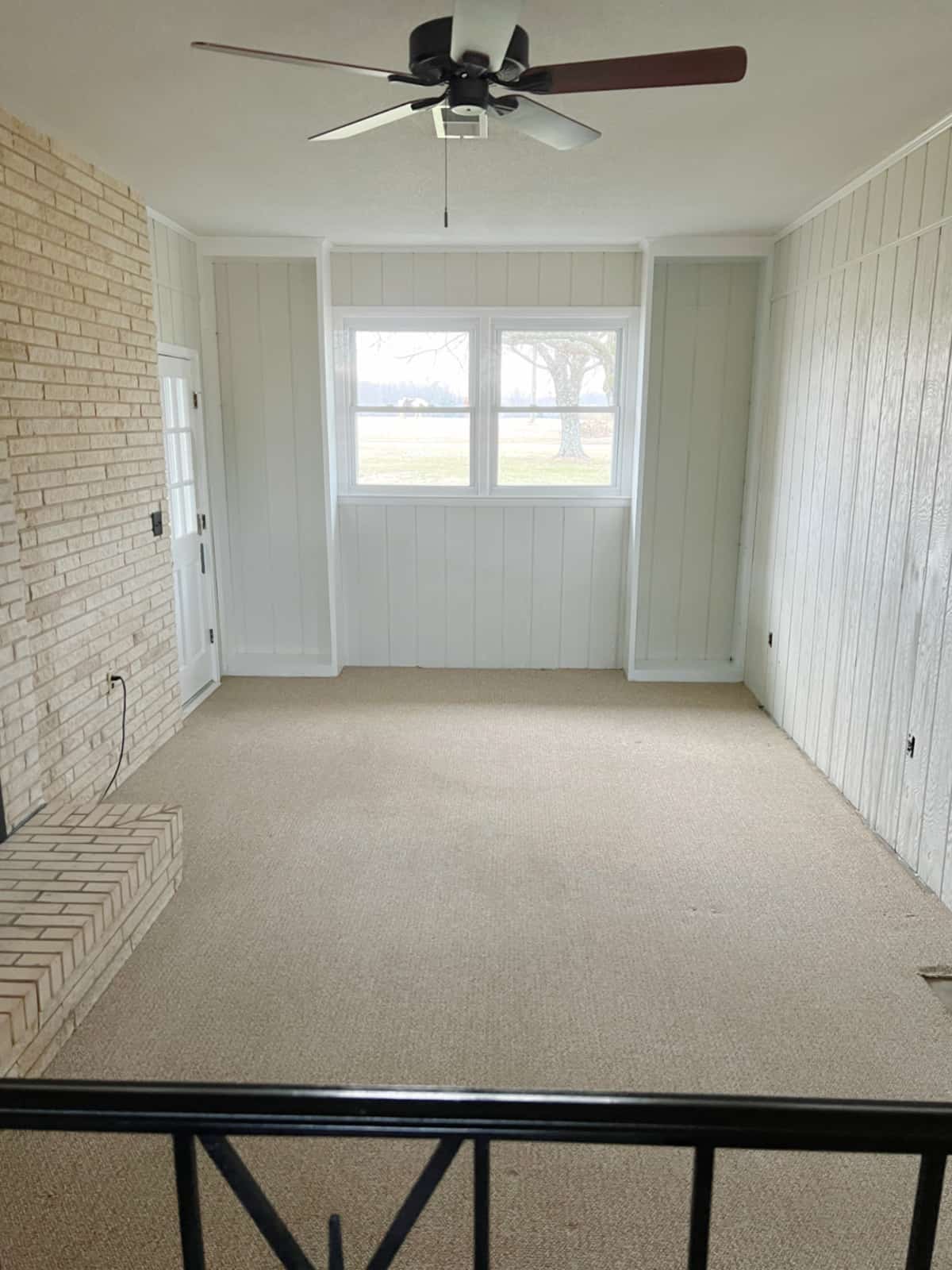 I also primed and painted all the trim and the bookcases in a bright white, and painted the back door in BM Revere Pewter (my new fave color).
About the bookcases…I did consider removing them when we moved in but doing so would have destroyed the paneling and trim on that wall, creating a monster of a project, so we decided to keep them.
A couple coats of fresh paint and a little reconfiguring of the shelves greatly helped to change my mind about them.
Once everything was painted we had someone come in and pull the carpet and install hardwoods. We would usually do something like this ourselves but with Roger still recovering from back surgery, and me with my own back injury, we decided to hire out this time.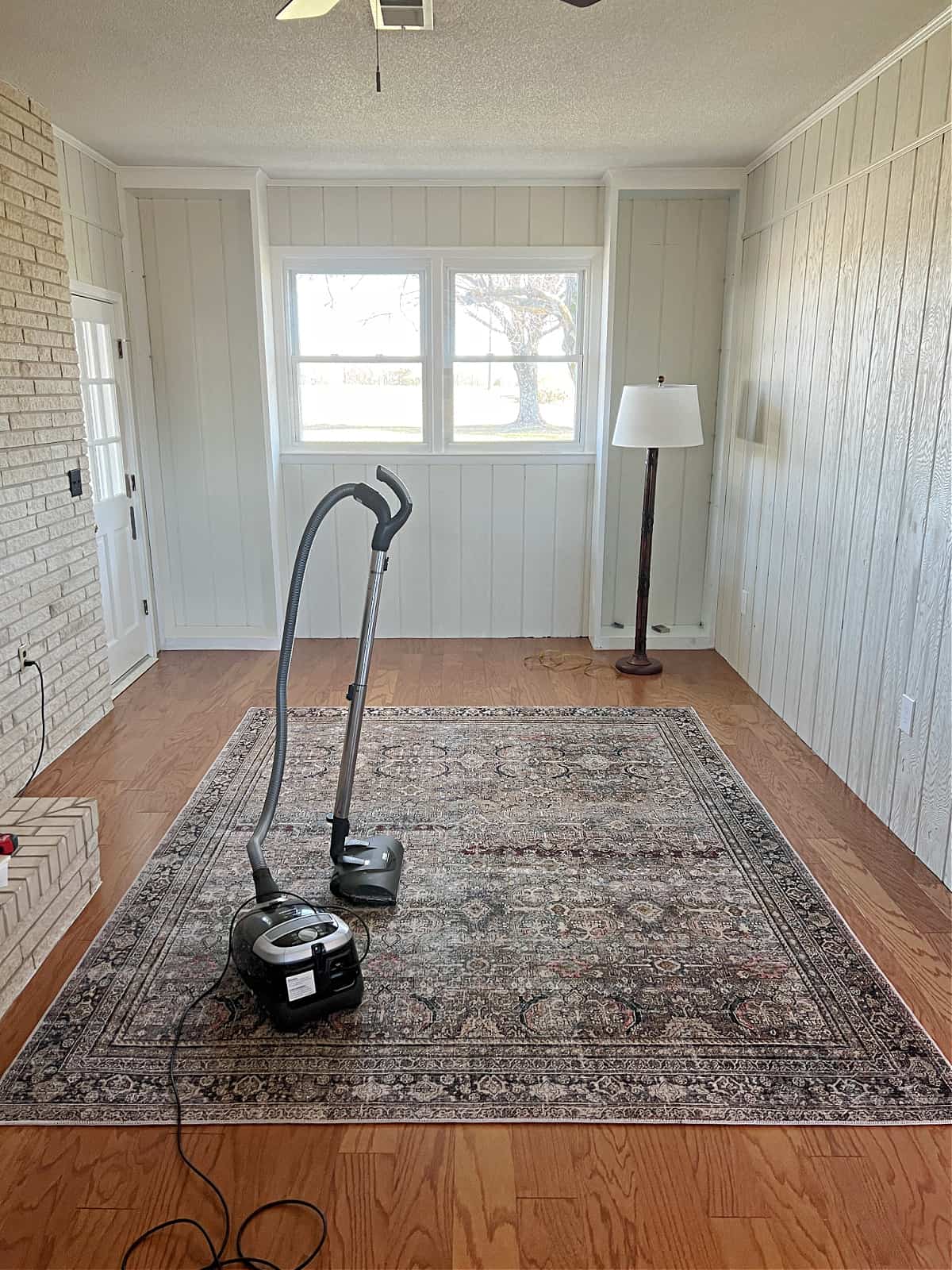 How do I furnish a long narrow living room?
Furnishing a long narrow living room does have its challenges. Especially if you have a narrow living room with two entrances.
1. Lay an Area Rug
The first step in furnishing the living room, and our first challenge, was the area rug.
Ideally I wanted a rug that would be an anchor for the furniture. The problem was that if I wanted to get something long enough, it would be too wide.
I wasn't willing to spend hundreds on a custom size rug so I picked a rug that fit the space the best. Maybe someday I'll get something more custom, but I really want to live in the space for a while before committing to that kind of expense.
2. Move in Furniture
The next step was to move the furniture in place. The first pieces in were our 3 necessities…a TV, sofa and a chair.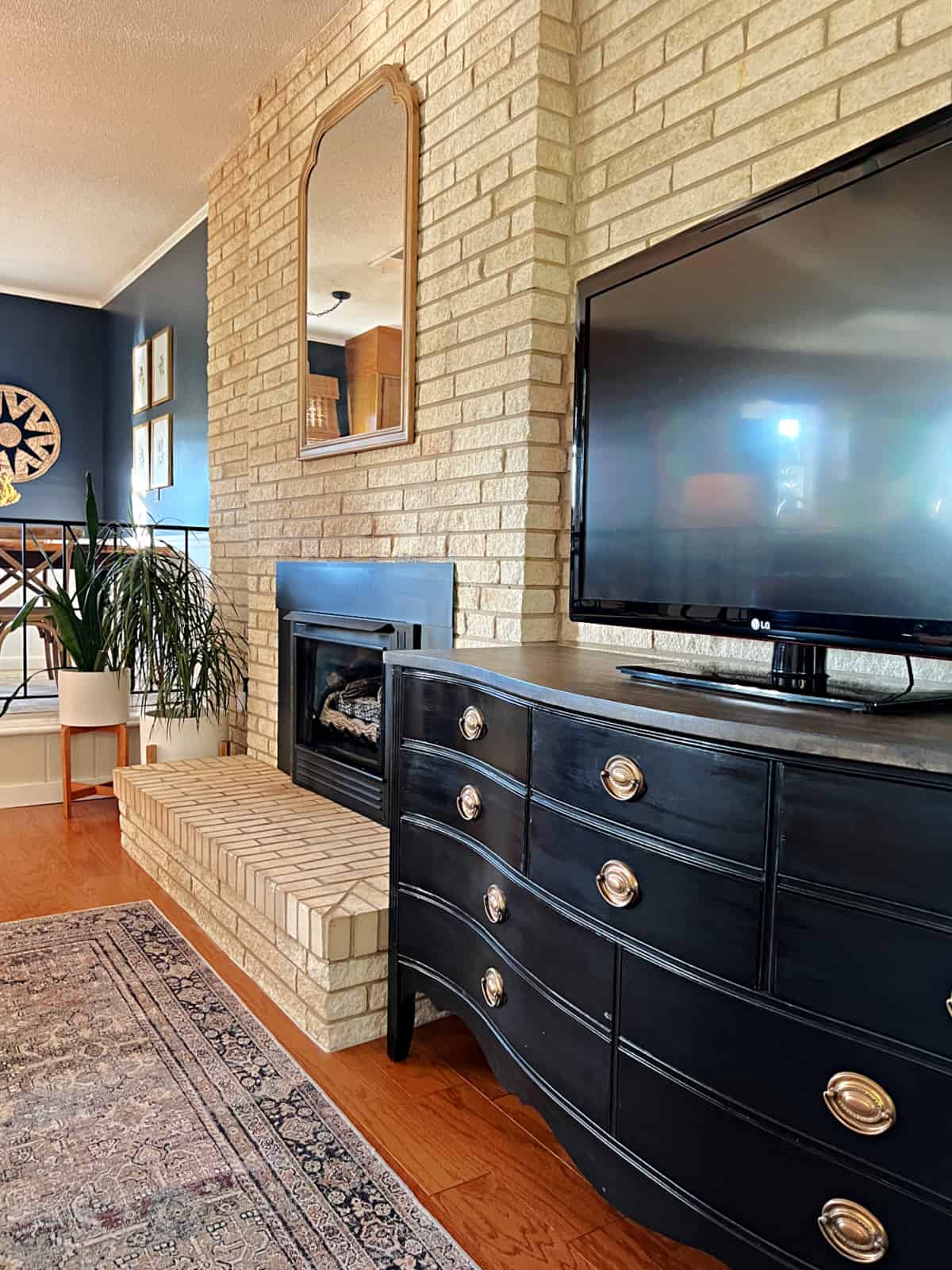 I found a pretty vintage dresser for the TV on FB Marketplace and it fit in the little nook next to the newly reworked fireplace perfectly. An added bonus for our small space…storage!
Next, the sofa was placed on our only long wall.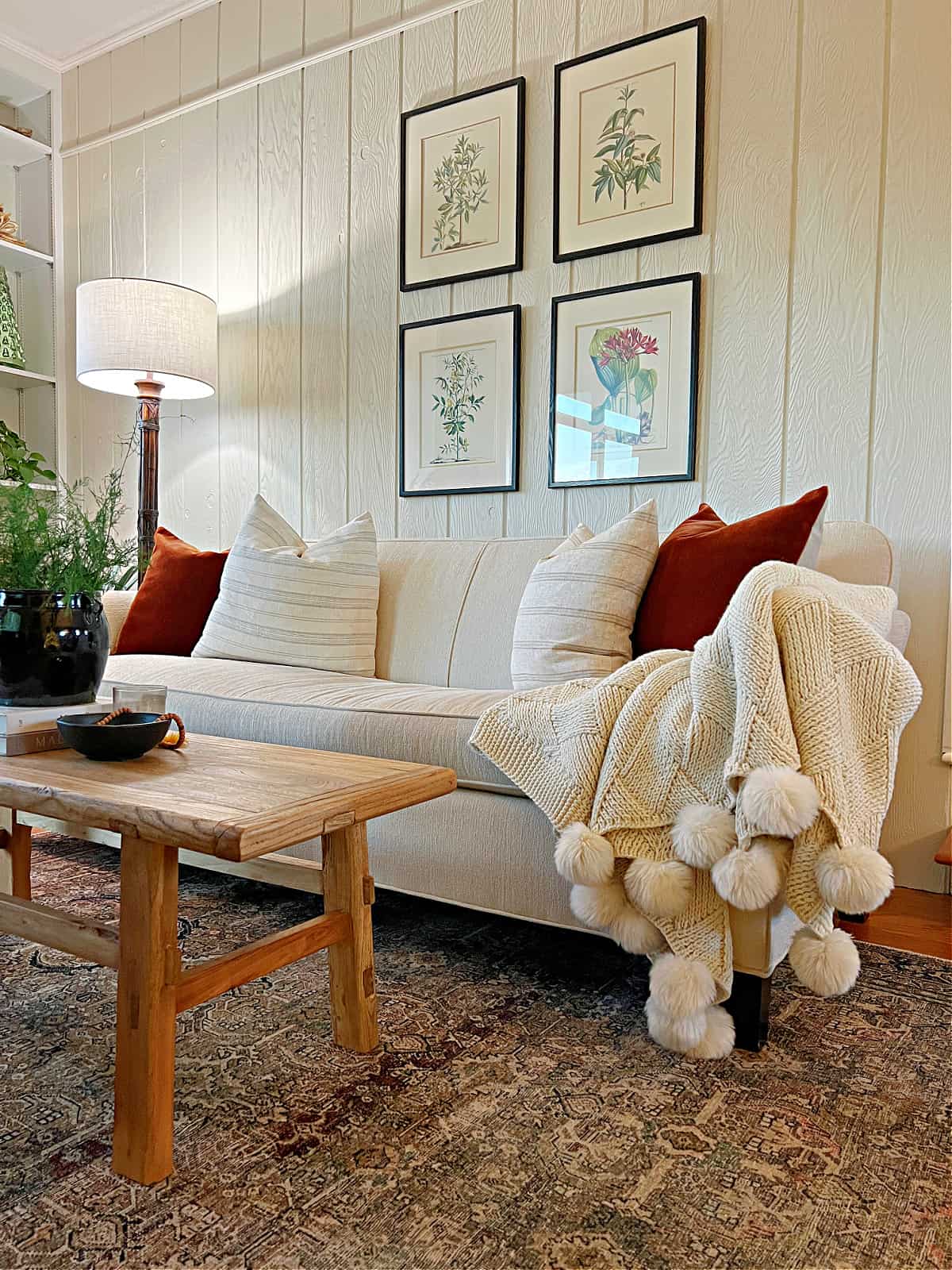 Luckily the sofa that I had reupholstered was small enough that it fit the space perfectly.
Next was Roger's chair.
I placed it on the other side of the step up to the kitchen, leaving plenty of room to walk through the room when we come home, since we use the back door as our main entrance.
I found a gorgeous PB leather recliner on FB Marketplace for a steal (are you spotting a trend here?), and it fits the corner well, even with the footrest up.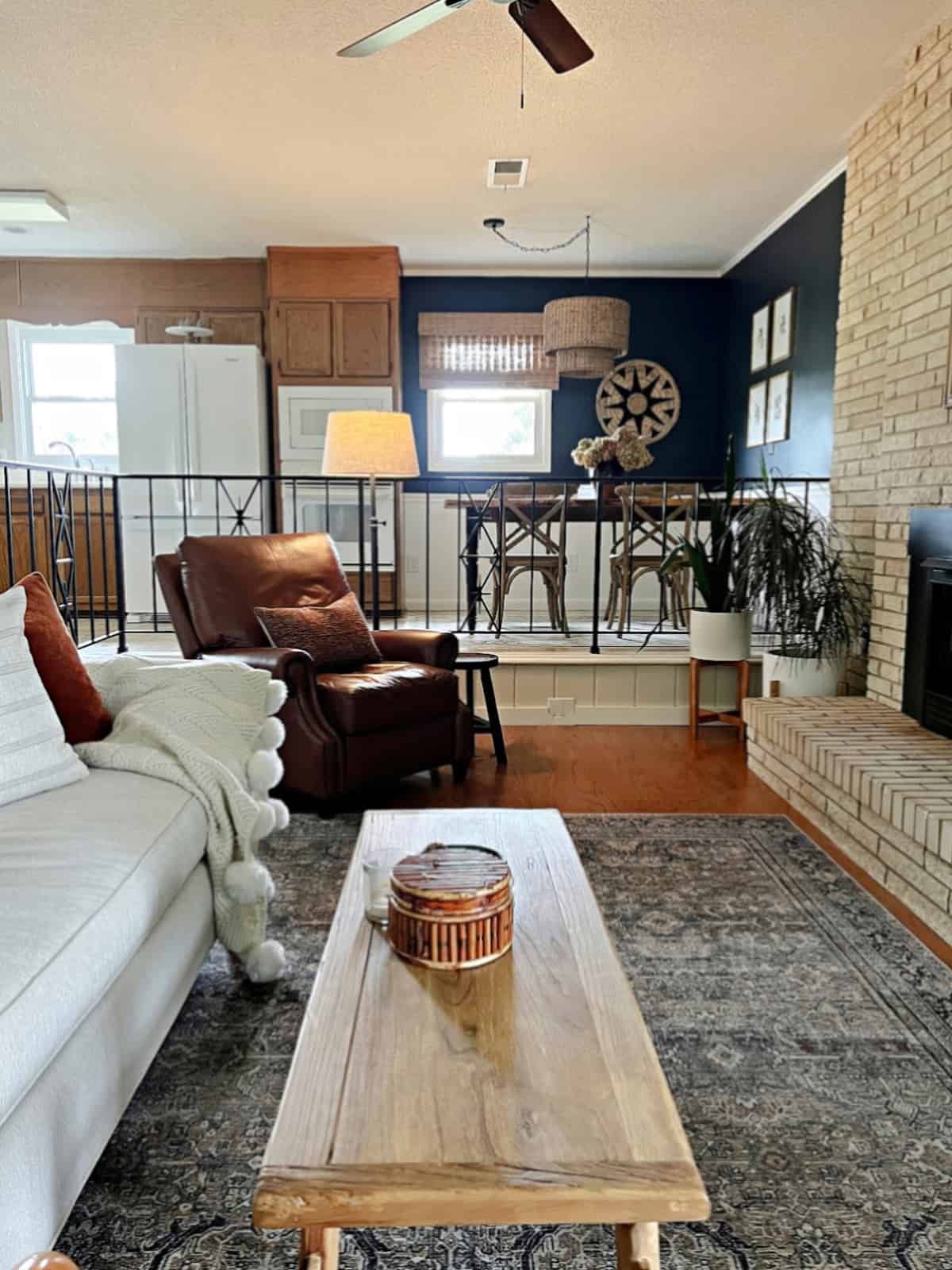 With all of our must-have pieces in place it was time to add lighting.
There is no overhead lighting in this space so I placed floor lamps next to Roger's chair and next to the sofa. I also added a table lamp on a console that I placed between the bookcases.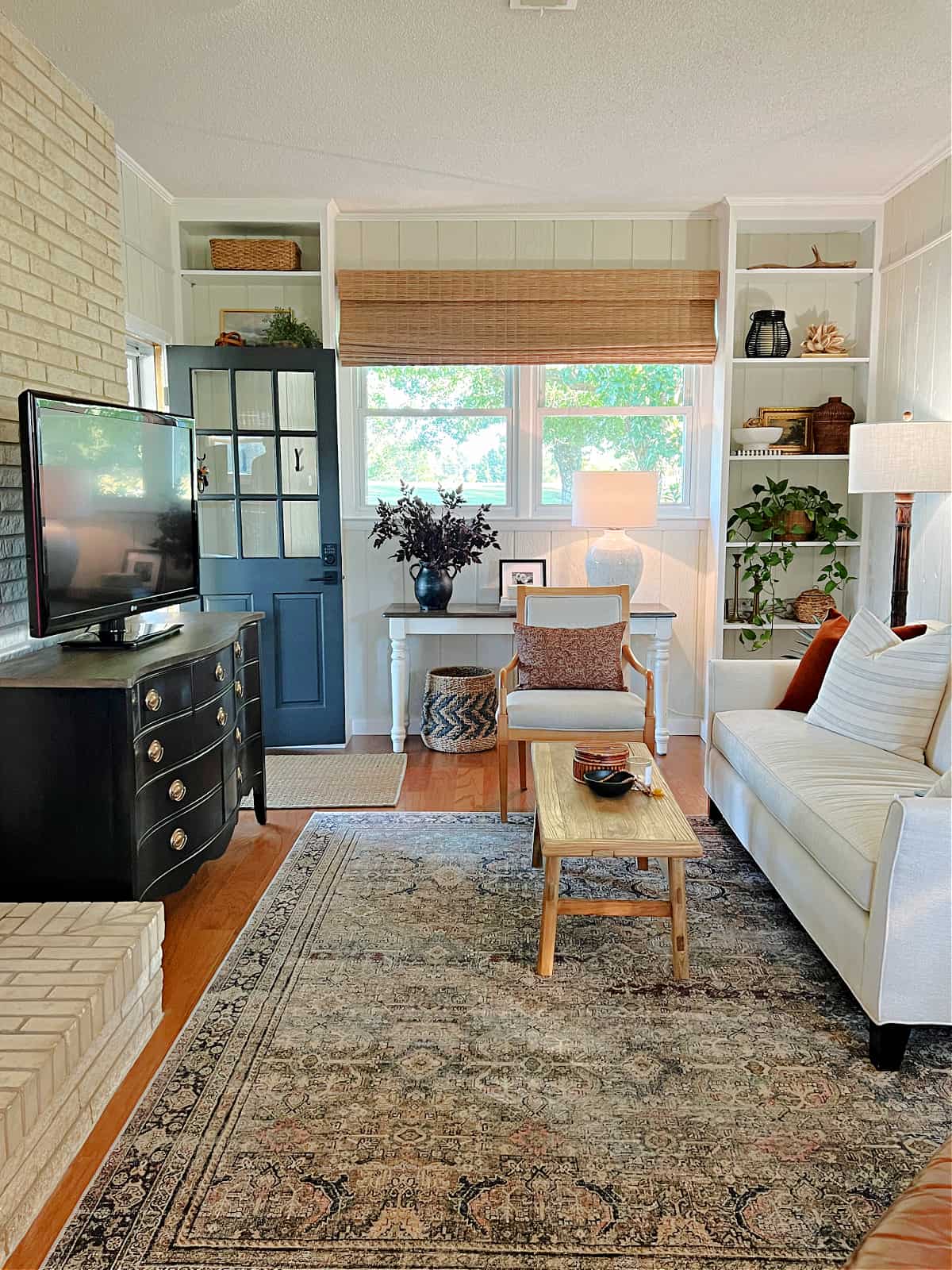 How do you make a cozy narrow room?
It's all in the details. For me that means layers and textures.
A woven shade on the front window, baskets in different shapes and colors in the bookcases, greenery (faux and real) scattered around the room, and lots of cozy pillows.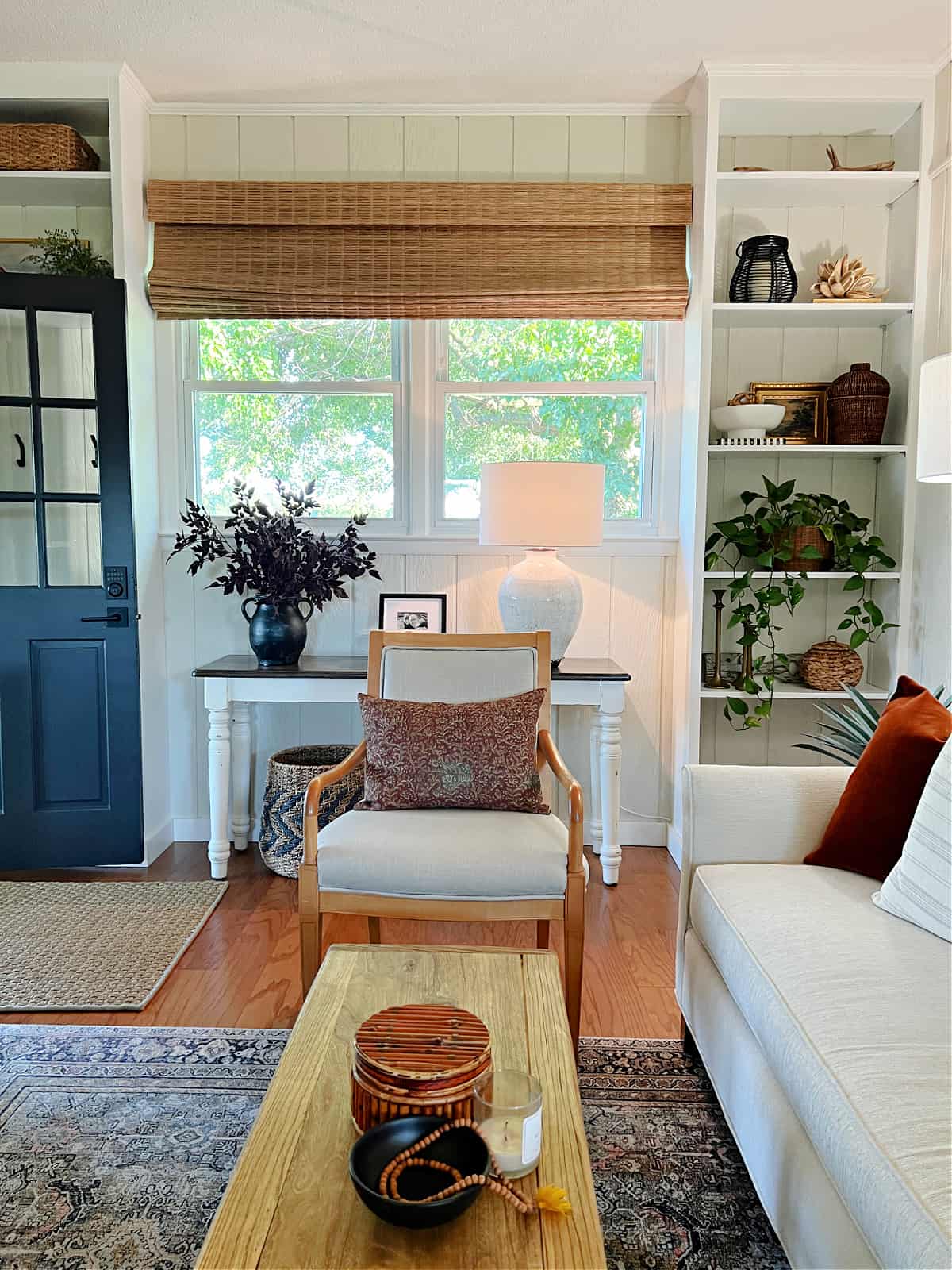 This long and narrow living room has been the most challenging space I've ever decorated but I'm really happy with the way it's coming together.
It's totally different than I imagined it would be when we first moved in, but everything worked out for the best. It's cozy and comfortable and the perfect hang-out space to relax.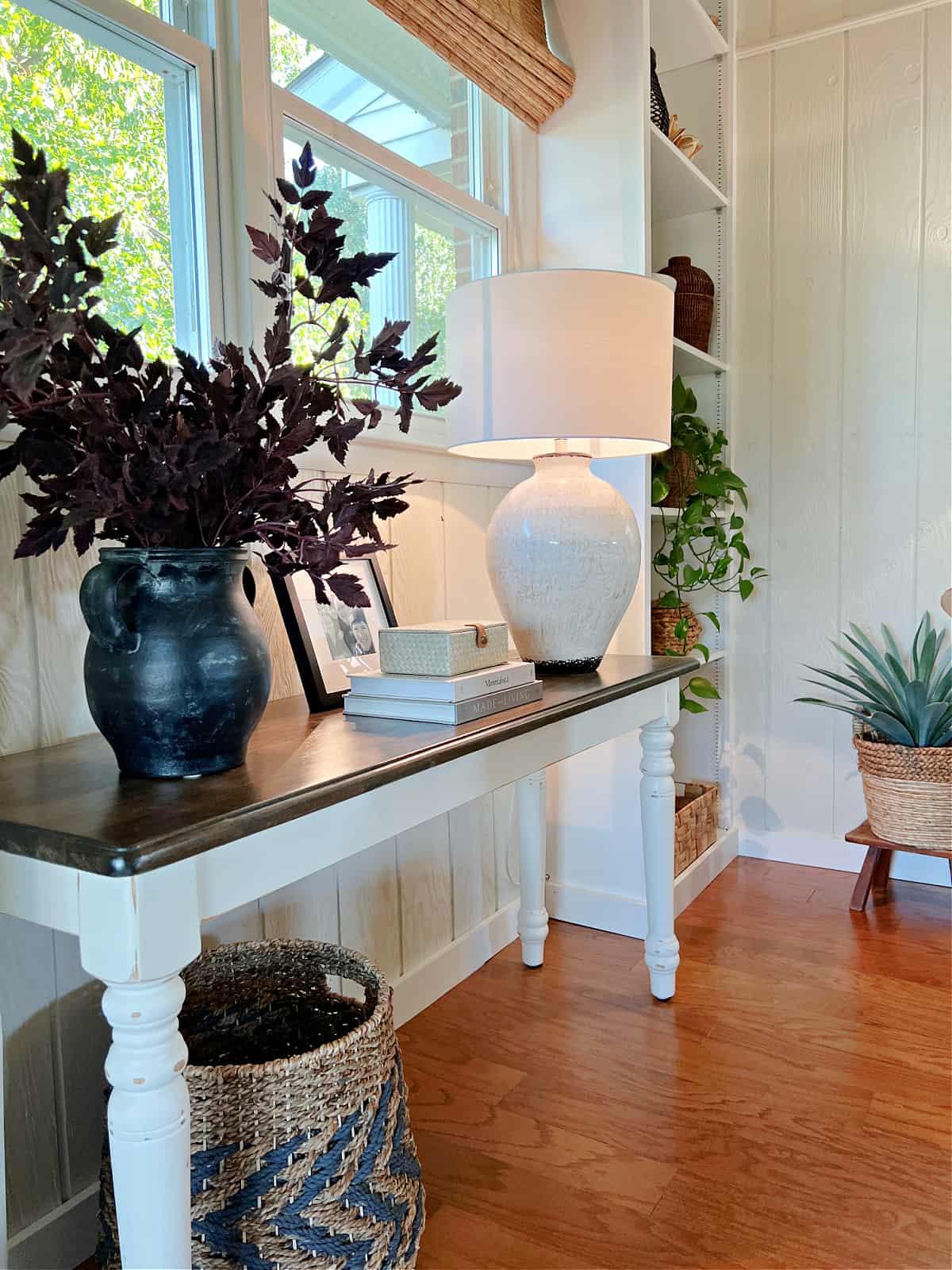 More Small Living Room Ideas