Happy Friday! I know that we haven't even made it to Thanksgiving yet but I am eagerly anticipating Christmas. I don't know if it's because it's our first holiday in our new house or what, but I'm already decorating and trolling the internet for great gift ideas.
I don't need a holiday to shop, the hubs will confirm that, but I do enjoy it more this time of year. It's always fun looking for that perfect gift for that special person on my list.
I've done most of my shopping online for years and it seems like retailers make it easier every holiday season with great sales, flexible return policies and offers of free shipping, something I always look for when I shop online.
Let's take a look at some things that caught my eye while "shopping". I've also shared a few items from my own wish list as well as some favorites.
*Items with a * are affiliate links (please see my Privacy Policy for more info).
A few pretties for the house. Love all of these but two of my favorites are the Bay Leaf Wreath and soy candles. I actually just bought the wreath a few weeks ago and soy candles are always lit in our house during the holidays.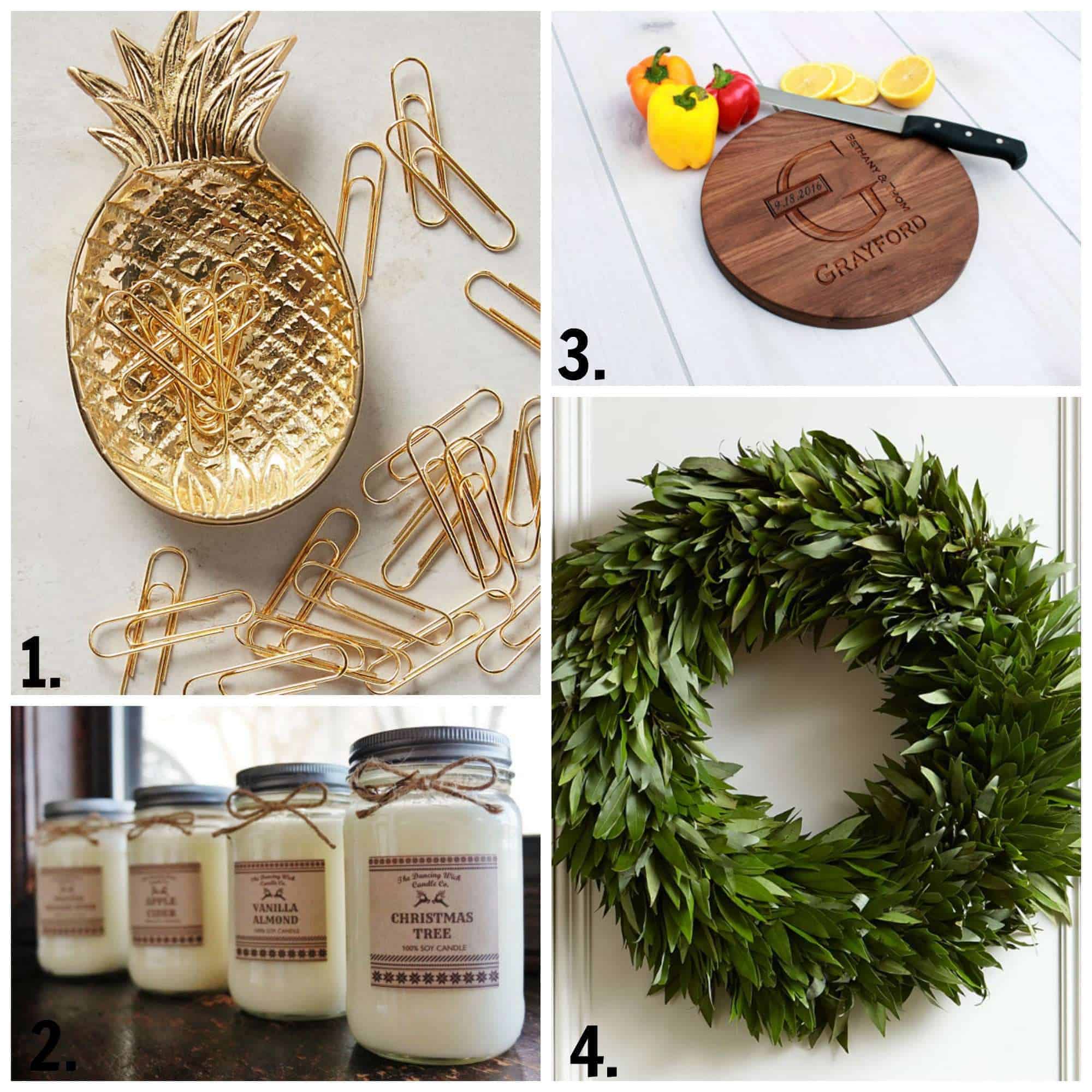 1.*Trinket Dish 2. Holiday Soy Candle 3. *Personalized Cutting Board 4. *Bay Leaf Wreath
I'm a sucker for these farm animal kitchen towels. In our house they're used solely for decoration. No dirty hands allowed on my cute towels.
1. Farmhouse Kitchen Towel 2. *Hook Pillow 3. *Silver Frames 4. *Faux Fur Throw
Ok, I know I've strayed away from home decor, and some of these may be on my own wish list, but the journal is pretty and they would all make great gifts. 😉 Is it strange to have a journal mixed in with today's technological gadgets? I enjoy technology but I also still love to write...lists, notes, thoughts...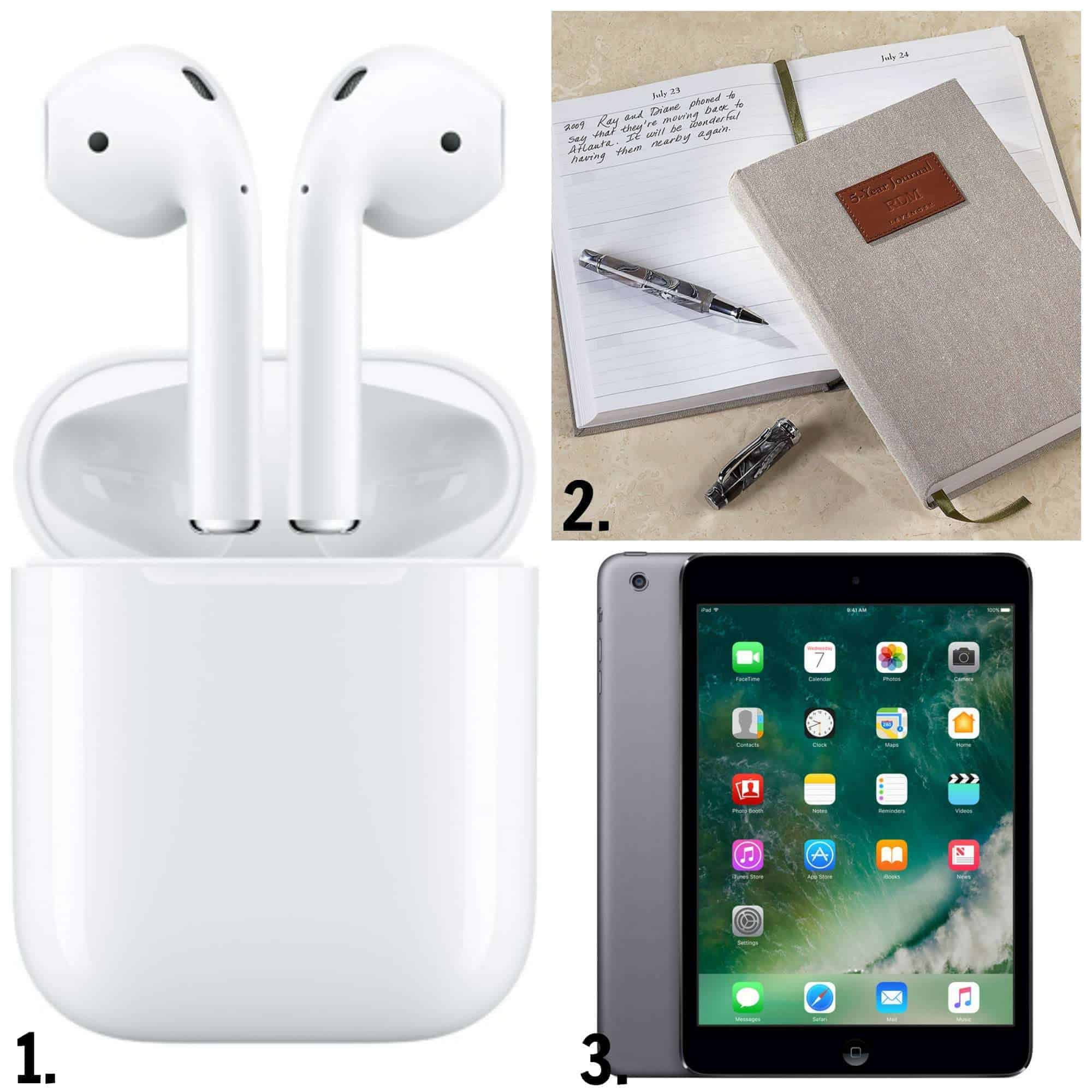 1. Airpods 2. *Journal 3. *IPad Mini
I really love home decor but fashion is something that I enjoy too. Who wouldn't love to get a soft wrap or pretty leather gloves as a gift? Actually, the cardigan is a real favorite of mine. I've been buying them for years and have a few (ok, a lot) hanging in my closet.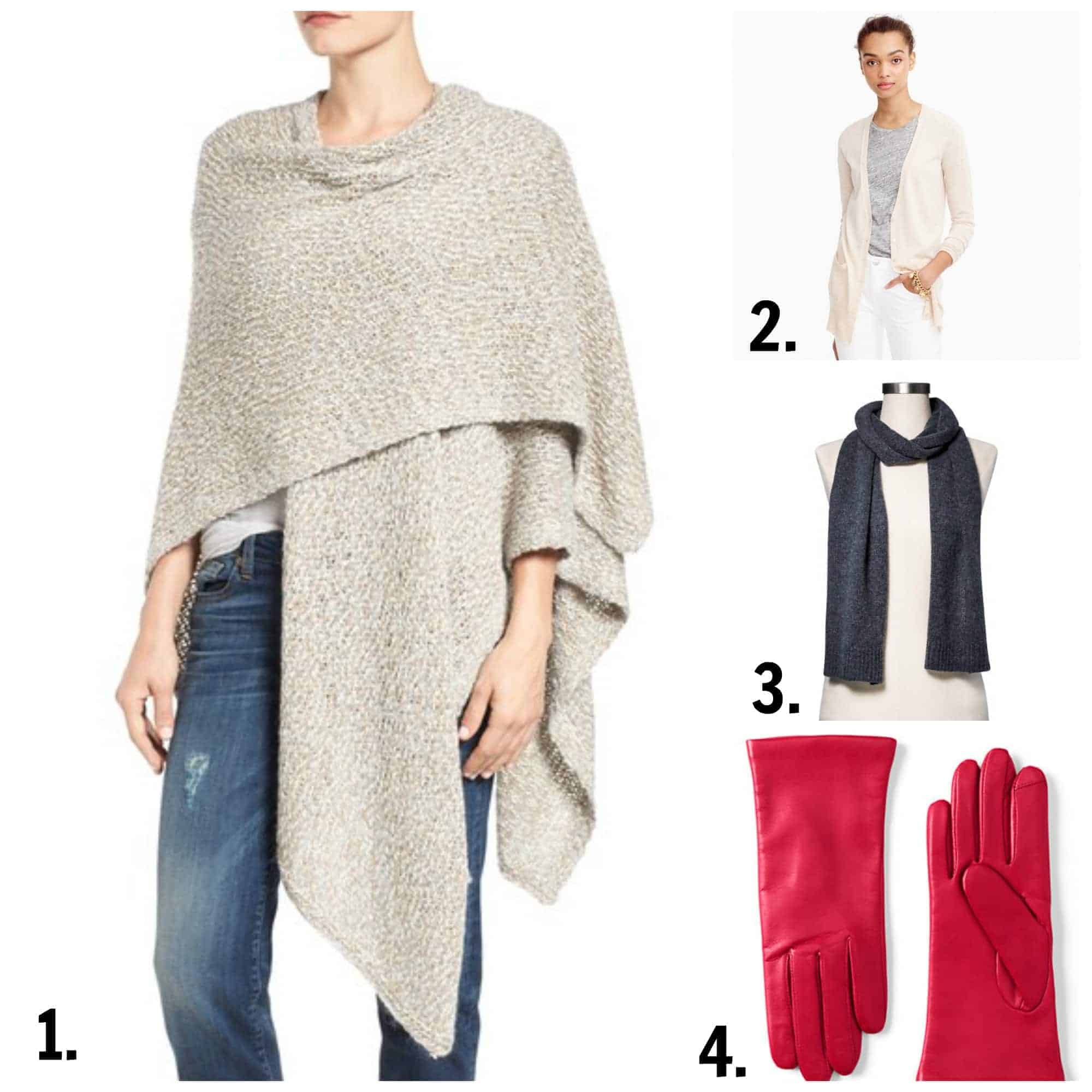 1. *Wrap 2. *Cardigan 3. Cashmere Scarf 4. *Leather Gloves
There's one shopping tip I'd like to share. I think I mention Ebates every year around this time but, if you love to save money, it's worth a few minutes to sign up. Like I said, I do almost all my shopping online and I always use Ebates with retailers that participate. If you add the Ebates Extension on your browser (I use Chrome) and go to a website that participates, a little window will popup at the top of the site and tell you how much you can save with a purchase. I've used it for 8 years and have saved a few thousand dollars (I told you I shop online a lot 😉 ). If you've never signed up and want to, you can click on this link and I'll get a small referral bonus. If you just want to visit on your own, that's ok too. Just make sure you sign up, and if you're already signed up, make sure you remember to use it. It's totally worth it.
Just a few ideas and favorites to get you started on your holiday shopping. After all, there's only 37 shopping days left until Christmas. Have you started yet or do you wait until after Thanksgiving?