How to Make Beeswax Candles with Raw Beeswax
*As an Amazon Associate and member of other affiliate programs, I earn from qualifying purchases.
How to make beeswax candles with raw beeswax in mason jars for yourself or to give as gifts. It's such an easy DIY project to do.
I've always loved the scent of a burning candle, especially in the cold months of winter.
There's nothing like the beautiful flicker of soft candlelight and soothing scent.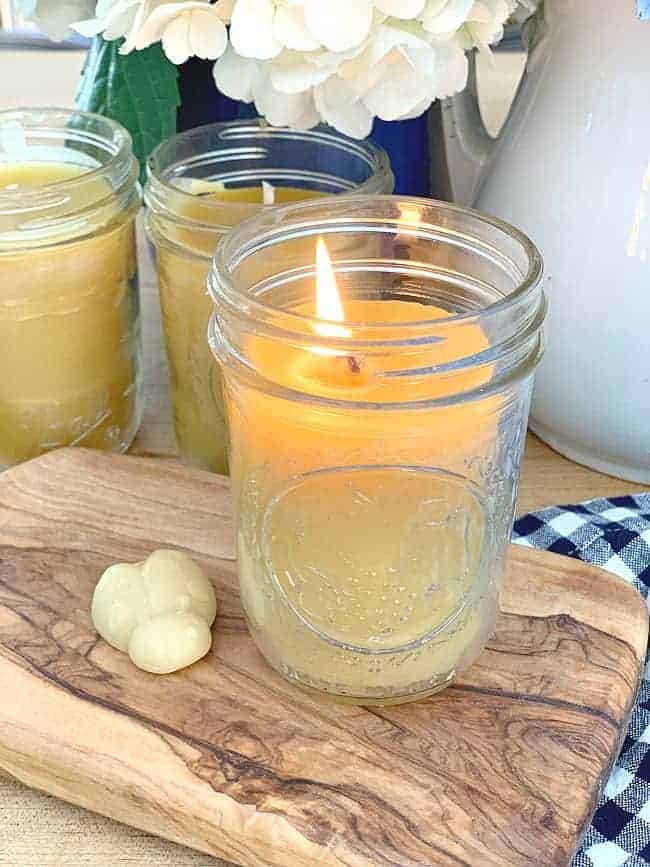 I've always bought my candles already made but when I found out how easy they were to make, I started making my own.
Soy has always been my choice for candles but Roger gave me beeswax candles for Christmas a few years ago and I was hooked.
They burn cleanly and the scent is subtle yet lovely.
I don't like an overly scented candle so beeswax candles are perfect for me.
Being the DIYer that I am, I went searching for a way to make homemade beeswax candles and started making my own.
Luckily it's so easy to do and now I can have beeswax candles in the size that I need, whenever I want.
The great thing about this project is that you only need a few supplies.
I used to think that you needed all kinds of candle making equipment to make candles but that isn't the case (full tutorial in the How-To card at the bottom of the post).
Supplies for DIY Beeswax Candles
for full instructions, check out my How-To card at the end of the post
small mason jars (or any size jar that you have), I used 8 oz. jars
large soup pot or double boiler
old glass measuring cup
optional: scented oil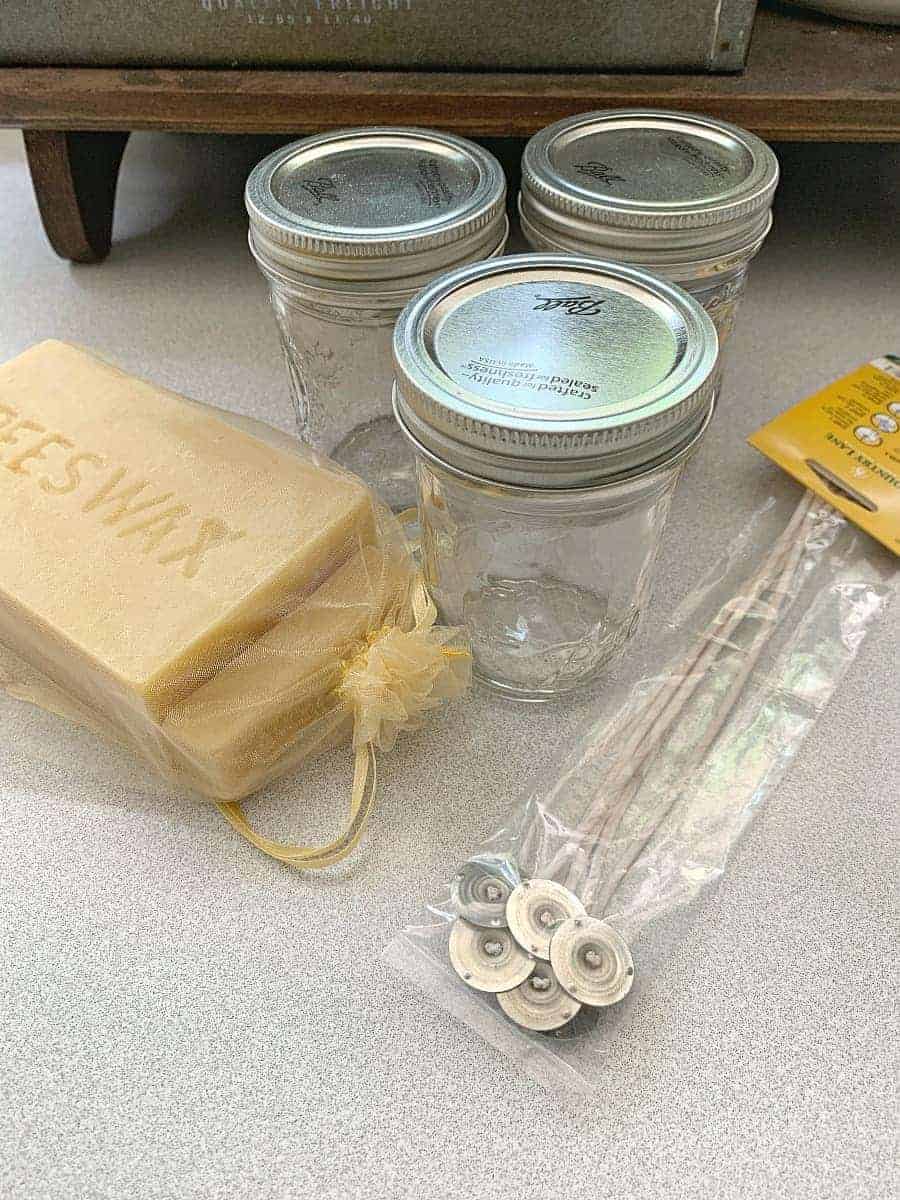 Let's make mason jar raw beeswax candles!
The first time I made these I started by grating the beeswax block using an old cheese grater.
It worked but it was slow going because raw beeswax in block form is very hard.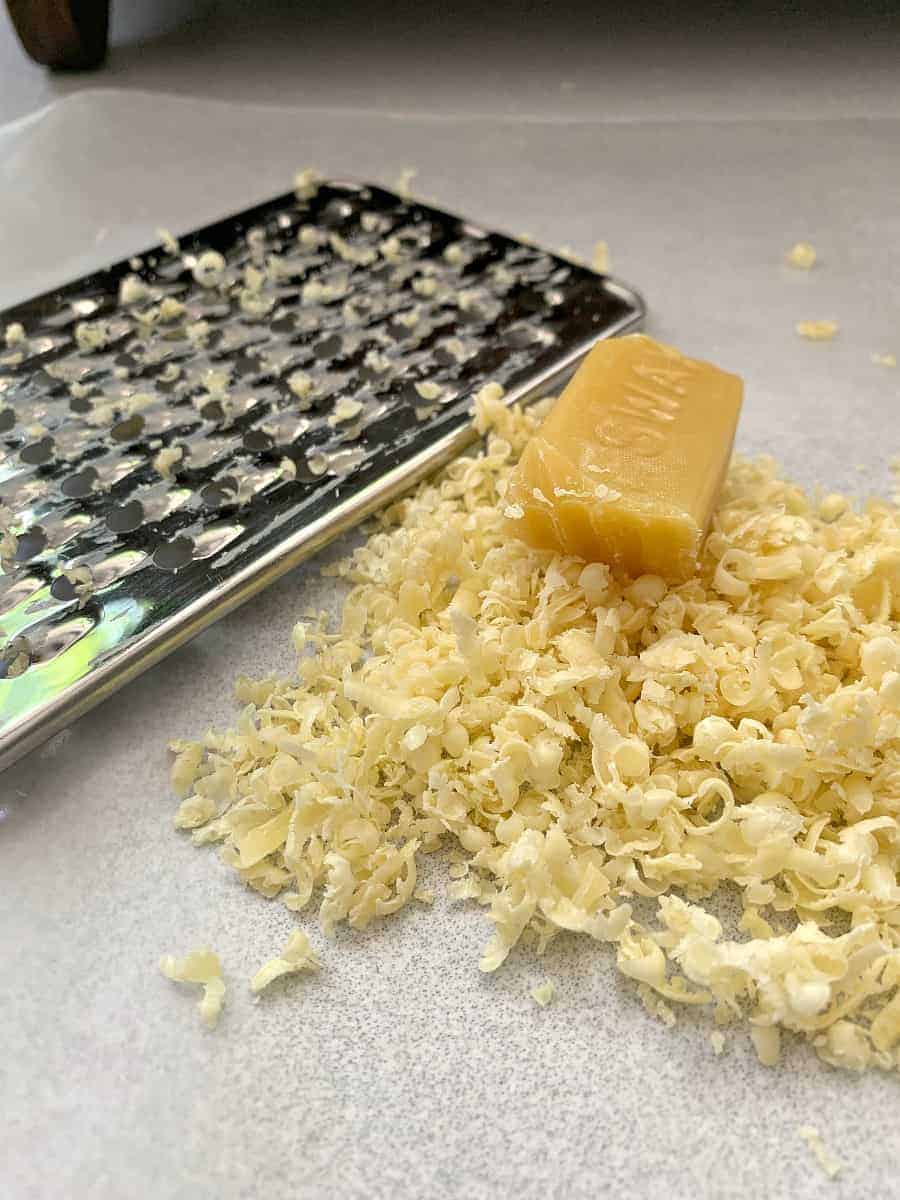 To speed up the process I tried cutting the block into small chunks that would fit into an old glass measuring cup.
Since I already had a shredded pile of beeswax, I did a little experiment.
I put the shredded wax in a mason jar with a cotton wick, and alongside it I added a glass measuring cup with the chunks of beeswax.
They both went into a sauce pot of steaming water (no need to boil the water, just hot enough to melt the wax).
You can use a double boiler for this but I didn't have one so I improvised.
They both melted but the measuring cup method seemed to work best.
I had to keep adding shredded wax to the mason jar as it melted and it ended up taking longer to make.
Not a total fail but the measuring cup was easier.
So…with my preferred method I continued making my candles, pouring the melted wax into the prepared mason jar.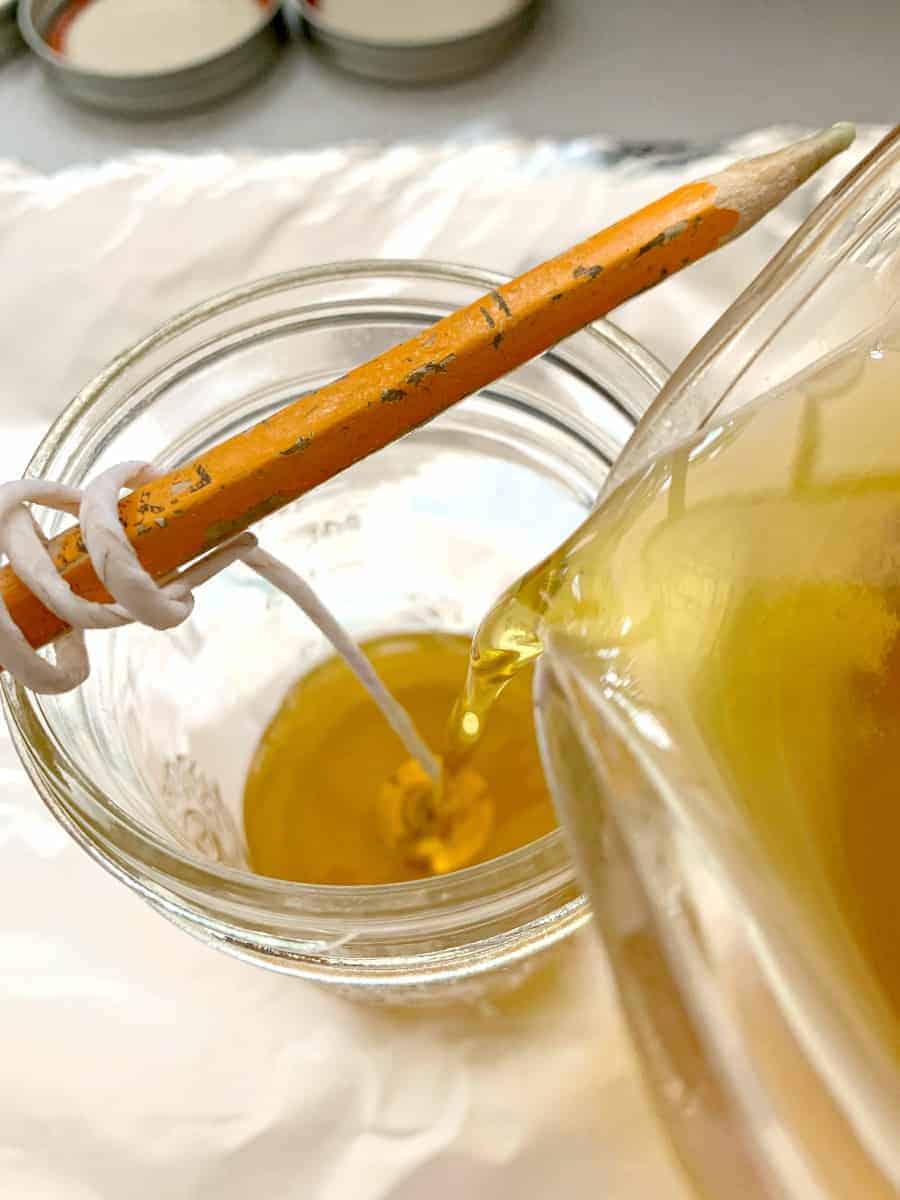 After I poured my first jar I added more chunks of raw wax to the measuring cup to melt.
I also had some leftover ends of beeswax from the candles Roger gave me a few Christmases ago so I added them to the cup.
I knew I kept them for a reason.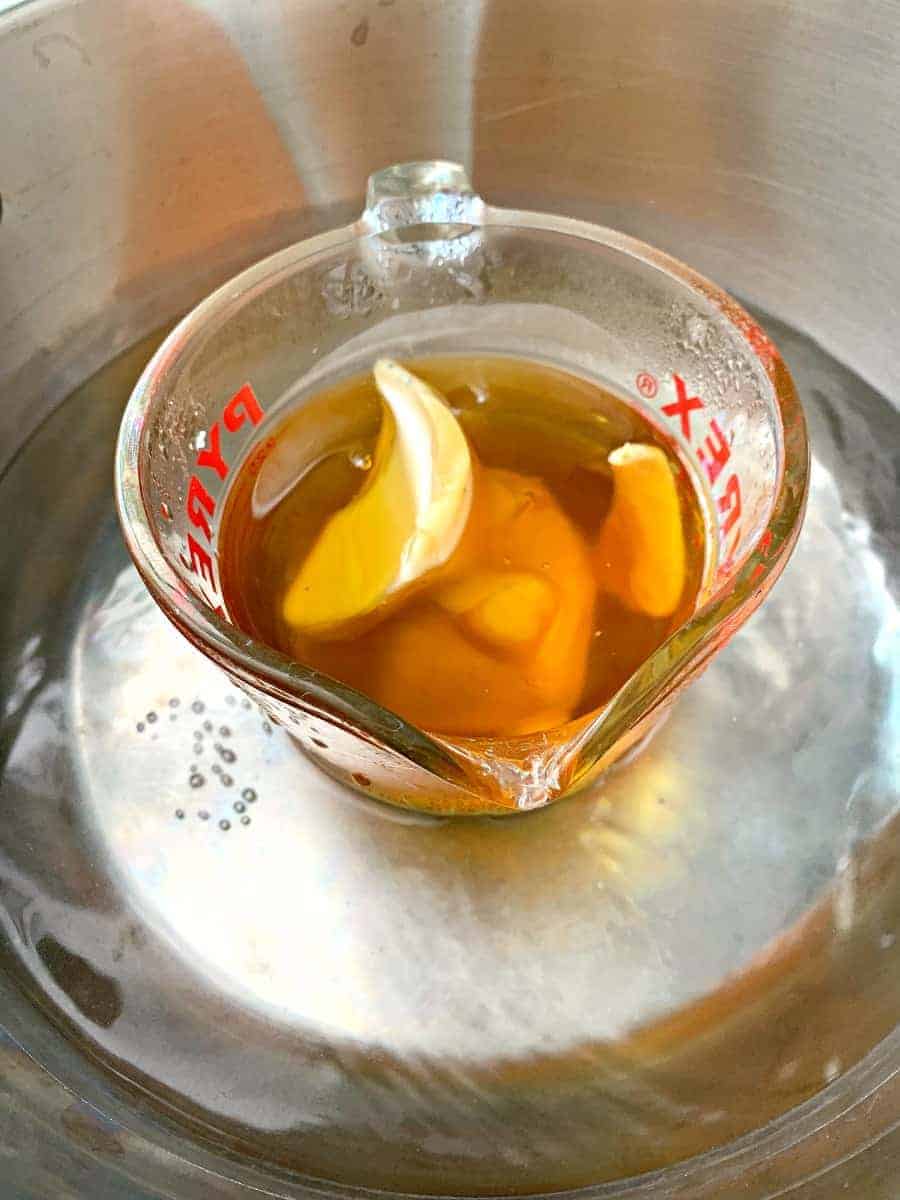 Can you add scent to beeswax candles?
Short answer…absolutely!
It's totally optional but you could add essential oil as your wax is melting.
I am a purist and love the natural honey scent of beeswax so I skip this step.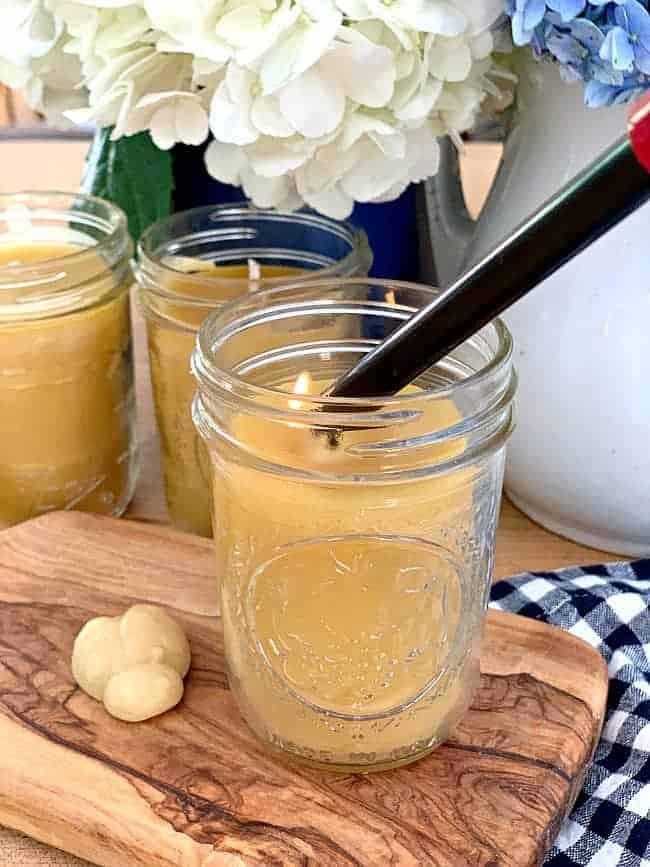 When the second batch of wax melted, I poured it into my remaining jars and let them sit out to harden.
That's it!
You could stop right there and have three pretty homemade beeswax mason jar candles to keep for yourself or give as gifts.
Or…you could go a step further.
Looking to add a bit of fall to your mason jar beeswax candles?
Check out how simple it is to make fall leaf candle holders, and it's very inexpensive.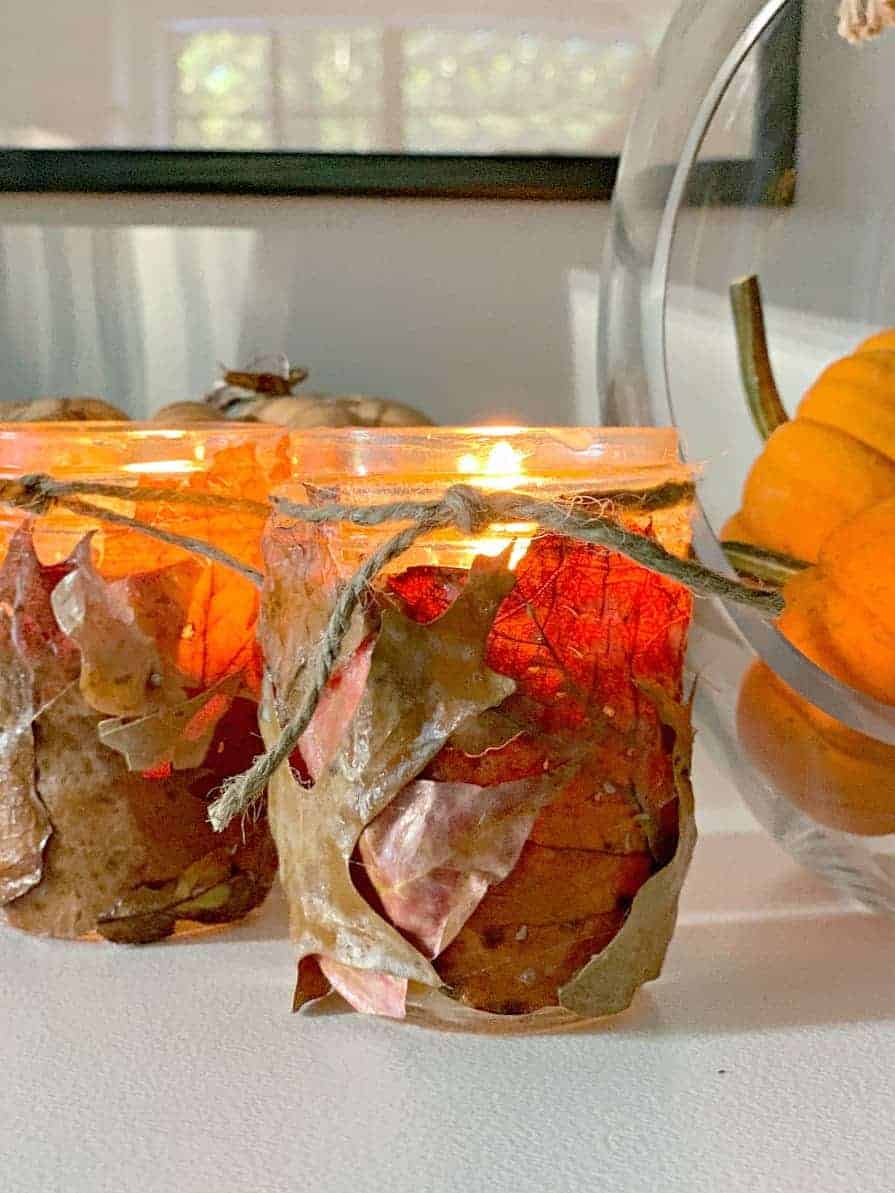 See how easy it is to make beeswax candles at home?