How to Install Outdoor Landscape Lighting
*As an Amazon Associate and member of other affiliate programs, I earn from qualifying purchases.
How to install outdoor landscape lighting to transform your house's exterior. So easy to do and it makes a huge impact on your home's nighttime curb appeal.
One thing I really wanted to do when we moved into our little stone cottage 5 years ago, was add outdoor lighting.
We'd walk around our neighborhood and I'd oohh and ahhh at all of the other pretty homes with landscape lights.
I knew that they would work well with the stone on our house so it was put on the top of my "someday wish list".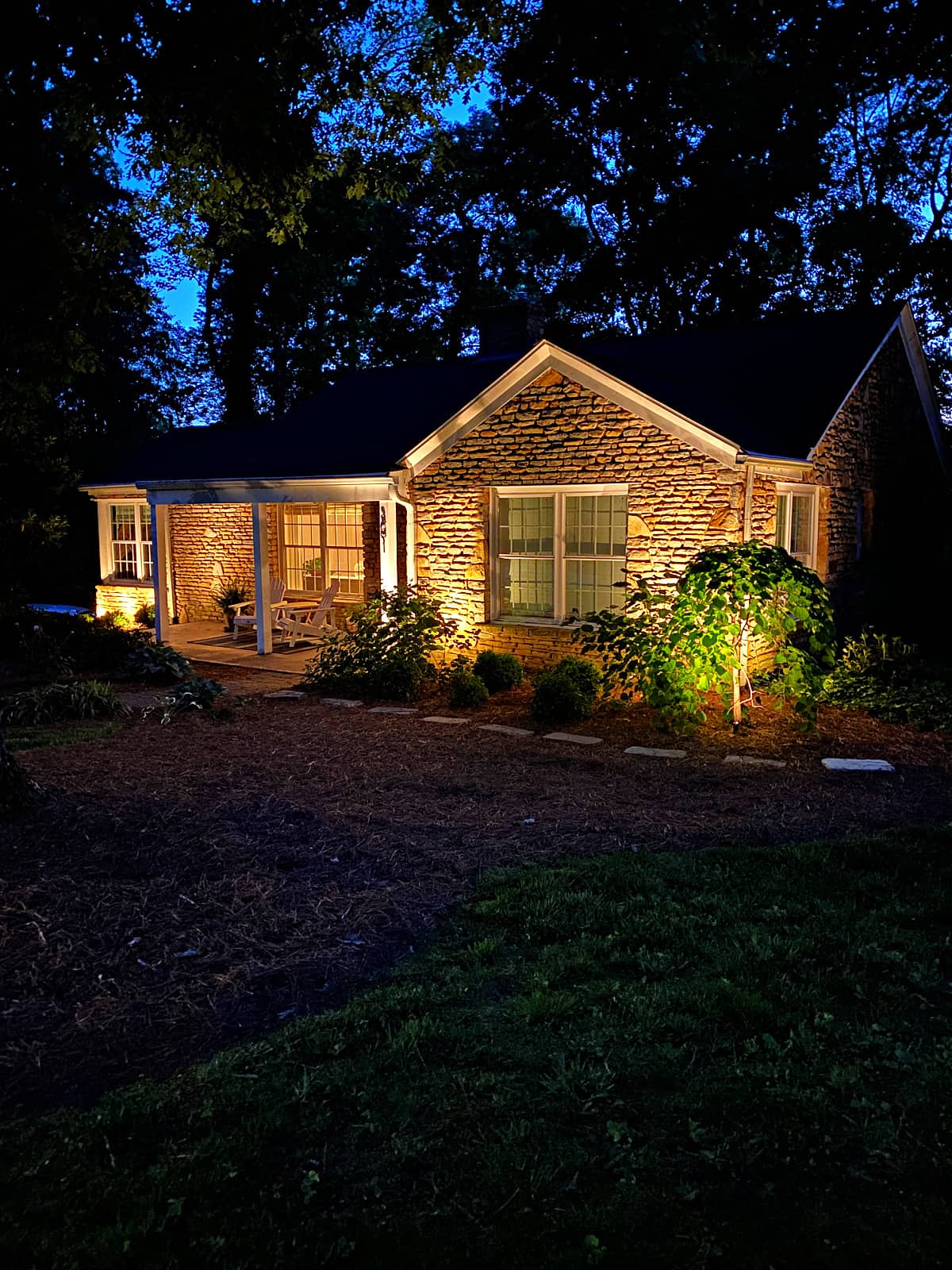 We talked about adding them into our landscape many times but just never got around to it.
Finally this past winter I decided to just go for it.
Our resident electrician, aka Roger, has been recovering from back surgery so I was all on my own for this project.
So without any major electrical experience I went on the hunt for easy to install low voltage landscape lights. That meant no wiring or minor construction.
Roger had his doubts but silently (well, almost silently) he watched from the sidelines.
What are low voltage landscape lights?
Low voltage landscape lights are powered through a transformer, that attaches to the wire, that lowers the voltage from regular 120 volts to 12 volts.
This makes low voltage lights easier to install and move around if necessary, and that make them a popular choice for outdoor landscape lighting for homeowners.
How do you install outdoor landscape lights?
I always thought I'd have to dig ditches and run all kinds of wires but the low voltage outdoor spotlights that I found were so easy to install.
30 minutes was all it took to give our cottage a magical glow at night.
Supplies to install outdoor lighting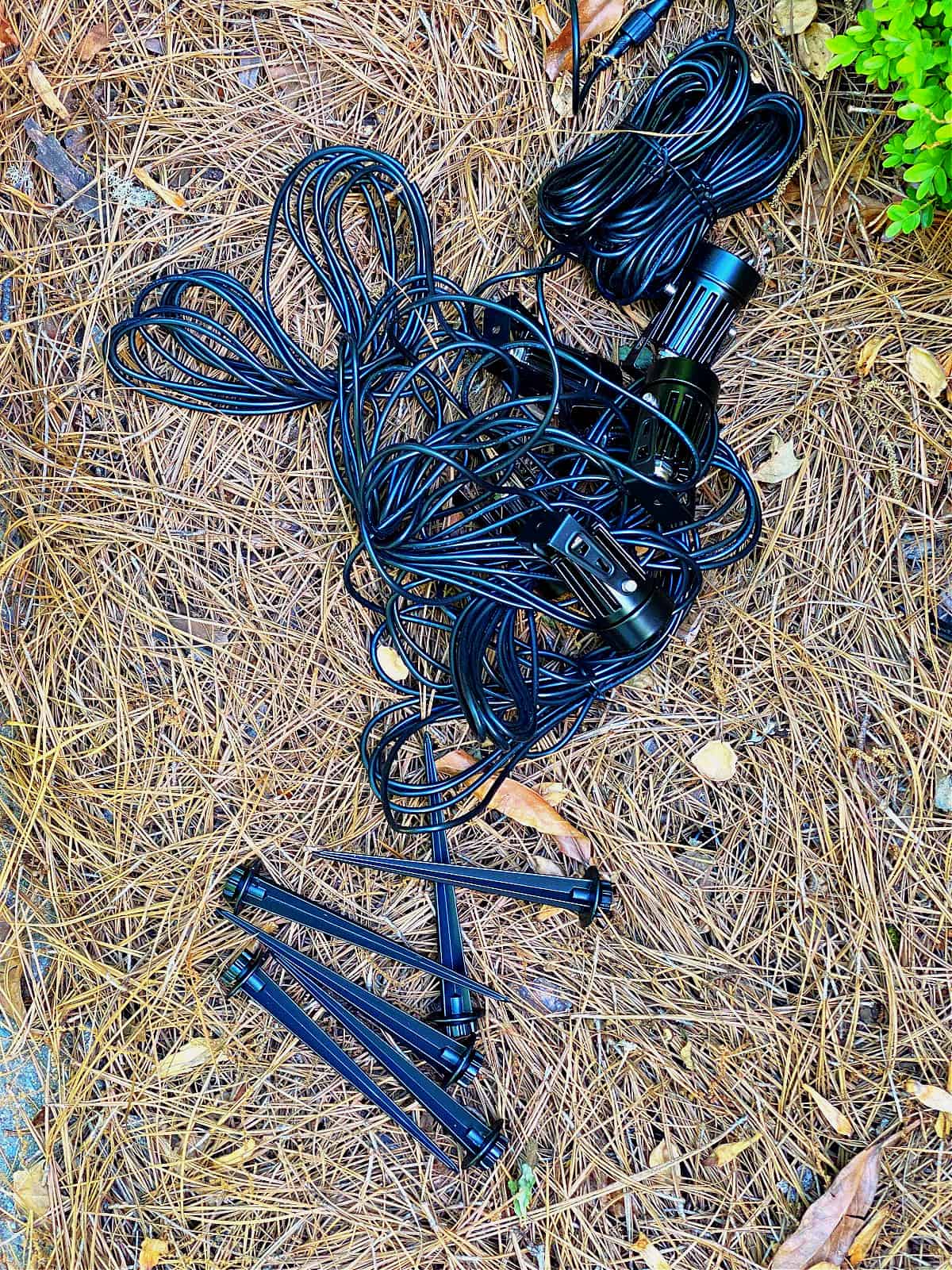 I ordered 2 of these light kits for the front of our house. 10 spotlights total with 6 lights in one kit and 4 in the other.
I probably could have gotten by with fewer lights but the 4 light set was the smallest one available.
Why I chose low voltage landscape lighting
When I started searching for outdoor spotlights my first priority was to find something that was easy for me to install and hookup.
After I narrowed down my choices I searched for lights that had great reviews.
With my choice made I placed an order for a 6 low voltage landscape light set.
The idea was to put three on either side of the front porch. I figured that that would be enough.
Once I got them and laid the lights out I knew the 3 and 3 configuration wouldn't work.
Even though I got a lot of wire with the set, I would have had to dig under the sidewalk in order to hide the wire. That wasn't going to happen.
Remember, I wanted this to be easy with no digging and no rewiring.
While I figured out a fix I just installed all 6 by the guest bedroom to see how they would look.
Let's install outdoor landscape lighting
A quick word of caution. Although we are only plugging in lights it's important to be safe and use caution when working with electricity.
My light set came with wire, transformer, low voltage spotlights and metal ground stakes.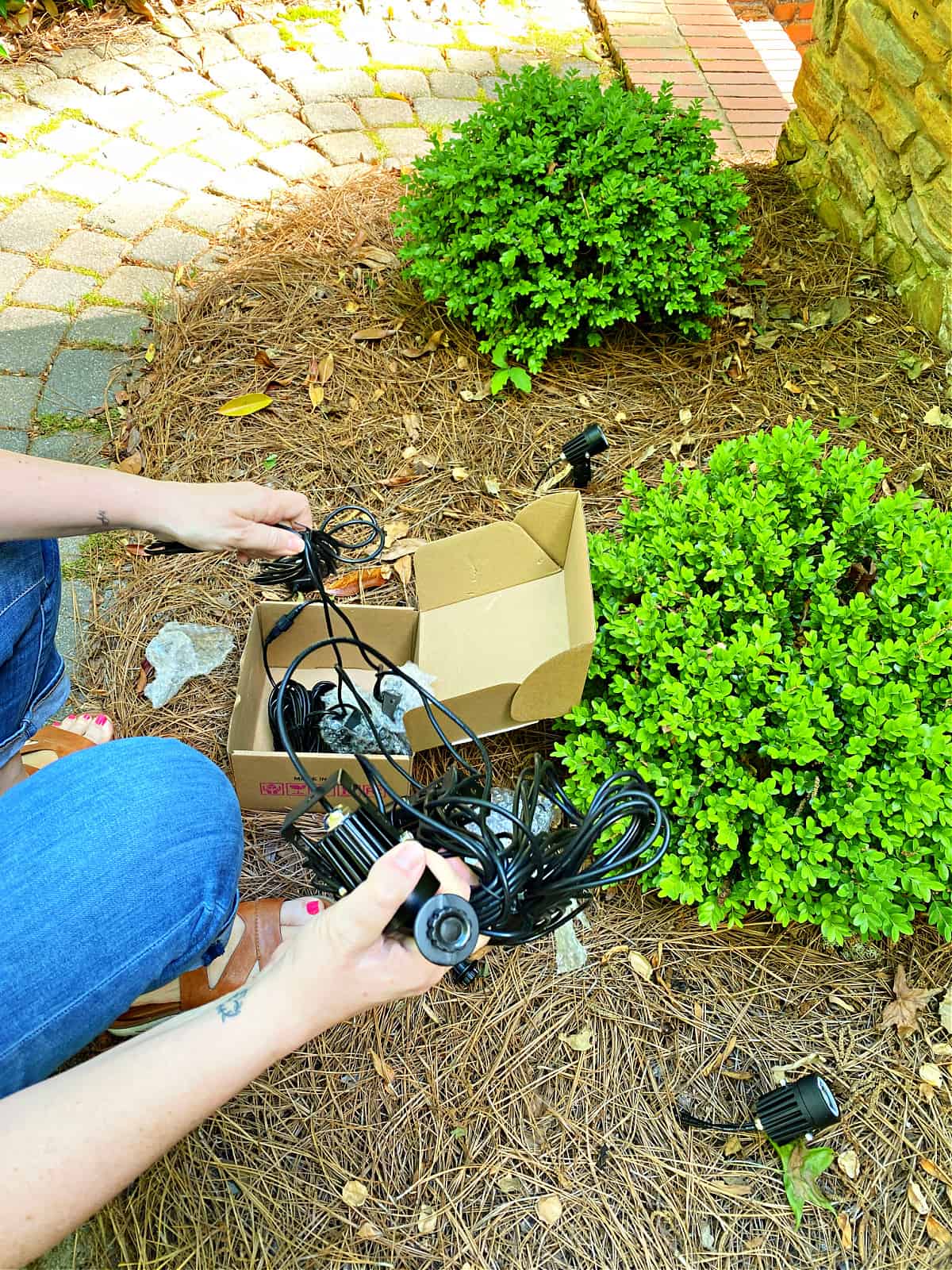 After I unwrapped the spotlights I screwed each light into a ground stake.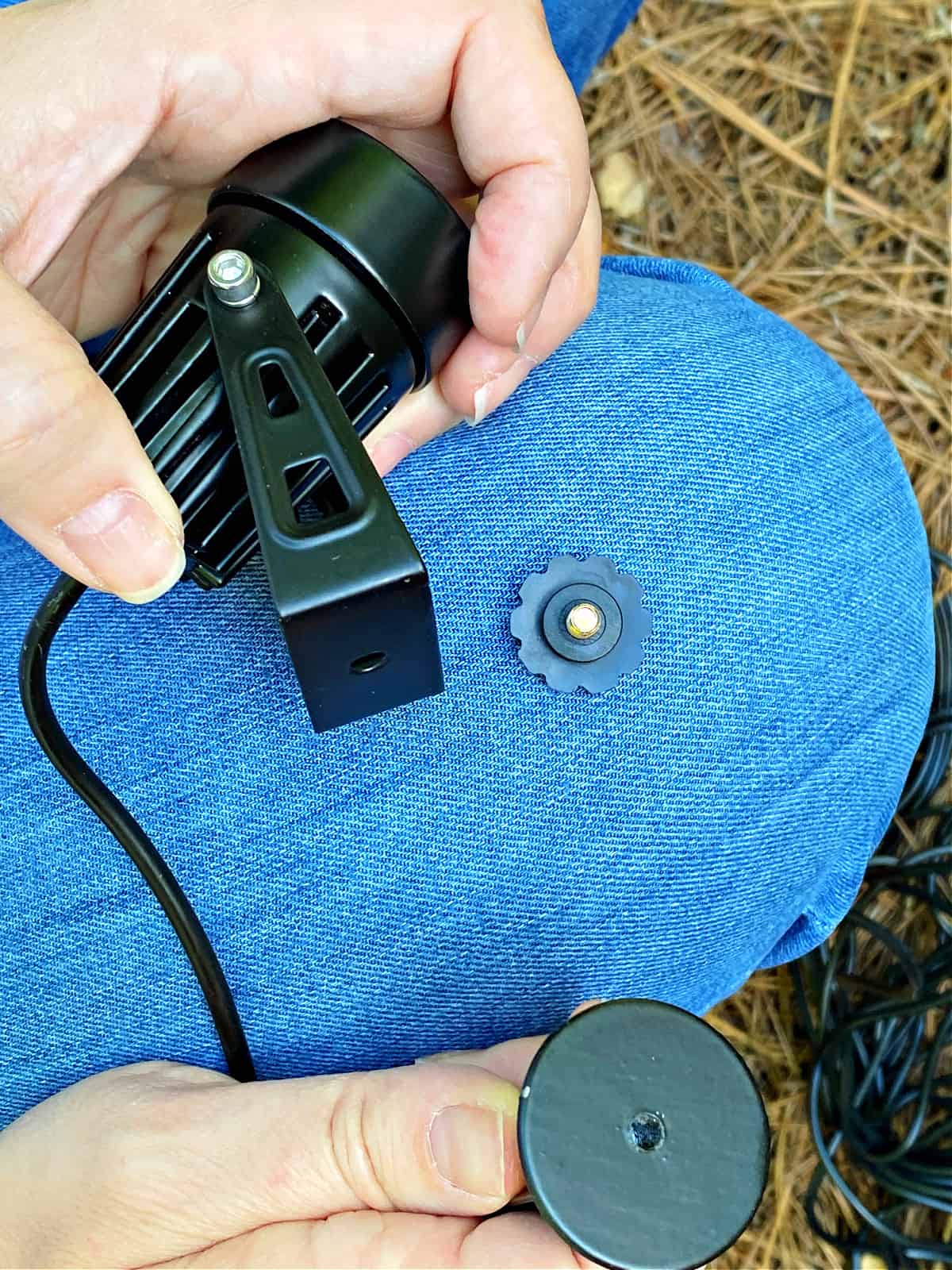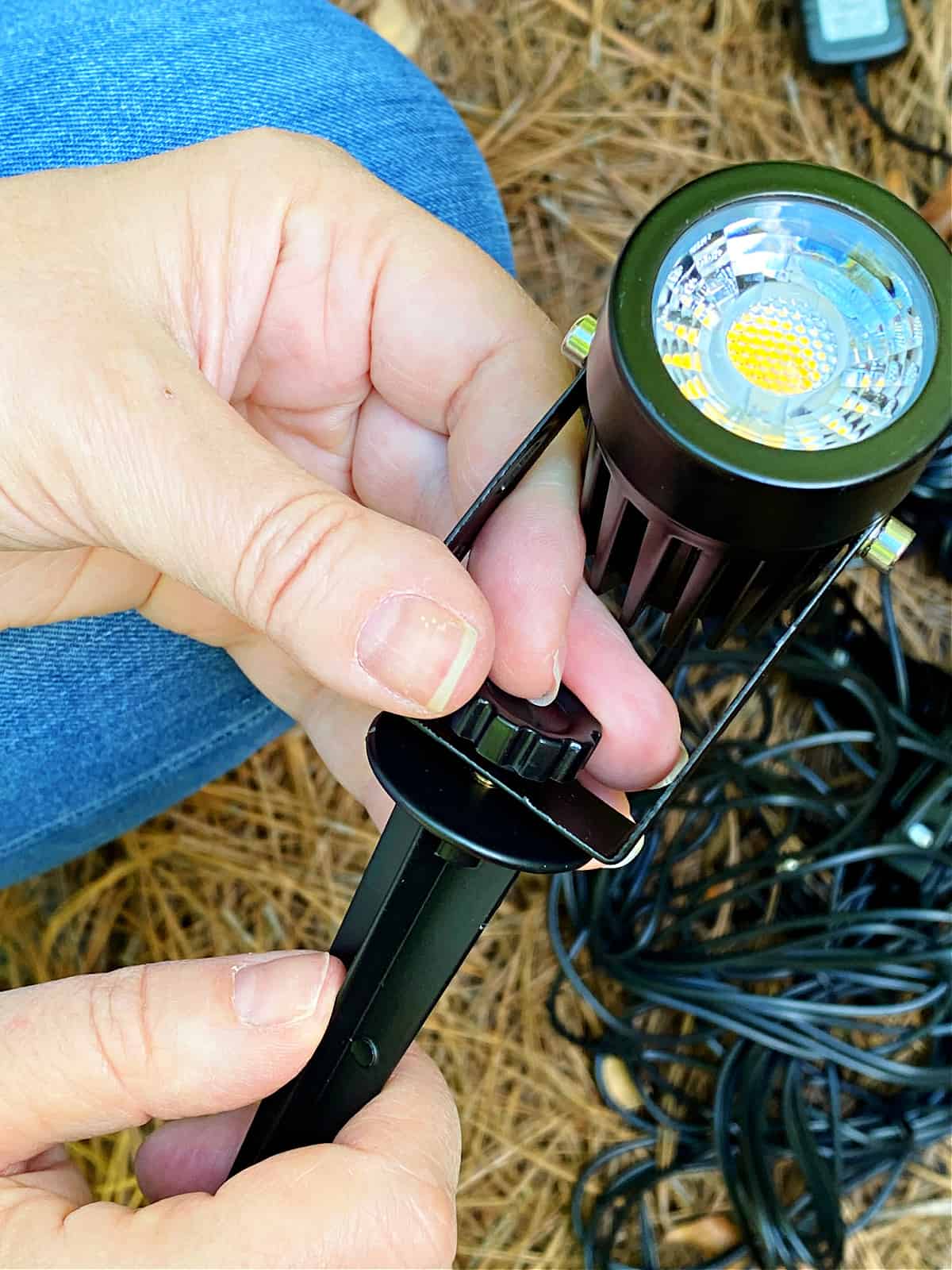 Then I just stuck the stake into the ground and adjusted the light.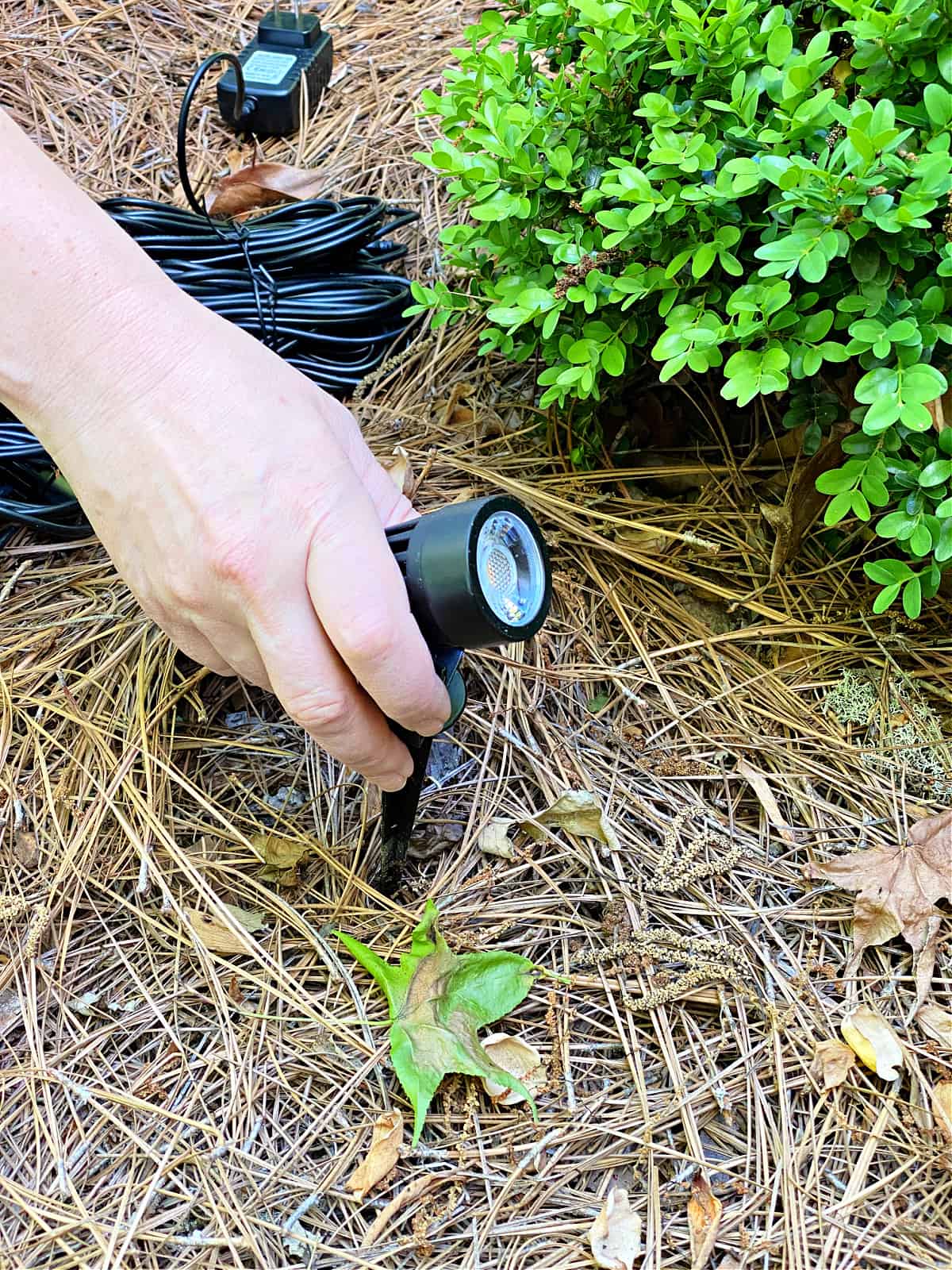 I moved on to the next light until all 6 were together and in the ground.
There was a black wire that ran to each spotlight so I rolled up the excess from each light and tie wrapped it using the black twist tie that came with the set.
After all the wires were neatly tie wrapped, I buried them under the pine straw.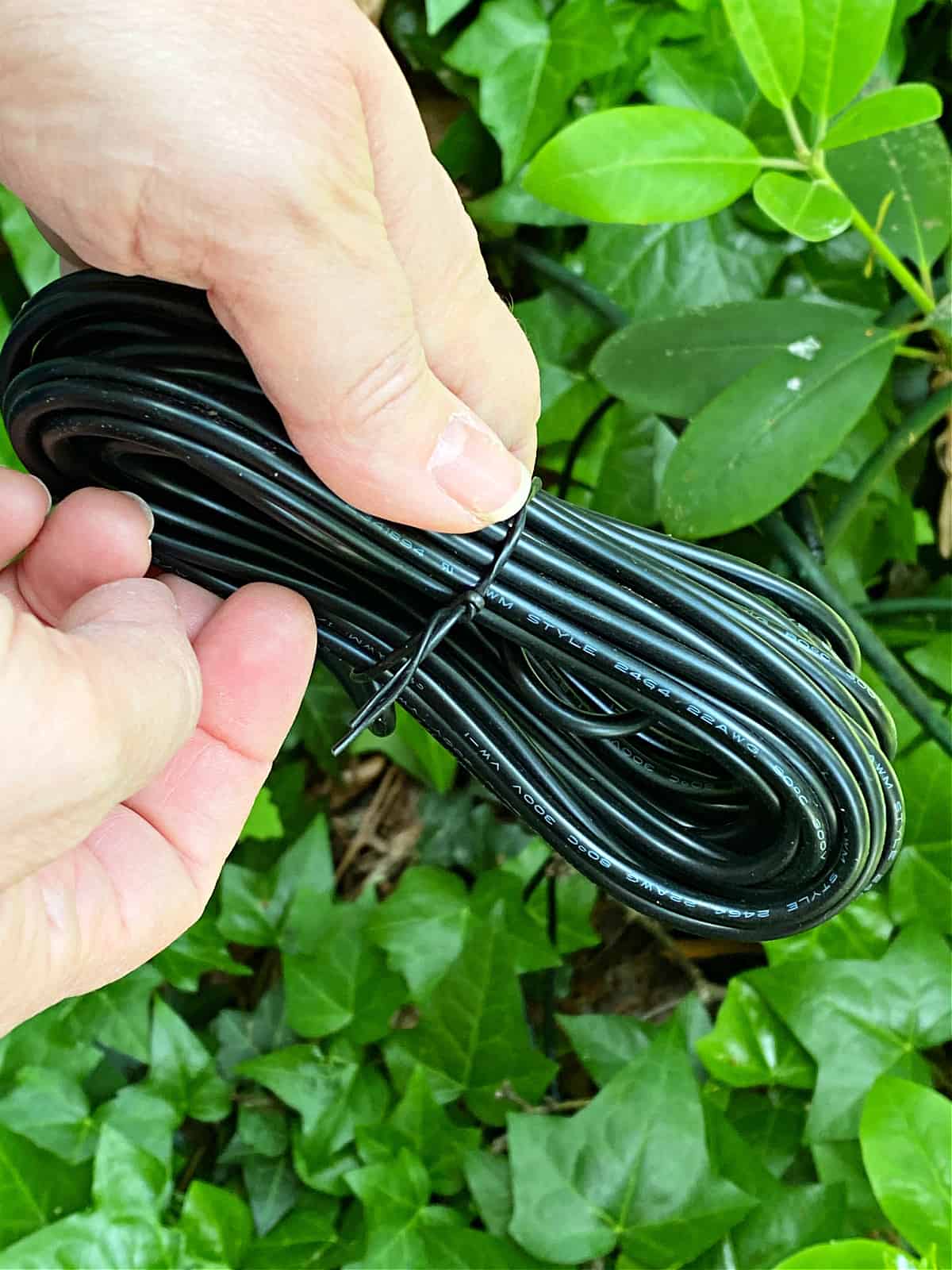 Once the wires were buried I plugged the spotlights into my outdoor extension cord, that is plugged in to an outlet on the house.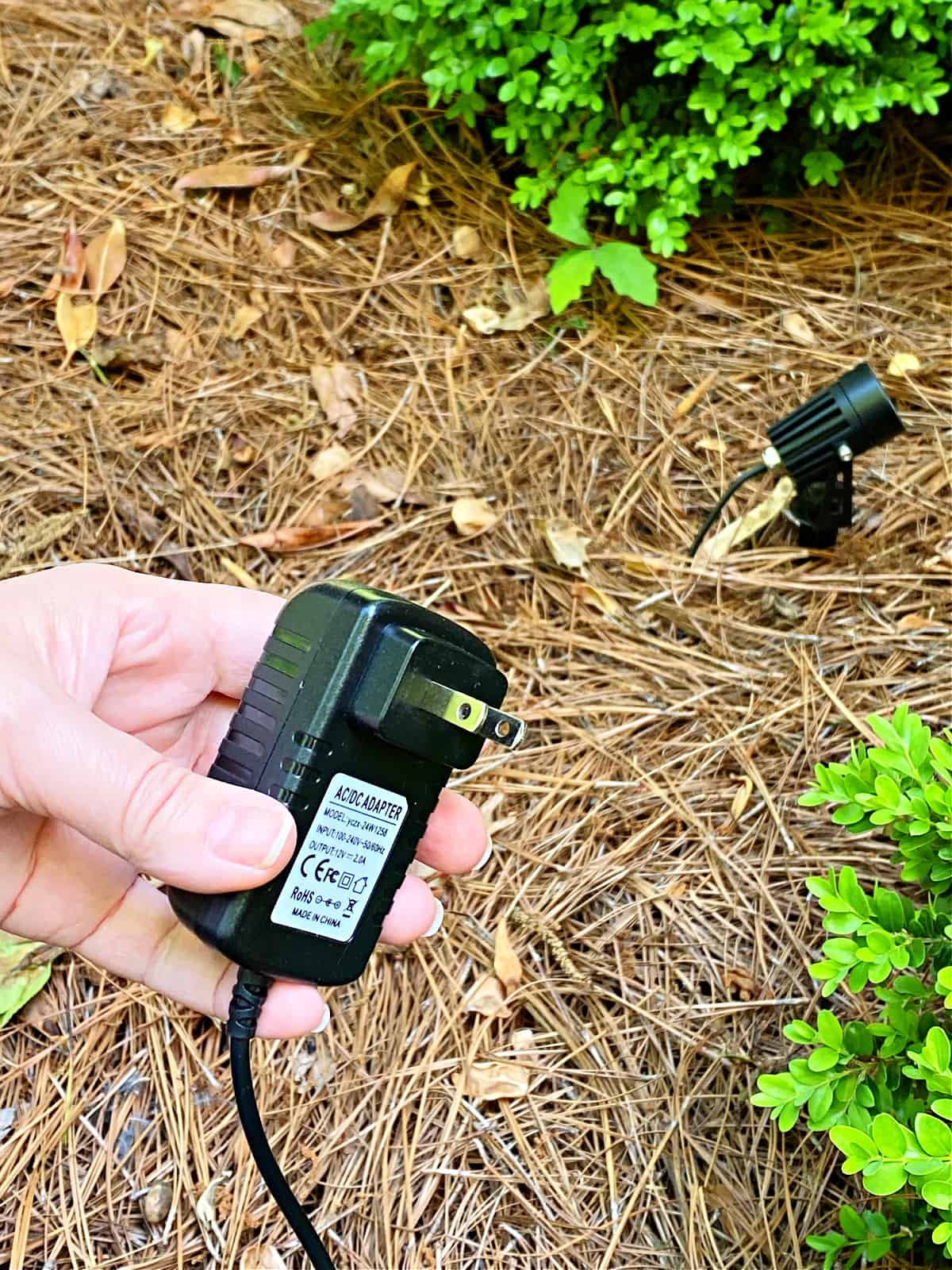 To make things even easier I also used a timer.
Now the landscape lights turn on and off automatically at set times each night.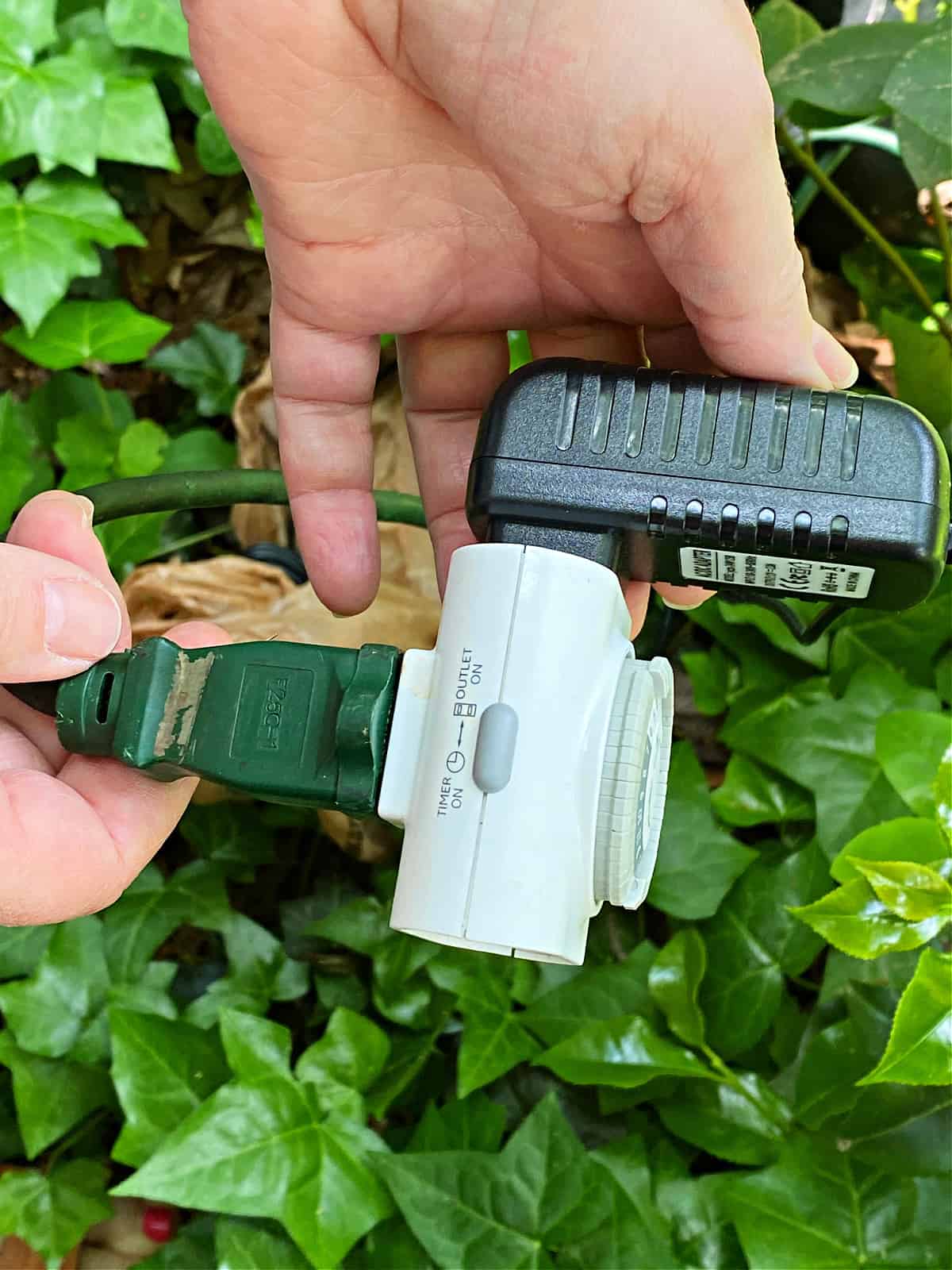 Once the sun set and my lights turned on I went outside and adjusted them to hit the front of the house.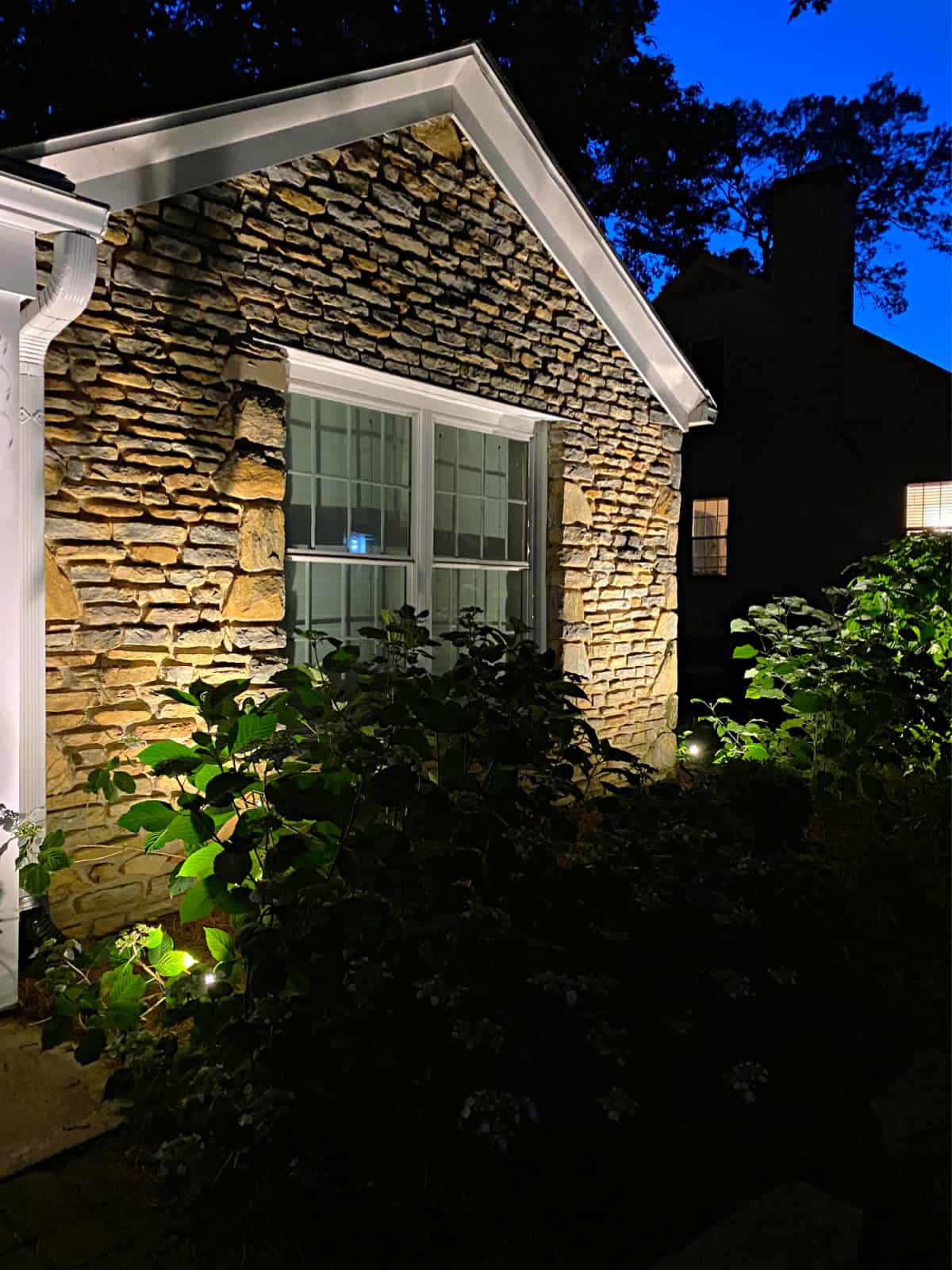 I loved the way they looked so I decided to just get another set for the other side of the house.
Like I said, the smallest set I could get was 4 lights so that's what I ordered.
Once they arrived I installed them following the same steps as the first set of lights.
Really, a super simple way to add a beautiful glow to your home. I should have done it 5 years ago.
Oh, and Roger loved them, too. He wouldn't admit that I was right but…I was right.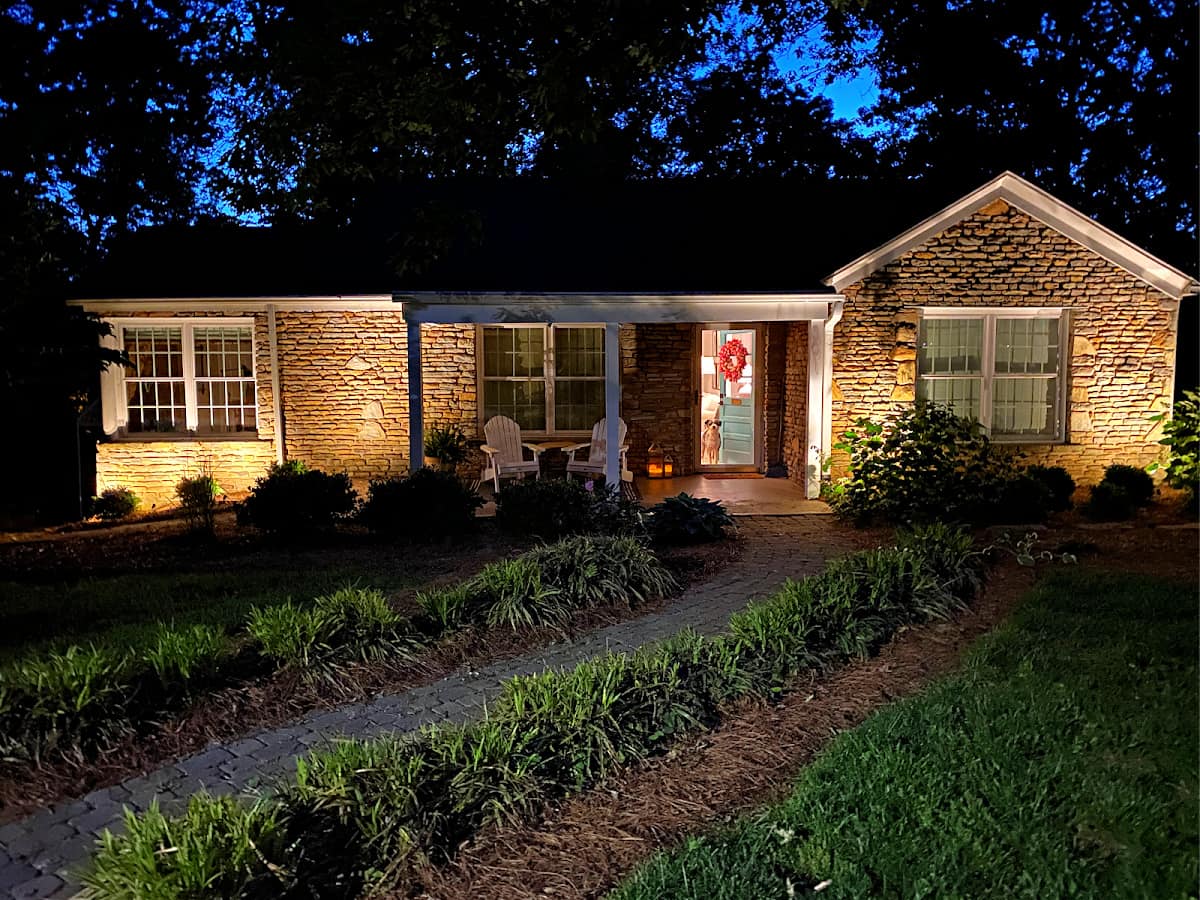 More outdoor lighting ideas