Happy Monday! I hope you had a good weekend (or maybe you're still enjoying it because you have off for the holiday). I just got home from a week in Denver so I spent my weekend doing wash and working on the kitchen reno. We haven't got a ton done but I wanted to share what we did do. I don't have any pin-worthy photos today but in order to understand what we are doing I only have mid construction, room-is-small-and-I-am-aiming-my-camera-at-the-window photos. 😉
This is where we started…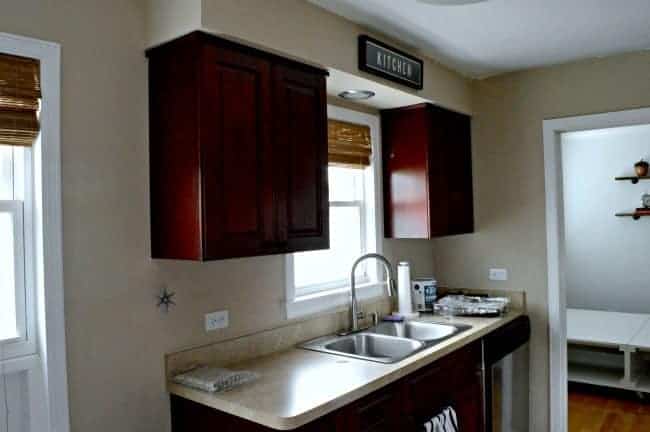 This is the side that we're going to work on first. The first thing we did was to empty and remove both cabinets so we could take the soffit out. Then we removed the 60-year-old light that was cemented into the soffit.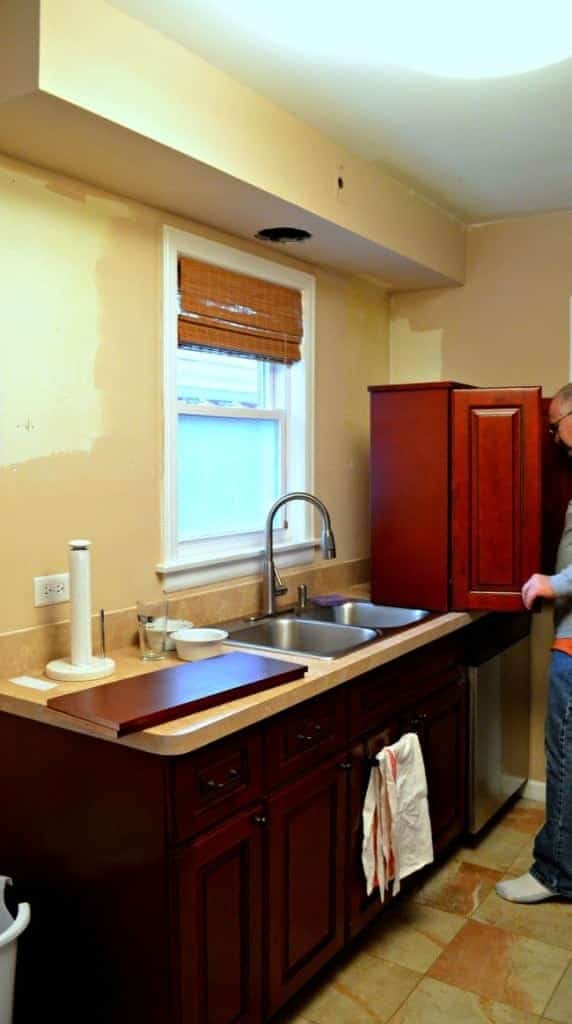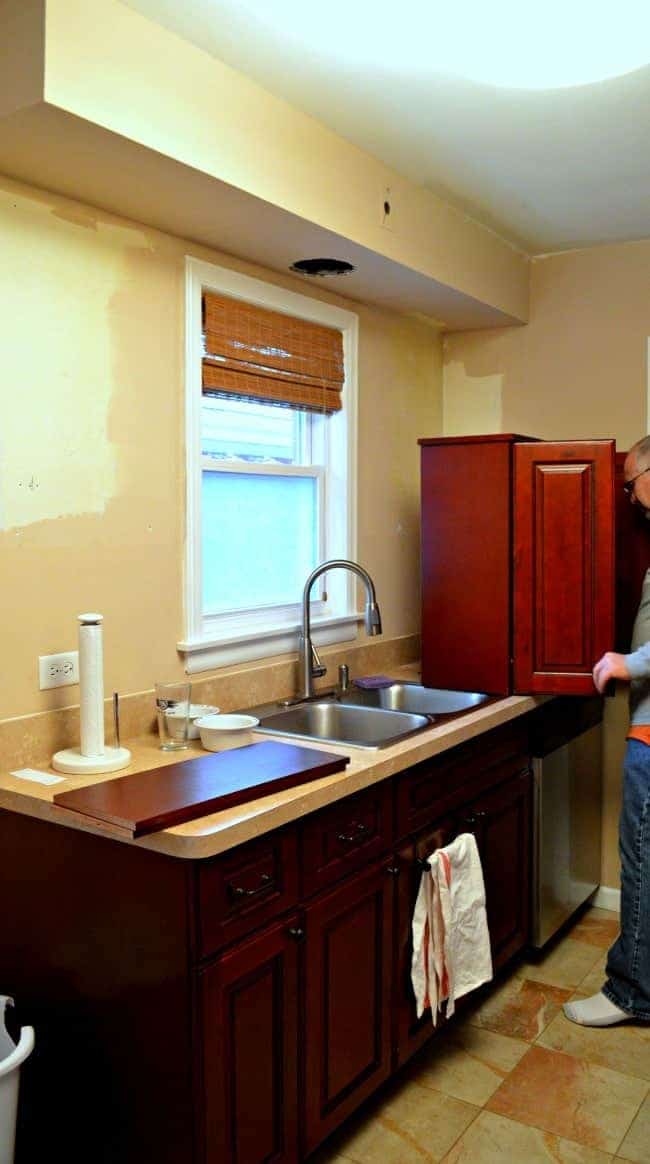 Next came the take-down of the soffit. As I said before, this house is 60 years old and they built things differently back then. The walls are covered in plaster and sheet rock, that is the thickness of 2 pieces of our sheet rock today. It's pretty thick and we really had to work to get it out, but out it came.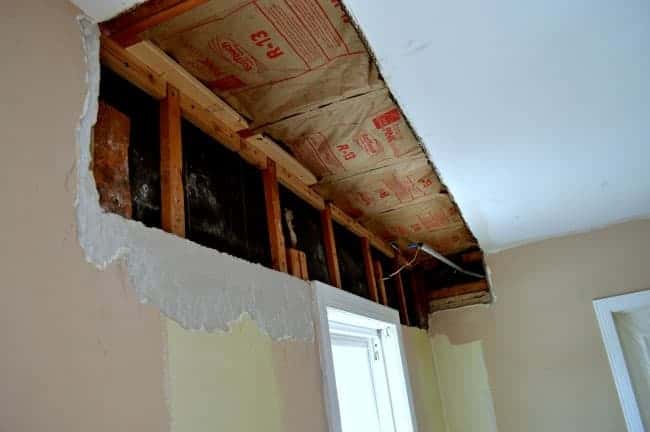 There is loose, sprayed in insulation in the attic that came down with the soffit so the Mr. put some new insulation up. If you notice the walls have no insulation. We had an inkling that there wasn't any but this is the most exposed that we've had any wall, so now we know for sure. The attic is the only place there's insulation in the whole house. The only way to get any into the walls would be to rip them down, which isn't going to happen, so all we'll do is put new sheet rock up (it wouldn't make much of a difference if we put insulation in this small area).
The pipe with the wires from the light and clock electrical outlet was the next job. Mr. C² is an electrician so he took care of all of that while I was in Denver.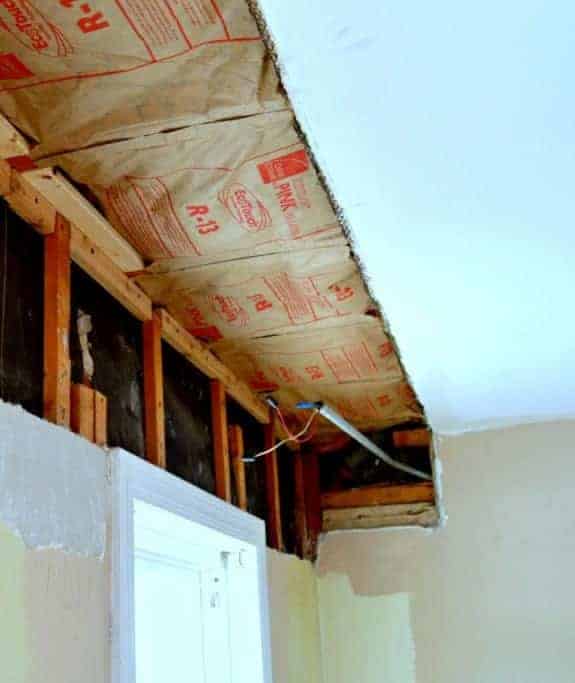 Next came the sheet rock. We had to use layer two pieces on top of each other on each opening.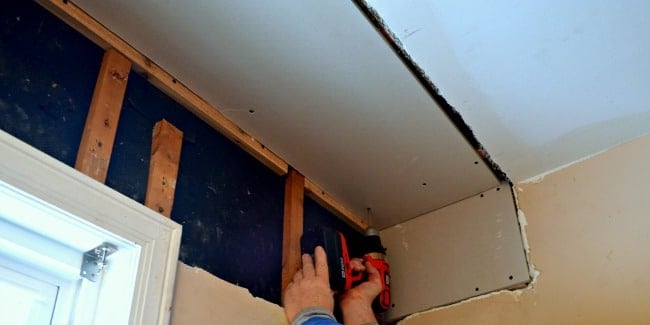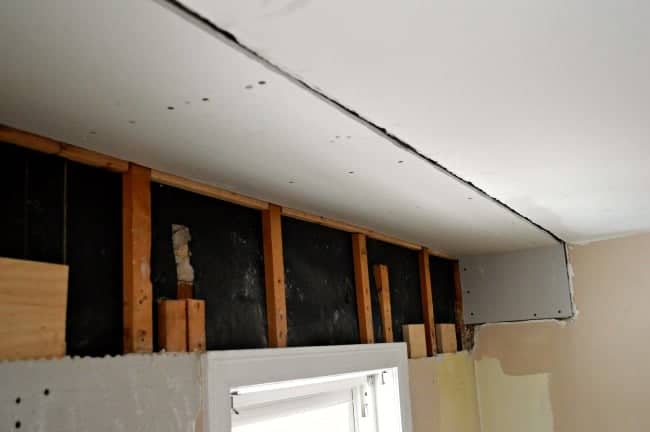 That's as far as we've gotten. Oh my…this is going to take us a while. I hope you'll stick around. 🙂
Have you ever done a reno and gotten a surprise (like double thick sheet rock and no insulation)? 
Check out one of my most popular posts…