Happy Monday! I hope you had a wonderful Easter weekend. We slept in, spent a whole day going to estate sales, enjoyed the spring weather and did a little bit of work on the kitchen. It was a great weekend!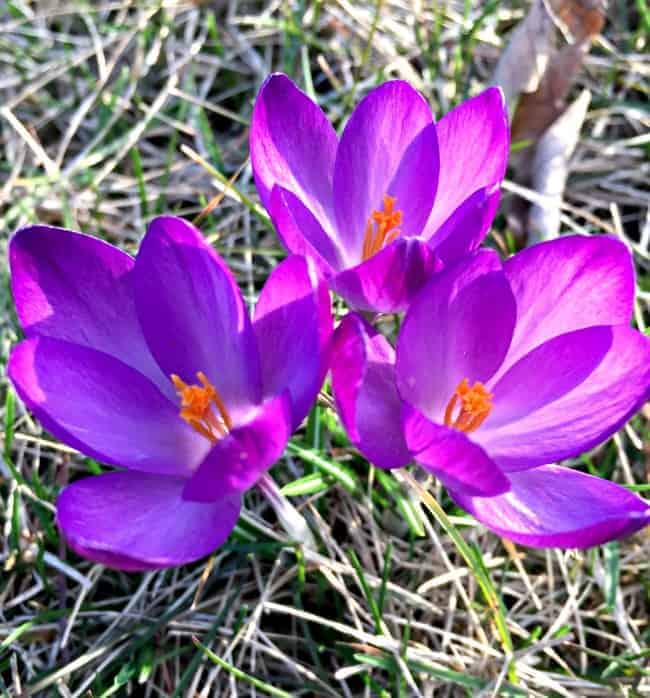 Things are moving along on the kitchen reno and the past few weekends we've had some fun shopping for some goodies that I thought I'd share. With this kitchen reno, our goal is to redo our kitchen into a beautiful and functional space doing all the work ourselves and not spending a lot of money. Of course we've had to buy supplies like wood for the ceiling and lighting from stores like Home Depot, but when it comes to, say, barn wood shelves or extra cabinet doors, we've been scouting our local ReStores and some other local businesses.
Let's start with our loot from ReStore. We are building kitchen cabinets to add to our existing ones so we thought that instead of making doors by hand, we would try to find something similar in style, made of solid wood and in a certain size at ReStore. We found exactly what we needed...similar style, solid wood and sizes that would work. After a couple of trips, we ended up getting 6 doors. They all need a little work and they'll get a coat of white paint like my existing cabinets, but hopefully you'll never be able to tell that they don't all belong together. The best part is that we spent only $2 for each door...$2. That's $12 total.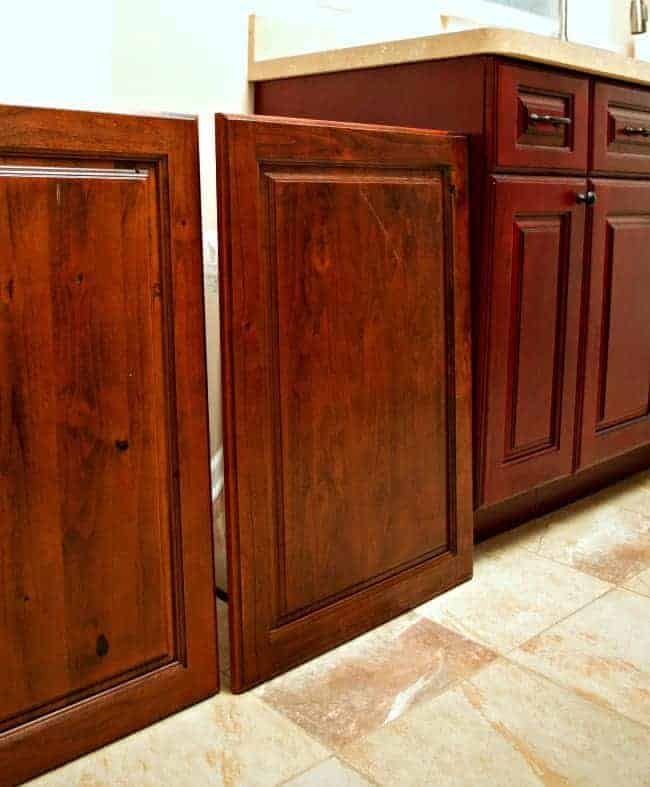 The next item on my wish list was a new back door. Last year I tried to paint the door (twice) and it was a total fail. The white, plastic grid in the window wouldn't accept the paint (even after 2 attempts including primer and sanding) and the bottom was rusted out. Armed with our doorway measurements, I took a chance that we could find an old wooden door in great shape and checked our ReStore. On our second visit there, this is what I found...
A beautiful, old solid wood door for $40. It even came with a door knob that looked brand new (we had to remove it at the store to get the door in our car). Like the cabinet doors, it needs some work, like a good cleaning and a fresh coat of paint, but it was a great find and it will look awesome in my new kitchen.
The next treasure was found at a local barn wood shop. The owners of the shop literally go into old barns and take them apart, piece by piece. They have a huge warehouse where they sell barn wood and all things rusty and old.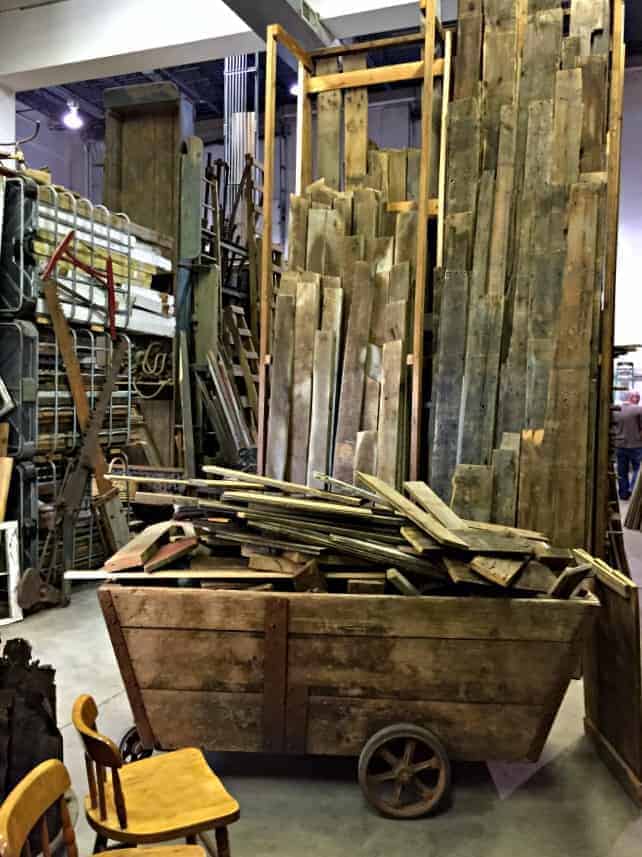 It was so much fun to look around but I was searching for two specific things, some barn wood to make into shelves, and an old window to use for a project I have in mind for the big wall in the kitchen, and I found both.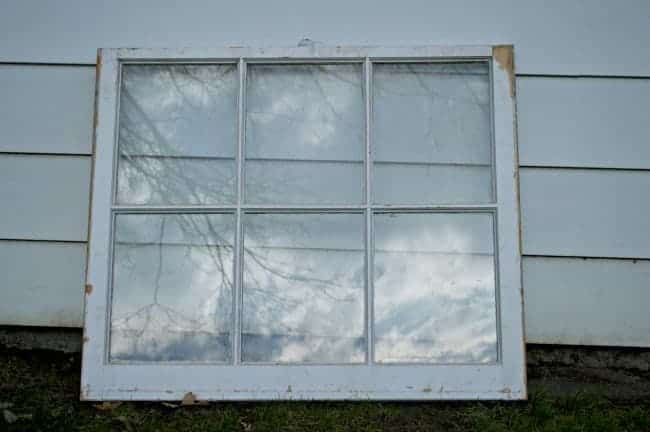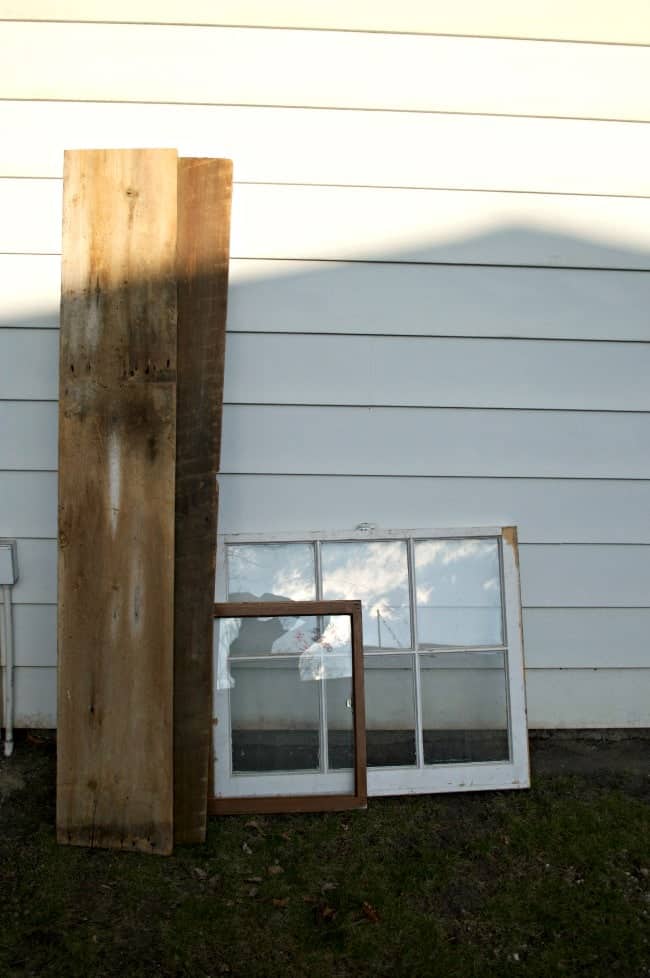 The small wooden window you see with the barn wood and large window was picked up at ReStore for $1.50. I'm not sure what I'll do with it but I couldn't pass it up.
We had to go through a lot of wood to get two pieces that were similar in thickness so I'm hoping they work out like I planned. The barn wood and old window cost more than anything I got at ReStore but I feel like the money that I saved on the door and cabinet doors makes up for it. 😉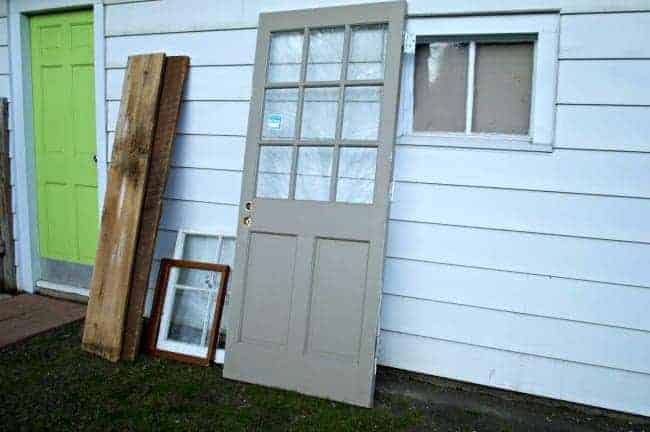 We are trying to finish the ceiling and I hope to share the details with you next time. What to you think of my haul? Have you ever visited a ReStore?
If you want to catch up on my kitchen reno, check out these posts...