How to Lay Brick Garden Edging
This post may contain affiliate links, please see our policy for details.
How to lay brick garden edging the easy way using leftover bricks, a lawn edger and paver sand.
I'm all for using up what you have so while I was sprucing up our disaster of a backyard, I decided to find a spot for a pile of old bricks that was laying around.
Let's start at the beginning…
Our backyard is in need of desperate help.
We have a ton of trees in and around our property so getting anything to grow, especially grass, has been a tough task.
Last year, when I built my raised garden beds, I decided to go all the way and cover the part of the yard that was just dirt and weeds.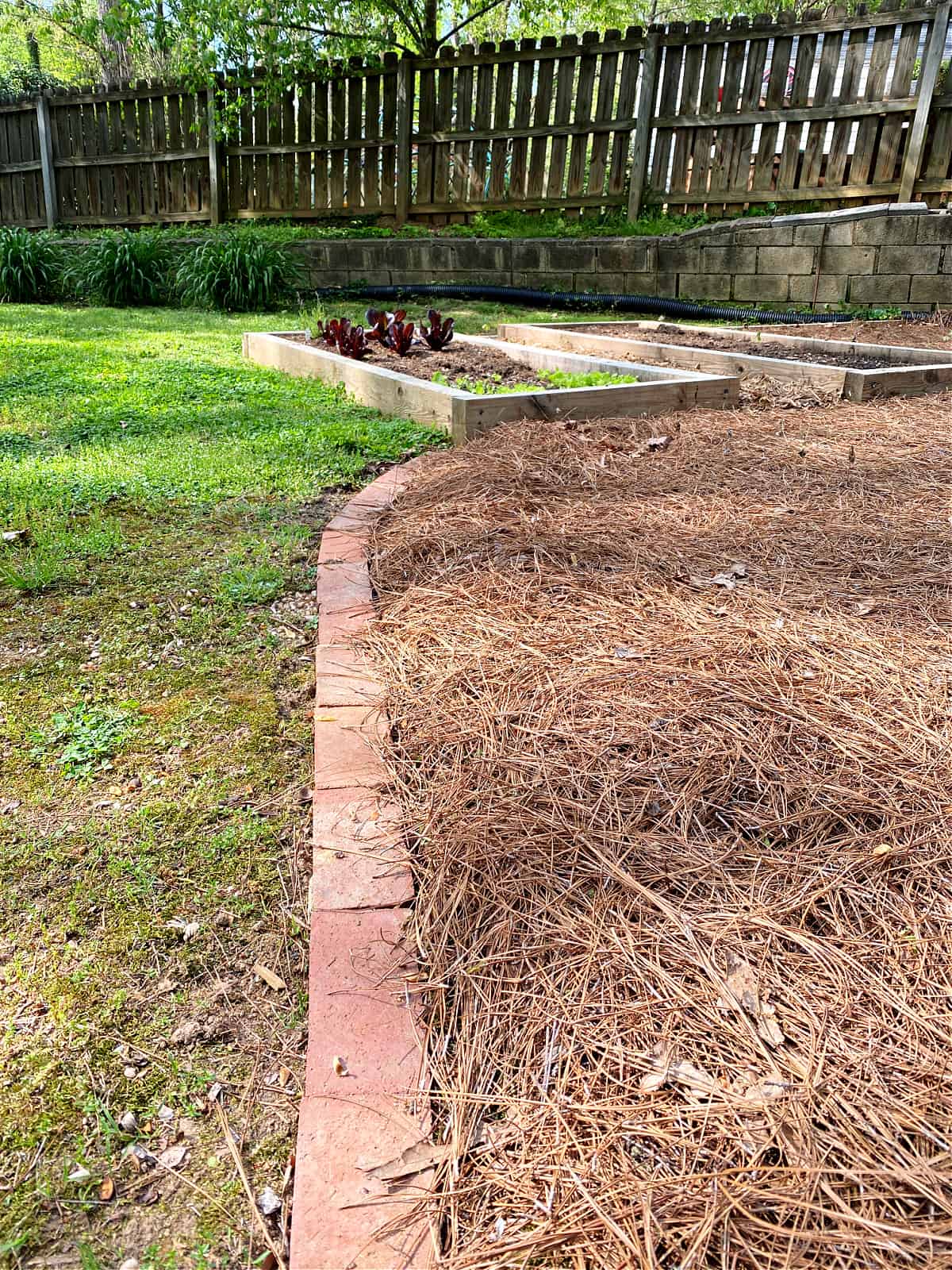 Using old bricks for edging
A bit of pine straw (what most Southerners use in place of mulch) did the trick.
I loved having the dirt and weeds covered up and looking neat and tidy but the edge of the bed looked undone.
The grass and weeds kept encroaching into my new bed and I just couldn't stay ahead of it.
This is where the old brick pile comes into play. I had just enough to create a garden edge to keep the pine straw in and the grass and weeds out.
How do you lay a brick border in a garden?
Actually it was quite easy and just took about an hour to complete. I didn't have to use any power tools or mortar.
Supplies
Installing brick edging
The first thing that I did was to lay the bricks out along the edge of the garden.
I did this to get an idea of the shape of the edging and I wanted to be sure that I had enough bricks to get the job done.
You could also use a hose or a piece of rope to create the shape of your garden border.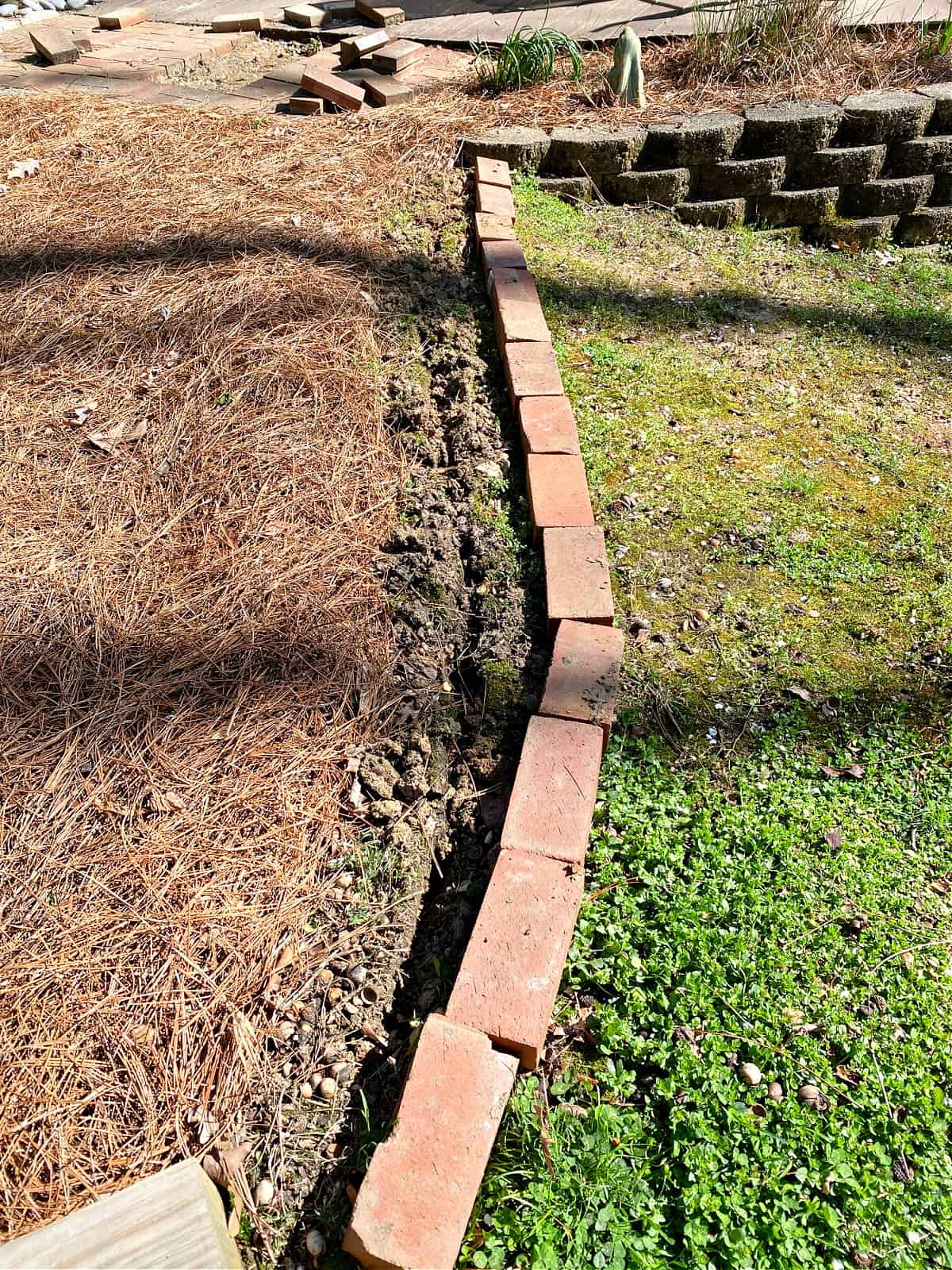 When I was happy with the placement, I moved the bricks back a few inches each and used the lawn edger to dig a trench for the bricks.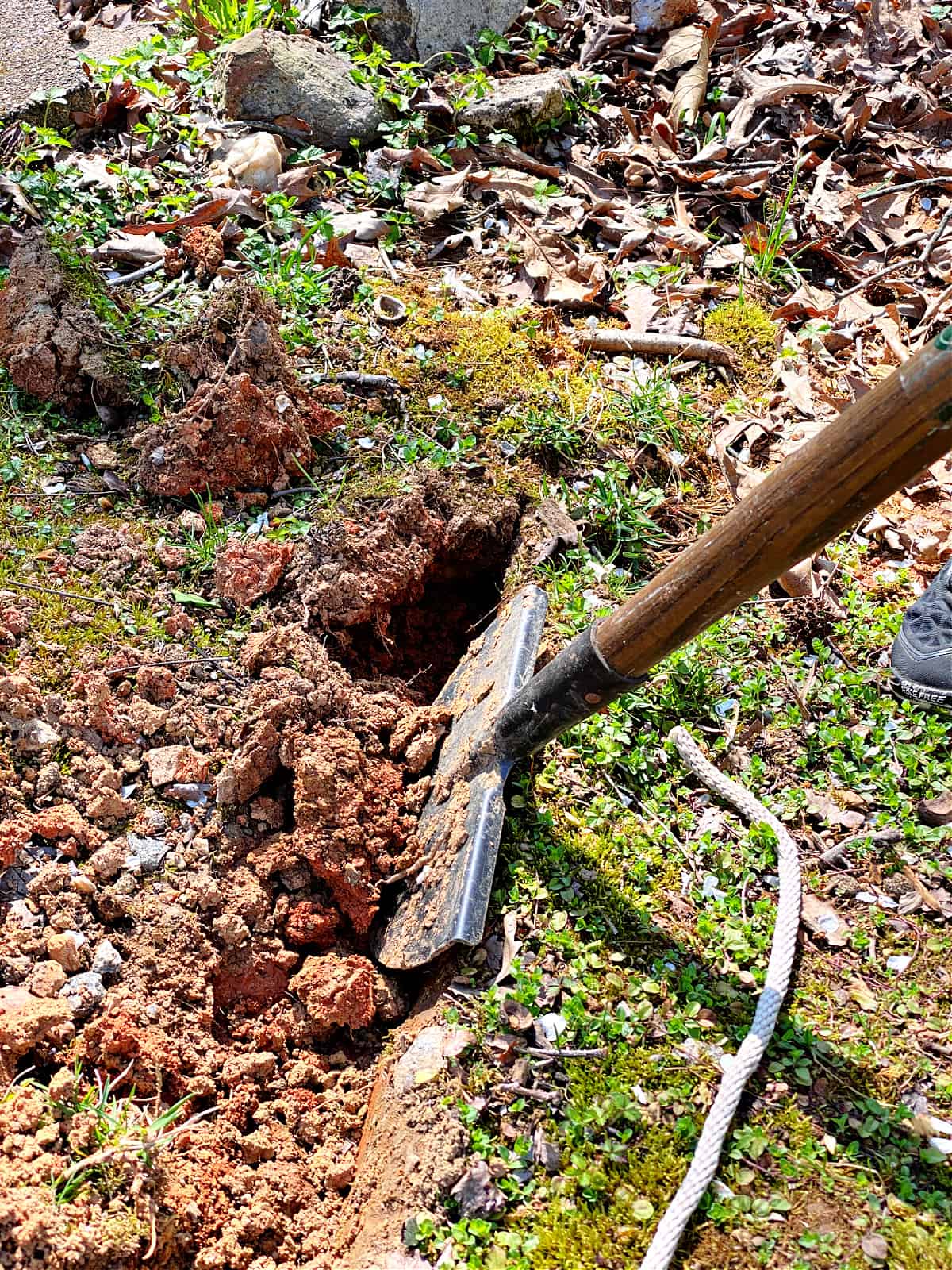 I didn't move a lot of dirt, just enough so that the bricks would be halfway underground.
Of course you could have them raised higher or lower according to the look and feel you are going for.
To make sure that my edge was wide and deep enough, I would lay a brick in it every few feet.
What do you put under brick garden edging?
Once the edge was completely dug I spread some paver sand along the length of the border.
After I got started laying the brick I found that this step wasn't really necessary, though (more on that in a bit).
You could also use crushed stone for this step. I already had the sand so that's what I used.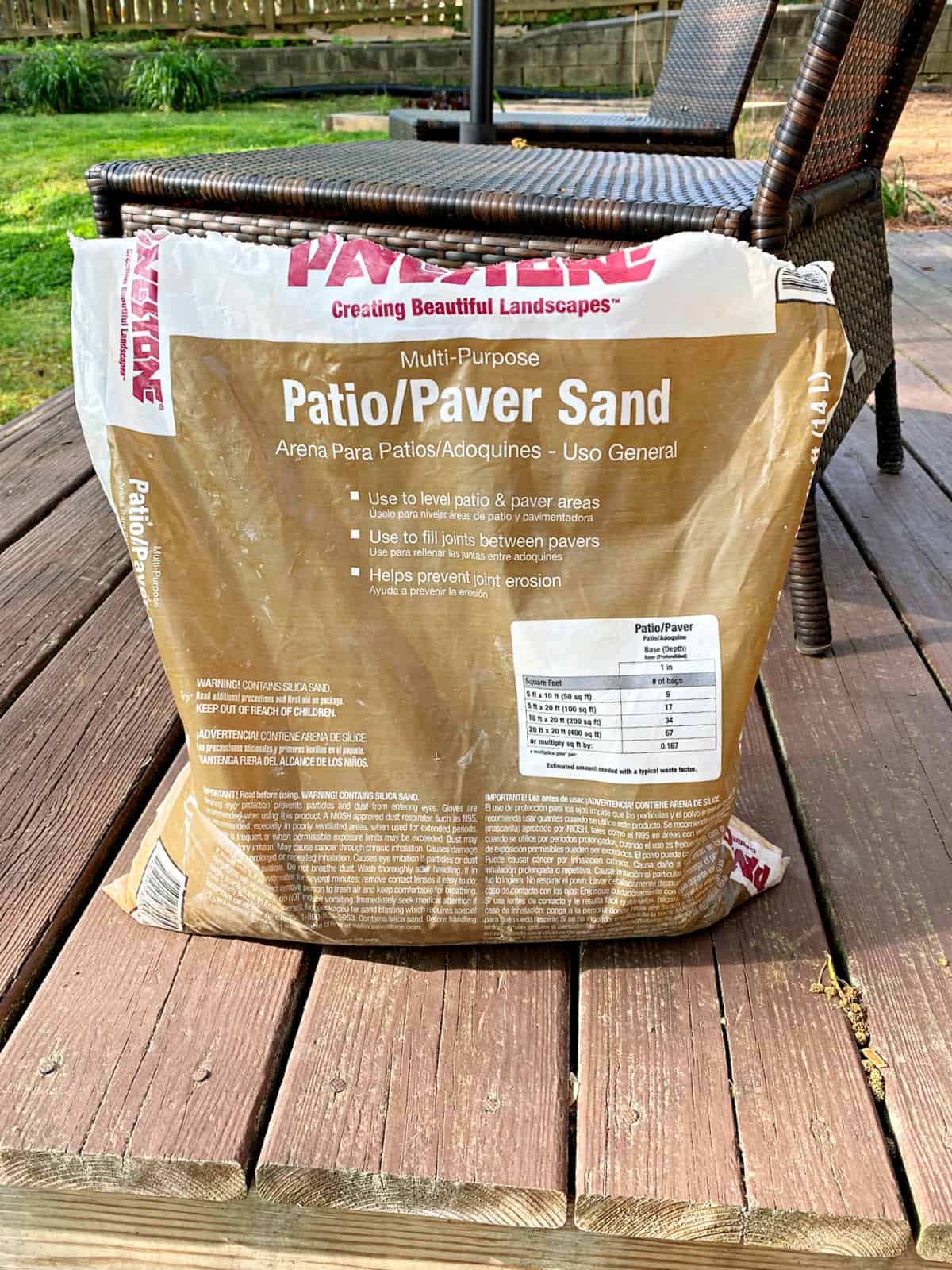 Now I was ready to start laying my brick.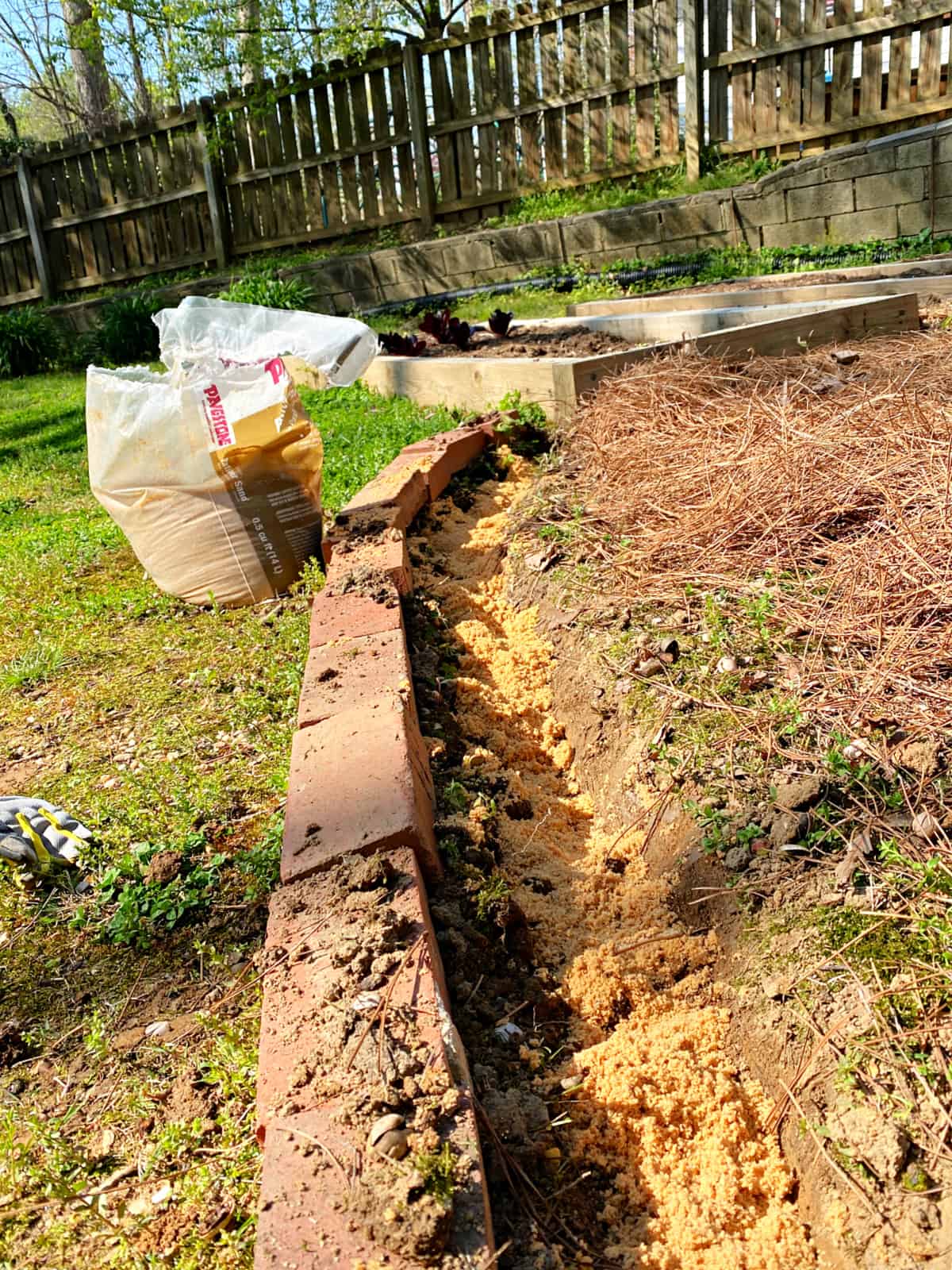 How to install brick border edging
I started laying the bricks at the far end, next to the veggie garden.
I would put a bit of sand down, tamp it down with the end of the rubber mallet, and then lay the brick.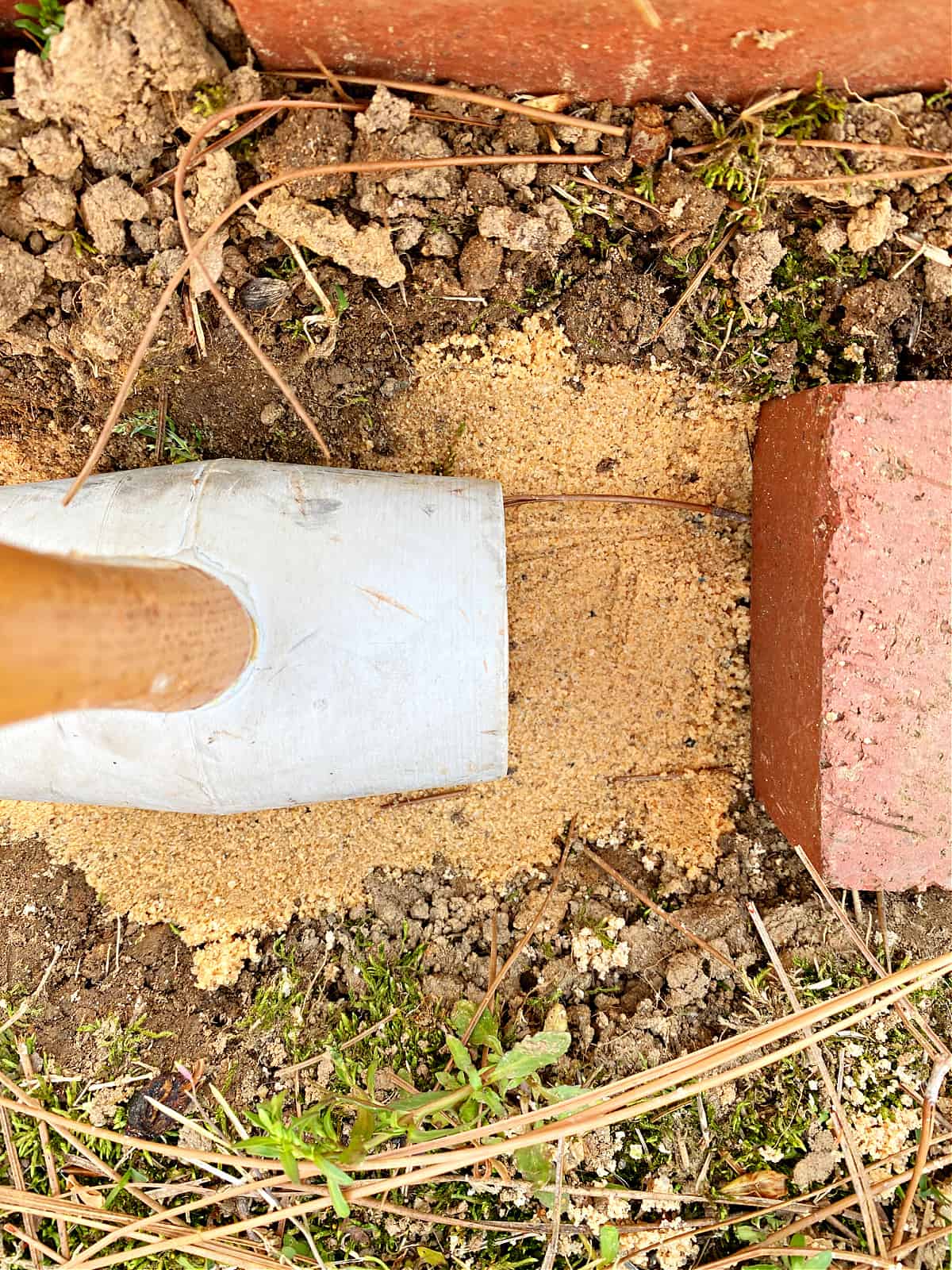 I would do this for each brick.
Spread enough sand for that one brick, tamp it down with the rubber mallet, and lay the brick.
Once I laid a few of the bricks I used the level to make sure they were, um…level.
I didn't stress if they were off a bit but the level did help keep them looking good.
If I found a brick was too high, I would tamp it down with the rubber mallet.
If it was too low, I would put a bit more sand, tamp the sand with the mallet, and lay the brick again.
This is the reason why it was better for me to lay the sand that was needed for each brick.
Of course you can do it how you want but it was helpful for me and if I had not spread it out first, I would have used less sand and saved a step.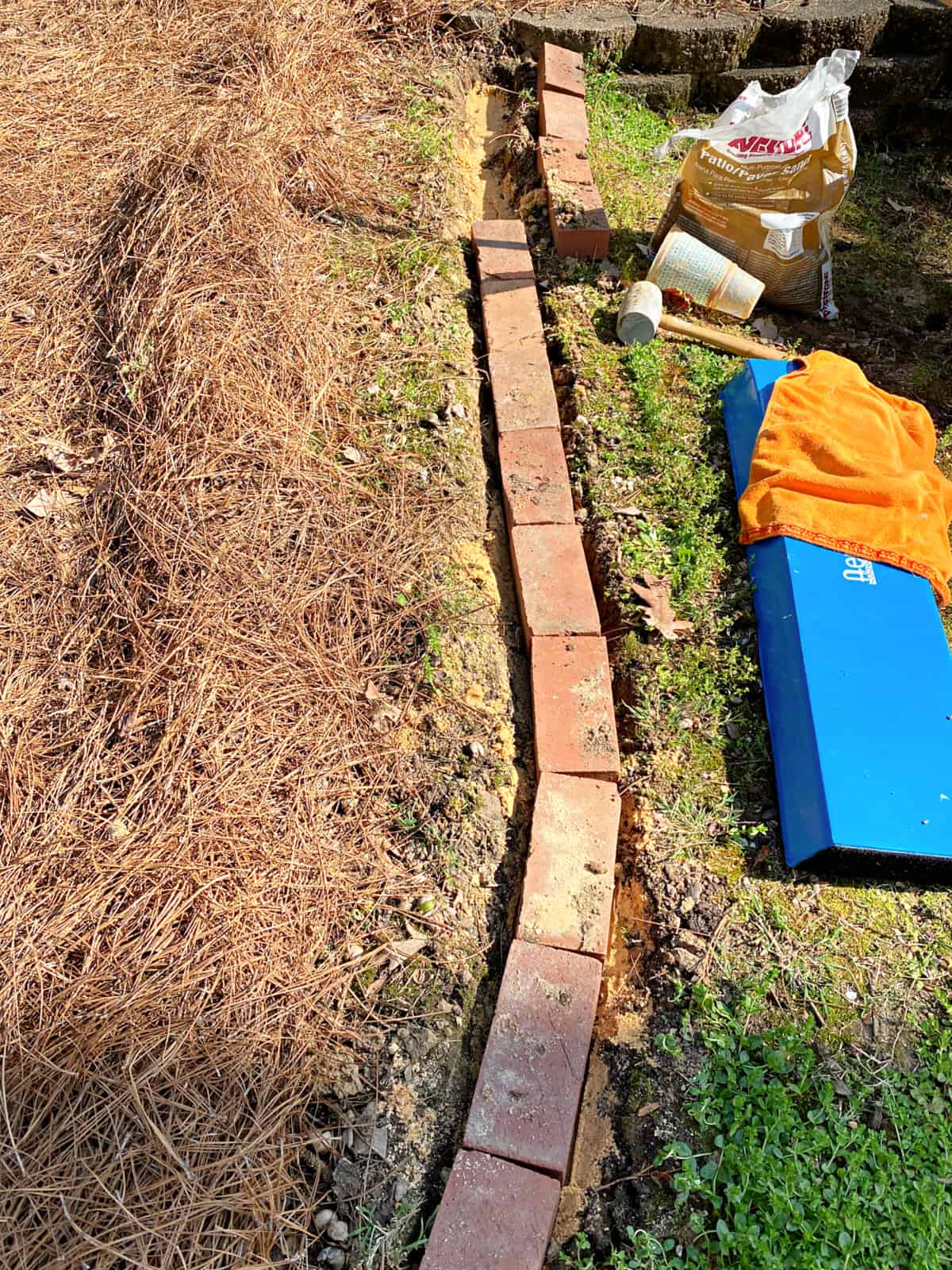 Once I finished laying all the bricks I spread some of the dirt I had dug up on either side of the bricks and moved my pine straw back to the edge of the garden.
It was the perfect solution!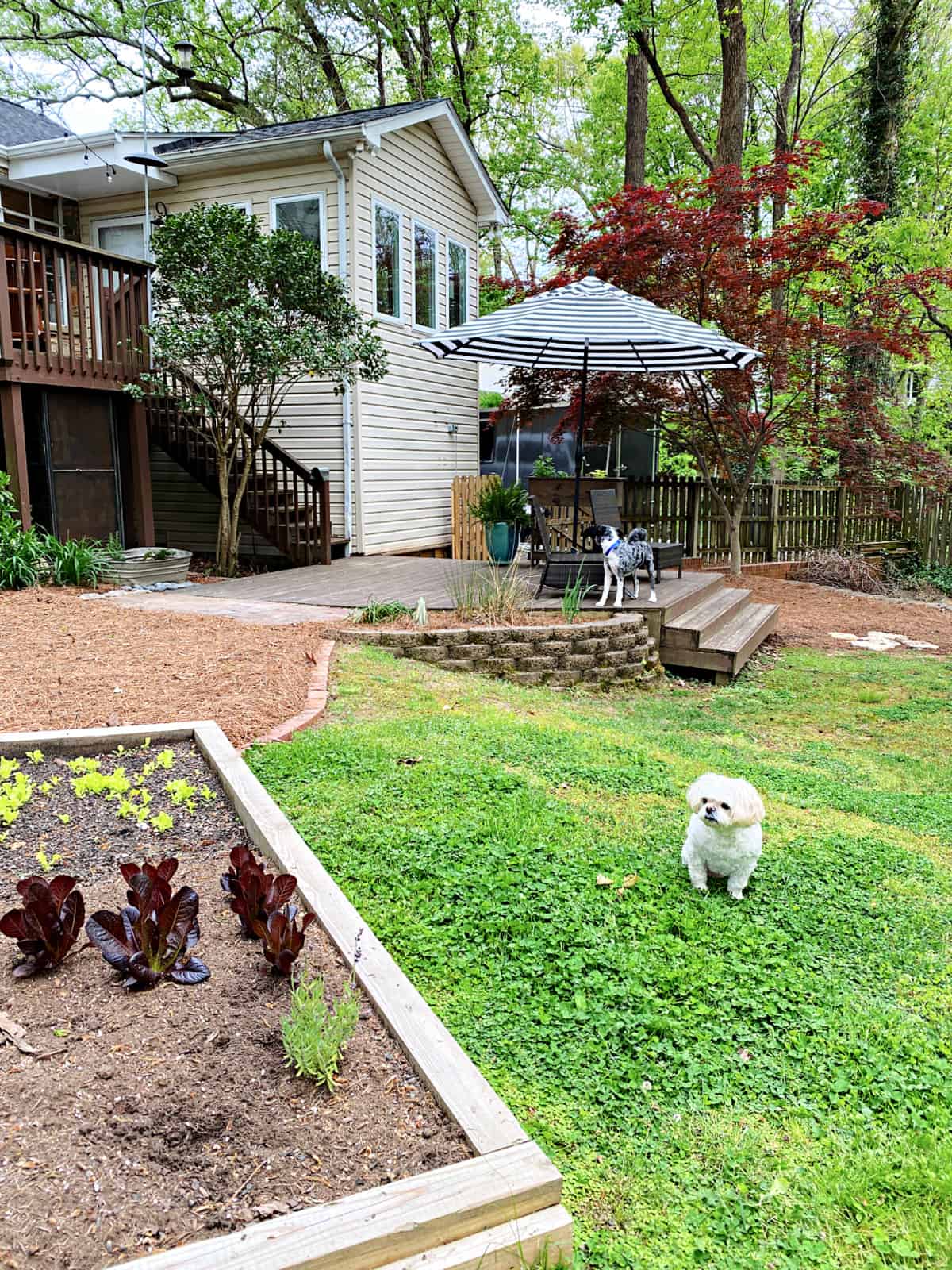 Now when we trim the grass we won't hit the pine straw and knock it out, and the weeds and grass won't creep into my garden.
Not only did it solve a problem but I was able to use up leftover supplies, which means that this project was free.
You can't argue with free!
Check out more garden ideas