In my last post I promised that my next one would be about fixing the holes in the wall my husband made when he moved an electrical outlet in my guest room redo. I know…riveting stuff here. But my projects, along with my post, have been sidelined this week with a bad cold?, a sinus infection?, the flu?? I don't know what it is but I can't do anything but lay on the couch with Finn and watch the Olympics (thank goodness they are on or I would be watching a blank screen).
Instead of a post about filling holes I thought I would share my little secret and a conflict I have been having with my husband….
It's not tragic or life altering and there are certainly bigger problems in this world but…
But it's something we've discussed and disagreed about since we moved into our house eight months ago.
Are you ready? Are you intrigued?? My secret is…
We don't have a microwave. I know, can you believe it??? Like most households we have always had a microwave and have mostly used it for heating up leftovers or making the occasional bag of popcorn. The last two houses we lived in had microwaves built-in over the stove, so when we moved into this house we didn't have one to bring. This house was kind of bare bones with no built-in microwave and not much room to put one, so we didn't go out and buy one right away.
I can honestly say that I haven't really missed having one. If I want to heat up leftovers, I just pop it into a pan and stick it on the stove. Is a microwave more convenient and faster? Sure, but it really hasn't been a huge problem. Do I wish that I had one to make a quick bag of popcorn? A couple of times I did, but I can always make it on the stove top. It does take some extra time, but, if you've read all the stuff about microwave popcorn being bad for you, it probably is a better alternative anyway.
Surprisingly my husband has adjusted well to not having one. I knew he would have a harder time because he is all about convenience. Every time he has to heat up some leftovers I expect him to start complaining about not having a microwave, but he has not done that once since we moved in.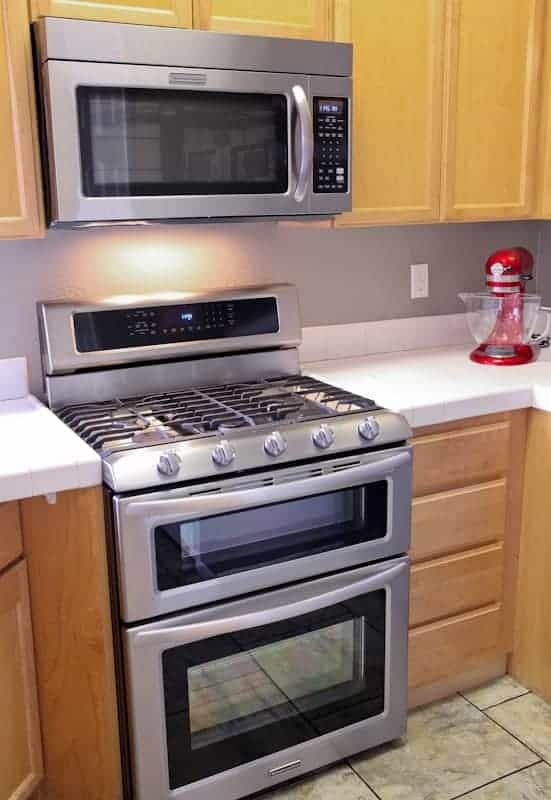 source
Our conflict in all of this is that we can't agree on where we should put it. I'm ok with putting it above the stove where the hood is now, but my husband doesn't like that kind of microwave (we had 2 microwaves in 2 separate houses over the stove and both didn't work very well).  We definitely don't have the counter space for one, not that I would want one there if we did, and our blue cabinet we use as a pantry is too small for a microwave.  He would like to get some cheap model and put it in the basement but I don't think we would run down there to microwave something very often, so I'm not thrilled with that idea.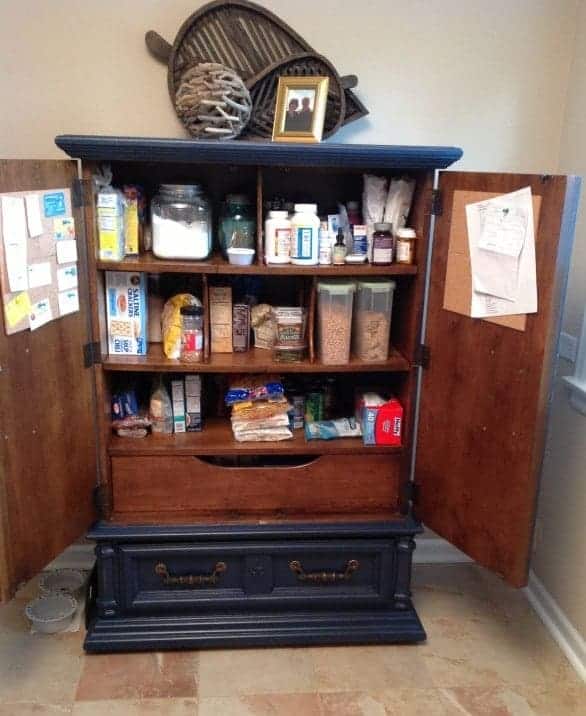 In a perfect world I would build one into our beautiful center island so you couldn't see it right as you walk into the kitchen. But we don't live in a perfect world and I don't have room for a beautiful center island. So here we are, still deadlocked on where to put a microwave and really, if we need to have one at all.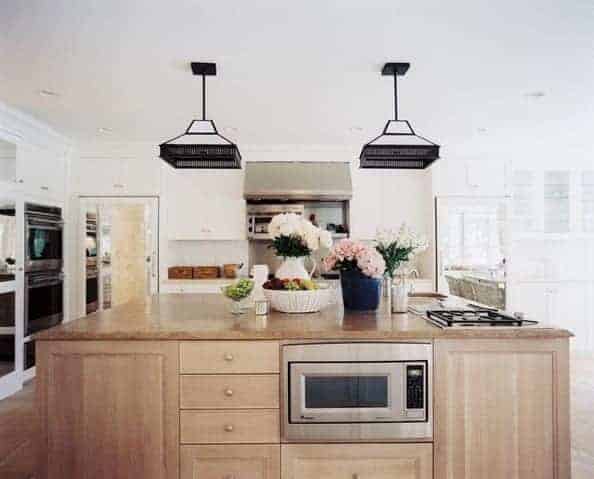 source
What do you think? Could you live without a microwave? Tell me that we aren't the only ones without a microwave? Where would you put it in a small space?
Hope you are well and that you have a great weekend!