*As an Amazon Associate and member of other affiliate programs, I earn from qualifying purchases.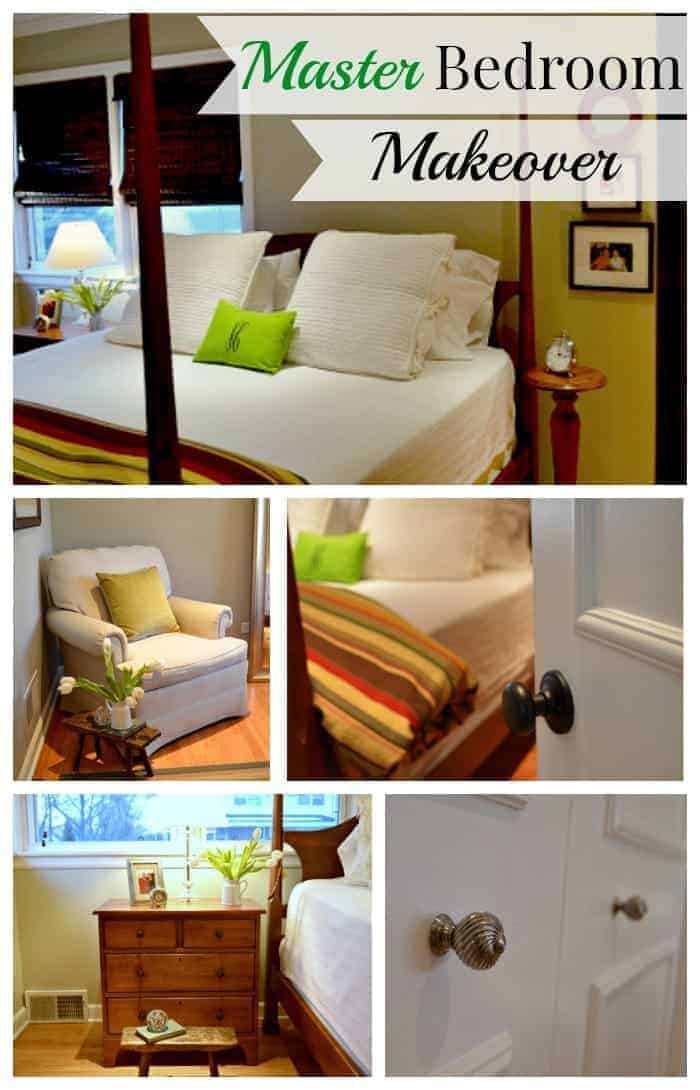 I'm finally done and ready to share my master bedroom redo. Ummm, I guess I shouldn't say done because, are we ever really done?
Anyway, I am done with everything I am going to do at this present time (how's that?) 😉 I've already posted about the ceiling that I painted in a pearl finish and the painting of the walls and crown molding installation.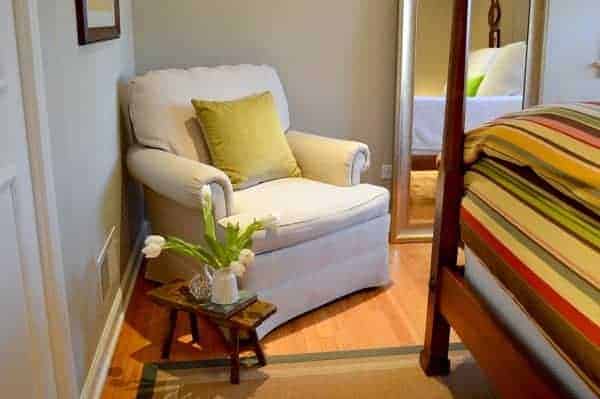 I just want to say that as I redo each room, first the bathroom and then the living/dining room, I am learning more and more about small space decorating (and small space photography!).
It's been really difficult because you have to learn to edit so much while still trying to have a stylish room. Like I said, I'm learning.
Let's start out with a few before shots, beginning with an empty room before we moved in.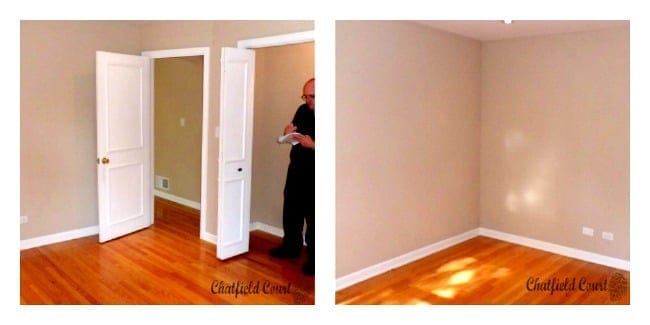 This is a small room, 13×17, and it had the same "swiney" beige walls that all the other rooms had, but it has beautiful hardwood floors and really nice paneled doors. I knew that I wanted to put up crown molding and paint the walls and ceiling, but the first job we had to tackle in this room was the closet that came empty, no shelves and no rods, which is another post for another time.
Let's look at my master bedroom now…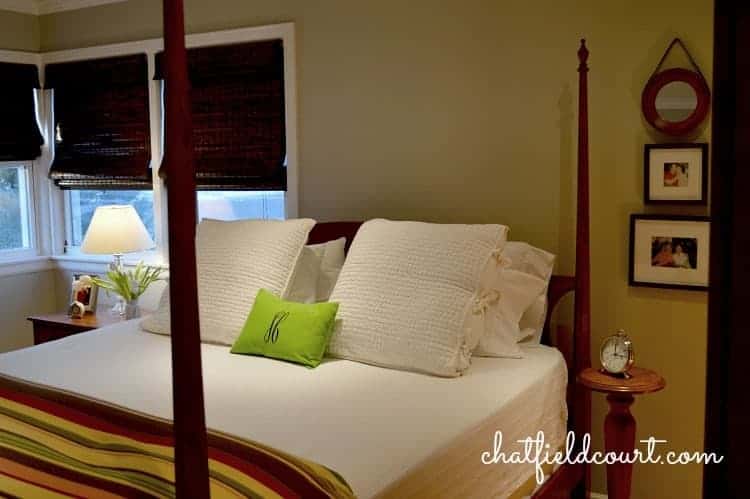 This is my favorite part of the whole room…the closet door knobs. 🙂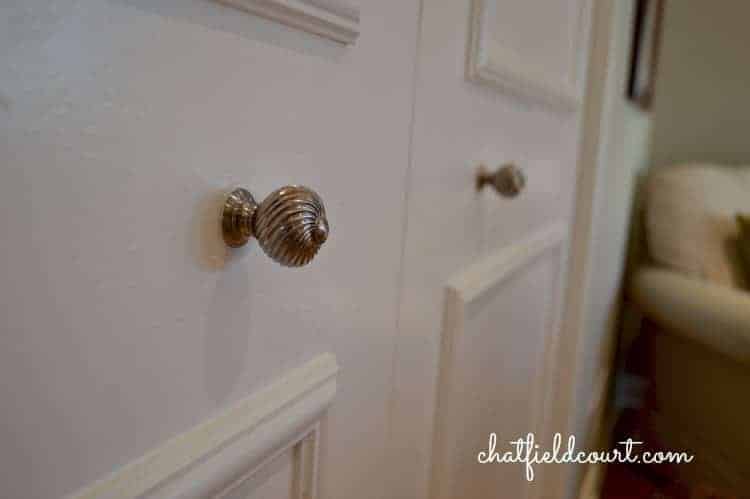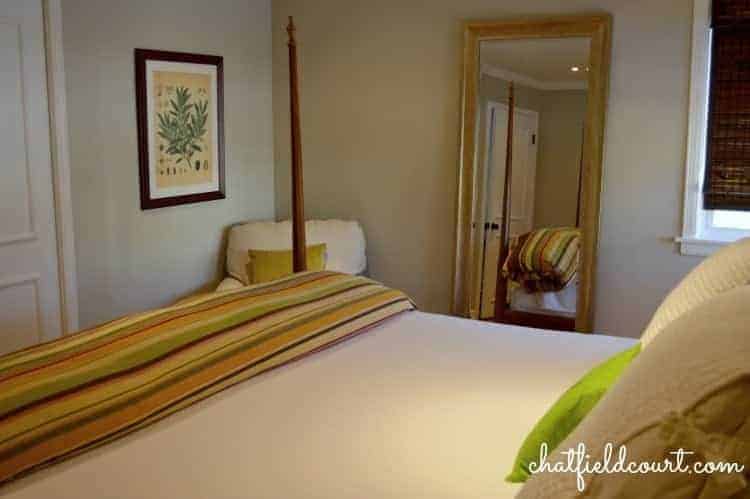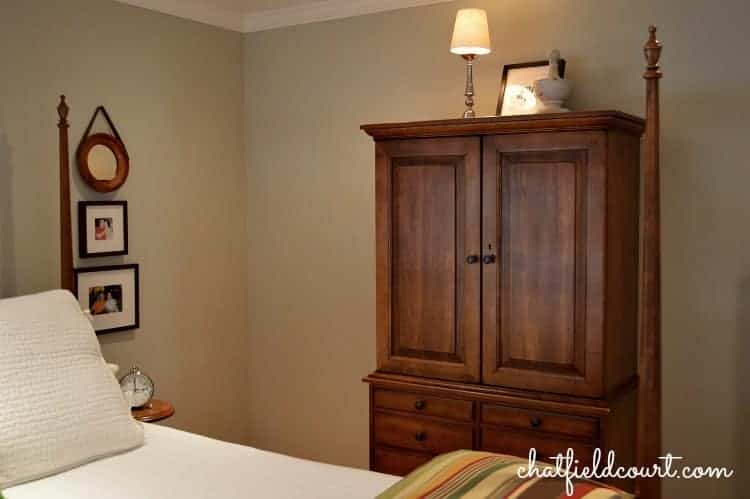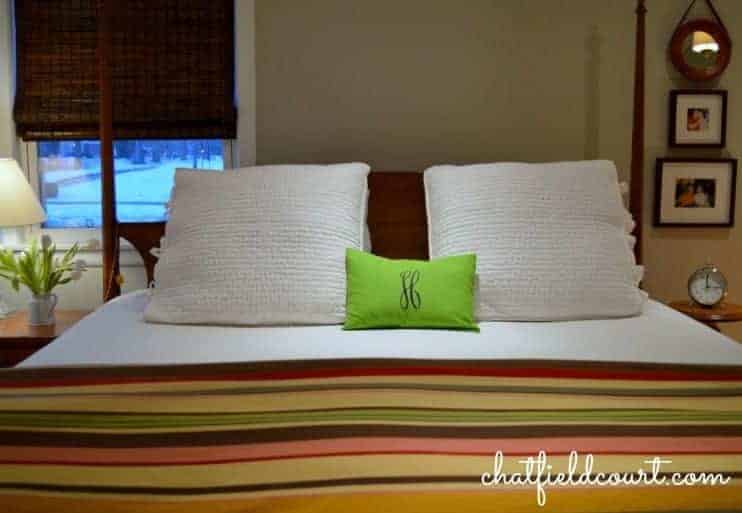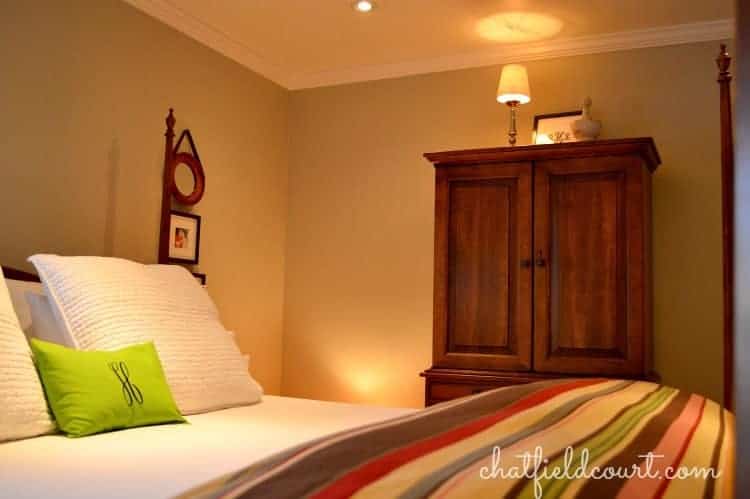 Although the room is small we where able to fit all of the furniture that we already had, a king size bed, a chair, a two piece armoire, nightstand, and a small bedside table.
Master Bedroom Makeover Expenses:
ceiling paint – $50
wall paint – 2 gallons, $100
leaning mirror – $100
wood for crown molding – $85
nail gun – $25 Harbor Freight
knobs for closet doors – $30
knobs for armoire and nightstand $15
door knob and hinges – $ 30
small round mirror – $10
monogrammed lumbar pillow cover and form – $35
woven shades for windows – $285
Everything else I already had. I ended up spending around $785 for the room, including window treatments, but the nail gun will be used again many times, I had nearly a gallon left of the wall paint (don't you hate when that happens?), and I have half of the gallon of the ceiling paint left.
Here are the sources of the room and, as you can see, most of the things I've had for many years.
sources for master bedroom makeover
wall color – Benjamin Moore Hazy Skies, Regal eggshell finish
ceiling color – Benjamin Moore White Dove, Regal pearl finish
trim and crown molding – Benjamin Moore White Dove, Advance
leaning mirror – Home Goods
armchair – Thomasville, bought years ago when I lived in Georgia
bedroom furniture – Durham Furniture, bought when I lived in Georgia
nightstand lamp – Restoration Hardware, years ago
bamboo shades – Blinds.com
big picture by chair – Pottery Barn, years ago
small reclaimed wood stool – Pottery Barn, years ago
round table, used for nightstand – bought from a catalog 25 years ago
small hanging round mirror – Target
green velvet pillow on armchair – Pottery Barn, bought years ago
all bedding – Pottery Barn, bought within the last couple of years
lumbar pillow with monogram – etsy
rug – Target, years ago
closet door knobs – Restoration Hardware
armoire and nightstand knobs – Amazon
Thanks for sticking with me through this long post. I'm onto the next room. Have you started any new projects lately?