Disclosure: As an Amazon Associate and member of other affiliate programs, I earn from qualifying purchases.
Oh the perils of being a diy blogger...starting another project in the middle of a room redo. I am supposed to be working on guest bedroom #2 but I got sidetracked by a new rug in my living room.
I had looked and looked for a rug for this space when I was redoing the living room back in October and I found this black border sisal look rug for a great price. I thought it was "the one" so it came home with me.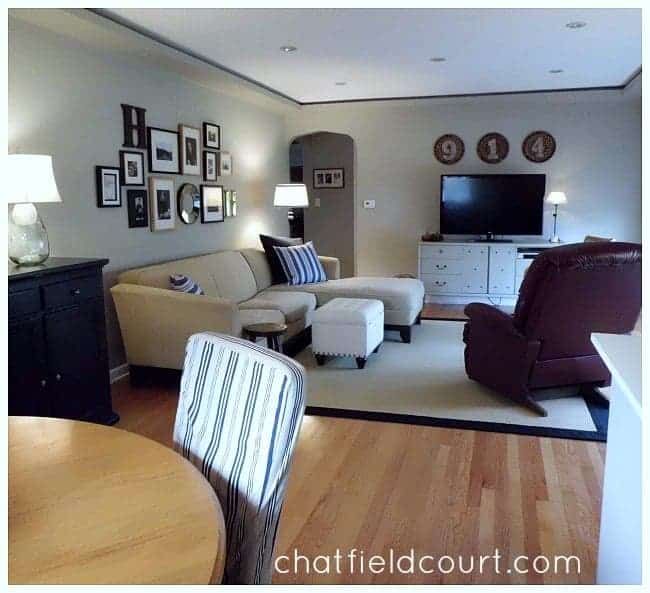 After having it in the room for 2 weeks, I knew that it wasn't going to be the rug for me because the black border picked up everything that crossed it, Finn's white dog hairs, fuzz, dust, and the fibers from the middle of the rug. I swear that I could vacuum that thing every day and after a few hours time, it would look like it hadn't been cleaned in a week. I did try to live with it and gave it a couple of months to see if I could get used to it but that didn't happen, so I started to look at new rugs. I knew that I didn't want a wool rug, although I love the softness I don't love the shedding, and after going months constantly cleaning my current rug, a shedding rug was the main thing I was trying to avoid. I have always liked the look of natural rugs and I actually have a round jute rug under my dining table, so I started researching to see what kind a natural rug would work best for us in the living room. I read lots of info on jute, seagrass and sisal and it seemed like seagrass would be the most durable and the easiest to clean up if we spilled on it. What convinced me to go for seagrass was this post by the fabulous Joni Webb at Cote De Texas. When you have a seagrass rug you definitely give up the softness of a wool, something I'm still trying to get used to, but it does seem durable, it looks good, it doesn't shed (yay!), and you can get them at some pretty good prices. I looked at a lot of different websites and ended up getting my rug from naturalarearugs.com (I have no affiliation with them I am just happy with my rug and wanted to share).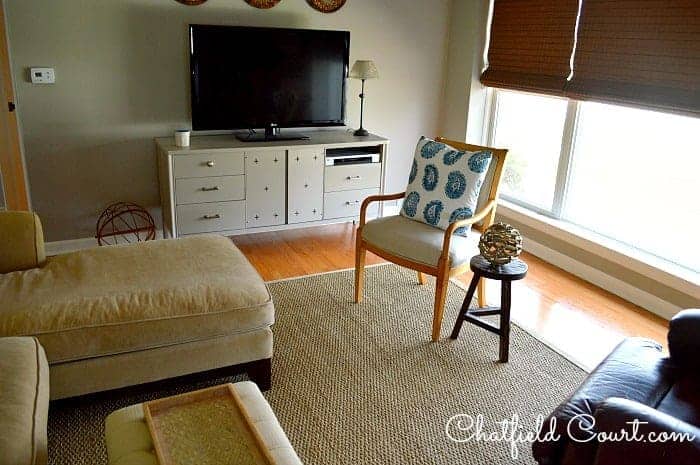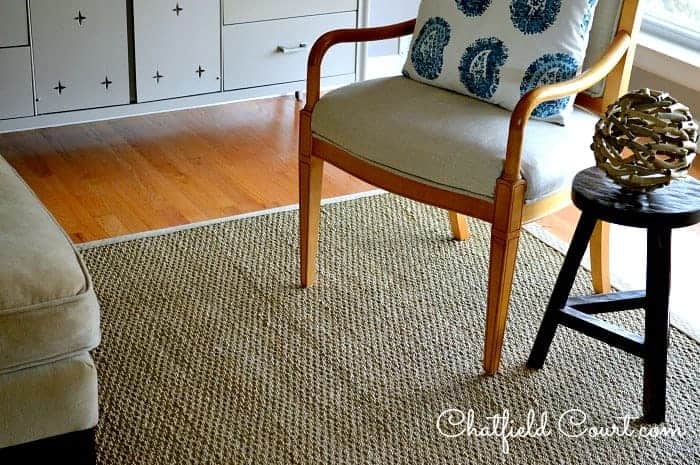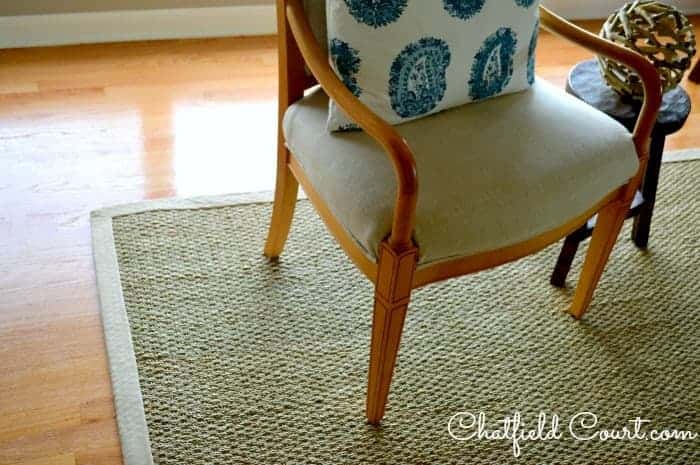 So I get my new rug, which I love, and I start to think about other parts of the room. Having lived with my paint choice (BM Thunder) for nearly 6 months and living through the dreary, hellish winter we had, I was starting to question my color choice. It's a great gray color, with no obvious undertones, but it is a little dark for this North facing room and I'm not sure it quite fits my style. After some thought, I reluctantly decided to try again and paint. Ugh...this is a big room so repainting is taking some time, which is time away from my guest bedroom redo. That's why I didn't share a photo of the whole living room, besides having 2 different colors on some of the walls, the room is a mess. Once I finish, I'll share a full room view and my paint choice. Hopefully I will be happy with it this time, because I can't do a round 3.
Do you have a natural rug? What do you think of it? Would you get another one?
I am now on TWITTER. Come and check it out! You can also see me on FACEBOOK and PINTEREST.