Cozy Christmas Cottage Tour
*As an Amazon Associate and member of other affiliate programs, I earn from qualifying purchases.
Today's the day…it's my day to share for the Home for the Holidays blog tour, and I'm thrilled to show you around our stone cottage dressed for the season.
We just moved into our 1946 stone cottage in July, so this will be the first Christmas we'll be spending in our new home. I've been so excited about decorating and creating our cozy Christmas cottage that I may have started 2 weeks ago, which is the earliest I've ever started decorating, but it's been fun taking my time and finding the perfect spots for all my holiday decor. (You can check out last year's Christmas tour of our Illinois home HERE). I've also added a Source List at the very bottom of the post.
Our house is definitely a work in progress, which means some rooms are half painted (sad but true), there's quite a few large, spackled holes in the walls that have yet to be sanded and the beat up front door still hasn't been replaced, but it hasn't dampened my holiday spirit.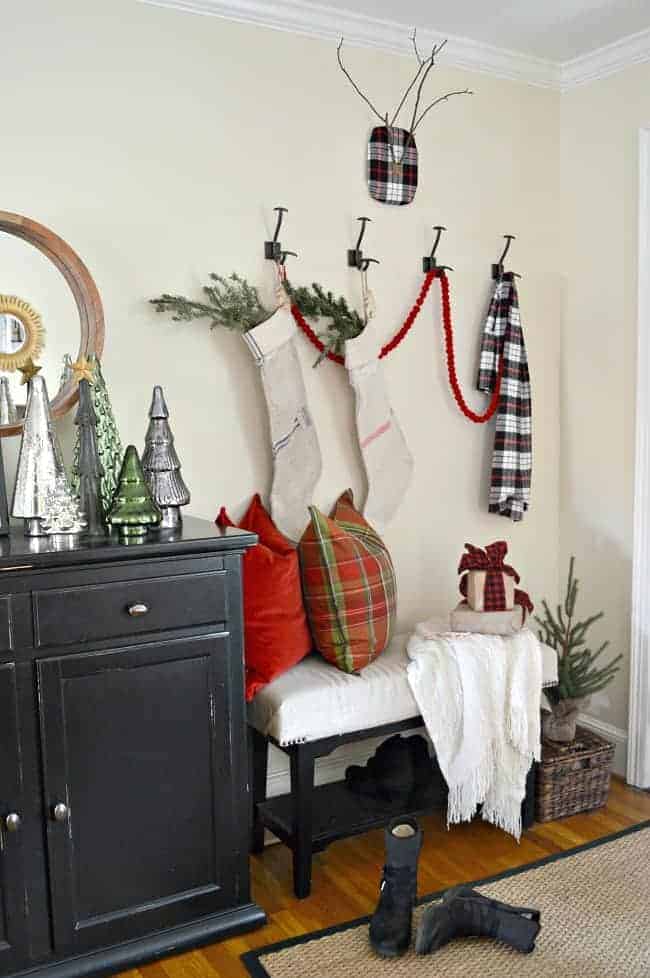 Our family has lived in a lot of homes over the years and, although it's not the smallest house we've lived in, it's definitely been the most challenging when it came to the all important tree placement.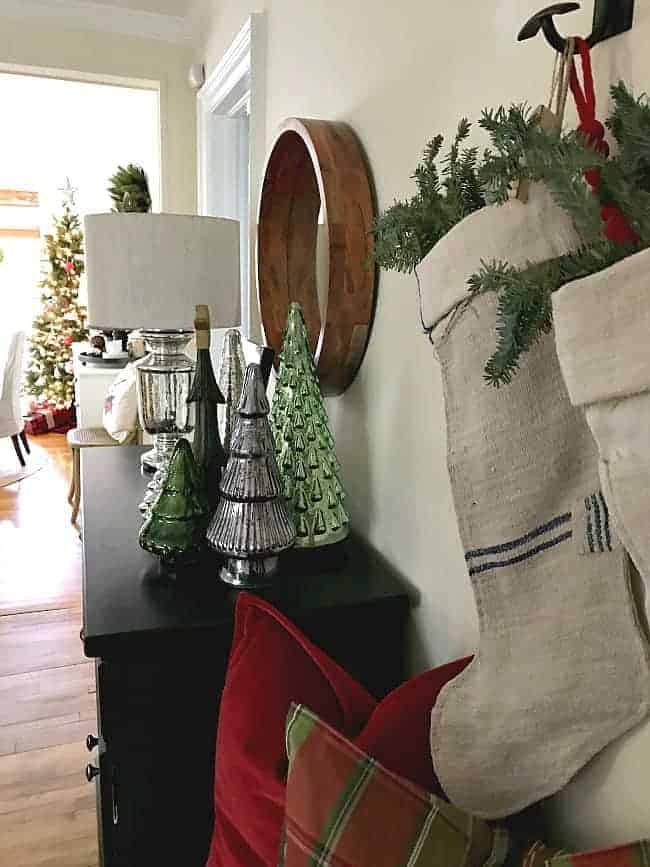 You see, we have a tiny living room…tiny. There's only room for a couch and a chair so adding a big tree, or even a little one, was out of the question. We discussed putting it in the sunroom but that's tight too, so the only spot left was the dining room.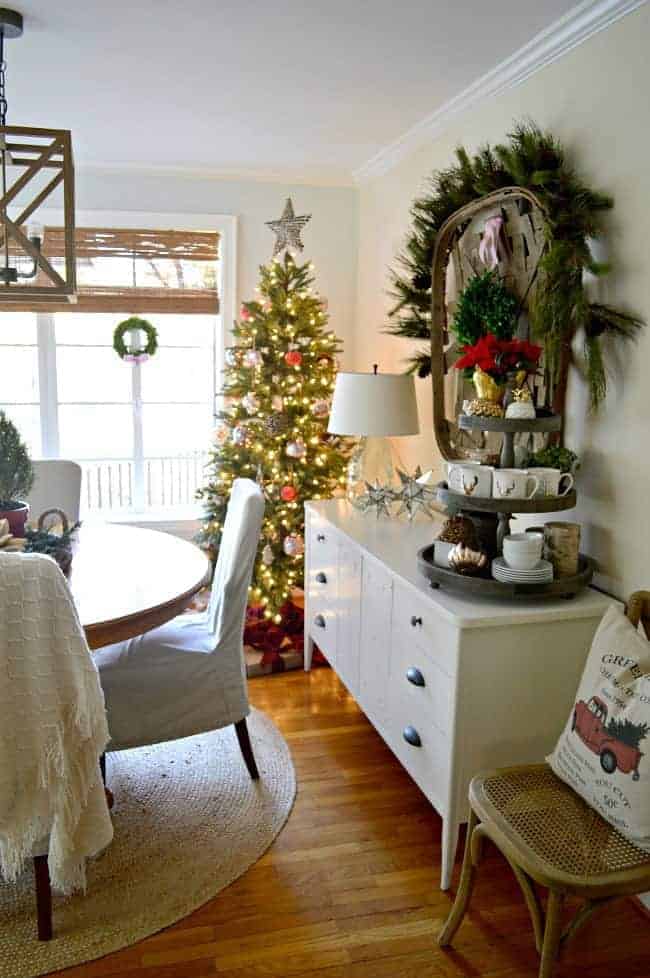 Not the most ideal and definitely not the best when you're sharing on a blog. I mean, you can't help but look on Instagram and Pinterest at all of these big beautiful family rooms with gorgeous 75 foot trees all decked out and ready for a magazine photo shoot. I have to admit, I love looking at them too but that's not our reality.
So it was either the dining room or no big tree at all.
Not having a big tree wasn't an option, for me anyway (although the hubs has a different view), so we started a new trend and put it in the dining room.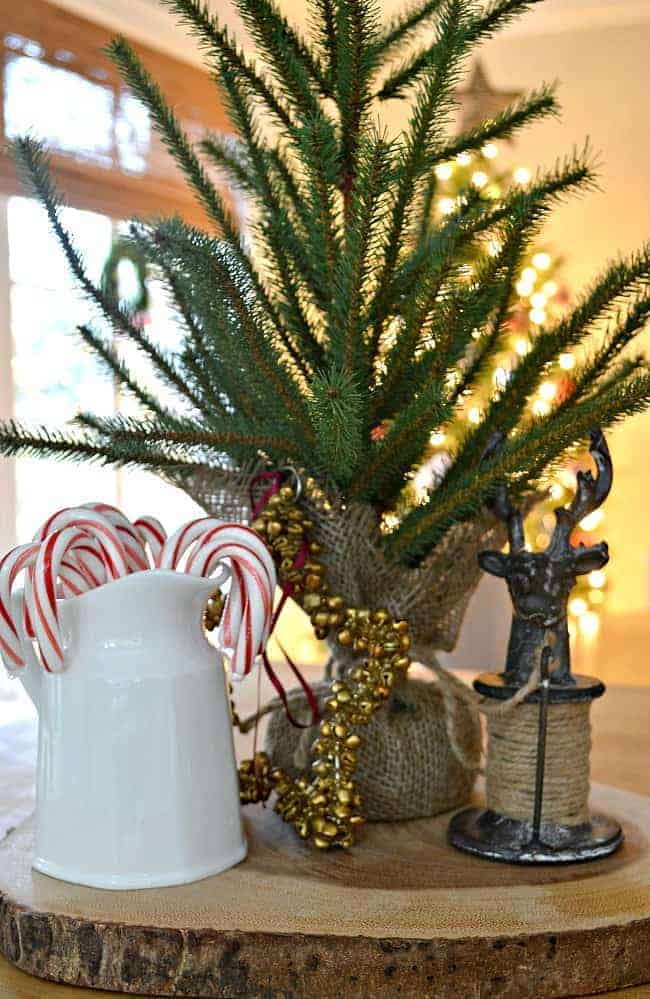 I was a little bummed when it first went up because I'm so used to seeing it in the living room, but we spend a lot of time in the kitchen and dining room, so now we get to eat dinner by the twinkling of the tree lights. Not a bad trade-off.
We bought a new, slimmer profile tree last year from Balsam Hill and I'm so glad that we did. If we'd had a bigger tree, it wouldn't have fit.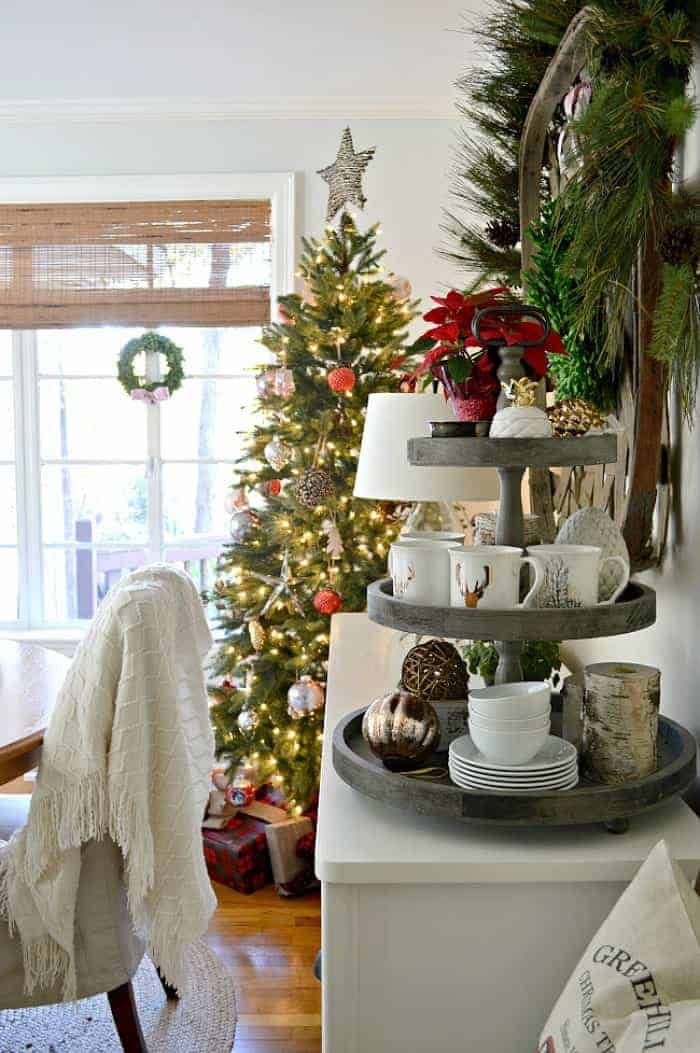 I kept the tree pretty simple this year. Red, silver and a bit of gold, including the mercury glass ornaments that I made, and a bit of rustic, like the stick ornament I made last year. I guess it's a little bit of everything.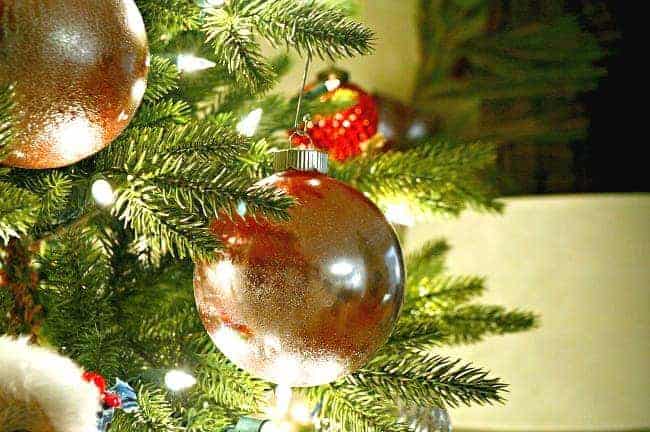 So, since the tree found it's home in here, and we spend so much time in this space anyway, that's where most of the decorating took place.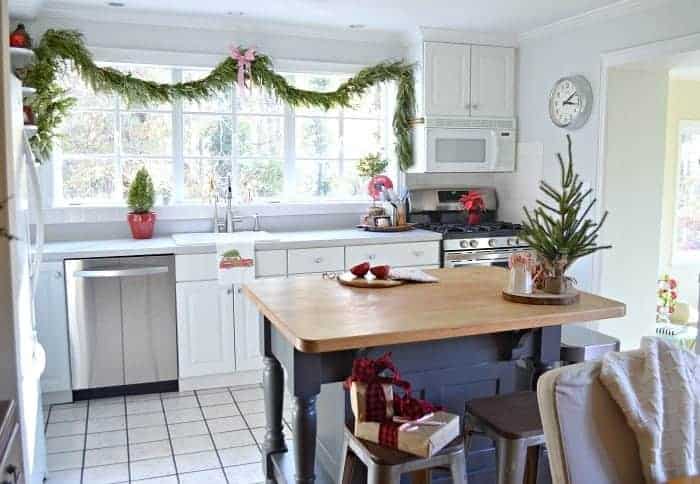 When we first moved in, I envisioned this window decorated for the holidays with a beautiful live garland. It's my favorite thing in the kitchen right now.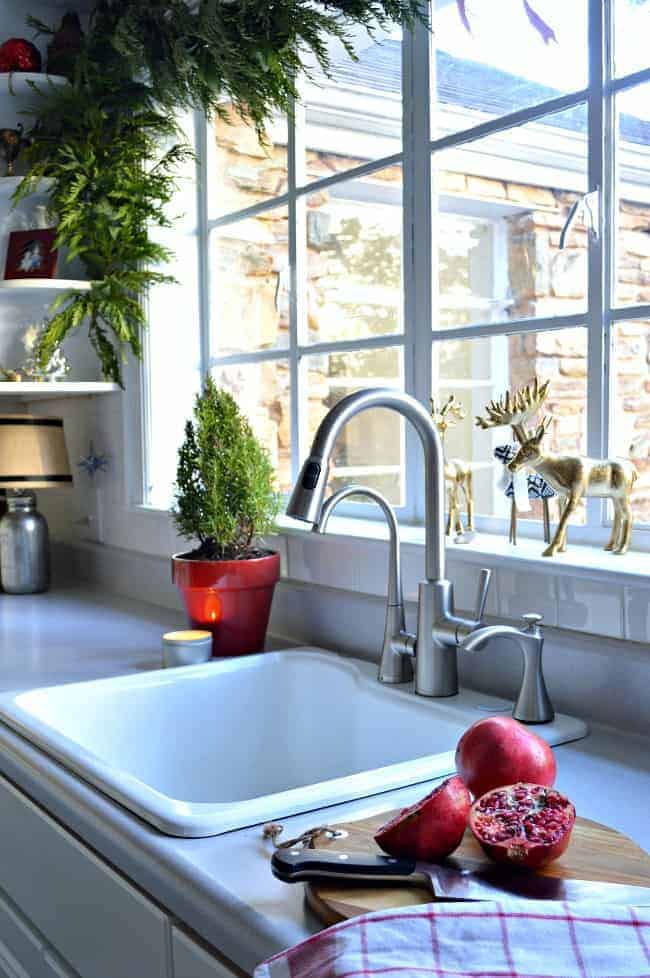 I used a lot of the holiday decor I already had packed away. Having never decorated this house for Christmas before, I didn't want to go crazy and buy all kinds of new stuff that I didn't need.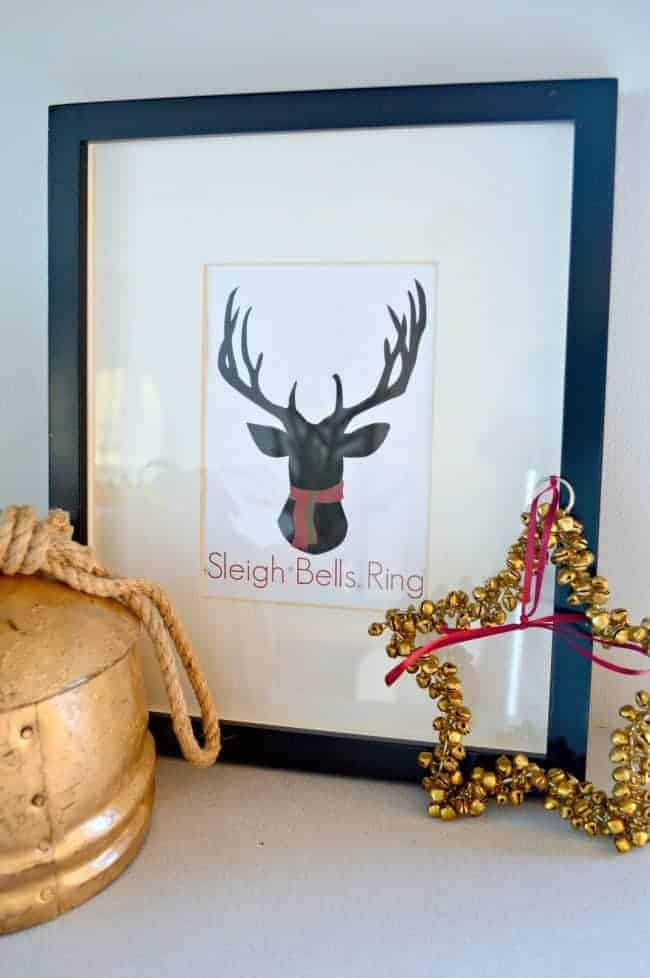 I usually end up decorating with a lot of natural elements anyway, and don't like to spend a lot on new decor that I don't have room to store.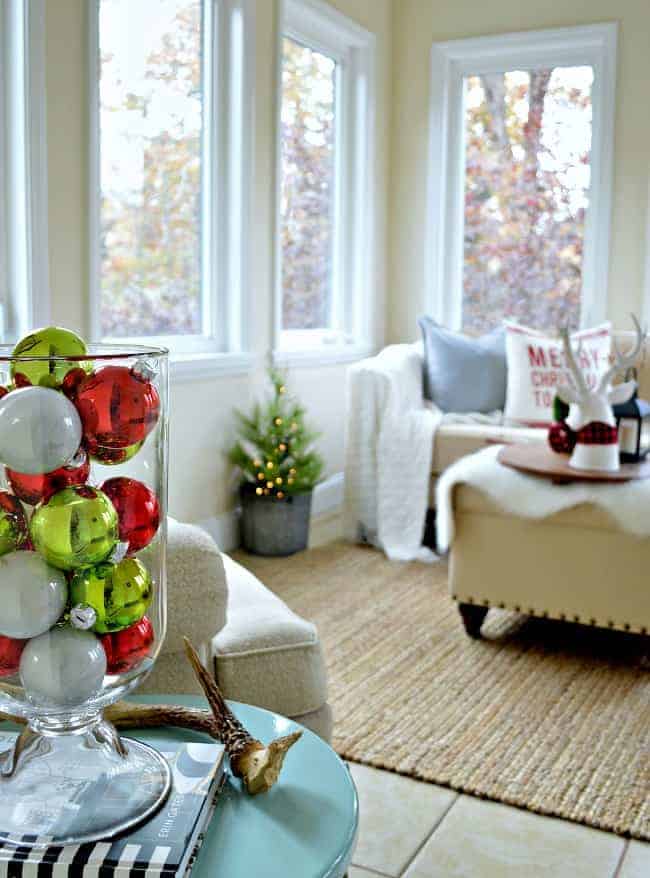 So, that's our cozy Christmas cottage all dressed up for the holiday season. I'm ready to enjoy it and make new family memories in our new house.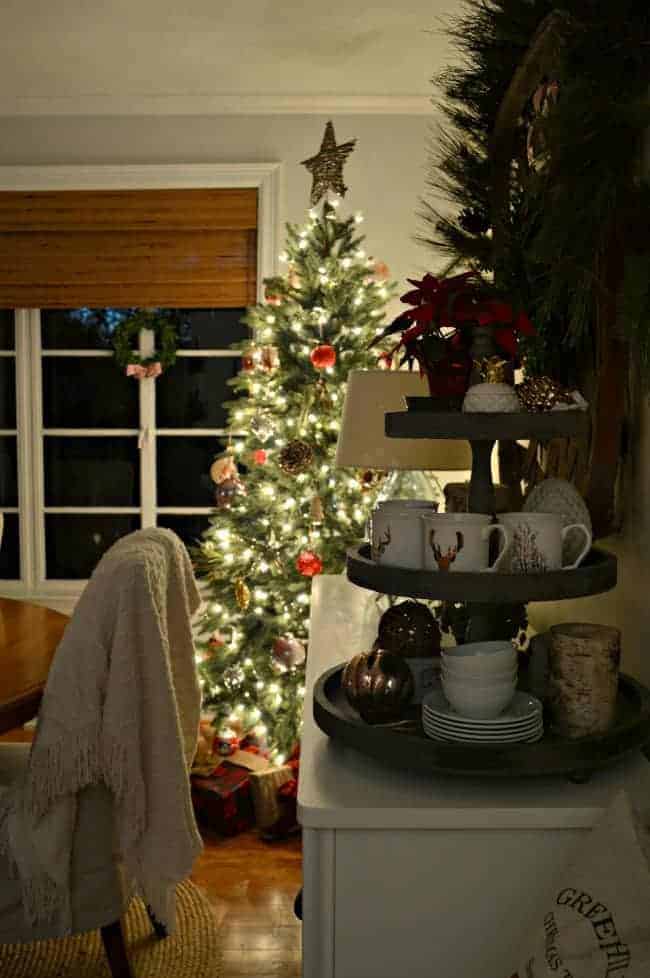 I've been busy decking the front porch too, and I'll share that sometime next week.
Thanks for visiting.
Happy Holidays!!!
---
I'm so excited to join in on this year's Home for the Holidays blog tour sponsored by Sondra Lyn at Home! This is the 3rd year for her HFTH tour, and we promise to bring some of the most awesome decor, craft and recipe ideas you'll find anywhere. It's gotten bigger and better each year and I think you're going to love what you see! Here's a run-down of the topics and featured blogs:
Monday – Holiday Mantels
Country Design Style | Duke Manor Farm | Domestically Speaking
Organize and Decorate Everything | Sondra Lyn at Home | Two Purple Couches
Tuesday – Holiday Recipes
An Alli Event | Not Just Paper and Paint | Nourish and Nestle
StoneGable | Sweet Pea | What Meegan Makes
Wednesday – Holiday Crafts
An Extraordinary Day | Lovely Etc | Lilacs and Longhorns
Lydi Out Loud | Salvage Sister and Mister | Weekend Craft
Thursday – Holiday Decor
Atta Girl Says | Chatfield Court | Create & Babble
Designers Sweet Spot | The Heathered Nest | Worthing Court
Friday – Holiday Tablescapes
Celebrating Everyday Life |Cottage at the Crossroads | Cottage in the Oaks
The Everyday Home | Postcards from the Ridge | 2 Bees in a Pod
Are you ready? Here we go!
---
I also made the faux deer antlers that hang in the entryway and shared a free holiday printable so be sure to check them out, HERE.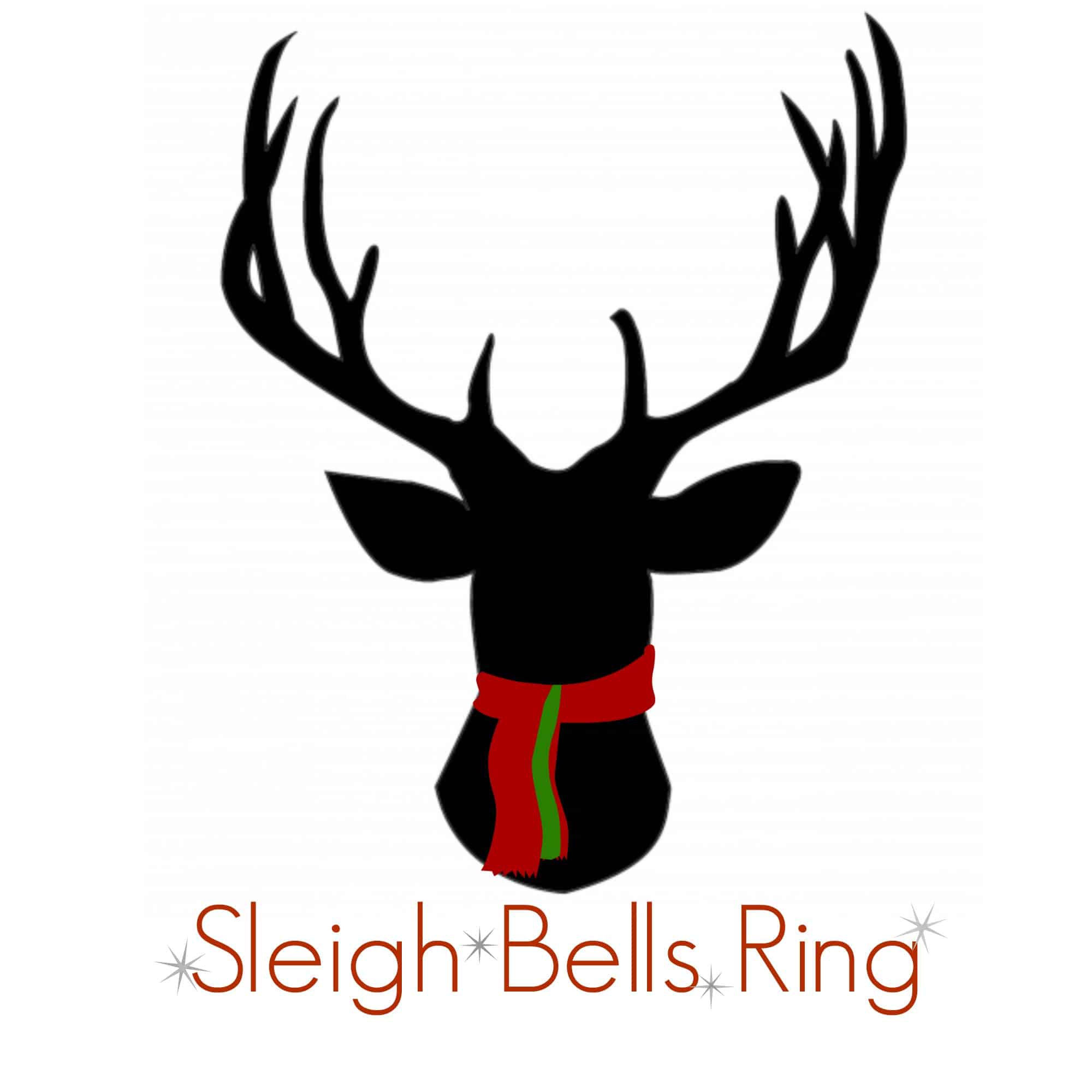 DIY Faux Branch Antlers and a Free Printable
Source List
(Affiliate links used. If you click on an affiliate link and make a purchase, I will receive a small commission, at no extra cost to you. Please see my Privacy Policy for more info.)