*As an Amazon Associate and member of other affiliate programs, I earn from qualifying purchases.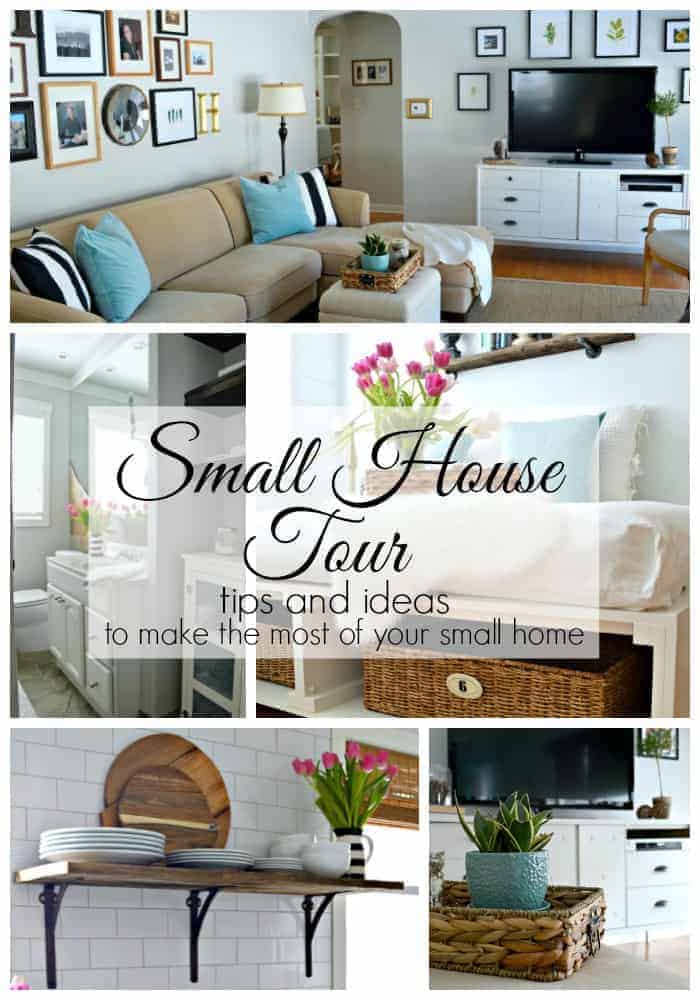 Hi and thanks for stopping in today! I'm so excited to be joining up with 12 amazing bloggers as part of a small house tour, hosted by Stacy from Not Just a Housewife, to share tips and ideas on making the most of your small space. If you're coming from Doreen's at Hymns and Verses, welcome!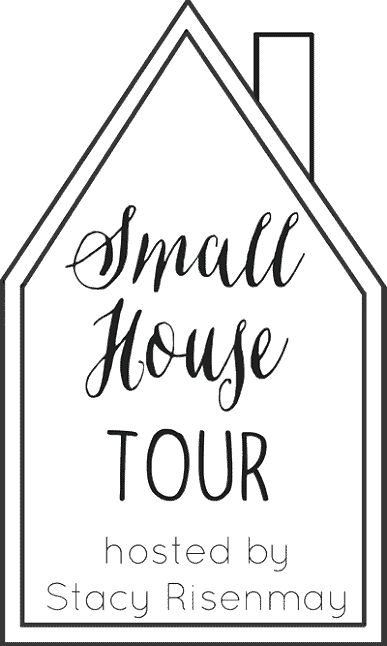 Since this is a small home tour, I'll fill you in on a few details of our home. My husband and I live in a 1950's brick ranch with 3 bedrooms and 1 very small bathroom in just under 1200 square feet, we also have an unfinished basement. This house is the smallest we've ever owned so making the most of the limited space has been quite the learning experience and, at times, a huge challenge.
Let's start the tour in our galley kitchen, that's been undergoing a major renovation for the past year. When we moved in, 2 1/2 years ago, there was very little storage space and no pantry. We tried to remedy that during our renovation by building extra cabinets on an empty wall, and adding this awesome barn wood shelf for our everyday dishes.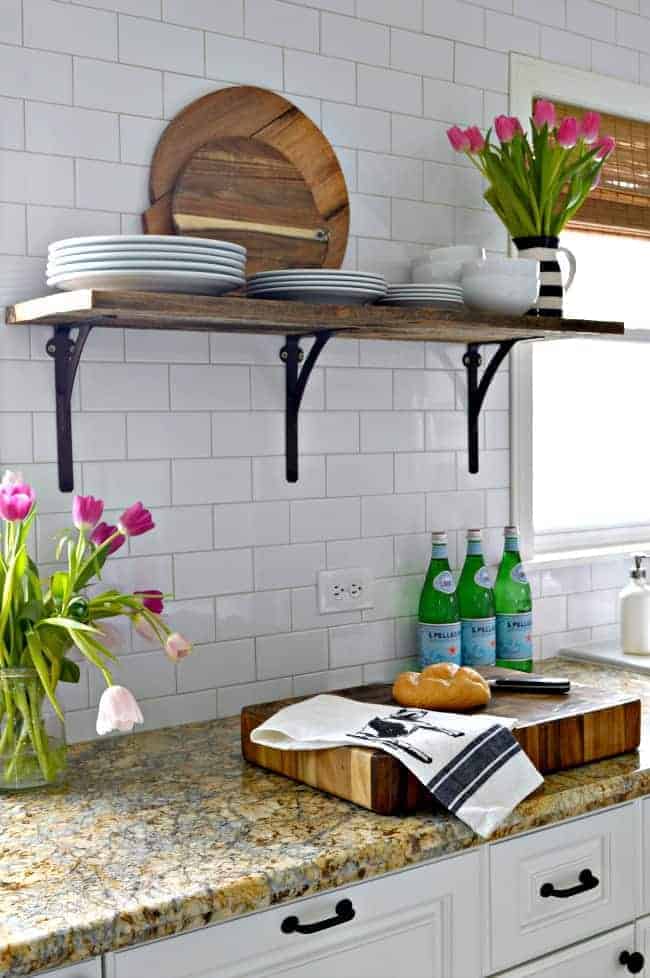 This renovation has been a labor of love for us. Yes, it's taken us more than a year to do but we've tackled it all on our own from the subway tile backsplash to the granite countertops (that we cut and installed ourselves) to the plank ceiling. We also added quite a bit of extra storage, like this custom-built drawer that holds our garbage and recycle bins. I love having them hidden away.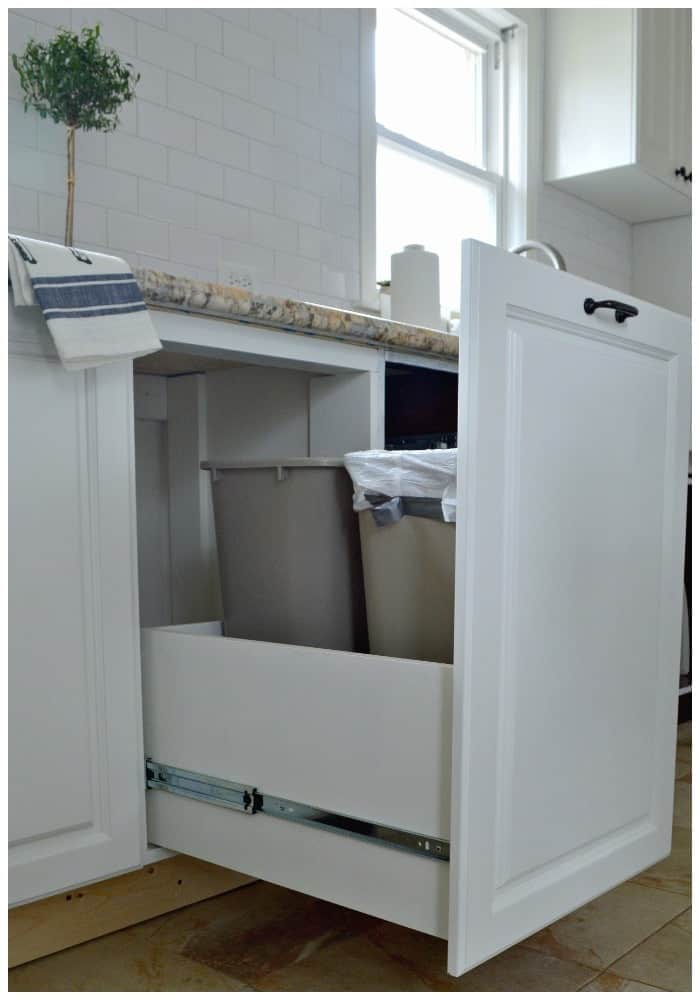 Next is the smallest of our 3 bedrooms. This room was a huge challenge when it came to furniture placement and storage because it has three doors, three windows and is a walk-through from the kitchen to the bathroom. Phew…a lot of obstacles but I think we made the most of it.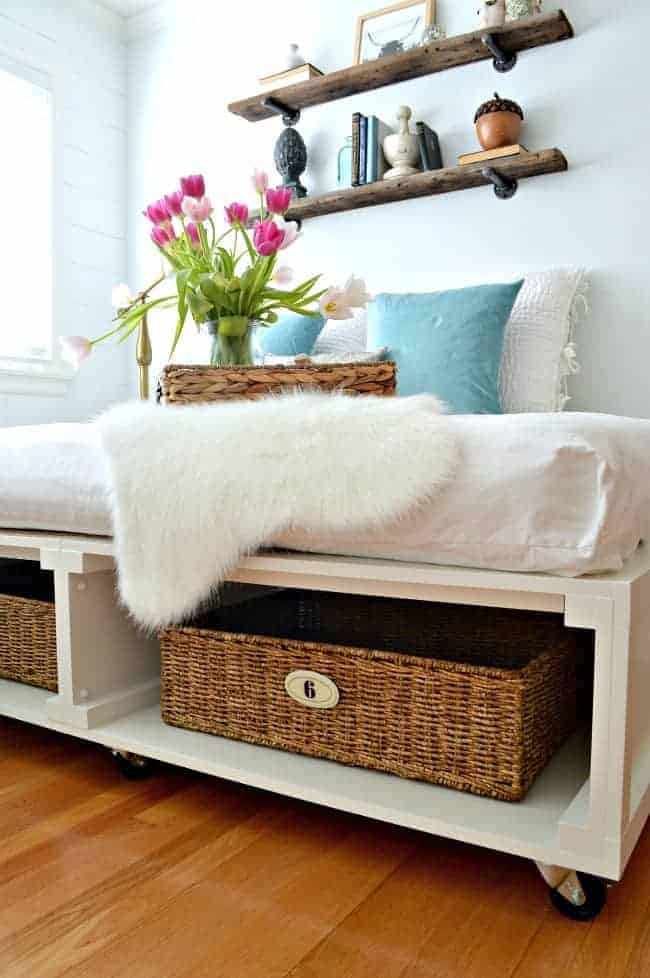 Because bed placement was a huge issue we built a platform bed to fit the space, adding cubbies with baskets for storage and locking wheels so I could move it to clean or to make the bed. We also added more barn wood shelves in this room, since there were no surfaces for decor, and an antique armoire for additional storage. One of the most challenging rooms in the house has turned into my favorite.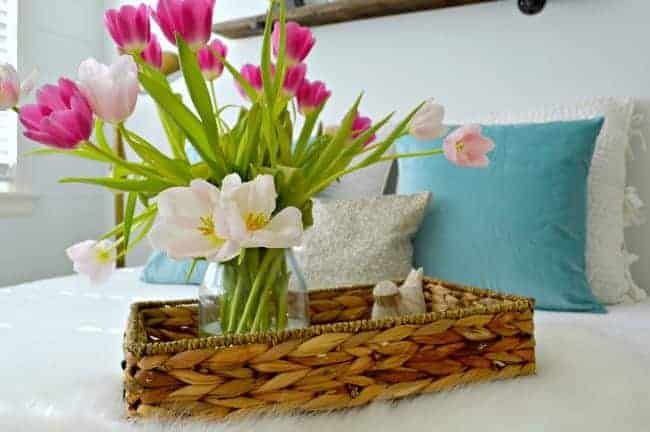 I've always used mirrors when decorating any home that I've lived in but they serve a greater purpose in a small home, they open up a room. Now that I live in a small home I use them in every room, all shapes and sizes. In my master bedroom though, I went big and tall and it's really made a huge difference.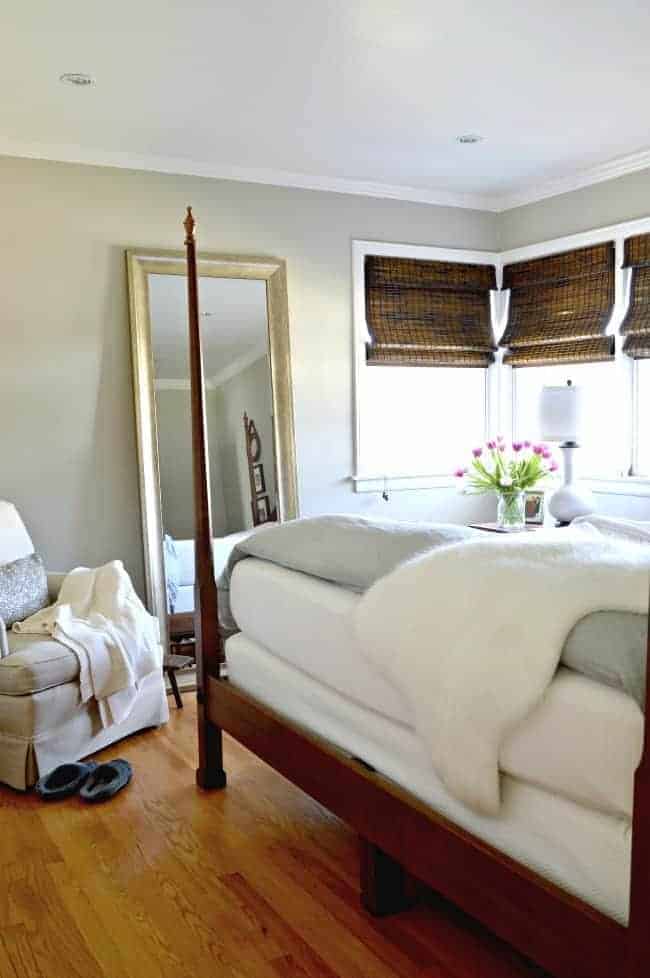 The only bathroom in the house is teeny tiny, which meant I had to get really creative so we could store all of our necessities. I'll admit, I purged a lot when we moved in, because there just wasn't enough room, but I was able to keep everything that I really needed.
We used open shelving for towels and I keep all of our soap, cotton balls and cotton swabs out in pretty glass jars so that they're handy. In the vanity I used drawer organizers and added a sliding basket to keep things neat and easy to see. I also added a small cabinet under the built-in shelves for all of our extra toiletries.
Our living room is actually 3 spaces in one, the entryway, the dining and the living area. Dual purpose furniture is a real necessity in this room and we have utilized every inch. The ottoman holds our throws and a game or two and, since we have limited surface area for decor, I use it to show off my latest favorite finds.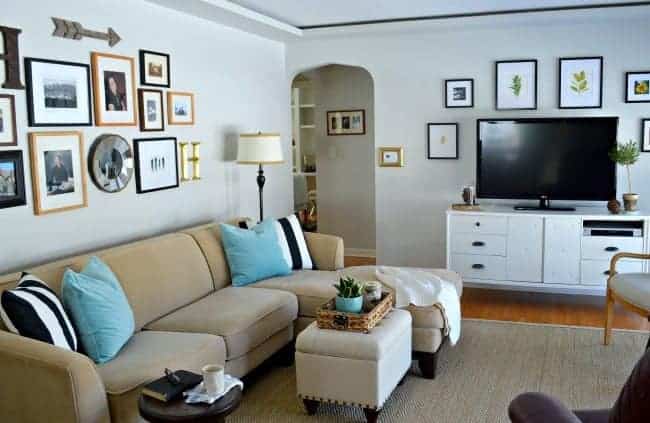 The media cabinet, which just got a makeover, was a bedroom dresser in a former life and offers lots of storage space for movies, candles and my photography gear. The previous owner left an electric fireplace here when they moved out and this piece offers so much more.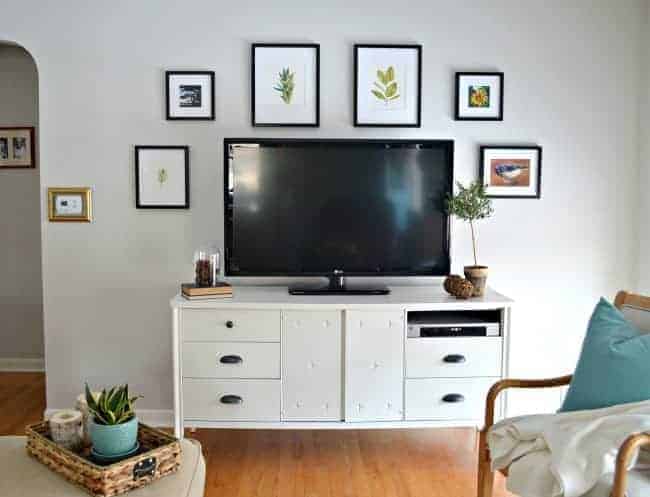 I am much more selective when it comes to my decor since we moved into this house. I only buy what I really love and I make sure that whatever it is that I do buy can be used in different rooms. I've walked away from plenty of really lovely things because they didn't fit my criteria. Not always fun but hey, I've probably saved myself a ton of money by sticking to my two simple rules and it's kept me from getting stuff that would just sit in a box in the basement. Clutter is a killer when you live in a small home, and for me, that's the number one tip for living in a small house.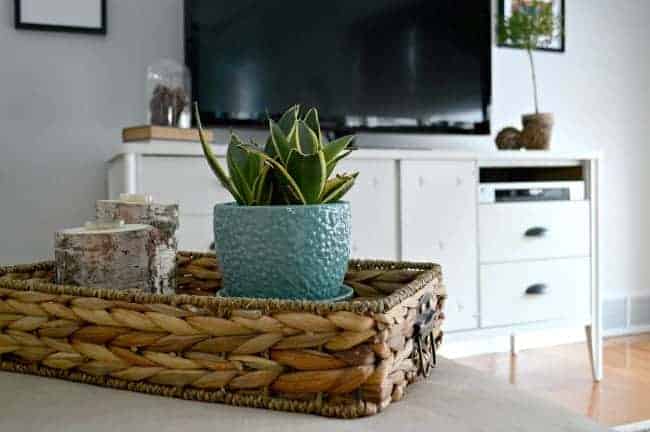 Thanks for stopping by and taking our small house tour.
Looking for more small home inspiration and tips? Check out the other awesome bloggers participating in the tour.
Jennie – Craft-O-Maniac
February 26th