*As an Amazon Associate and member of other affiliate programs, I earn from qualifying purchases.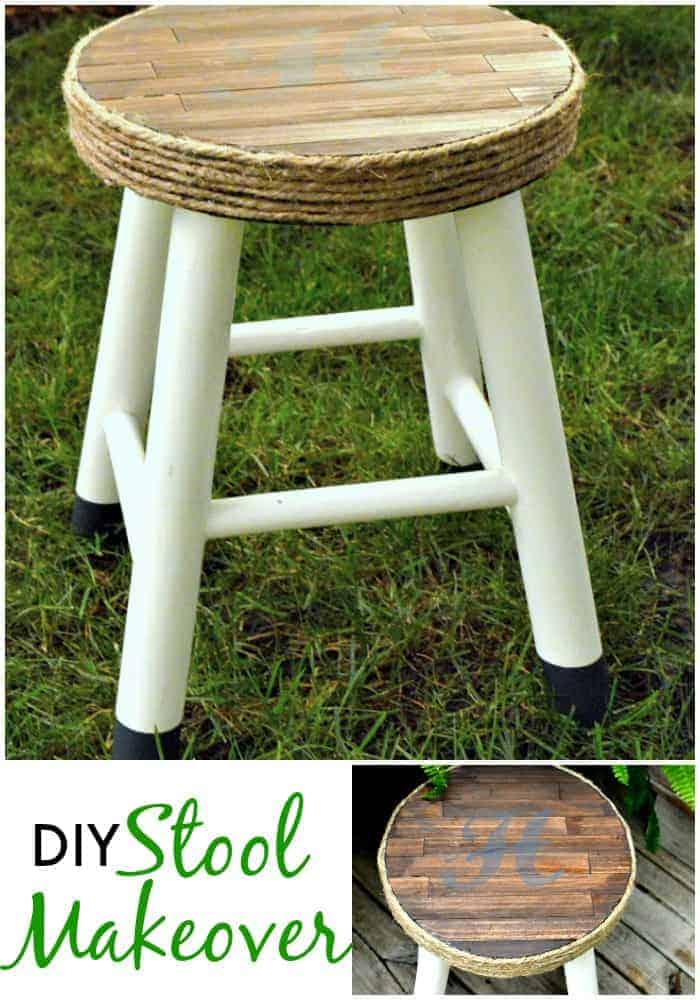 I'm supposed to be working on painting the 2nd guest bedroom walls but I got a little side tracked by another project…again. I've had this little white stool since my girls were young and it's been hanging out in my kitchen lately. I wasn't looking for another project to do but I glanced at it and knew that it was time for a little stool makeover. Just one little, bitty glance was all it took. 😉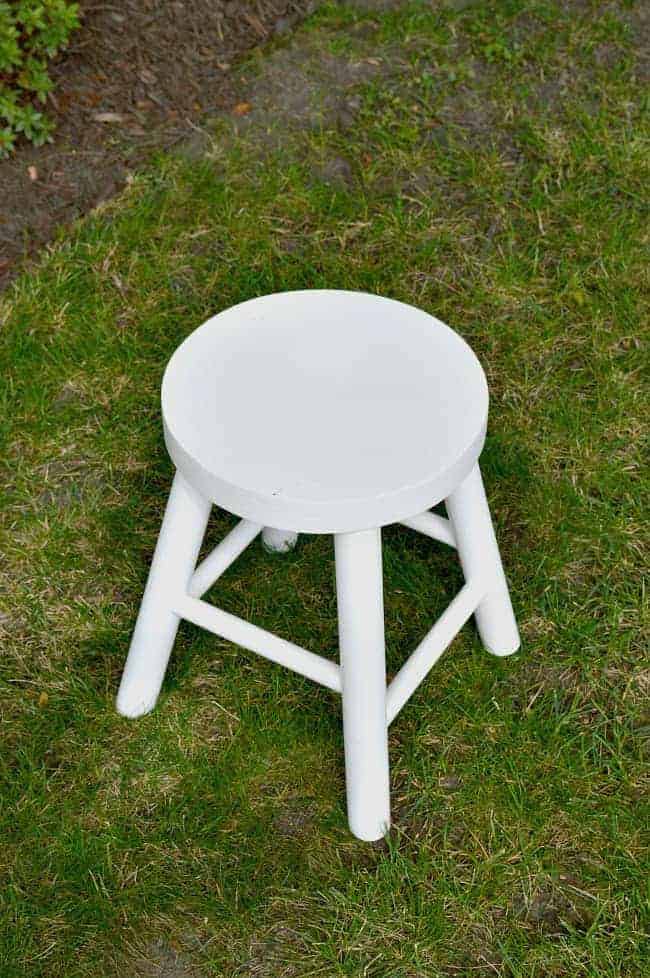 My plan was to use the handful of paint sticks left from my nightstand makeover, thinking it would be fun to try something similar on the stool. The only thing I was certain about was how I would cover the top of the stool. I figured that once the top was done, I would come up with a plan for the rest.
To start, I stained my sticks with dark walnut stain and laid them down on the top of the stool, starting in the center, to see what pattern I would go with. You can see that I was left with a space on each end that was not as wide as a paint stick, so I had to cut them down a little more than the others to get the shape I needed.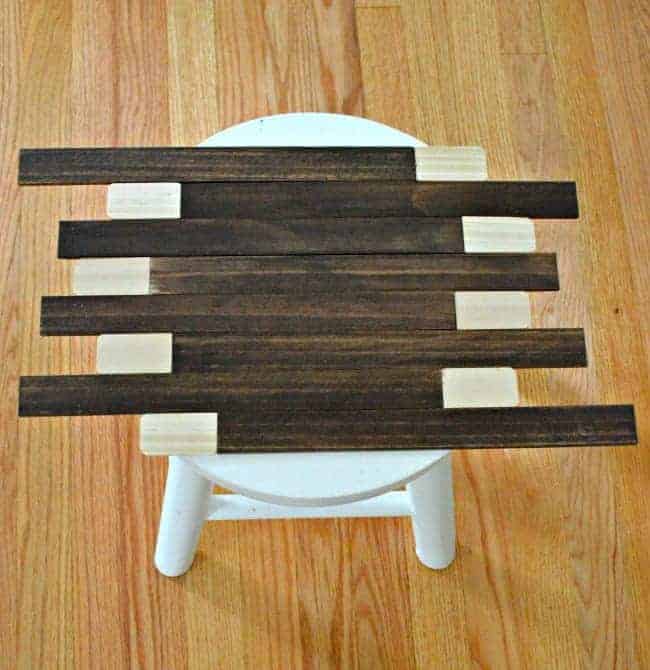 I wanted it to be rustic, similar to my nightstand, so I pieced sticks together to make seams, which were staggered. To trim the sticks I marked the underside with a pencil and cut them with the razor knife. Once the first row was down, the rest went on smoothly. After each row I would use Frog Tape and weights to make sure the sticks laid flat. The two small ends were the last to be done.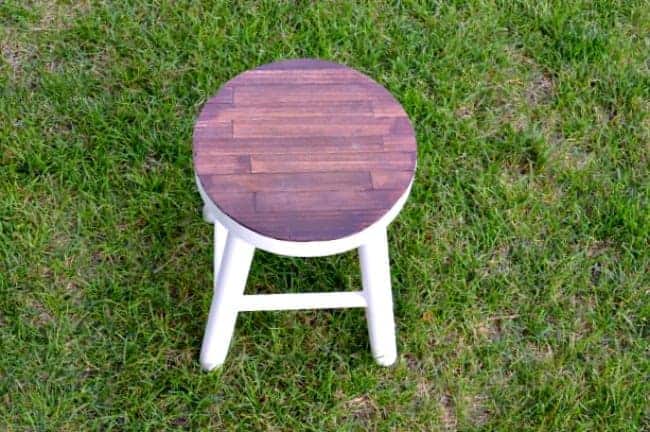 Because I didn't think this project through before I started, I noticed some white peeking through some of the seams. I probably should have painted the top a darker color so there wouldn't be any white showing but it's not terribly noticeable and it doesn't bother me. Since the edges weren't perfect, I decided to use some jute string to wrap around the stool to hide them. I ended up using charcoal colored paint that I had on hand to paint the side where my string would go so you wouldn't see white. Using my hot glue gun I wrapped the painted side with the jute string.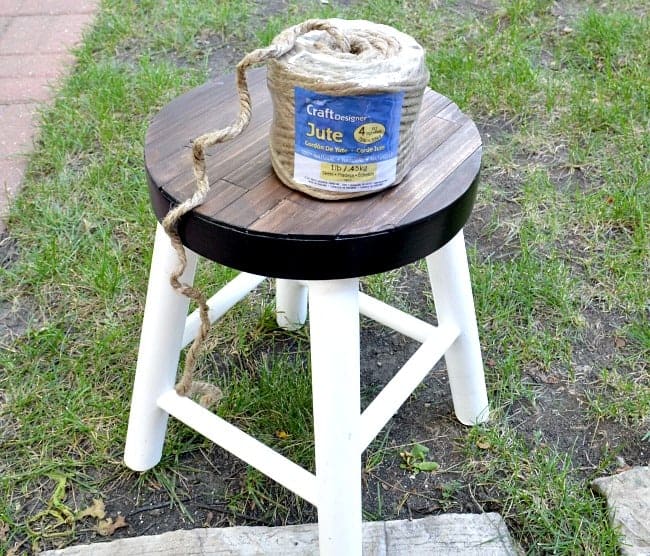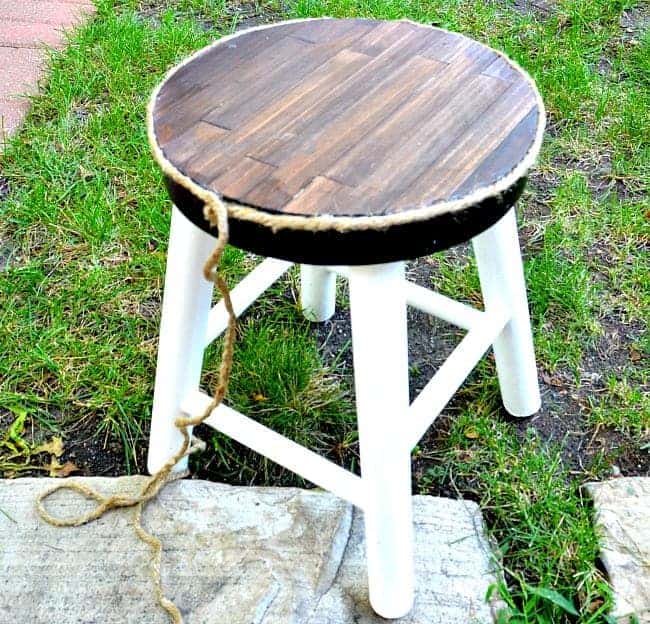 Once the top and sides were done I decided to do a little something to the legs. I was going to try to paint a few stripes near the bottom of each leg but it turned out to be too much work to measure and tape, so I decided to dip-dye each leg. I simply put a push-pin on the bottom of each leg and dipped them, one at a time, into the Ben Moore Hale Navy that I used on my media cabinet. Then I stood the stool on some cardboard to drip dry. So easy…and fun.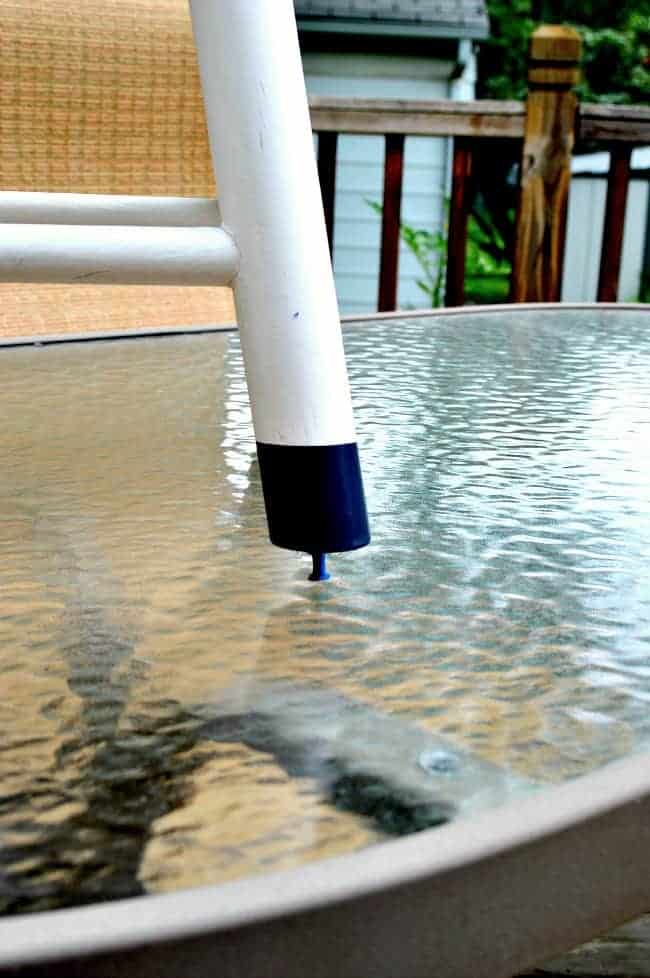 Because I couldn't leave well enough alone, I thought I'd try to put a monogram on the seat of the stool. I printed a free letter I found on the internet, cut it out and very lightly stippled some charcoal paint in the stencil I made. Once it was dry I lightly sanded it.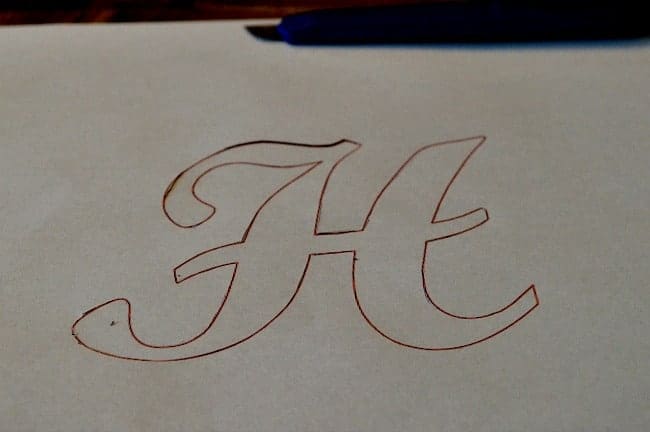 I was satisfied that I had done enough to it to change it up. Should we look at the result?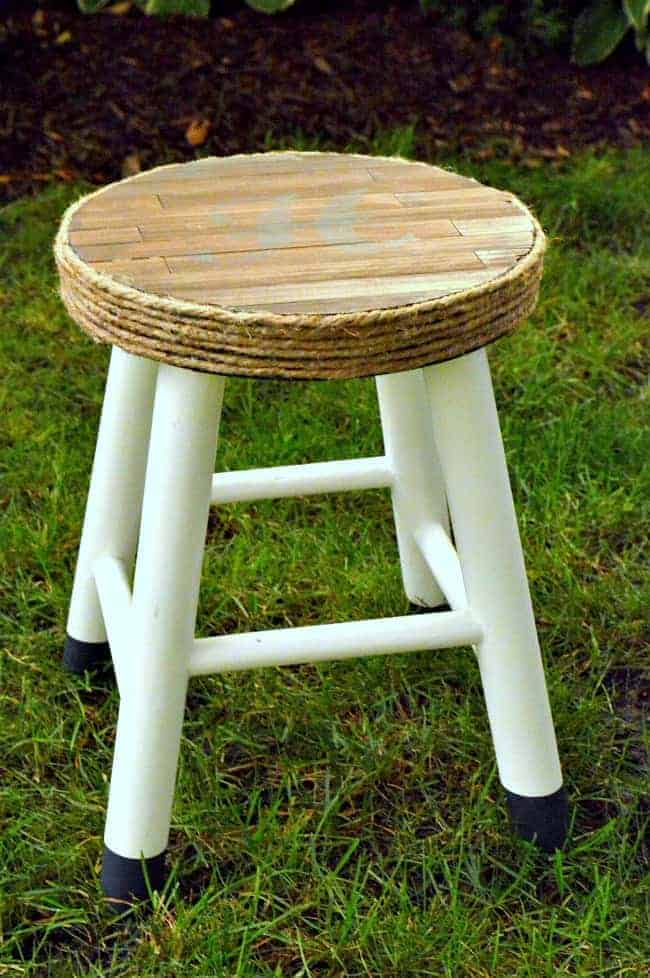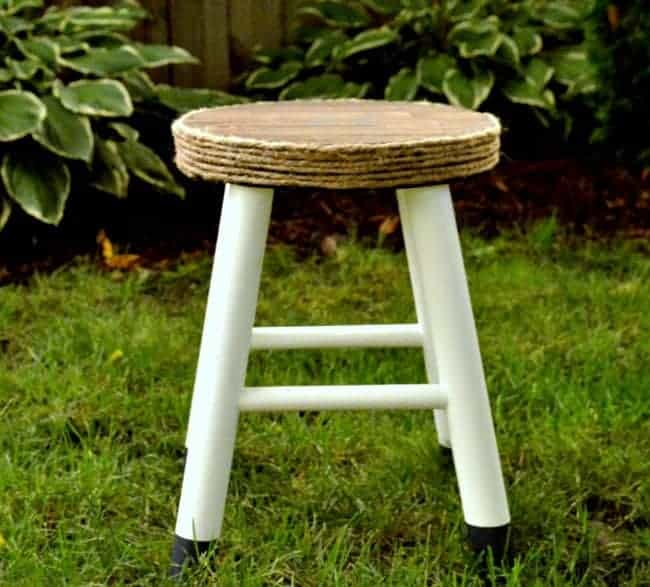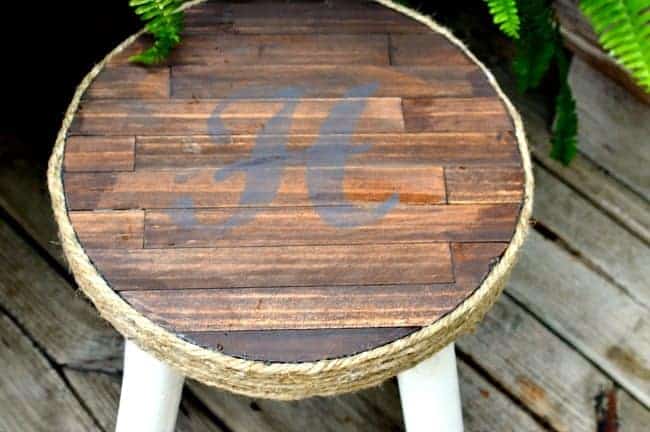 I wasn't planning on it, but I think it has a nautical look. I love it though…such a fun project.
Have you ever gotten sidetracked while doing one project to start another? It's been happening to me a lot lately. Now that I've had my fun, I'll have to lock myself in the guest bedroom until it's done. 😉