Unfortunately I was not able to finish my master bedroom redo, so I can't share the finished room with you yet. I still have one more project to finish and then I have to photograph it. I am hoping to do that all today and I will be able to share by the end of the week. In the meantime, I thought I would share my trip to San Francisco that I took last month. You know… the one where I fell down the stairs 30 minutes after I arrived and broke my foot?
Anyhoo, last month I went to San Francisco to visit my youngest daughter, who was running in a half marathon. With breaking my foot and all the craziness of the holidays, I never got a chance to share some of the highlights.
My daughter is a yoga teacher and a part-time barista at Four Barrel Coffee (#bestcoffeeever) so, of course, we had to have coffee every.single.day. We also visited Four Barrel's newest shop, The Mill. They have Four Barrel coffee and fresh bread, and I had to go every day to have their butter, cinnamon sugar and salt toast. #besttoastever
As you can see we enjoyed our toast so much we almost ate it before we took a picture. Yum!  My daughter had fresh pumpkin on hers.

You can't visit San Francisco and not drive down Lombard Street. The views from the top of the hill are gorgeous, and I love to see all of the tourists just standing around looking at this winding road. I think it's kind of hilarious, but that's just me. 😉
We didn't plan on renting a car, but with a broken foot it was hard to get around, so we ended driving up Mt. Tam to take in the beautiful views of the city. On the way back to the city, we stopped in Mill Valley to walk around the cute shops they have.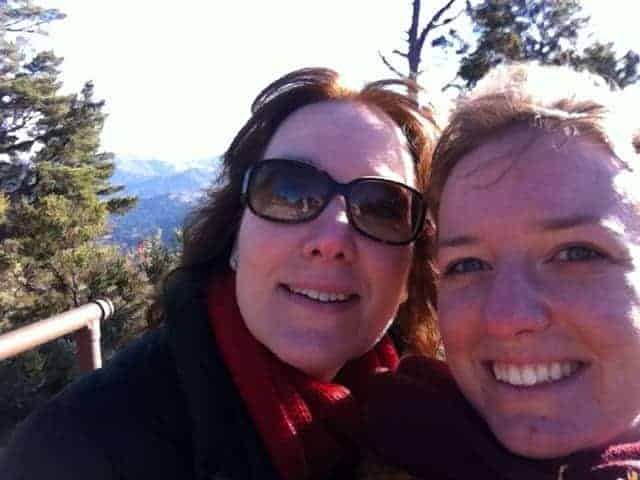 My beautiful daughter and I taking a selfie on the top of Mt. Tam. 
The main purpose of my visit was to support my daughter in the half marathon she ran. It was held in the hills outside of the city. So beautiful out there! It was my first time at a marathon and the excitement in the air was contagious, if you've ever been in/to one you know what I mean. I wanted to rip my boot right off and run those hills myself, broken foot and all. LOL A great day and I was so proud of her. She is running her first full marathon in April in Big Sur and we will be there cheering her on.
It was a great visit, I stayed in a really nice apartment and we ate lots of tasty food at some great restaurants. I love the city more every time I visit and can't wait to go back!
Have you ever been to San Francisco? I always love to hear recommendations for things to do, places to eat?
Hope you have a great week!
You can find me at The Tablescaper