Best Neutral Kitchen Cabinet Paint Colors
This post may contain affiliate links, please see our policy for details.

Painting your cabinets is a great way to give your kitchen a whole new look with
minimum upheaval and expense. But with so much to choose from, it can be hard to
decide on the best colors for your kitchen cabinets.
Poring over paint swatches and comparing warms with cools and neutrals with bolds can be mind-boggling.
That's why I'm here to do the searching for you.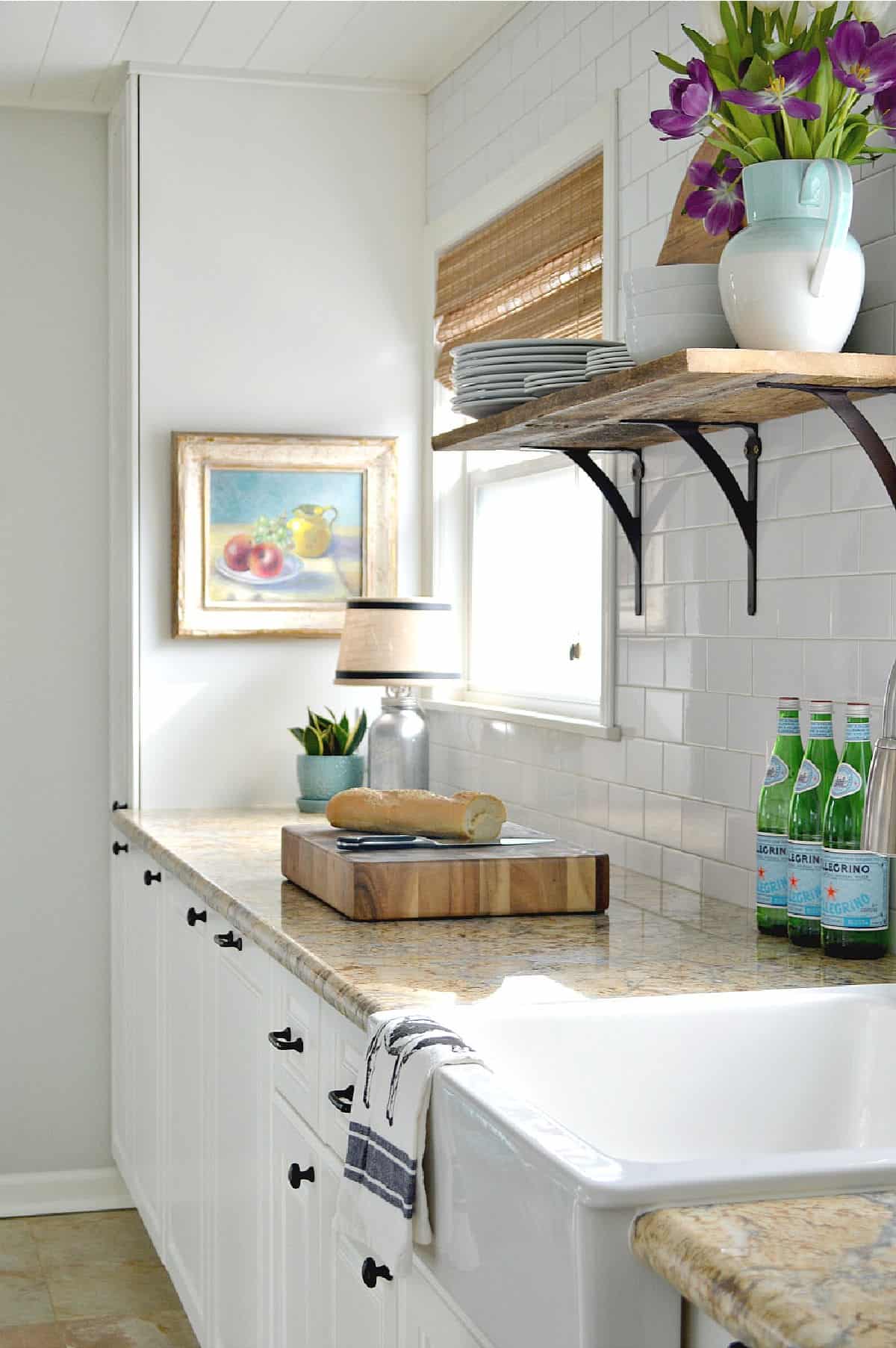 Why a Neutral is a Great Choice for Kitchen Cabinets

It might be tempting to go for a striking color for your kitchen cabinets, especially when you're browsing the internet looking for inspiration.
Some really spectacular kitchens are created with brights and darks, and they can easily make a big impact.
On the other hand, powerful shades can quickly become tired, so it's a good idea to save those for walls or accents to be updated easily when you're ready for a change.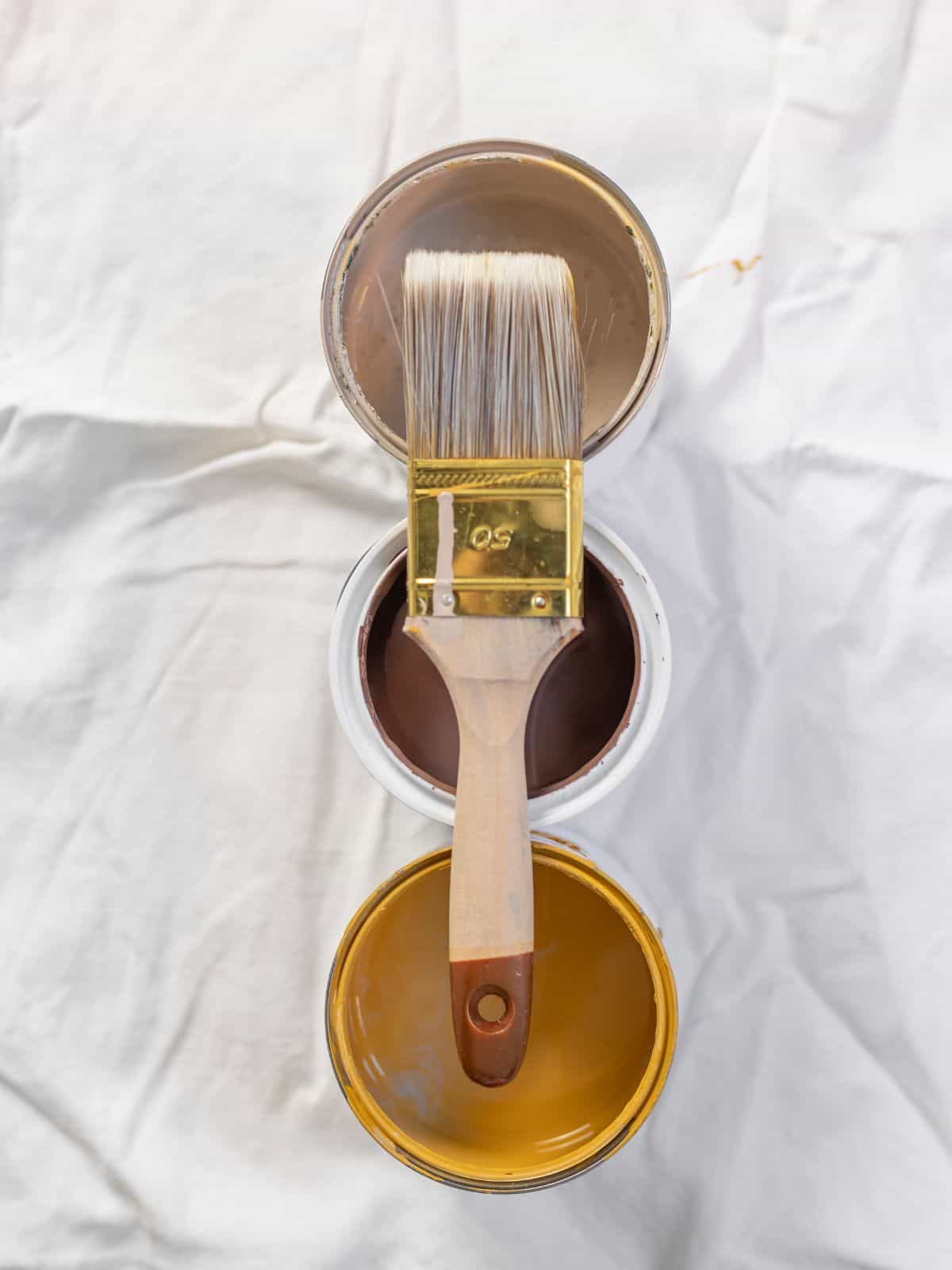 For kitchen cabinets, something more timeless can give you the best of both worlds.
Neutrals never go out of fashion, and they offer a terrific base against which you can experiment with more daring accents.
If you love the look and feel of a clean, white kitchen, then you won't want to miss our post on the Best White Paint for Kitchen Cabinets.
But if you're looking for a little more color and shade without the drama, then read on for our best neutral kitchen cabinet colors.
How to Choose the Best Neutral Paint Color

As with all things related to decor, always consider the other elements you'll be
dealing with in your room.
For example, if you're working with a small, dark kitchen and you want to maximize the light, then always go for light neutrals. Or if you've already got some color in your kitchen that's going to be staying, then plan your cabinet color to complement it.
That way you can easily create a room that looks effortlessly stylish.

Warm neutrals—those with a yellow base—will blend well with brown, gold and red. Cool neutrals have a blue base and complement black, charcoal, silver and, of course, blue and green.
So, if you've got a walnut countertop, does that mean you can't use a gray paint for your walls and cabinets?
Not at all! You just need to choose the right type of gray.
Popular Neutral Kitchen Cabinet Paint Colors
Once you've decided whether your color scheme is cool or warm, the next step is to consider the tones you prefer. Neutrals are shades that fall between more definite colors without any real hue of their own.
They are often pigments that we associate with nature, and we describe them with similar words, like earth, stone, mushroom, cream, smoke, fog or dusty. Shades that we consider neutral include white, cream, beige, taupe and gray as well as black and brown.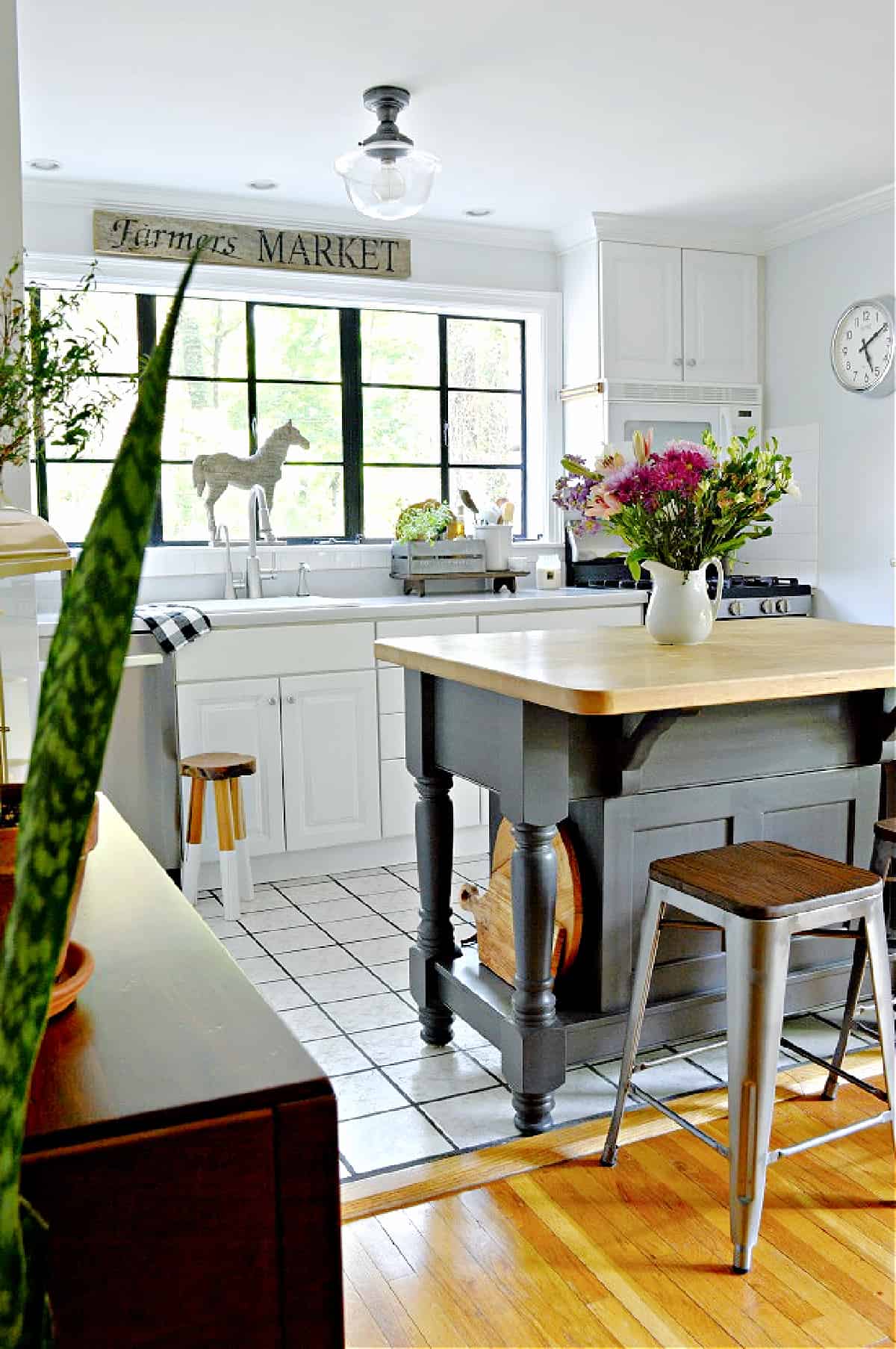 That's right—we're not talking only about light shades here. Neutrals can be light, mid or dark-toned.

What's more, neutrals don't even have to be totally neutral. Think of a cool sage
green or misty gray-blue as examples of how colors can sometimes work as a
neutral.

Let's look at some of the best neutral paint colors for kitchen cabinets from top paint brands.
Top Behr Paint Colors for Kitchen Cabinets
Toasty Gray
Maybe you love gray but find it a bit chilly. Great news: gray comes in warm shades too. This mid-toned smoky hue is a great alternative for the top-selling Agreeable Gray and is stunning matched with a yellowy-cream or any warm white.
Creamy Mushroom
For a rich, mid-toned taupe, you can't do better than this well-named kitchen favorite. Its warm undertones make it ideal for matching with dark wood, but it also looks great teamed with white.

Cumberland Fog

If your taste leans more towards cool gray, then this shade could be the perfect
choice. Almost pale blue in color, like a rainy summer sky, it's an ideal choice for a smaller or north-facing kitchen because it doesn't absorb all the light.
Top Sherwin-Williams Paint Colors for Kitchen Cabinets
Divine White

This might be called 'white' but it's firmly in the warm cream camp. It's another one that works well for darker spaces because it has an attractive brightness that will lift an otherwise dull room.
Barcelona Beige

A beautiful darker beige option, this shade is timelessly elegant and will add a dash of personality to your kitchen without adding a lot of color. It works with soft mustard or dark tan, but it's truly stunning with stark black and cool white.

Tinsmith

As the name suggests, this is a silvery gray shade. It falls within the cool range and works as the perfect mid-to-light gray without any hint of beige. This is a good choice to complement a dark blue accents or light-colored wood.
Top Benjamin Moore Paint Colors for Kitchen Cabinets

Grant Beige

Made with equal amounts of gray and beige, this might be your perfect kitchen
neutral. It's extremely versatile, so it will work for either a warm or cool color scheme.
It will appear brighter in good light and darker in a room with less light.

Baby Fawn
You will find this shade listed as an off-white, but for me it's too dark to really be a white. It's a light, warm greige that will blend seamlessly in any kitchen and works particularly well with dark apricot or purple-brown.

Stonington Gray
This one is a true gray that is cool without being steely cold. It's light enough to lift a darker room but carries enough color to pair beautifully with either charcoal or white, especially those on the warmer end of the scale.
Consider the Light
Whether you choose brights, darks or neutrals for your perfect kitchen cabinet paint
color, the natural light that comes into your room will affect how you see it.
For this reason, it's important to know what direction your window faces so that you can
determine the direction and type of light you'll be working with.

If you're getting light from the north, it will be softer and will therefore make your paint colors look warmer and darker. The color will also be more consistent
throughout the day.
When a room is facing south, the light is the most intense and bright. Pale shades
will be washed out and darker hues will look brighter.
If your windows are facing east or west, then the amount of light entering your room will change from morning to evening, so you may want to choose mid-tone shades that don't look too drab in lower light.
Remember the type and tone of artificial light will also have an impact on your paint color.
Try Before You Buy
Because there are so many variables that will affect how you see the shades you choose, it's always a good idea to try out samples of two or three options before committing to kitchen cabinet paint.
Whether you settle on one of our warm creams or cool grays, our picks for neutral kitchen cabinet paint colors will give your busiest room a soothing elegance that will always look stylish.
Paint Samples
Testing paint colors is an important part of finding the perfect white paint for your kitchen cabinets.

Paint samples will allow you to try different colors in your space. They allow you to move the color around and to see them in different lighting. Plus you can reuse them. It's a foolproof way to find the perfect paint color.

Order Paint Samples