Best White Paint for Kitchen Cabinets
*As an Amazon Associate and member of other affiliate programs, I earn from qualifying purchases.
The best white paint for kitchen cabinets, including paint colors from Benjamin Moore and Sherwin Williams.
Everywhere you look online, white kitchen cabinets are all the rage.
Actually, white cabinets and kitchens have been around forever, we just have more opportunity to look into people's homes thanks to the internet and Pinterest.
Anyway, I am just experiencing white cabinets in the kitchen for the first time ever so I thought I'd share some of my picks for the best white paint for kitchen cabinets.
Maybe you'll find that perfect white paint color, or the best off-white paint color, for your own kitchen cabinets!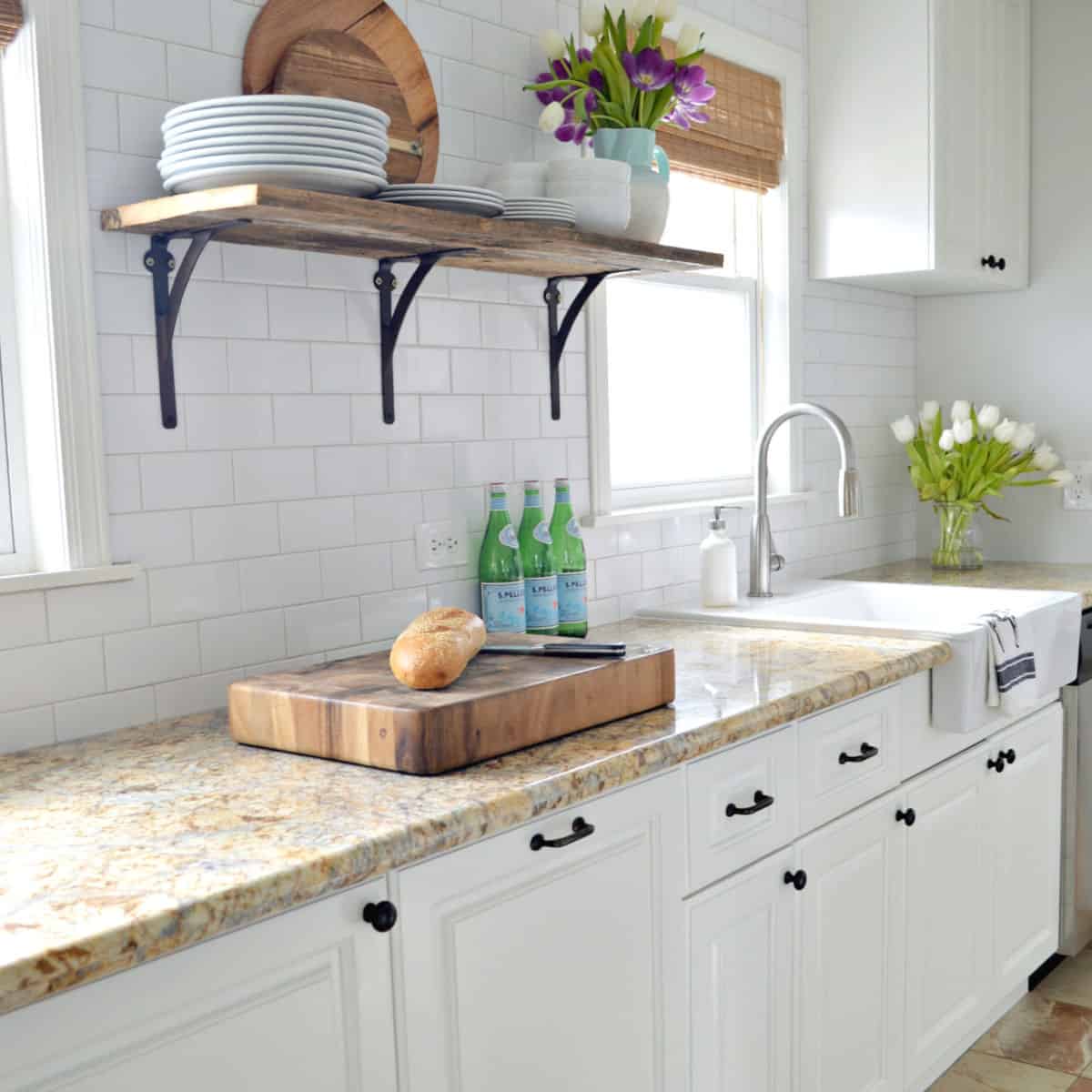 What is the best white paint color for kitchen cabinets?
White Dove Benjamin Moore
This beloved and very popular paint color is a soft warm white with a touch of gray. It's perfect not only for kitchen cabinets but on walls, ceilings and trim.
White Dove is a very versatile paint color and works perfectly with so many colors, like BM Gray Owl, BM Paper White and warm greige paint colors, like SW Agreeable Gray and Edgecomb Gray.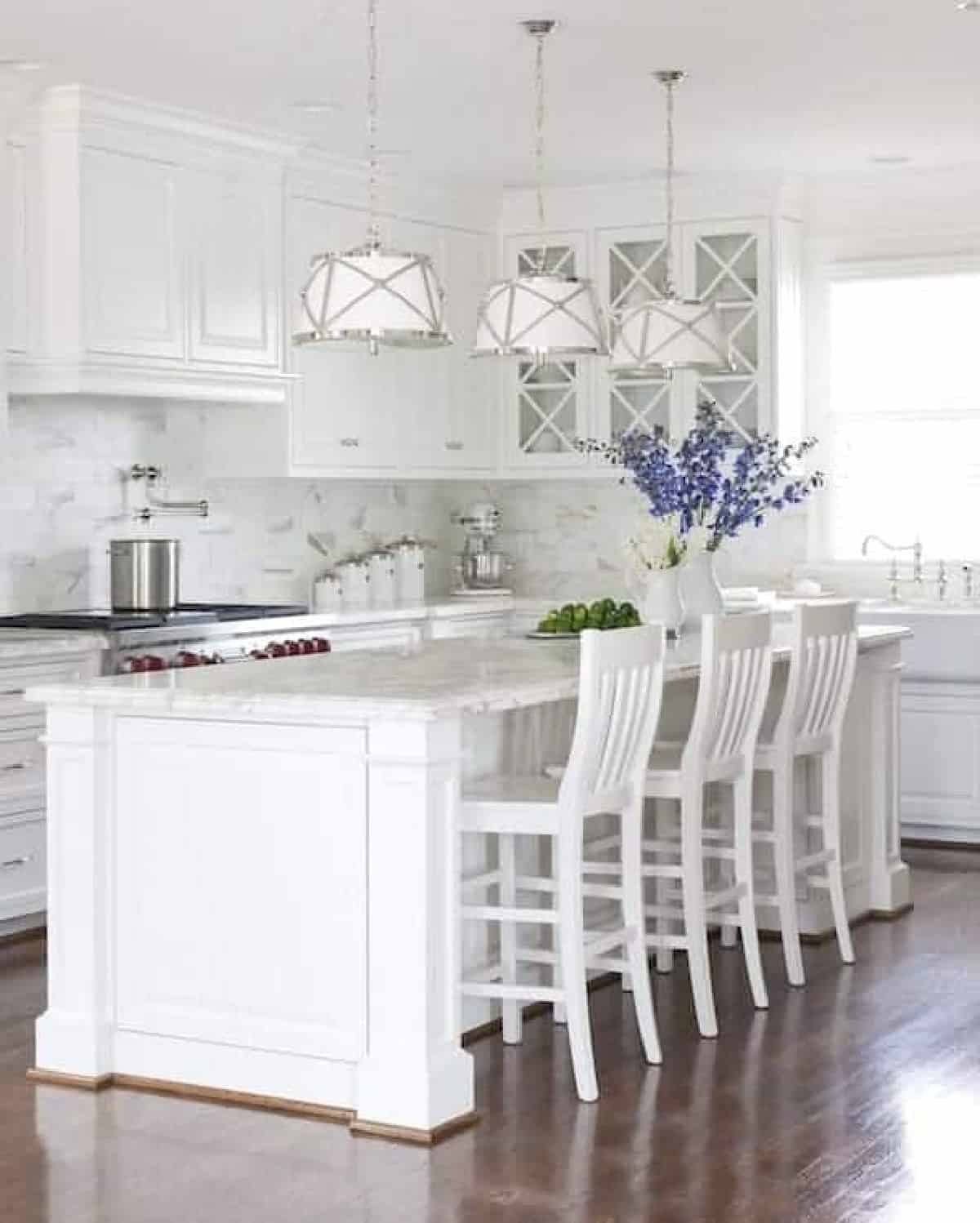 Chantilly Lace Benjamin Moore
Chantilly Lace is a true white with a bit of a blue undertone that's neither too gray or too creamy. It's a popular paint color that goes well with almost any other color.
One great way to showcase this beautiful bright whit would be to use in a kitchen that gets tons of natural light. Be careful though if you are using it in a darker room or a space that is North-facing, as it can look cool.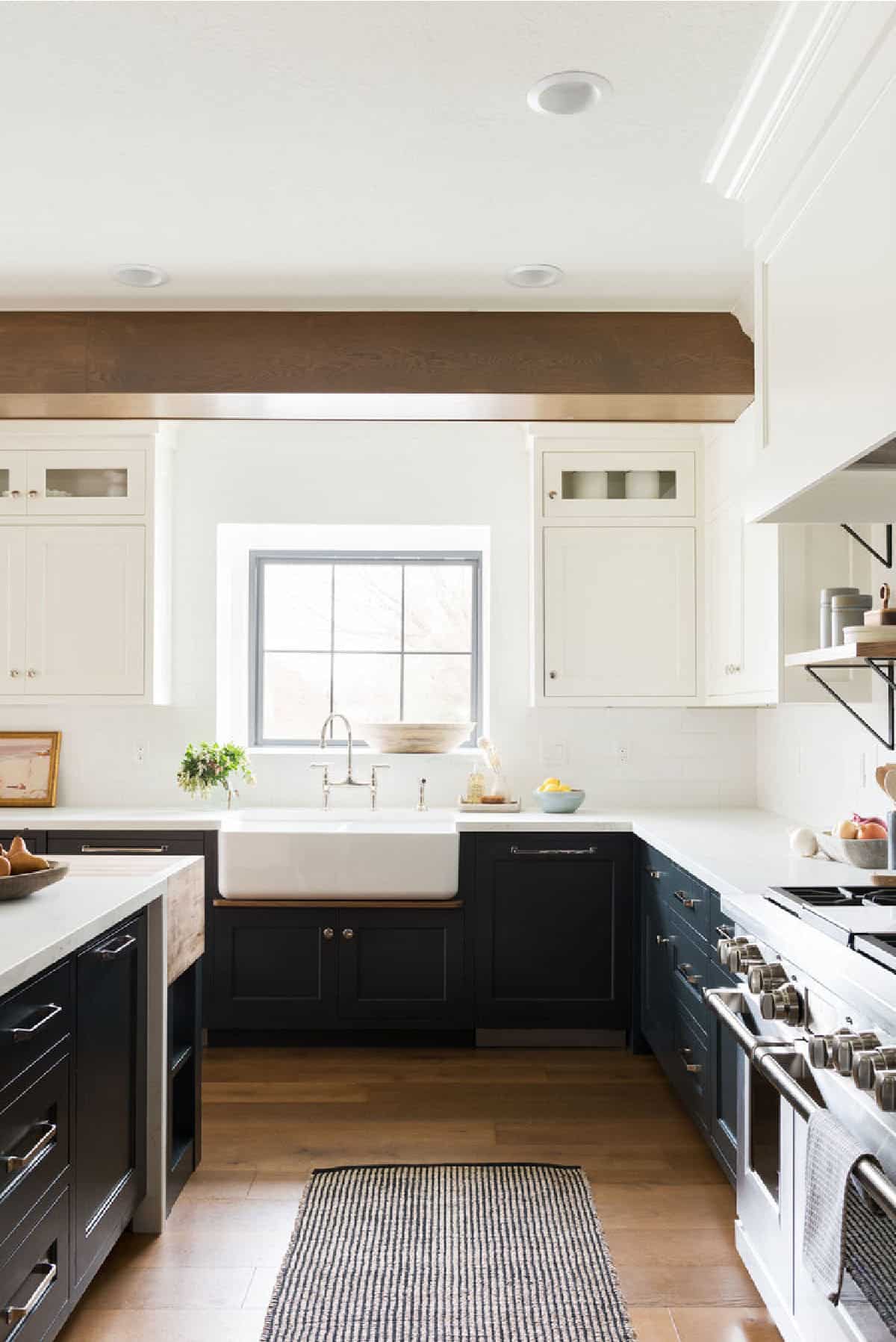 Tip
Remember, the key to finding the perfect paint color for any room is to test it first, in all kinds of light.
Swiss Coffee Benjamin Moore
This popular paint color is a beautiful creamy and warm white with yellow undertones and a hint of green.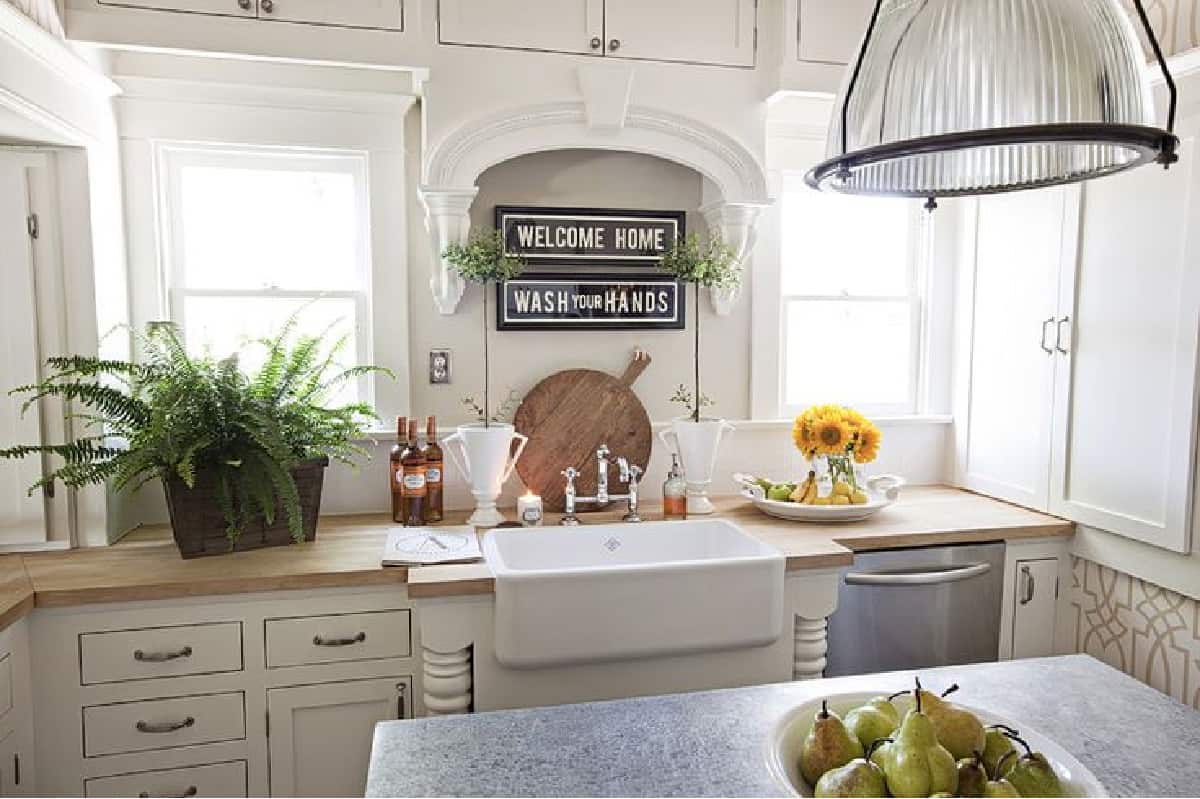 Alabaster Sherwin Williams
Alabaster is a warm but crisp white that not too yellow. It's often compared with Benjamin Moore White Dove.
It's actually the paint color that was used on the trim in our North Carolina cottage.
Pure White Sherwin Williams
If you're looking for a pure bright white than SW Pure White is for you. It's a beautiful crisp white color that is perfect for kitchen cabinets.
These are just a few of the whites I considered when I was trying to choose white paint for my own kitchen cabinets.
How to choose the right white paint color for kitchen cabinets
It took me several tries to pick "the one" to get the white kitchen cabinets of my dreams but I finally found the perfect color.
I know it doesn't always feel this way but picking a paint color for your kitchen cabinets doesn't have to be stressful.
If I could give you one good tip for choosing a paint color for your cabinets it is to try it in your room (don't only rely on a tiny paint chip).
The way I like to do this is by getting a few pieces of white poster board at the Dollar Store and painting each one with the paint samples I picked out.
I used painter's tape and taped the samples on our cabinets, keeping them there for several days, making sure to check out the color in both daylight and at night.
I also found it important to move the color all around the room, even near appliances and backsplash material.
If you don't want to go out and buy samples, you could order a few online.
You could also order a few peel and stick paint samples from Samplize.
Samplize will send you a peel and stick paint sample, that you pick out, and send it to you in a few days.
It only costs $5.95, which is very reasonable considering the paper and the test can of paint that you would have to go out and purchase.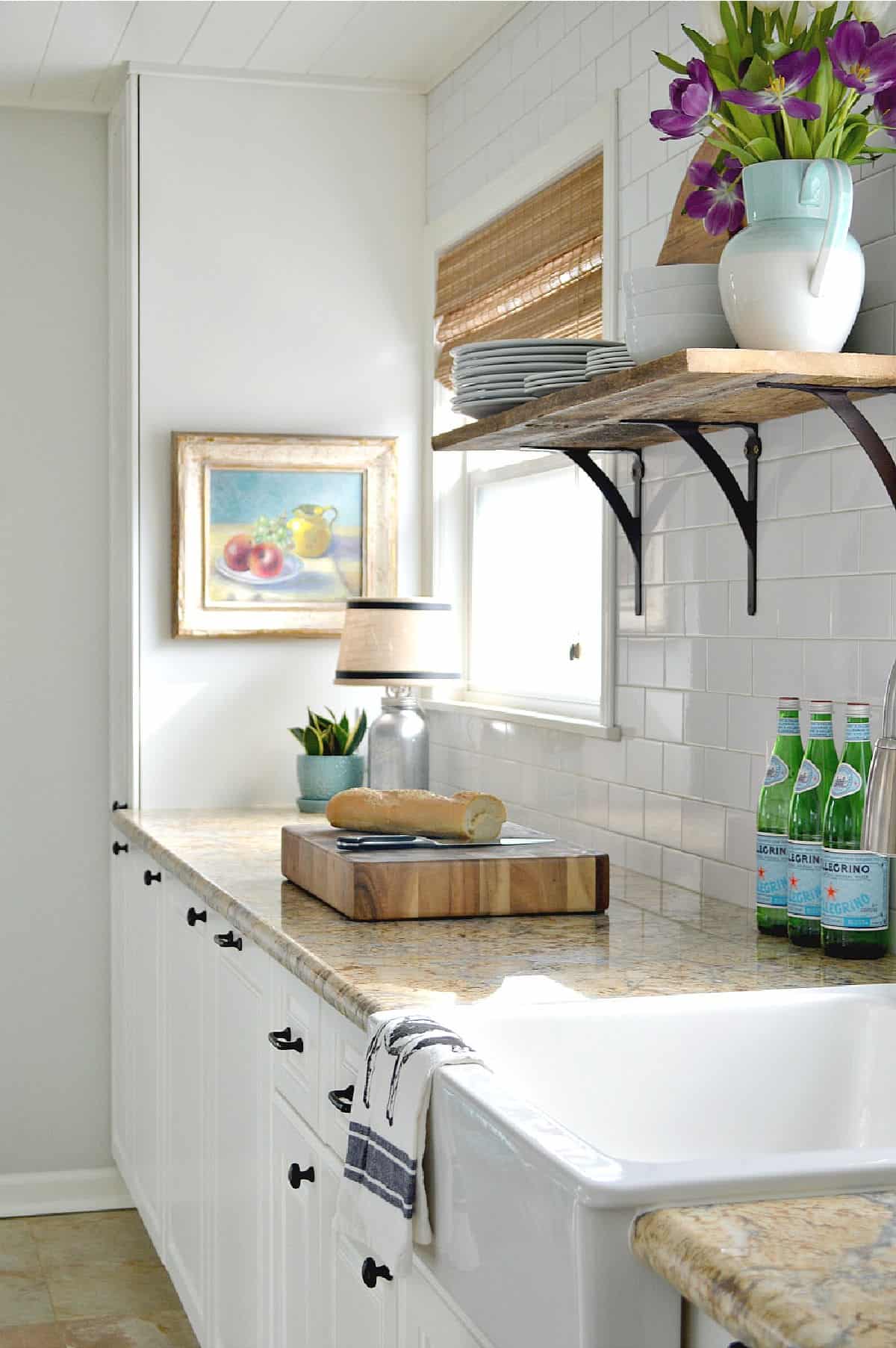 What is the best paint finish for white kitchen cabinets?
Painting your kitchen cabinets isn't just about color. It's also about the finish.
You want to be sure you pick the most durable finish for your cabinets because they will get used..a lot.
What paint finishes are best to use?
The best paint finishes, or paint sheen, to use for your kitchen cabinets are gloss, semi-gloss or satin. They will be the most durable and be the easiest to clean.
My personal choice? Gloss is the most durable but I like the look of satin so that has been my go-to paint finish. It's durable with just a bit of sheen, compared to a high gloss sheen.
Which one of these white paint colors did I paint my kitchen cabinets?
We went with Benjamin Moore White Dove in a Satin finish, and it was the perfect choice.
I also used it on the trim, doors and 4 of the ceilings throughout our house.
It's safe to say that it's one of my favorite white paint colors ever.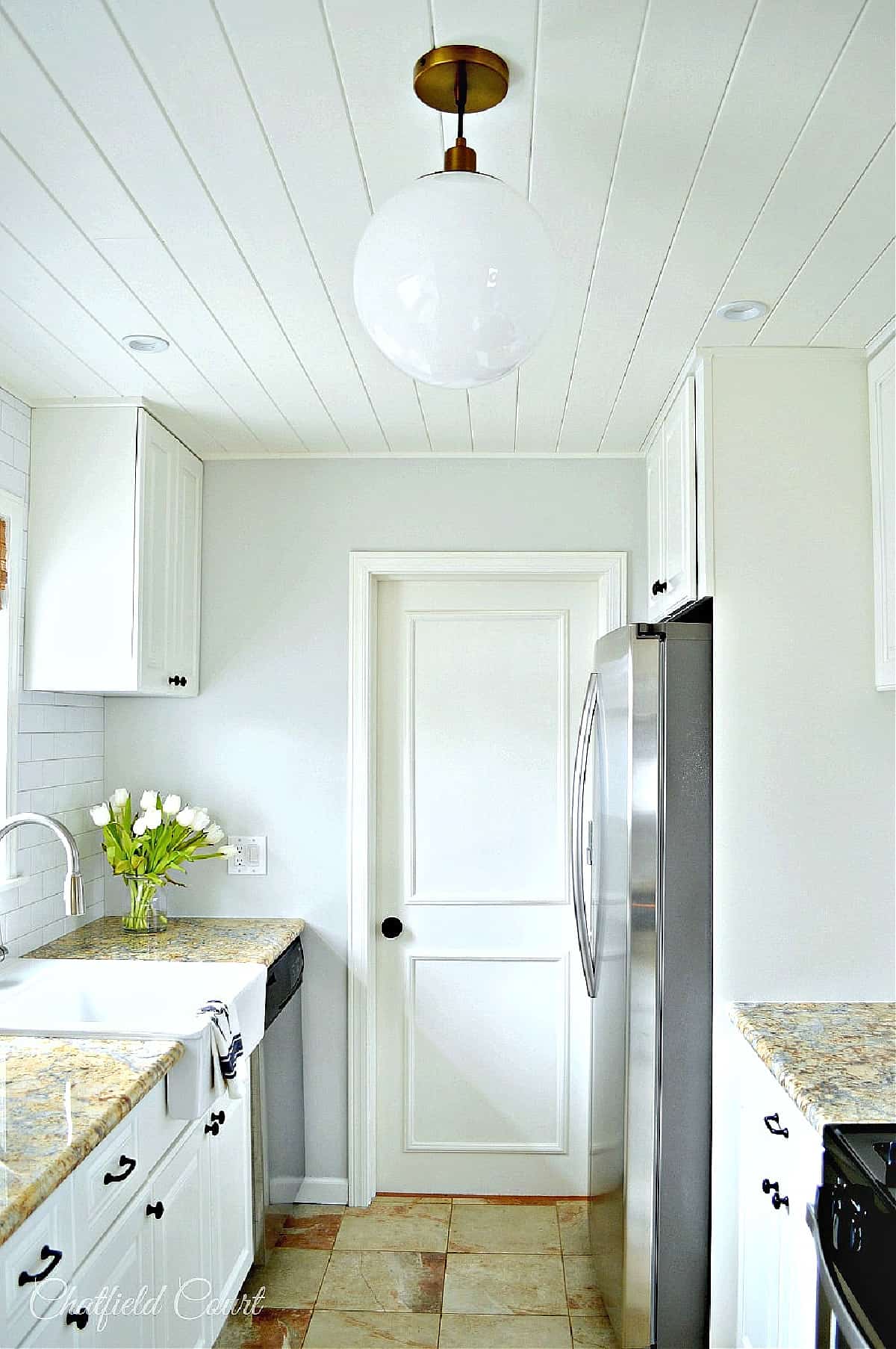 See my white kitchen cabinets and my completed kitchen remodel, along with my custom DIY refrigerator cabinet.
What do you think is the best white for kitchen cabinets?
Paint Samples
Testing paint colors is an important part of finding the perfect white paint for your kitchen cabinets. You can do that easily with Samplize.

Paint samples from Samplize will allow you to try different colors in your space. They allow you to move the color around and to see them in different lighting. Plus you can reuse them. It's a foolproof way to find the perfect paint color.

Find Samplize here.
Check out more paint color ideas