Disclosure: As an Amazon Associate and member of other affiliate programs, I earn from qualifying purchases.
Painting an accent wall dark gray in the sunroom to draw your eye to the beautiful outdoor scenery. You don't have to paint a whole room to make a statement, just pick one wall to focus on.
When we moved into our stone cottage 4 years ago, both Roger and I hated this room. Not only is it an addition but it doesn't really fit the style of the cottage. It also was really dirty when we moved in and had yellow walls (not my favorite paint color).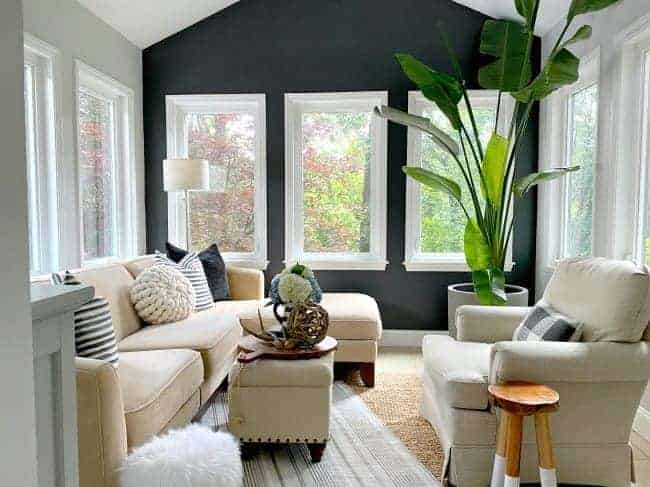 At first we were going to just use it as storage but I removed the window blinds, cleaned it up, moved some furniture in.
It felt like a different space.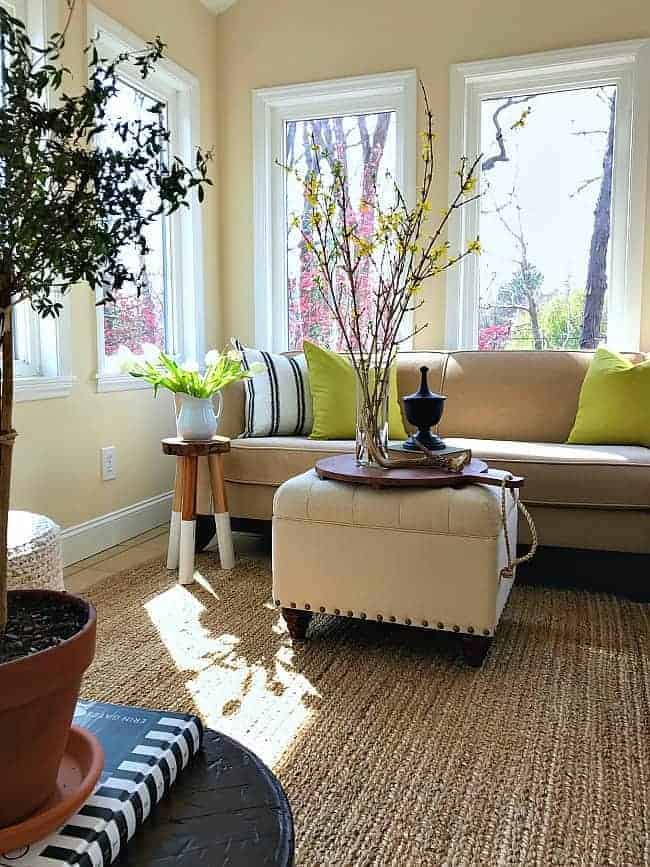 ---
All the sources for the sunroom are listed at the end of the post. As an Amazon Associate and member of other affiliate programs, I earn from qualifying purchases.
---
With a new appreciation for the space, I knew that I could make it even better with a coat of paint.
We moved the furniture to a more suitable position to take in the outdoor view and painted the walls. I also replaced the broken ceiling fan with a new hanging light.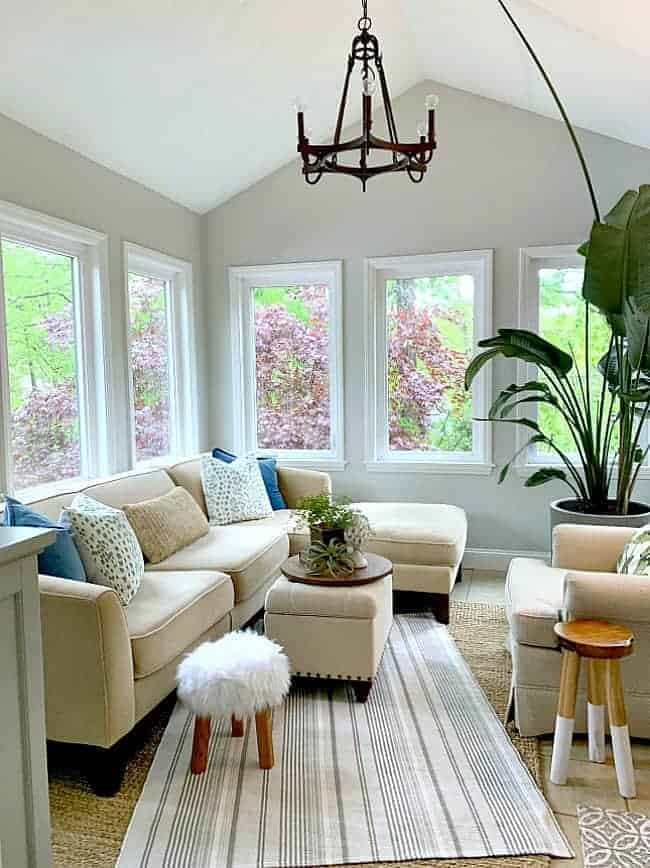 What a difference from the mess that it was when we moved in!
We enjoyed the space so much more with the walls painted gray but I had this nagging feeling that I wanted a change. When we first moved in and realized we could make this space more livable I always envisioned the walls a dark, rich color.
Of course when it came time to paint the first time I chickened out and went with a safe color, light gray. I had used this color before and loved it so I knew that it was a good choice.
To satisfy my desire for dark paint, I did go ahead and paint the back door the dark gray that I had envisioned for this room.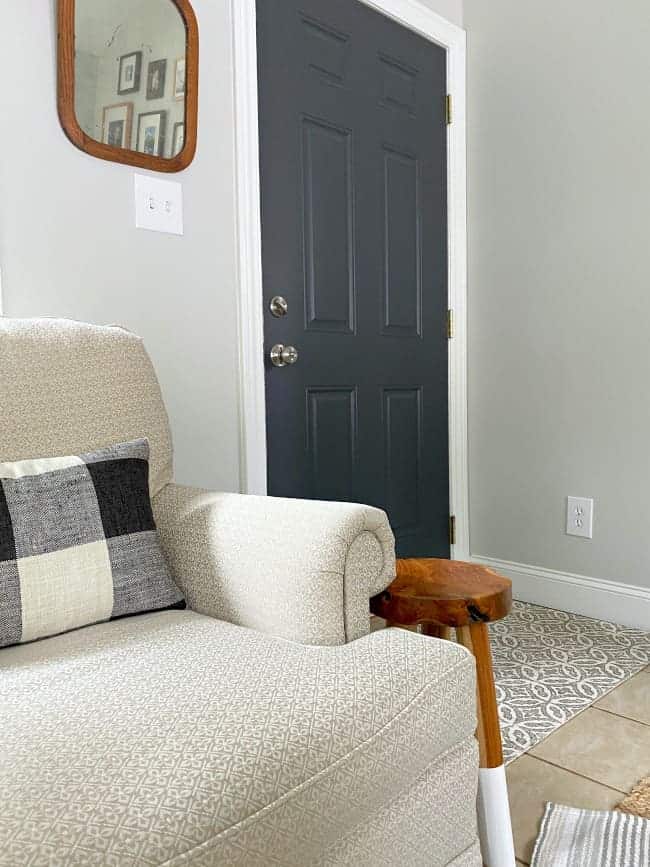 All was good for a while but that nagging feeling came back (as they usually do).
I stewed on it for a while and finally decided to go for it, since I already had the paint. Once I started though I had a change of heart and decided to just paint a feature or accent wall. That way if I hated it, it would be easier to repaint.
How to choose a feature wall
I wanted my feature wall to catch the eye and draw you to our beautiful views of the trees. It's the first thing you see when you walk through the kitchen so it made the most sense.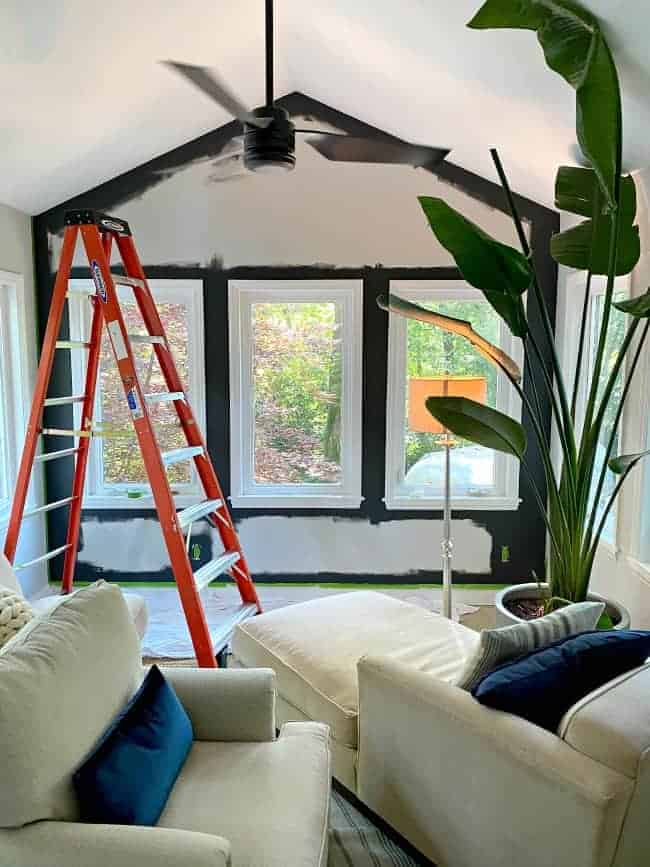 With the accent wall chosen it was time to start.
Before I started painting though, I decided to make another quick change by replacing the light with a ceiling fan. It can get warm in here in the summer so a fan is the right move. I love the sleek look and it makes the space more comfortable when it's hot out.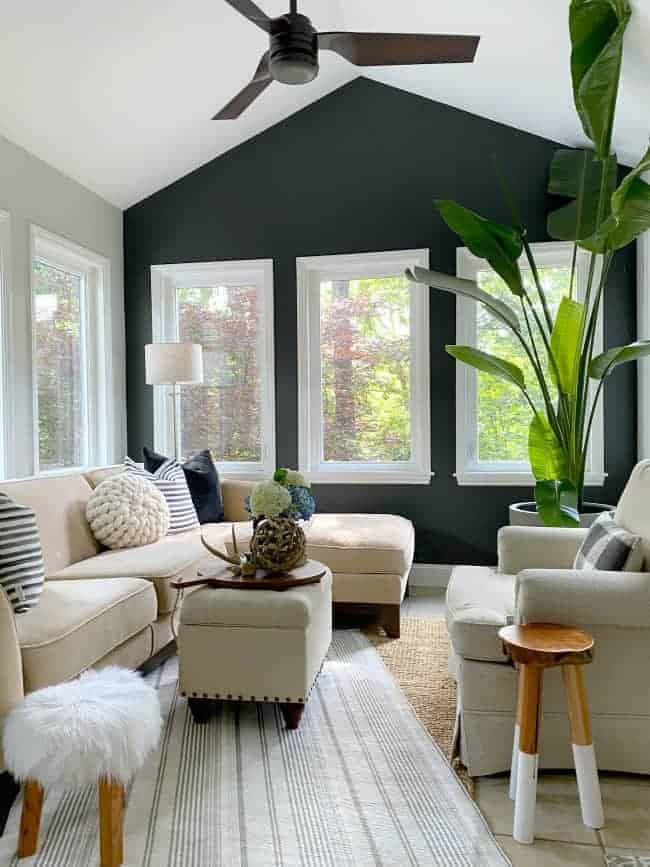 It took me a while to do this little update but I love how it turned out!
It really makes the window frames pop and draws your eye towards the outdoor view.
The rest of the room has remained the same. The opposite wall has a photo gallery with some of our family memories along with the painted cabinet from the entryway. It's almost too much for this room but I can't give up the storage.
Here's a sneak a peek of our newly painted kitchen island. I told you I've been busy painting all the things.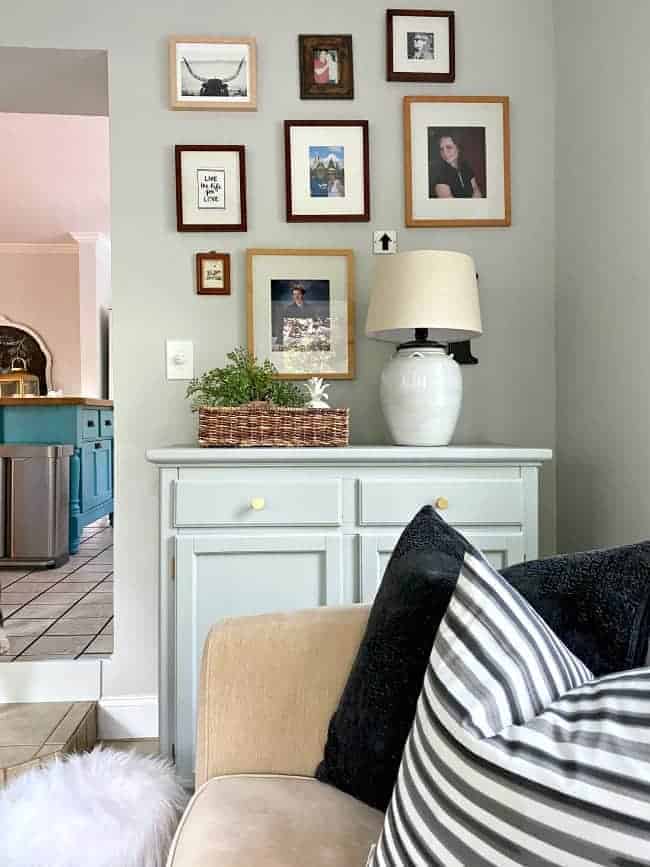 So, what do you think...
Do you think accent walls are outdated? Would you do one in your home?
Check out our sunroom updates...
---
Room Sources