Disclosure: As an Amazon Associate and member of other affiliate programs, I earn from qualifying purchases.
Yay, it's Friday. I'm so ready for the weekend. It's been slow going here trying to get back on a regular schedule after our vacation but we are making a little bit of progress as far as the house goes.
It may only be the first week of November but it's beginning to look a lot like Christmas in our little stone cottage. Ah, the life of a blogger. I'm really excited to decorate for our first Christmas in the new house though.
Ask me how I'm feeling about it on week 5. 😉

Besides Christmas, I'm pushing forward with some of my other projects. One that I've been dying to do since we moved in this past July, is the DIY kitchen open shelving for under $50.
There was a beat up wine storage cabinet on the one wall and I've wanted to replace it with something that I could get more use out of, like barn wood shelves.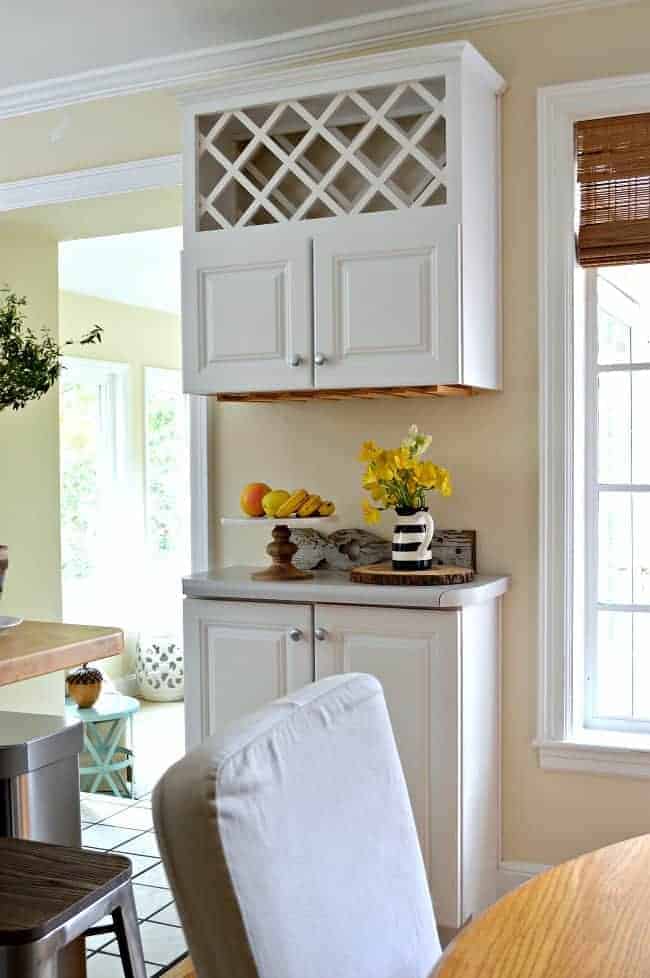 Not the best pic but it gives you an idea of what it looks like with the cabinet gone.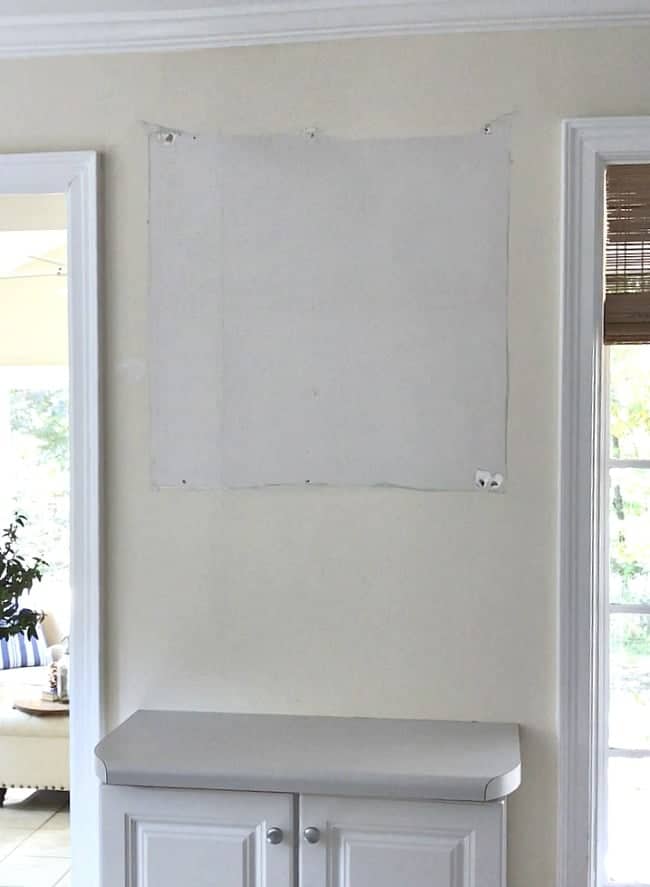 As you can see, the wall behind the cabinet was never painted so, after I patch the holes, I'll have to paint that side of the kitchen. I'm really hoping to get this done in the next few weeks. Fingers crossed.
I also wanted to show you how the sunroom is coming along. The last time I shared it, we were just moving in.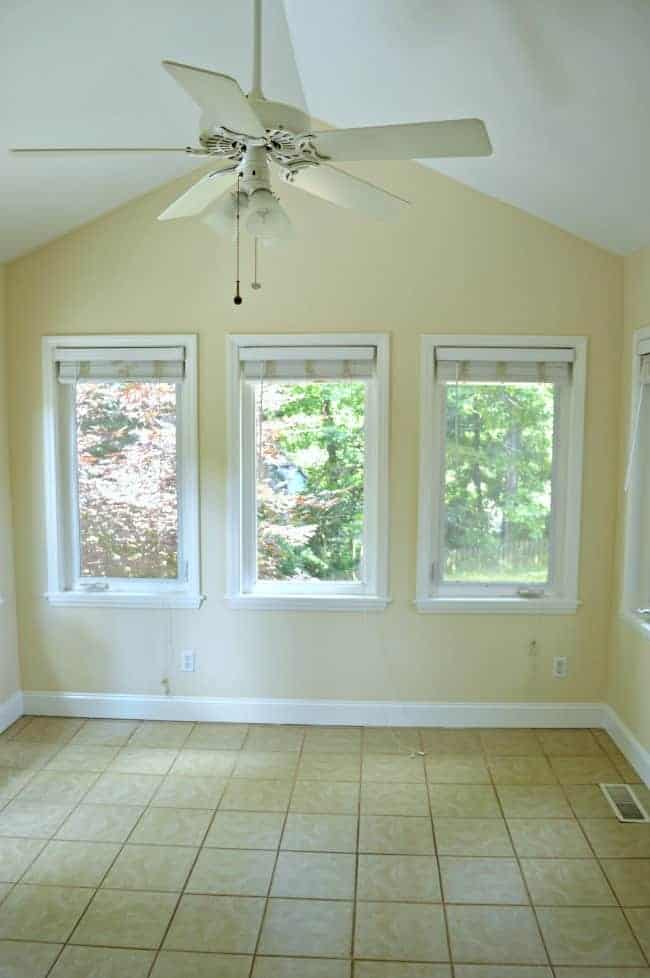 Not much done in here...yet. I did ditch the blinds and gave the whole room a good cleaning. It doesn't look it in the picture, but it was filthy.
We have grand plans for this room but it's way down there on the bottom of the list.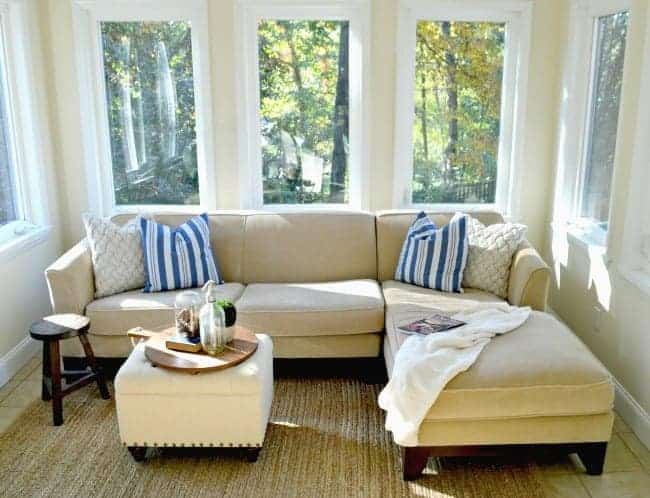 For now it's a comfortable spot to sit and watch the leaves fall. This room is up in the air a bit so it feels like you're in a treehouse.
Almost everything in this room came with us from Chicago. The only new purchases are the pillow covers, the floor lamp, the checked throw and the rug, that I just got from the Pottery Barn Outlet.
A source list for the room is at the bottom of the post.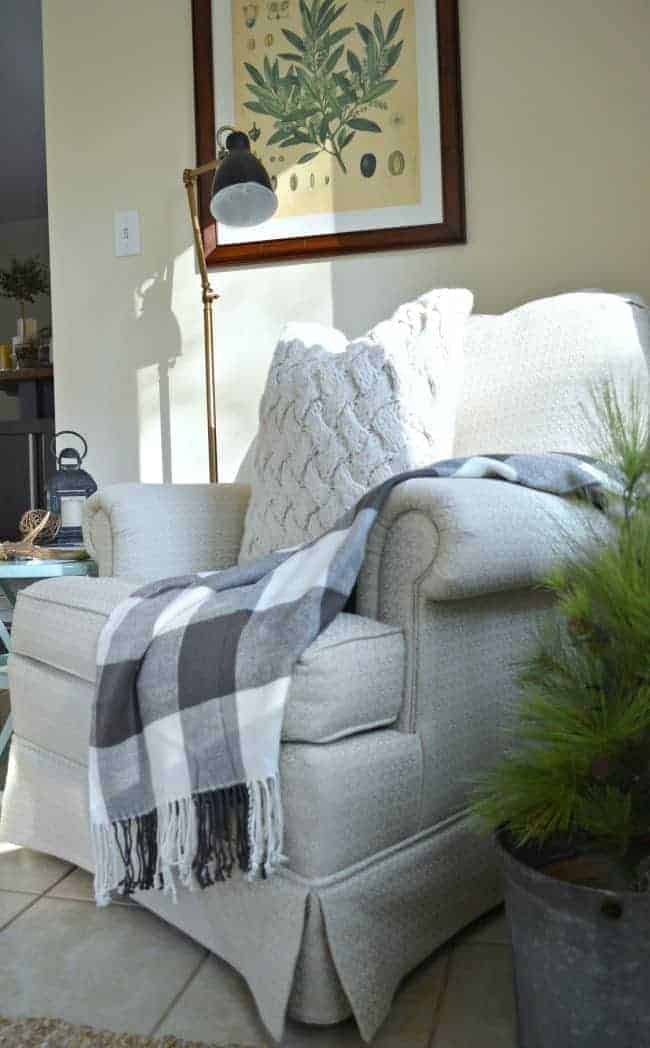 This is the corner opposite the couch. It's a cozy place to sit and read a magazine, or scroll through Instagram and Pinterest. 😉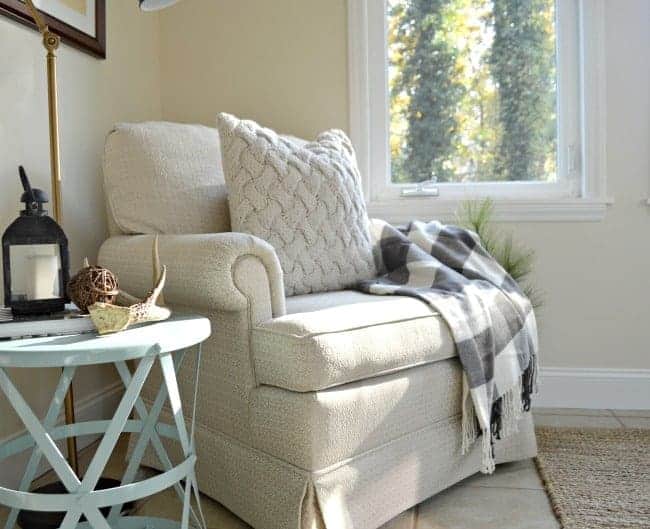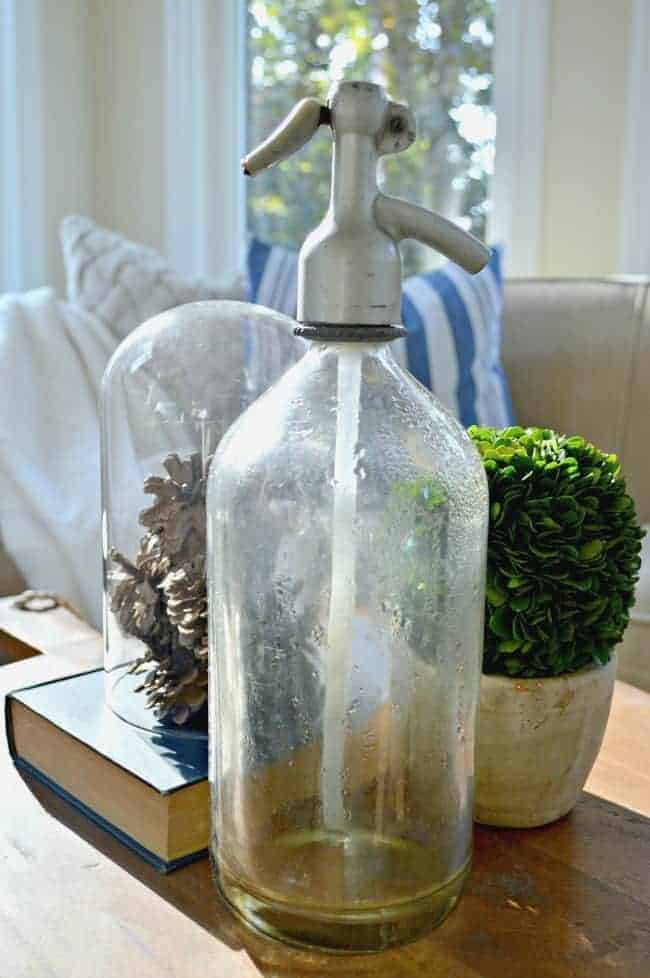 So, that's what's cookin' here.
What have you been up to? Are you ready to see Christmas all over the internet or are you like my mister...bah humbug?
Thanks so much for stopping by. I hope your weekend is great!
Source list
sofa - Pottery Barn Greenwich sofa; similar sectional here
rug - Heathered Chenille Jute Rug from Pottery Barn Outlet
blue striped pillow covers - Etsy
turquoise side table - HomeGoods
cream throw - IKEA
gray checked throw - Birch Lane
botanical print - Pottery Barn (years ago)
vintage seltzer bottle - flea market
chair - bought years ago from a furniture store that's out of business
If you want a little perspective of the room before, I made a quick video of the house when we first moved in and the sunroom is the first space I shared.