5 Tips for Small Space Living: Living Room
This post may contain affiliate links, please see our policy for details.
5 essential tips for small space living: living rooms, including ideas and tips on decor, storage and organization.
We've lived in 10 different homes during our marriage but this home, at just under 1200 square feet, is the smallest.
Our house in Florida was just a bit bigger but seemed much larger than this house.
I think it's just the way this house is laid out that makes it seem so small.
Anyway, learning to live with less space has definitely been a challenge.
I'm not big on collecting and I have no problem letting go of unnecessary items, so that's been a big plus, but I have definitely had to scale back.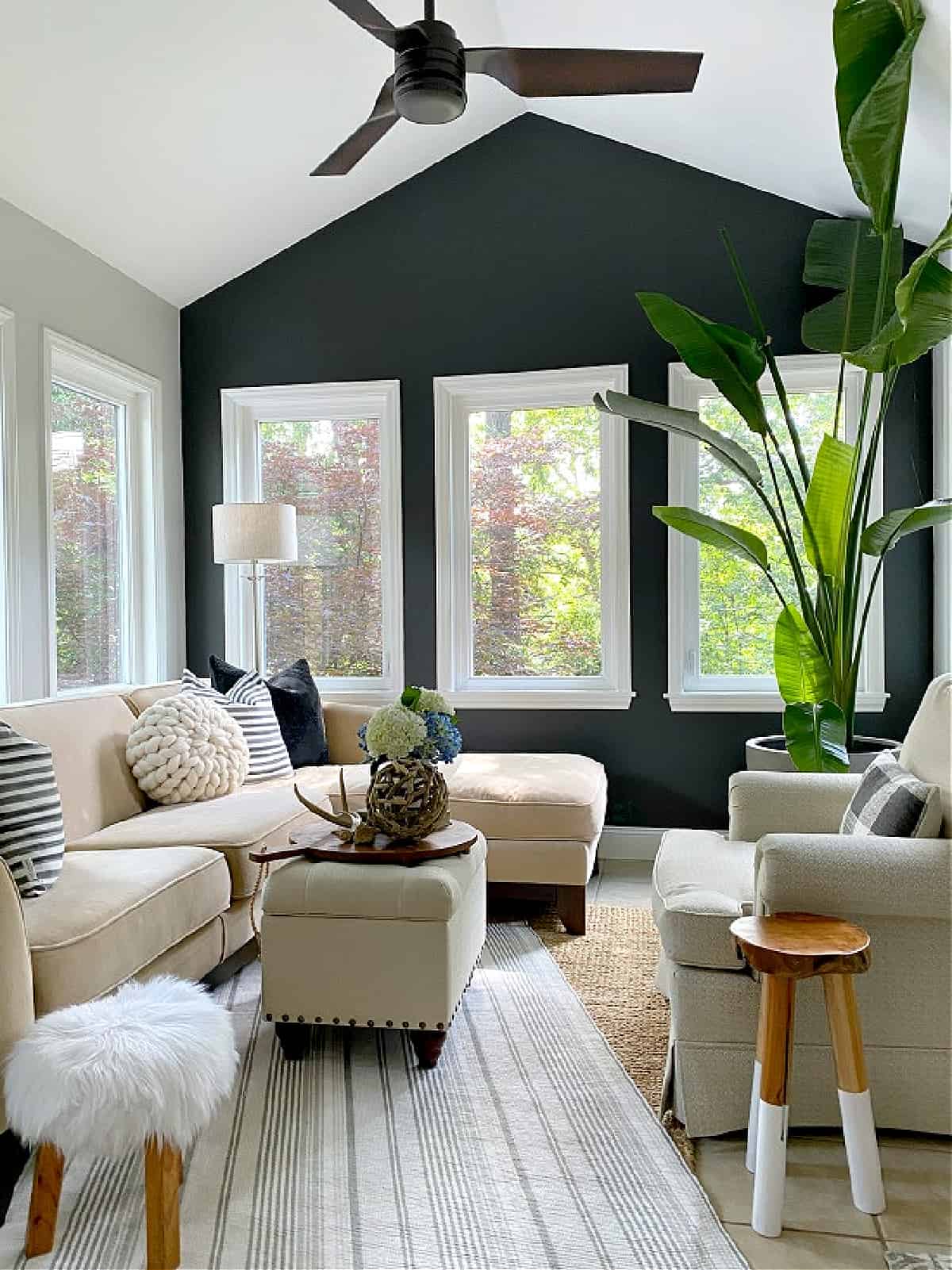 I thought I would share some of the things I've learned this past year starting with the living room.
5 Small Space Living Tips for the Living Room
1. Dressing Your Windows Simply
Our living room may look large in photos but it's combined with the dining and entryway. The actual living area is small but it has a large window which helps it look bigger.
It also faces North which means we don't get a lot of light.
So, to keep the room from looking closed in and dark, I ended up dressing the window simply with bamboo shades and no curtains.
2. Be Choosy With What You Buy For Your Small Living Room
Because there isn't a lot of surface area for decor, I have to be very particular about what I buy and display.
I've learned that if I see something I like, I need to be really sure that I have a place to put it.
I've had to pass on a lot of things I really liked but it is, after all, just "stuff" and I've actually saved a lot of money by not buying.
Having a lot of things in a small room could also make it look small and cluttered, so I try to choose larger items rather than lots of little things to display.
3. Use Double Duty Furniture
I have had to find furniture that I could use for extra storage.
The cabinet that the tv sits on also houses my camera equipment, our cable box, wii, dvds, cds and lots of other stuff that I like to keep out of view.
I got an ottoman from Target that also has storage and I put a few blankets in there to use on those cold winter nights.
I also haven't used any end tables. I tried to fit a few in, but they just didn't work in this room.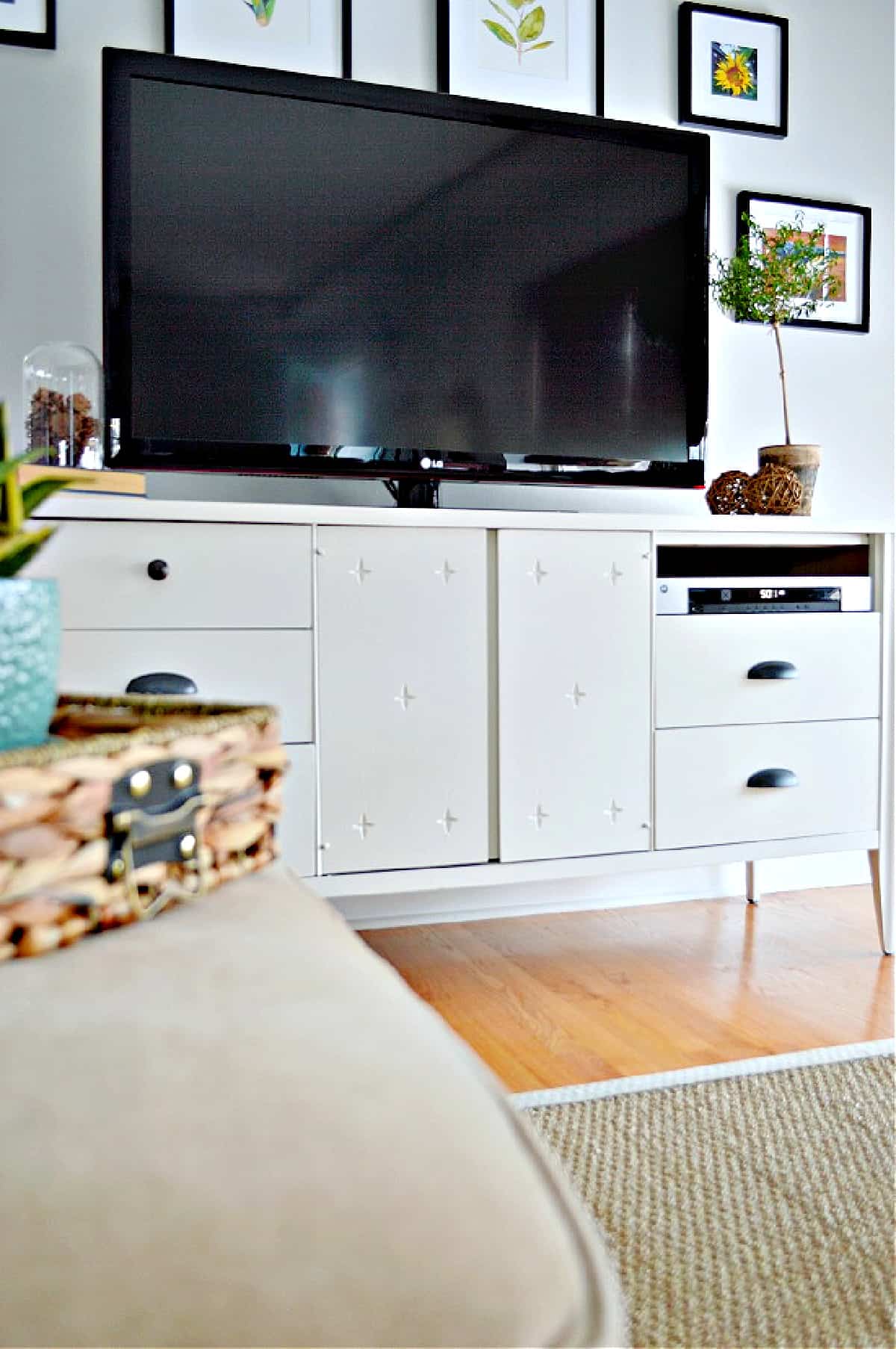 Instead I use the ottoman and a few wooden stools so we can put drinks down. I love double-duty furniture.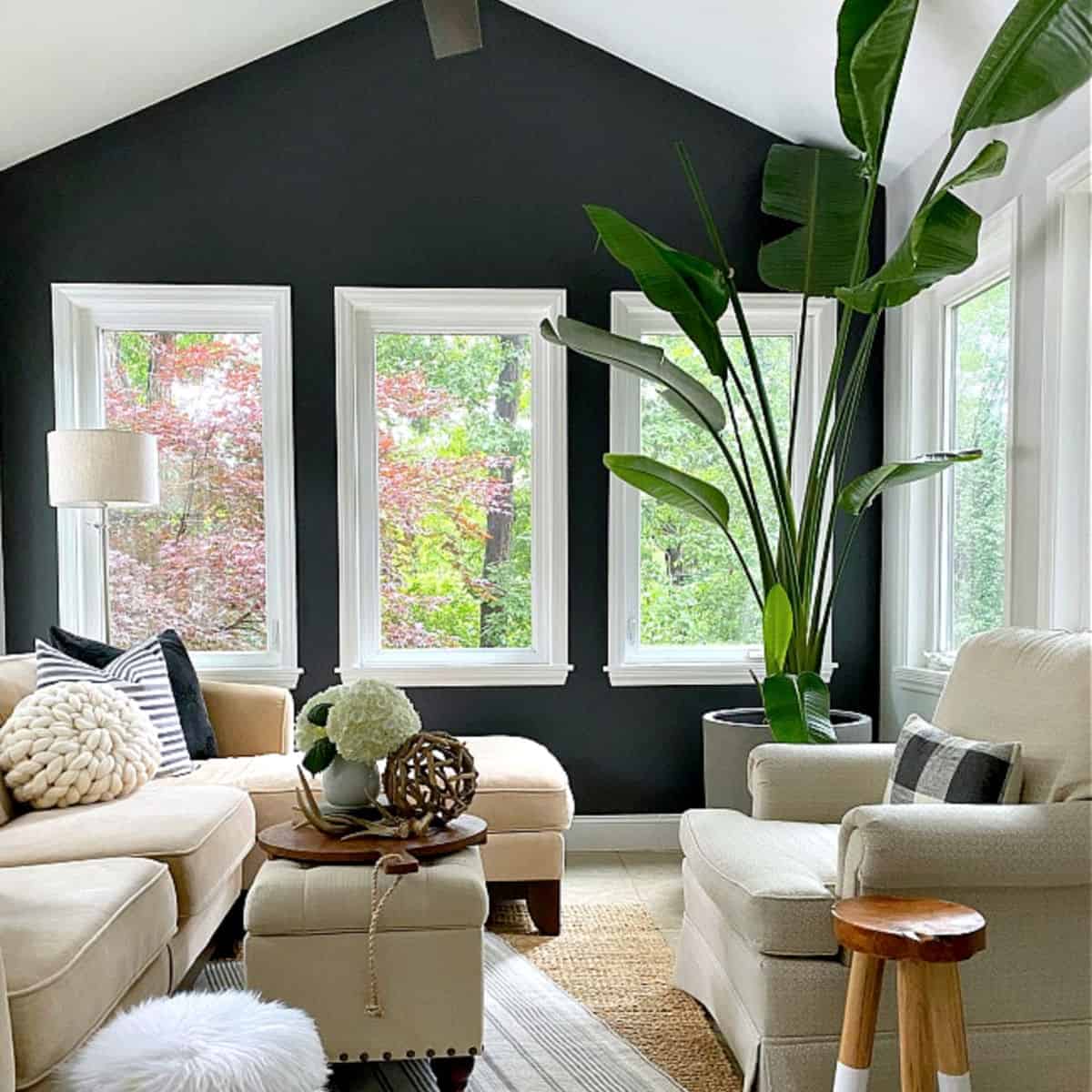 4. Paint Your Walls a Light Color
My next tip would be to paint your walls using light colors to help the space look bigger.
I painted my living room with BM Thunder and it turned out to be too dark for the space so I had to repaint. After a very gloomy winter the color just seemed too depressing to me.
Painting it a lighter color, BM Gray Owl at 50%, was the right move. It helped to brighten up our dark space.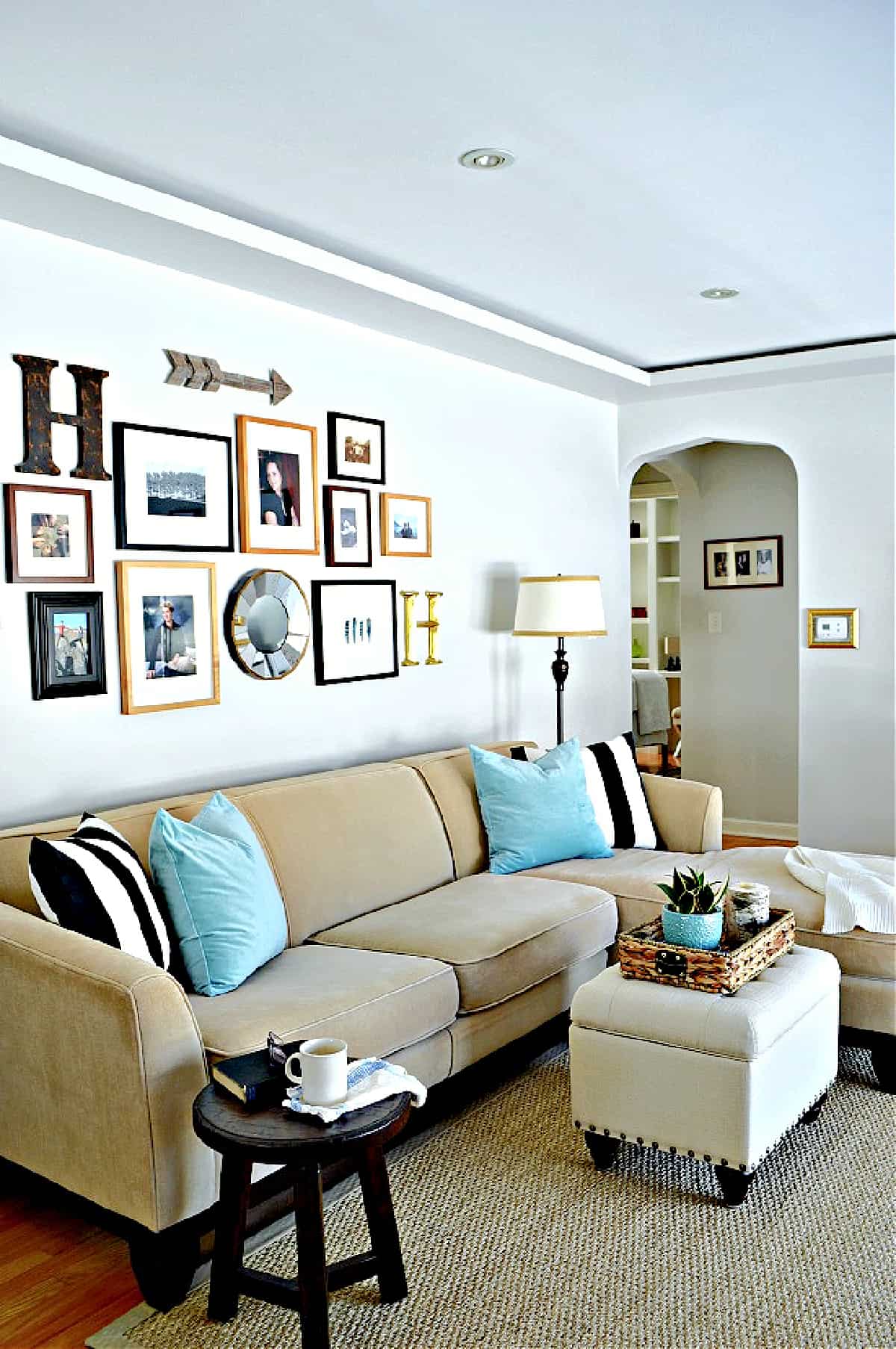 5. Use Mirrors to Open Up Your Small Space
I have found that using mirrors in my small space definitely helps to open it up and adds extra light.
I've used three in my room and I think it makes a huge difference.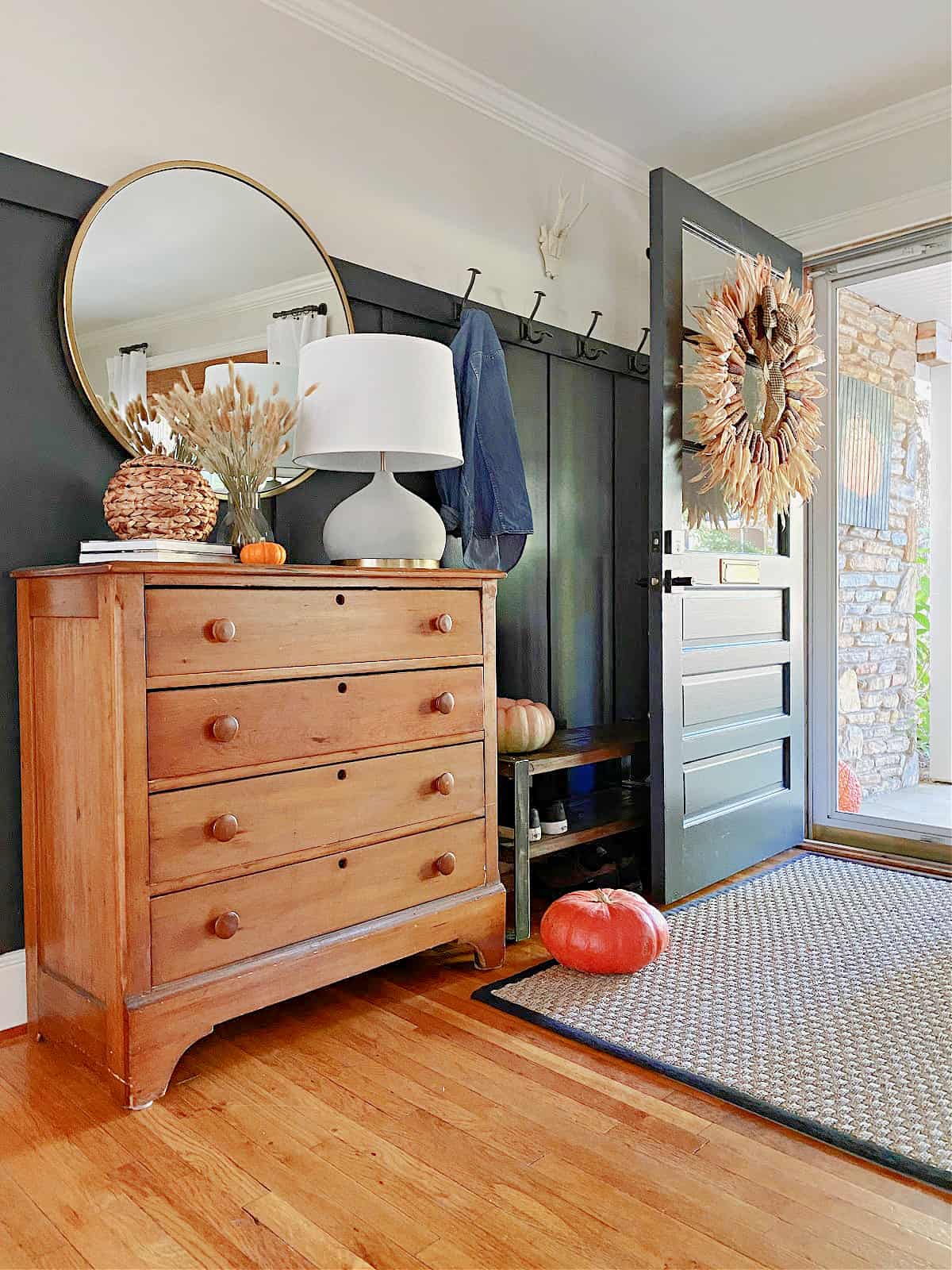 Scatter them around your room or group them together!
It's always a huge plus if you can position a mirror near or across from a window. The light will bounce around your room.
That's my 5 biggest tips for the living room. There are many more and I hope to touch on them as we move on to other rooms.
Of course I'm still learning so if I come across anything, I'll definitely share.
Do you have any small space living tips? Do tell.
Room Sources, top photo:
pillow covers, coffee table, floor lamp, white pillows, stool, seagrass rug
Check out my other small space living tips: