Disclosure: As an Amazon Associate and member of other affiliate programs, I earn from qualifying purchases.
I steered off course a little doing my room makeovers, I'm supposed to be working on guest bedroom #2, but I'm back on track now. After the long and miserable winter we had, I just couldn't stand how dark the living room was.
I did a small living room redo last November and, although I knew it was bit dark, it seemed like it would work.
Well it didn't. The room faces North so it's on the dim side anyway and we had not gone through a winter in this house so I had no idea how the color would hold up.
I finished up the 1st guest bedroom and just dove into repainting the living room, in Benjamin Moore Gray Owl, at 50% strength.
I had used Gray Owl in the bathroom and loved it so I thought I'd give it a try. I ending up having to paint the hallway and the living/dining/entry.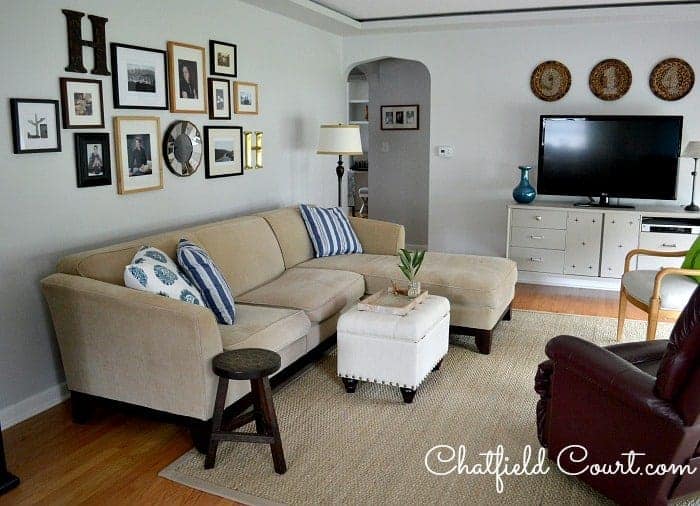 I found this picture on my phone. It's definitely not the best quality but you can really see how much lighter the Gray Owl is compared to Thunder.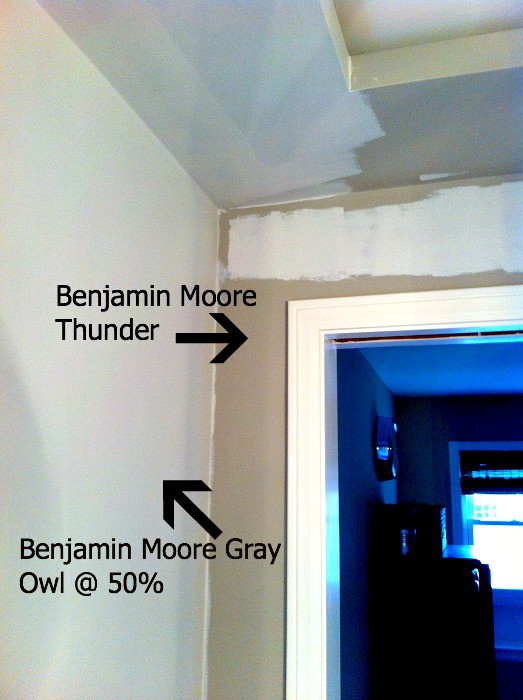 I have to say that I wasn't loving it when it first went on but I think I like it. Does that sound convincing? 😉 Of course it doesn't look the same as it does in my bathroom because the lighting is so different but the room is definitely lighter and brighter. I am also liking my new seagrass rug better than the black bordered rug.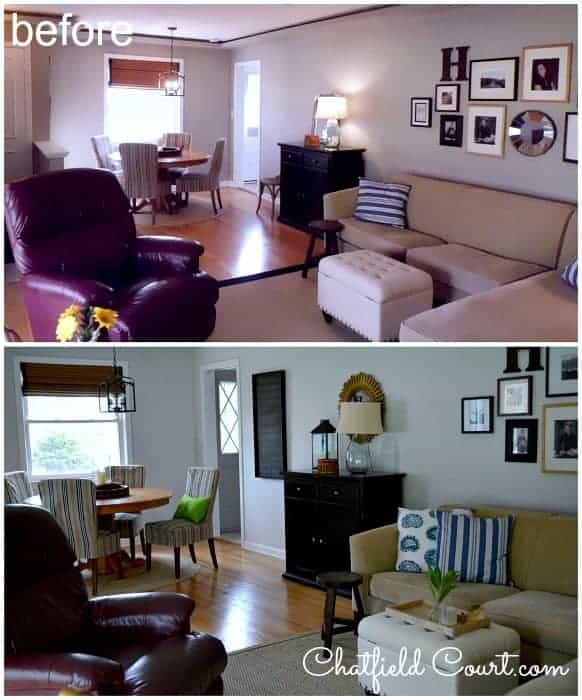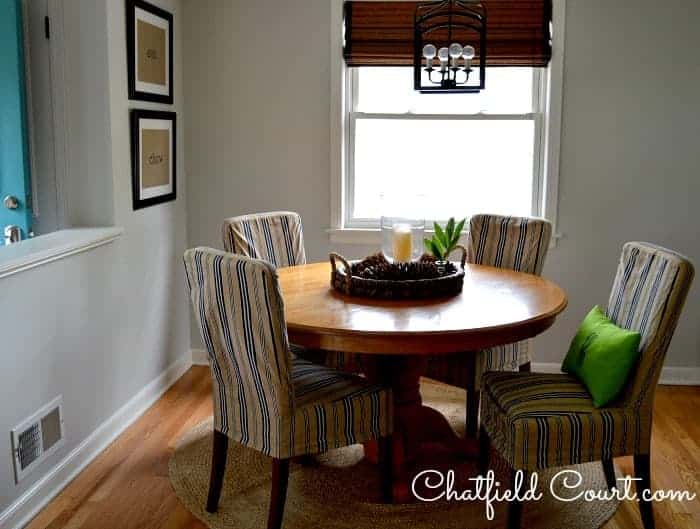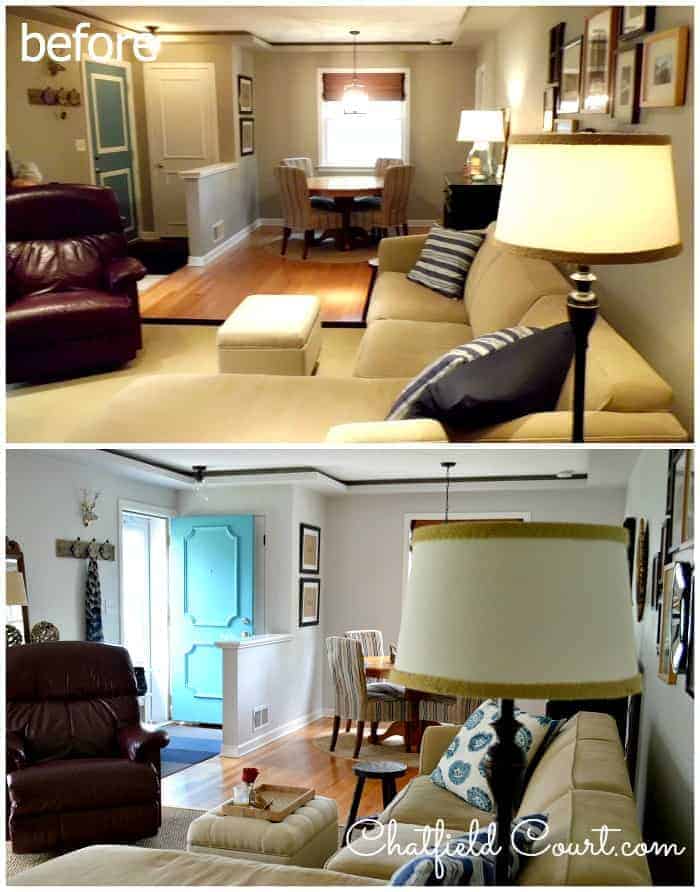 Here is my hallway painted with the BM Gray Owl (50% strength). I do love how it looks in this space and how it works with MS Plumage in the guest bedroom.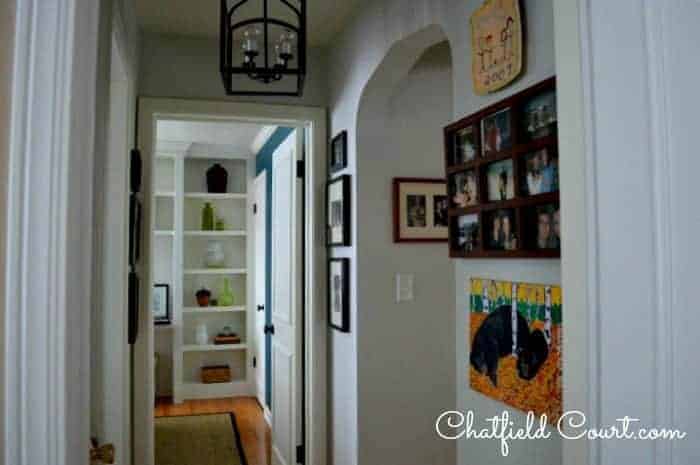 I think that the one thing that bothers me is the media cabinet. I'm not quite sure I like the color of it against the new paint.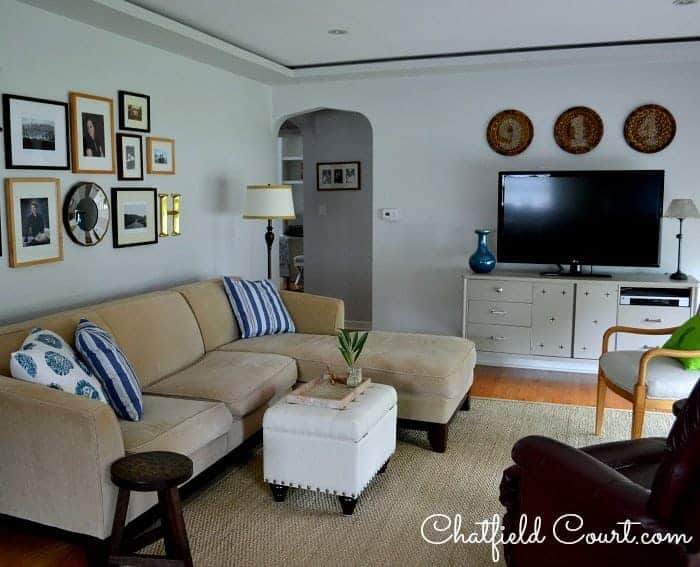 I would love to hear what you think. Should I leave it as is or paint it a different color? Any ideas?
I still have a few things to do in this room, like figuring out the media cabinet color, installing crown molding, and the redo of my dining table, but I am happy to move on. Now I am really going to get moving on the 2nd guest bedroom makeover. Pinky promise. 😉
Thanks so much for reading!