Disclosure: As an Amazon Associate and member of other affiliate programs, I earn from qualifying purchases.
Hello and happy Monday! I hope you had a great weekend. Our Mediterranean cruise is ending today and we'll be flying back home this afternoon, which means it's back to business tomorrow. Boo! I love to travel but the first few days back home are always the worst. No pity party for me though because we are so lucky that we were able to take this trip of a lifetime and I can't wait to share it with you.
Let's get right back into DIY mode with an easy and inexpensive lamp makeover I did on my green lamp. We used it in the blue guest room in our house in Illinois and I loved how it looked with the turquoise painted walls, but I was ready for a change.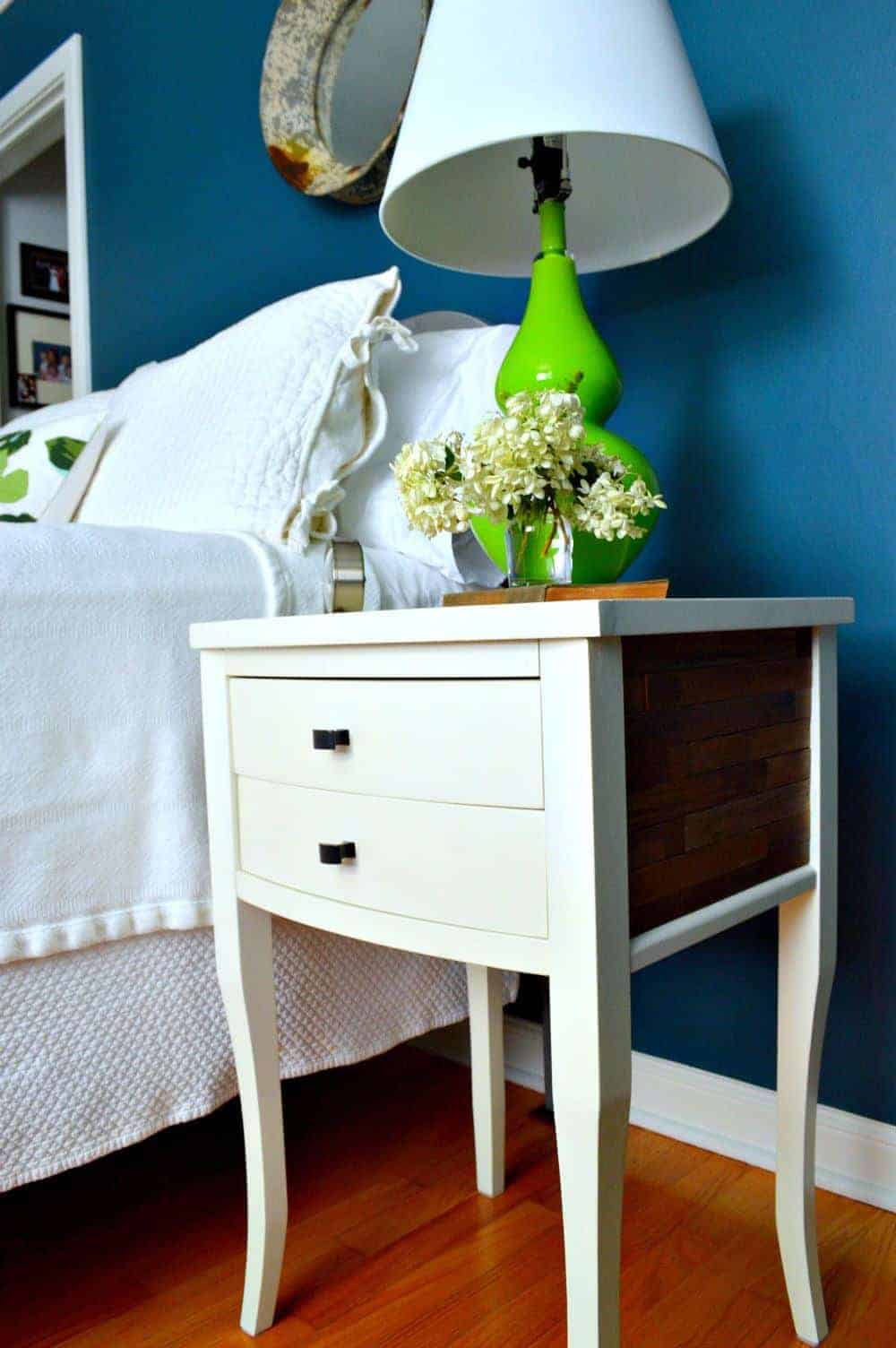 I bought the lamp at HomeGoods a few years ago and picked it out because of the color, but it just didn't fit into the style that I was going for in the guest bedroom in the new house.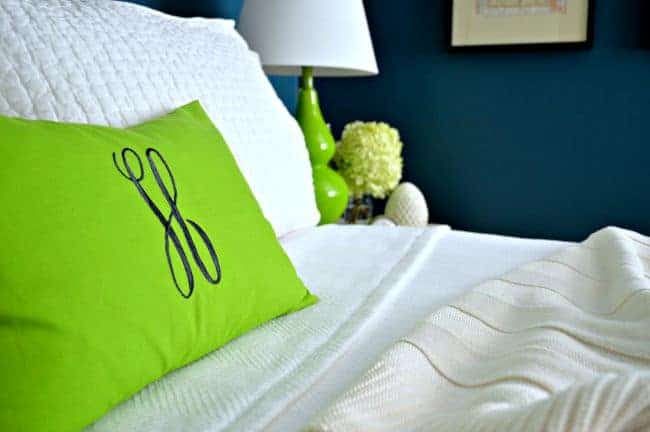 I was going for a lighter look in this room with blues and whites and I wanted the lamp to be an accessory, not the center of attention. I considered buying a new one but ceramic lamps are pricey and I really liked the shape, so I decided to give it a little makeover.
I thought about going white but I wanted it to be a little different so I went for an aged mercury glass look, with a gold tone. I've done it the mercury glass look before, when I made a mason jar lamp for my new kitchen in our Illinois house, so I knew that I loved the look. What I didn't know, though, was how well I would be able to cover the shiny green surface of the lamp.
There was only one way to find out...I just had to go for it.
Supplies
lamp
Rustoleum Mirror Effect spray paint
Rustoleum Gold Metallic spray paint
Rustoleum Dark Copper Metallic spray paint
water and vinegar solution in spray bottle (1 part water to 1 part vinegar)
damp towel (to blot water/vinegar solution)
painter's tape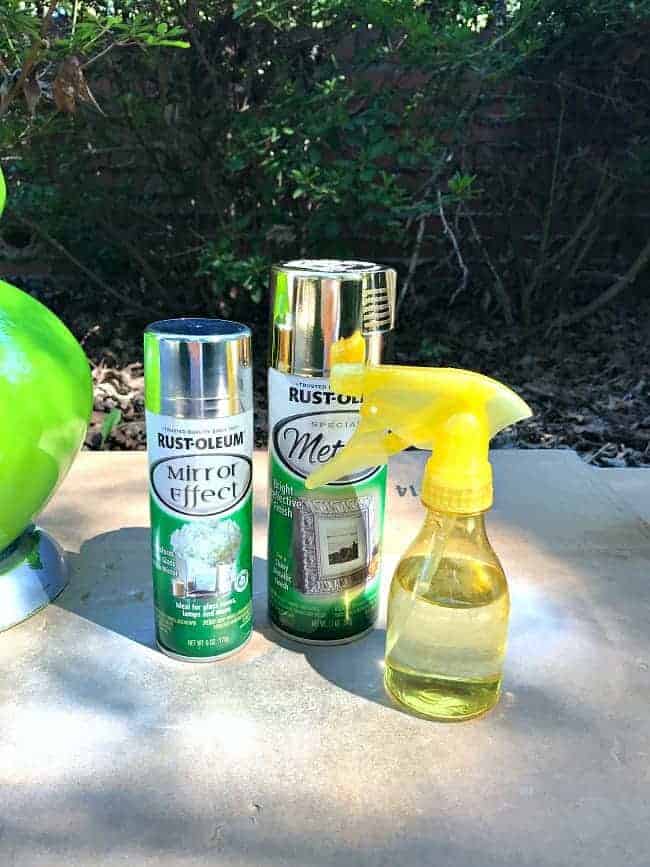 With the lamp cleaned up with a damp towel and the cord and socket all taped up with painter's tape, I started my lamp makeover by spraying a light coat of Rustoleum gold metallic spray paint on the lamp. The paint dried very quickly so, after a few minutes, I added 2 more light coats until the green disappeared.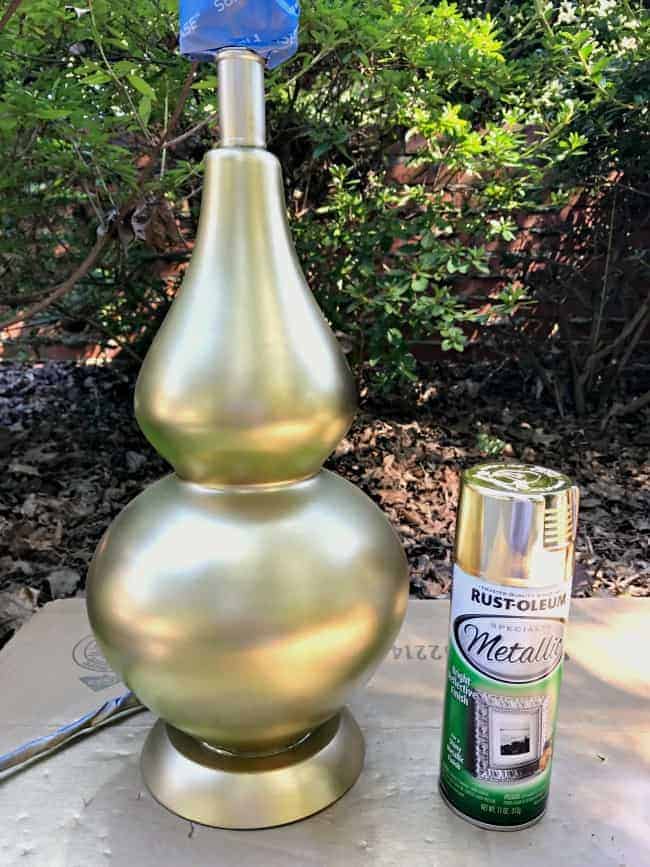 Next, I tried out the Rustoleum Mirror Effect spray paint and the water and vinegar solution. First, I lightly spritzed some of the water and vinegar solution on the lamp, you want it to bead up and not run down the lamp.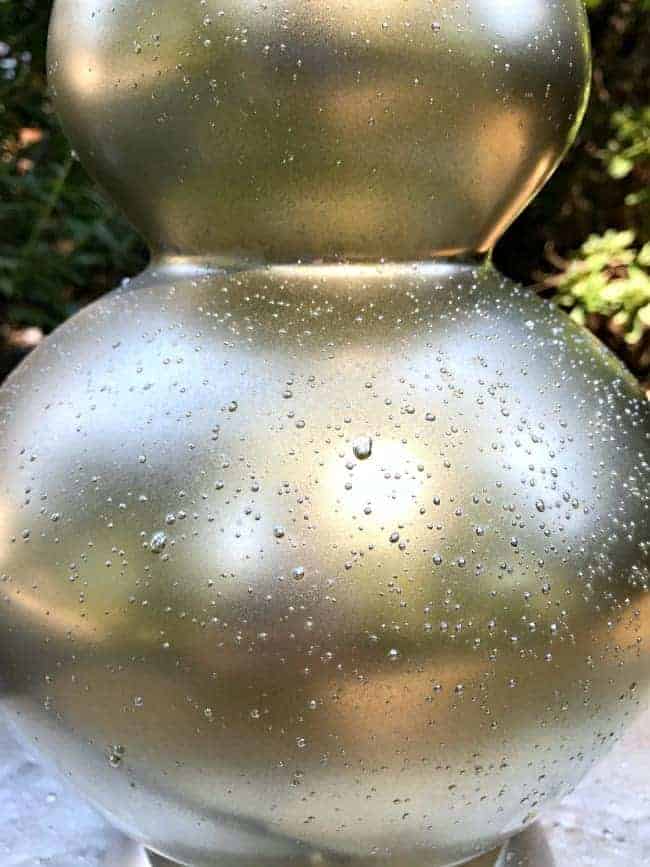 Then I sprayed a light coat of the Mirror Effect spray paint right over the water and vinegar solution. I let the paint set up for about 30 seconds and used the damp paper towel to dab off the water drops.
Once I dabbed all of water off, I lightly (very lightly) sprayed a little bit of the Rustoleum Dark Copper Metallic spray paint, just to add a hint of color and texture. See how the water and vinegar solution gives it the aged look?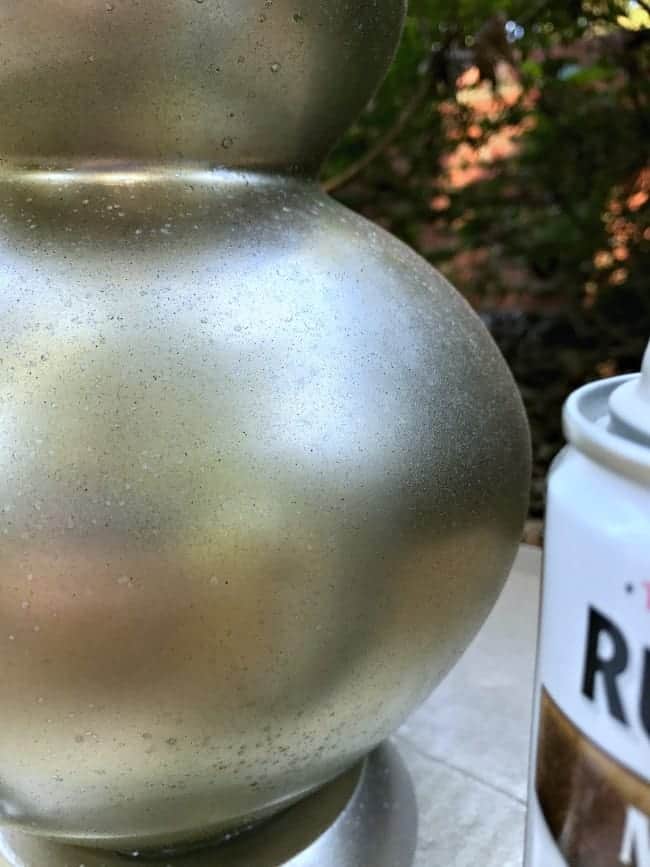 After it was dry, I added a burlap shade and put it back in the room. I've been adding a lot of gold touches around the house and I wanted to have some in this room, so that's why I went with the gold metallic paint. I could add more Mirror Effect spray if I wanted more of a silver look, but I really love the aged gold tone.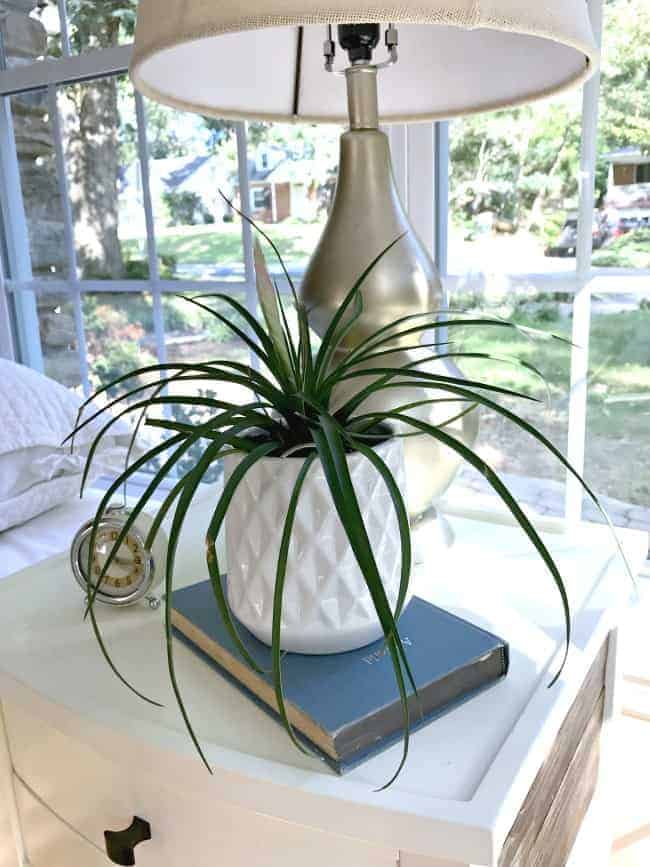 So I guess I would call this look "aged mercury glass with a gold tone".
Sometimes you never know with these kinds of experiments, but I love how it turned out. I think it adds a bit of warmth to this corner of the room.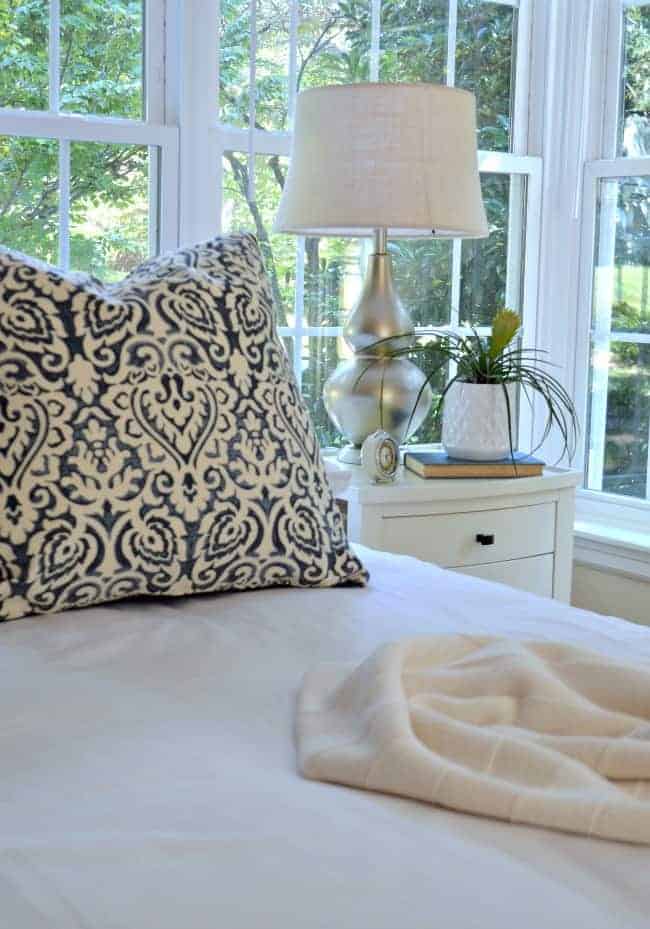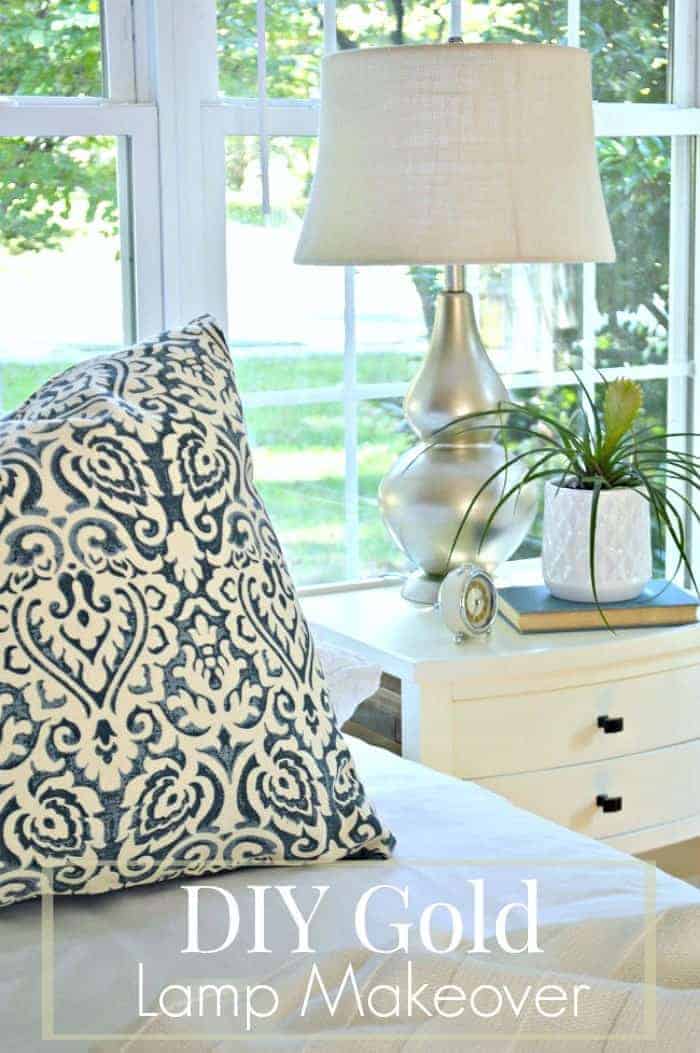 Have you ever changed the look of a lamp using paint?
Thanks so much for stopping by! Hope you have a great week, my friends!
Speaking of paint...I painted a couple of mason jars with chalk paint and made little planters out of them for my kitchen window.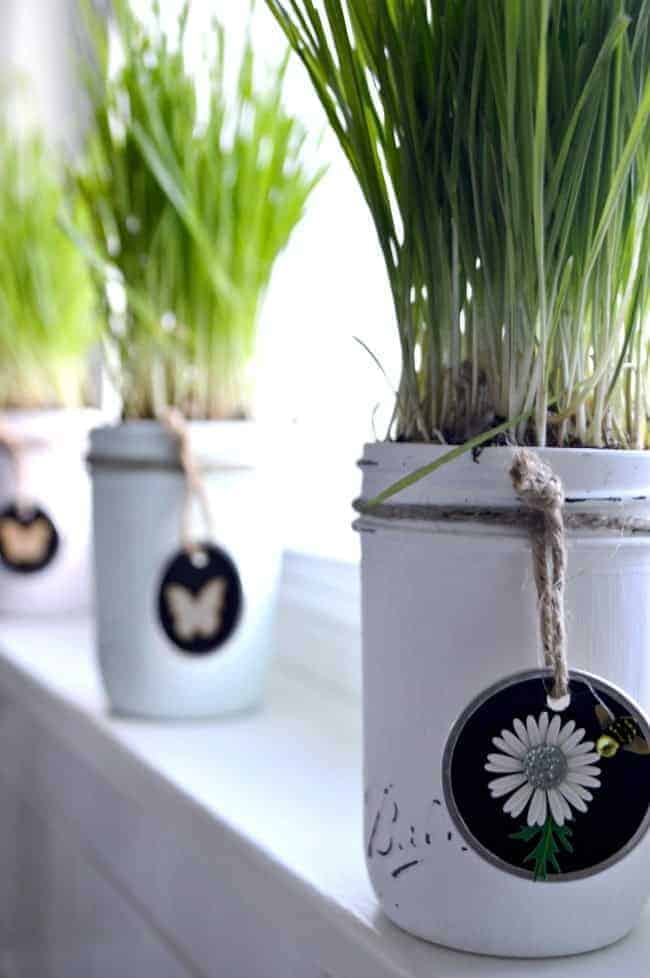 Chalk Paint Mason Jar Planters
One of my favorite projects was the mason jar lamp that I made for my newly remodeled kitchen.