Disclosure: As an Amazon Associate and member of other affiliate programs, I earn from qualifying purchases.
Hello and welcome to Chatfield Court!
I'm so thrilled to be sharing my fall home tour today as part of the Seasonal Harvest Tour hosted by Brenda from Cozy Little House! This is the second year that I've been a part of Brenda's tour and I'm happy to be included again!
There will be tons of inspiration shared from 24 talented bloggers all week long, so make sure you visit and check out how they've decorated their homes for the fall season.
I'm stop #1 of the Tour, so let's get this party started!!!
---
We've only been in our little stone cottage for 3 months so there's still a long list of things that need to be done, but I was excited to put the to-do list aside so I could decorate for my favorite season.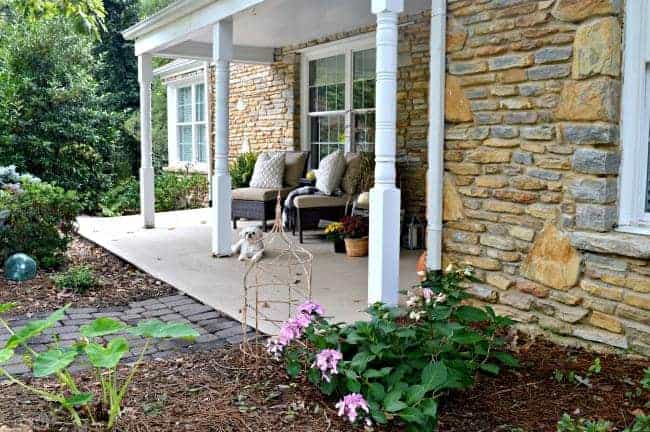 Our front porch was the first space to get the fall treatment.
I've always wanted a covered porch so that we could sit in our rockers and watch the world go by, and I got it with this house.
We didn't get the rocking chairs but we did settle on a couple of comfy outdoor chairs, from Wayfair.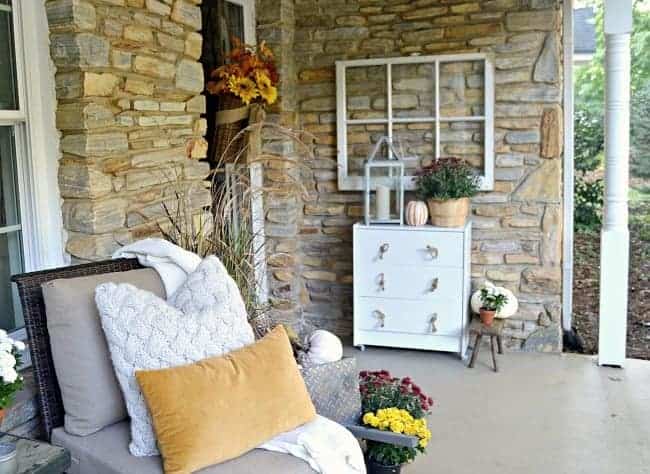 I built a rustic wheelbarrow for our fall front porch and filled it with lots of pretty mums, until they died...one by one...from the heat.
Ah...the joys of living in the South. 😉
Right now it's filled with faux pumpkins and pinecones, no watering necessary.
Make sure you check out the step by step tutorial on how I built my wheelbarrow.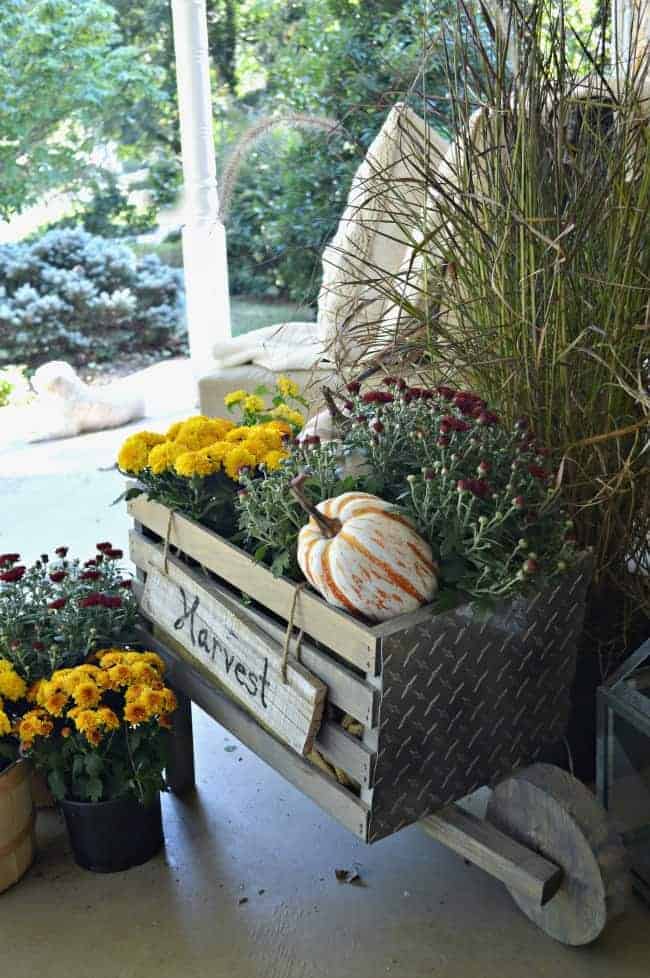 If we're not out on the front porch, we're in our favorite room inside the house...the kitchen.
The kitchen and dining area are open to each other and they both have 70 year old casement windows that let in tons of light and give us beautiful views of our back yard.
I'm so excited to have our girls home for the holidays so we can all cook and hang out in our new favorite space.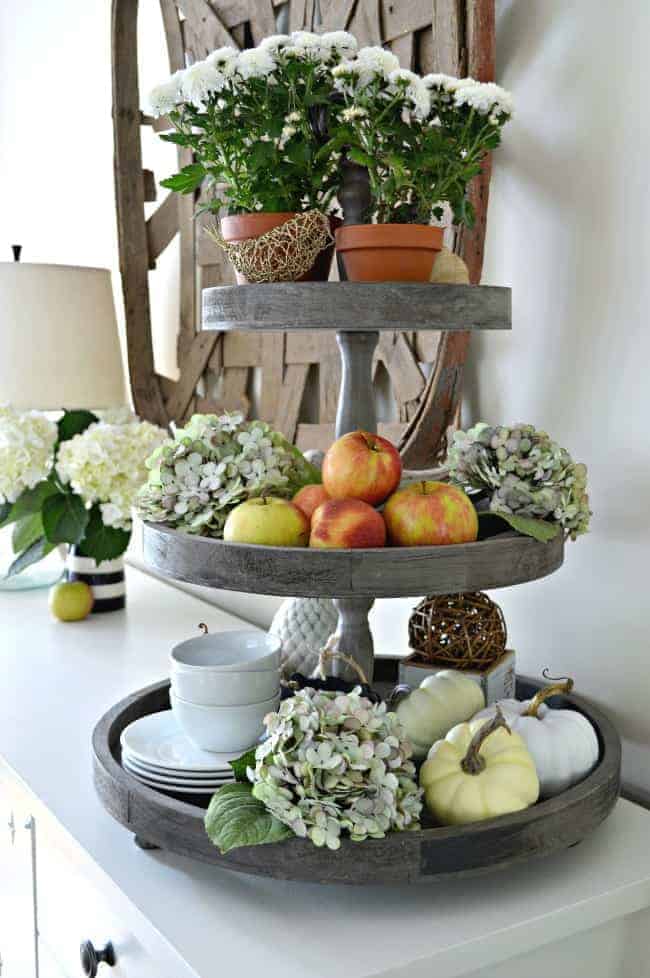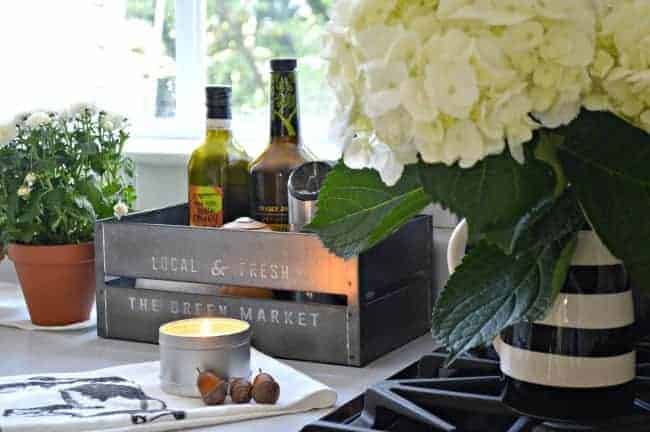 I just did a little makeover on the kitchen island, it went from hunter green to this deep, rich gray, and I love how it stands out against all of the white in the kitchen.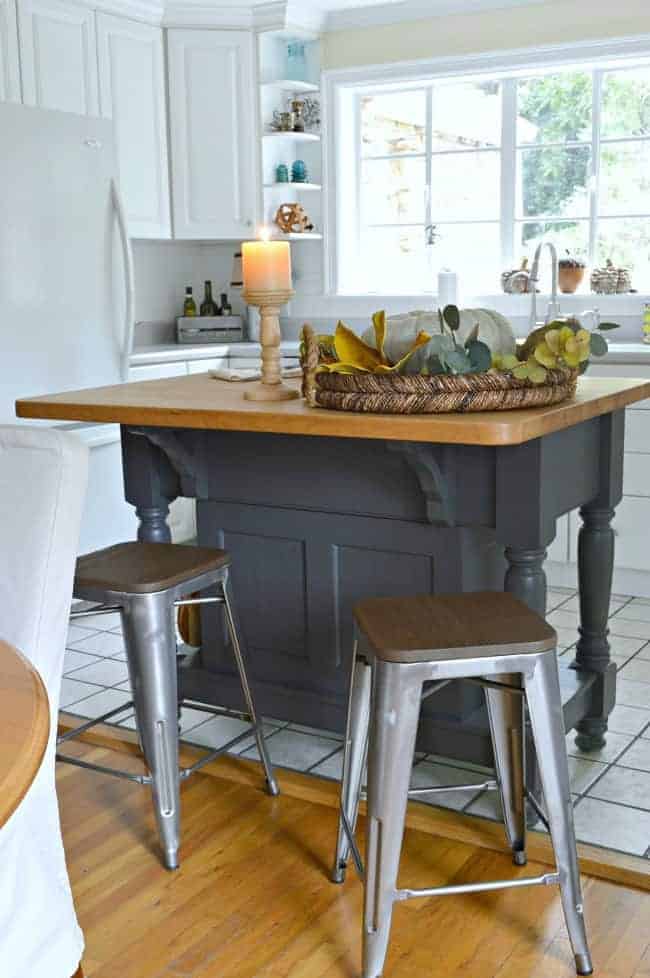 The fall decor was kept simple in here with just a little fall color, in the heirloom pumpkin, and texture, in the woven tray and rustic pumpkins on the windowsill.
I was so happy that I had a spot in the kitchen for the chalkboard that I made last year from a $10 dresser mirror.
It's so fun to change it out every month and I love adding seasonal touches to it.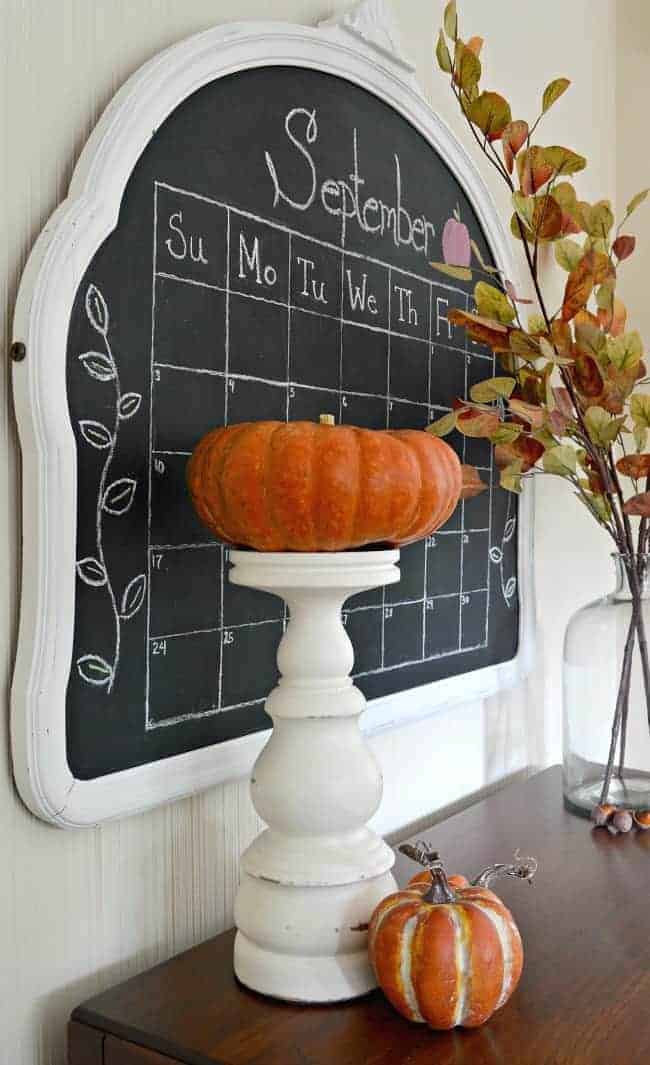 I try to use as many natural elements as I can when I decorate for fall.
I mean...Mother Nature is the best decorator, don't you think?
Her colors are always perfectly fall.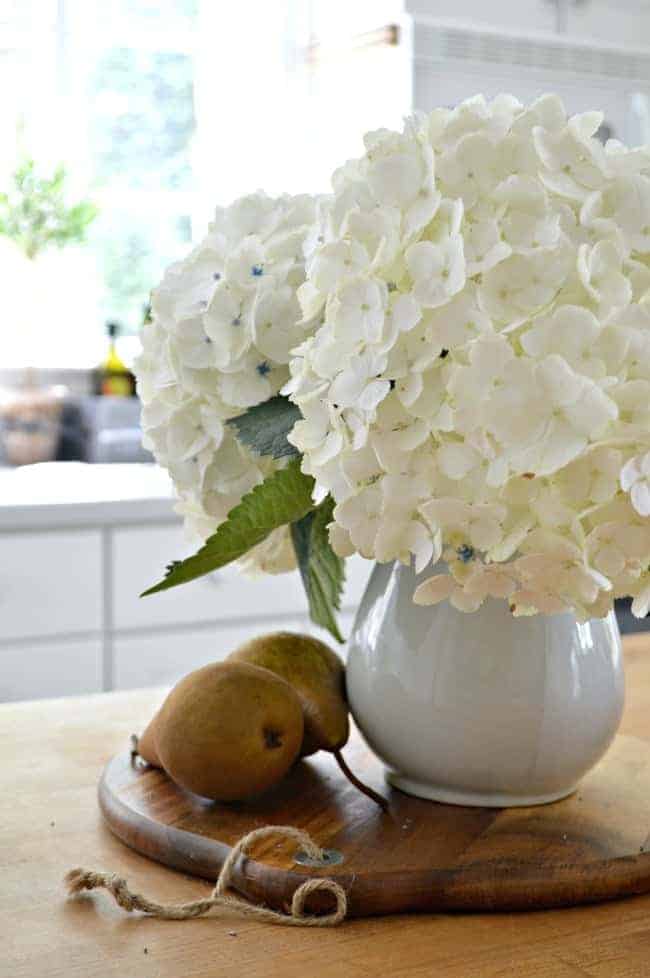 We've done so many fun things since we moved to North Carolina.
A couple of weeks ago we went to an apple festival where we got a peck of apples (about 10 lbs.).
I was afraid that we were going to end up throwing some away but we ate them all in about a week.
So much better than the apples you buy in the store.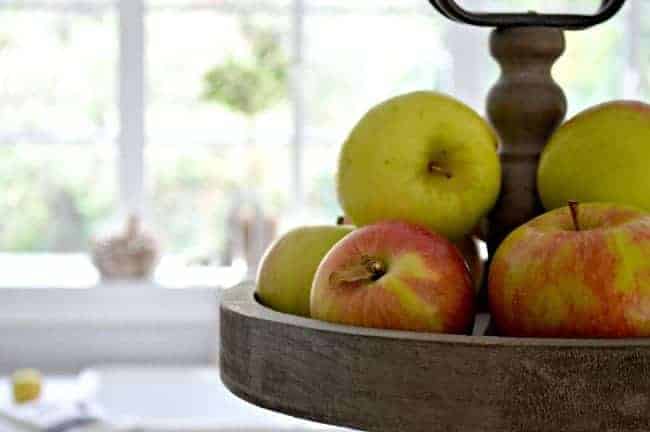 I'm totally crushing on plaid this fall (well, every fall I love to use a bit of plaid) and these dollar store pumpkins just make me happy.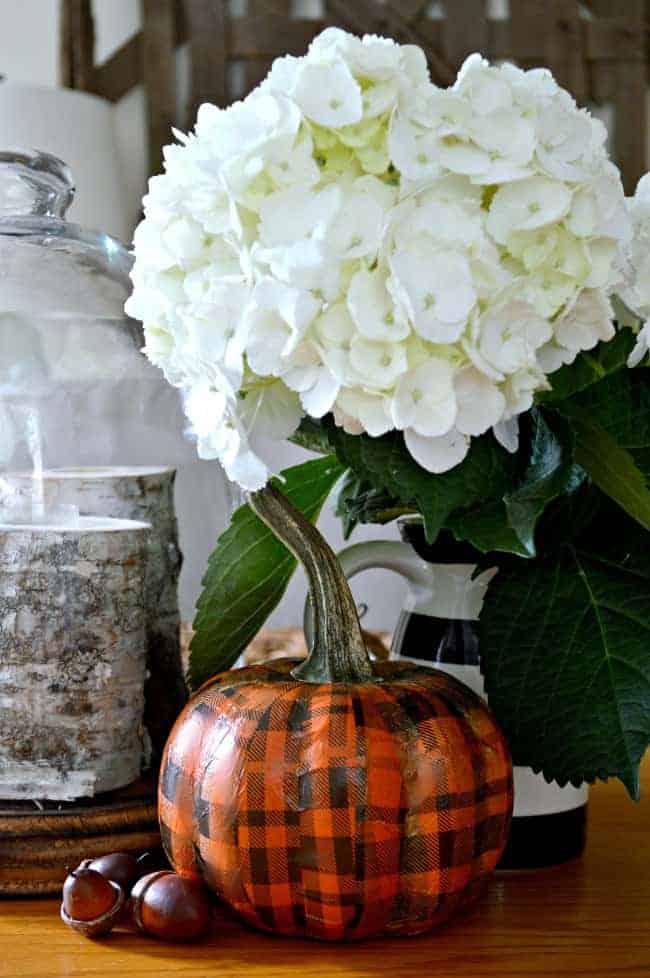 Fall wouldn't be complete without a trio of velvet pumpkins.
I got mine a few years ago and they are always my favorite thing to pull out.
The hubs isn't allowed to touch them so I pack them away very carefully every year to keep the stems intact.
I was totally surprised when I took them out this year, after our big move from Illinois, and they were in perfect condition.
Look at that crazy stem.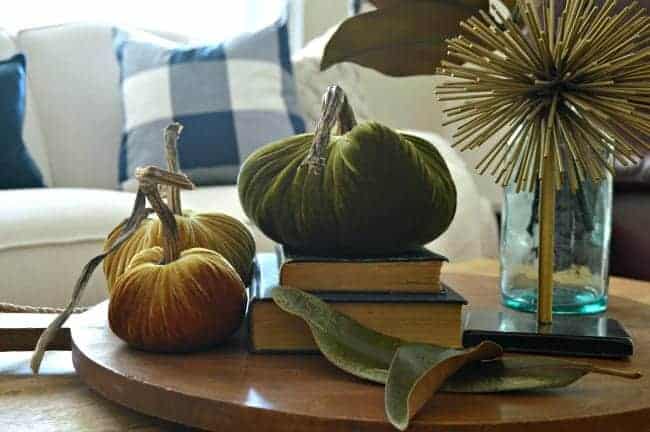 It was really fun decorating our new house for the fall season. Now we just need a bit of fall weather to go with all of this decor. I'm trying not to rush it though because, before you know it, it'll be cold and I'll be complaining about that. 😉 How about you...are you ready for fall?
Thanks for visiting!
Monday, Oct. 3:
Chatfield Court: You're here!!!
Tuesday, Oct. 4

:
Wed. Oct. 5

:
Thurs. Oct. 6

:
Sarah Sarna
Fri. Oct. 7

:
You can check out this year's (2017) simple fall tour with lots of natural elements
here
.