An easy mini pumpkin craft using Dollar Store pumpkins and plaid wrapping paper.
Hey there, hope you had a great weekend! I shared two very long posts last week (here and here) and promised short and sweet this week, so I'm here to deliver with this quick and easy thrift/Dollar store pumpkin craft.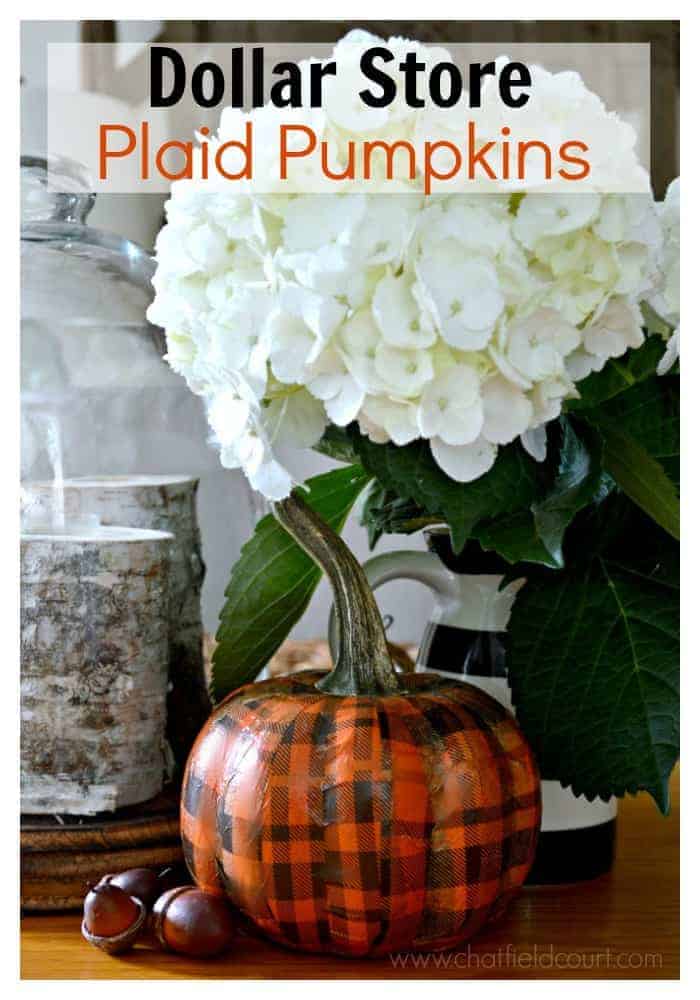 Nothing says fall to me more than plaid, well…mini pumpkins say fall but so does plaid. 😉
Anyway, I had this cute plaid tissue paper and really wanted to do something with it for fall, without spending a lot of time or money on it, so I picked up a few mini pumpkins at the Dollar Store and gathered my craft supplies.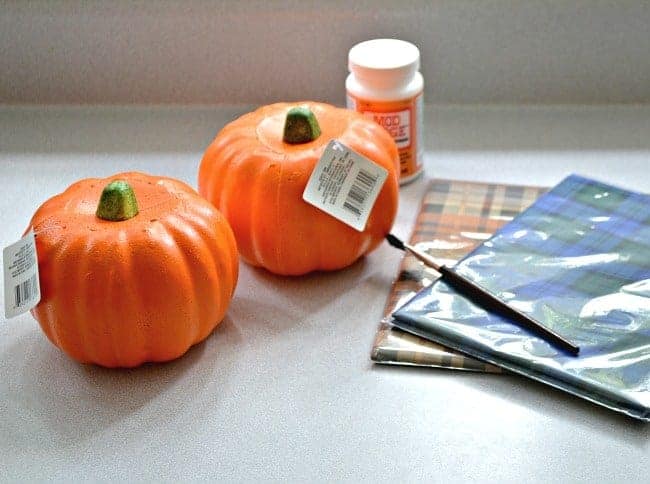 *This post contains affiliate links. Please see my Privacy Policy for more info.
Supplies for Dollar Store Pumpkin DIY
craft store pumpkins (I used a couple from the dollar store and a few plastic ones that I found at a thrift store)
Mod Podge (affiliate link)
craft brush
scissors
tissue paper
hot glue gun (affiliate link)
something for the stem (I used dried pumpkin stems that I had in my craft supplies)
The first thing I did was remove the stem from each pumpkin. You can reuse the stems but I wanted to make my pumpkins look a little more "real". Because…plaid pumpkins are real pumpkins too. 😉

Then I just cut the tissue paper into strips.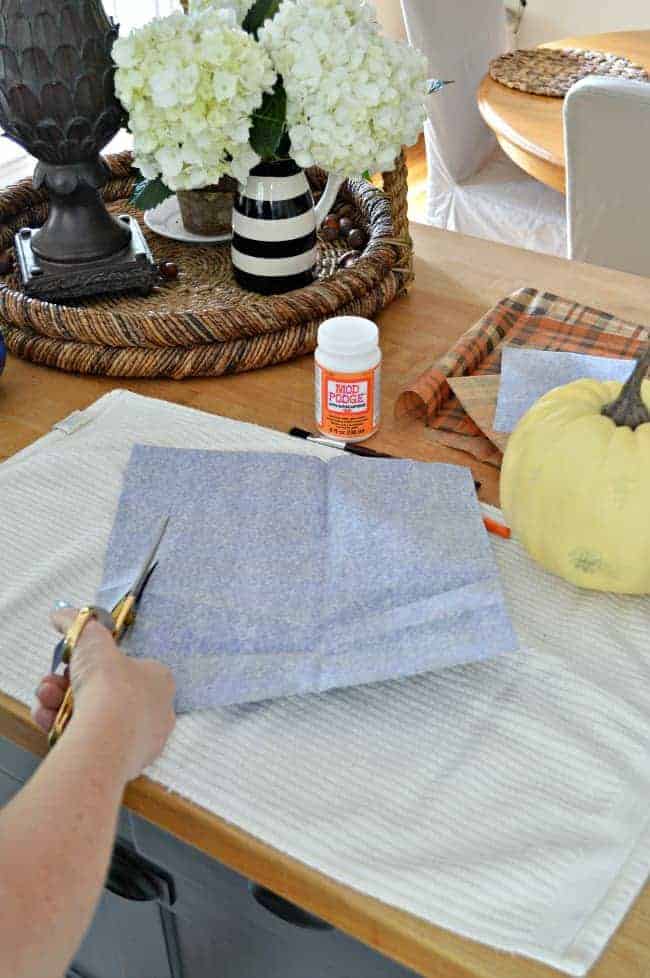 After a little trial and error, I found that if I cut the strips a little wider at the bottom and tapered at the top, they looked better on the pumpkin. Don't get hung up on exact sizes though, this is supposed to be fun and easy.
I cut a lot of strips at once so that I could just go to town applying them without stopping to cut more.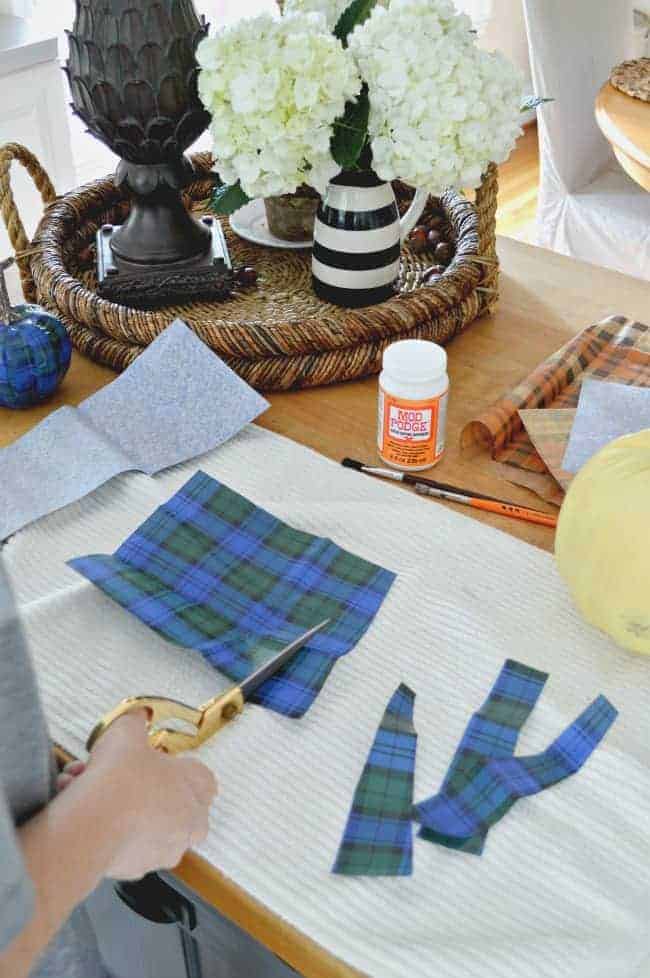 I coated a small section of the pumpkin with Mod Podge, added a strip of tissue paper, and layered a coat of Mod Podge on the paper. It was that quick and easy.
Remember, we're doing easy with this project so I didn't worry about lining up the pattern, I just stuck pieces on as I picked them up.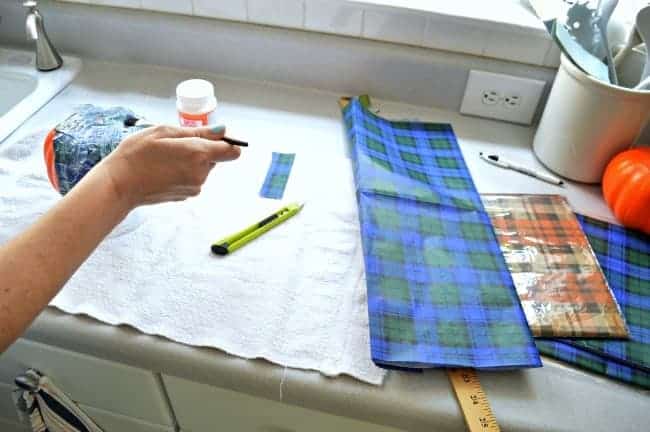 Once the whole pumpkin was covered, I let it dry.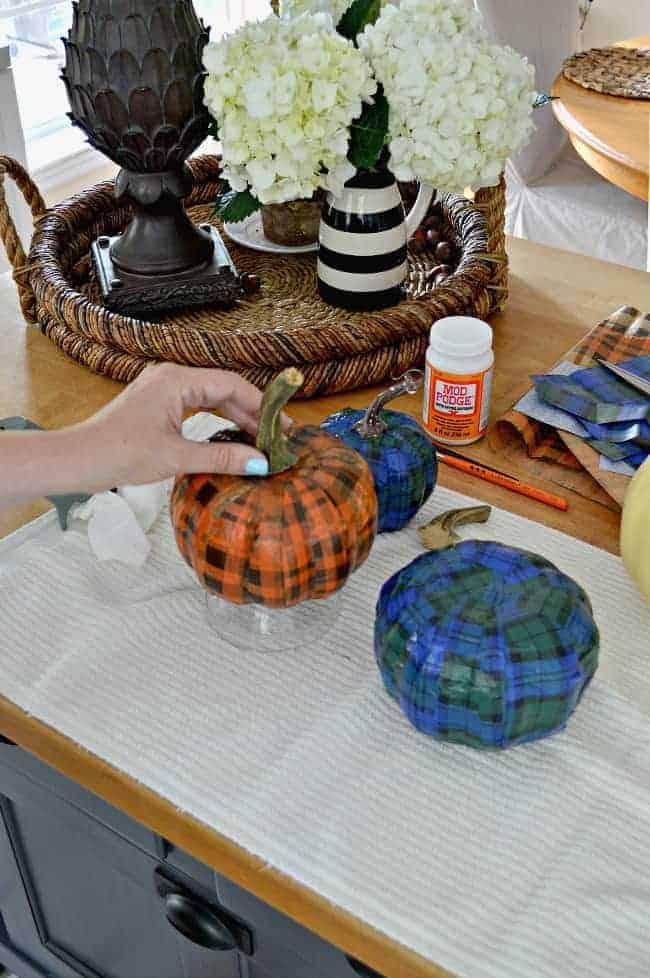 After it was dry, I added the dried pumpkin stem. A bit of hot glue and it was looking like a pumpkin again.
Each pumpkin took about 20 minutes to make, plus drying time. The cool thing about this is that you can do whatever color or style you want. Plus it's super cheap, especially if you can pick up a couple of old, ugly pumpkins from the thrift store.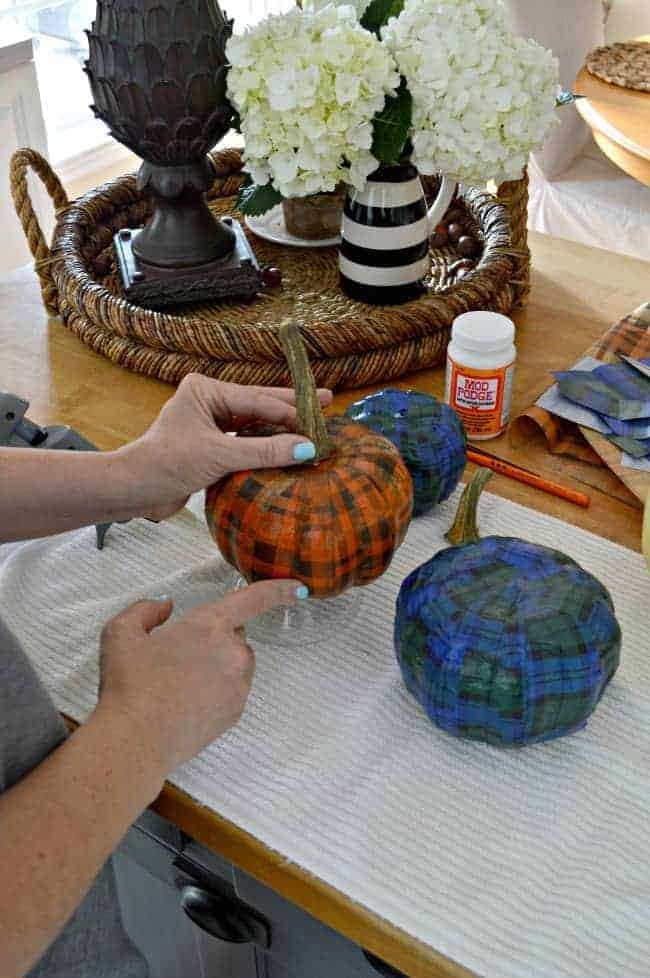 I thought the blue would be my favorite but I'm partial to the orange plaid.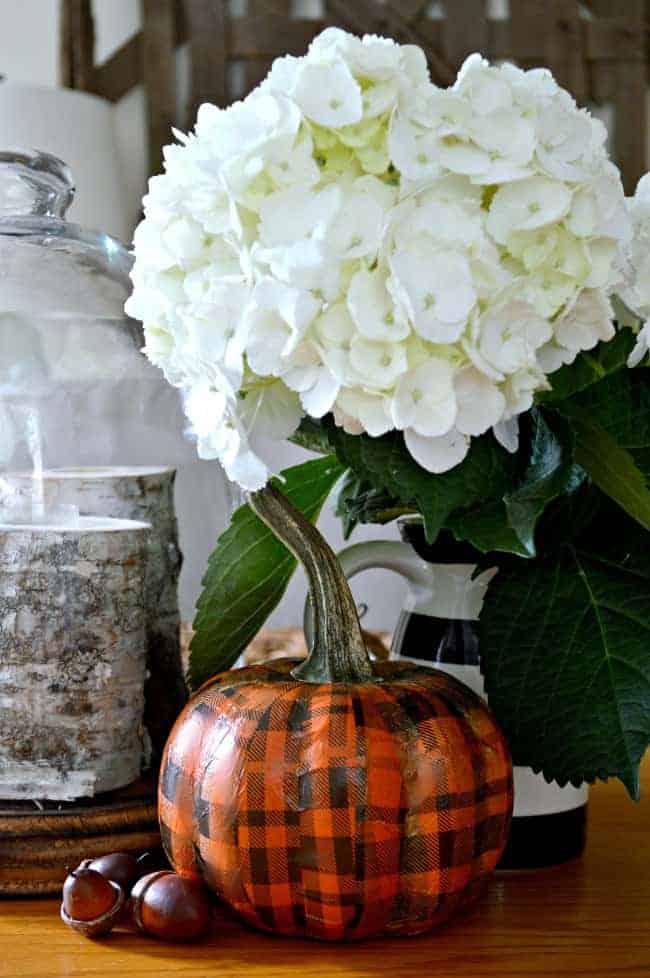 So fun!
I love how they turned out. I mean…they're plaid. How can you go wrong…right?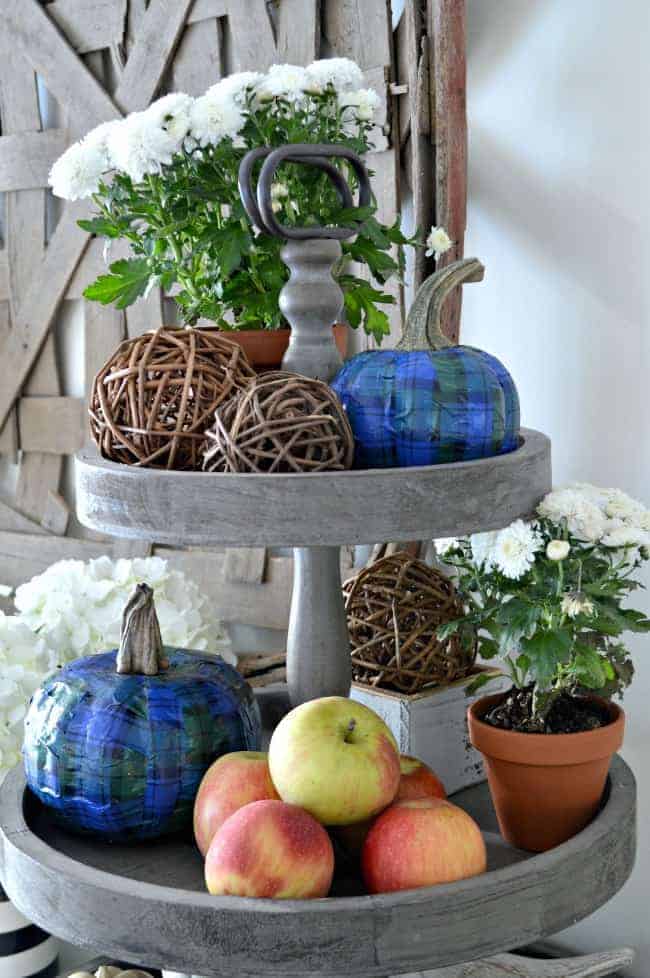 Are you working on any fall projects right now?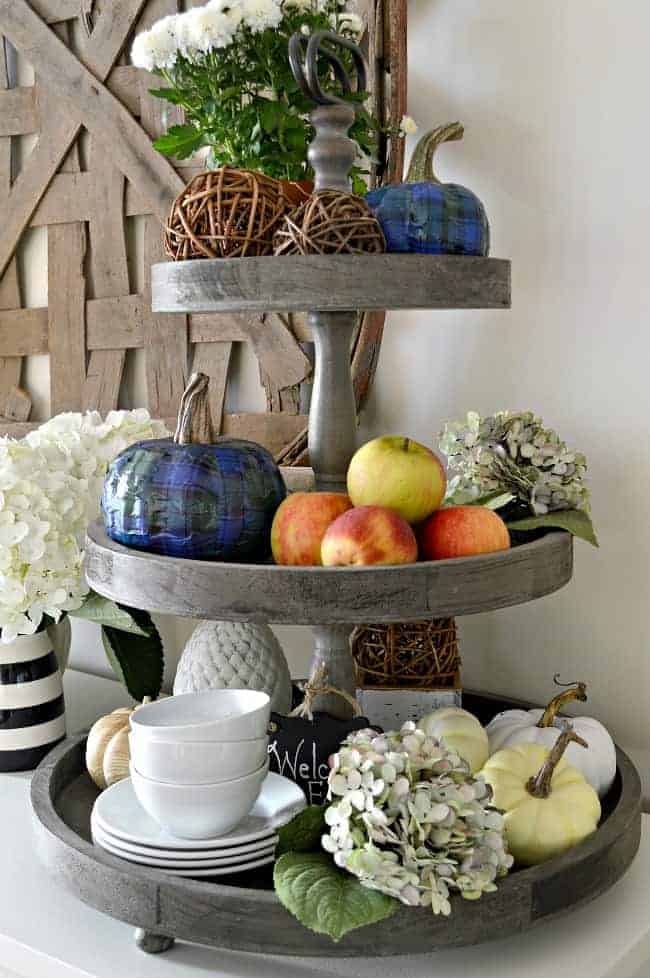 Thanks so much for stopping in!
Don't forget to check out my fall home tour and my fall front porch.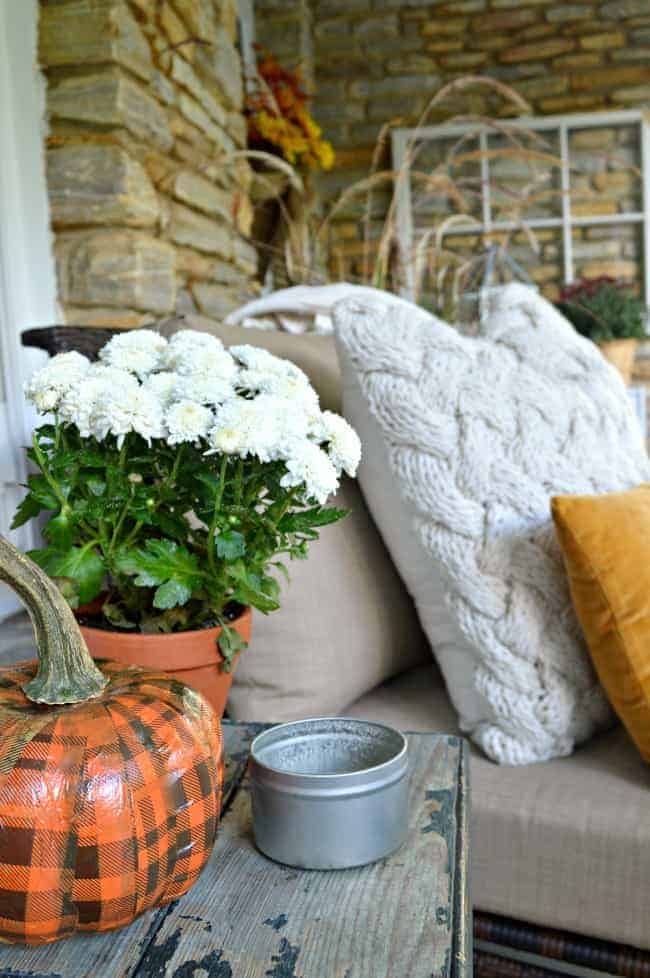 Here's another easy fall DIY that I made for our front door when we lived in Illinois.