Disclosure: As an Amazon Associate and member of other affiliate programs, I earn from qualifying purchases.
Easy to make chalk paint mason jar planters with wheatgrass for spring.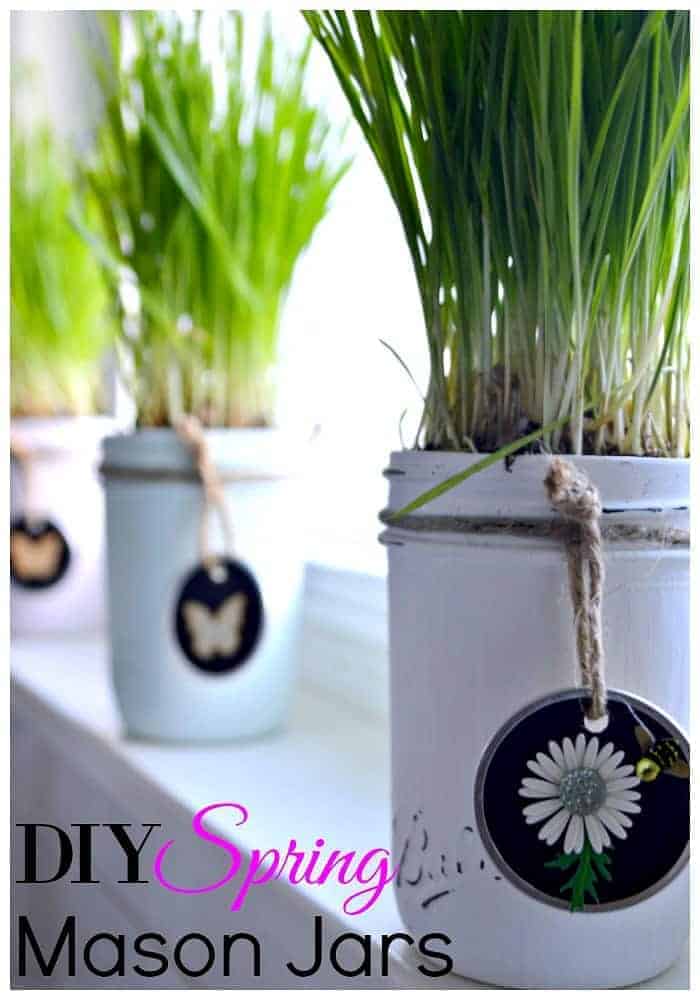 So what do you do if you're in the middle of packing up your house to move 700 miles away? Well, if you're me, you get your craft on and make chalk paint mason jar planters. I was planning on doing this craft long before we knew that we were going to move, and painting is therapeutic for me when I'm stressed, so one afternoon I pulled out my paints and a few mason jars and did this fun and easy craft. I enjoyed myself but the hubs thought I was nuts, which is nothing new. 😉
The idea behind this simple DIY was to use pastel chalk paint and live greenery to add a bit of spring to my new kitchen. I had to tweak my original idea, but I love how they turned out.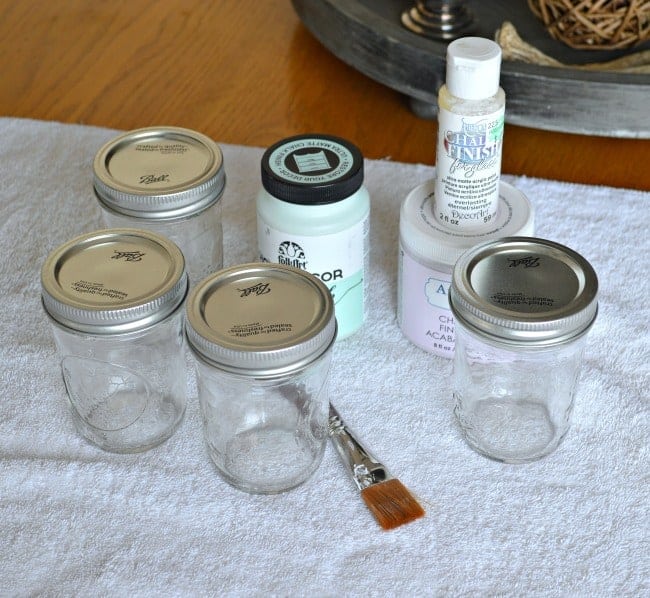 You can't get any easier than slapping a couple of coats of chalk paint on mason jars. There was no prep involved but I did use a bottle to make it easier to paint each jar, and I also toned down the green and pink chalk paint with a bit of white.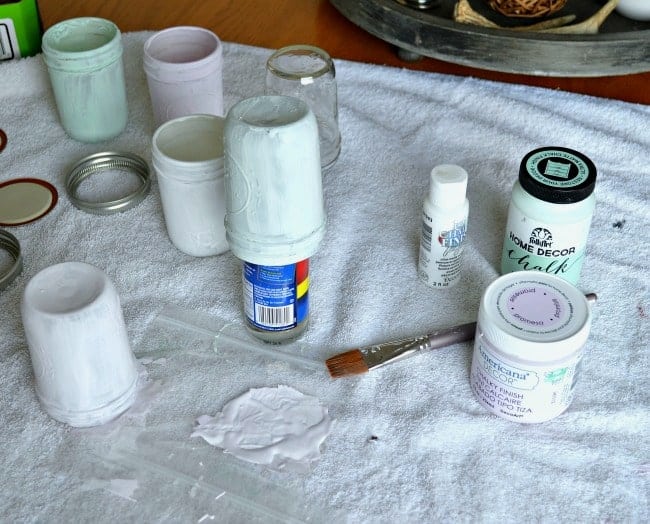 Once they were dry, I lightly rubbed a buffing pad over each jar to smooth out some of the brush marks. Then I took a piece of course sandpaper and sanded the high spots to bring out the words and designs.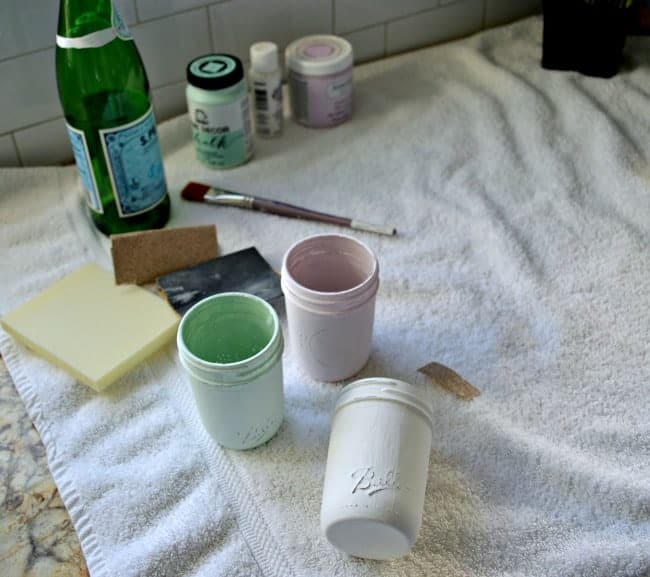 Next, it was time to play in the dirt. I was going to plant a few seeds in my jars but ran out of time, so I went for wheatgrass instead, with its bright green color. Perfect for spring.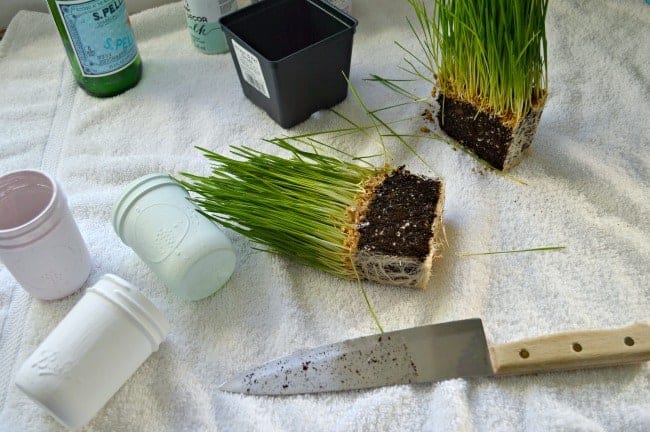 Each jar got a handful of potting soil and a clump of grass.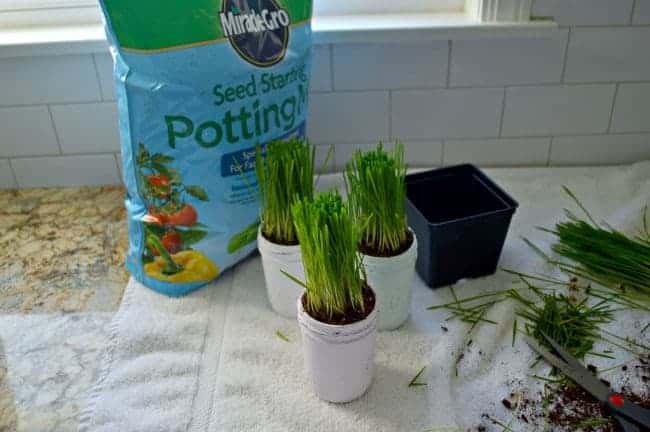 After a little haircut, they were ready for their spot on the windowsill.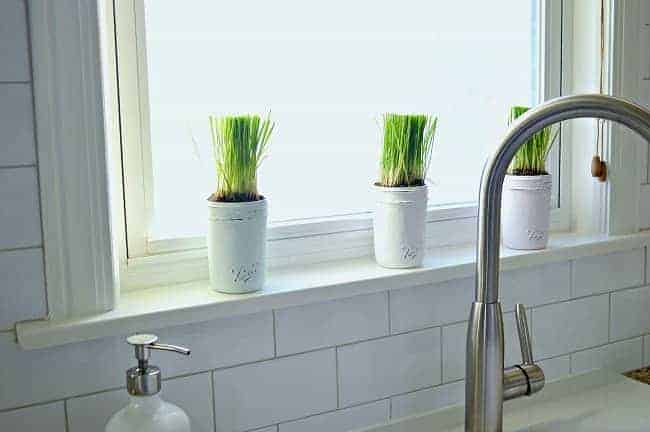 I loved the spring color but something was missing, besides the fact that their haircut was a little too perfect. Oops.
One thing about wheatgrass is that it grows quickly so their uniform haircut only lasted a day before it started growing out.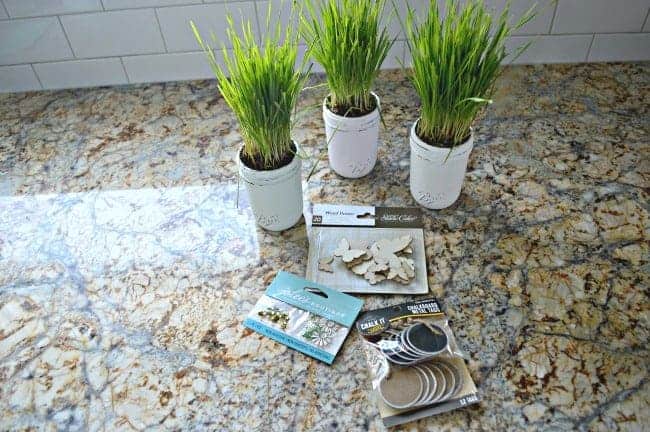 Besides the new growth, I thought the addition of a spring tag to each jar would finish it off. I had the tags in my stash but when I found these cute bumblebees and butterflies, I could hardly wait for the glue to dry so I could tie them on.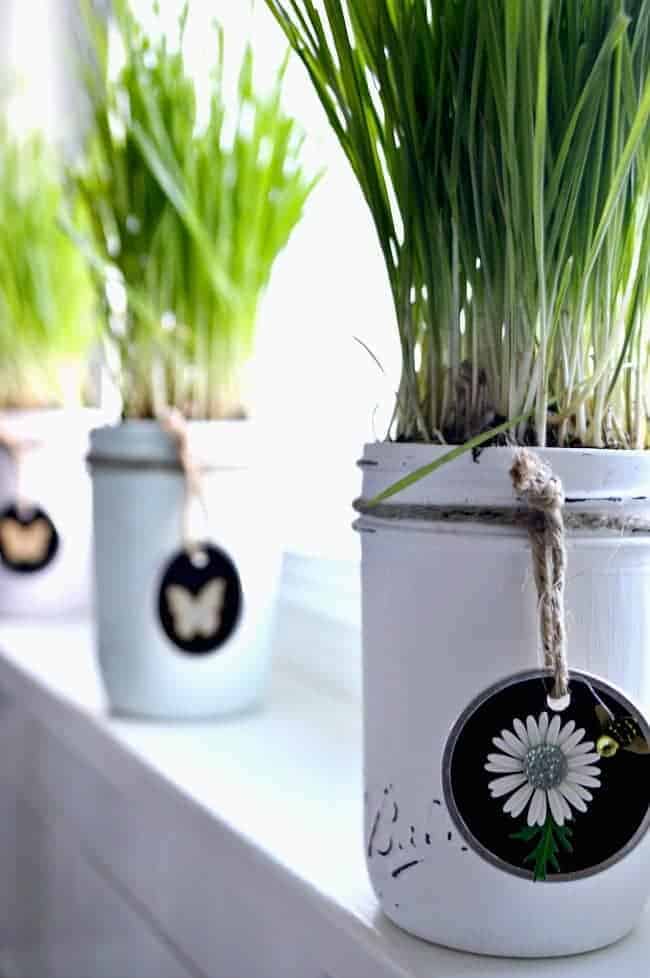 Just what they needed, don't you think?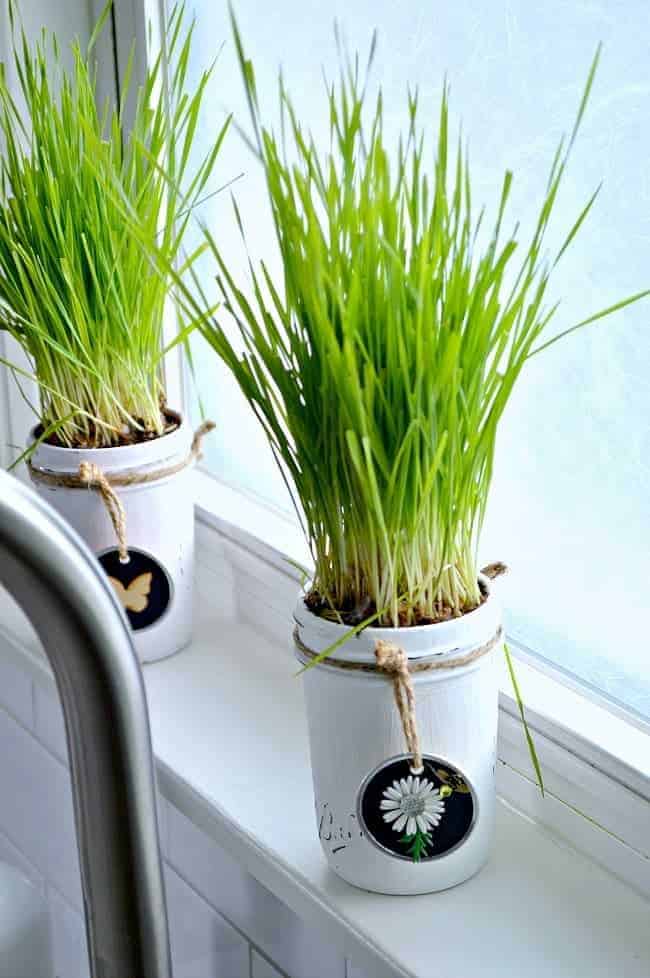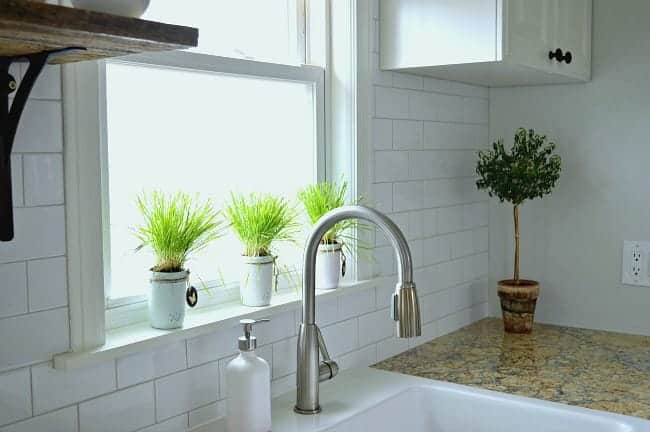 I won't get to enjoy them in my new kitchen for as long as I'd hoped, but I can always recreate them in my new home.
Hope you have a great week!
Check out some other spring posts.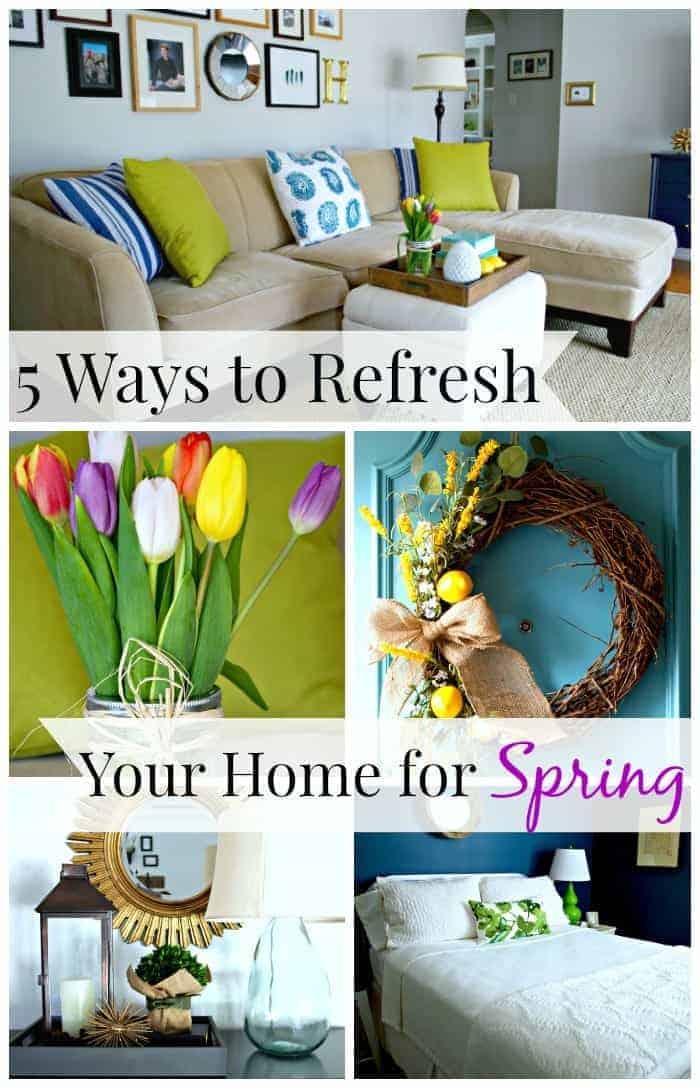 5 Ways to Refresh Your Home for Spring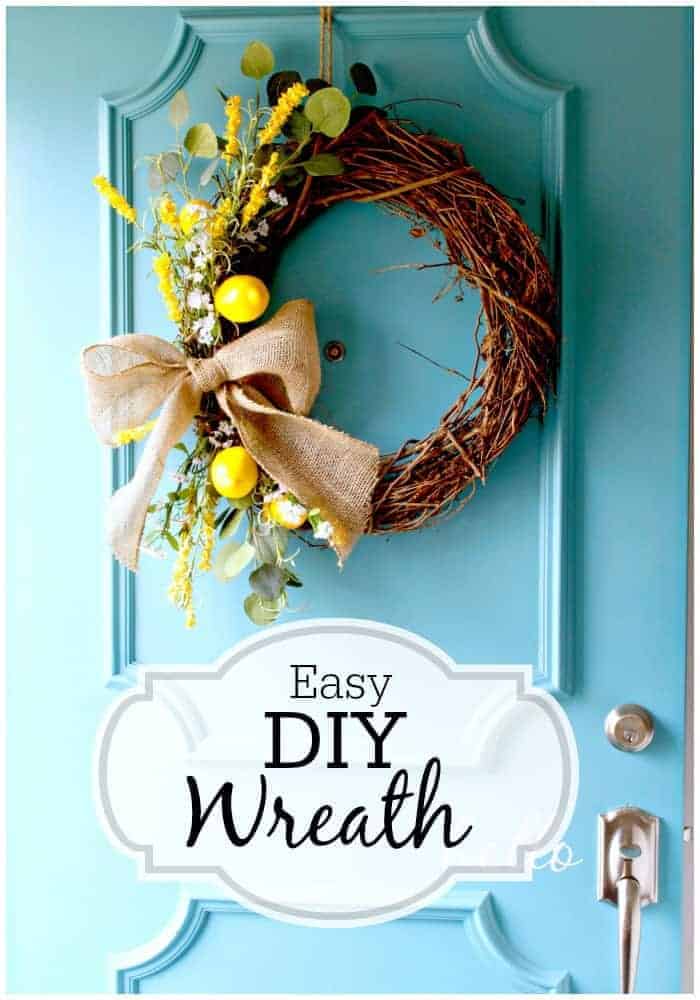 Easy Spring Wreath