Disclosure: As an Amazon Associate and member of other affiliate programs, I earn from qualifying purchases.
A DIY spring wreath for the front door using a grapevine wreath, lemons and greens.
I'm slowly working on getting my house ready for Spring and Summer. One of the projects on my to do list last week was to make a DIY spring wreath for our front door.
I'm not a huge crafter so I wanted to make this project as easy and inexpensive as possible.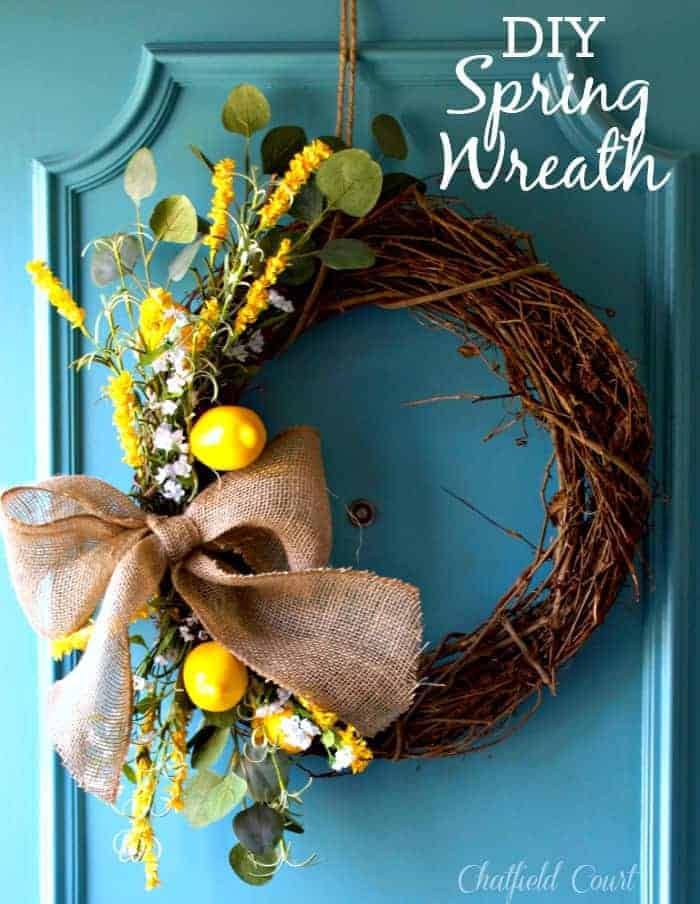 I decided to use a fresh spring color that would look good with our blue front door and yellow fit the bill, with a little bit of white and some green to add interest.
I knew that I would just decorate one side of the wreath so all I bought was 3 flower stems from Hobby Lobby and 2 lemon stems. The grapevine wreath, burlap ribbon and jute twine were already in my stash, so I saved some money there.
Supplies for DIY Spring Wreath
1 stem of yellow faux yellow flowers
1 stem of faux white flowers
stem of faux greens
2 stems of faux lemons
hot glue
jute twine to hang wreath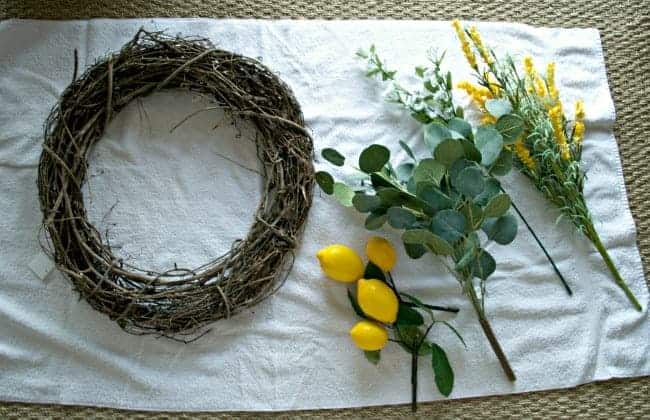 The first thing I did was to cut the flower and lemon stems apart so that I had individual stems. I kept the green leaves stem intact and only cut a few pieces off because I didn't need very much to fill it out.
Next, I arranged the yellow stems on the wreath, added some of the white and filled in the empty spaces with the greens. The lemons were last.
Once I placed them where I thought they looked good, it was time to get my hot glue gun out.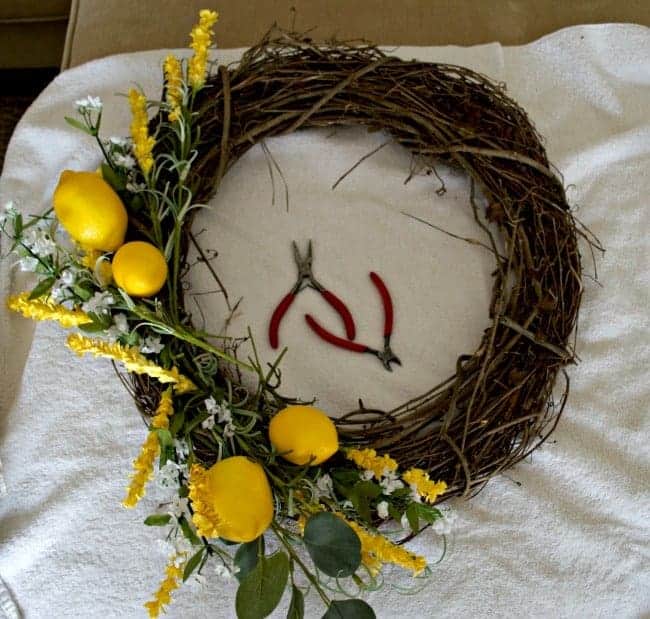 Really, this couldn't be any simpler. I took a stem out, put hot glue on it and placed it back into the wreath.
After all the flowers and greens were done, I did the same with the lemons.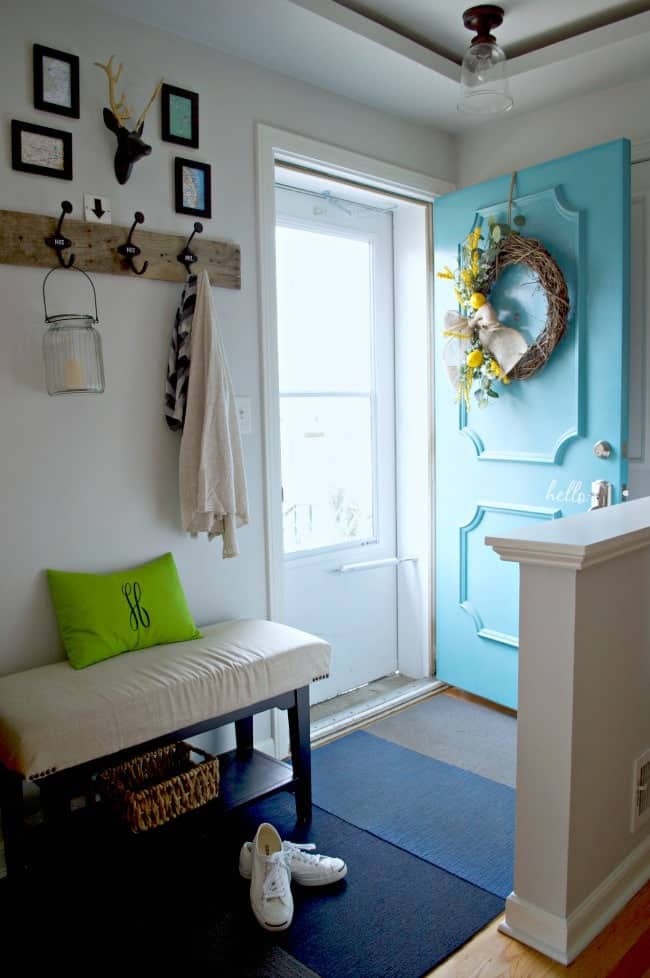 The last two things to do were to tie the burlap ribbon and attach it with a piece of floral wire and to use a piece of jute twine to hang it on the front door.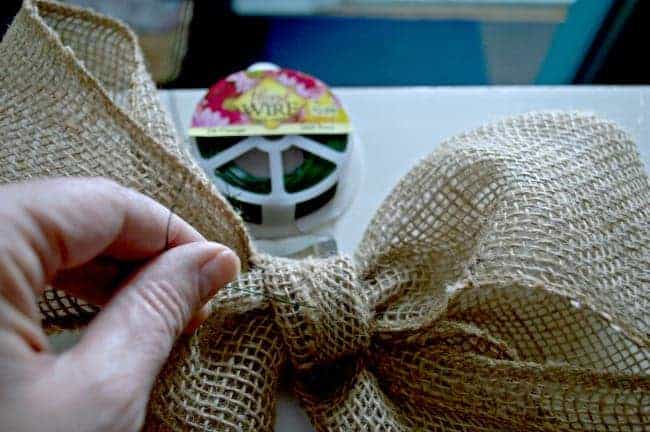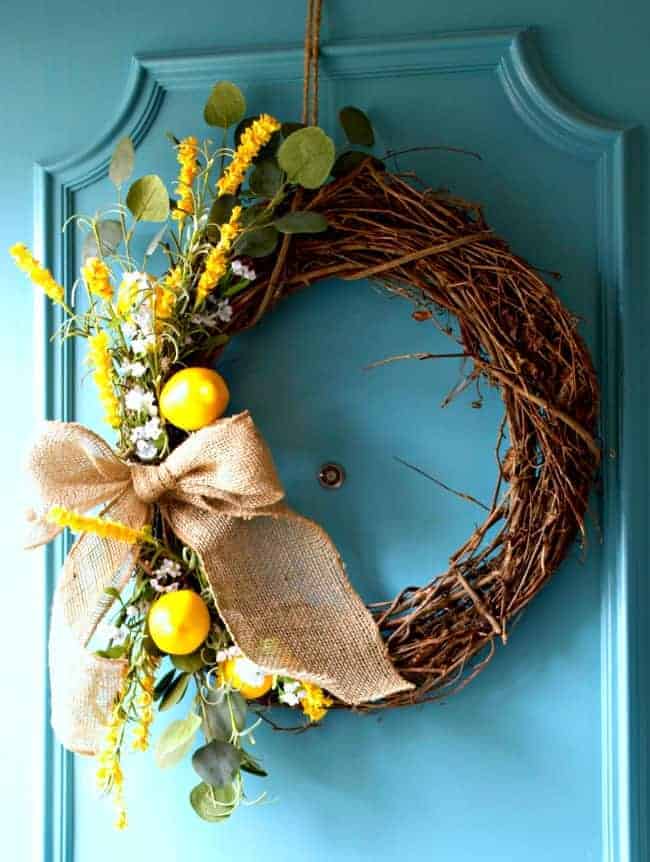 I love my new spring wreath. It was such an easy project to do and it cost me about $15 for the flowers and the lemons.
Not bad. 🙂
What do you think about doing crafts like this? Love to do them or would you rather buy it already made?
More DIY spring wreath ideas