Easy DIY Spring Wreath with Lilacs
*As an Amazon Associate and member of other affiliate programs, I earn from qualifying purchases.
How to make an easy DIY Spring wreath for the front door with a metal bucket, faux lilacs and some ribbon.
I really love the DIY tulip wreath that I made for our front door last year, but I wanted to do something different this year for our sunroom door.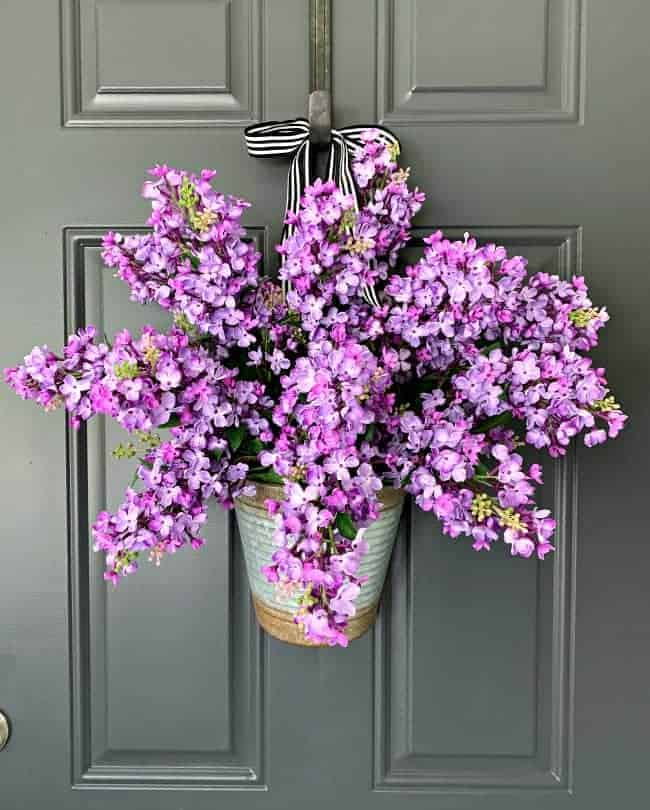 I've always loved lilacs so that's what I chose for this year's creation.
My earliest memories of my grandmother and grandfather are visiting their house and running outside to their gardens. My grandfather had a wonderful vegetable garden he grew every year, with everything from beans to tomatoes.
He'd walk me around, show me everything he was growing and patiently answer all of my questions.
Besides the vegetable garden there were lots of beautiful flowers and a big, gorgeous lilac bush.
Ah, that glorious sweet smell in the Spring was something I looked forward to every year.
Although I had always wanted one, I never had my own lilac bush until we moved into our house in Illinois.
It wasn't the prettiest looking bush but the smell was there…bringing me back to my grandparent's yard.
So, with lilacs on the brain this Spring, I decided to add some spring color to my front door to remind me of those wonderful memories.
What can I hang on my front door besides a wreath?
How about a hanging basket or bucket.
I love wreaths but sometimes I want something a bit different. I have a hanging basket that I've filled with flowers and hung on the front door.
This spring though, I thought I would fill a hanging bucket that I found, with lilacs.
Supplies to make an easy DIY spring wreath
bucket or hanging basket
knife
handful of faux lilac stems
I just used a rusty bucket that I found at Joann Fabrics, a big bunch of lilac stems (the best ones I saw were at Hobby Lobby, and they were 50% off) and a block of floral foam.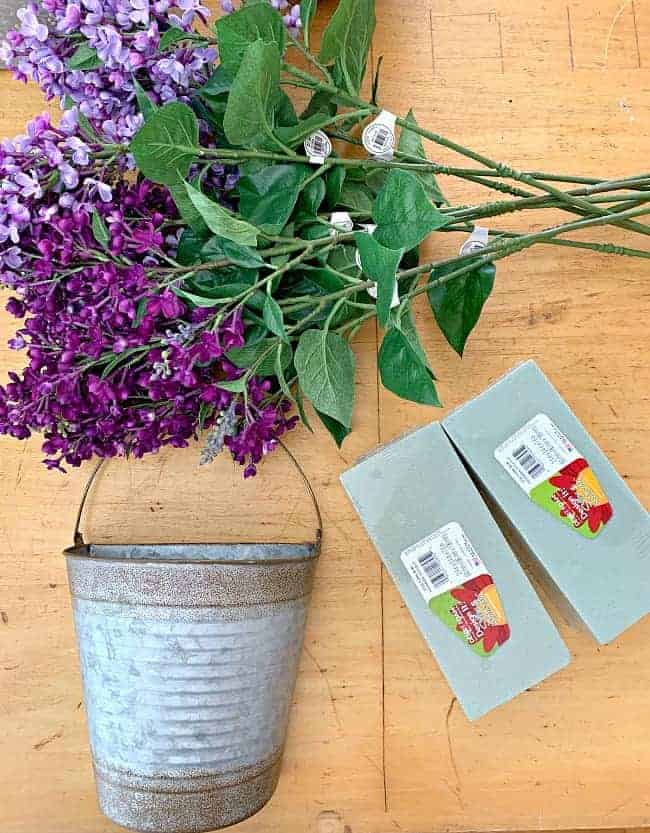 Making a DIY spring wreath with lilacs
To begin, I sliced up the floral foam with a sharp knife and fit the pieces snuggly in the bucket.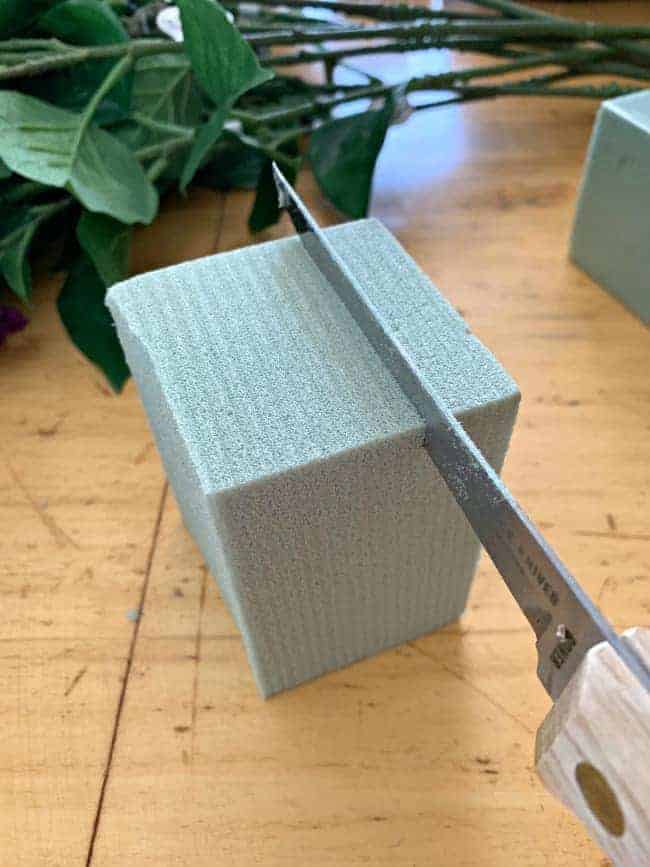 I didn't worry about filling every nook and cranny, just enough to fit all of my stems (10-11 total, in my case).
Next, I started trimming and adding the stems.
I started the first row in the back of the bucket and worked my way to the front, bending and twisting the stems to make them look like they were overflowing.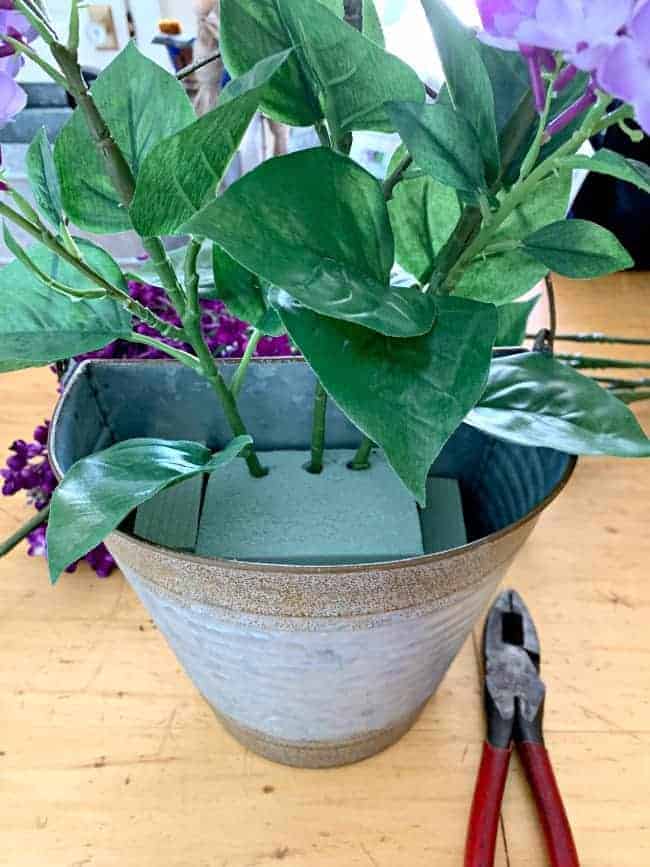 The finishing touch was black and white ribbon to hang it up.
I found a $1 spool of the perfect ribbon at Dollar Tree so I went with that. You can't beat ribbon for a buck!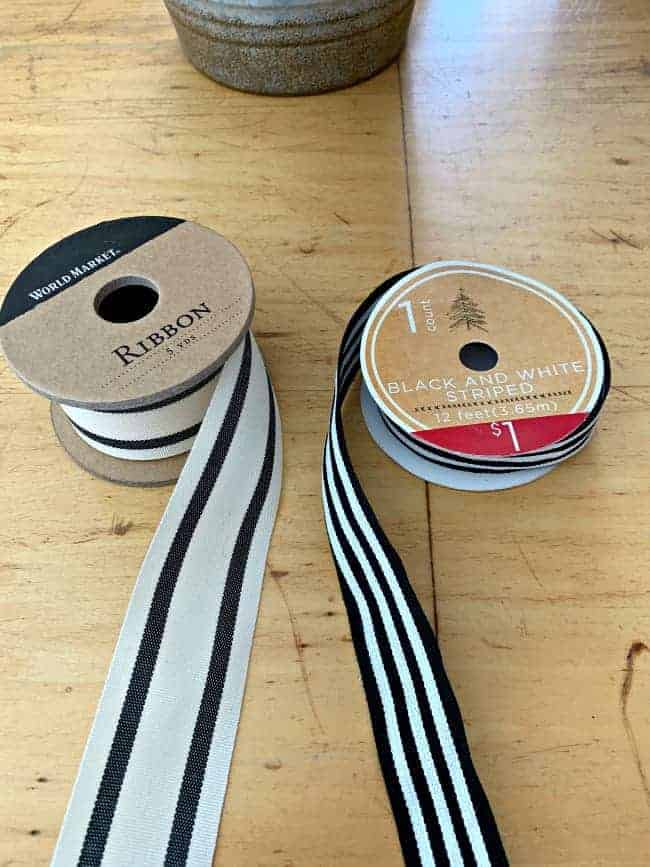 I love how it turned out!
I hung it up on my newly painted front door and then tried it on the door in the sunroom, where it stayed.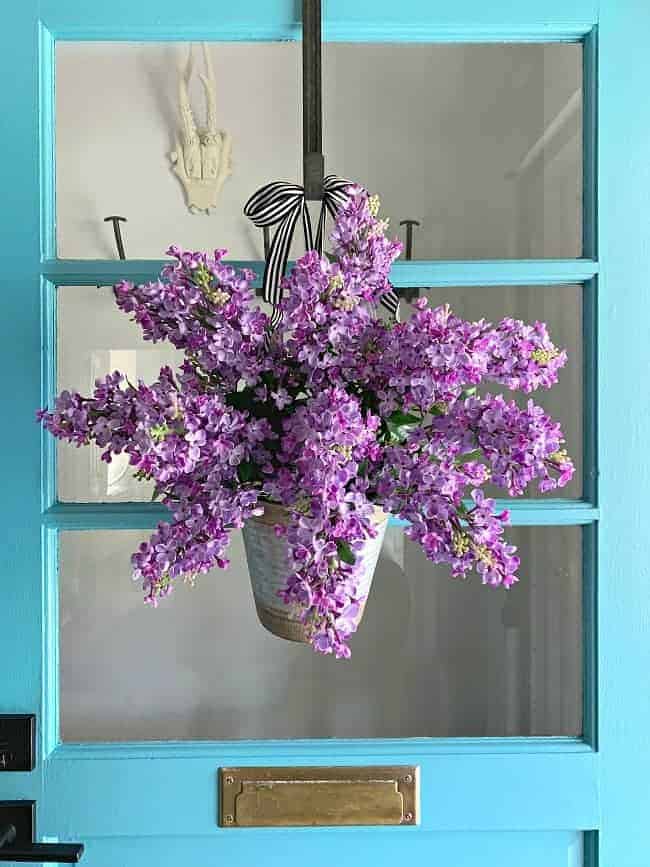 Now I have the best of both worlds with the tulip wreath greeting us on front door and the new lilac creation in the sunroom.
The only thing that would make it better would be to have real lilacs (including that wonderful scent).
Either way, I think that my grandmother and grandfather would have loved it!
More easy DIY spring wreath ideas…
To get more ideas for adding Spring to your home, don't forget to check out the tour. There lot's of great inspiration!
Here are all of our great spring ideas! Check back all week for each day's new posts.
Postcards from the Ridge // Anderson + Grant // Virginia Sweet Pea // Daily Dose of Style
Tuesday ~ Tablescapes
Wednesday ~ Spring DIY
Thursday ~ Spring Recipes