Disclosure: As an Amazon Associate and member of other affiliate programs, I earn from qualifying purchases.
How to add a touch of spring to the front door with this easy tulip wreath DIY using tulips, ribbon and a wreath form.
Spring has definitely sprung here at the cottage (inside anyway) and it all starts at the front door with this pretty DIY tulip wreath.
I usually hang a basket on the front door and add some flowers to it. This spring I wanted something different so I went with a big pink tulip wreath.
Pink?
Yes...lots of pink. It's not my usual color palette, that's for sure, but there's no denying that it screams spring.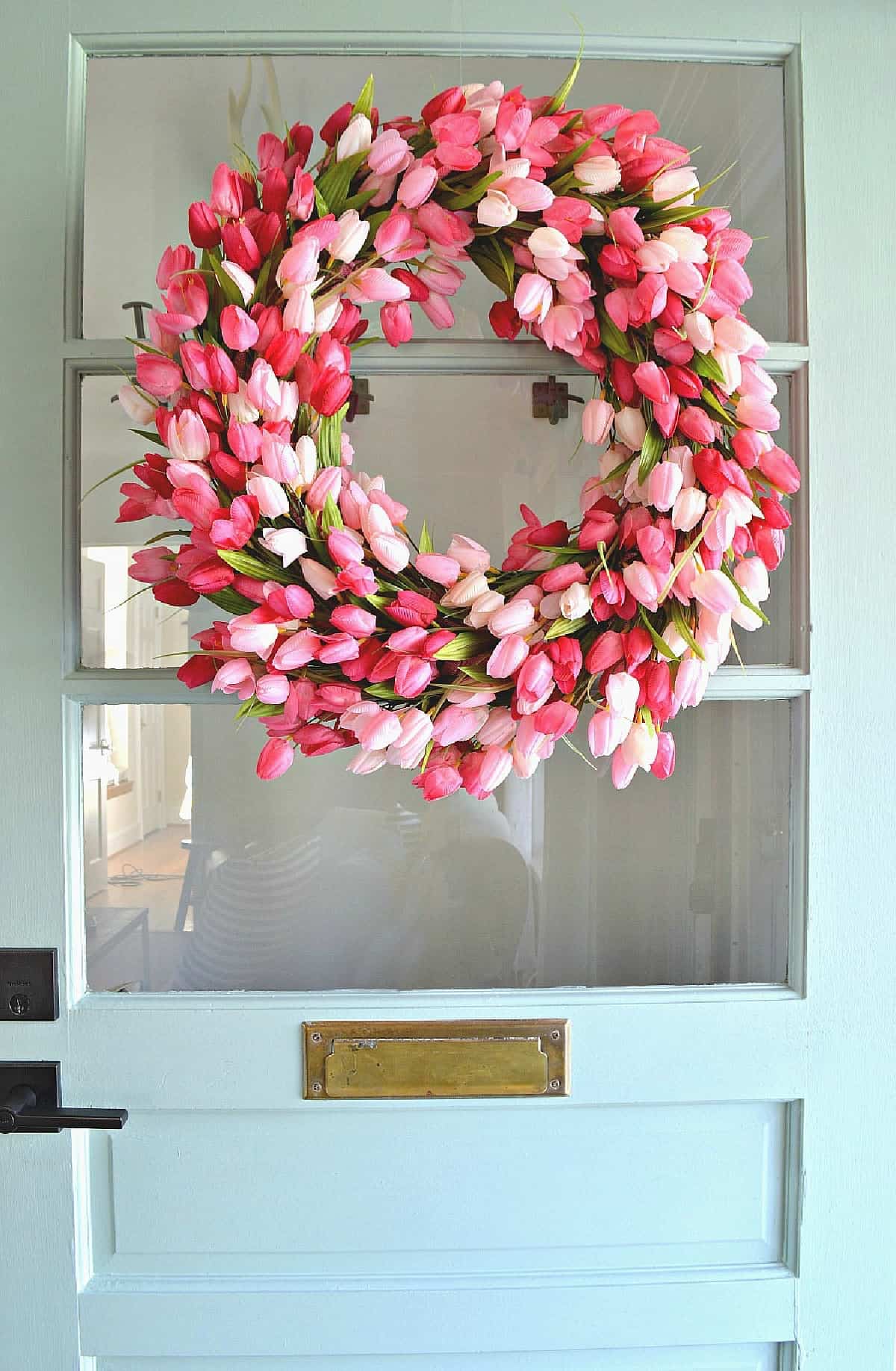 I'm loving it on my new farmhouse style front door. It's the perfect spring welcoming touch.
Check out the full tutorial in the How-To card at the end of the post and our Web Story.
Tulip Wreath Supplies
Cost is a factor in every project I do and this one was no different.
I knew that I would need a fair amount of tulips to make the wreath look full so I waited for a sale before I pulled the trigger.
It ended up taking 13 bunches and I was able to snag them for $2 a bunch. The burlap ribbon, that I found at the Dollar Store, was another steal at just $1 a piece.
For the wreath form I chose wrapped straw, thinking it would be the easiest to work with, and easiest to stick my flowers in.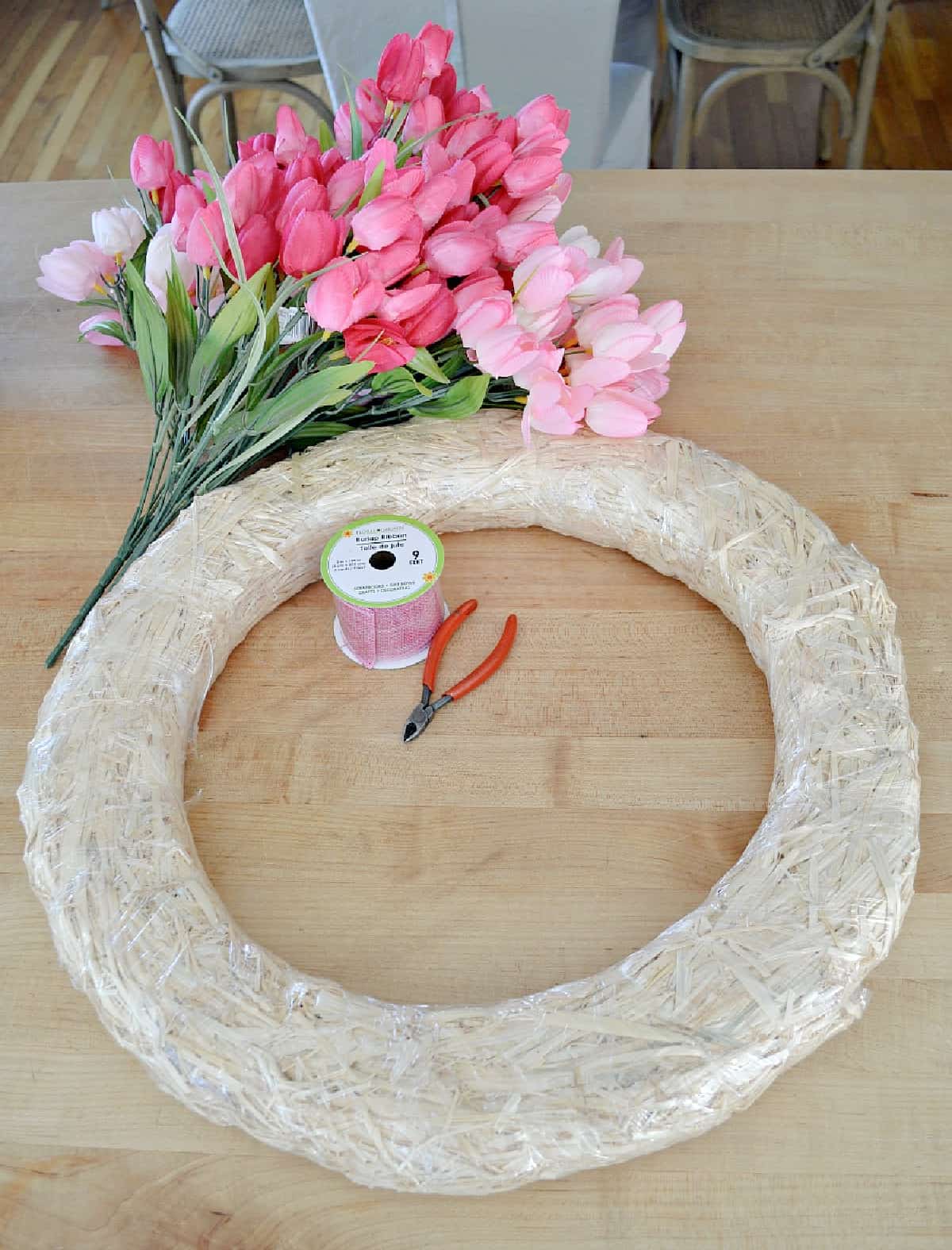 How do you make a tulip wreath?
I knew what I wanted my finished wreath to look like but I had no clue if it was going to work.
The idea was to wrap the wreath form with the ribbon so I could stick the stems in the seams and have them stay in place.
No glue necessary!
It worked!
Through a bit of trial and error, I learned that the ribbon should be wrapped on the loose side.
Not loose enough that it would move around, but loose enough so that you can stick the stems in the seams.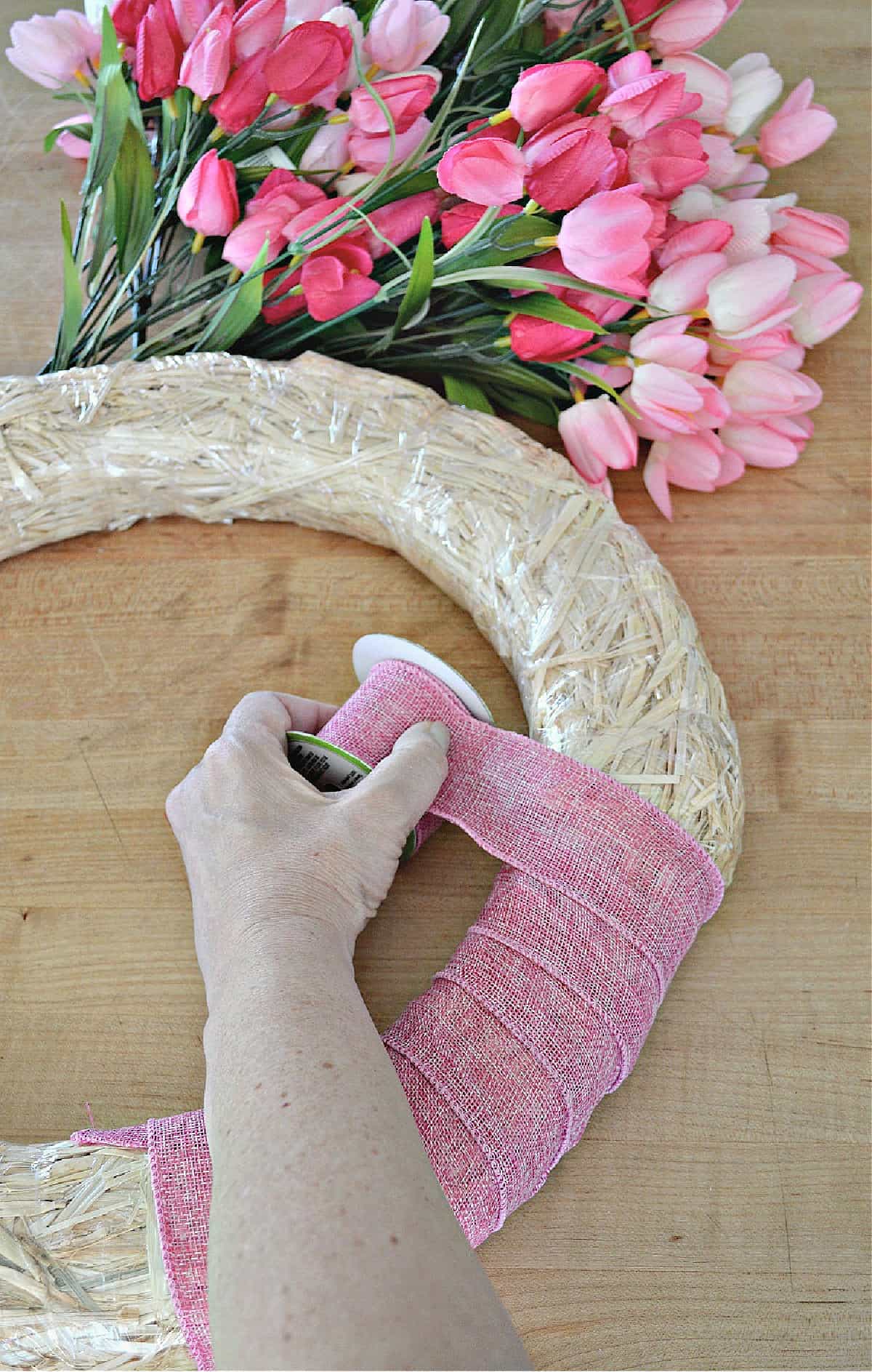 Next, I cut off each stem from the main one using my wire cutters.
I tried to keep each stem fairly long in the hopes that they would have a better chance of staying in place.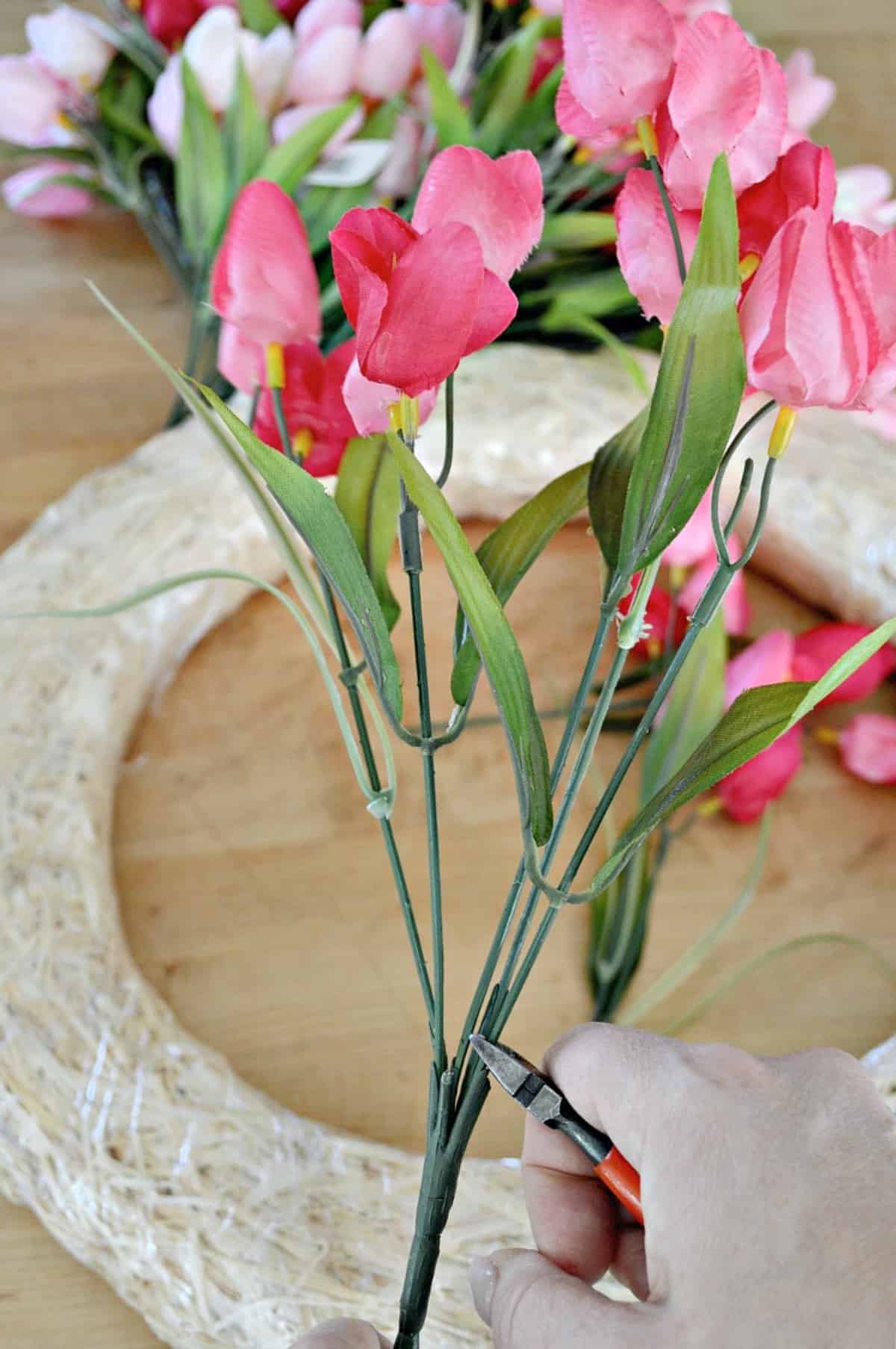 As far as placing the faux flowers, my plan was to use the dark pink and add the light pink in a few spots here and there. I ran out of dark pink flowers pretty quickly so I resorted to Plan B.
Plan B?
Yeah, not a real plan.
I just ended up eyeballing it and spread the light and dark around until it looked good.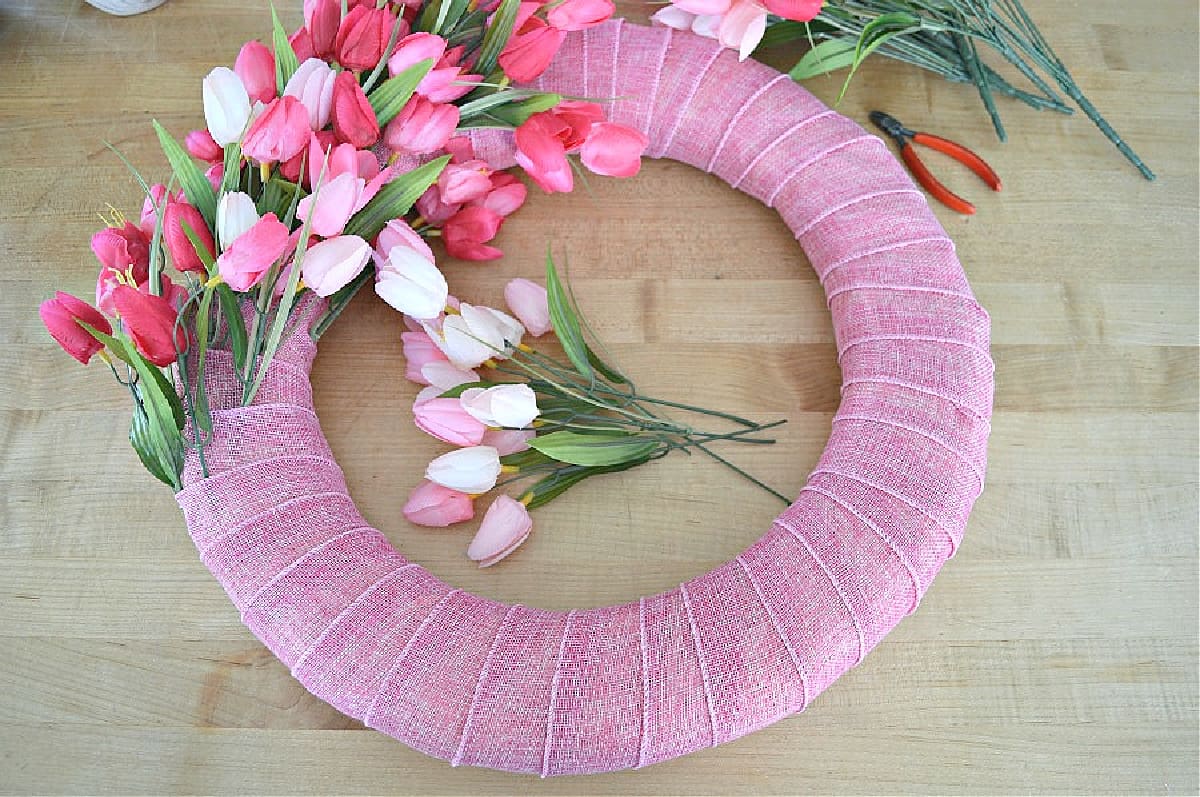 Adding the stems was so simple.
I just worked my way around, pushing each stem into the seams of the ribbon. Some of the stems ended up going through the plastic wrapping of the wreath form, which was added security.
I didn't worry about each one going all the way through, though. As long as each flower stem was all the way in the seam, they were good to go.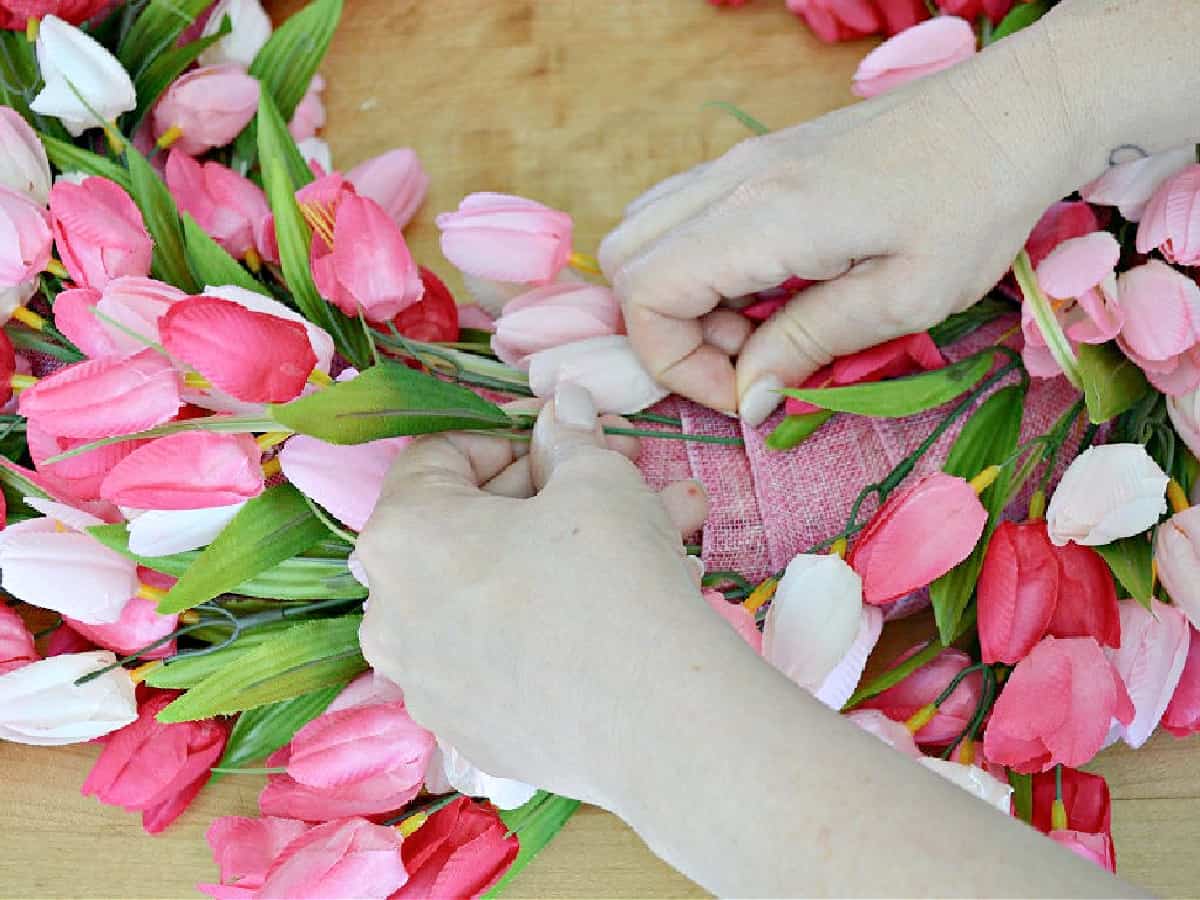 That's it...easy peasy.
A little fluffing and she was ready to hang on our new front door.
I asked the hubs what he though about my spring tulip wreath.
His answer? "Well, it's pink!"
Ummm...thanks Captain Obvious. 😉
What DIY spring decor do you like to make?