Disclosure: As an Amazon Associate and member of other affiliate programs, I earn from qualifying purchases.
A new (old) farmhouse front door that was found at a thrift store for $15.
I'm so happy to be able to finally show and talk about our new front door. Actually it's an old door but it's a new door in place of the old door. Does that make sense?
When we looked at this house the first time you could barely open the front door. The key was impossible to turn and it would stick, the result of poor maintenance.
The door was original to the house (almost 80 years old) and had obviously been painted..a lot. There were bare spots and chipping paint and it was just plain ugly.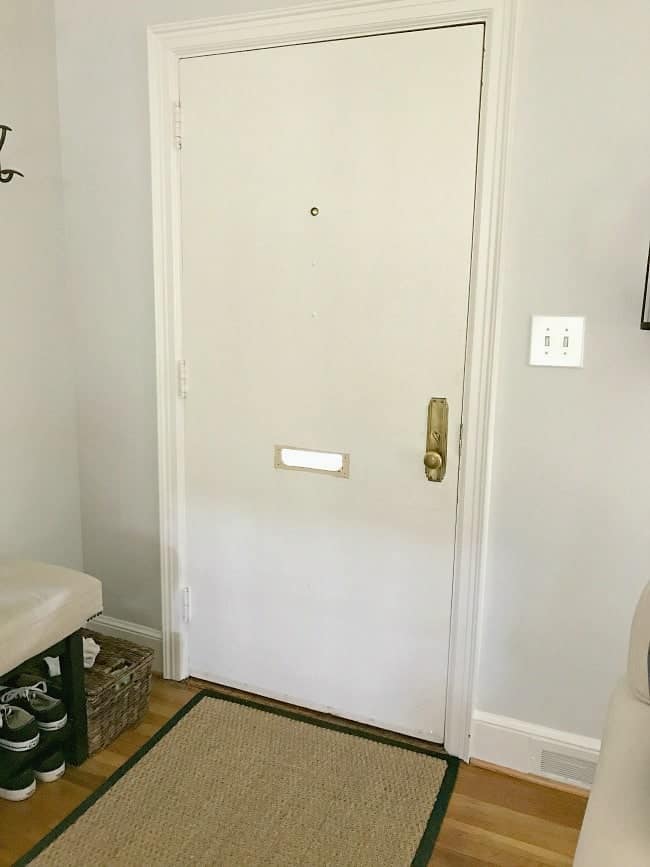 We started using the back door but my fall down the stairs 2 days after we closed, resulting in a broken foot, was enough to get the hubs to get the front door in working order. He worked his magic but the uglies couldn't be overlooked. As soon as I was able to get around, I started looking at new front doors. It didn't take long to realize that a new door wasn't in the budget.
Nice wood doors are expensive, y'all!!!
So the search for a new old door began. There's plenty out there, at decent prices, but the size we needed is pretty popular. I probably searched every shop around for months and finally found "the one" at a local ReStore.
It was a close enough match to the size we needed, and a steal at $15.
Actually, we found 2 doors (the white one and the black one). I was going to use the white one for the front and the black one for the back but decided that the white one just didn't fit the style of the house.
The green door loveliness is the storm door that will replace the old storm front door. I found that before we even moved into the cottage, and it was only $12. I can't wait to get that baby up.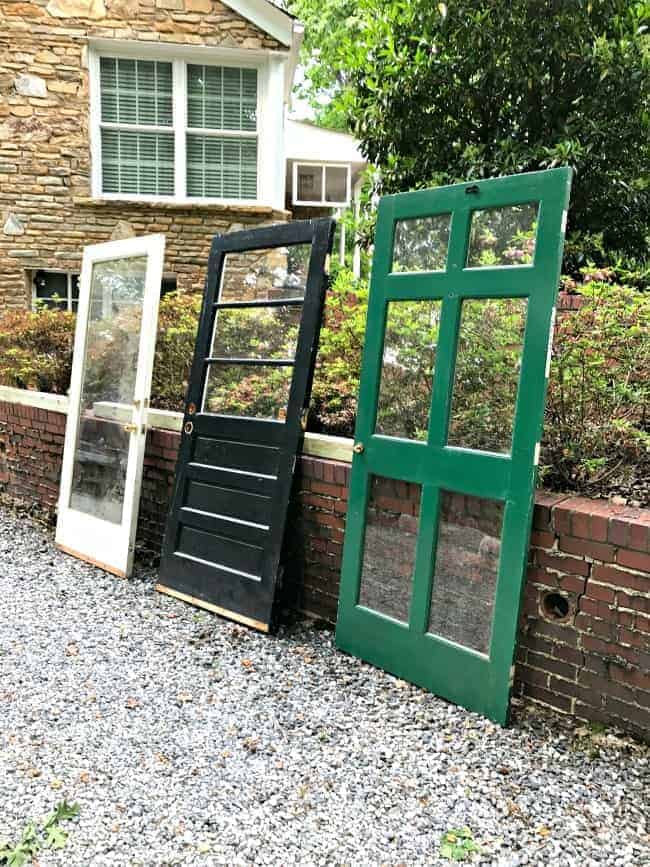 Once we decided on a door, we took the old one down and cut the black door to size. We took a little bit off each side and were careful to leave space for a new lock and door knob.
We also cut a hole for the mail slot. The old door hardware wasn't salvageable but we were able to reuse the old brass mail slot.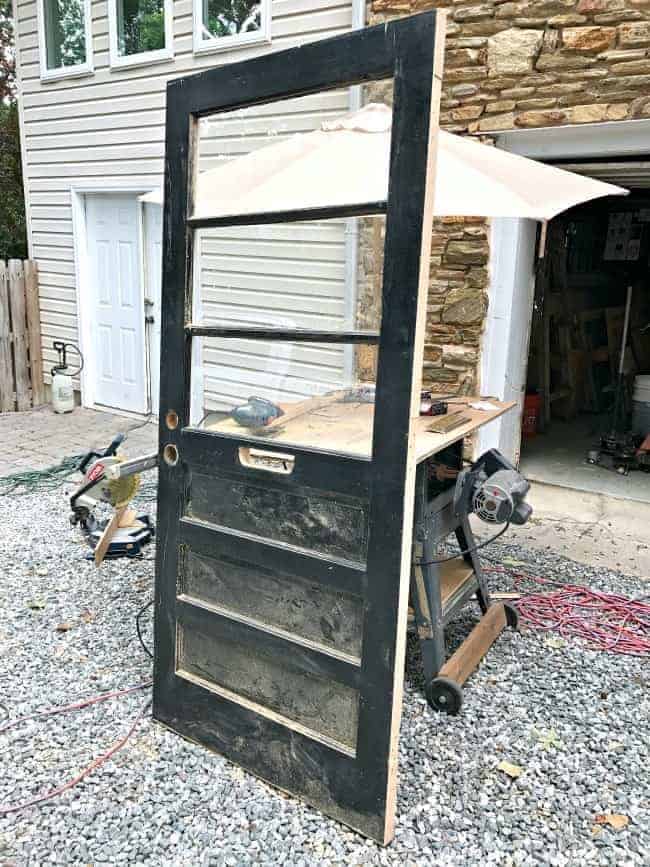 We had to fill a few holes and then gave it a good sanding and cleaning.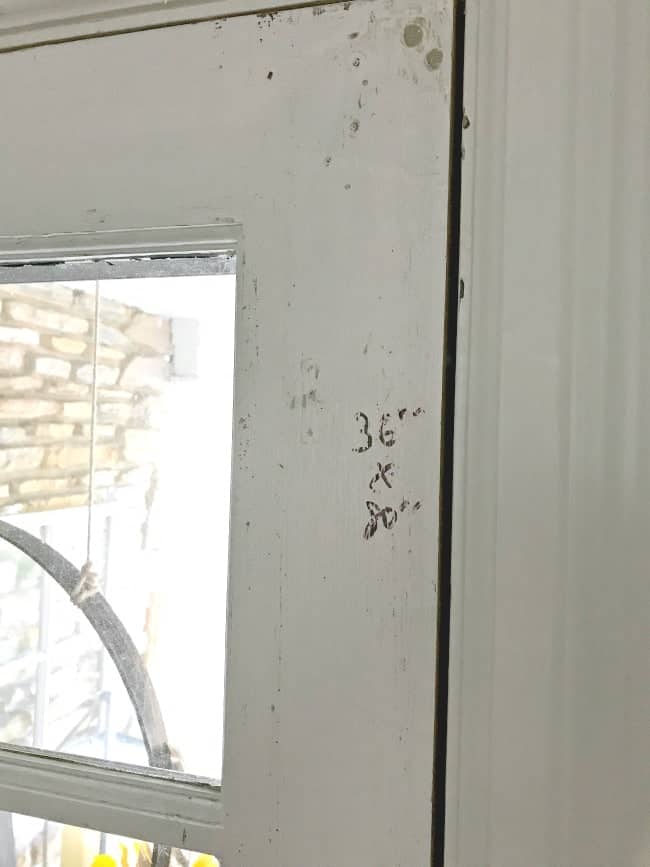 The install was pretty easy but picking out a door knob and lock that actually fit was difficult.
We bought 5 knobs and locks on our first trip but every time we tried a set, the lock would hit the door knob. Our third store, and the sixth or seventh try, we found a winner.
It's not what I originally wanted but it works and looks good.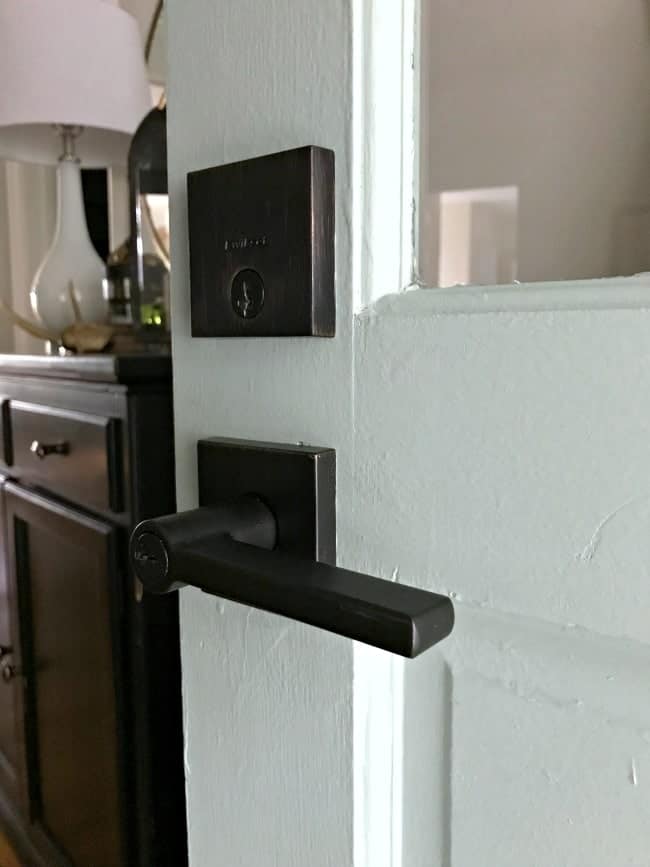 Paint color was the next step.
If you've followed me for a while, you might remember our front door in our Illinois house. I loved that color and wanted something similar, but softer. It didn't take me long to settle on Benjamin Moore Wythe Blue, Regal Select, Eggshell.
Oh my...I love this color. It's a pretty green/gray with a hint of blue.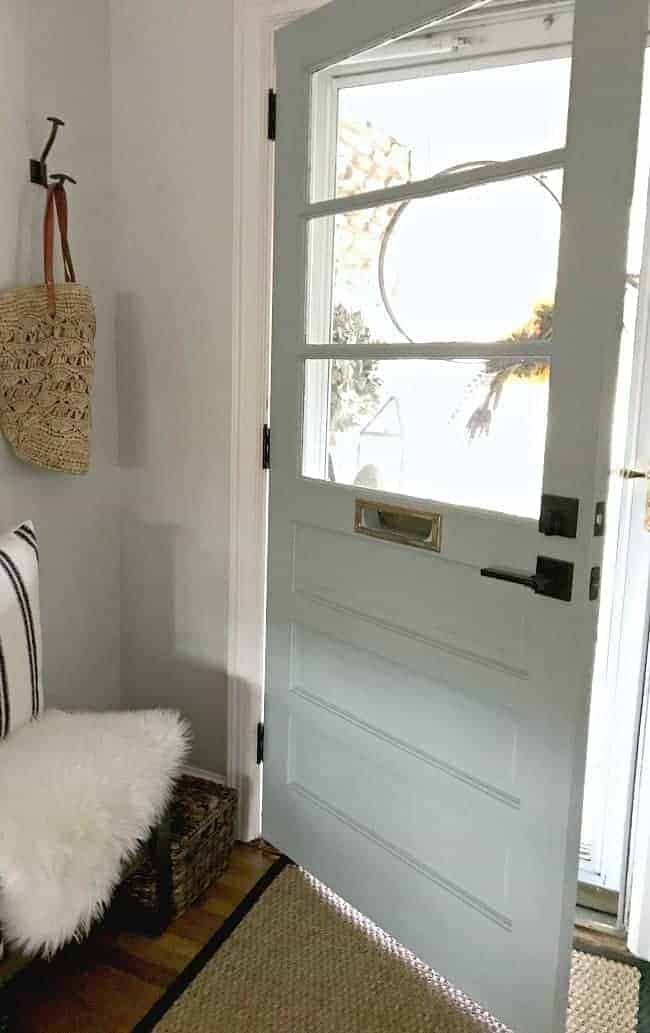 Yes, I am mixing the metal finishes but I'm ok with it. I really wanted to reuse what I could from the old door.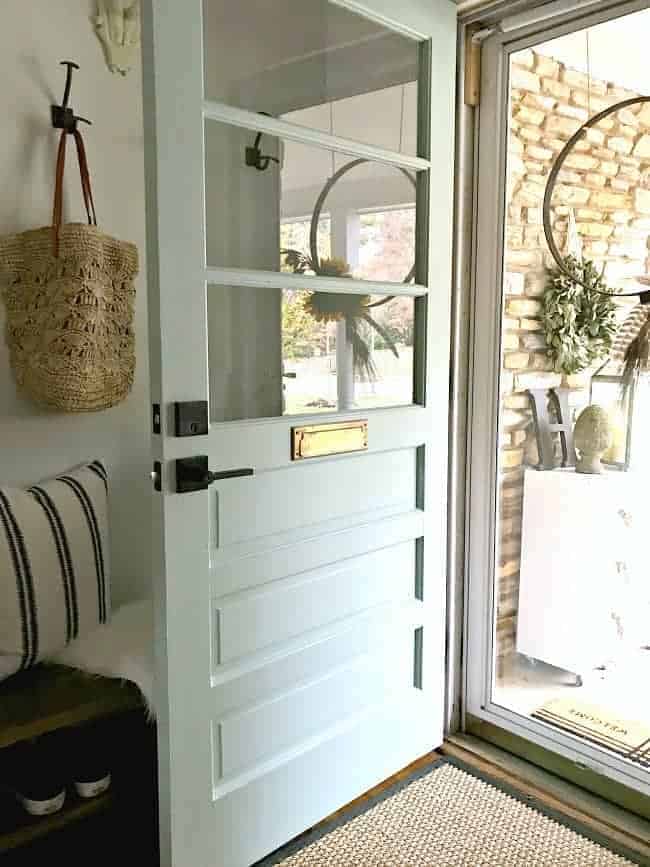 I love the way it turned out, even if it wasn't in the original plan. The light that comes into this once dark space is awesome. Now I'm really itching to get the new, old storm door up. Oh, and replacing the back door is also on the long to-do list.
It never ends.
Farmhouse Front Door Sources
We have more thrift store (and curbside) finds that we've transformed...