DIY Ottoman with Faux Fur
*As an Amazon Associate and member of other affiliate programs, I earn from qualifying purchases.
DIY ottoman made from a $2 thrift store stool and a piece of faux fur. This is a fun way to get one of these popular stools that are sold in many stores at high prices.
It doesn't happen often, but I think my husband loved how this project turned out way more than I did.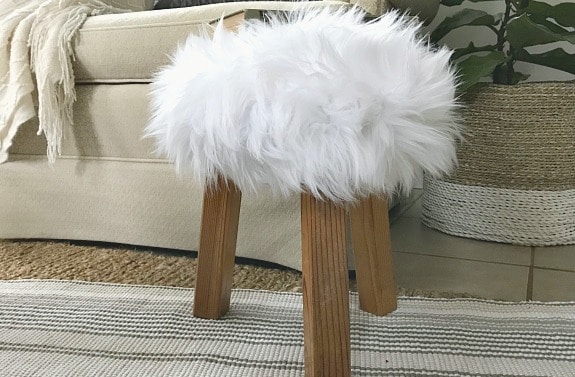 I even got him to pose for a picture with my cool thrift store faux fur stool on his head, but I have been forbidden to share it on the blog.
I would like to stay married so I will honor his request.
Actually I put it on my IG stories the other day (before he forbid it) but he doesn't know. Shhhh…don't tell him. 😉
A few weeks back I was browsing through one of my favorite thrift stores when I found this little old wood milking stool.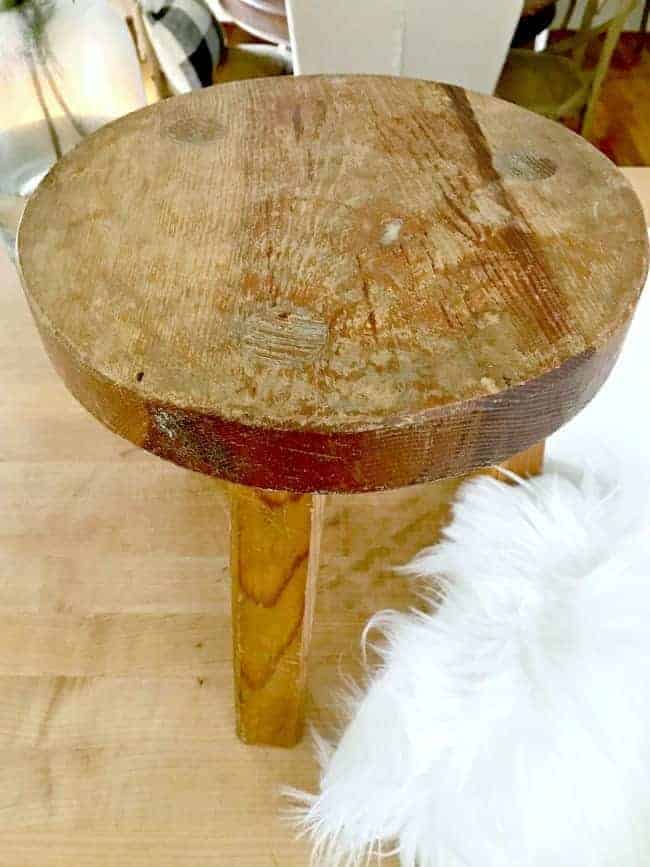 Was I looking for a stool? Umm…no.
Did I need another stool in my life?
Not exactly, but it was only $2 and I loved it. Nobody was with me to talk me out of it (yes, the hubs would have talked me down), so it came home to live with me.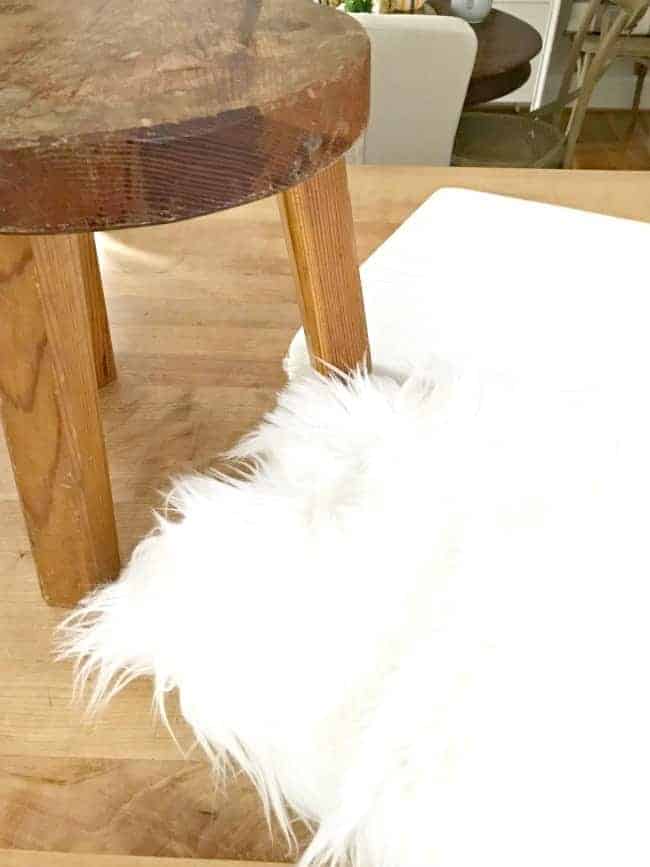 It went right into the sunroom, where it sat while I tried to figure out what to do with it. At first I was going to leave it.
Then I decided that I wanted to paint it.
In the end though, a spare piece of faux fur completely changed my mind. It would become a cool and trendy ottoman with faux fur
I had the stool and the fur. All I needed was a piece of foam to add a bit of a cushion.
Supplies to make a DIY ottoman stool
stool
marker
a vacuum (it's a messy project!)
This is such an easy project and it only took me 10-15 minutes to do the whole thing.
How do you make a homemade ottoman?
To start, I put 2 pieces of 1″ foam on top of each other.
Then I drew a template of the stool seat on the foam and cut it out with my utility knife.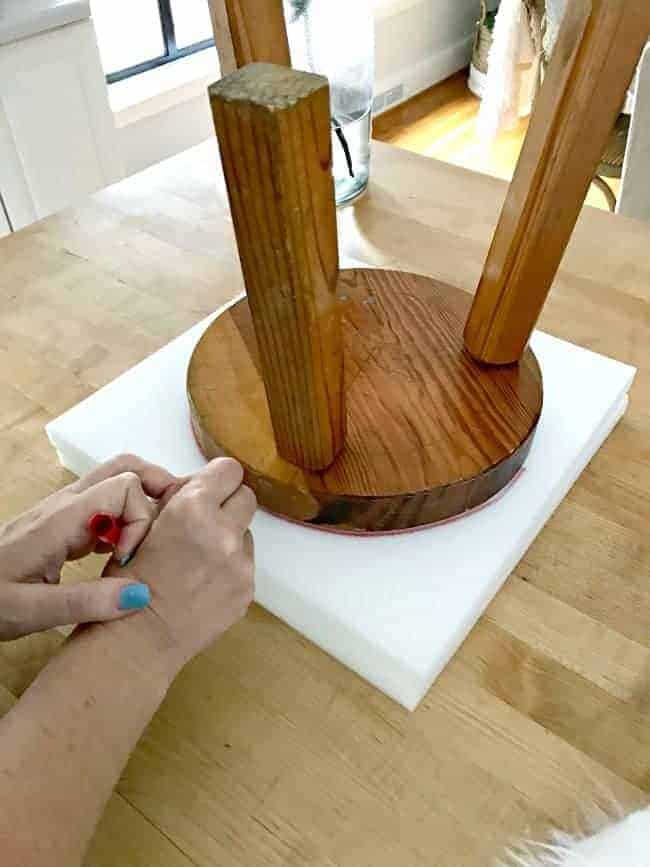 After I cut out the template, I turned the stool over and positioned my fur so that it would cover the seat and foam.
Then I started stapling the fur to the underside of the stool seat. There was no fancy formula to this step.
I just pulled the fur tight, without moving the stool, and stapled all the way around.
Ten minutes and my new ottoman had a cool new head of hair.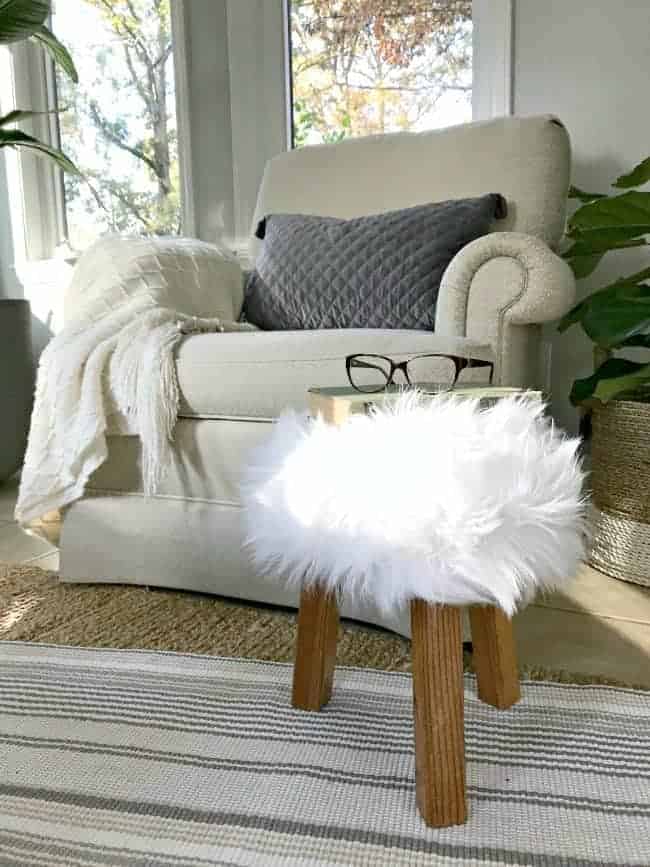 I'm loving it in the newly redone sunroom. It's such a fun addition. I even sit in the room petting it.
First the hubs posing with it, now me petting it. What is it about faux fur? 😉
Check out my other DIY storage ottoman that I built for the cargo trailer. So much storage!