DIY Barn Door with Mirror
This post may contain affiliate links, please see our policy for details.
A newly built bedroom closet gets a custom DIY barn door with mirror from an old wood door.
At long last I'm ready to start sharing our powder room and simple closet build. Let's get right to it and kick things off with our inexpensive barn door with mirror and finished closet.
We started this project last year with a plan to turn a small closet in the guest bedroom into a small powder room. Tiny is more like it.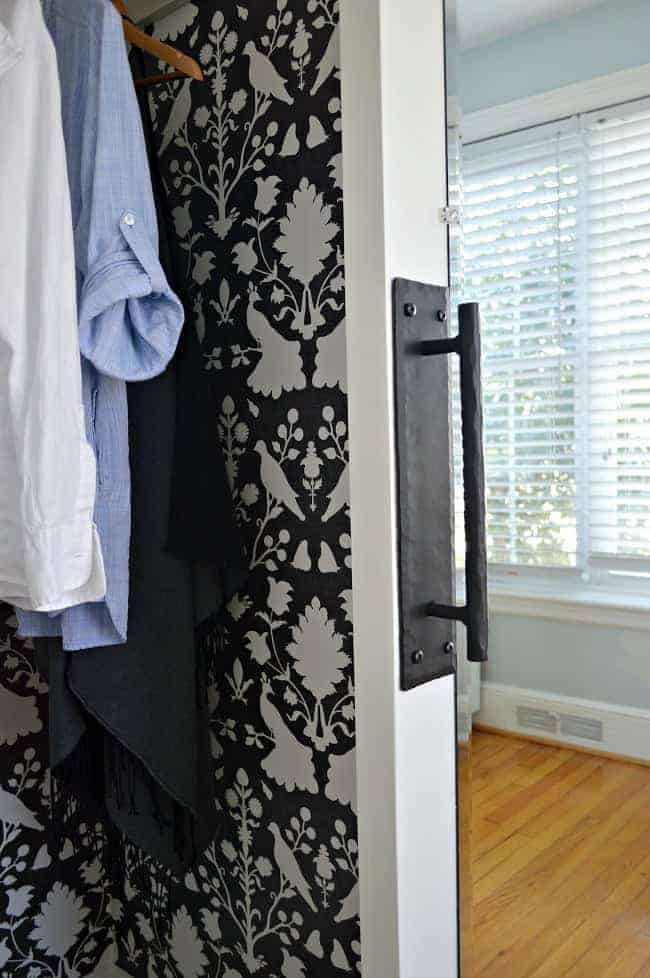 Anyway, after we started construction we decided that we needed to try to add a closet. Not only did we need the storage but if we ever have to sell this house, it would be important for resale.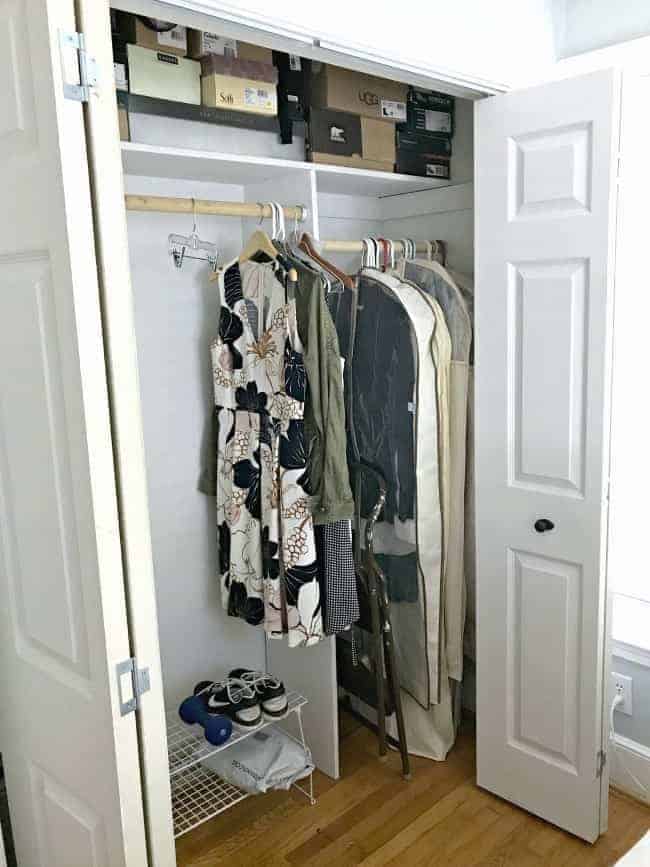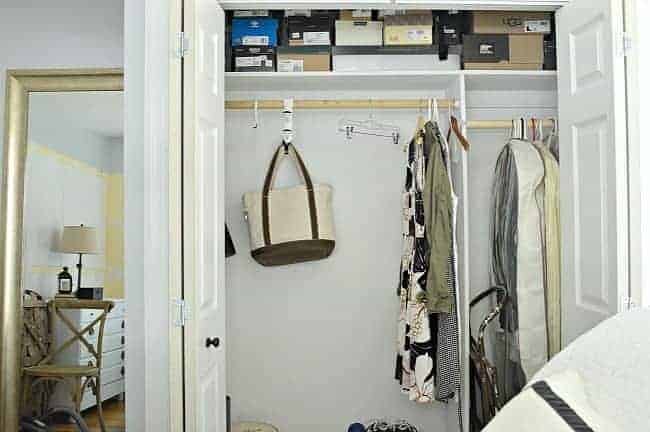 There was dead space next to the new powder room so that's where we decided to add the new closet. It's definitely smaller than the one we used to have but it serves the purpose.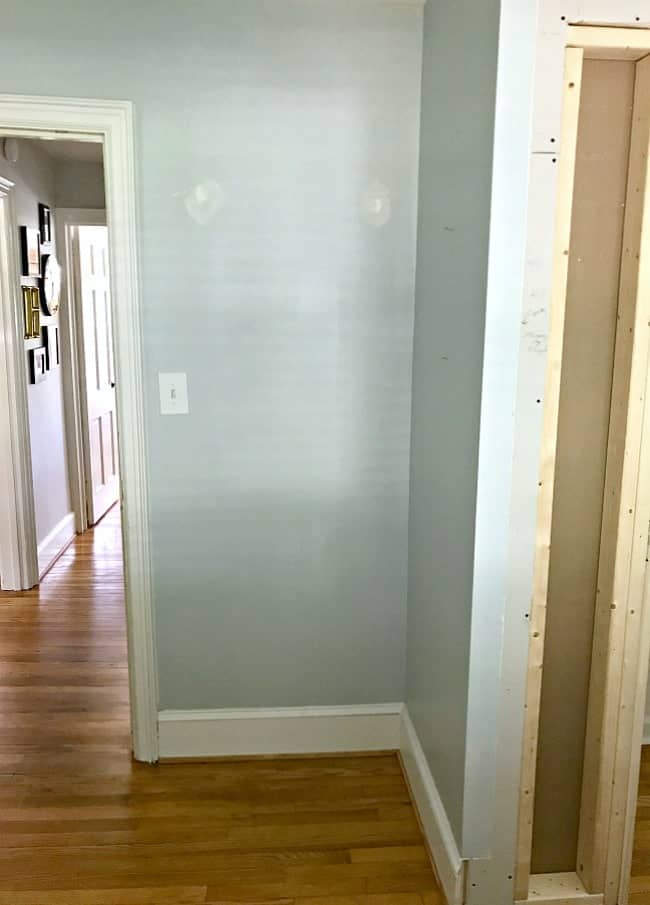 Once we figured out the logistics, we worked on framing it out and then hung the sheetrock. You can see the whole process in our post on building a bedroom closet.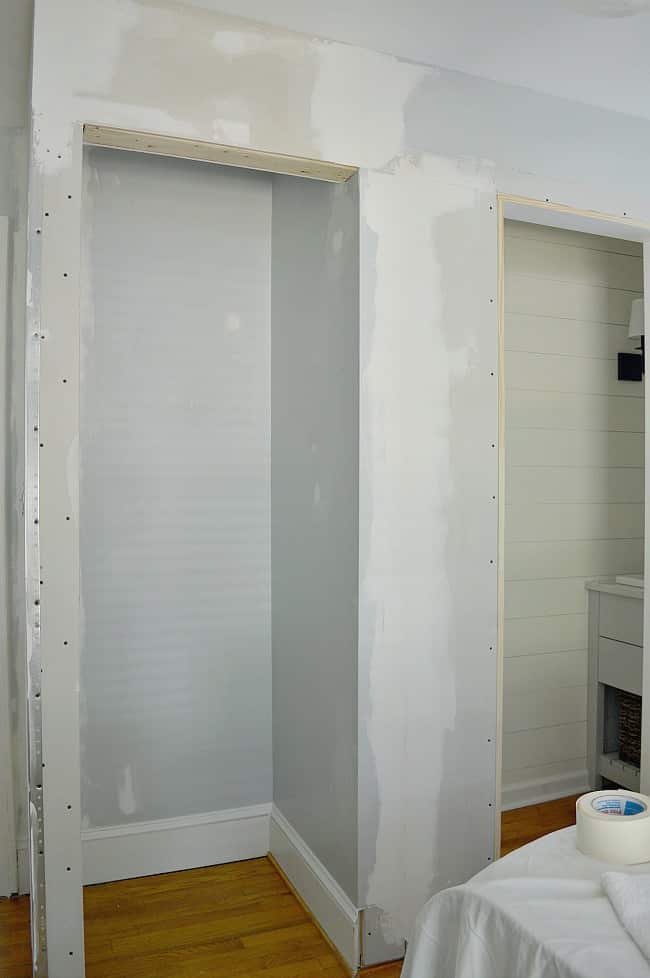 With the build done, we hung wallpaper and added a new light (the light was purchased here). The molding and a shelf and rod were the finishing touches.
Next we had to figure out the door situation. Not an easy task when you can't agree on what to do. We knew that we needed to do barn doors, because there isn't room to open a door, but we couldn't agree on what kind.
In the end, we went with DIY barn doors on a budget. Instead of building them from scratch, we used 2 old doors from my collection. You see, I have a teeny tiny old door hoarding problem. Well, it's not a problem in my eyes but…
If I see an old door I love, that's in good shape and at a good price, it comes home to live with my other doors. I've already used one for my front door and I have plans for several others.
The door we used for the new closet is solid wood and was picked up at a Restore for $15. Too good to pass up, right?
Before we could start working on our doors we had to hang the barn door track and attach the doors. We needed to check and compare length, thickness and width. A step that's very important.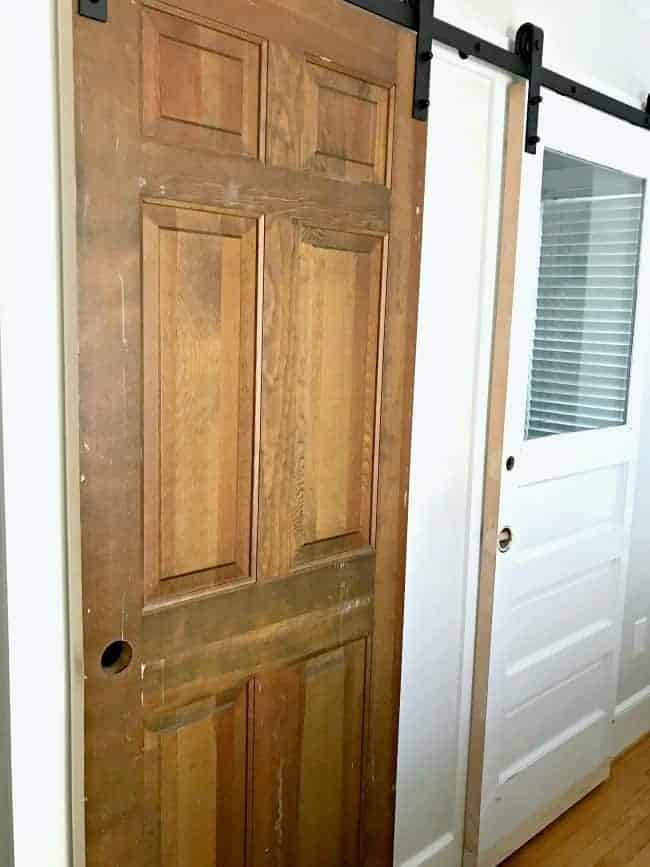 Unfortunately we had several issues with the closet door. If you look at it you can see that the panels aren't the same as the powder room door.
A few other issues were that the door was too wide, it was too short and it wasn't as thick as the powder room door. Kind of daunting but with some thought (and more than a few discussions), we we able to address each issue…one by one.
First we cut some of the width so it would fit the opening. Then we added wood to the bottom of both doors to make them the same length.
We also cut a groove in the new wood on the bottom so the door would glide in the bracket on the floor (this keeps the door from swinging in and out from the wall).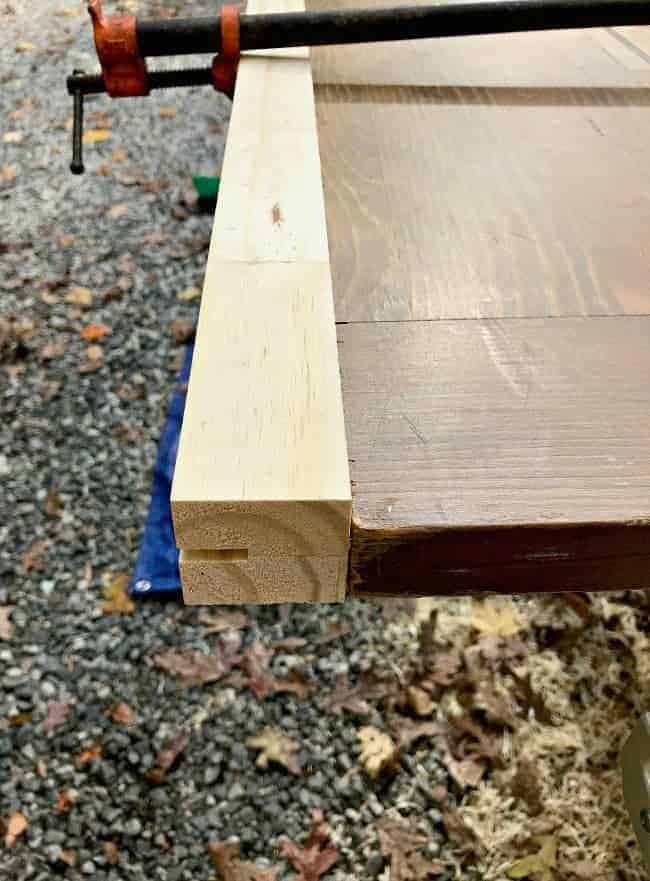 The next step was to make the door look chunky (the same thickness as the powder room door) by adding wood pieces to the sides.
All of this is happening on the inside of the door so no one will ever be able to tell. It doesn't look pretty but remember, no one will see it.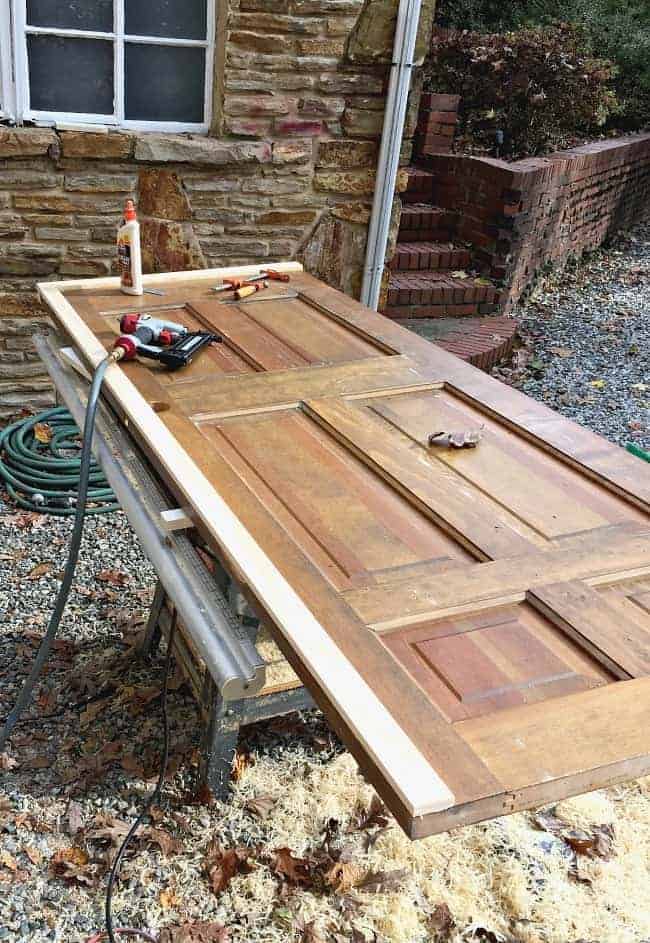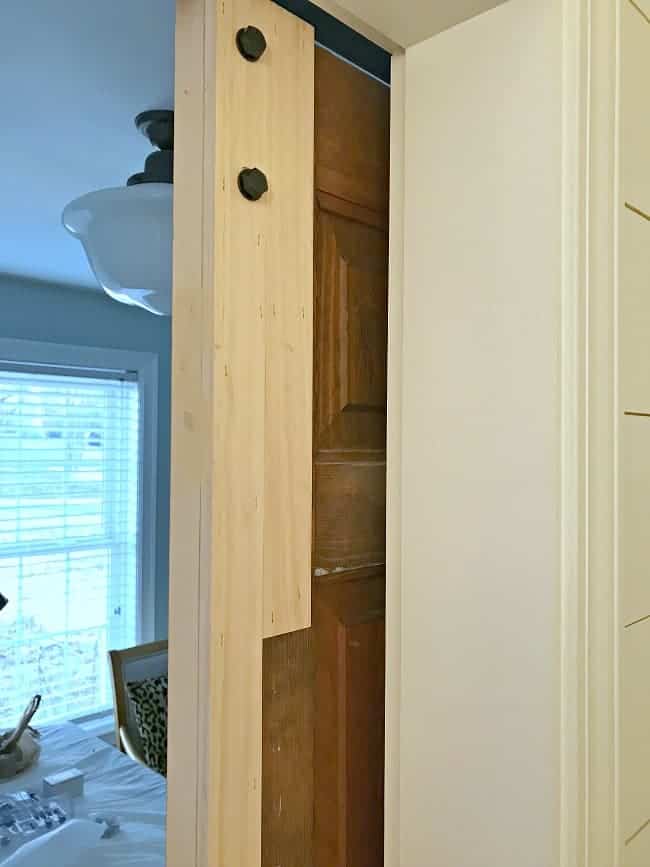 Once we were sure about the length and thickness, we took the doors down, puttied, caulked and then sanded them. The overall goal was to make sure you couldn't tell that we added on.
Next, it was time for me to paint. I ended up giving it 5 coats of Benjamin Moore White Dove, Advanced, Satin, on each side. Fresh paint makes everything look better.
With the door painted we moved on to the last step, adding a mirror to the front. This was going to solve the issue of using mismatched doors (by covering up the panels).
I really wanted a full-size mirror anyway and this seemed like the perfect spot.
Finding a mirror that was big enough wasn't an easy task. We needed a specific size so it would clear the handle and door brackets. I started looking and couldn't believe the prices.
The only one that I was able to find at the right size was $200. Ugh…not exactly good for the budget.
Our last hope was a leaning mirror that we've had since we lived in Illinois. It's been floating around the house without a proper place to live so the plan was to sell it.
I figured we didn't have anything to loose so I measured it and it seemed to be the size we needed.
Finally, a lucky break.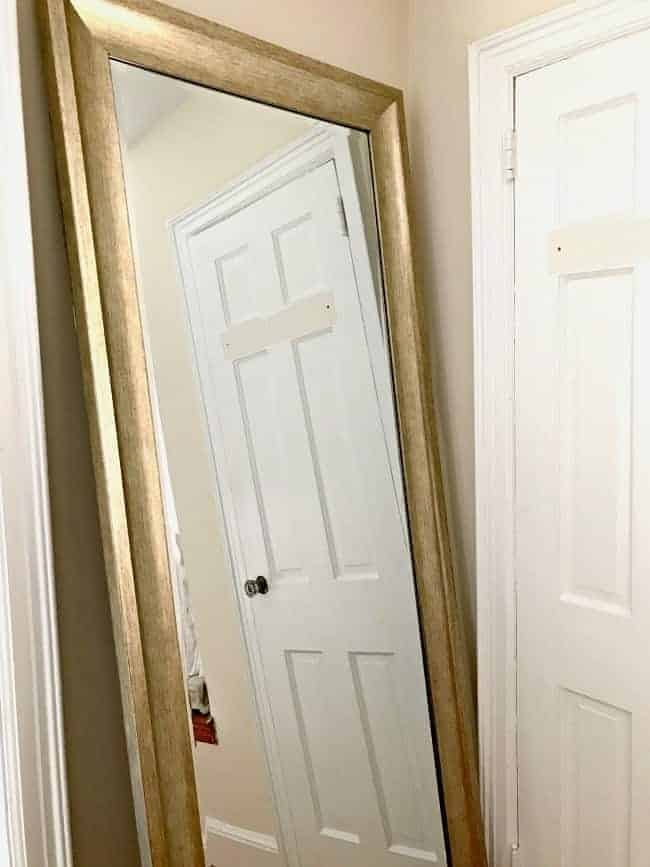 We weren't sure what the mirror under the frame would look like, or if we could easily take it apart, but I convinced the Roger to give it a try.
We took our time and carefully took it apart. If you look closely the edges of the mirror are dinged in a few spots but otherwise it looked good and was the right size.
All we had to do was buy a $2 pack of mirror mounting clips and attach it to the door.
We held our breath while we hung it up but it all worked out and looks great.
The last step was to attach our custom iron handles. Besides the barn door rail, these were our biggest splurge. They had to be custom made because we needed a certain size to cover the old door knob and lock holes.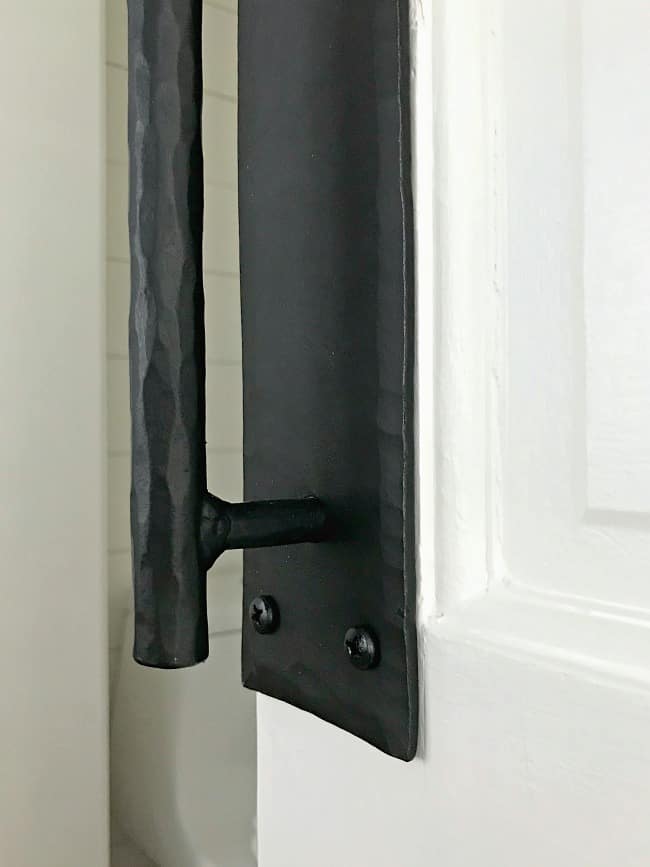 Ok, are you finally ready to see?
This room is still under construction so the reflection isn't the prettiest. Let's just marvel at the finished barn door with mirror the instead.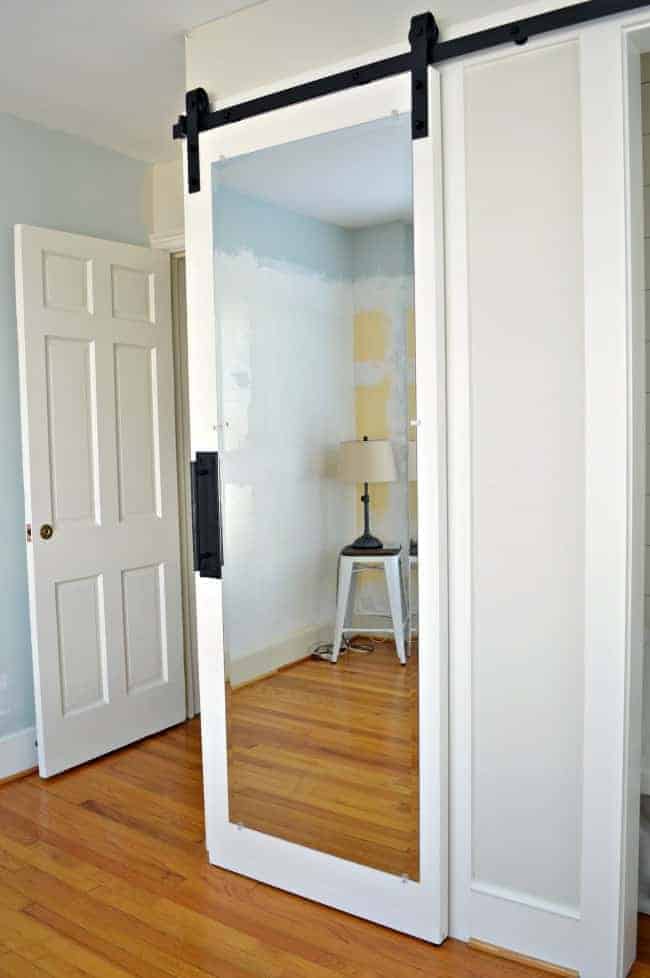 This project was filled with challenges but we're thrilled with the way it all turned out.
Remember, this was an empty space when we started…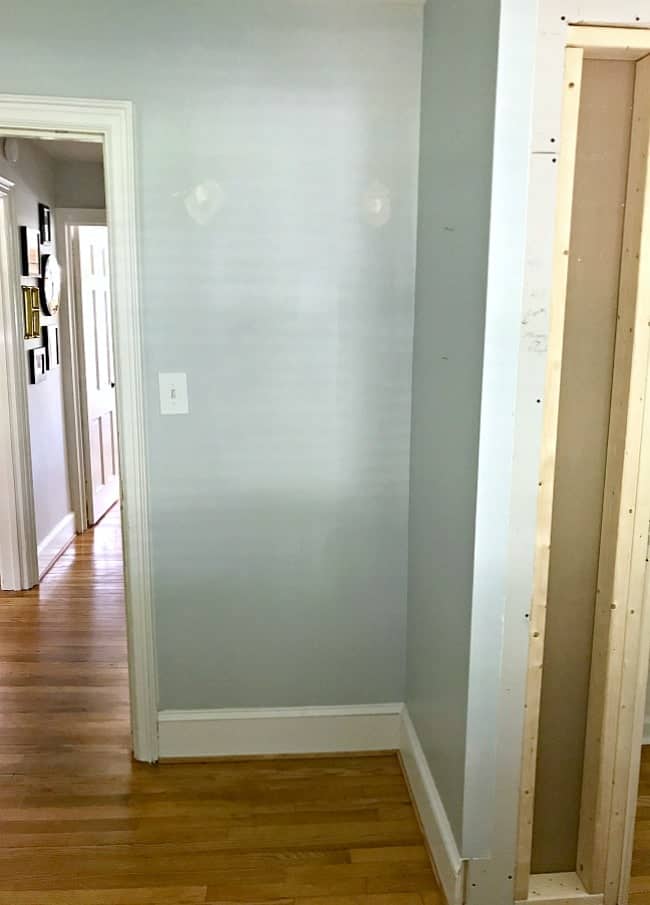 And now it's a brand new closet.
Check out the fit of the mirror. It's perfect!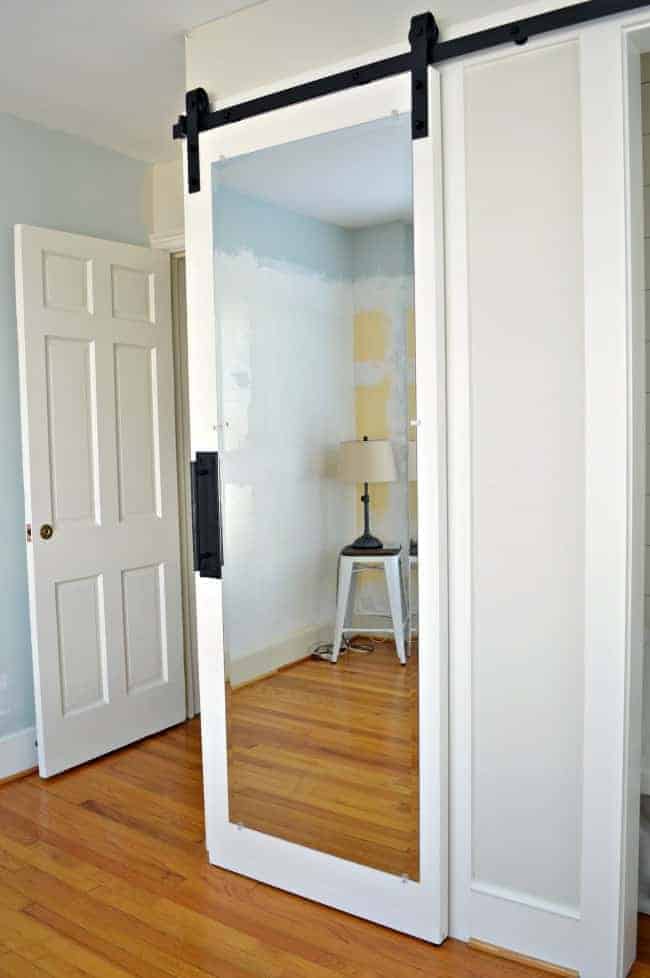 It's the same thickness, width and length as the powder room door, with no obvious signs of the modifications we made (unless you stand in the closet and close the door).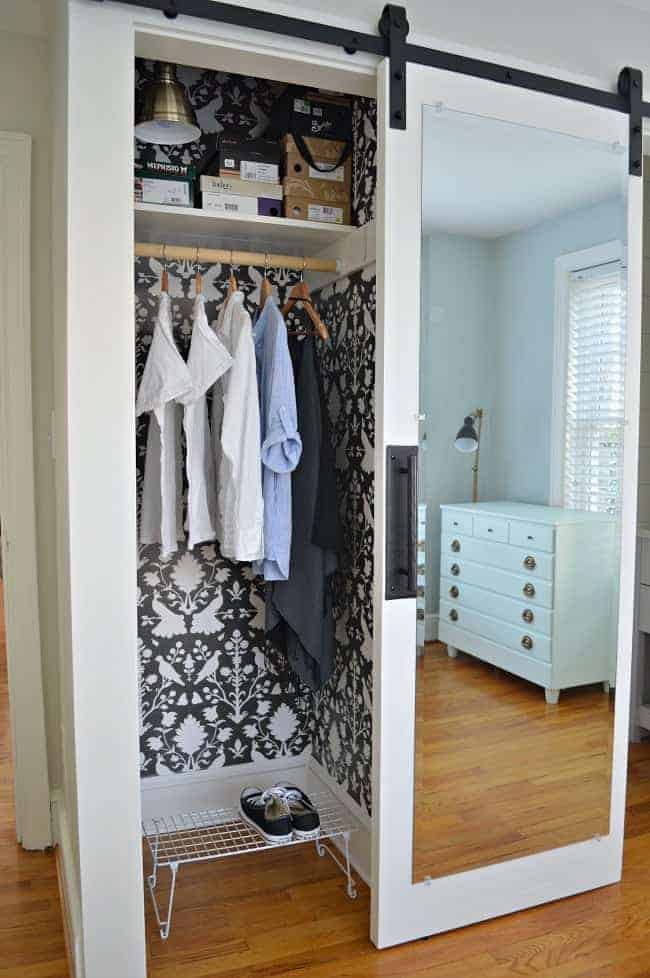 Thanks for sticking with me through this long post (and the months of waiting for us to finish)!
Want to check out some of the other powder room/closet posts?
Check out the wallpaper post and the powder room reveal.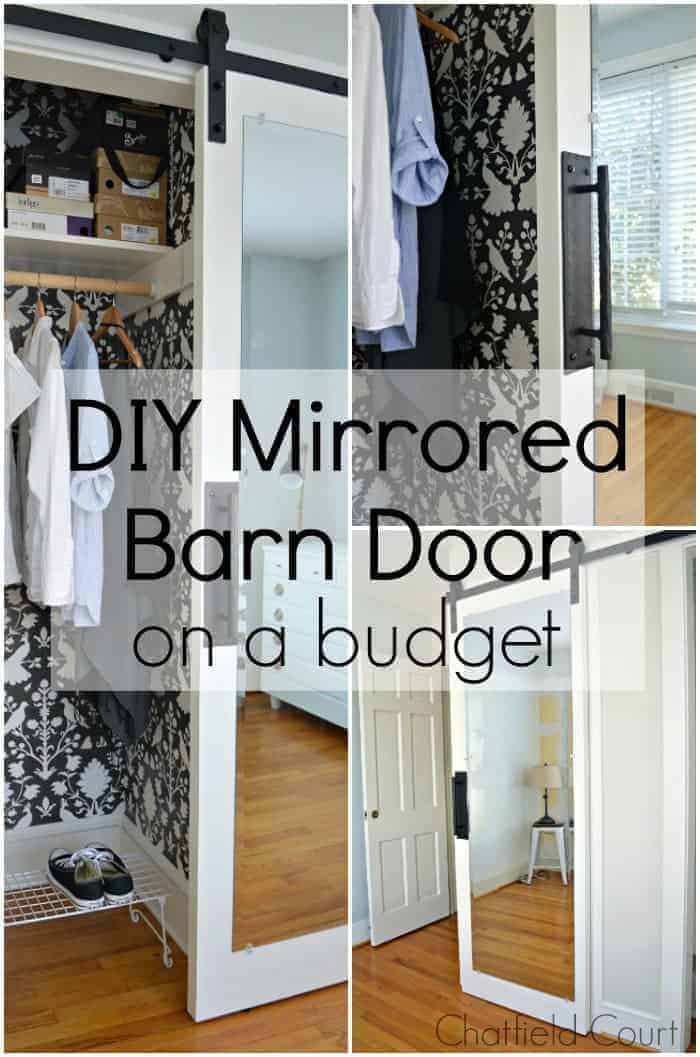 Bedroom Closet Door Sources