How to Hang Prepasted Wallpaper in a Closet
*As an Amazon Associate and member of other affiliate programs, I earn from qualifying purchases.
How to hang prepasted wallpaper in a guest bedroom closet. An easy project to do in less than 2 hours.
It's been a while since you've seen the new tiny powder room and closet but we've finally made enough progress to share with you.
I'll get to the powder room progress another day (lots going on there).
Today we're talking about the new closet and how to hang prepasted wallpaper.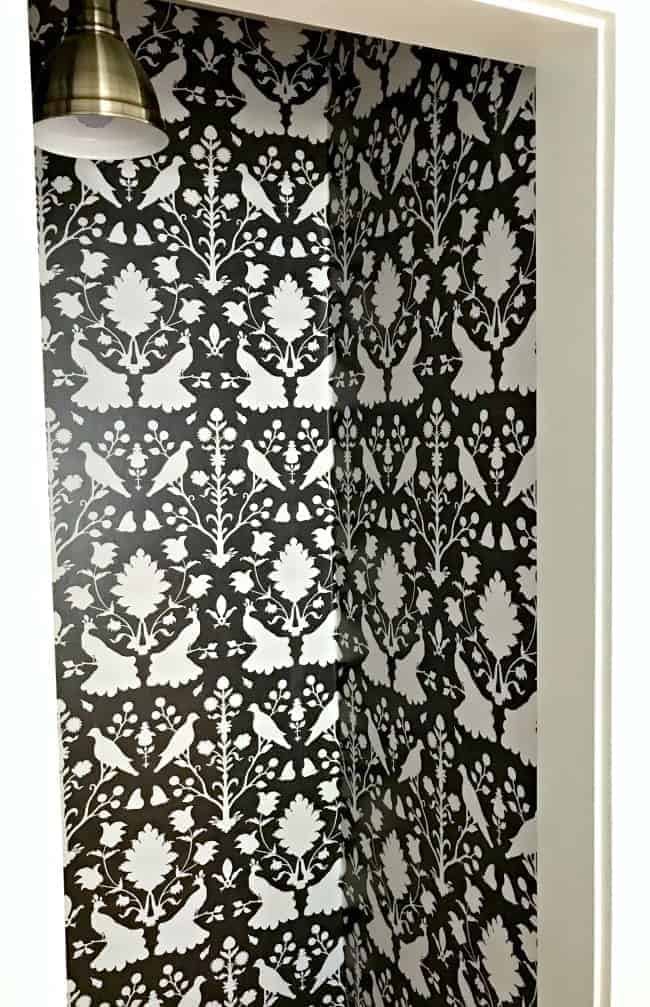 If you remember, way back in July I shared the new bedroom closet build.
We actually built it in an empty corner of the guest bedroom to replace the closet that was turned into a powder room.
Remember, we have a small home so we needed to add a closet back for extra storage (not to mention for resale purposes).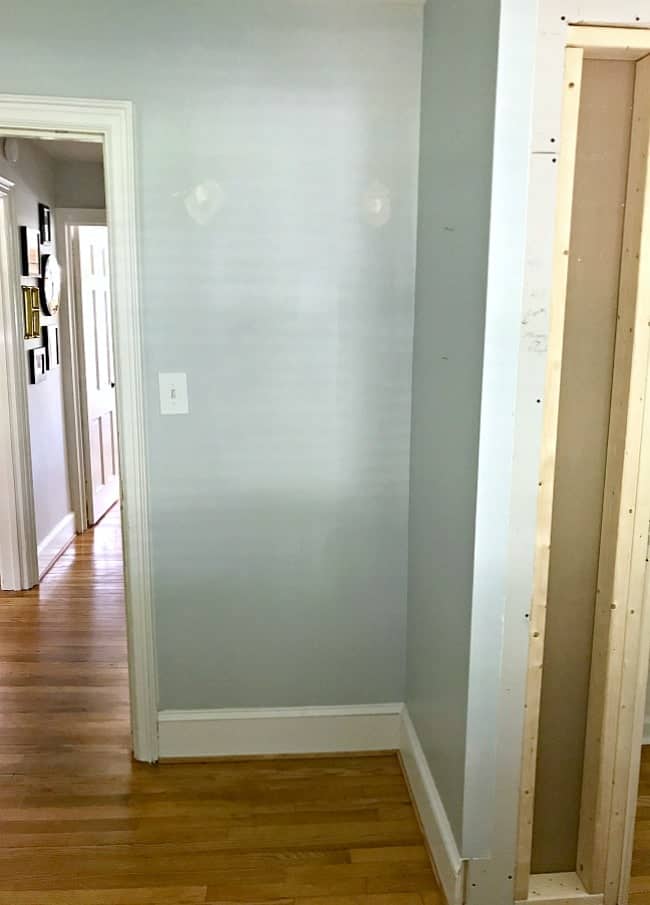 We've had a ton of challenges with this space from the get-go. First challenge is working in such a tight space.
It makes every project more difficult, and time consuming.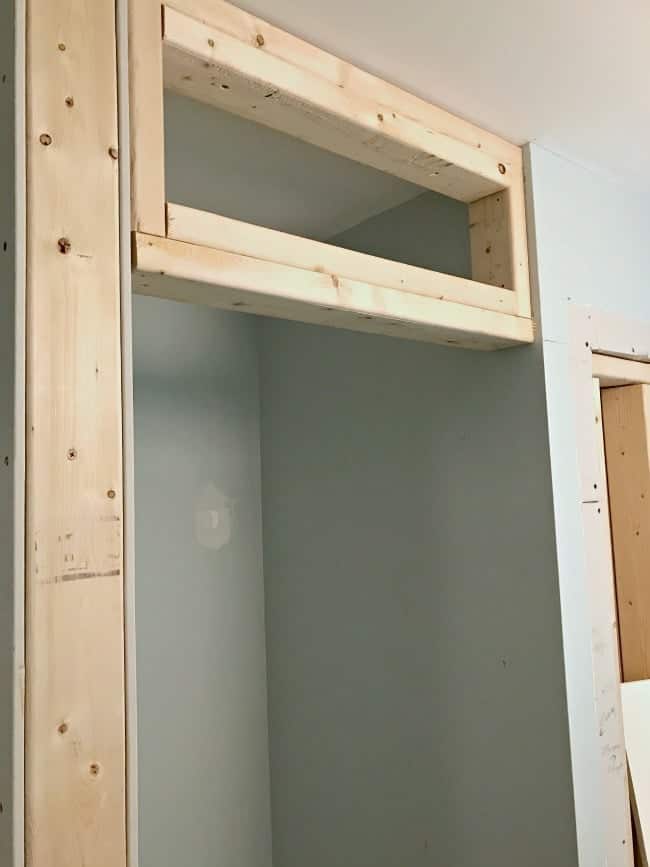 The next challenge is that the walls are plaster and nothing is square or level.
It may be small, but building the closet was not easy.
It's just the way it is with older homes.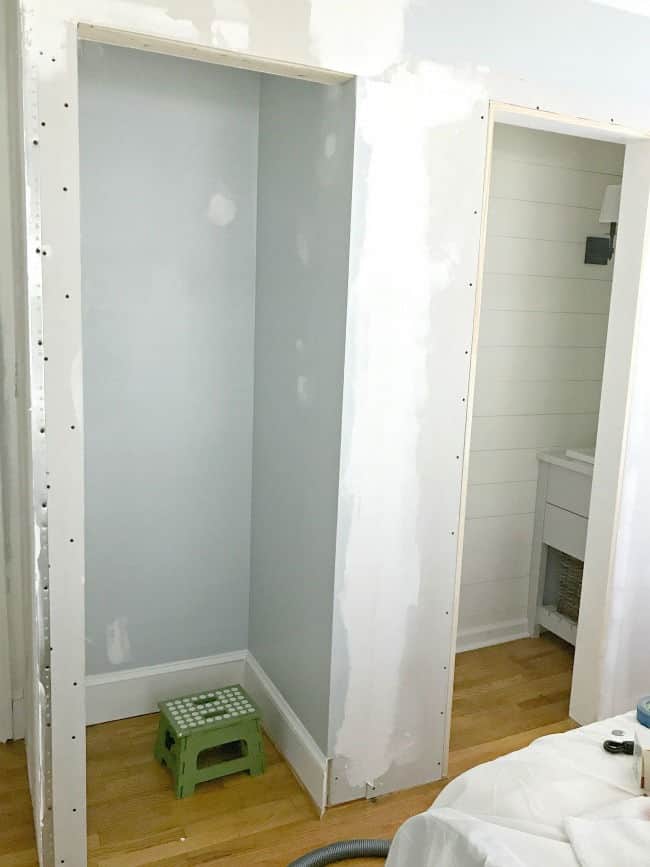 Once we finished building the closet, I filled all the holes and painted the walls.
After painting the walls I started throwing around the idea of hanging wallpaper.
I've never been particularly fond of wallpaper, and we've never actually hung it in any of the homes we've lived in, but I wanted to try something different in this tiny space.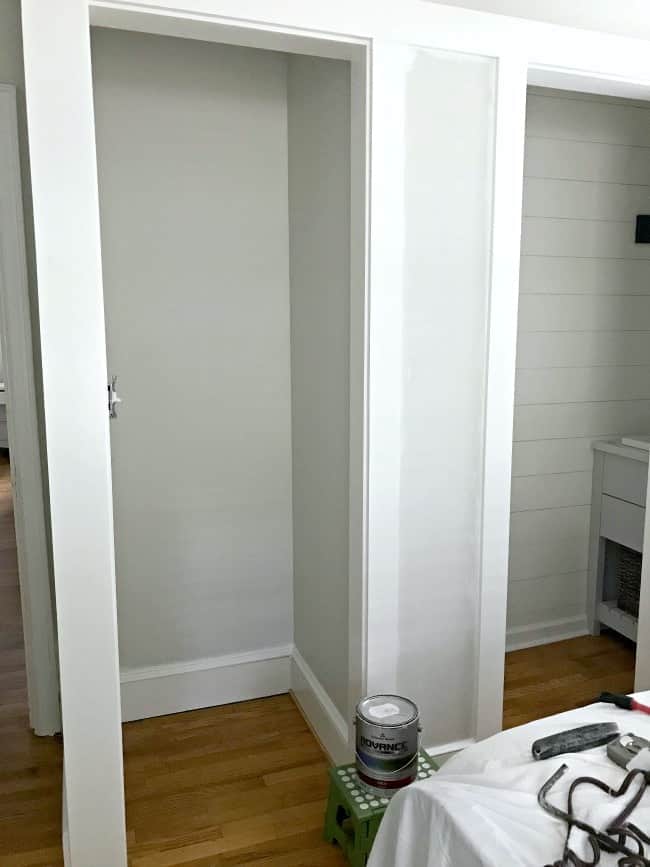 Deciding I wanted to use wallpaper was easy.
Actually finding one that I loved was a whole other ball game.
I looked at a ton of samples, and it took me weeks to decide, but I finally settled on one I loved (Oiseaux in dark charcoal from Spoonflower).
I went into this project like I always do, with a clear picture of what I wanted and a husband who is always on board. (Ok, maybe not always but he usually comes around).
This time was different though. He didn't want me to use wallpaper, actually he hated the idea, and he poo-pooed every sample I showed him.
Obviously he was no help, so I picked this out without his blessing and ordered it.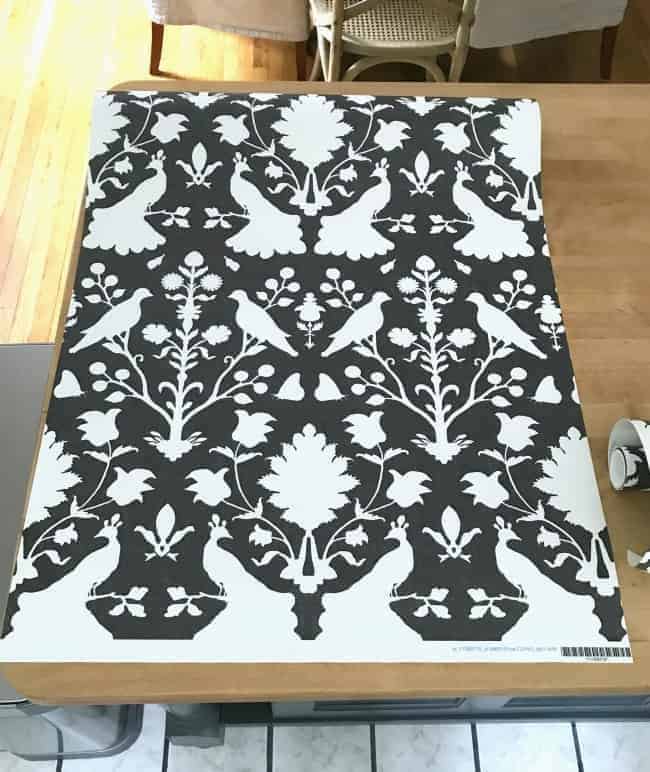 Is it hard to put wallpaper up?
Not really but it's much easier to hang if there's two people.
In my case I had to do a bit of groveling to get the hubs to help me out.
Of course he did it, he has never refused, but he hated every minute.
Ask him, he'll even tell you so himself.
Wallpapering tips
I won't go through a step-by-step but I will tell you a few things that we did that made the job easier.
Like I said, we have never hung wallpaper before so we had no experience to look back on.
We just read the instructions that came with the wallpaper and did it, with a few modifications.
The very first thing we did was to work with a small sample piece of our pre-pasted paper.
The instructions said to use a roller or sponge but we didn't like how it spread out so I used a squirt bottle.
I sprayed down our small sample piece and booked it for the time instructed. It came out perfectly.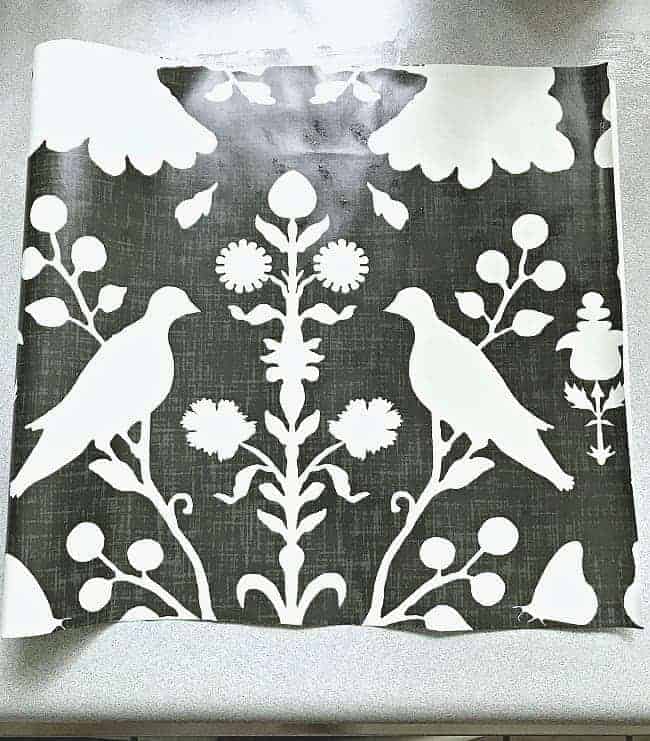 Once our test was done and we were ready to start the process, we grabbed a big piece of wood from the basement, which gave us enough space to spread each sheet out so we could wet it down thoroughly.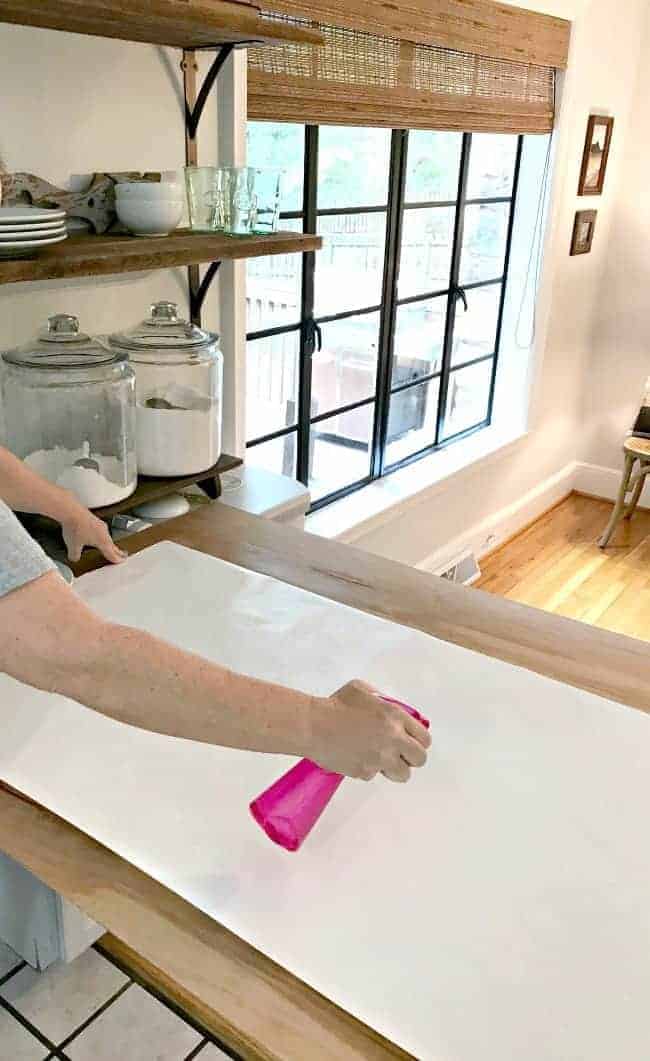 After I thoroughly wet the sheet of wallpaper, we booked it for 10 minutes and then hung it on the wall.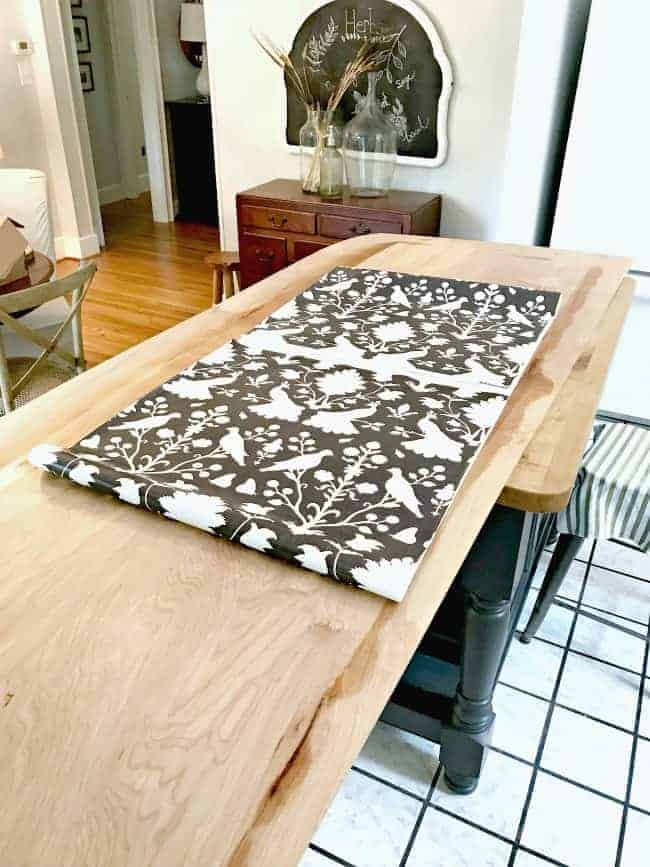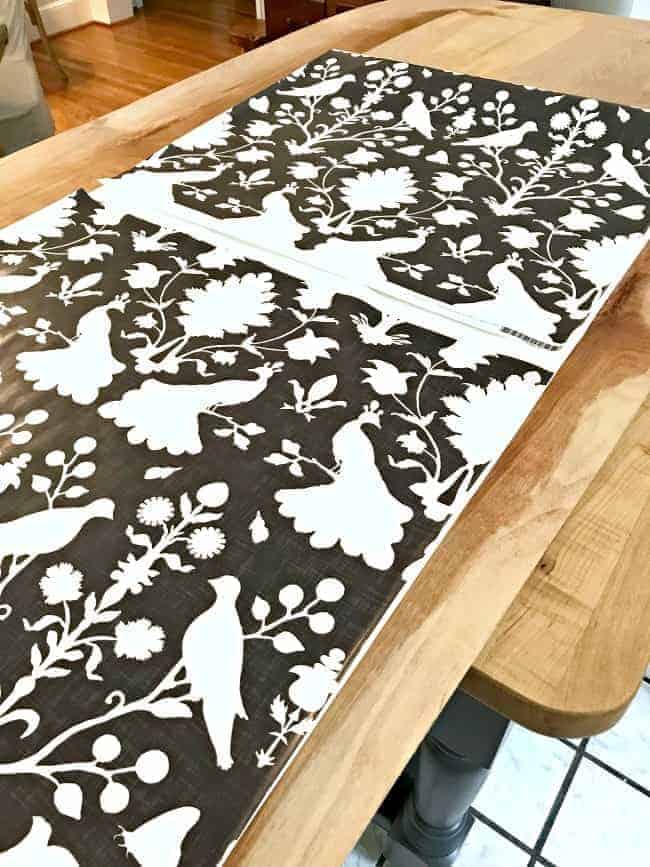 You want to make sure your walls are smooth because every bump will show.
Also, if you paint your walls first, make sure you've given them plenty of time to dry.
We used 4 strips of wallpaper and it took us 90 minutes from start to finish.
Compared to the other projects we've done in this space, it was pretty easy. The change is dramatic, too.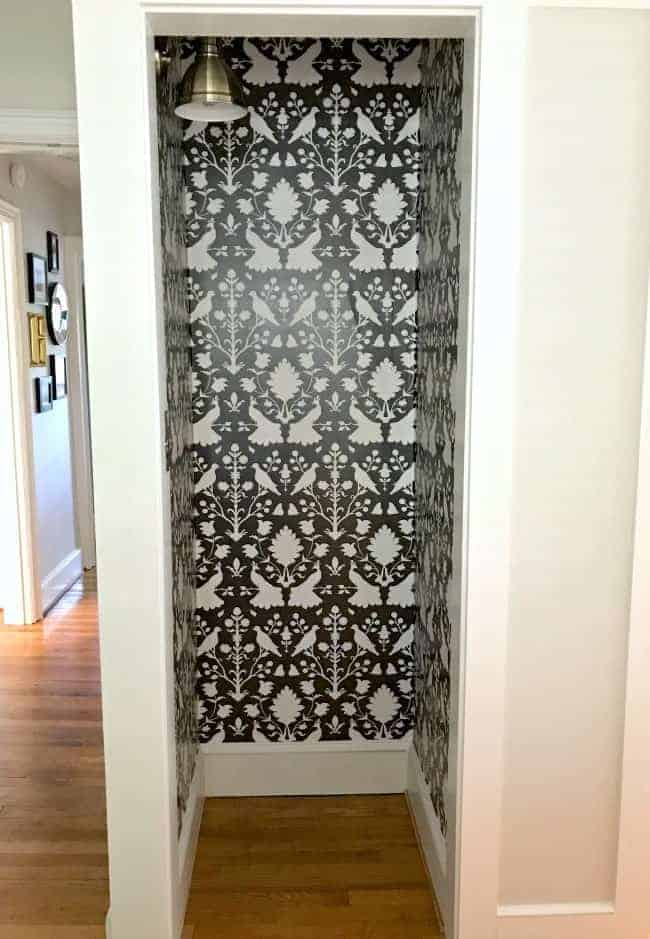 It's just the pop I was hoping for. Of course there will be a door on the closet so you won't see it unless you open it.
We also added electric in this space for a light (you can find the one I bought, here).
Most older homes don't have lights in the closets so I wanted to be sure we added one in here.
It probably isn't totally necessary, since it's such a small space, but it wasn't a big deal to add it while we were building.
This weekend we'll finish the quarter round, add shelving and a rod.
It's a small space, for sure, but I should be able to store some of my shoes and hanging clothes. A small closet is definitely better than no closet.
My final thoughts on wallpaper(?)
I love it in this space but I won't be doing anymore rooms in the near future. I change my mind about my decor often and if I had wallpaper in a space that I had to look at every day, I would tire of it.
Also…wallpaper is expensive, ya'll!
That was part of my issue with picking the right one out. I would find one I loved and it would be way out of my price range. As it was, I paid $240 for this small space.
What???? I know, I know…
As for the hubs…he still doesn't like it and I've stopped trying to convince him. You can't win 'em all.
What about you…would you hang wallpaper in your home?
Check out the finished bedroom closet (with a DIY barn door)
And more ideas for wallpaper in a closet