This post may contain affiliate links, please see our policy for details.
Do you have a small, older house with only one bathroom and don't have the funds, or space, for a 2nd bathroom addition? That was the issue in our 1946 stone cottage. We really wanted a 2nd bath but didn't want to build an addition so we found a bedroom closet to convert into a powder ourselves.
Let's take a quick look at where we started… in our guest bedroom closet, which is not original to the house.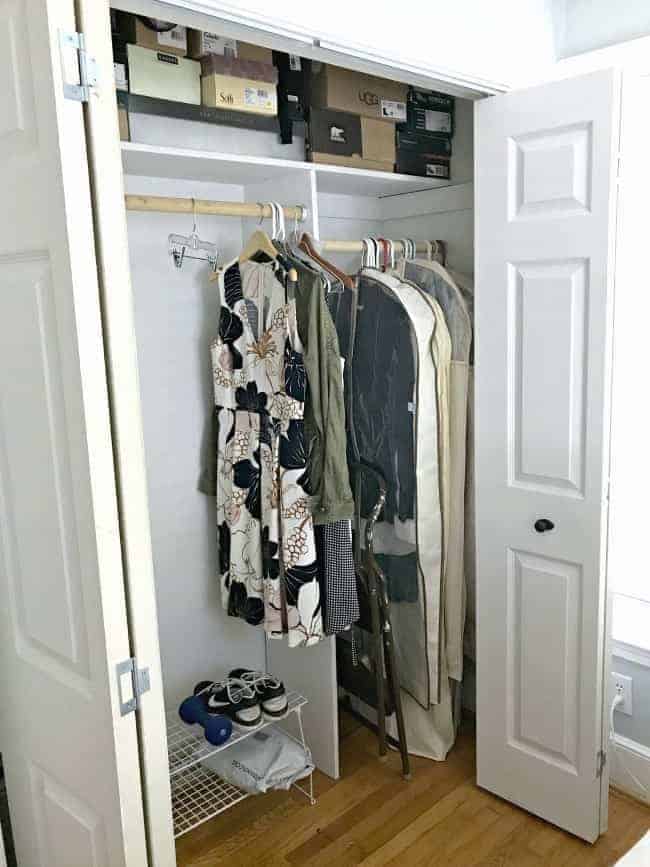 We've talked about adding a powder room to our cottage since we moved in and this closet seemed like a good spot.
It's actually our largest closet and is right next to the only bathroom, the perfect spot to tie in the plumbing.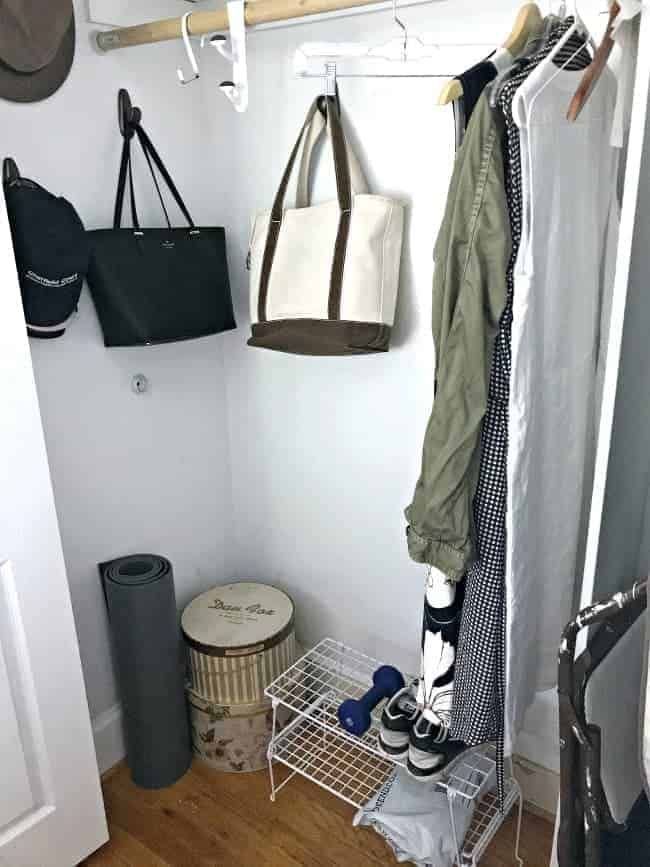 It took us time to plan everything but once we felt comfortable with our plans, we quickly got to work framing it out and wiring it.
Check out the whole process of starting the powder room and building the custom bathroom vanity.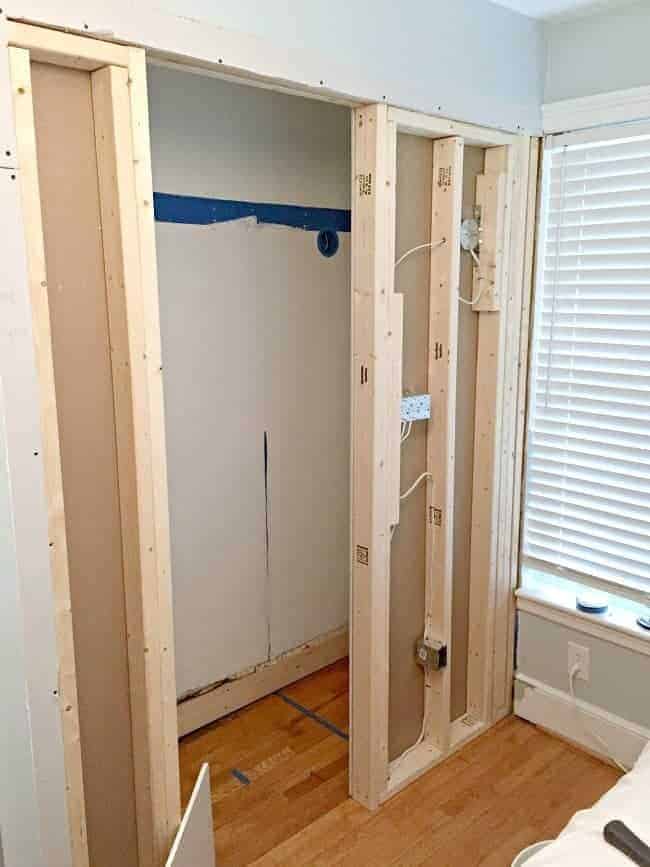 We added DIY shiplap to the walls and built a custom vanity.
Most of the surfaces in this space were painted in my fave paint, Benjamin Moore White Dove, Advance, Satin, including the DIY shiplap, ceiling and barn door.
Best. paint. ever!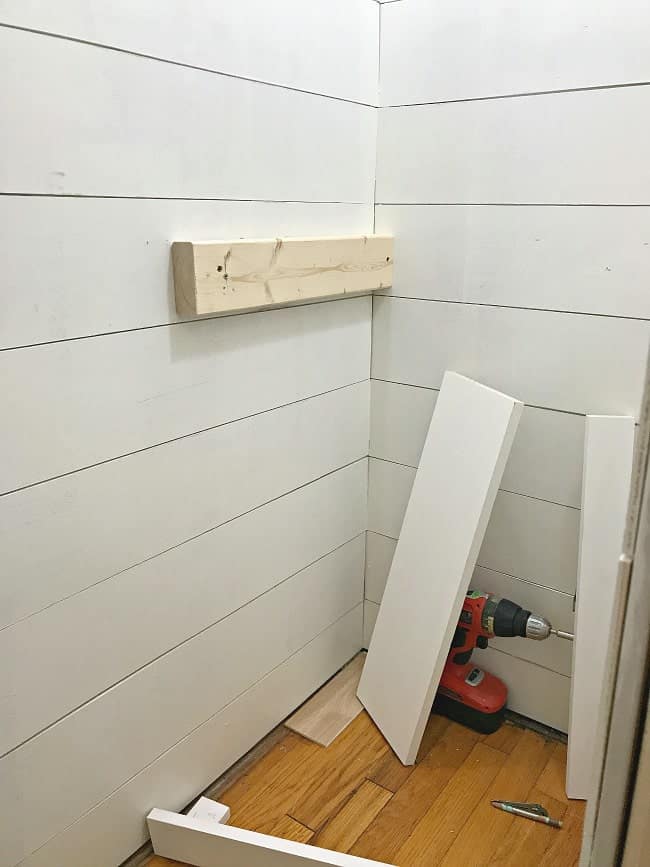 Once the shiplap was up and painted, we had to build the bathroom vanity in place.
Uneven floors, plus a tight space, meant we had to do it this way.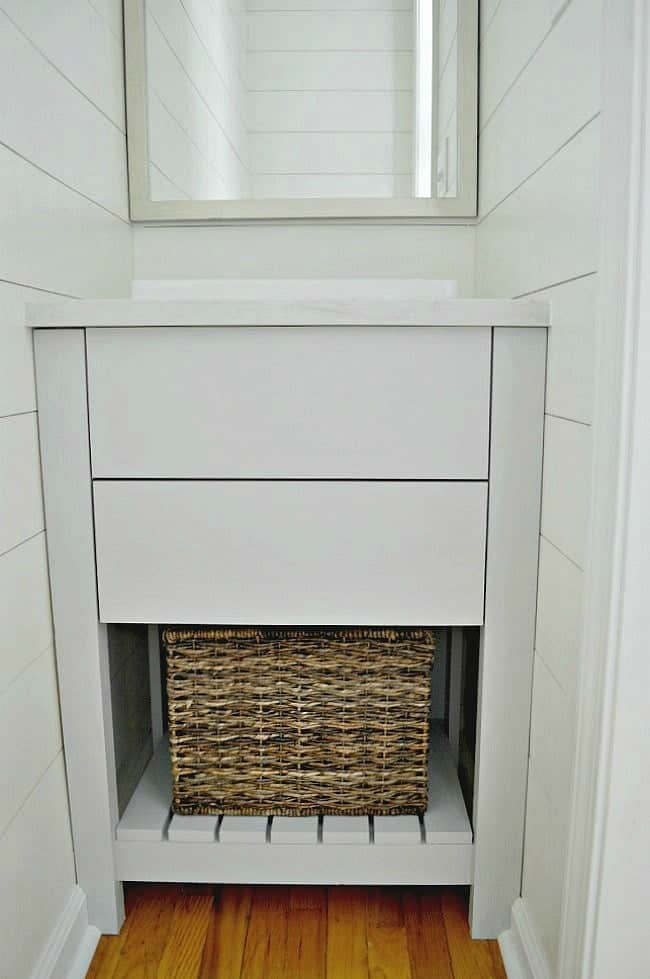 After the new powder room vanity was complete (and our new Moen faucet was installed), our work came to a standstill.
We needed to replace our 80 year old plumbing so that we could hook up the new toilet.
We'd never tackled a project like that before so it took some time and a bit of research.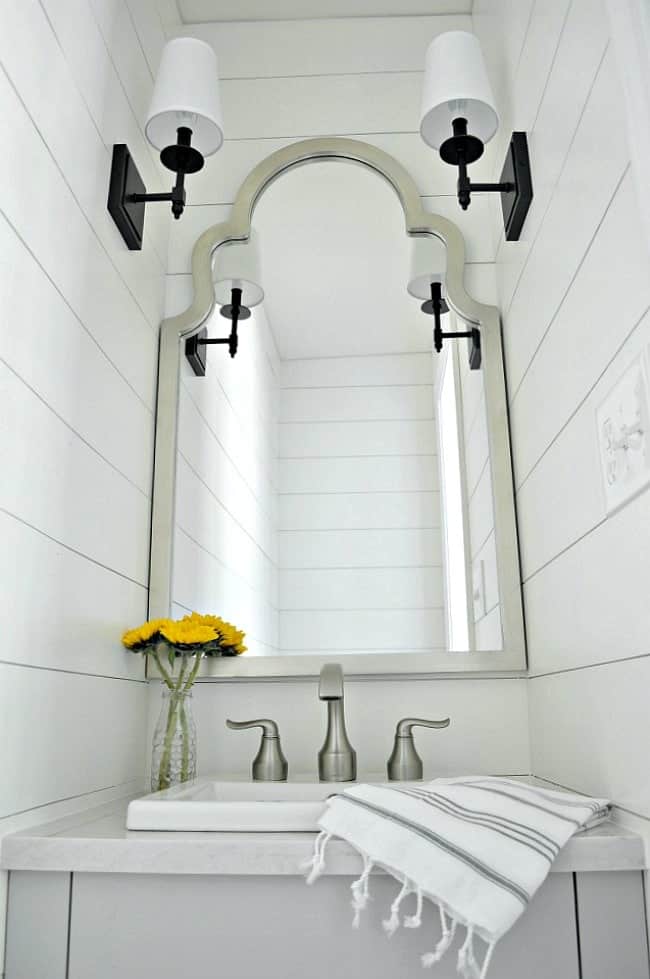 Once we tackled the plumbing though, we picked out a toilet and continued with the build.
Picking the toilet for the new powder room was a job in itself.
It had to be a certain size so it would fit in the space, and actually allow you to sit on it without smacking your head on the vanity.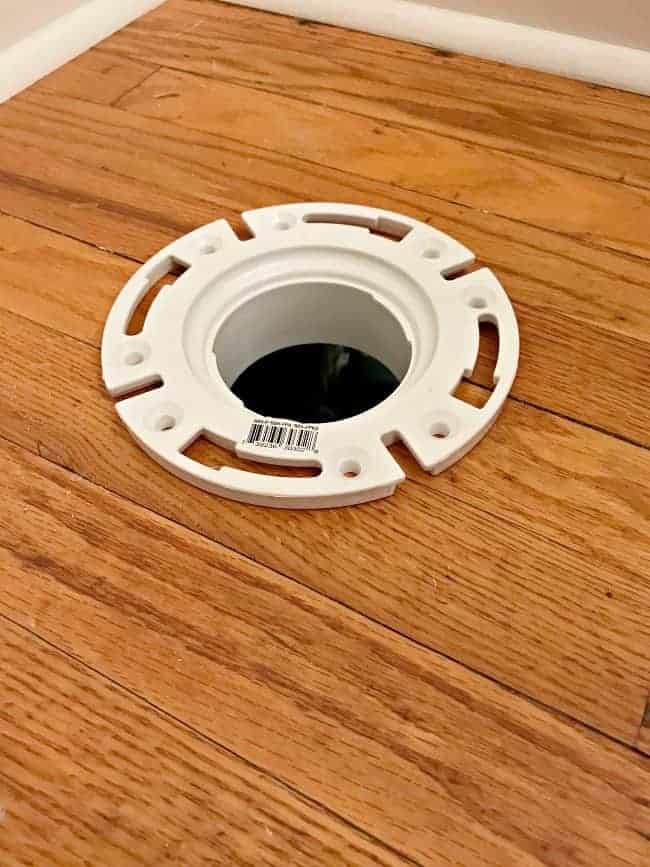 Woohoo!
I never thought I'd be so excited to see a toilet.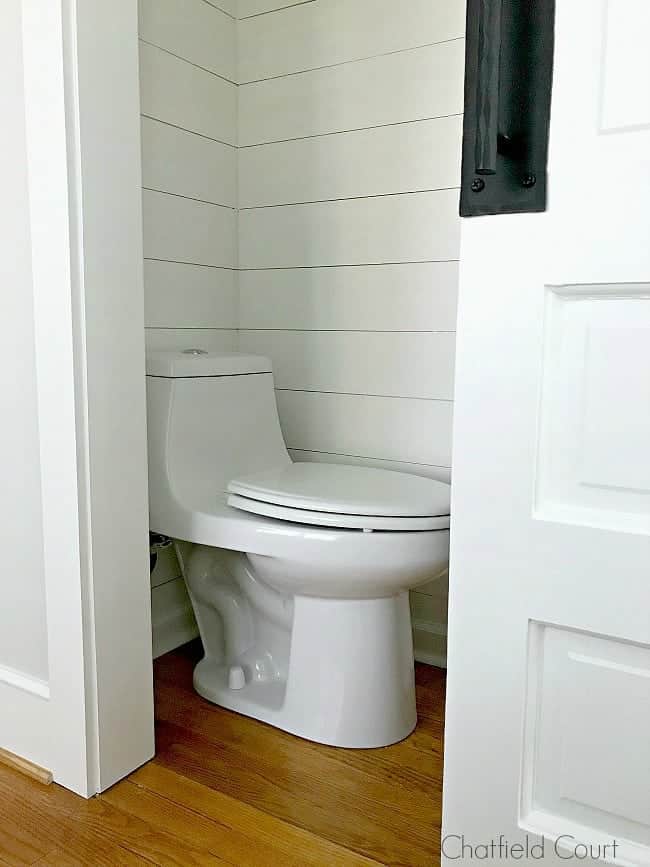 There isn't a whole lot of space but it's just enough….just.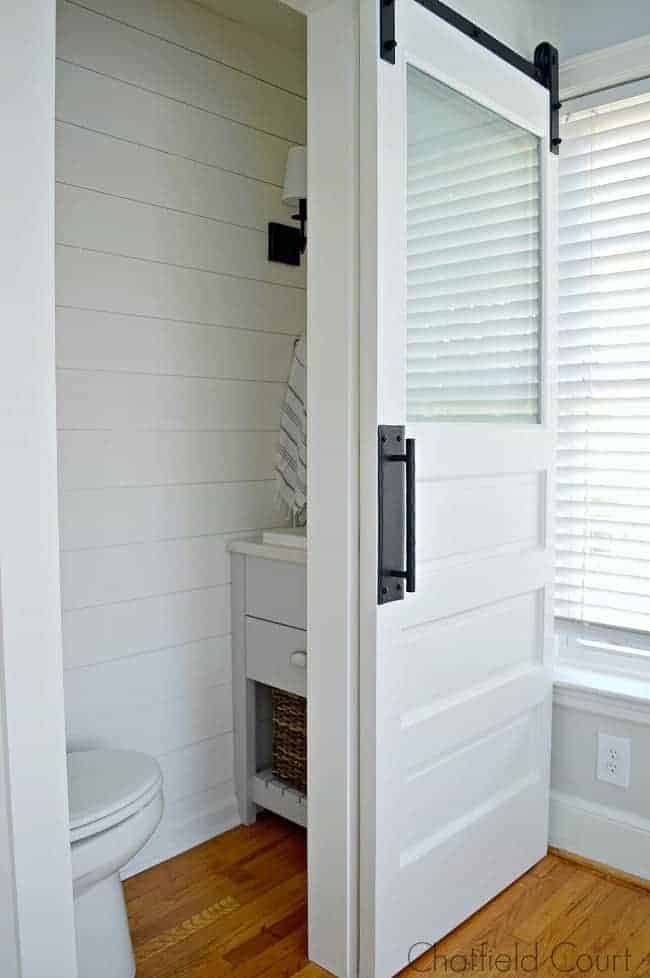 Our daughter came for a visit right after we completed it.
She gave it 2 thumb's up and said she had more than enough room. She still had to use our main bath to take a shower but that was it.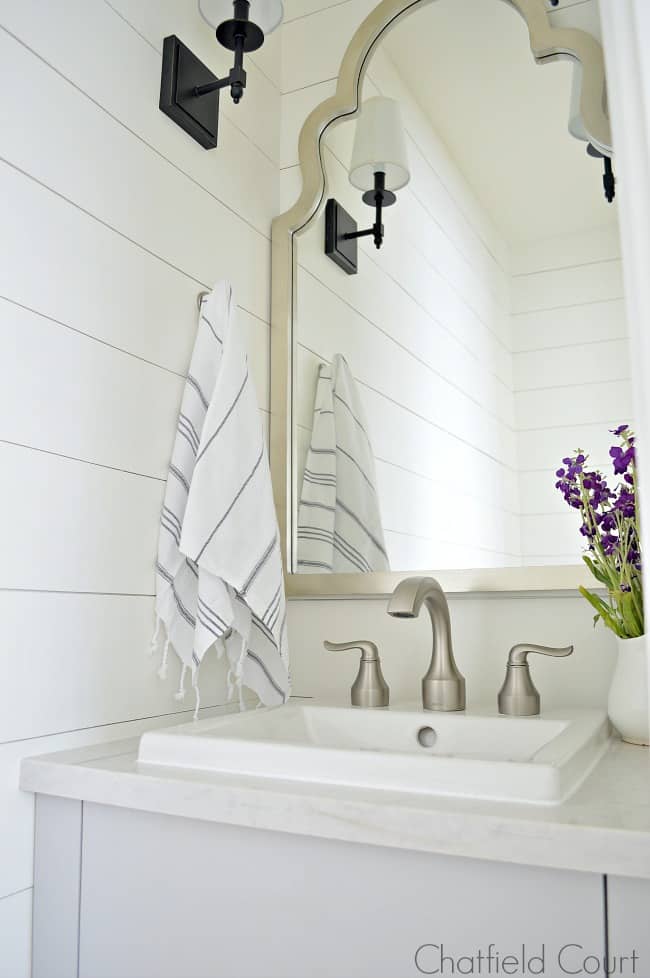 It feels like a real luxury having this extra space, even though it's narrow and small.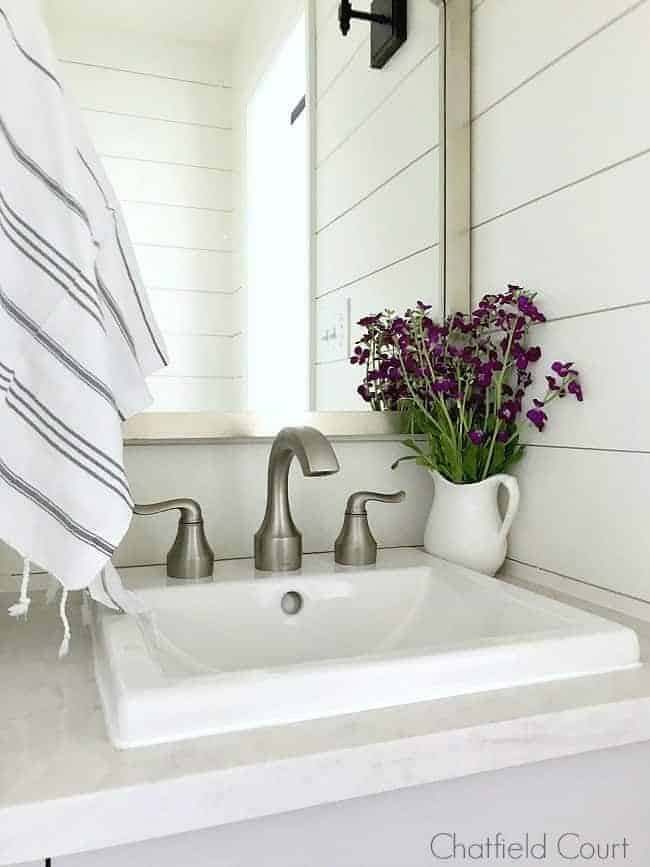 I'm really loving our brand new space but can we talk about our new powder room door?
I've been waiting 3 years to use this beautiful door. I'm so glad that I was able to use it here.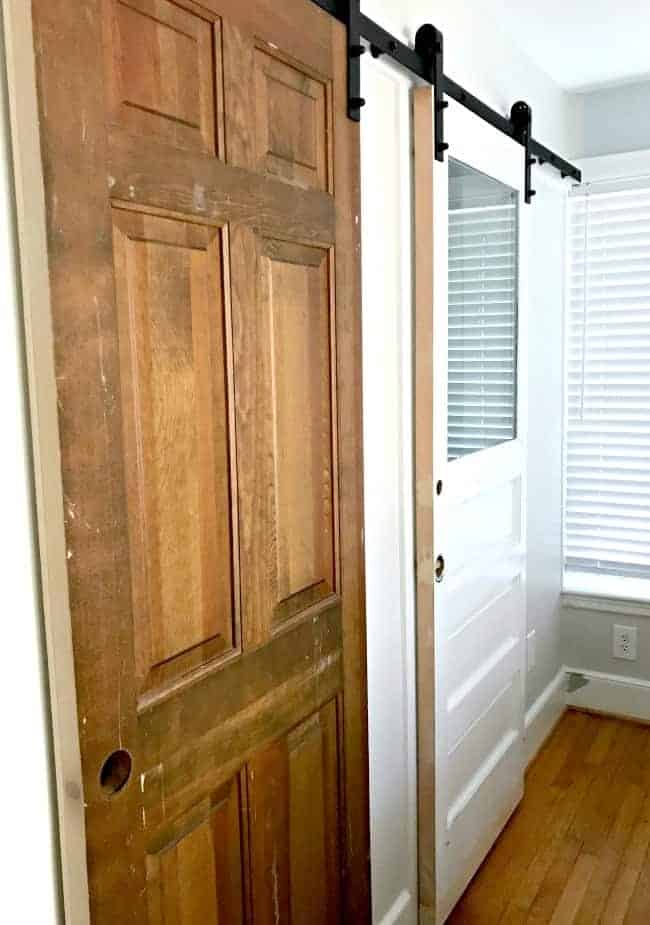 I found this door on it's way to the curb when Roger and I were taking a walk in our Illinois neighborhood. To say I was excited is an understatement, I may have even squealed.
After making sure that it was actually going out to the trash (it was), I ran home to get my car so we could haul it home.
Roger had the job of standing on the sidewalk, with his hand firmly grasping it, in case any door snatchers decided they wanted it.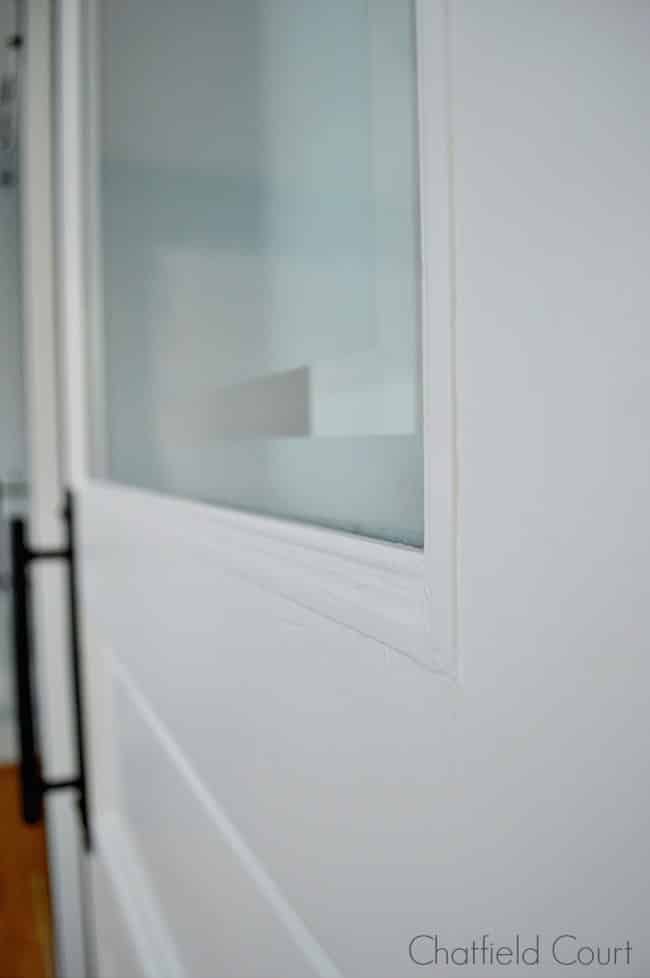 I'm happy to say that we got it home safely. It even made the trip to North Carolina, where it's been waiting for its reincarnation.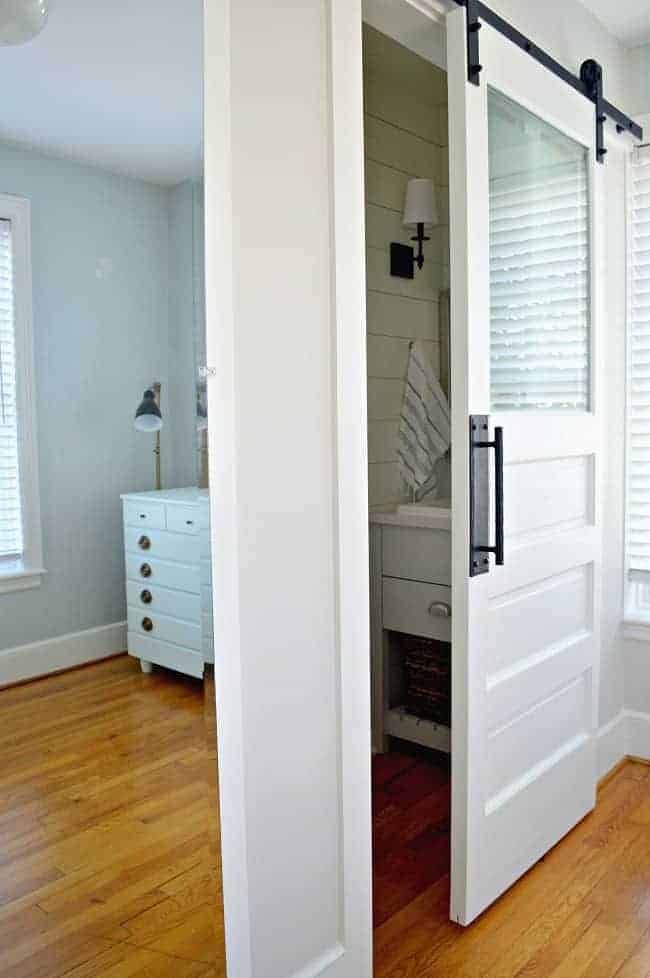 Let's talk about using a door with a window in it for a bathroom.
I really wanted to use a door that had a window in it so you didn't feel like you were in a small, dark box when the door was closed.
Roger made it a point to keep reminding me that a window wasn't a great idea when you need privacy.
Clearly, I didn't listen.
I thought it would be ok since this space is in a bedroom so it's a little more private. Plus there's no traffic walking by while you're using it.
To add a sense of more privacy, and to make him happy, I used frosted glass spray paint.
You can see the video I made when I was doing this project, here.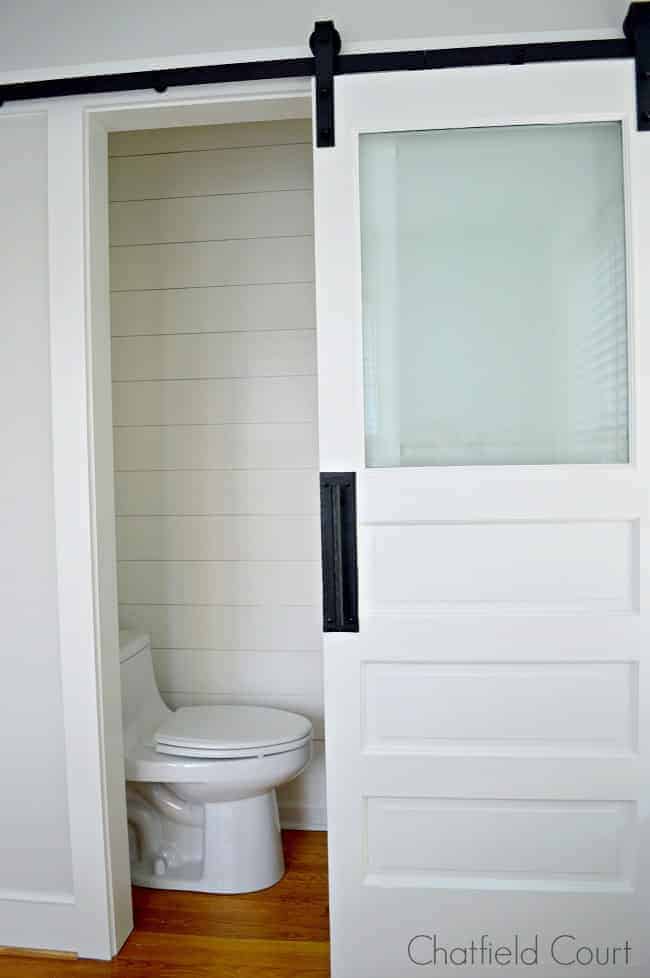 I think the door with a glass window was definitely the right call. I'm loving the way it turned out.
Thanks so much for coming along on this journey.
All the work we put into our new tiny powder room, and the bedroom closet, was well worth it.
I never expected it to look this good.
Now we are on to the rest of the guest bedroom makeover.