*As an Amazon Associate and member of other affiliate programs, I earn from qualifying purchases.
How to build a DIY bathroom vanity using a discarded piece of countertop to fit your space.
We're still knee deep in the new powder room project that we've been working on for the past several weeks.
I've already shared an update on the powder room construction, but today is all about our progress and a bit of pretty with a DIY bathroom vanity, new faucet, lighting and a mirror.
You'd think that a tiny space would be easy to transform but you would be wrong.
Nothing about this project has been easy.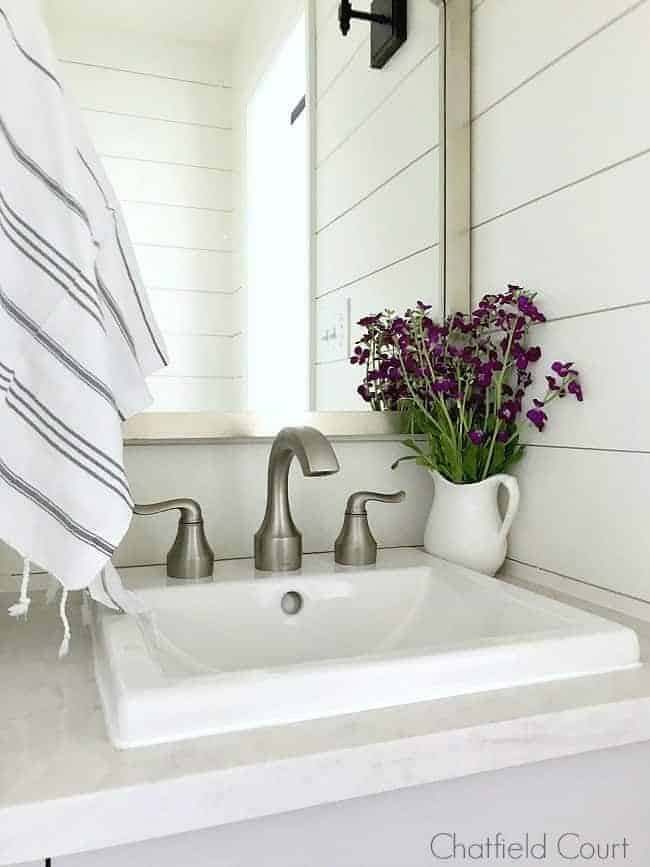 From the planning stages to where we are now it's been one problem after another.
Besides the obvious issue, trying to work in such a tight space, we had to deal with delivery delays and 2 broken sink deliveries.
Not what you want to see when you're ready to start building a vanity and you need a sink in order to do it.
Let's take a look back to where we started…a big closet with our seasonal clothes and a lot of shoe boxes.
A previous owner built this closet a few years ago so it's larger than your normal 1946 bedroom closet.
*This is a sponsored post written by me on behalf of Moen. All opinions are 100% my own.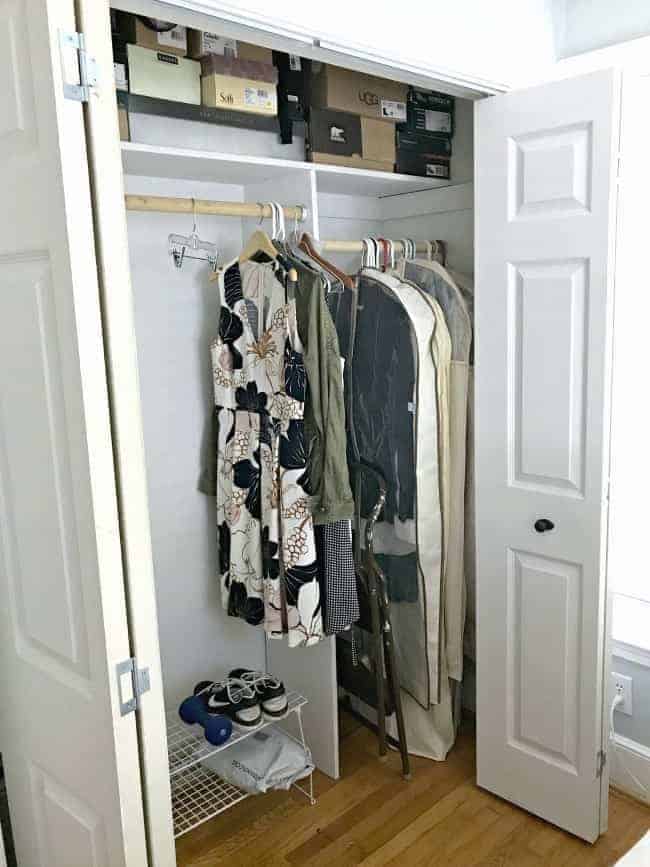 It definitely won't be a big bathroom but it will be functional, and that's all we need.
One side of the space will have a toilet and the opposite side will have a custom built DIY vanity with legs and a shelf.
Building a bathroom vanity
With the walls planked and painted and the electrical done, it was time to start the vanity side of the space.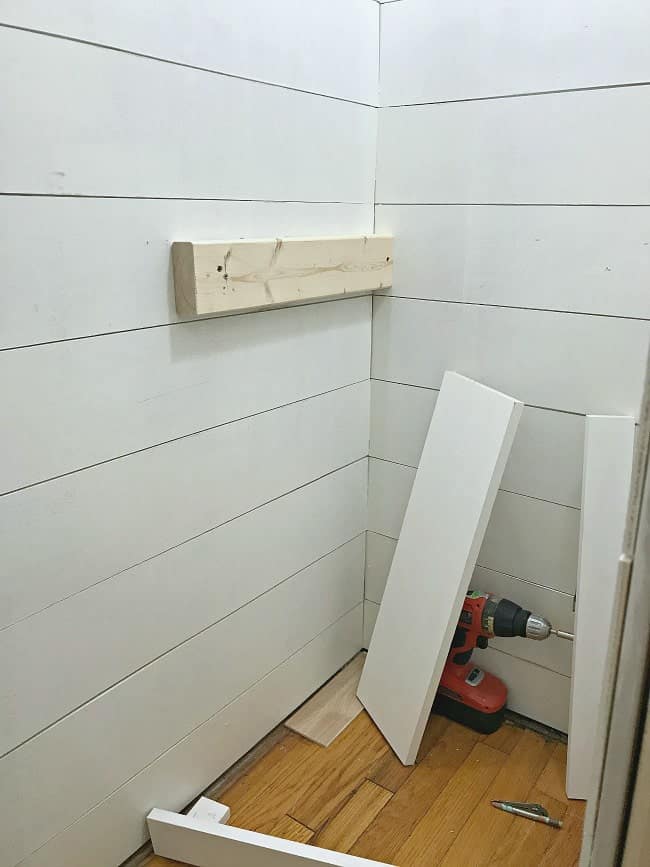 Like I said, this is a tiny space with walls that aren't square, so we knew early on in the planning stages that we would have to build a vanity.
I designed a simple piece with an open shelf and one drawer.
It doesn't look like much but it took quite a while to put together. Every piece had to be custom cut to fit the space.
We also made sure to hide any screws or staples that he used so there was no patching.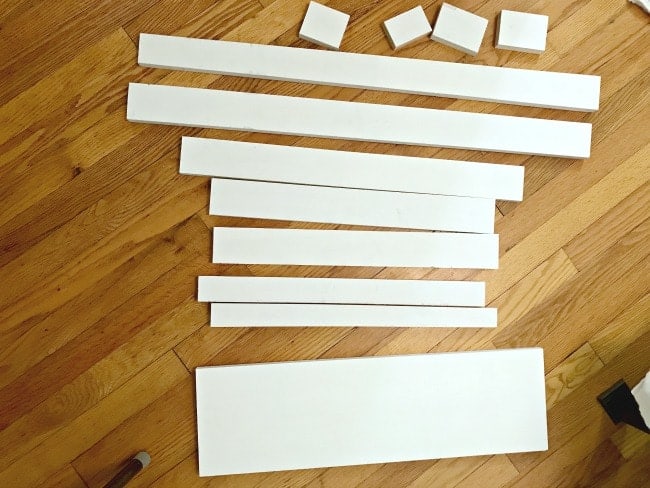 It won't have a lot of storage but we were able to add a small drawer.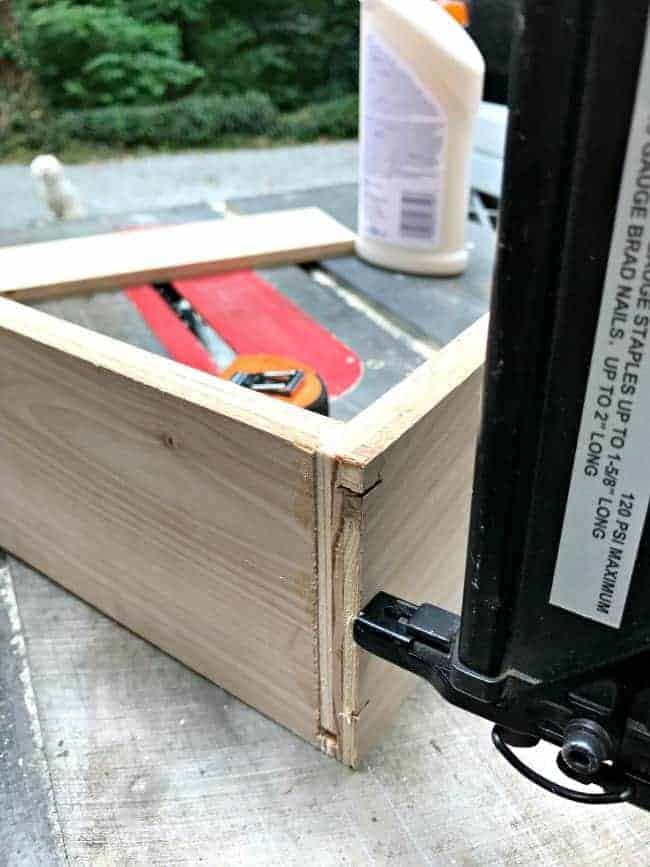 With all the white going on, I decided to go with a light gray for the vanity. It adds a bit of contrast and will go with the veining in the countertop.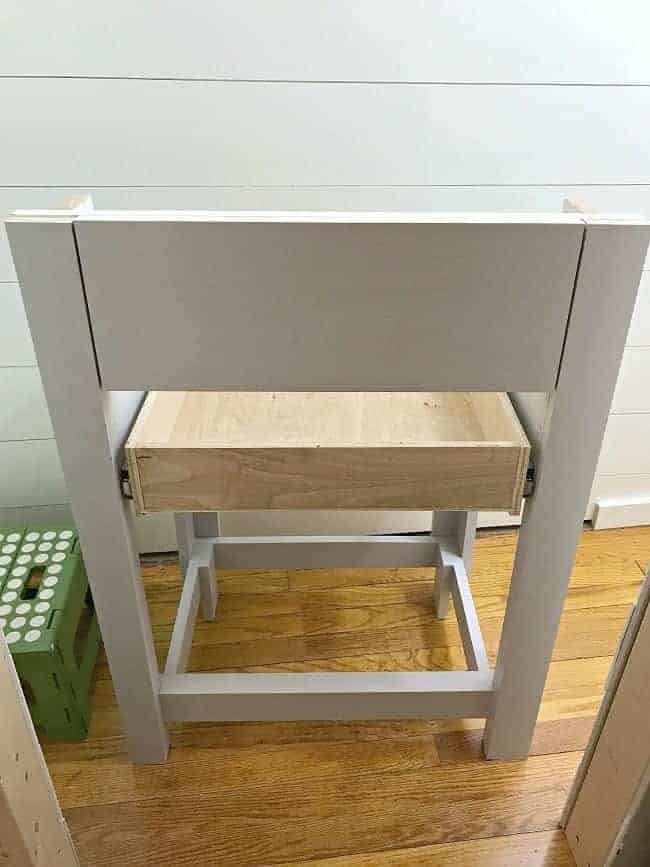 We chose to go with a drop in sink so the drawer sits a little lower.
The sink bowl will be behind the panel that's above the drawer, which is typical with vanity construction.
The basket on the shelf serves several purposes.
It will hold toilet paper, it adds some texture and warmth and hides the plumbing for the sink.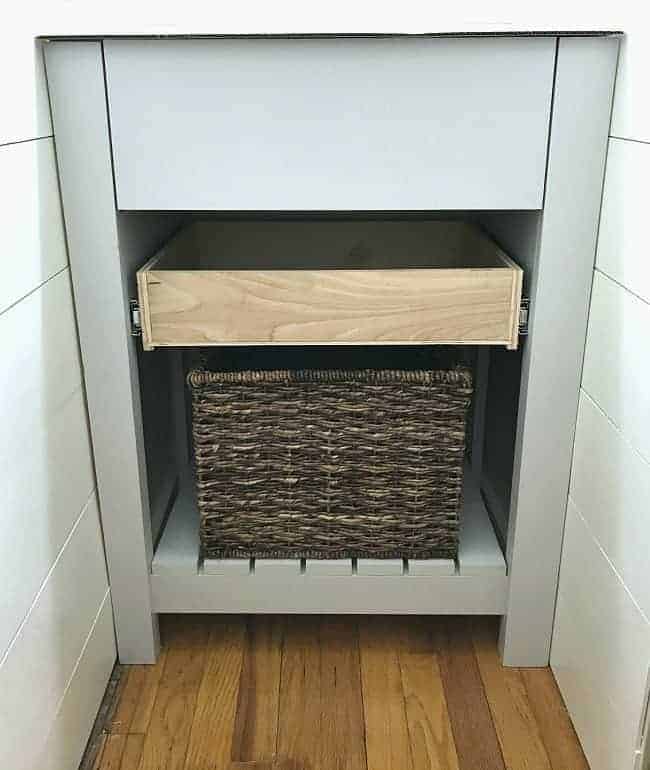 We were so happy to see the vanity in place. After the countertop and sink are installed, we'll put the front on the drawer and it will be complete.
Bathroom sink and countertop
Speaking of the sink and countertop…
As luck would have it, we were able to score a nice piece of Silestone from a neighbor (for free!) to make the countertop.
I love it when we can repurpose something that was destined for the dump!
We were a bit nervous about cutting it but it was really not that difficult. Messy for sure, but not difficult.
Isn't it pretty? It looks just like marble.
Once the repurposed DIY countertop was on, we could add the sink and get it ready for plumbing.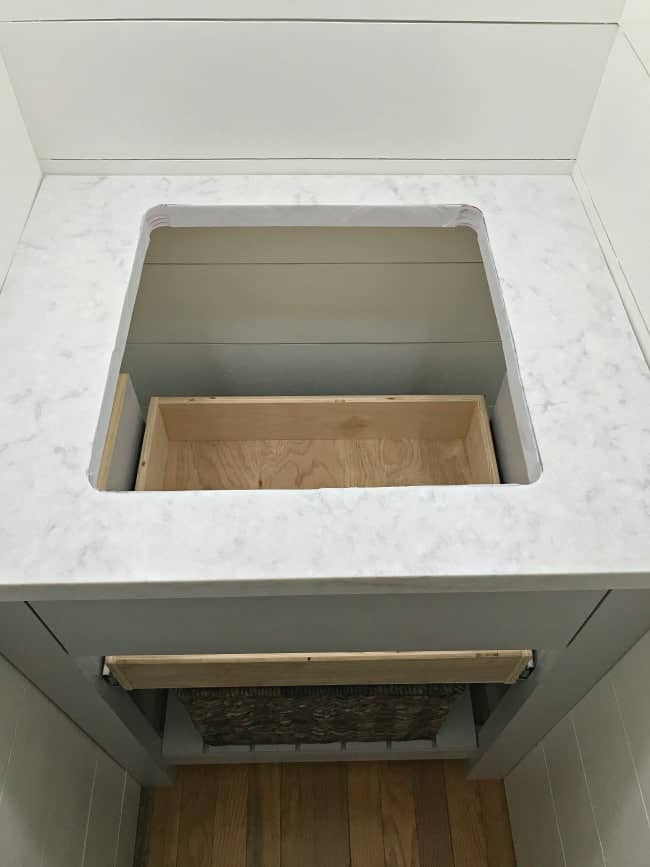 Before the plumbing though, we added the pretty pieces to the space.
A bathroom mirror and lighting
It took me three tries to get the perfect mirror. The first one was too small and the second was was good, but broken.
The third time was the charm – and it's the perfect piece.
The lighting was a little tricky. We talked about hanging a fixture over the mirror but that wall had a beam running right where the fixture needed to go.
Not impossible, but a lot more work.
This solution worked out well. The only issue was that I had to find sconces with a shorter profile.
I'm happy to say that my first choice was the winner, and they weren't broken. Yay!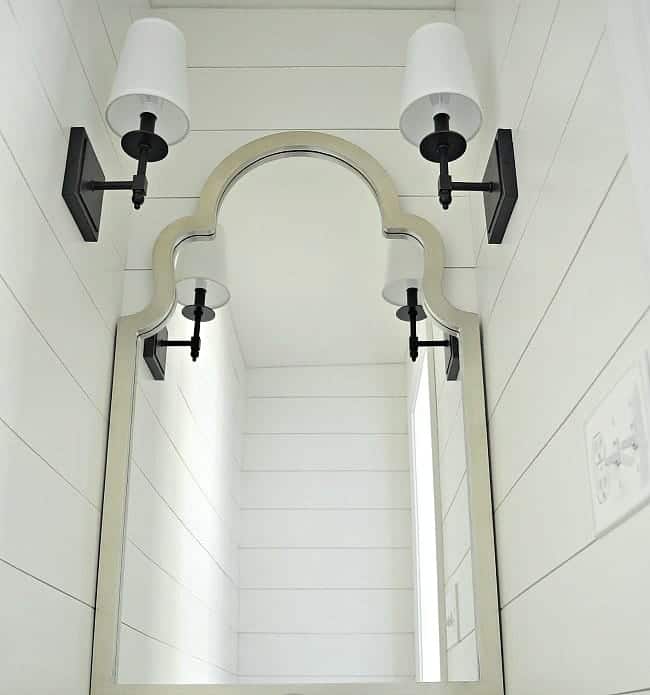 A new bathroom faucet
The last, and easiest, installation was the new faucet. I love this simple and sleek new faucet from Moen. It's the perfect touch for the new vanity.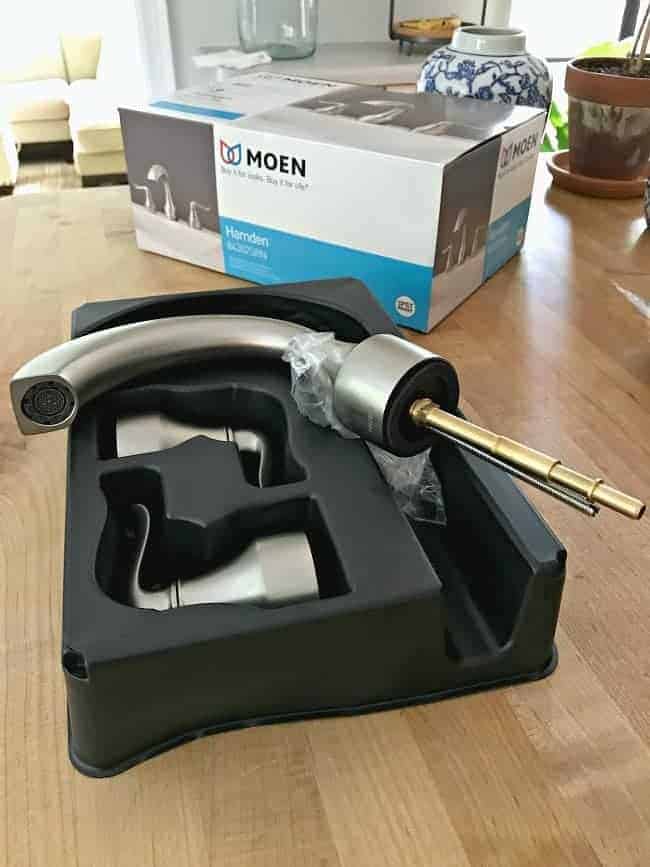 Love the curve of the handles!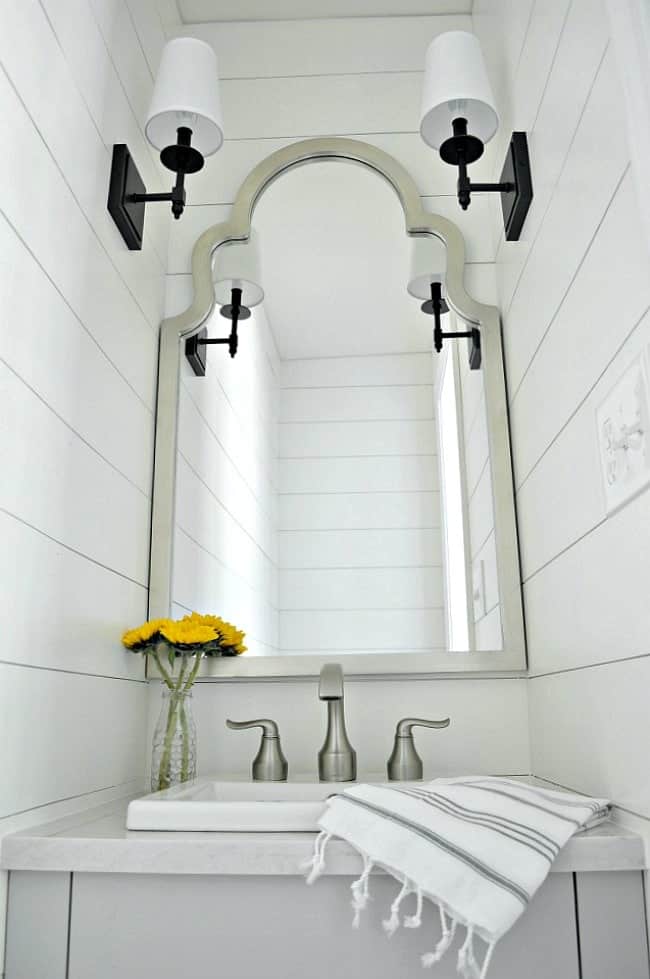 There's still a lot of work to do before we can call the powder room done, but one side is almost complete.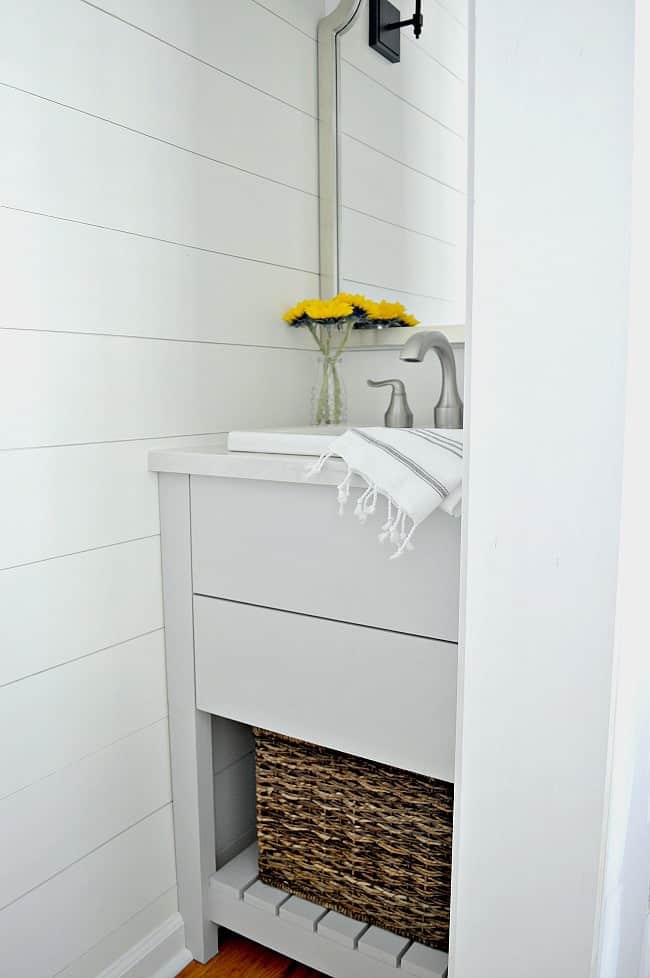 It took a while but we finally finished our tiny powder room. Check it all out here…
We've also started the guest bedroom closet if you want to check it out.
WANT TO SEE MORE DIY FURNITURE PROJECTS? CHECK THEM OUT!