Disclosure: As an Amazon Associate and member of other affiliate programs, I earn from qualifying purchases.
Adding a new addition to our stone cottage...a small powder room in a guest bedroom.
When I was growing up, my family and I lived in a tiny town and a small house that only had 1 bathroom (with no shower). After we moved into our big (to us) house with 2 ½ bathrooms (and a shower), I never wanted to go back. I learned at the ripe age of 13 that you don't really realize what you're missing until you have it.
I've lived in 10 different homes since that "big house", and most of them had 2 bathrooms. The home we're in now, our little stone cottage, is not on the 2 bathroom list. We only have one (small) bathroom and no room for another.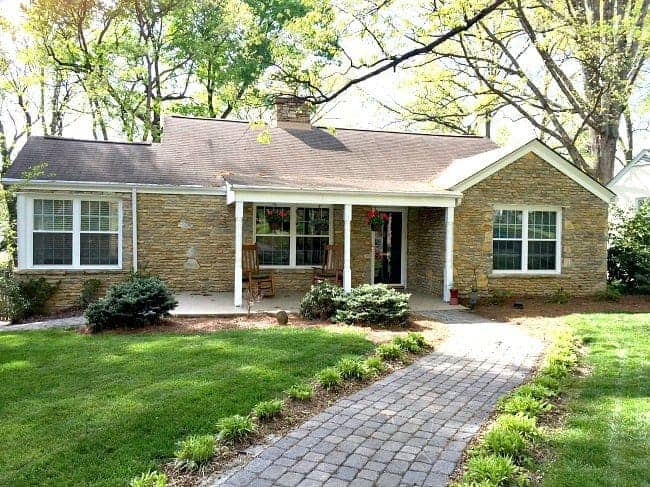 *As an Amazon Associate and member of other affiliate programs, I earn from qualifying purchases.
---
Or so we thought.
We've been talking about adding a 2nd bathroom since the first day we looked at this house with our realtor. Once we moved in, we went from room to room looking for extra square footage to add that precious 2nd bath. It didn't have to be fancy, or big. Just enough space for a toilet and sink.
After a lot of thought we finally found some extra room for a small powder room. It's tiny, to be sure, but it will house a toilet and a sink, which is all we really need. A big plus is that it's right next to our existing bathroom, which means the plumbing will be easier to do.
So where did we get this extra space?
We found it in one of the guest bedroom closets. There are only 3 closets in the whole house so it was a difficult decision to get rid of one. Once we started measuring and planning though, we found a way to make a smaller closet next to the powder room, that was dead space anyway.
There was a lot of planning, measuring and debating going on about this tiny space but I think that it'll all work out. The room isn't completely done yet, but I thought I'd share what we've done so far and ideas on how we'll finish it.
Here's where we started. We're pretty sure that this closet was added to the bedroom by a previous owner. It's pretty evident by the look of the doors and the sheetrock they used to build the outer wall.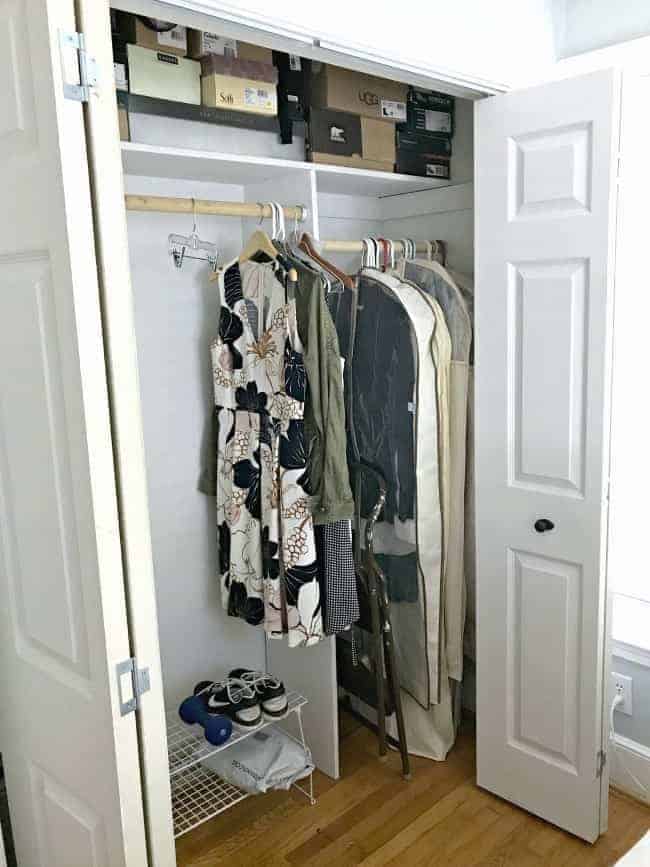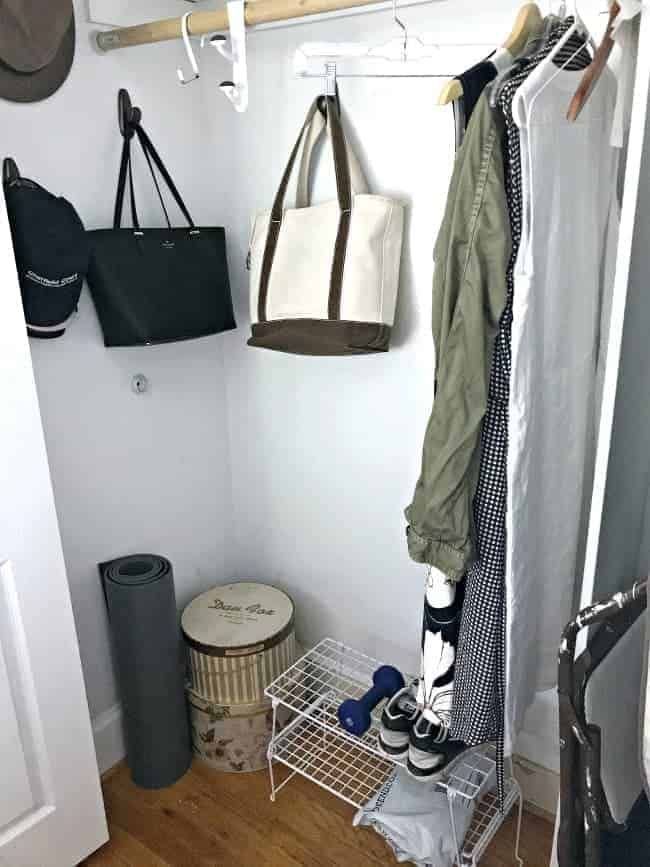 We removed the shoes and clothes and began demo. The shelves and rods came out as well as all the molding and the sliding doors.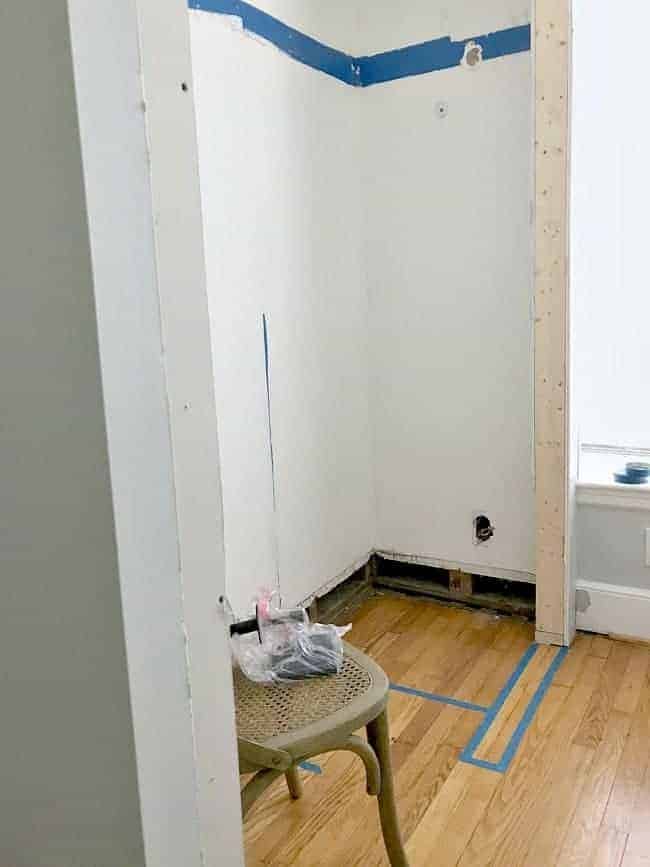 A lot of measuring and planning went into this tiny space. Everything has to fit just so and, of course, nothing is square.
Once we had a plan and a list, it was time to shop for supplies. We purchased the lumber and building materials at Home Depot, but the sink, mirror and lighting were all bought online.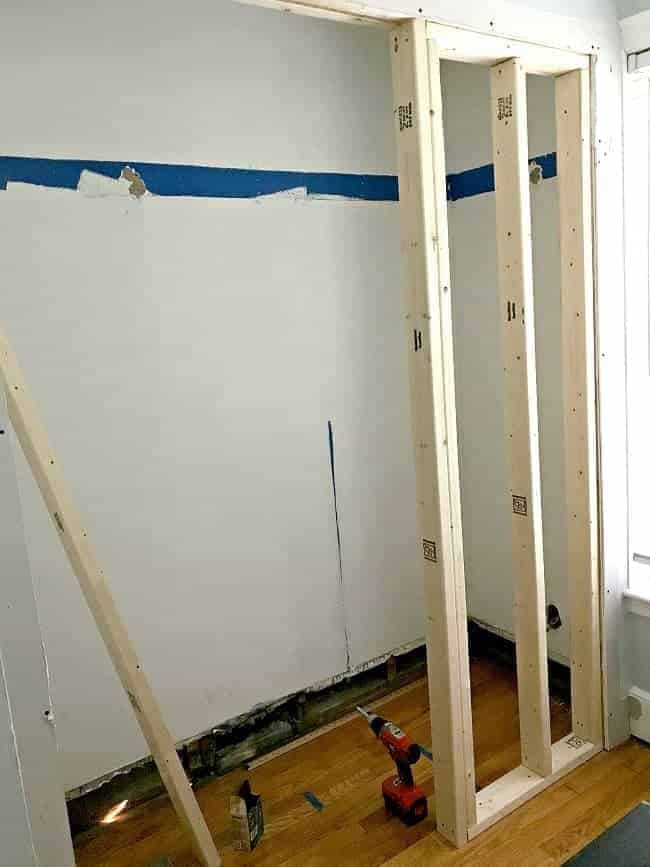 The first thing we had to do was frame the walls and place the electrical boxes. The plan was to add two sconces, one outlet and 2 light switches.
Next we hung the sheetrock on the newly framed walls.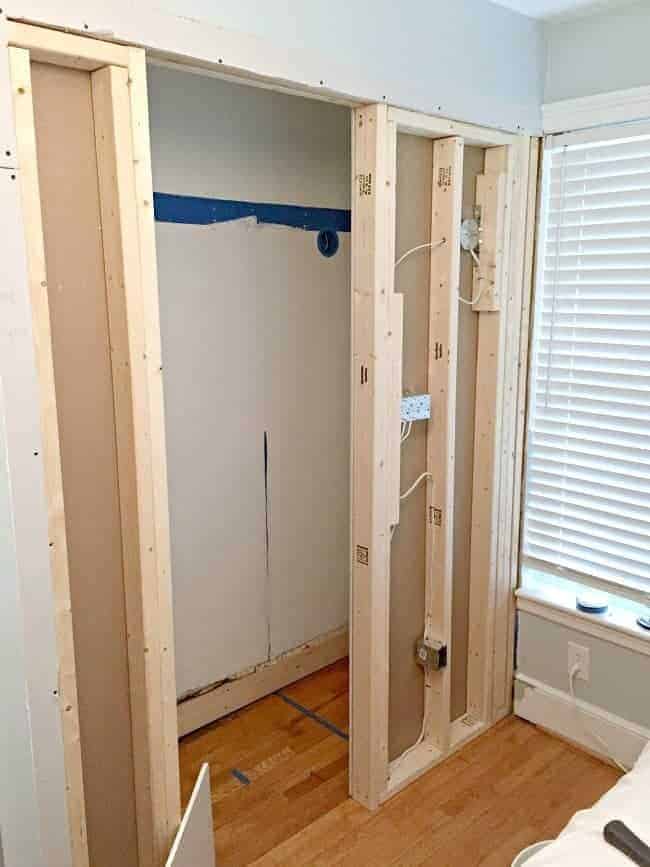 We debated between paint and wallpaper but the original plaster was in pretty rough shape. Once we saw the condition of the plaster, we changed our plans and made the decision to plank the walls.
Even though it's a small room, it took a lot of planks (we used 4 sheets of plywood). We cut the sheets into planks, sanded and painted the edges.
The easy way (or is it the lazy way?). 😉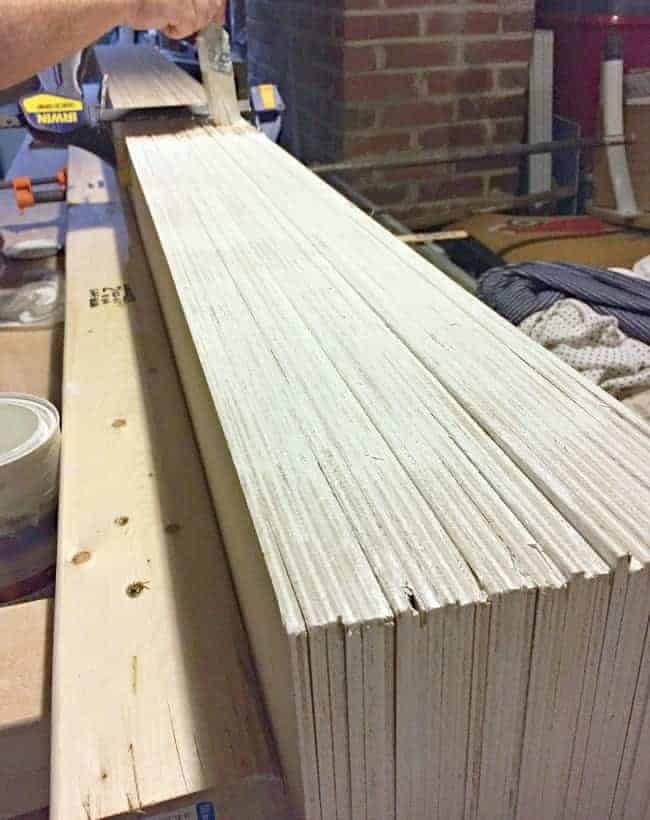 I wanted to have spaces between each plank, and didn't want to see the blue paint showing through, so we threw a quick coat of paint up before we installed the planks.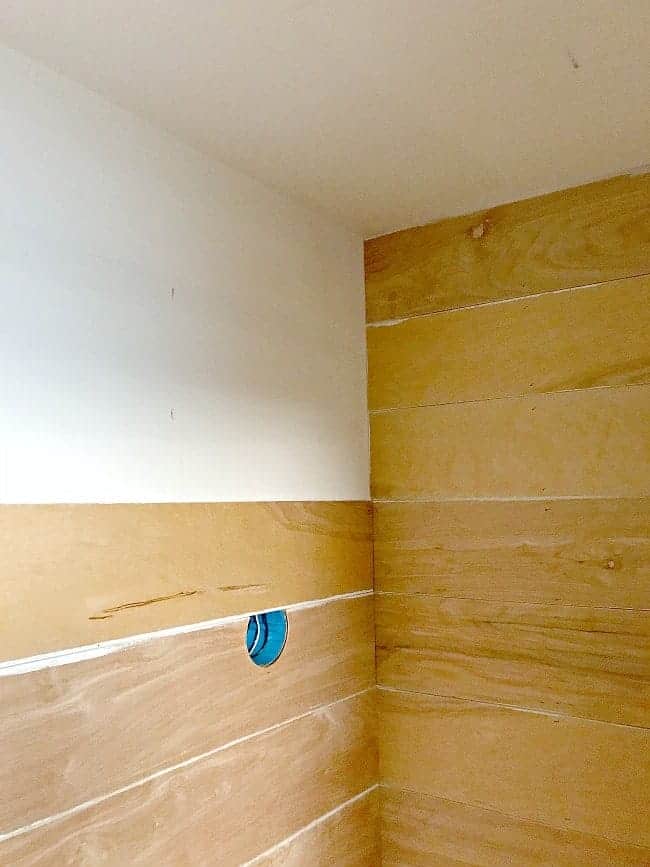 Once the planks were up, I got busy patching and sanding the holes (all 50,000 of them).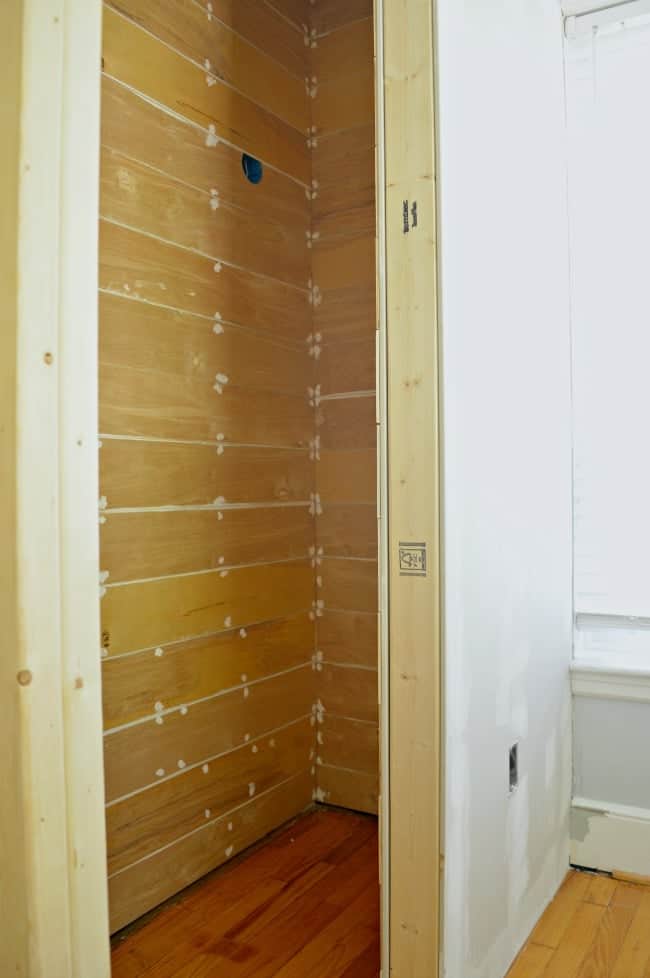 Next it was time for paint. I went with Benjamin Moore Advance in White Dove to help the space feel bigger and brighter.
We used this same paint color on our kitchen cabinets in our Illinois house so I knew I would love it in here.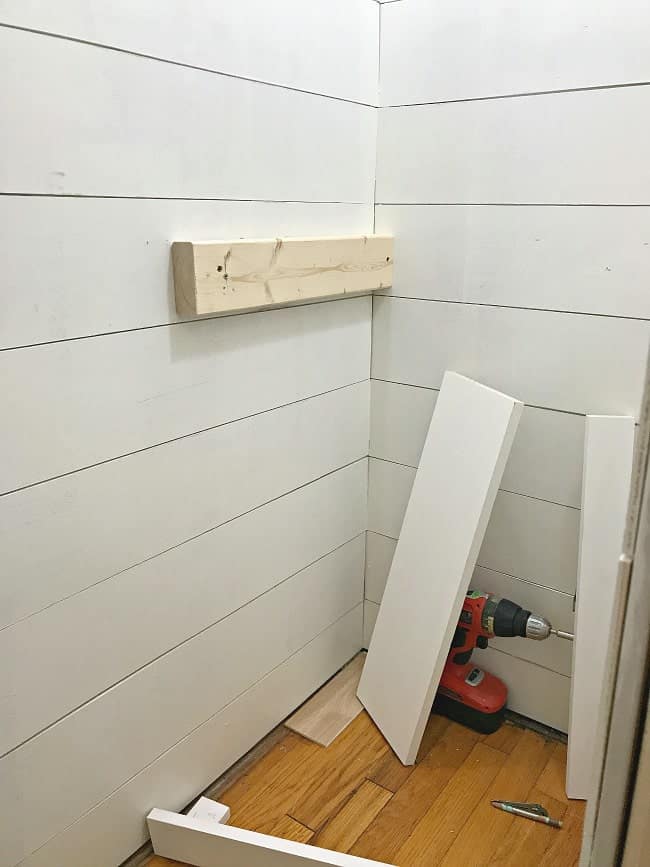 The space is looking great and nothing like the closet it once was. I still have to caulk the ceiling and corners and we need to add molding. The next big project though, is the custom vanity that we'll build for our new space.
This project is coming along quickly and I want to keep you up to date, so I'll share more next week. It's all about adding some pretty touches!
---
Our closet turned powder room turned out better than we had hoped. Check out the whole small powder room reveal.