Painting Cherry Cabinets White
*As an Amazon Associate and member of other affiliate programs, I earn from qualifying purchases.
Painting cherry cabinets white, plus tips for cleaning, sanding and priming to make this project easier.
Last time I shared the first pics of my painted kitchen cabinets on the stove wall. It took me a long time to get them from dark cherry wood cabinets to the creamy white they are today. I've learned a few things along the way so I thought I'd share them with you.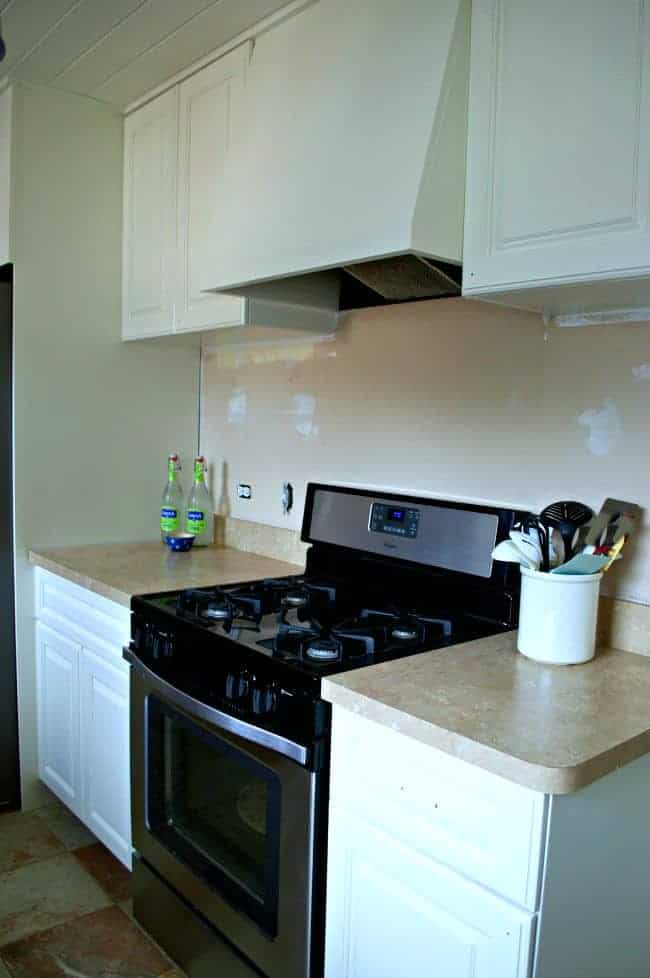 I painted my builder grade bathroom vanity 2 years ago but I've never painted kitchen cabinets before.
Let me tell you, it was one tough job.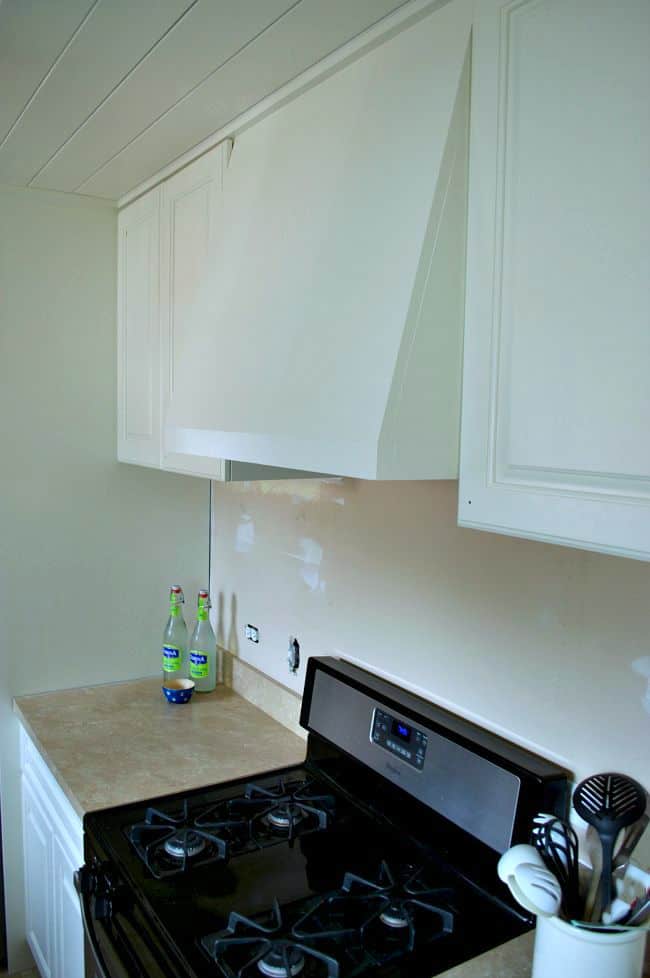 Can You Paint Cherry Cabinets?
This is a question I get a lot and the simple answer is…of course!
To get a good outcome though, you need to do the prep work before you begin to paint.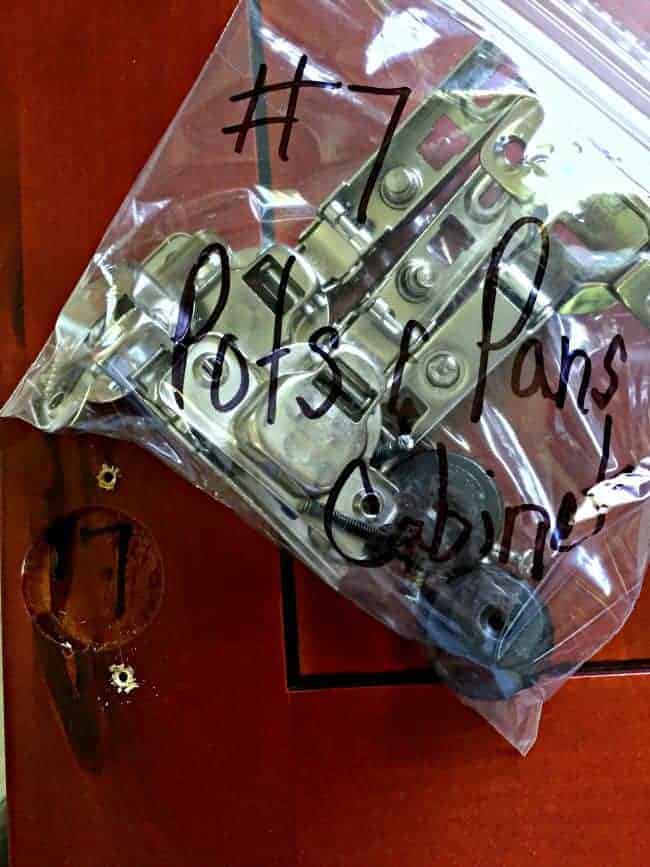 Prepping Cherry Cabinets for Paint
The first thing I did was to remove the kitchen cabinet doors and drawers on the stove wall. As I removed each door, I took it into the basement and removed the hardware and hinges.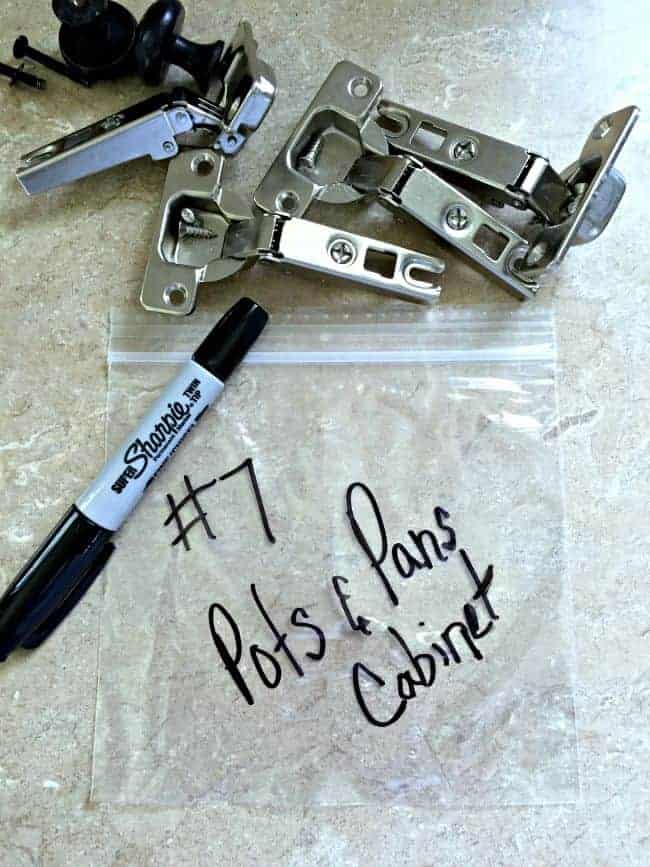 I put that one door's hardware in a labeled sandwich bag (with a location and number) and zipped it up. That same number was also put in the hinge holes of the door, because they would not be painted.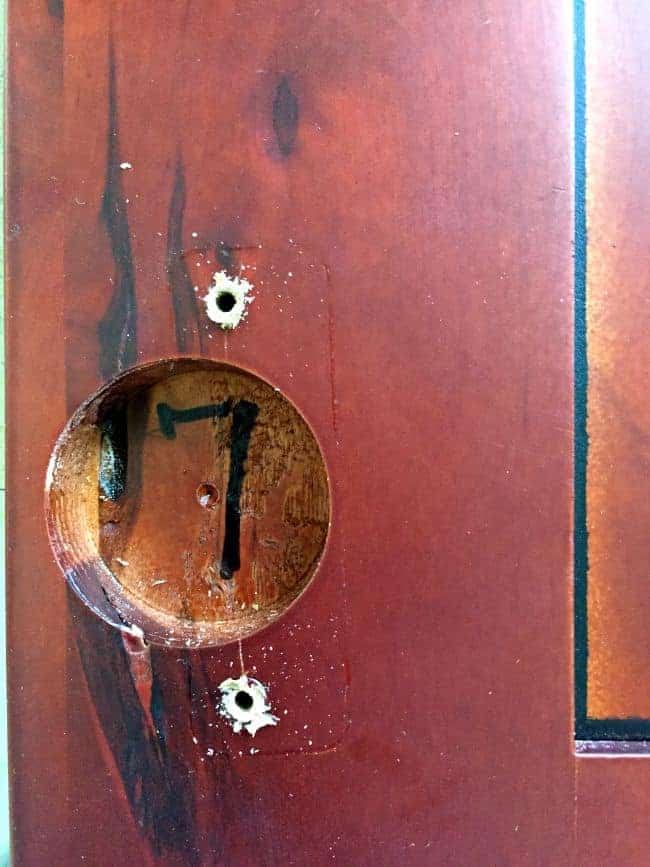 Once all of my doors were removed and numbered, I used a high grit sandpaper and sanded the front and back of each. Then I used a mixture of TSP and warm water to thoroughly wipe down the door.
Doing this helped to remove the dust from sanding and grease from cooking.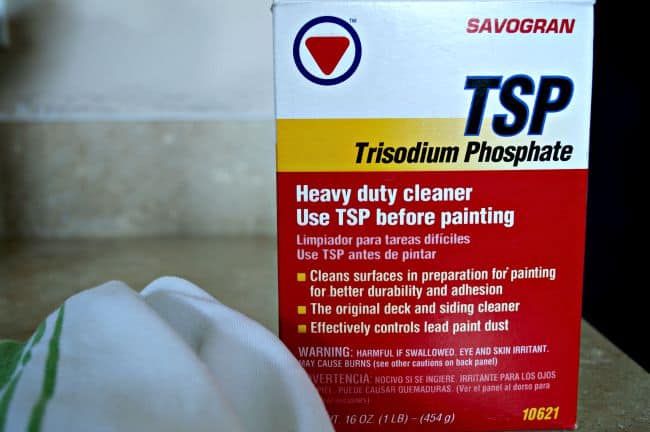 Painting Kitchen Cabinets and Doors
Once dry, I primed one side and let dry.
Then I lightly sanded, wiped it down to remove the dust, and applied one coat of paint. My paint of choice for a job as big as this is Benjamin Moore White Dove, Satin finish.
In the end, each side of the cabinet door received 1 coat of primer, 3 coats of paint, and lots of sanding in between.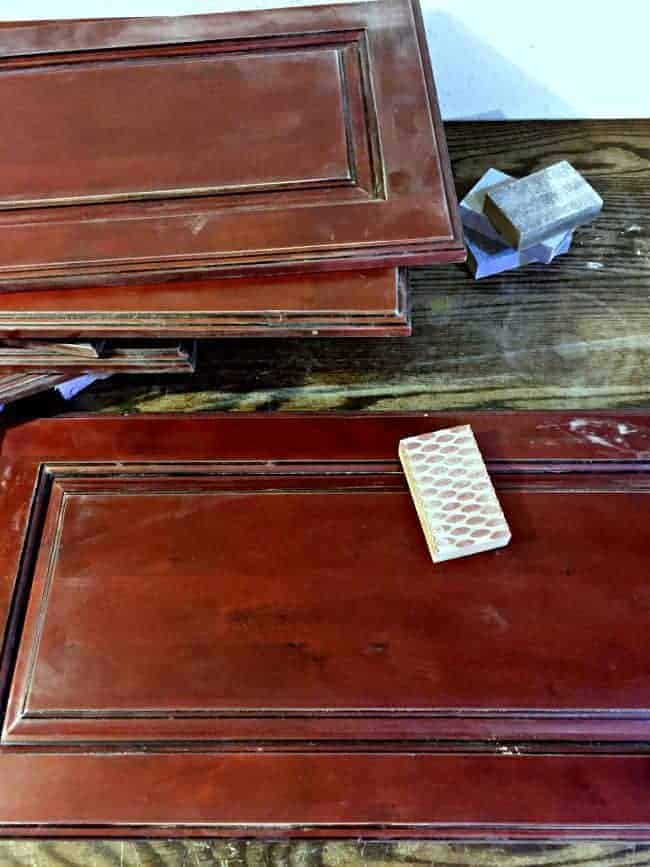 A quick note about primer. I've used this paint before so I knew that it took several coats to cover well. Hoping to cut out at least one extra coat, I had my primer tinted in the same color as my paint. It doesn't cost extra and I didn't have to worry about covering up a bright white color.
Some online tutorials state that you don't need to sand between coats, but I'm not taking any chances. I'd rather do the job right the first time so I don't have to redo it in a year. Hopefully my diligence pays off and, if it doesn't, you'll be the first to know.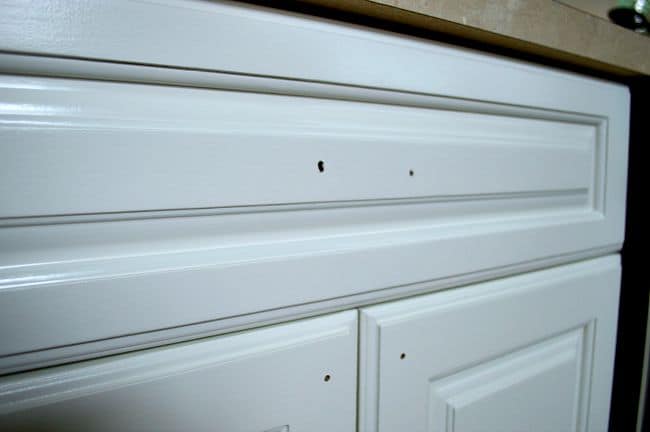 I didn't use any special painting techniques, just a brush to paint the inset panels, working carefully to not spread my paint too thin but not letting it puddle.
Then I used a small roller to cover everything else. I let that dry for at least 24 hours (usually longer) and then I would lightly sand, wipe away the dust and paint again…X3.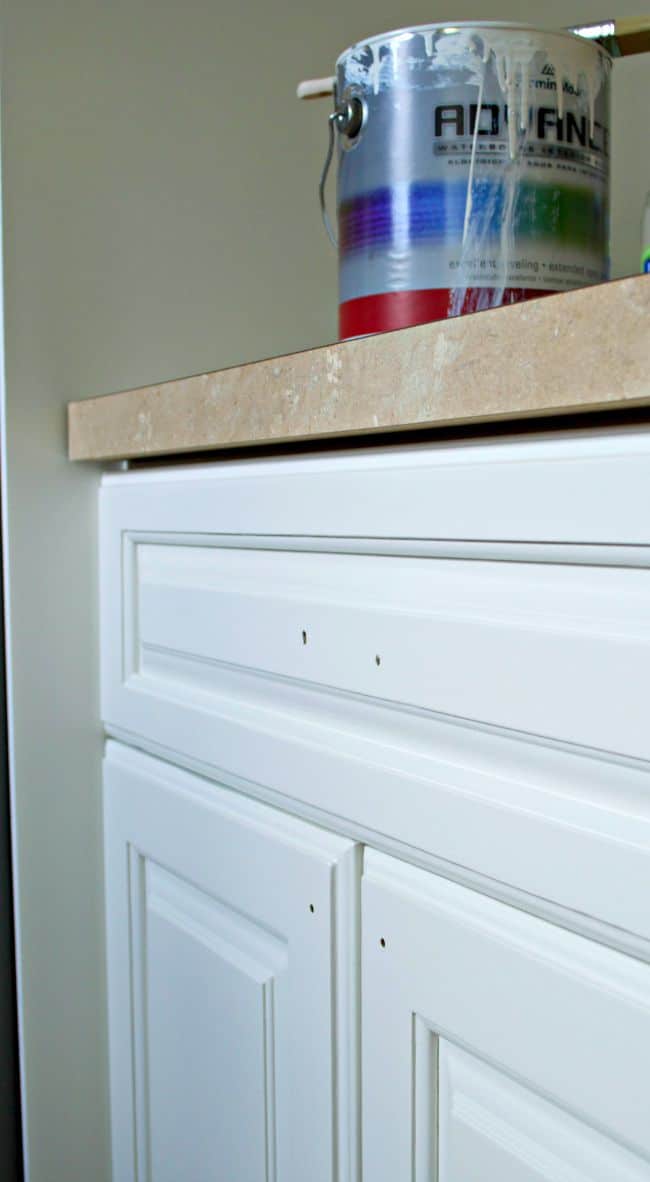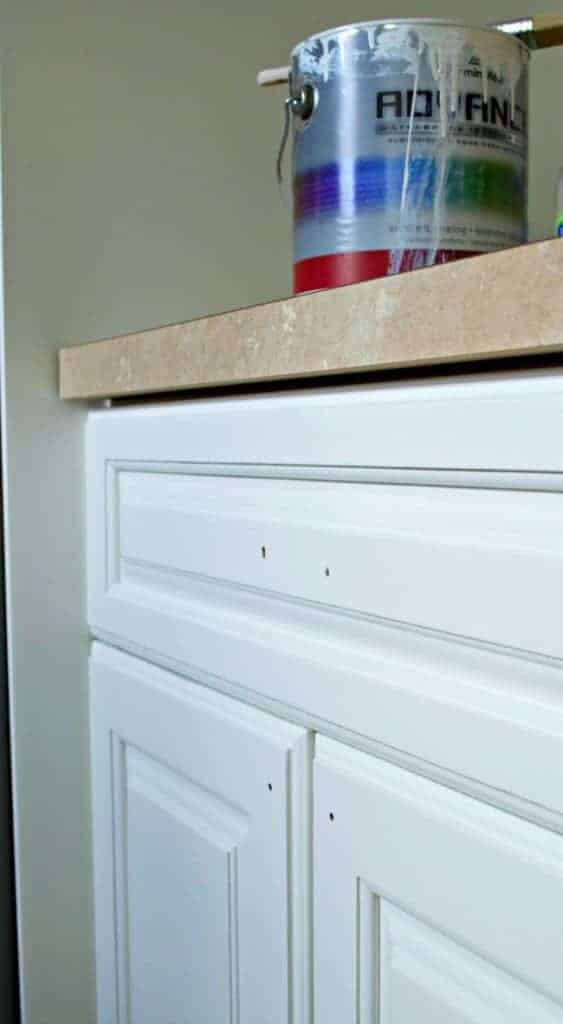 Painting the kitchen cabinets was a much easier task.
I followed the same steps with sanding, cleaning, priming, sanding and painting. I did have to add a step of filling staple holes with wood putty and sanding once dry, something that I didn't have to do with the doors and drawers.
Have I told you how much I love to sand (she says as she rolls her eyes)?
The results were a beautiful and smooth finish. I believe that the paint, as well as the prep, is the real reason why it turned out so well. It bills itself as a paint that "offers the application and performance of oil based paint", but cleans up with soap and water. It does take a little longer to dry and cure, but the finish is beautiful.
BTW, this is not a sponsored post. I paid for my own paint, which is a bit pricey, but I love the finish and durability I get with it. I've used it on all of my trim and doors, as well as my bathroom vanity, so I know it really holds up.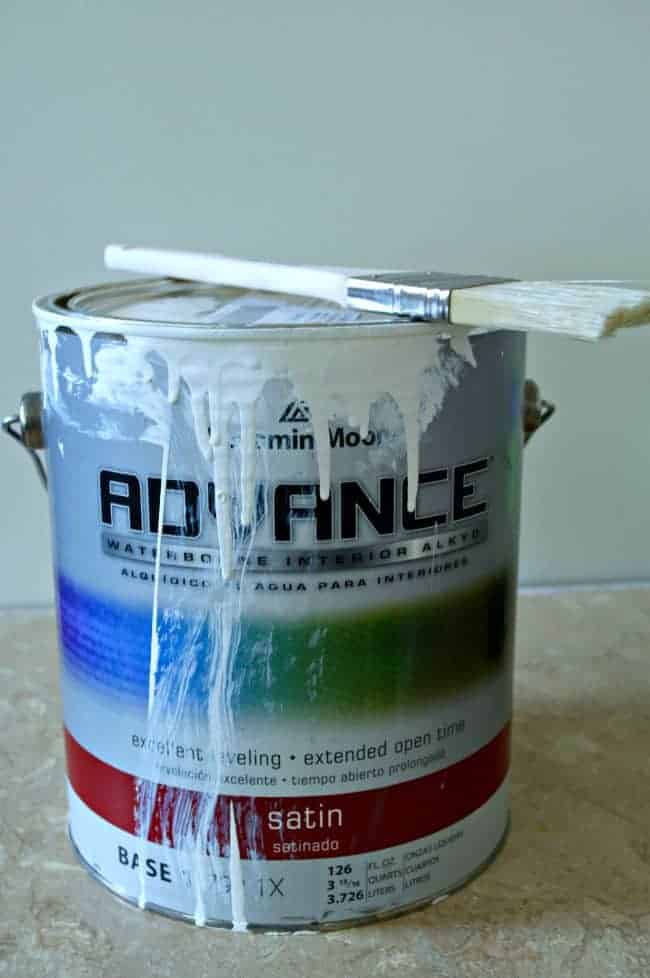 I also used these techniques when I painted the new DIY refrigerator cabinet that we built, to tame our ginormous fridge. It turned out even better than I thought.
Have you ever painted your cherry wood cabinets white? Any tips you care to share?