Disclosure: As an Amazon Associate and member of other affiliate programs, I earn from qualifying purchases.
Painted kitchen cabinets in a small galley kitchen.
Let's talk about our newly painted kitchen cabinets. Before we get to the new look though, we need to look at where we started.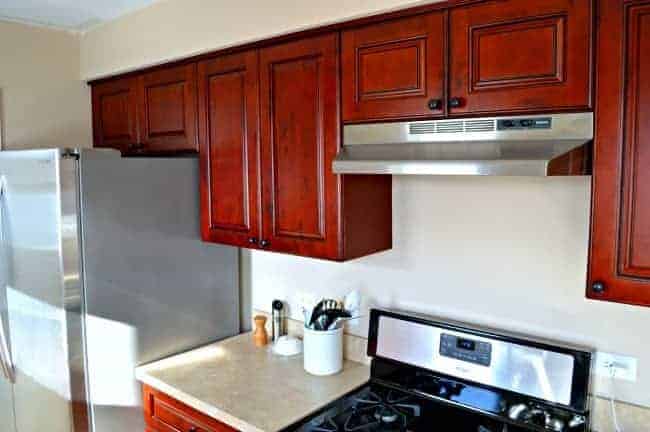 We had red wood cabinets that were in great shape but the color was not my style. We also had some fit problems with the cabinets, because of the too short soffits.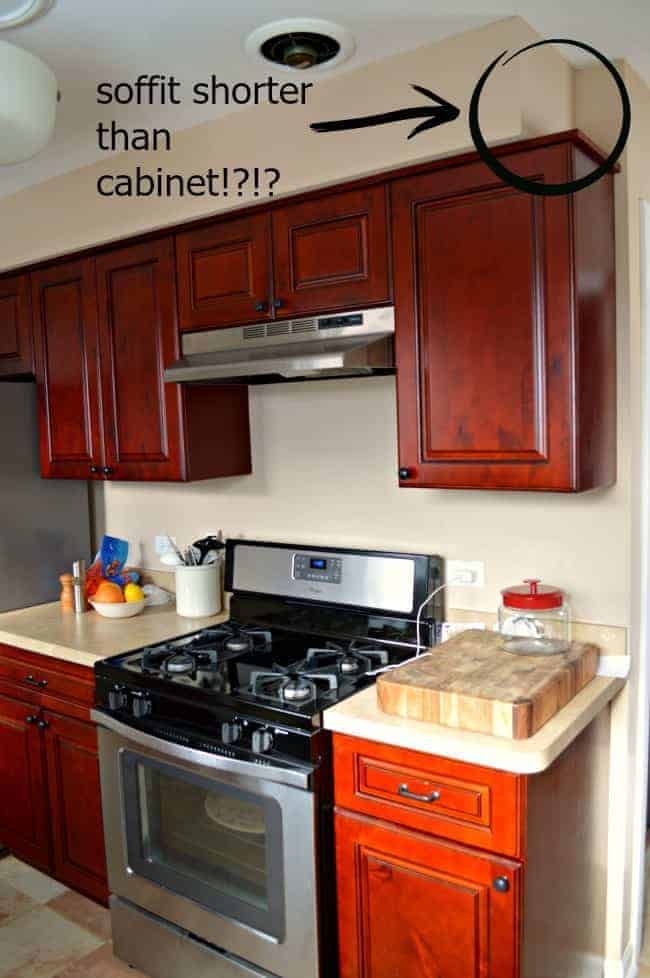 The first thing we did was to remove the soffit. Then we took down the upper cabinets and stove hood, and added tongue and groove to the ceiling. Next we put the cabinets back up, built a stove hood and painted all of the doors, drawers and cabinets. We also built a custom DIY refrigerator cabinet using $1 cabinet door finds from ReStore.
Phew...it's been a lot of work, but seeing the completed doors go up yesterday made it all worth it.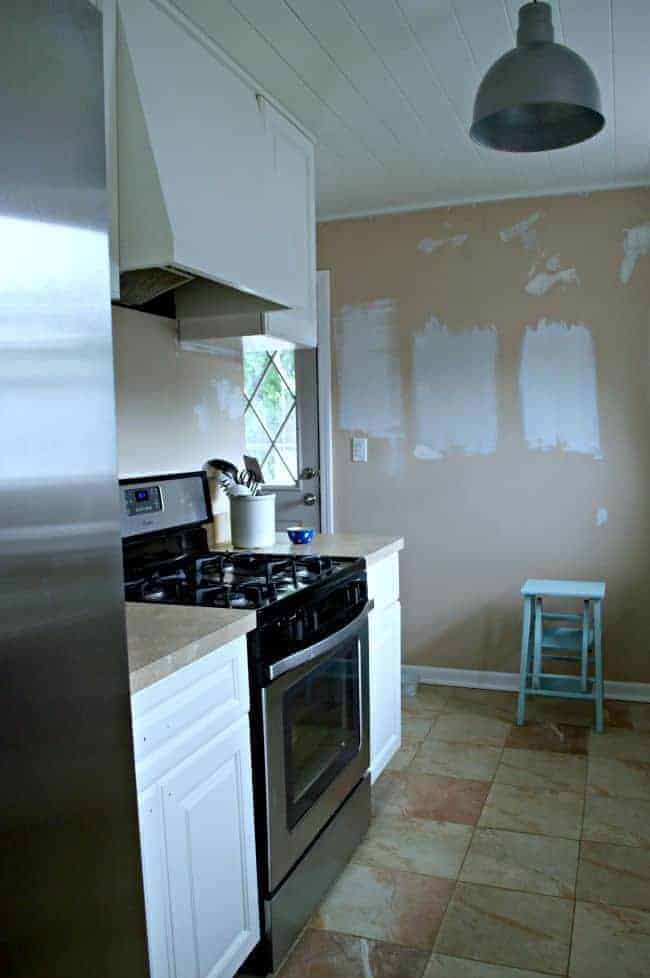 So, just a little disclaimer here. We have a small, galley kitchen, like really small, and taking pictures is not easy in tight quarters. We also built, and installed, a new cabinet on an empty wall so my vantage point for taking some of these photos had to change.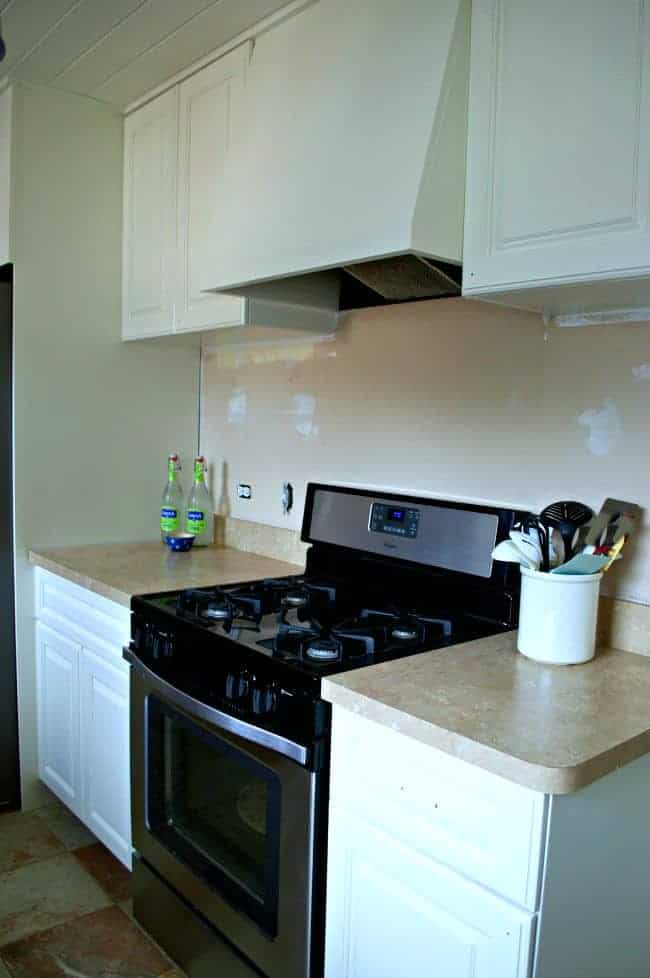 Besides the beautiful new white cabinets, we also have missing cabinet hardware and paint swatches on the wall. Not to mention the unfinished stove hood and unfinished backsplash.
They're all on the long list but today we focus on the beauty of the kitchen cabinets.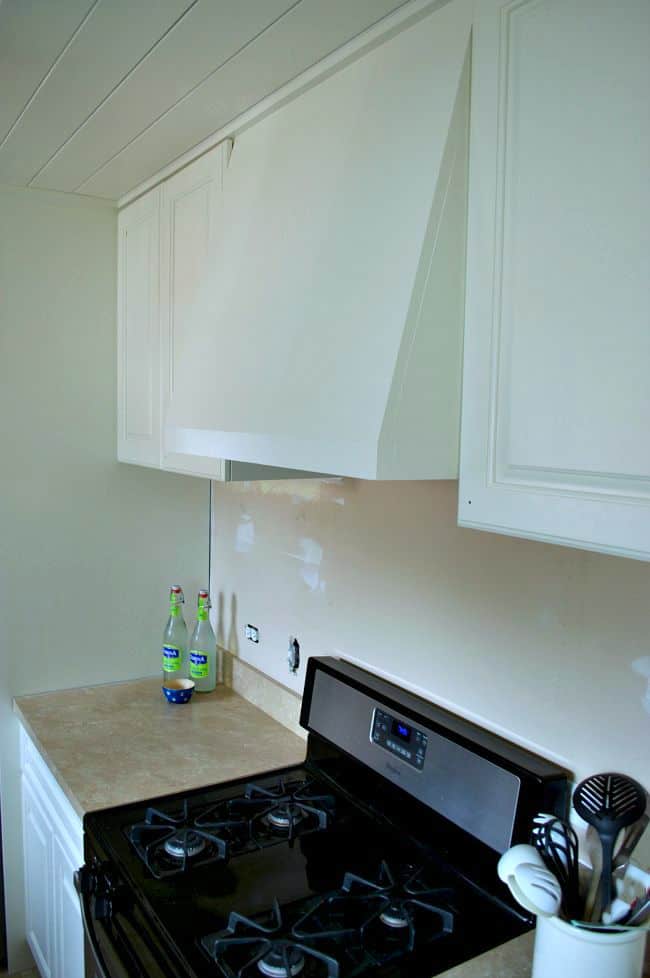 One more thing we did, which is a bit unusual, was to take our cabinets all the way up to the ceiling. We have regular sized cabinets in our kitchen, not extra tall, so it was pretty strange to have them so high. It really does make the room seem taller and it didn't take long for me to get used to the new look. In a tiny kitchen, all rules go out the door. You use any trick you can.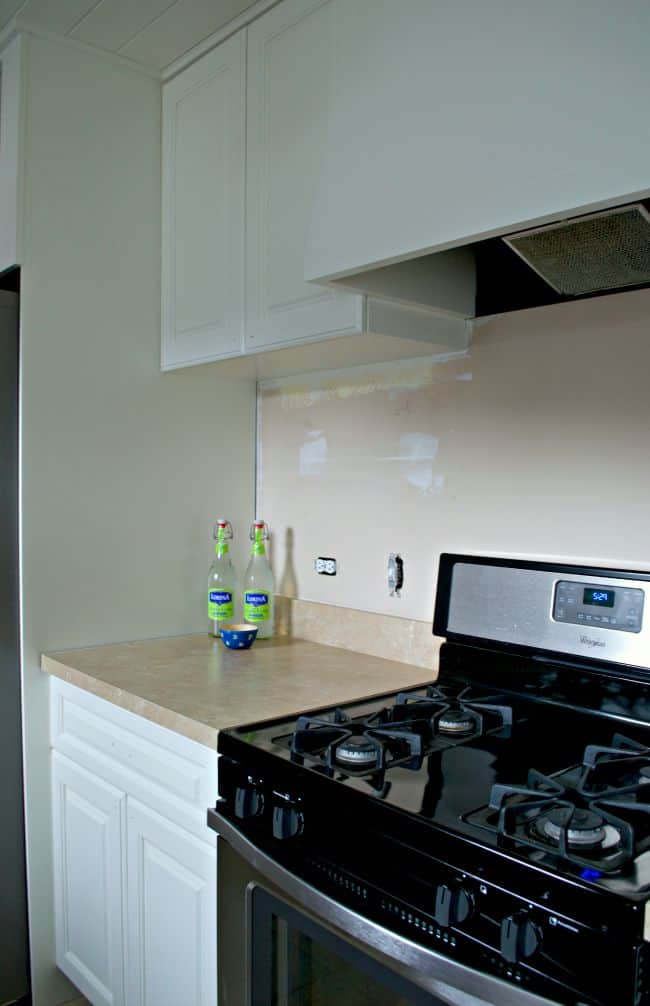 Our original plan was to put a shelf under each cabinet to bridge the distance between upper cabinet and countertop. We are starting to reconsider that, though. It's not something we need to decide on right now so we're still thinking about it. We have so many other things to worry about in here right now.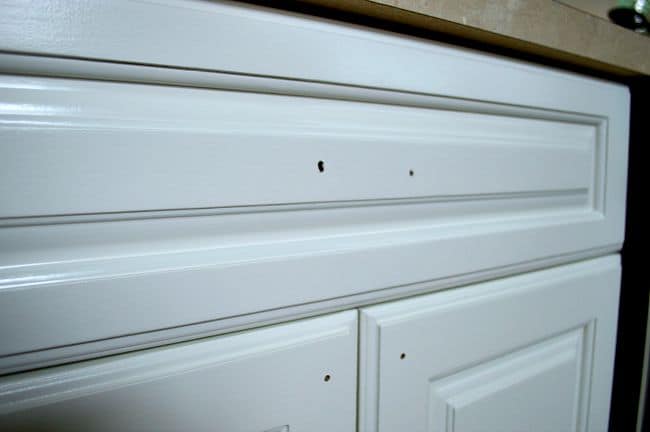 I'm really loving the white. It's such a huge difference from the dark, reddish cabinets and now I'm motivated to get the rest of them done so I can start filling them back up. The hardware will go back on in a few weeks, I want to wait for the paint to cure before I mess up all of my hard work.
On the agenda this week is to paint some of the cabinet doors. I also want to paint that horrific wall with the paint and spackle swatches. Then, the next big to-do is to get the countertops, so we can install our subway tile backsplash.
I'll be back to share some tips I learned from painting my cabinets, I've learned a thing or two in the 8 months it took me to get to this point. 😉 I also have something on the other wall that I'm excited to share.
What do you think about putting kitchen cabinets all the way to the ceiling? Would you do it?