How to build a custom DIY refrigerator cabinet with $2 thrifted cabinet doors.
I never would have guessed that I would get excited over building a custom refrigerator cabinet. I mean, I have a beautiful tongue and groove plank ceiling and newly painted white kitchen cabinets to gaze at. I'm here to tell you though, that I'm giddy with happiness.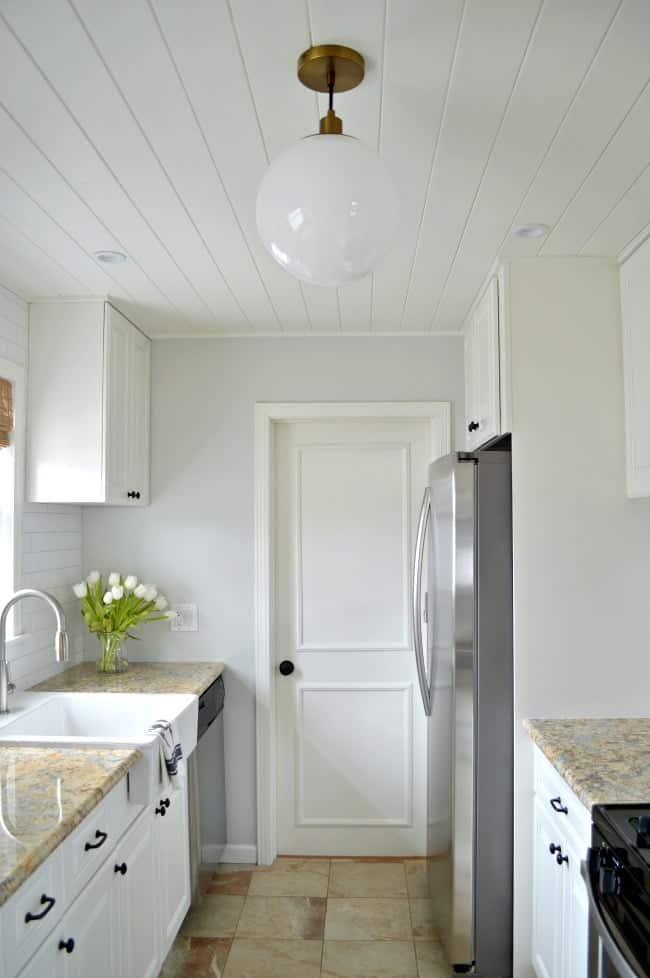 As a Home Depot affiliate and member of other affiliate programs, I earn from qualifying purchases.
---
Let's start at the beginning.
This 1950's galley kitchen of ours is really small. It still had the old soffits, the ancient exhaust fan and a tiny niche for the fridge.
Back in the 50's they didn't have the huge behemoth refrigerators you find today so our fridge space was small. We couldn't change any of that with our remodel, so we had to make the space work.
When we bought our house, one of the things we had to buy was a new refrigerator. It couldn't be just any fridge though, we needed a specific size.
We had to be sure we could a). get it in the house, and b). fit it in its little niche in the kitchen. We were able to do both but it still extends out past the bedroom door trim.
A counter depth fridge would have fit the space better for sure but it just wasn't in the budget.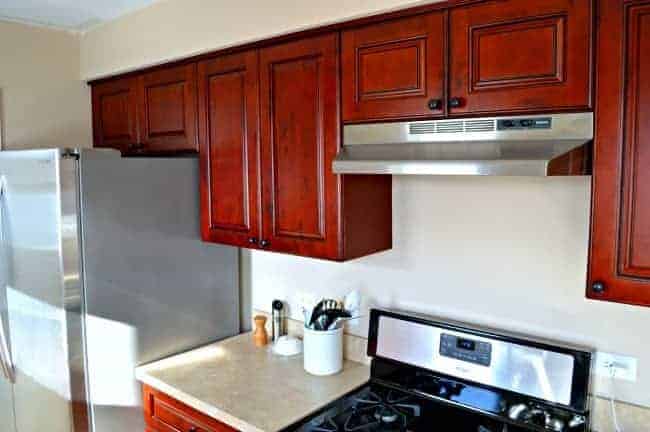 When we were planning this kitchen remodel one of the items on my wish list was to build a refrigerator cabinet surround to make it look less imposing. I also wanted (and we needed) better storage above the fridge. There was a small cabinet over it but it was hard to reach and didn't offer a lot of storage space.
We really went back and forth with this project before we started the build. The hubs didn't think we could fit a cabinet around the monster refrigerator but, in the end we were able to do it.
We had to move the cabinets and stove down a little, but we were able to fit it in.
The first thing we did was to remove the cabinet and remove the ugly soffit.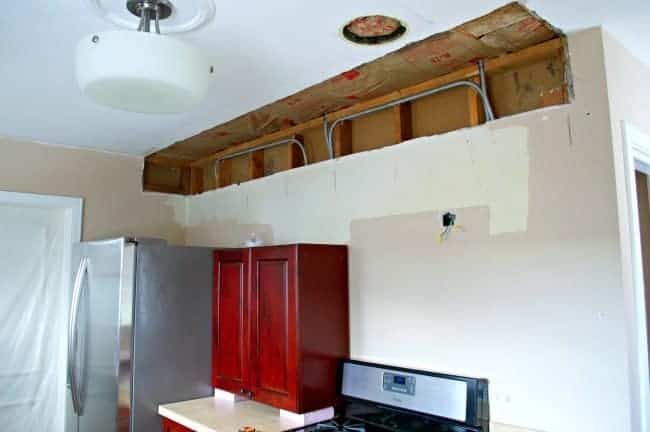 After we patched up the soffits, we moved the stove and cabinets down away from the fridge about an inch. The move required us to take the cabinets out and put them back in. Not a fun job, but it gave us more room to build our custom refrigerator cabinet.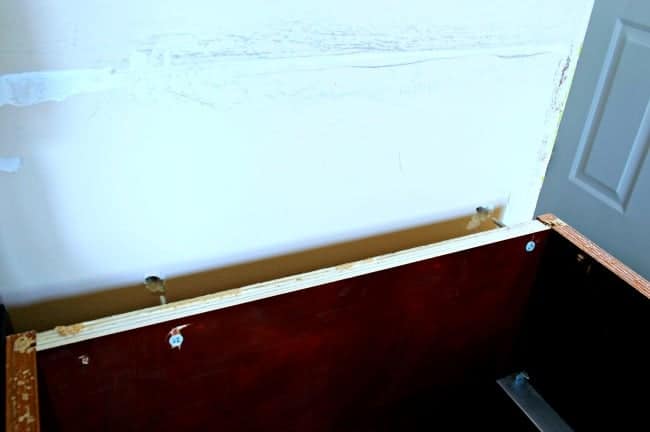 Building the fridge cabinet...
Once we figured out all the logistics in this small space, the build was pretty straight-forward.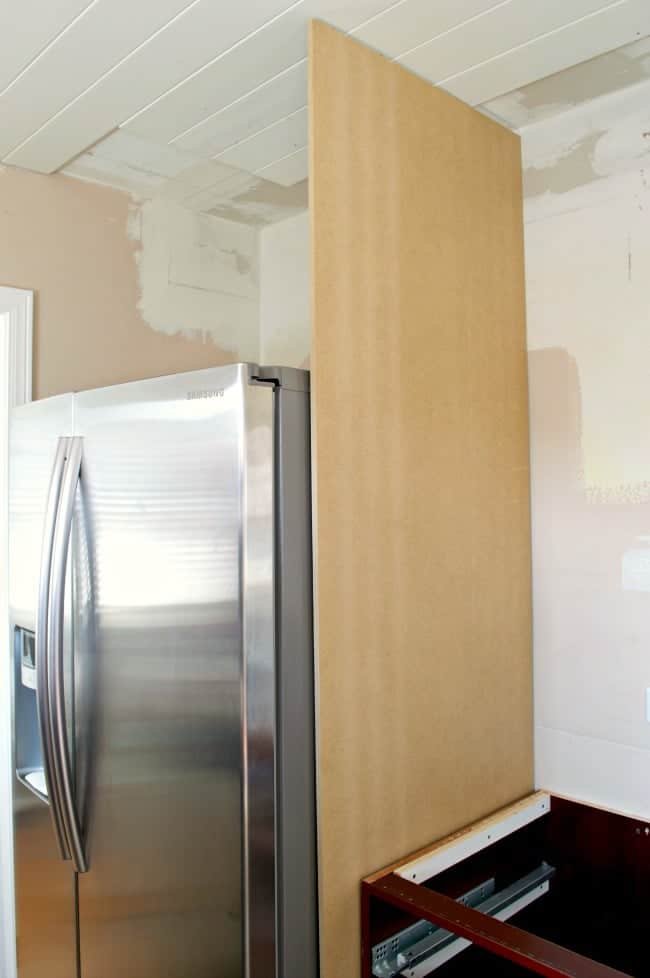 The basic pieces are an MDF wood panel for the side and a box for the cabinet, also made with MDF.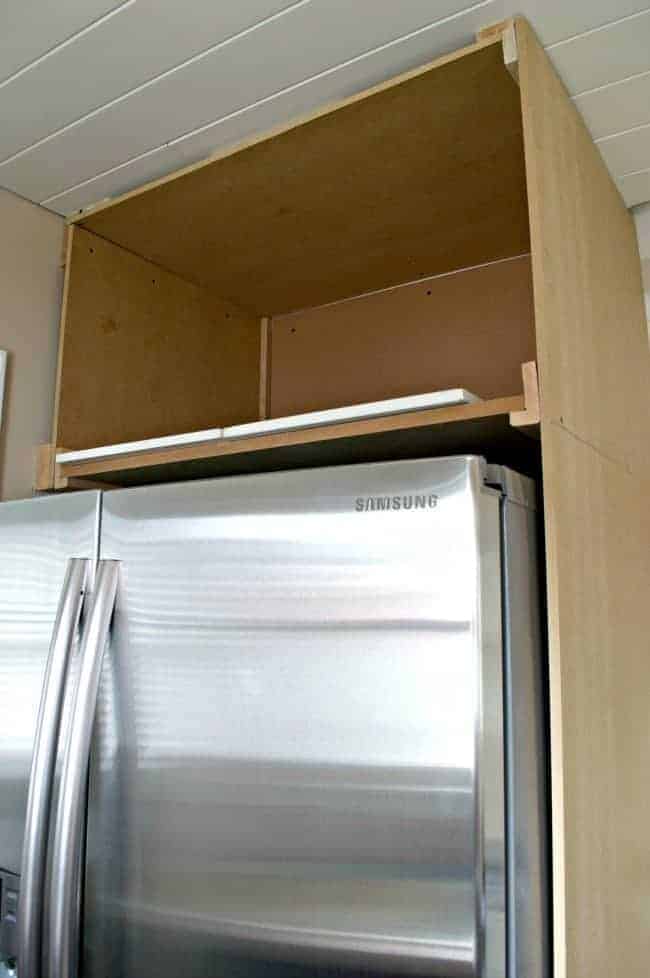 I would say that the hardest part was constructing the front face frame for the doors, that we found at ReStore for $1 a piece.
We had to build this part of the refrigerator cabinet to exact measurements or the doors wouldn't fit.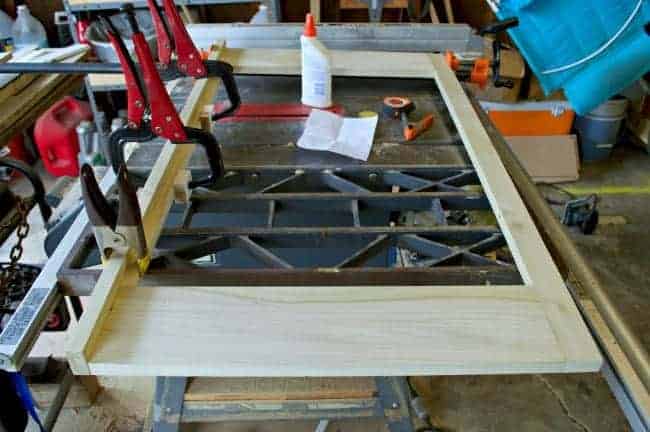 The old hardware from the cabinet that was previously up here was used again for our new kitchen cabinet, which saved us some money.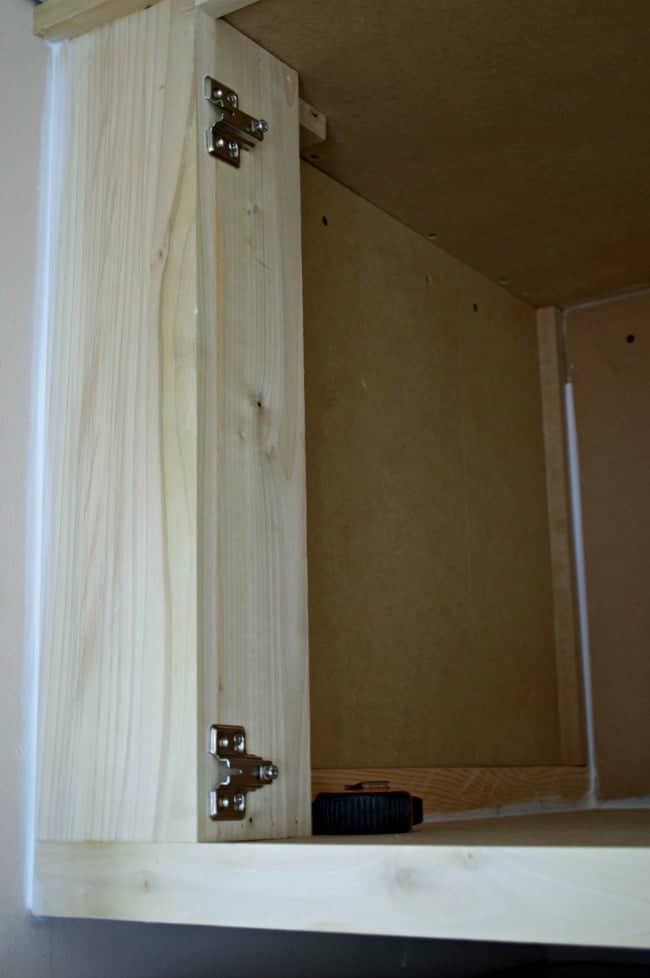 We held our breath when we hung the repurposed doors but they fit perfectly. The last step in this build was paint and cabinet knobs.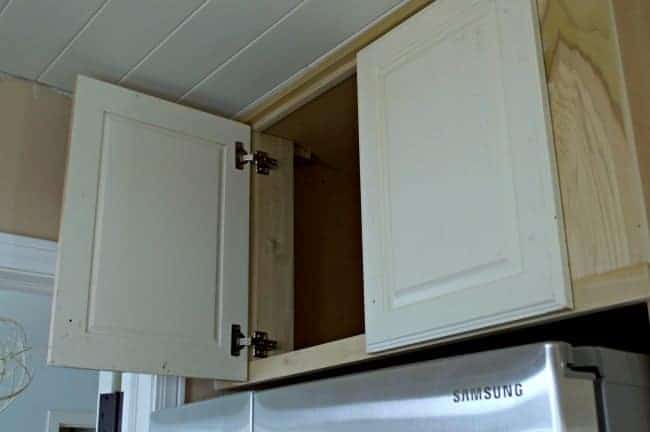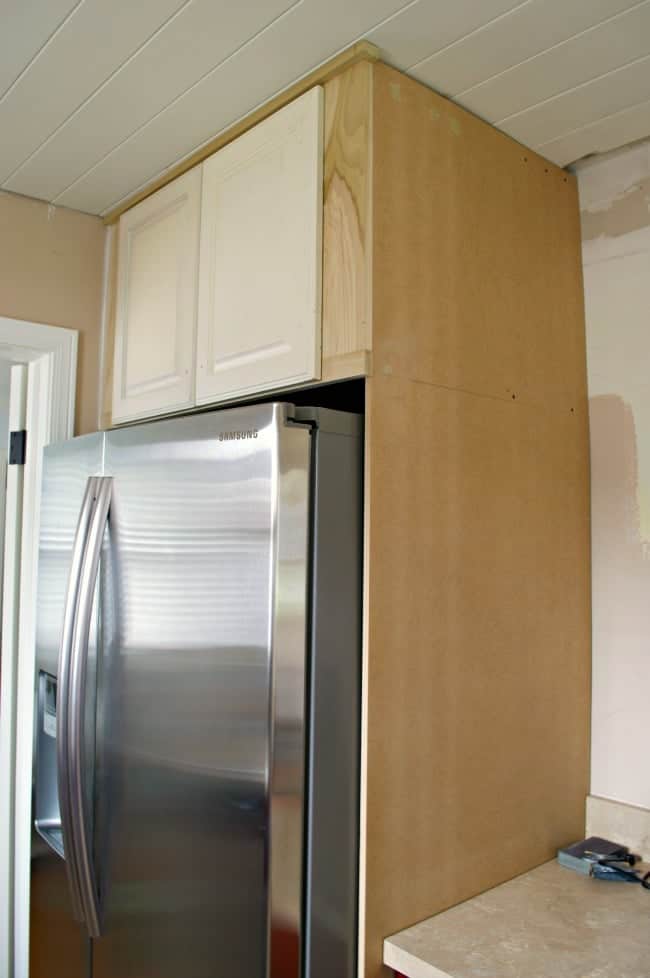 I'm so happy with how this turned out. Not only does it hide the fridge, as much as it can be hidden, but I have tons of storage space that I can actually reach.
All that work was definitely worth it.
CHECK OUT MORE OF OUR DIY FURNITURE PROJECTS HERE!