*As an Amazon Associate and member of other affiliate programs, I earn from qualifying purchases.
A galley kitchen remodel where a dark, cramped space was transformed into a beautiful light and bright space with tons of added storage!
The day is here!
After a ton of projects, a lot of hard work and a few disagreements, I can finally say that the kitchen remodel is done!
It took a lot longer than either one of us thought it would but it's totally done and I can't wait to finally give you the tour.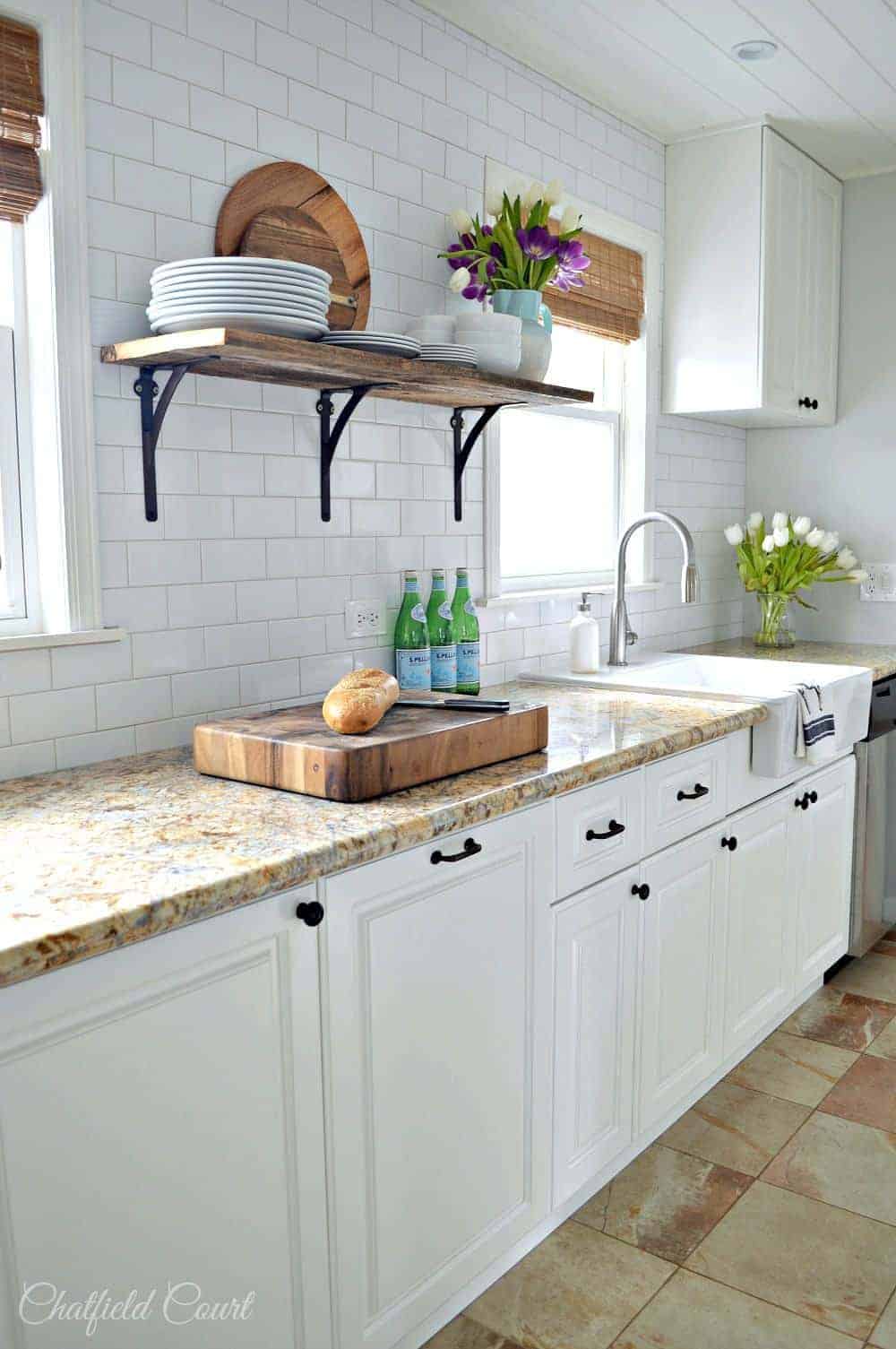 We started the remodel on our small galley kitchen in January 2015 with a plan to lighten up the space and create more storage.
Here is our space before we moved in, red cabinets and all.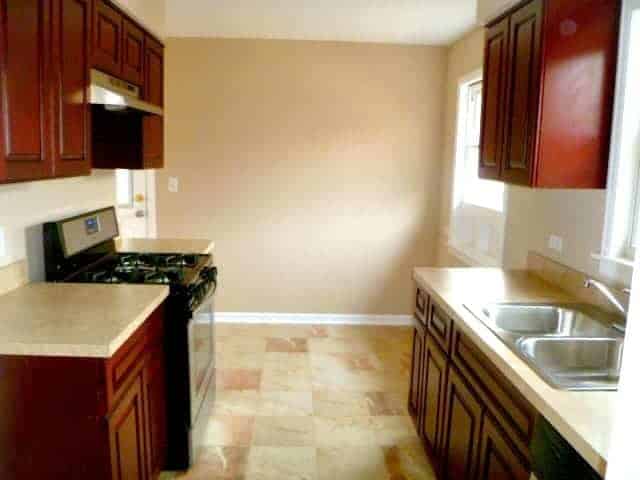 And the after…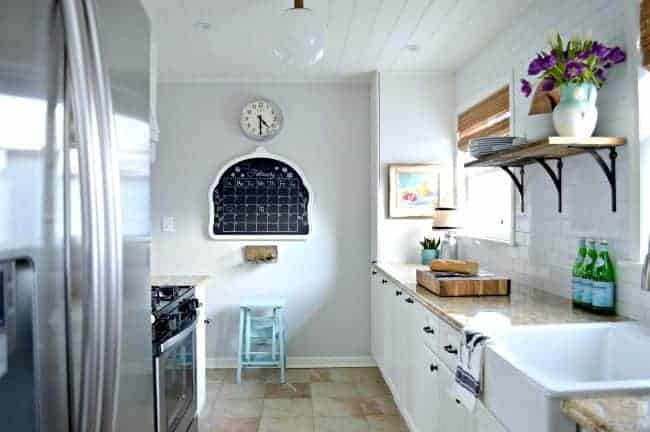 Such a big difference, don't you think?
The 2 things that didn't change in the kitchen were the appliances and the tile floor.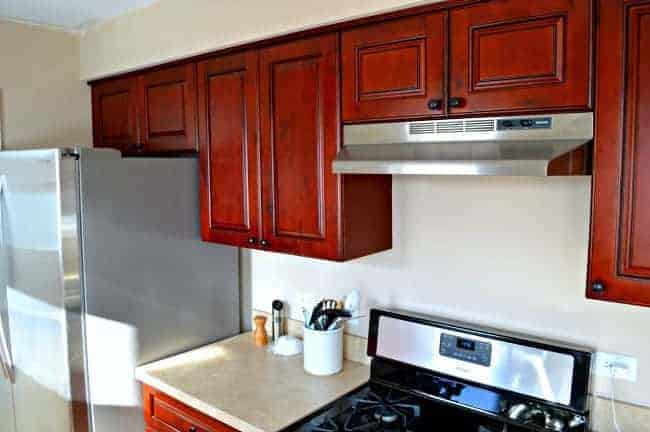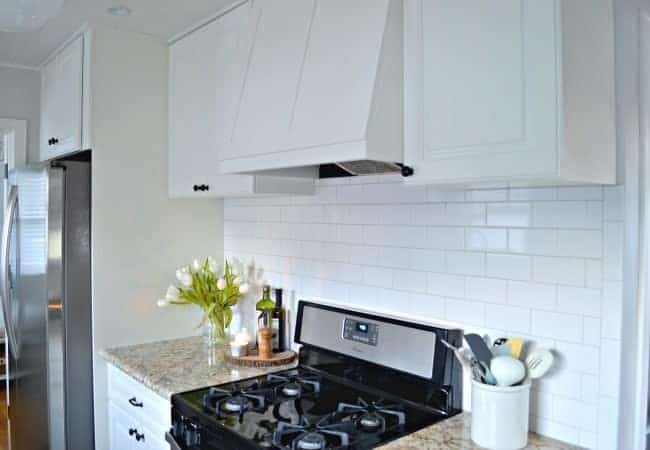 Here is the big wall before we installed the cabinet that we built.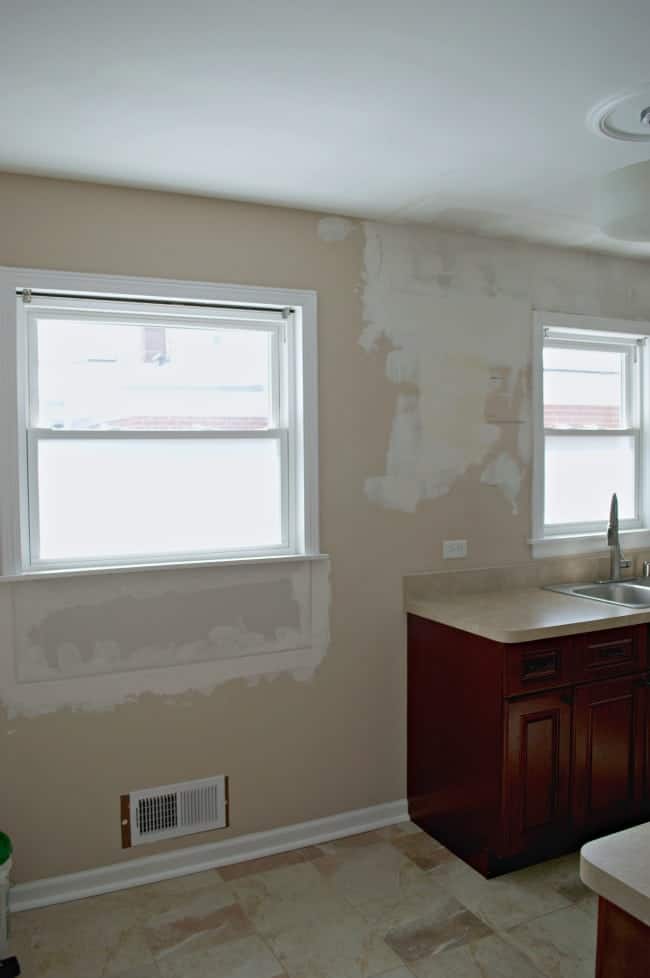 This wall saw the biggest change with a DIY kitchen cabinet and raising the window sill.
We love all of the prep space that we have now and the hubs uses every inch. This is how it looks every day, not styled and ready to use.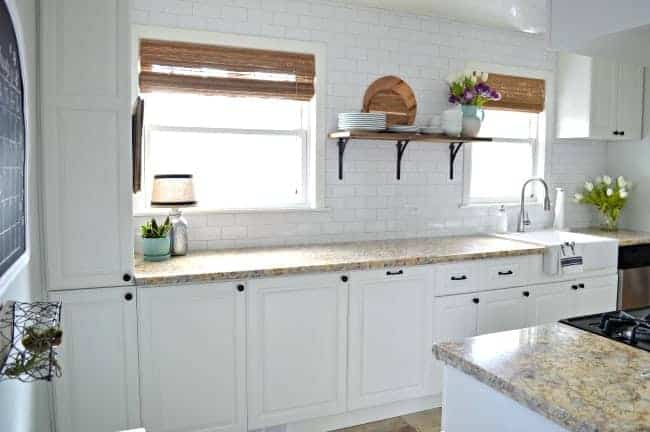 Our house was built in 1956 and had enough space for a small refrigerator from that era.
To give it more of a custom look, we built a custom DIY refrigerator cabinet to help disguise it.
There's no denying though, it's huge.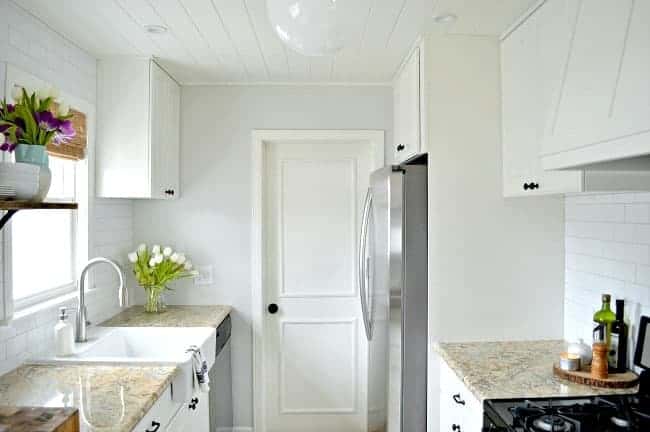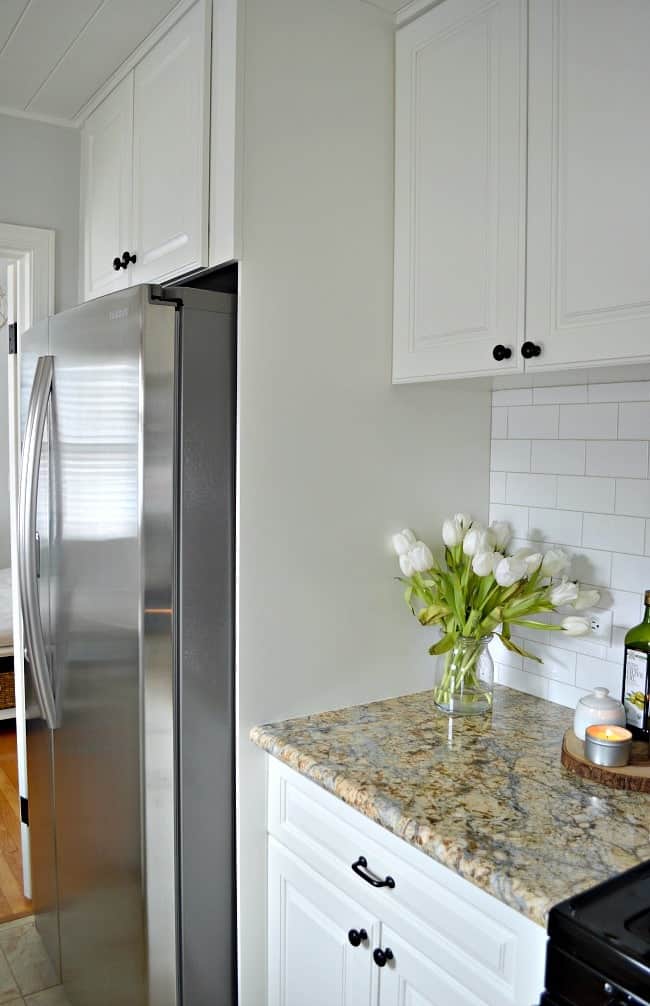 I won't subject you to any more bad "before" pictures.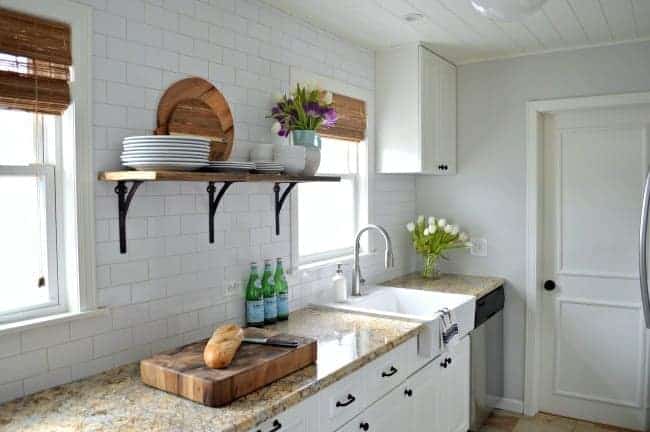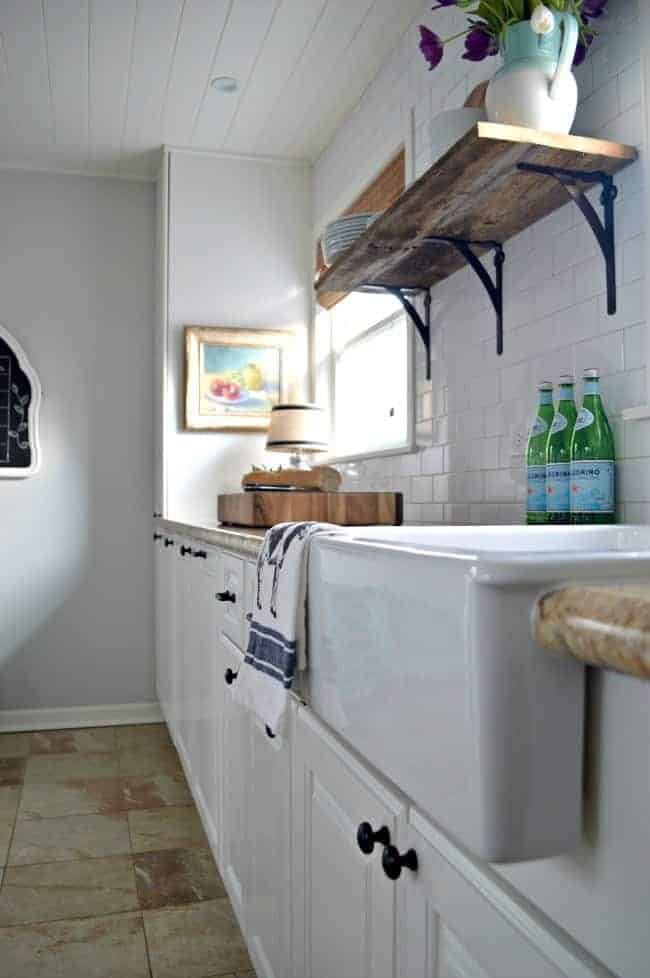 The end cabinet, where I store all of our dry goods, was our final project.
It's the first time I've been able to store all of my food in one place and it truly feels like a luxury.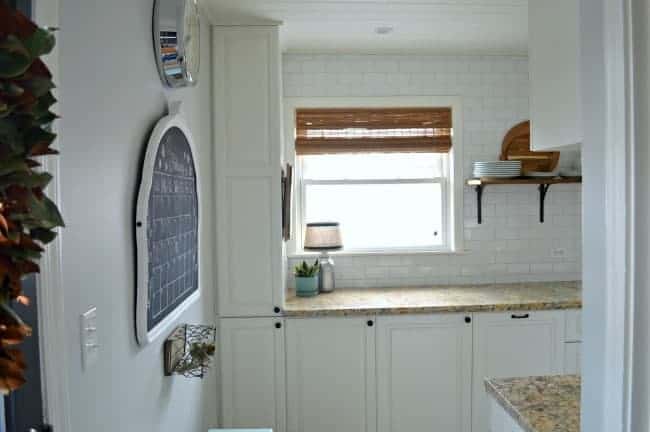 Even though we didn't add any square footage, and added a cabinet on an empty wall, it actually feels bigger.
It's the first white kitchen that I've ever had and I love it. I think it was the right thing to do in this small space.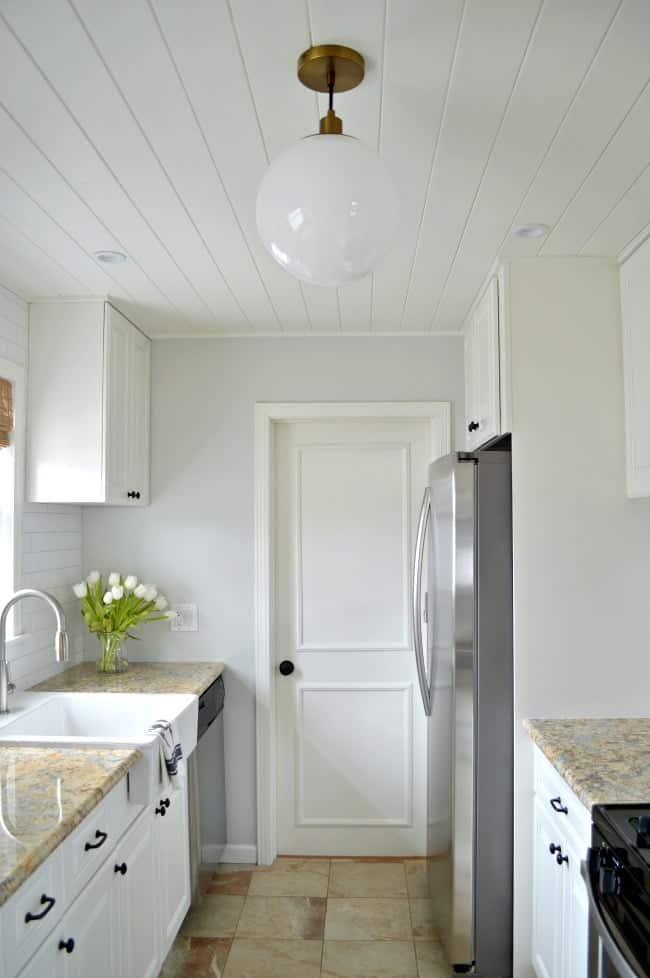 I have to say that I've loved the whole process of doing this remodel. Yes, it was difficult at times and sometimes the mess was hard to handle, but I really enjoyed it.
Now the hubs…I'm not so sure he would say the same. 😉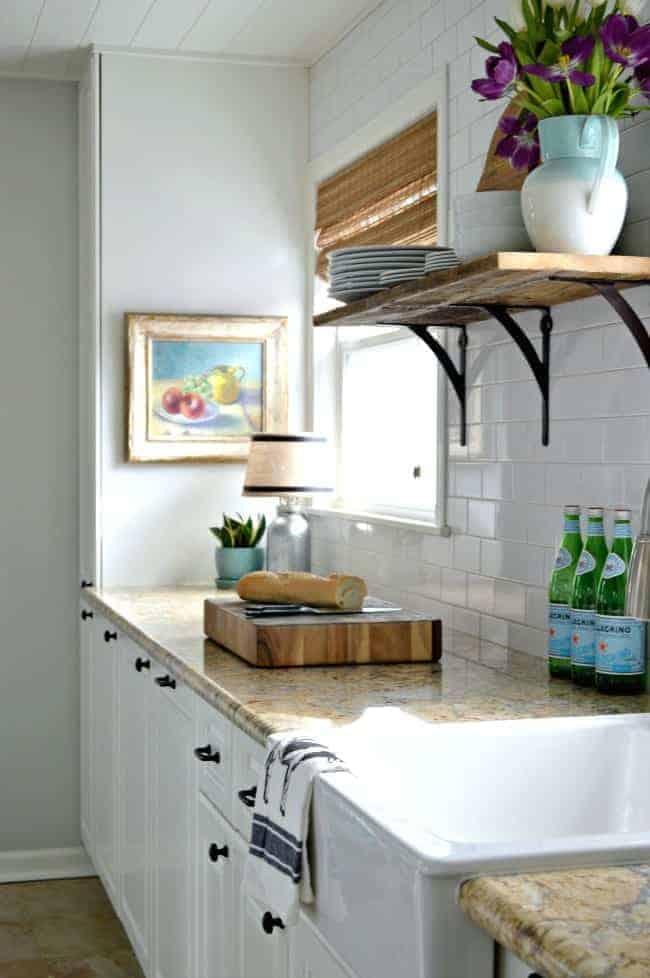 If you have any questions about the kitchen, feel free to comment or email me and I'd be happy to answer.
Thanks so much for sticking with me through the 418 days of this kitchen remodel and for all of your encouragement when I was feeling down.
I can't tell you how much your support and comments have meant to me.
I've also shared a post with all of the kitchen remodel details, including sources of all the products we used.