This post may contain affiliate links, please see our policy for details.
All the kitchen remodel details, including paint and product sources and projects.
Before I share all of the kitchen remodel details, I want to take a moment to thank you for all of the sweet comments and emails from the kitchen remodel reveal.
I've always known that I had the best readers and you all proved it again and again during this whole process.
I am truly grateful.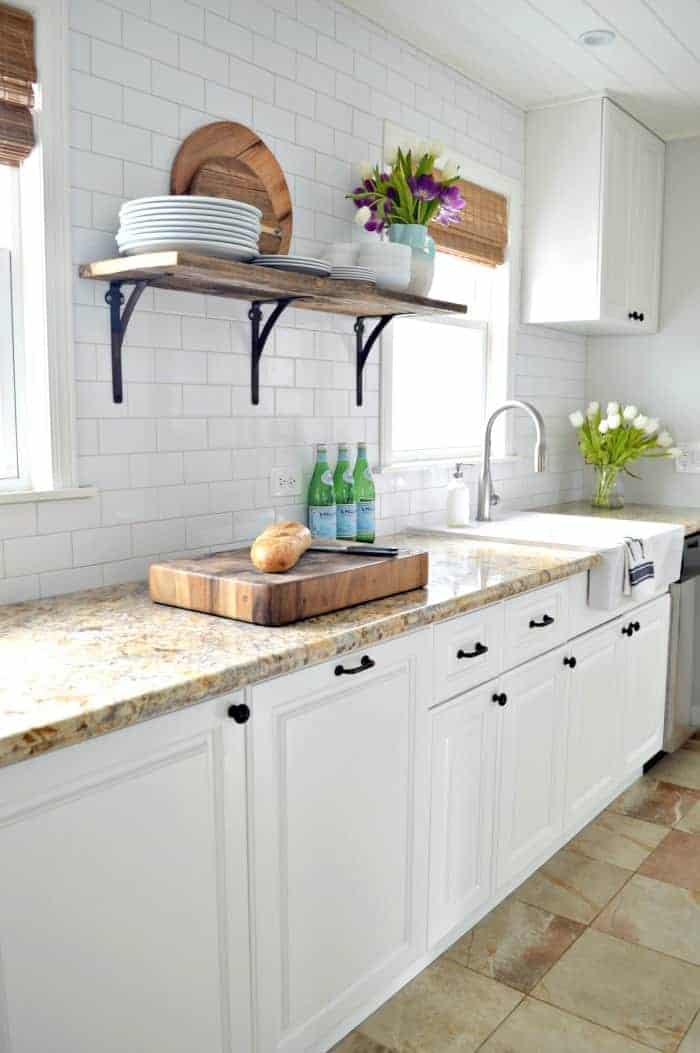 This is a long one so grab a cup of coffee and enjoy.
If you make it through to the end you'll find all of my sources and projects with links, along with a big and very unexpected announcement.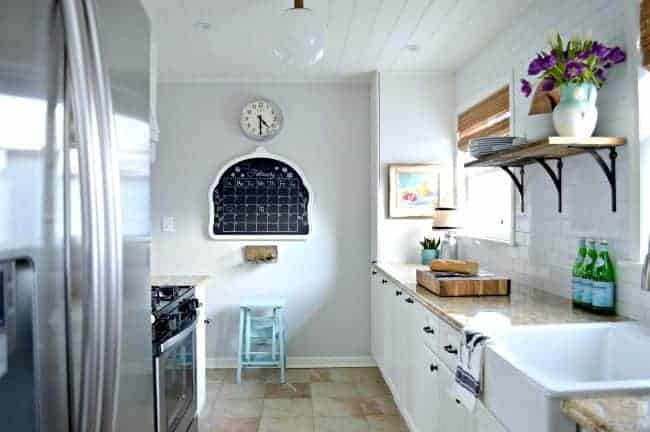 I shared the reveal a few days ago and only showed a few before shots and a lot of afters, so today I wanted to give you a quick summary of the projects that we did and try to answer some of the questions I've gotten.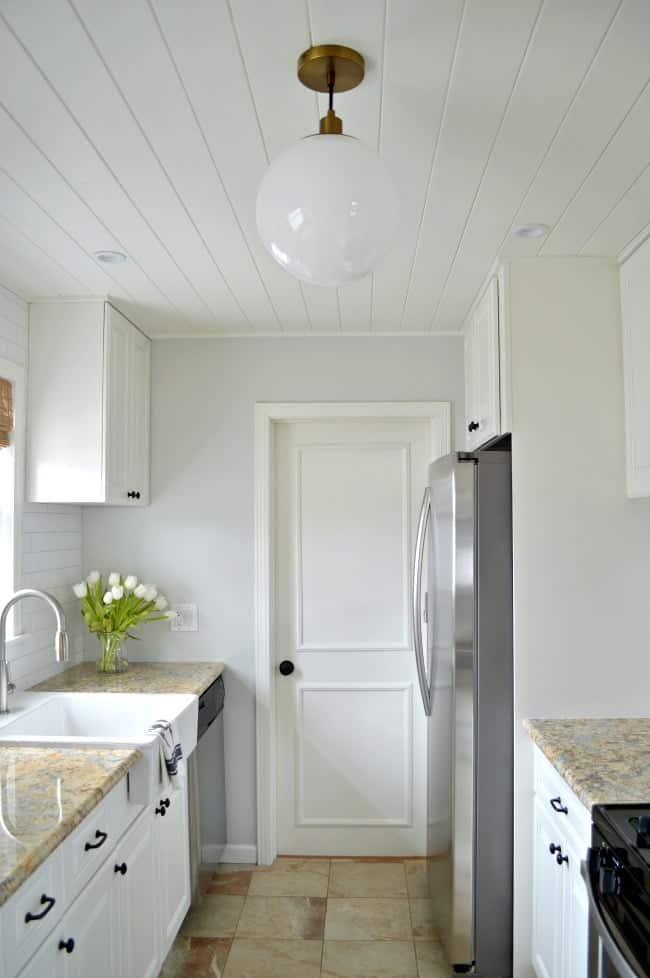 When we started the remodel on our small galley kitchen in January 2015, we had 3 main goals we wanted to accomplish.
We wanted to lighten up the space, add more storage and do it all on a budget.
Our plan was to complete everything in 6 months but…yeah, that didn't happen.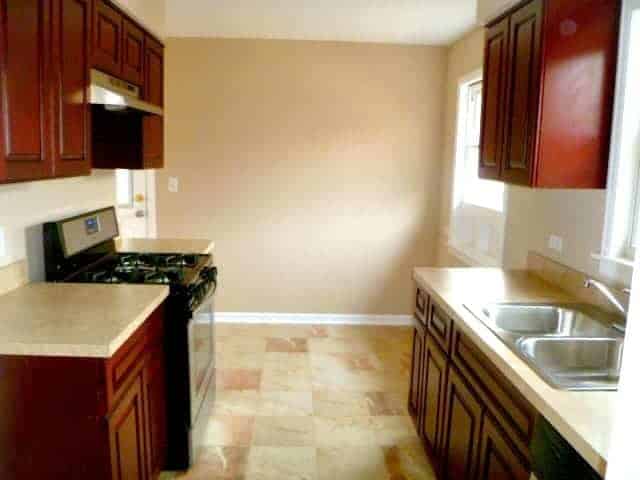 The project that started it all off was the removal of the two soffits.
A messy and dirty job but it really opened the space up.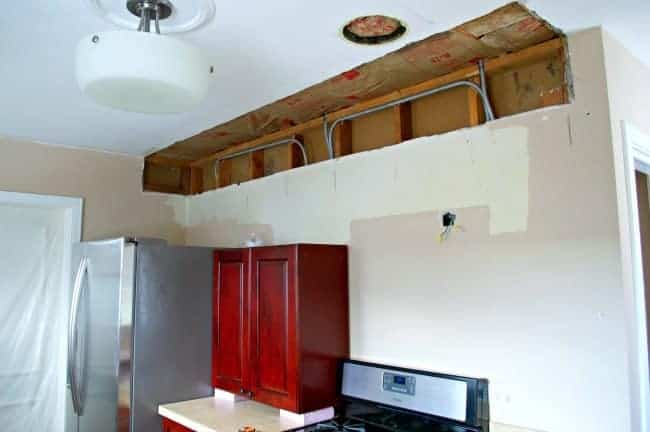 After we patched the ceiling and walls, we installed a plank ceiling.
A couple of coats of paint later and our first big project was complete.
Wow, talk about changing a room. I love it!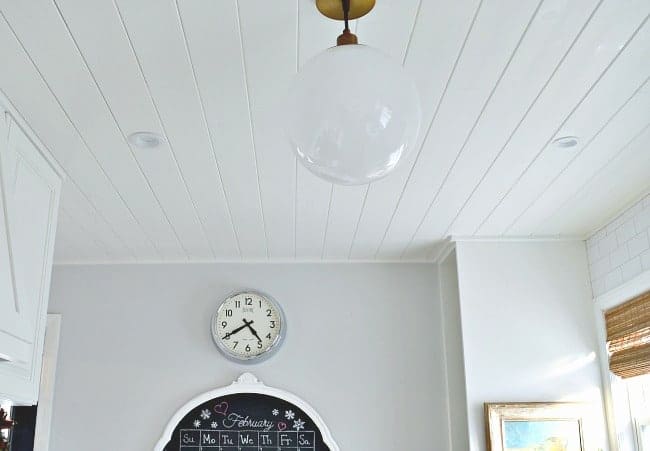 The next project to get tackled was the custom cabinet we built around the refrigerator.
It added a ton of extra storage and toned down the look of the fridge (if that's even possible when you have a large gray box in a small room).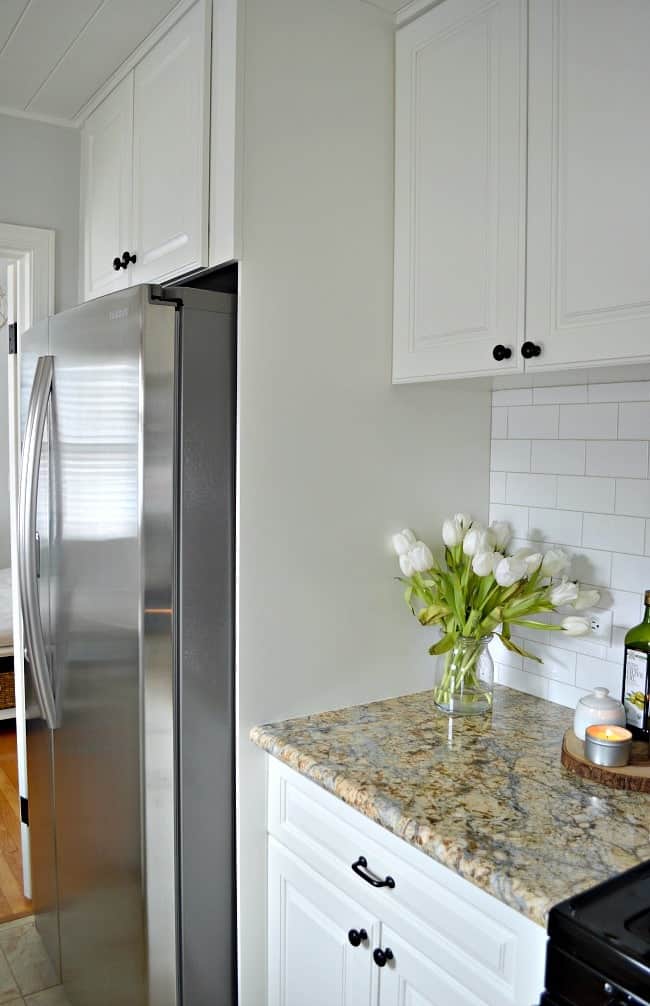 Once the fridge was done we worked on the DIY range hood.
I wanted to change the small stainless steel one that was there, so we took it apart and used the insides to make our own custom hood.
I think the one that we built is a much better fit in our new kitchen.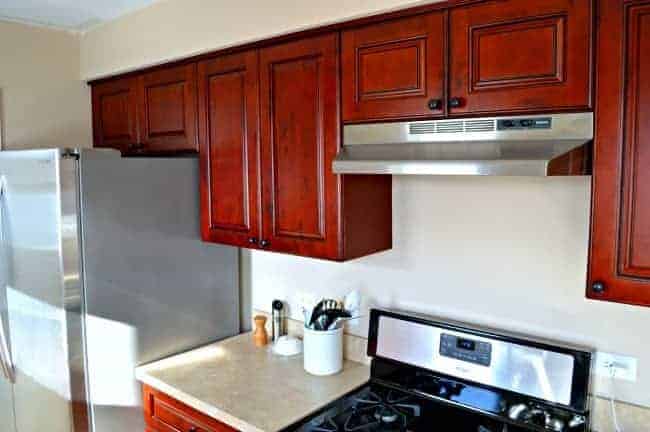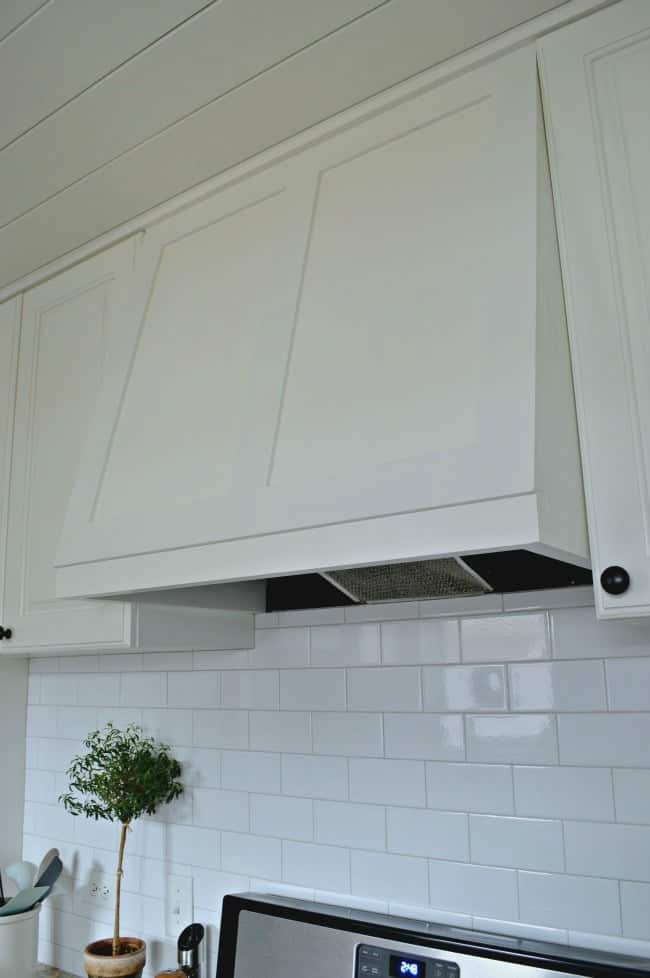 The other side of the kitchen got some attention when we raised the window sill and built a custom cabinet that would give us more countertop space and more storage, which is what we needed most in here.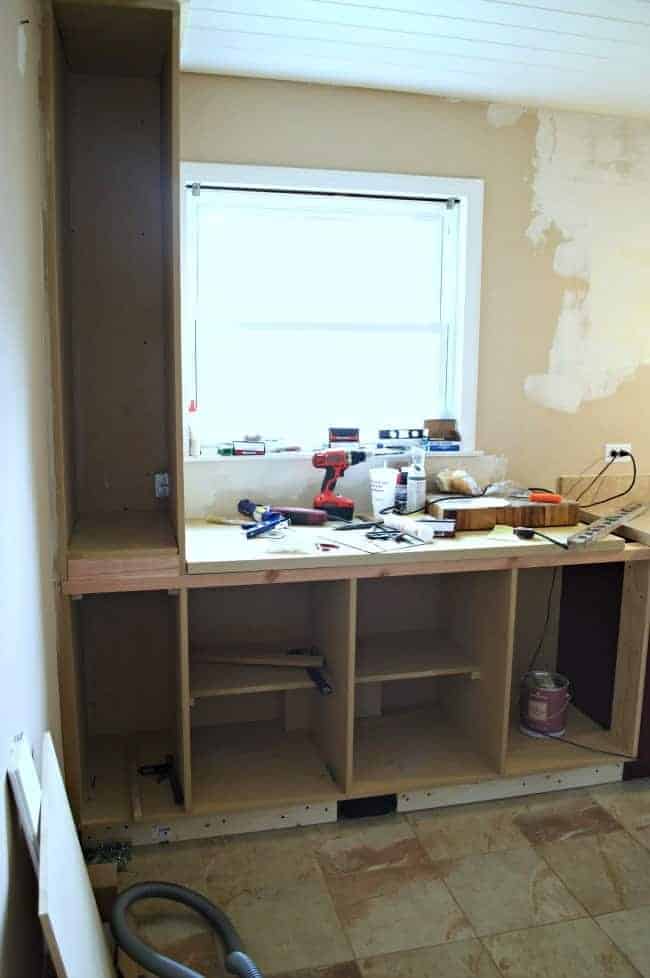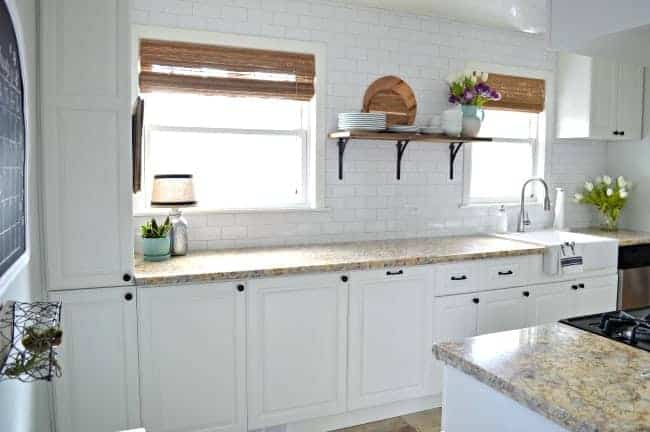 I had a few items on my "wish" list for the kitchen and built-in garbage/recycle bins was at the top.
Now they are hidden away and I'm so happy with the way it turned out.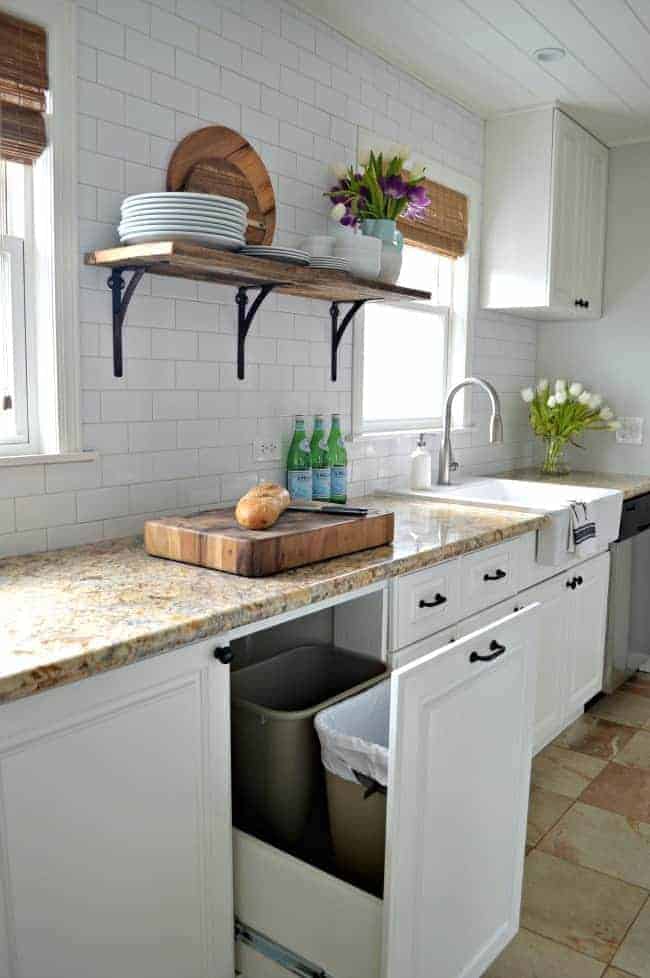 While all of the cabinet building was going on, I was working on the one thing that made the biggest difference in this small space, painting all of the kitchen cabinets.
If you've ever done this then you know that it's a monumental task.
I will admit that, because of my back injury, it took me almost a year to finish, but I did it.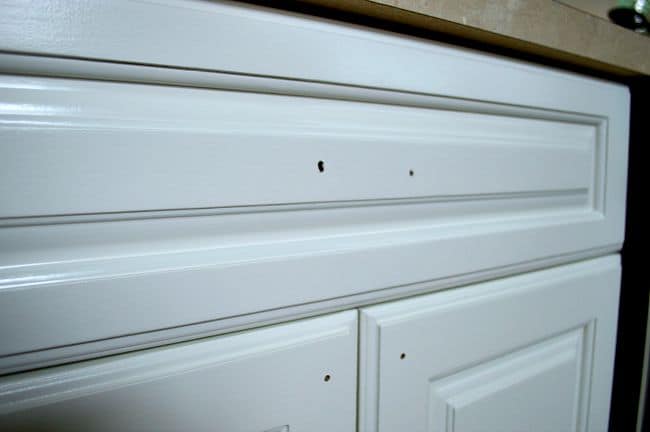 The kitchen sink was the next project.
We had a double stainless steel sink before and I wanted a change so we went with the DOMSJÖ from IKEA.
It's just a single bowl but it's nice and big to work in and I love it!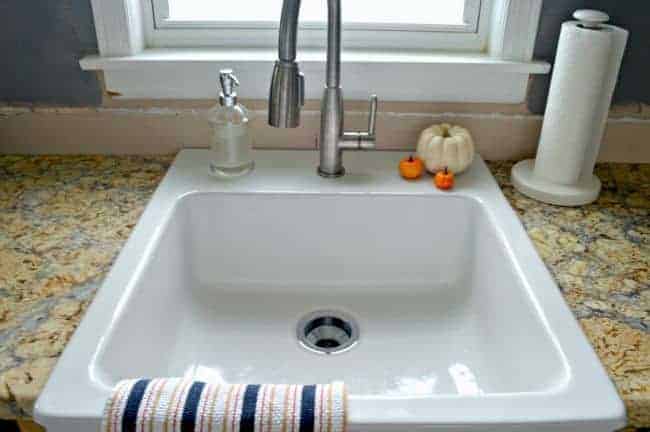 After we installed the sink and all of the cabinets were built, we went shopping for tile and countertops.
I always knew that we would have a subway backsplash but choosing the countertops was a more difficult decision.
We finally decided on granite and began the most difficult project of the whole remodel, cutting and installing the granite.
We were on a budget with this whole remodel so we chose to do it all on our own, a job we've never done before…ever.
It took us two weekends to finish and it was nerve-wracking until the end. All we kept thinking about was all the money that would be wasted if we cut wrong or cracked it while working on it.
Thankfully it all worked out and we got beautiful countertops on a budget.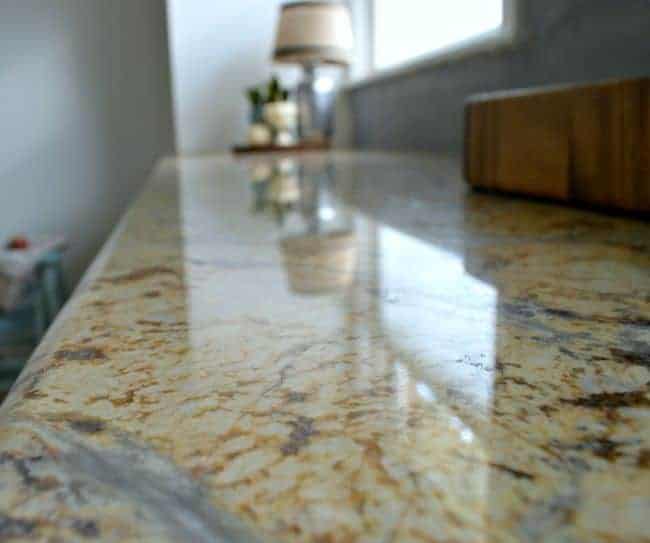 The subway tile backsplash with gray grout was next and, once it was all done, we knew that the end was in sight.
One thing that we did that really opened the space was to remove a cabinet between the two windows on the sink wall.
We added a barn wood shelf, for a little texture and to break up the white, subway tiled wall. I think it may be my favorite thing in the kitchen.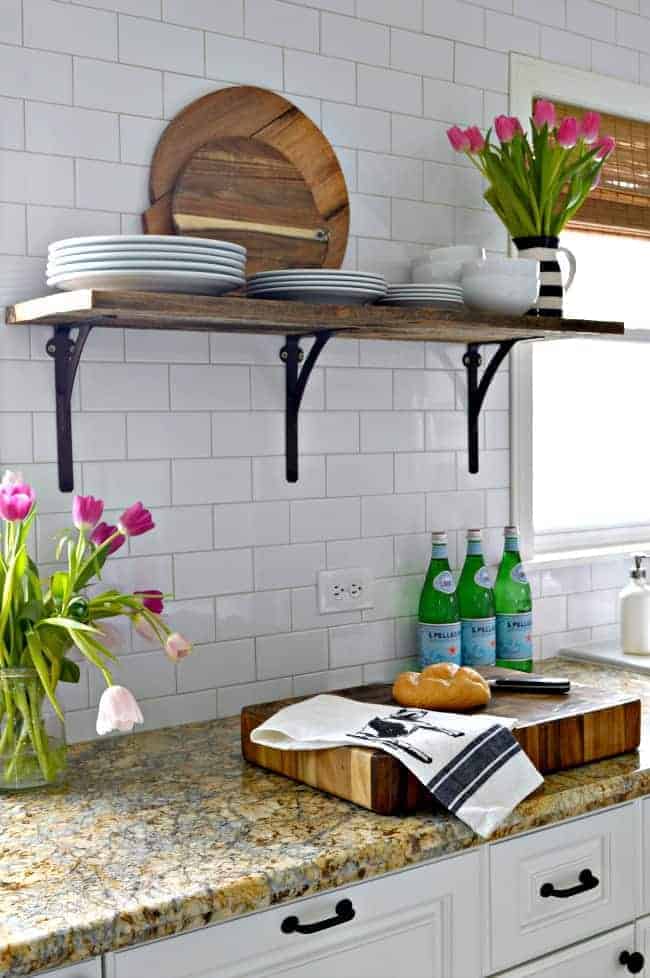 Because this is a small space there are only 2 walls that we can paint to add a little bit of color.
After much debate, and a lot of swatches, I went with the same color I used in the adjoining living/dining area, BM Gray Owl at 50% strength.
I also painted the back door a pretty dark gray, Benjamin Moore Wrought Iron.
There's a little gray in the countertops that I loved and the wall and door colors really bring it out.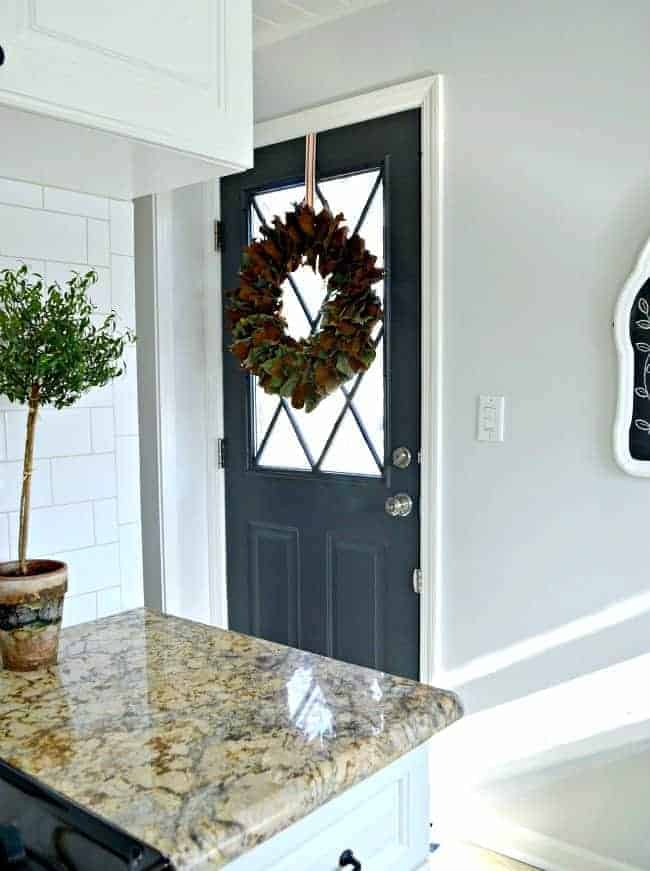 We still had a couple of big projects to finish though and one of them was lighting.
The only working light in the room before the remodel was a center ceiling light.
It took me 3 tries to find the perfect one but, in the end, I found a beautiful pendant light.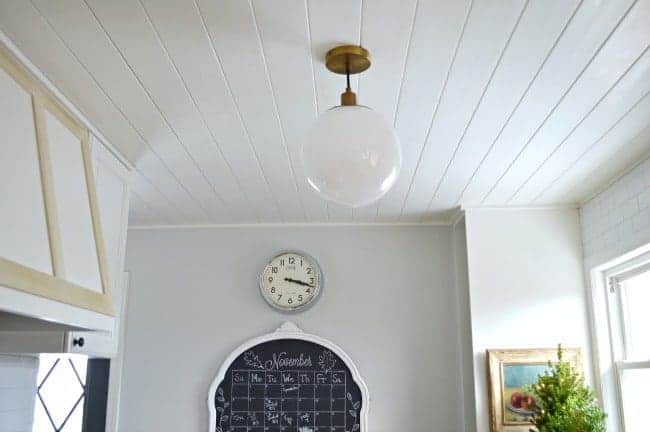 We decided to add recessed lighting because a single pendant light was not enough for this space.
The hubs dreaded this project the most, and kept putting off.
The lights look great though, and made a huge difference, especially when we're working in the kitchen at night.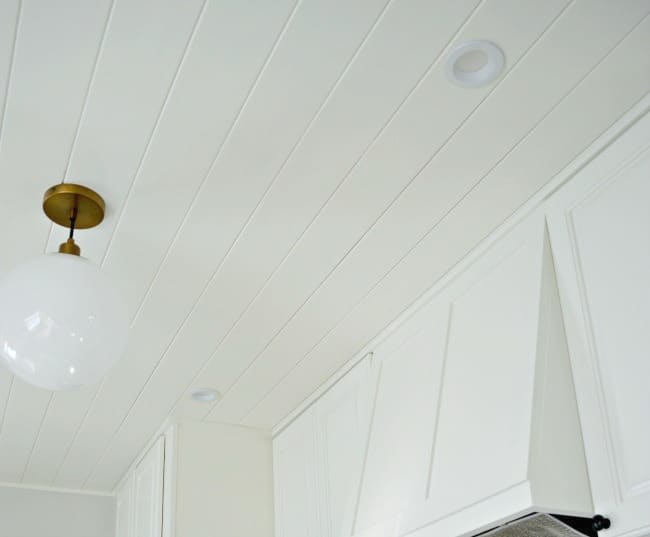 The final project was to add new cabinet doors to the custom cabinet we built on the sink side of the kitchen.
Months ago we were lucky enough to find 2 similar cabinet doors, at the right size at a local ReStore, but we needed 3 more.
We discussed making them but, by the time we bought the tools and wood to make them, we could order 3 already made and ready to paint.
So we went the least expensive route and ordered them. Once they arrived I did a quick sanding, a coat of primer and 2 coats of paint and they were ready to hang.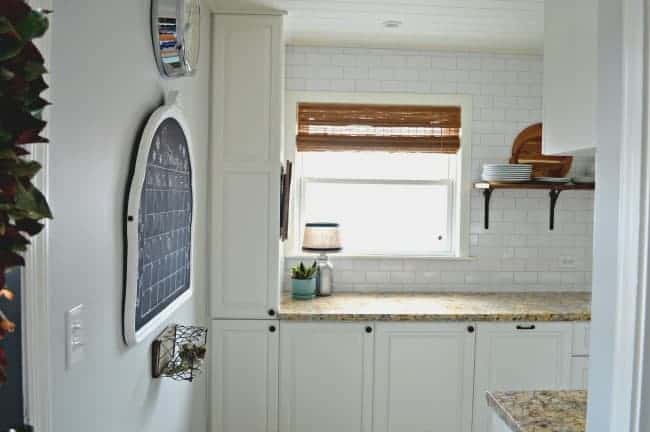 After 418 days and a ton of projects, our remodel is complete and I truly love it all!
One more before and after, because this post isn't long enough already. 😉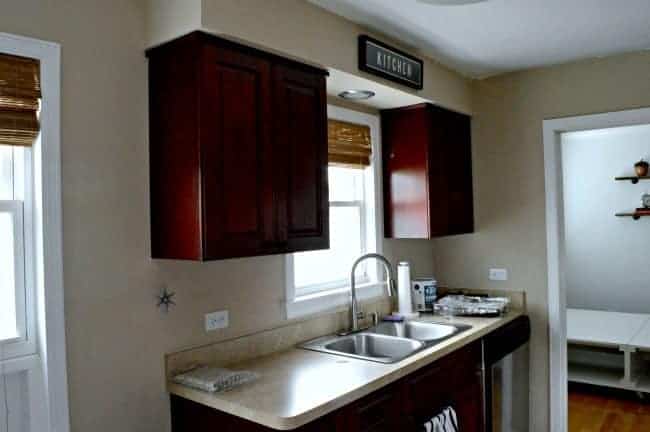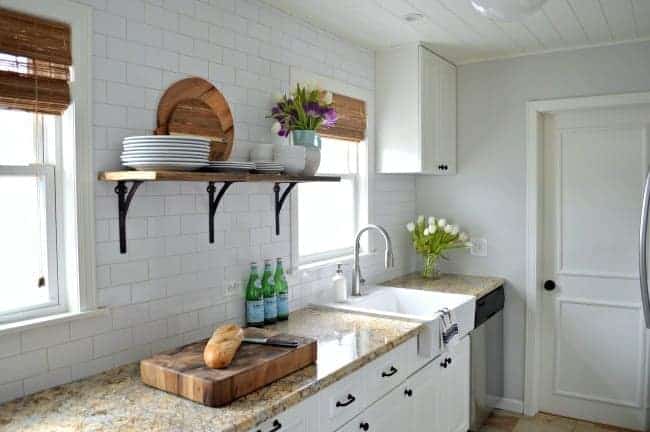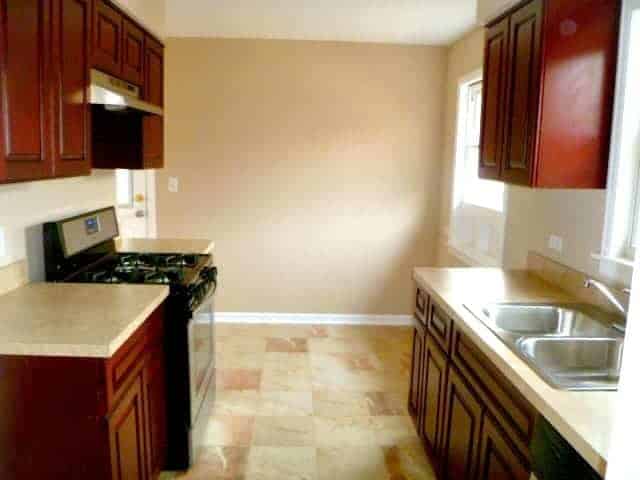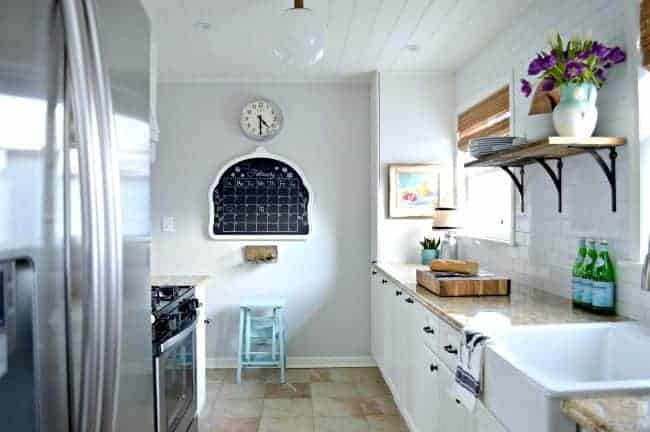 Phew, that took almost as long as the remodel did (almost).
Thanks for sticking with me through this long post and the last 418 days of our remodel.
If you have any questions about anything we did, feel free to email me or leave a comment.
Projects (with links to the posts)
Sources
ceiling paint – BM White Dove, pearl finish
cabinet paint – BM White Dove Advance, satin finish
trim paint – BM White Dove Advance, satin finish
wall paint – BM Gray Owl, 50% strength, eggshell
back door paint – BM Wrought Iron, eggshell
pendant light – West Elm; love this one too!
recessed lights – Lowes
subway tile – Floor & Decor
granite countertops – Floor & Decor
kitchen sink – IKEA DOMSJÖ
cabinet hardware – Pottery Barn; similar
chalkboard w/ calendar – a DIY project by me
Mason jar lamp – a DIY project by me
wall brackets for shelf – Signature Hardware
barn wood for shelf – local flea market
cutting boards on shelf – HomeGoods
In case you missed it, here is the small kitchen remodel reveal.
Two days after we finished the remodel we put the house on the market and sold it to move to North Carolina (totally unexpected).
Check out our our new house, with a video tour.