Disclosure: As an Amazon Associate and member of other affiliate programs, I earn from qualifying purchases.
How to make a pull out trash can and recycle bin with a $2 repurposed kitchen cabinet door.
I am so excited to share another project with you from the kitchen remodel.
Yes, it's another job crossed off the list, but it's one of the things that was on the top of my must have list from the very beginning of the kitchen remodel.
Not only that but it's a great solution for some of the kitchen storage issues we face...a DIY pull out trash can.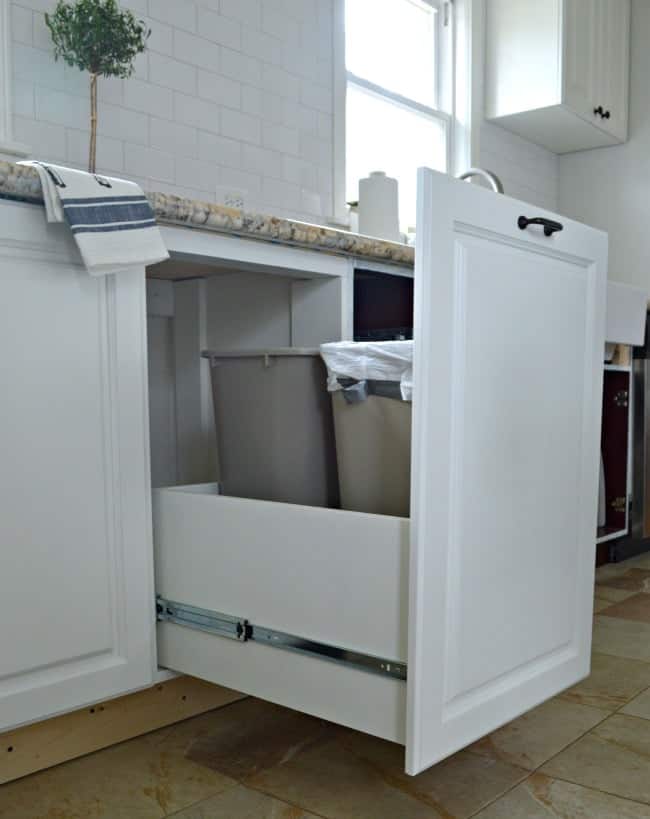 Right now we have a stainless steel garbage can and a very ugly plastic recycle bin sitting out in the kitchen. They are always in the way, and I hate looking at them, so I really wanted to be able to hide them away.
I've always had my garbage cans out in the open and easily accessible. It's never been a problem before but with space at a premium, we didn't have a good place to put 2 bins.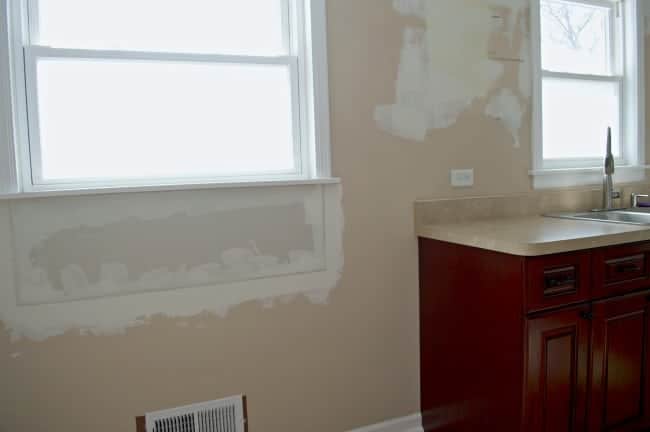 Kitchen storage has been a huge problem in this small space since the day we moved in. The only way to solve the issue was to make a custom trash can cabinet on the empty window wall to hide them away.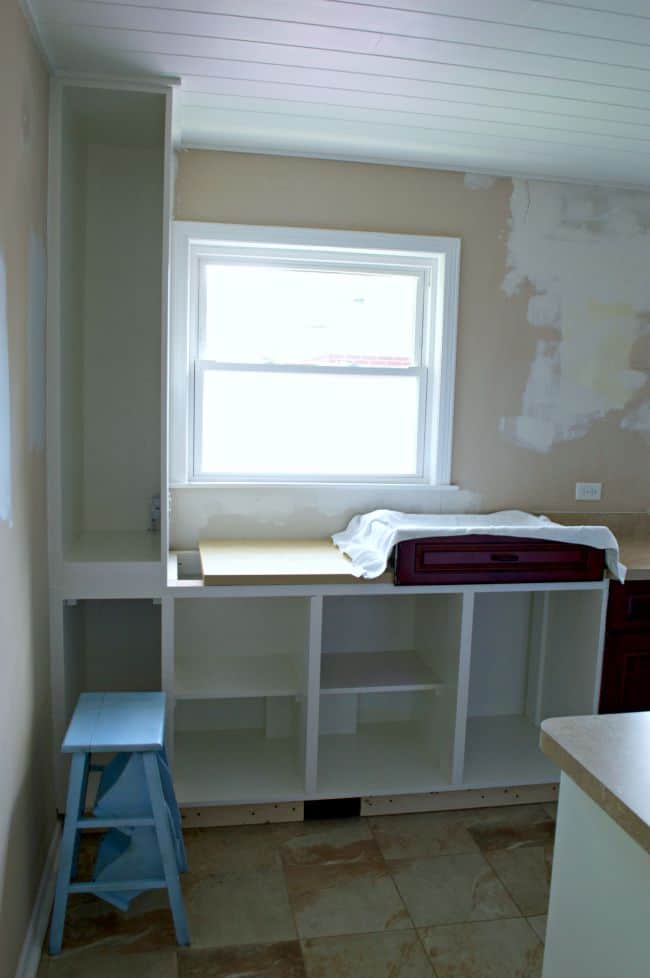 Once we built and installed the cabinet, we constructed a wooden drawer to house the garbage and recycle bins.
There's even some space in the box to store garbage bags and recycled plastic bags.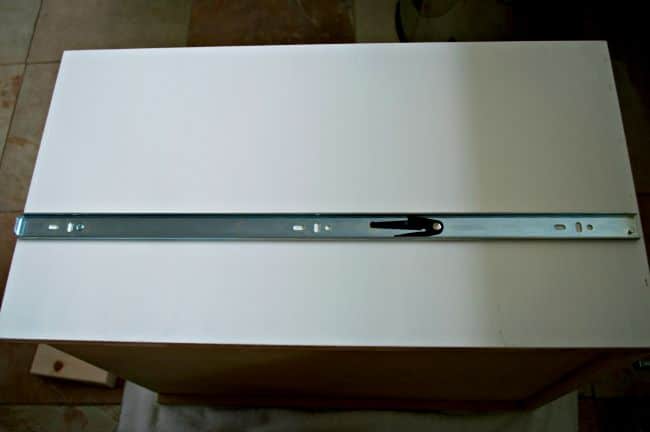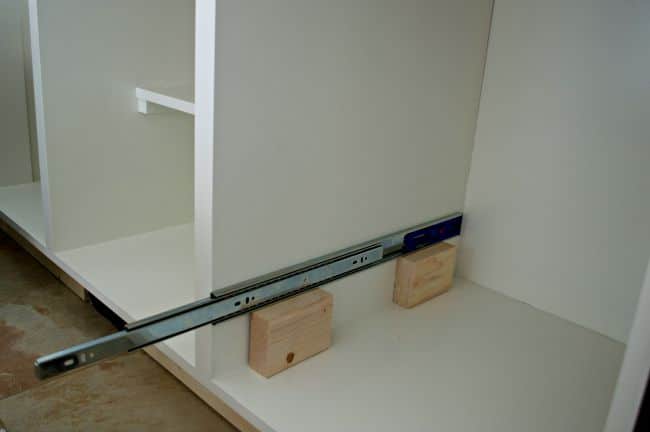 The door for this cabinet was a lucky find at a local ReStore, for a whopping $2. Not only was was the door the exact size we needed, but it was made of solid wood.
It was also a pretty close match to our existing cabinets.
And...what's better than finding one cabinet door for $2? Finding a matching door that we were able to use on the cabinet next to this one (also for $2).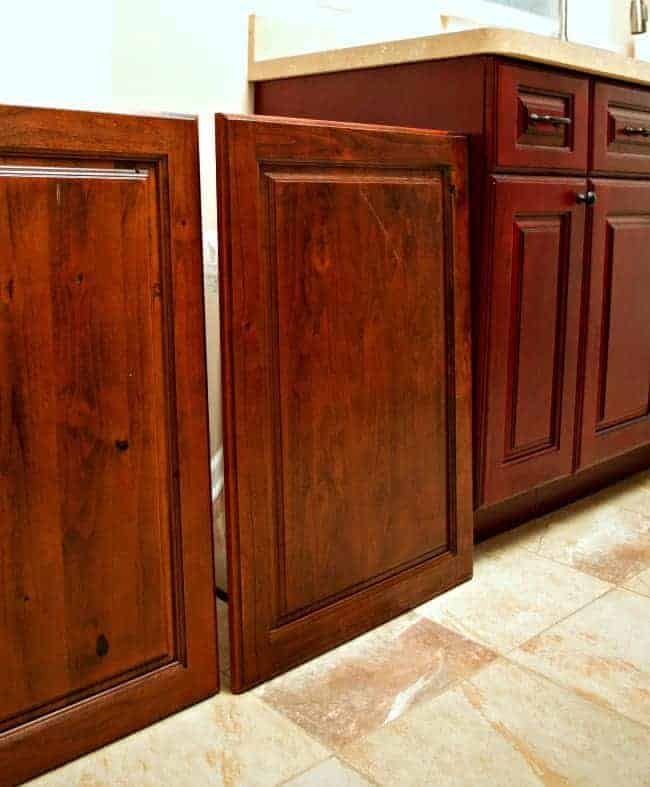 All I had to do was putty and sand the knots, then they were ready for primer and paint.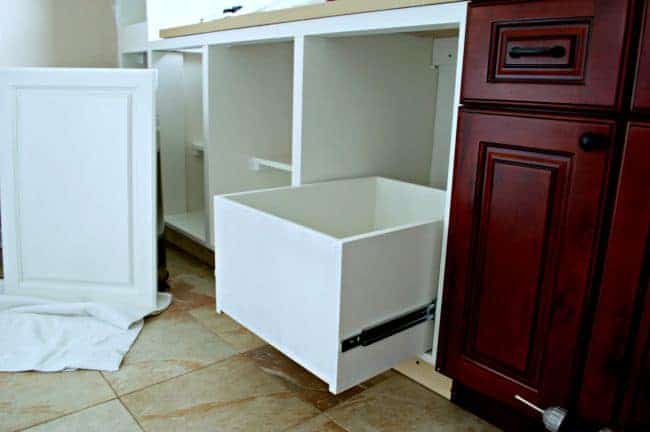 To attach the door to the drawer, we just screwed it on from the inside of the drawer.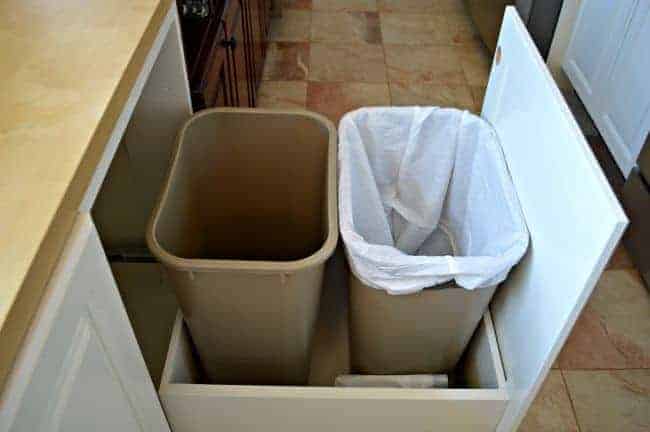 Instant garbage/recycle drawer...well...not exactly instant but it's pretty close!
Now I don't have to look at my trash and recyclables every time I go into the kitchen. Plus, it opens up the space where the cans were and keeps the dog from getting in the trash.
A double win.
I love how it turned out!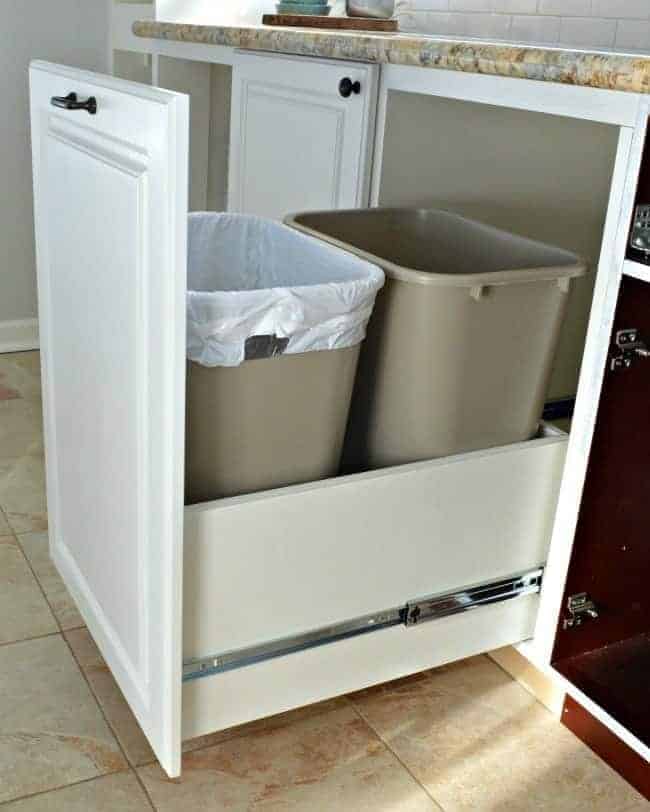 What is your opinion on trash/recycle bins? Are you ok with them out in the open or do you need them hidden away?
Check out the whole kitchen remodel reveal
Kitchen Remodel Projects and Sources