Kitchen Recessed Lighting
This post may contain affiliate links, please see our policy for details.
It's an exciting day at Chatfield Court. We're only one project away from finishing the kitchen renovation…woohoo! Lately, I've been feeling like it would never be done but we finally got our act together and tackled the last of the big jobs, the recessed lighting.
We've been living without proper lighting in the kitchen for over a year so finally having it all in, and working, is a huge deal. There was only one, lonely hanging light in this space when we started the renovation and it always seemed dark, especially with the dark wood cabinets.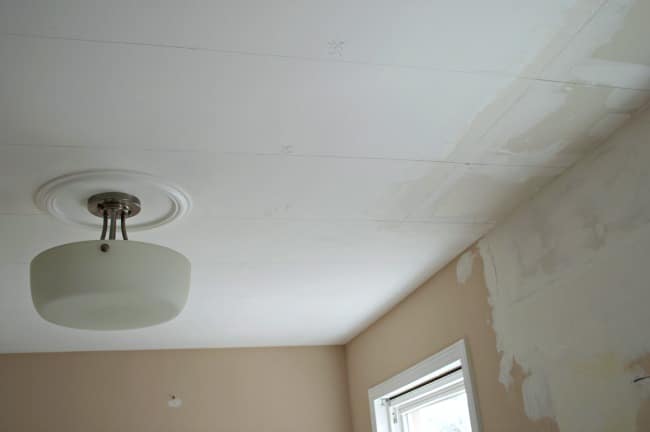 When we put the plank ceiling up (you can read about that here), I thought about covering the light hole and only using recessed lighting but, at the last minute, we decided to keep it.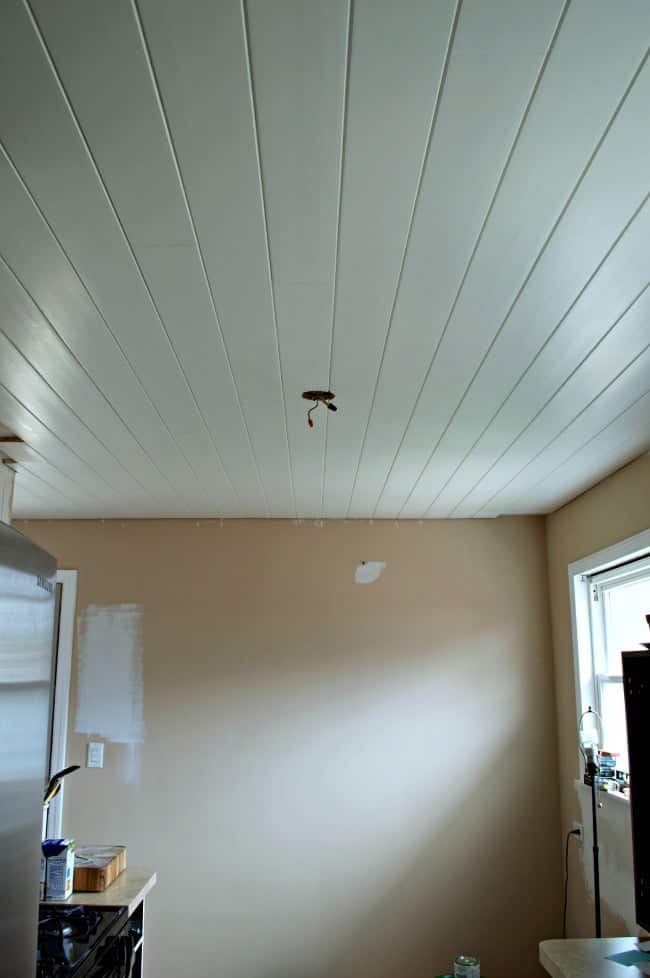 If you've been following along on our renovation journey, then you know that I tried several lights here before I found a winner.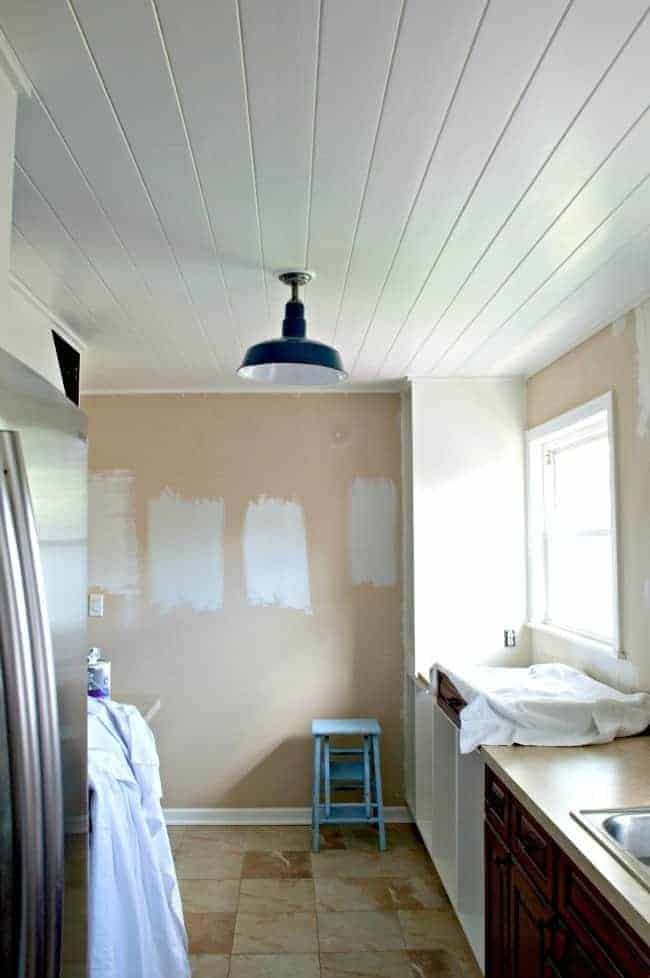 Nope…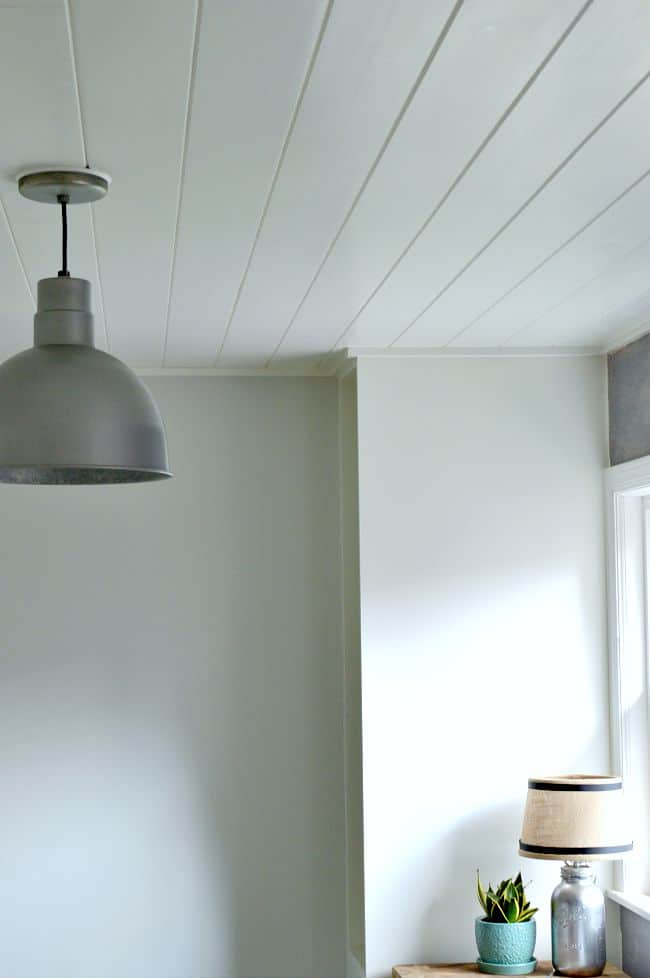 No quite right…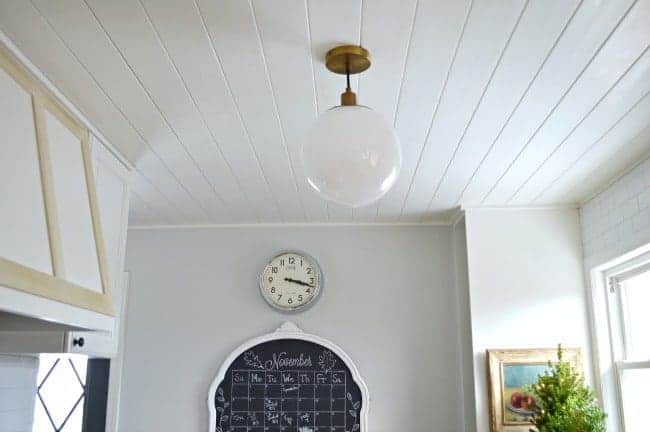 The winner!!!
With the ceiling done, the pendant light up and everything else nearing completion, it was time to think about the recessed lighting, the project that the hubs has been dreading most. It wasn't the messy install he was dreading but the trip up in the attic to make all the connections. It had to be done though and, since he's the electrical genius of the family, this was all him.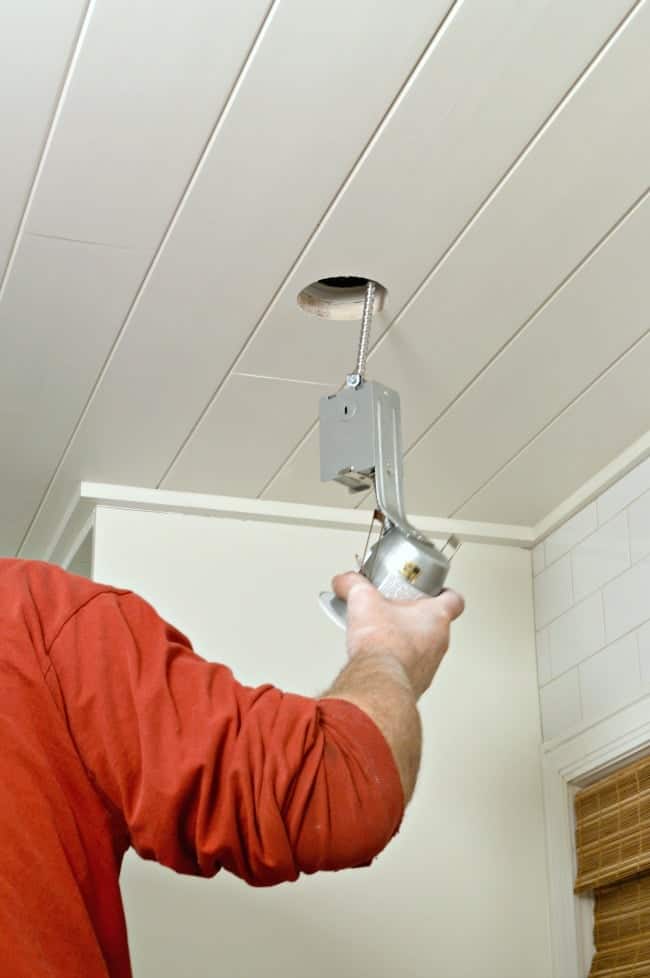 The one very important step we took when we planked the ceiling was to document where all the beams were so that, when it came time to install the lights, we would know where we could put them. This really saved us a lot of aggravation.
Another thing we did, before we cut one hole in the ceiling, was to put copied pictures of the lights up on the ceiling to see where we wanted the final placement. Strange? Maybe, but it was a huge help.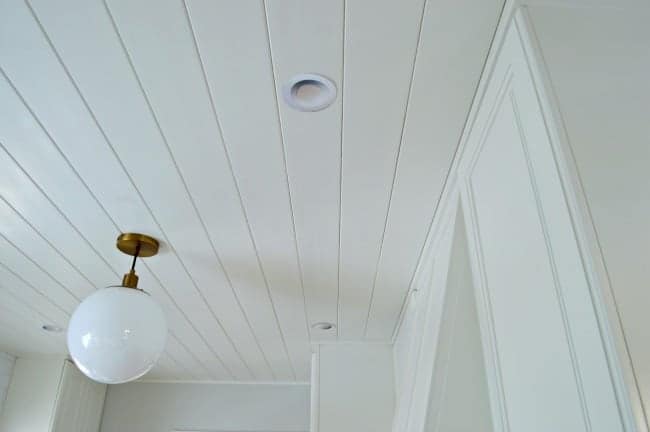 Don't they look real? The hubs wanted to keep these but we needed real light and, well…paper lights don't actually light up (believe it or not).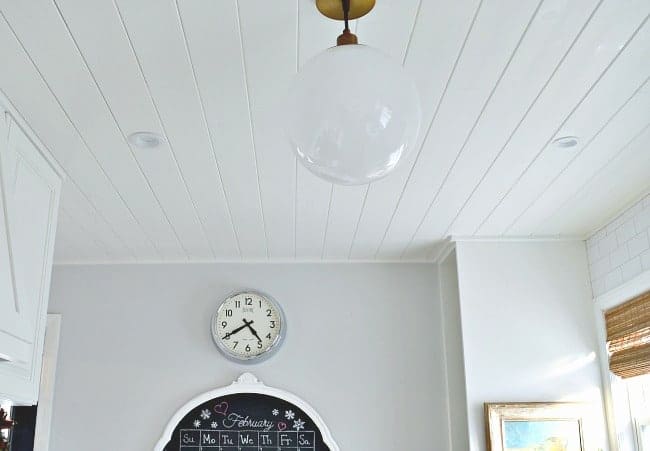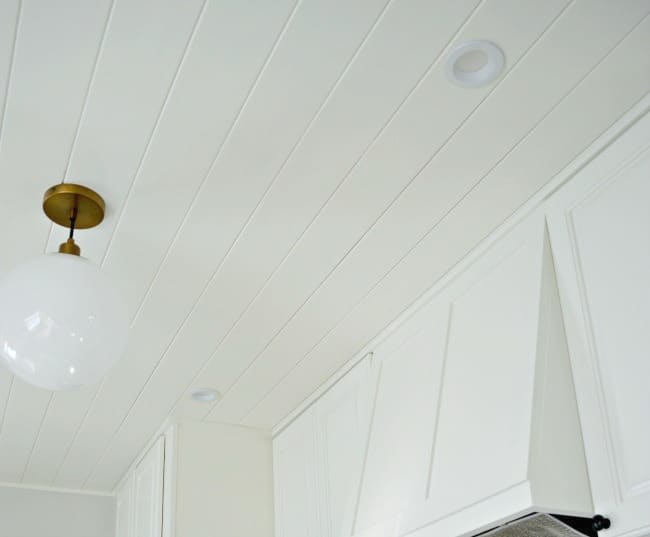 We installed 5 LED lights, 4 in the stove/sink area and 1 by the back door.
Do you see that beautiful cabinet door? We needed to have 3 custom-made and they just arrived. Guess who will be priming and painting this weekend?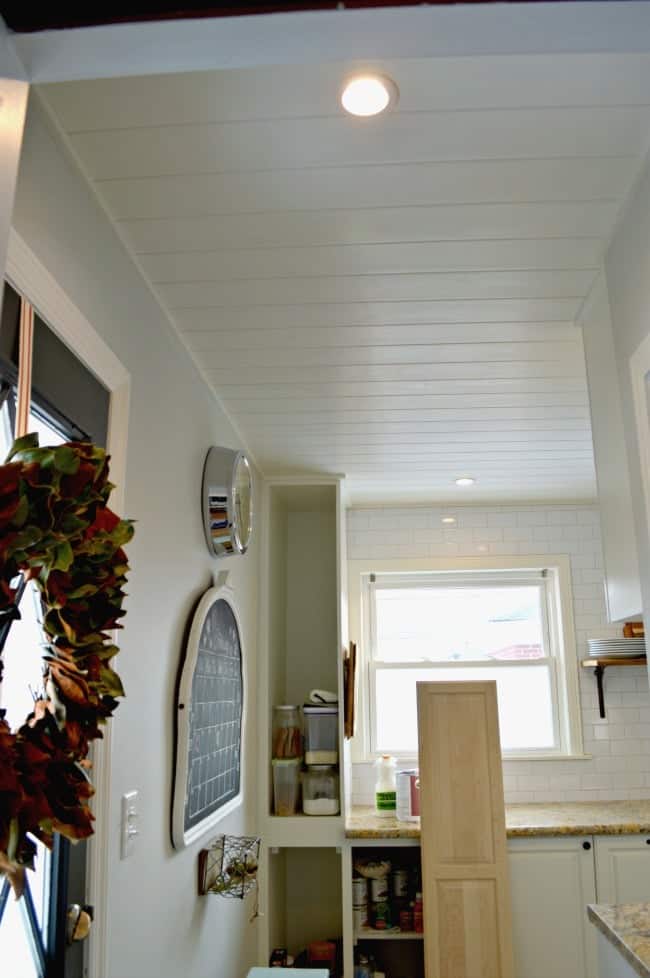 The hubs also installed a dimmer switch for the recessed lights, the pendant light has a separate switch on another wall. He wasn't thrilled about chiseling the wall but you know what they say? "Happy wife…" . We are both loving the dimmer though.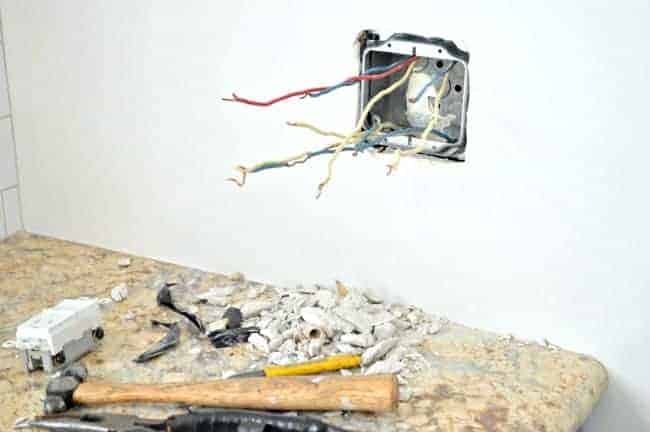 Three more cabinet doors to paint and install and we are done! The big reveal is almost here. Can you tell I'm excited?
Some of our other kitchen renovation projects…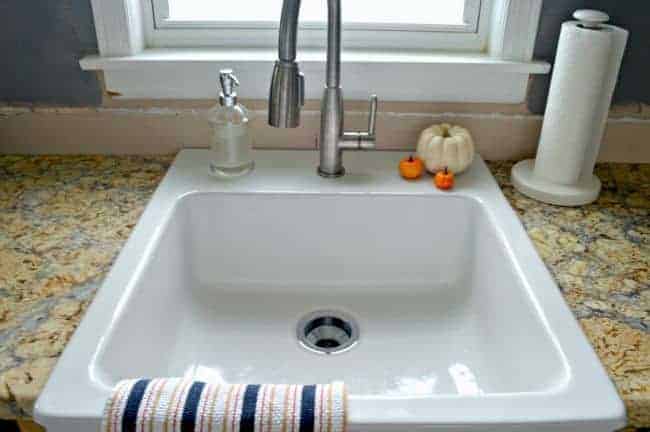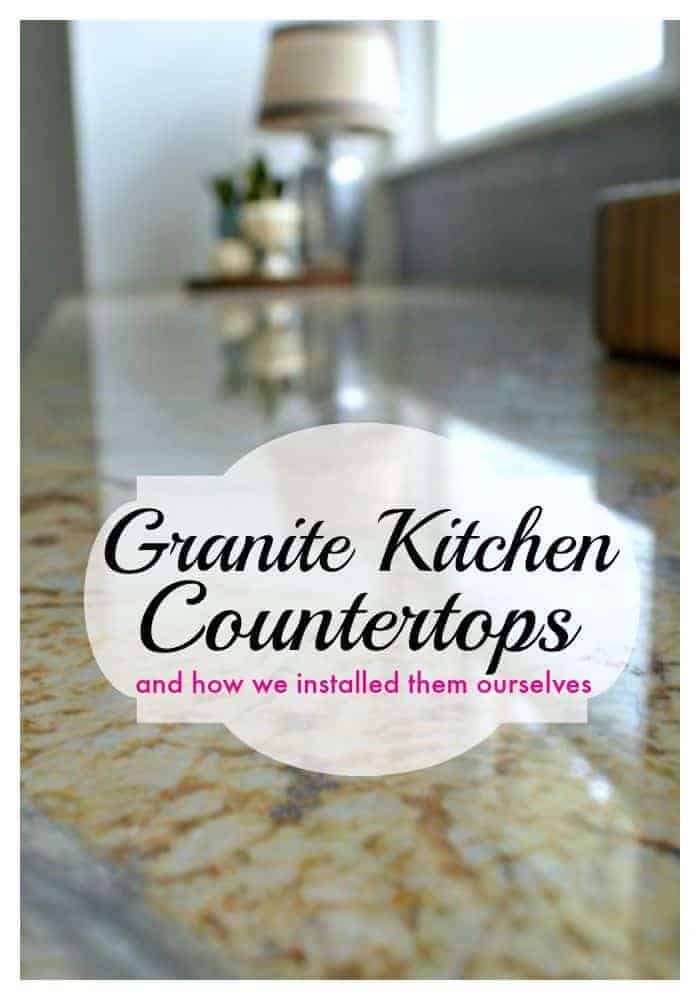 DIY Granite Kitchen Countertop Installation