Easy Way to Reuse Old Wooden Shutters
*As an Amazon Associate and member of other affiliate programs, I earn from qualifying purchases.
An easy way to reuse old wooden shutters in a master bedroom.
I'm not sure what's happening but it seems that I'm developing a theme windows lately.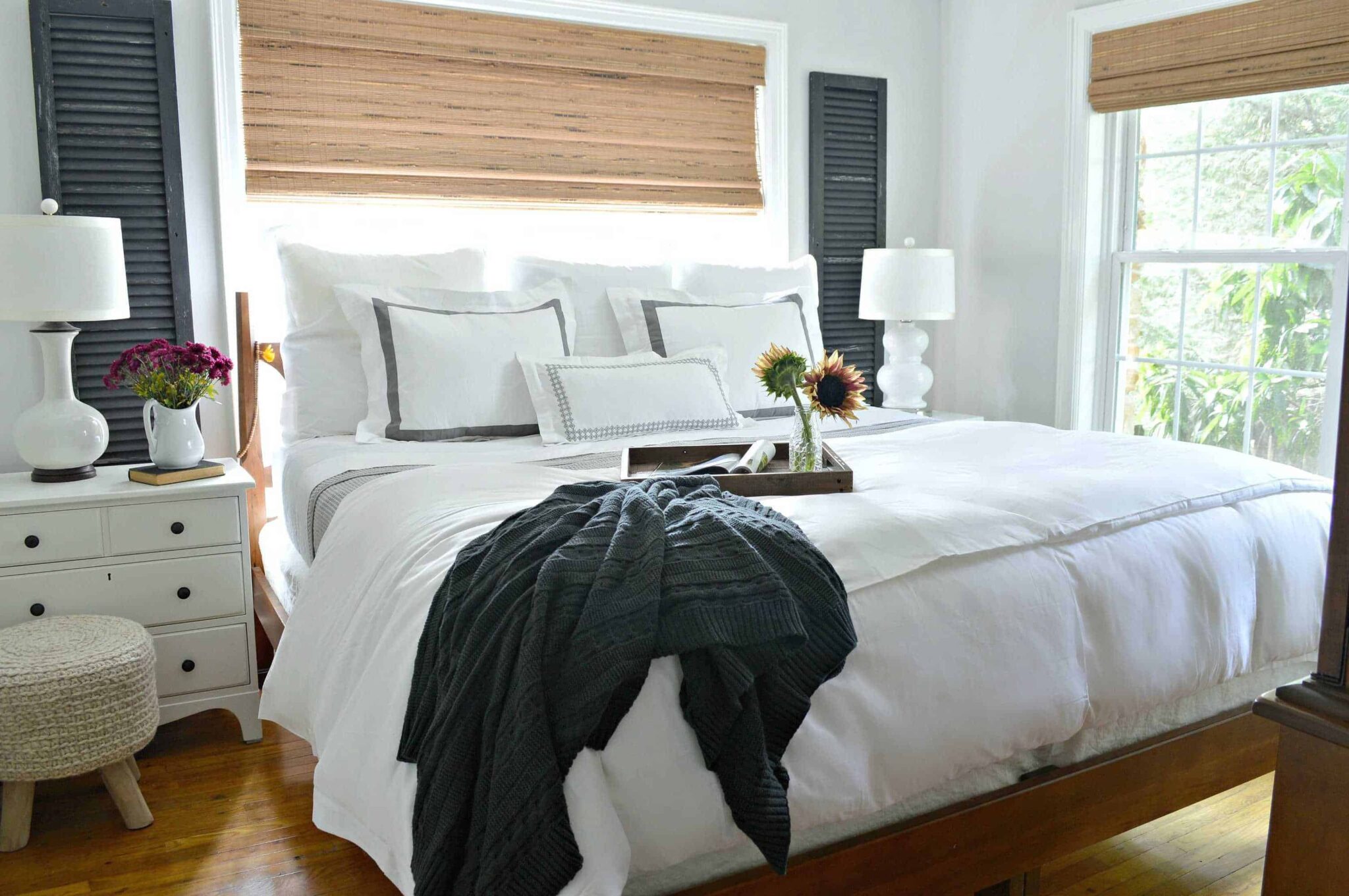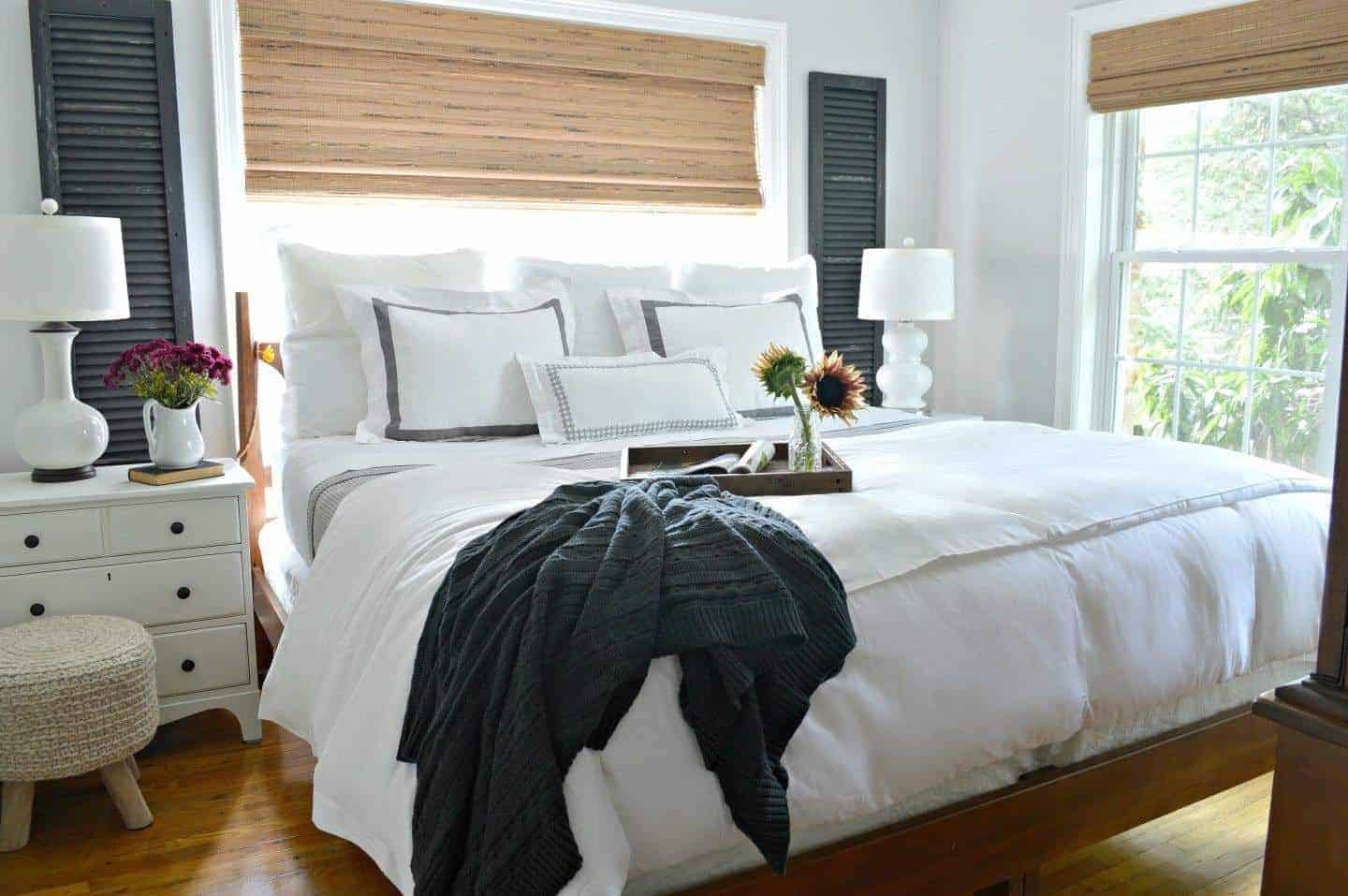 It started with a thrifted old screen, then it was custom curtain rods and sheers in the living room, and now it's old wooden shutters.
I actually bought a pair of old, rustic wood shutters for $10 from an estate sale when we lived in Illinois.
I found them hidden in the back of a garage, all full of cobwebs and filthy dirty.
They weren't pretty but they were intact and without any rot so I knew that a little TLC would fix them right up.
We'd been searching garage sales for shutters for our dining area window for months.
The shutters that we were able to find were either rotted beyond repair or way too expensive. These were just right so I knew they were winners.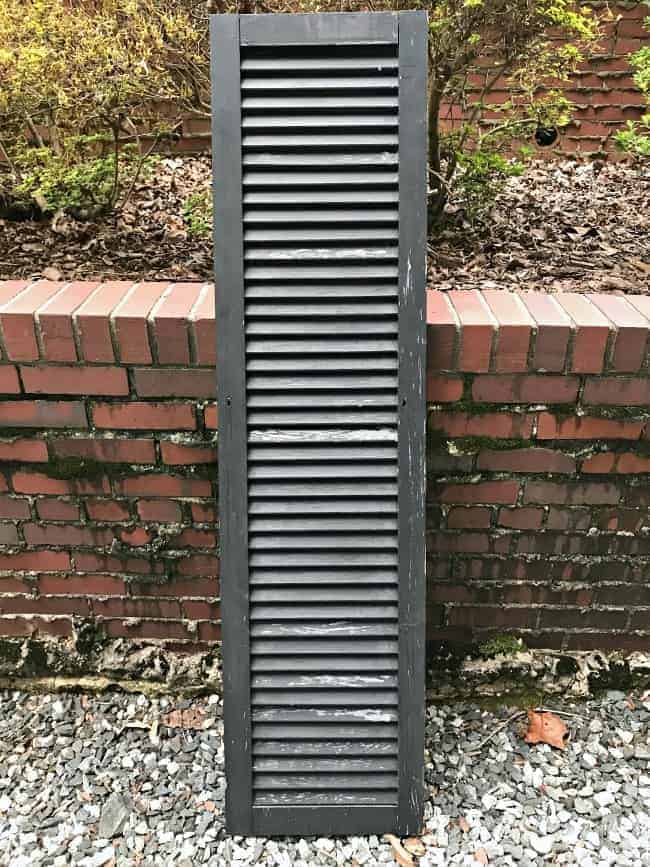 I took my prize home and was trying to figure out how I was going to hang them when the hubs took the new job in NC.
I wasn't about to get rid of them after all of that time spent looking, so we packed them up and moved them with us.
Fast forward to decorating our current master bedroom. We have a small master bedroom, as in teeny tiny, and decorating it has been a challenge.
Fortunately (or unfortunately) we have 2 large windows, which is great for light but makes decorating a bit tricky.
Most people would put curtains on the windows to soften the room but that's just not my style (although I did make one exception here).
Besides the fact that I don't care for them, curtains would have closed in the room, which is already small.
I felt that simple was best, so I hung my trusted woven wood shades and called it a day.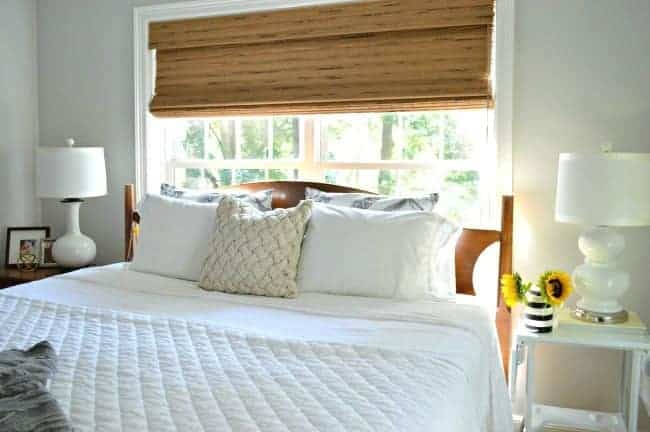 I added the typewriter table turned nightstand and lamp on the hubs' side of the bed, but felt like something was missing on the window.
Then I remembered my old wooden shutters hanging out in the basement. They would be the perfect touch.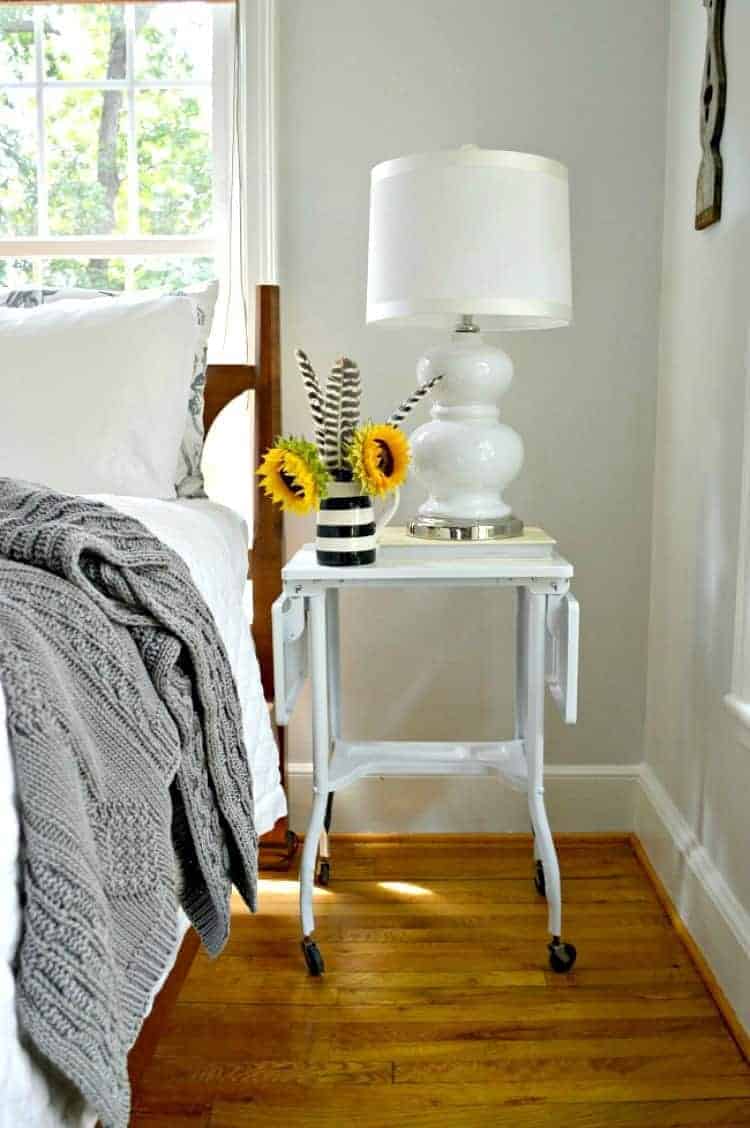 All they needed was a good cleaning, a trim to cut them to size and a few screws to secure the sides.
I like the idea of adding a touch of black in the room so I just kept them as is.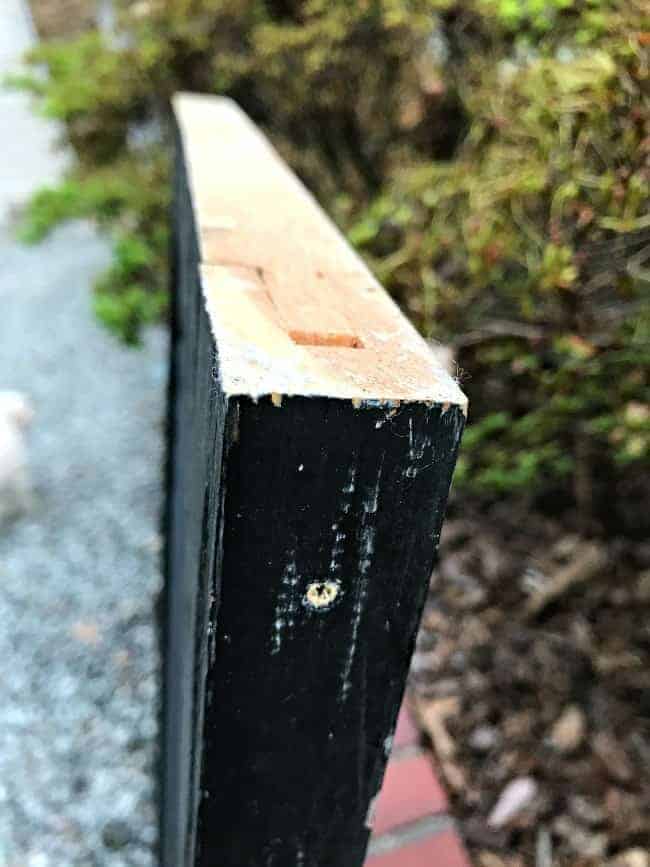 We hung them in place, on either side of the window, and they fit perfectly.
Just like they were meant to be in this space. I think the hubs even likes them. 😉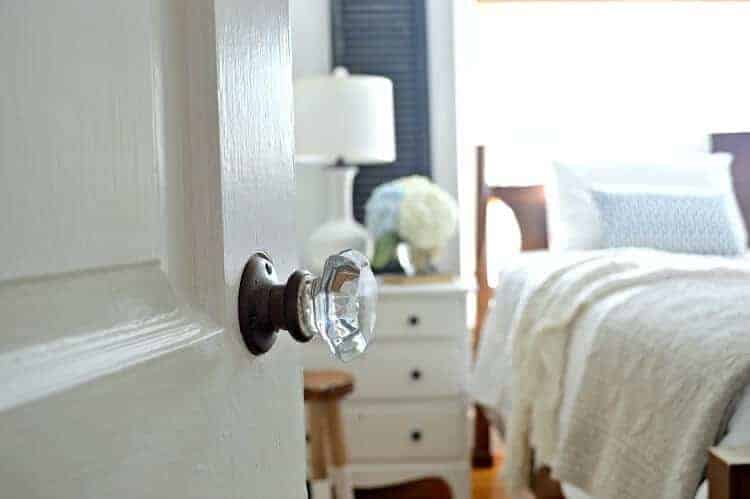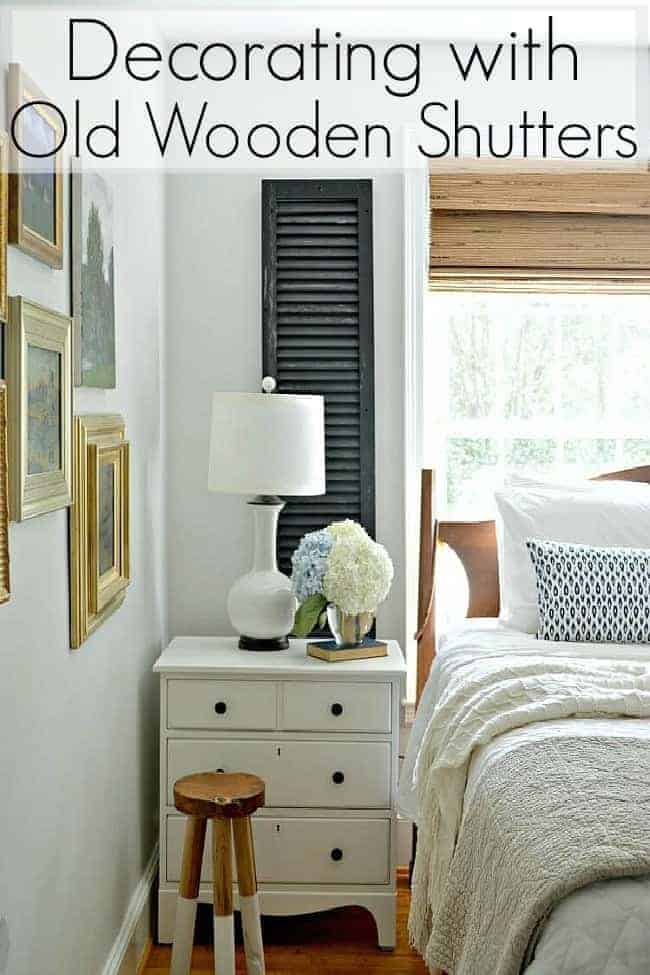 Now I just need to finish the rest of the room.
Have you found any new ways to use a thrifty find?
Remember to stop back tomorrow. I'll be sharing an update on the powder room addition.