DIY Industrial Nightstand
This post may contain affiliate links, please see our policy for details.
Turning a thrifted find into a DIY industrial nightstand for a very small bedroom.
I've already shared the story of our mismatched lamps in the master bedroom. Today we're going to check out my DIY industrial nightstand and how it was transformed.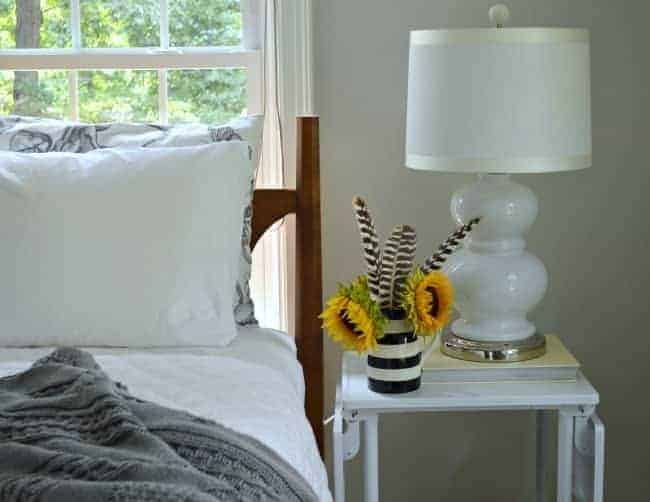 It's nothing dramatic, just a quick, easy and inexpensive upcycle.
We only had one lamp and nightstand in our new master bedroom, and really needed to add more light, so we decided that a new nightstand and lamp would be an easy fix.
We've always been a "one lamp in the bedroom" kind of couple. Maybe that's weird, I don't know, but for one reason or another I've always had a nightstand and a lamp and the hubs has always had a small pedestal and his clock.
We don't have overhead lighting in this room so this arrangement wasn't working for us.
To remedy that, I began the search for a new nightstand and lamp.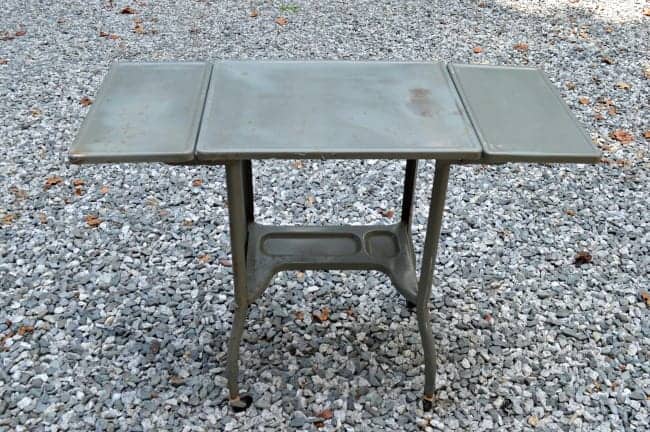 I was able to find a lamp but had a bit more trouble with the nightstand.
We have a pretty tight master bedroom, and a king size bed, so the nightstand had to be on the small side.
I looked online and scoured estate sales and thrift stores but couldn't find anything I liked in the size I needed.
Then I spotted this vintage typewriter table under a bunch of heavy boxes at a thrift store.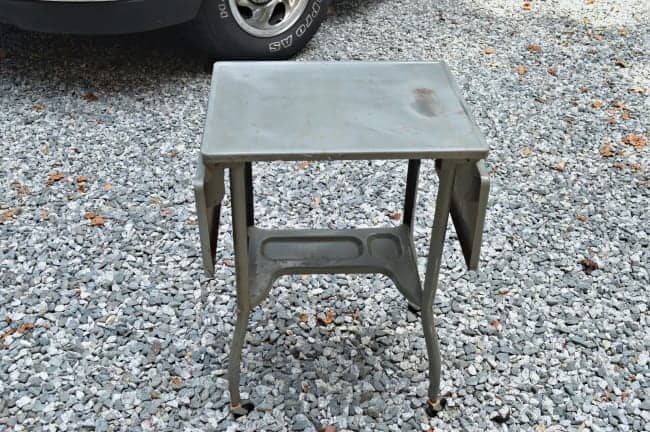 It was rusty, old and dirty, but for $5 I figured I could find a use for it, not even thinking about using it as a nightstand.
I brought it home, gave it a good cleaning and sanded the rust off when it hit me…
We could use it for a nightstand…an unusual industrial nightstand (until I could find a proper one that fit our space).
I took some measurements and it was just the right size, a bit on the short side, but otherwise a perfect fit.
Supplies to turn a typewriter table into a bedside nightstand
mild detergent or mineral spirits if it's greasy
wire brush
clean rag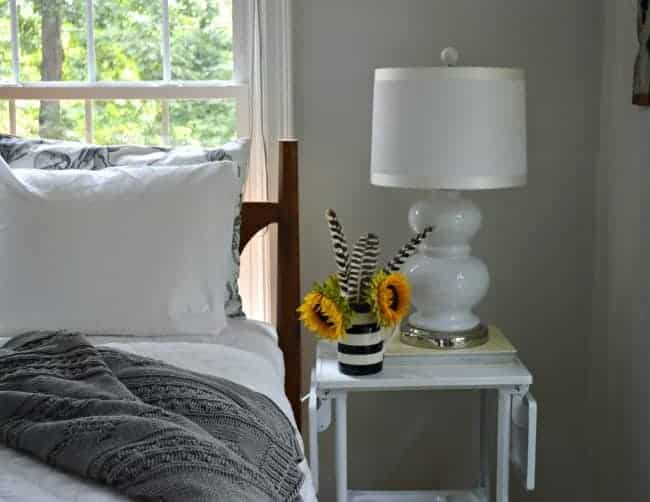 I have no clue what I'm going to do in the master, so I decided that I would paint the "new" nightstand gloss white to keep things easy.
After it was clean and the rust was sanded off I gave it a couple of quick coats of gloss white spray paint.
After some time to let it dry it's ready for its new life as a bedroom nightstand (for now anyway).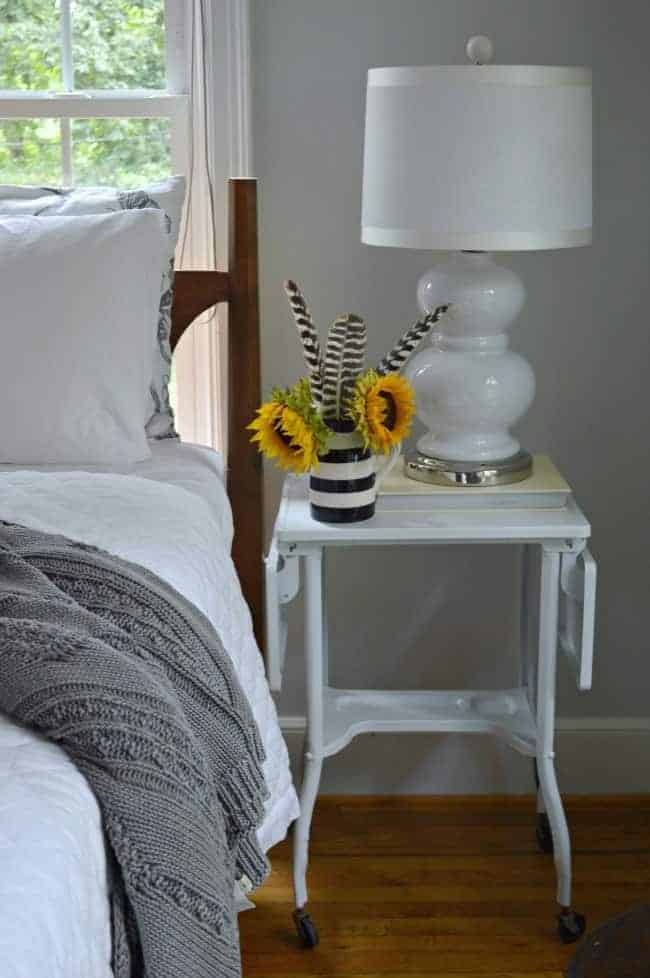 It's different and quirky and a nice change from all of the wood. The hubs is happy with the change too.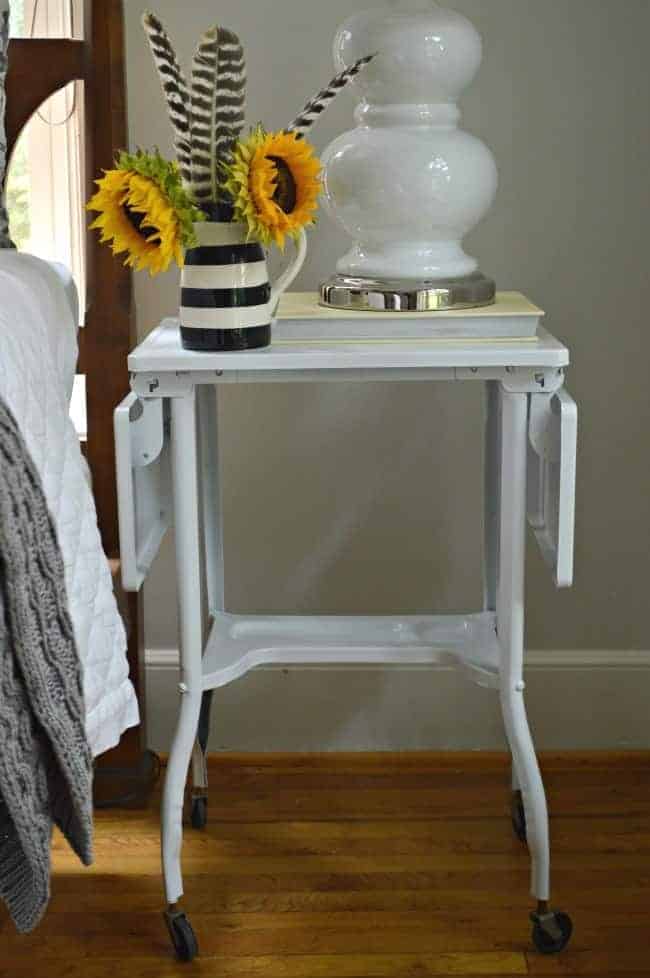 I mean…I think he is, but you never know.
Now we are a "2 lamps in the bedroom" kind of couple.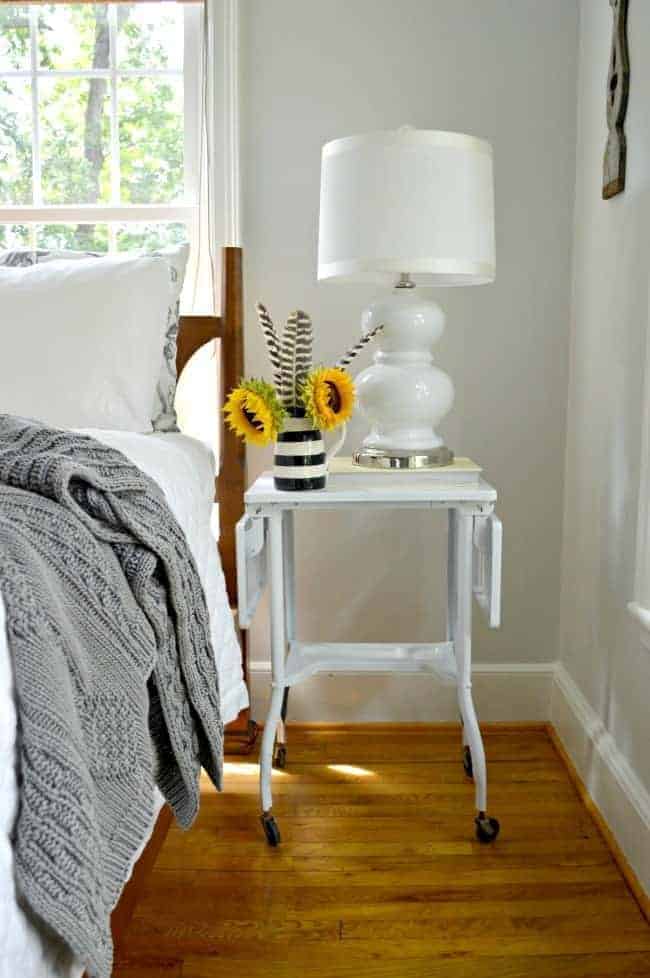 Change is good. 😉