Disclosure: As an Amazon Associate and member of other affiliate programs, I earn from qualifying purchases.
How to make easy DIY curtain rods with black pipe from the home improvement store, for any window in your home.
There's been a lot of changes in the living room the past few months. Some projects are complete, like the basement door, the mantel and the fireplace, but there's still some work to be done.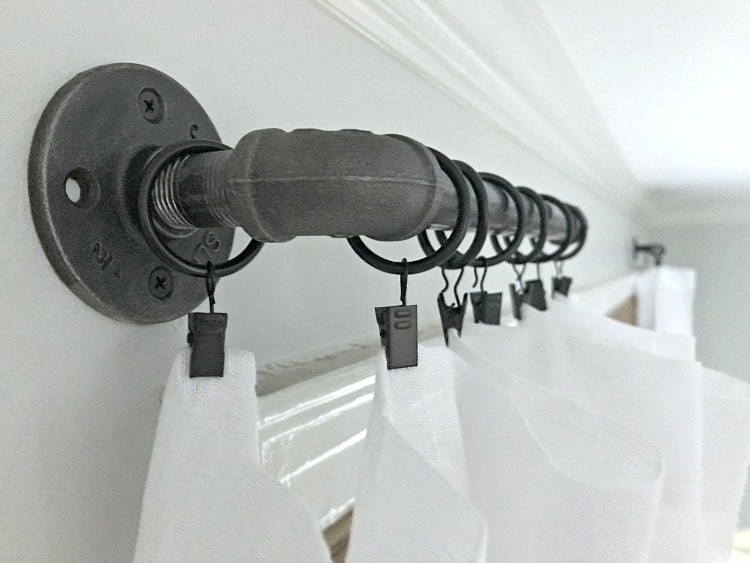 The last project I recently completed was new curtains, which included some cheap DIY simple curtain rods made from black steel pipe.
If you've followed me for awhile then you may have noticed that I'm not really a curtain kind of girl. I love to look at them in other people's homes, I'm just not a fan of them in my own. Part of the reason is that I like to keep things pretty simple, including the windows. Another reason I don't like them, if I'm being totally honest, is because they get dusty and it ends up being something else I have to clean.
Nope..curtains are just not my thing.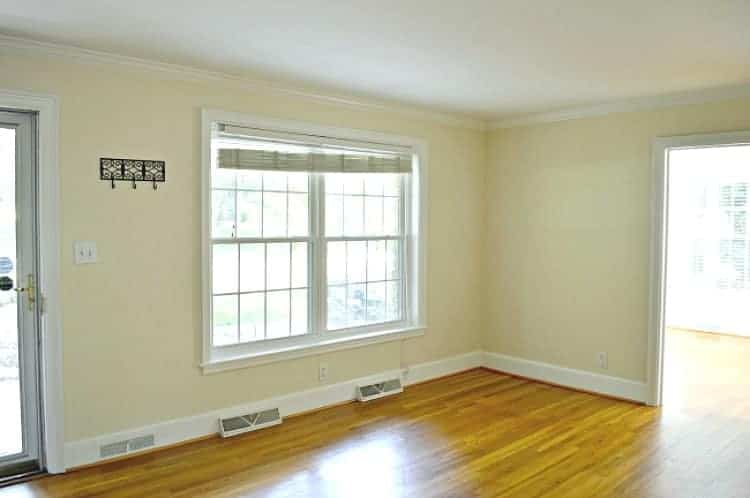 This isn't only about the curtains though, it's about making your own custom DIY curtain rods.
The picture above is the living room right before we moved in. The previous owners had blinds in the window that didn't fit properly and blocked a lot of light. So, down they came and up went a lined, woven shade in their place.
Here's the living room after the new shade was hung. It's certainly simple but a little too simple for me. The window, and room, needed something soft, like curtains. I tried to live with the simple look for months but I just couldn't deny it any longer...this space needed curtains.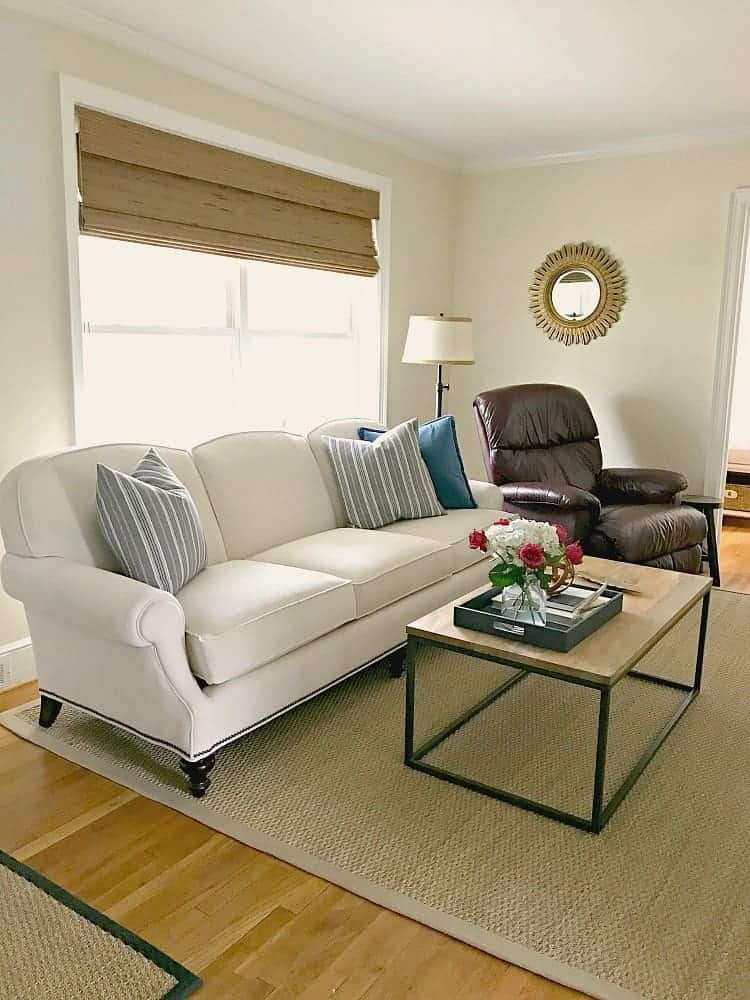 I still wanted to keep it simple, and not block any precious sunlight, so I decided to try sheer linen panels. Once I found panels, I had to decide on a type of curtain rod.
What can I use instead of a curtain rod?
I knew that I didn't want to go the traditional curtain rod route so I had to figure out a different way to hang my curtains.
This room is tiny, but the window is pretty large, so I knew that I didn't want the distraction of big, long rod. We would never close the curtains anyway, so there was no reason to put up a full traditional curtain rod.
After a little brainstorming I settled on a cheap curtain rod idea that can be found at right in your local hardware store.
Supplies to make simple curtain rods
As an Amazon Associate and member of other affiliate programs, I earn from qualifying purchases.
4 wood screws
2 packages curtain clips ($7.47 each)

Putting together a DIY curtain rod
~Check out the How-To card for full instructions at the end of the post.
Once I got all of my supplies home, hanging them was pretty easy.
Just remember...when you work with this kind of pipe, you need to wipe it all down really well. It's pretty greasy and will turn anything it touches black, including your walls and your curtains.
When I hung the rod I made sure I hit a beam with both of my screws to keep everything sturdy and secure.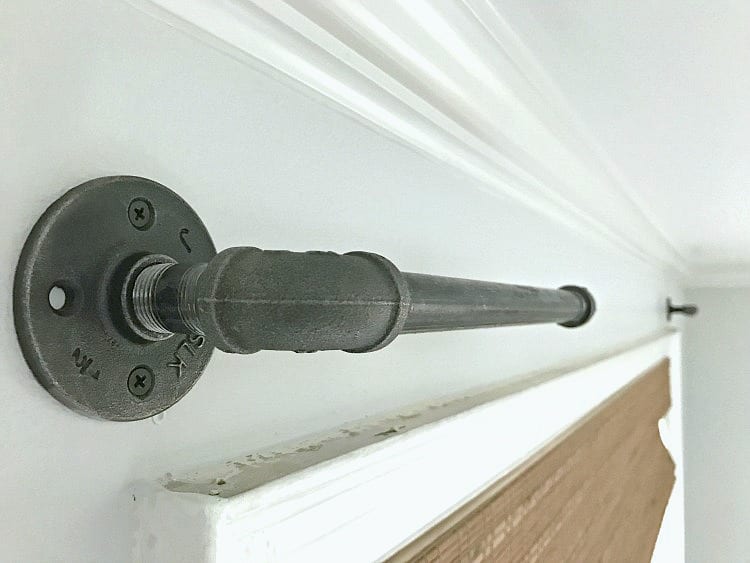 I'm still not finished painting the room but I'm sharing a sneak peak of the color and the new custom curtain rods.
It literally took me less than 15 minutes to hang the rods and curtain brackets on each end of the window, as well as the curtain panels.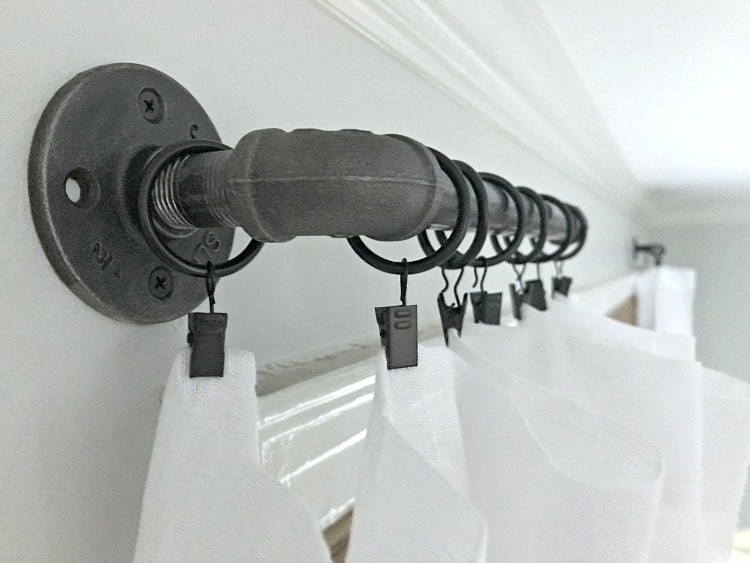 Simple.
It took me a while to get used to the look but I like it so much better. It softens this area without blocking the sunlight. And I love that they're shorter and there isn't a black rod going across the whole window.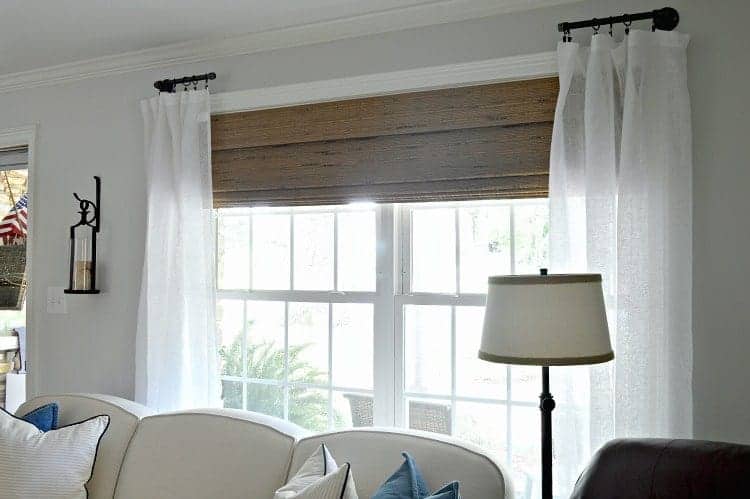 I'm still having one issue in this room (besides the fact that it's too small and has an awkward layout). The sofa isn't centered on the window. We've tried removing the hubs' favorite chair and moving the couch down but we really need the extra seating.
Remember, this is a small room and the window wall is the only space for furniture.
It's not perfect design-wise but it is comfortable for the two of us. Comfort is more important than design aesthetic.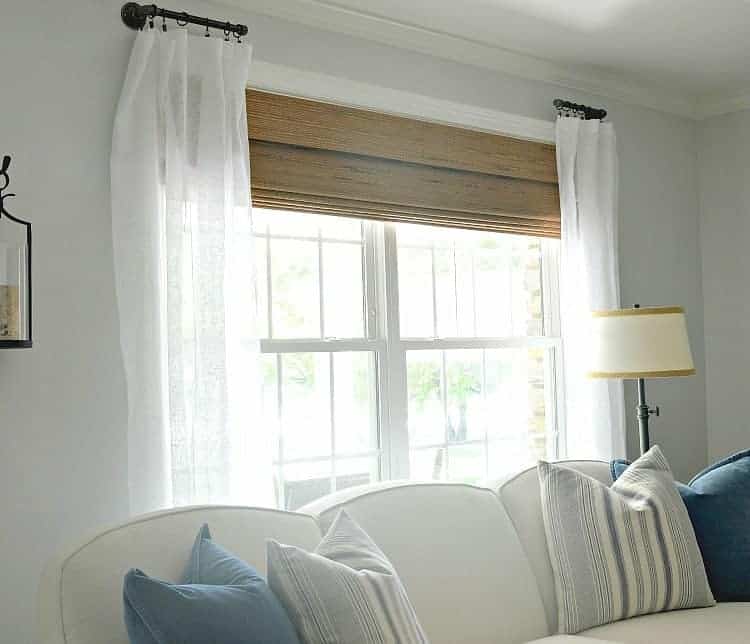 So, in the end, I'm loving the new curtains and my cheap curtain rods. Will I hang curtains in more windows around the house?
Probably not.
But I guess I should say..."never say never".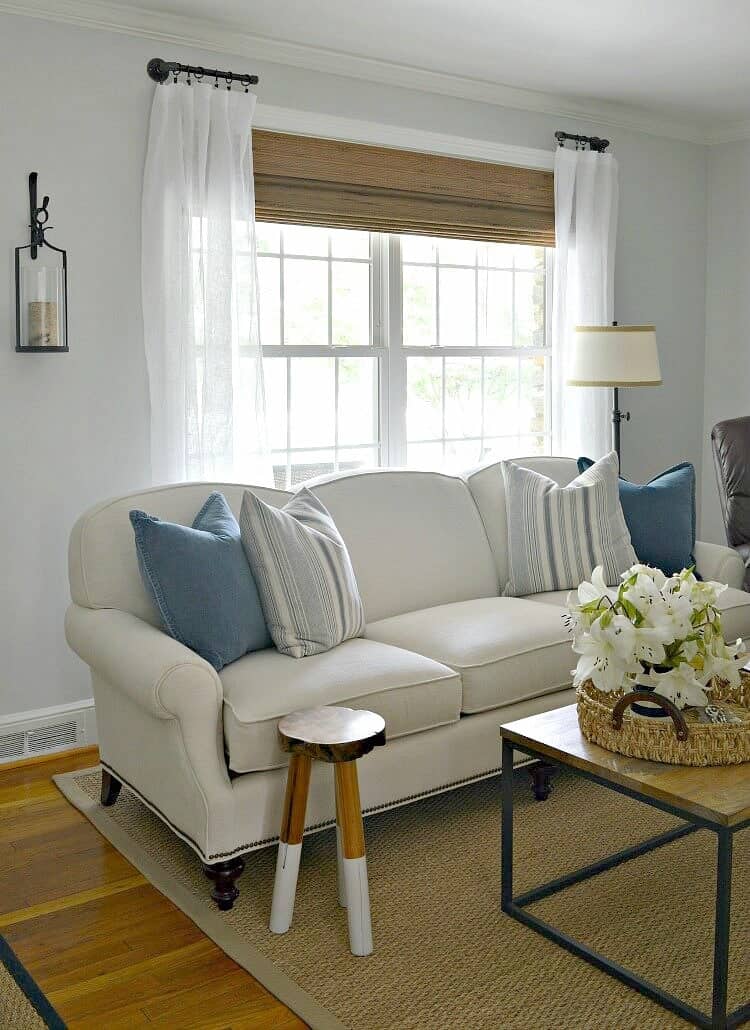 Are you a curtain person, or do you like to keep your windows simple?
Some of my other living room projects...
Sources
(Affiliate links used. If you click on an affiliate link and make a purchase, I will receive a small commission, at no extra cost to you. Please see my Privacy Policy for more info.)