Updating old doors with new glass door knobs.

I'm so excited to share a project that has been a year in the making, updating our old bathroom doors with new glass door knobs. Living in a 1946 stone cottage has it's charm but also it's problems. Well, it has a lot of problems but we'll just focus on one today…the old doors and door knobs.
I actually love the old doors. They're paneled solid wood with original (for the most part) glass door knobs. The doors are beautiful but most of them don't close right, if at all.  Some of the glass door knobs are either painted over, falling off or missing pieces. These doors have seen a lot of action in their 70 years and it shows.
The door that we use the most is the first in line for some attention, the bathroom door. It closes but it doesn't match the rest of our glass knobs.
This post is sponsored by Wayfair and Nostalgic Warehouse. I did receive product but, as always, all opinions are my own.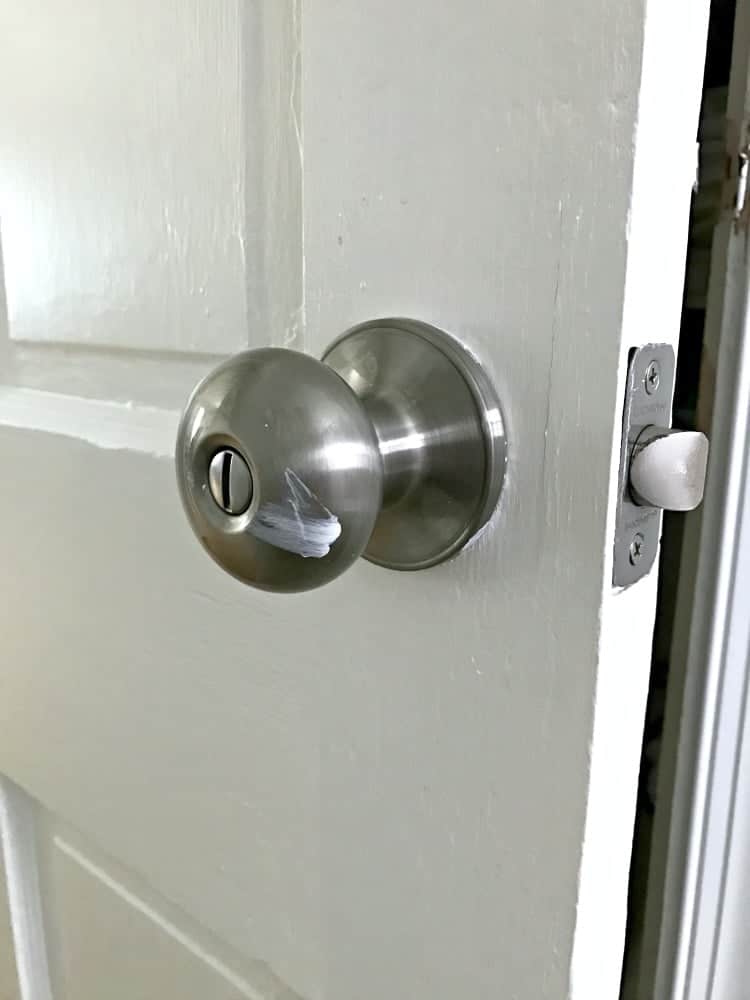 Not the look we're going for. So when Wayfair reached out to me about their Touches of Elegance campaign, I knew it was the perfect campaign for us. We were asked to pick out new door knobs for one room of the house from Nostalgic Warehouse's beautiful selection.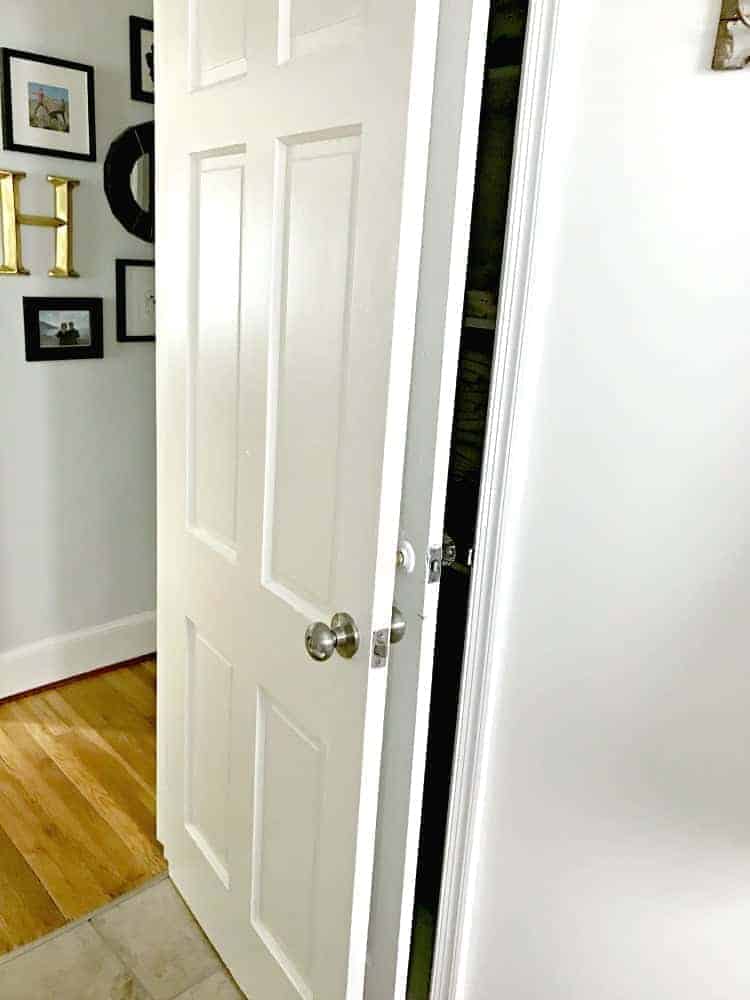 Although the main door closed without an issue, the closet door was another matter. We haven't been able to close it properly since we moved in and every time you would open the main bathroom door, it would hit the closet door.
The closet door knob was a real mess. There was old paint all over it and the door frame was in need of repair. I knew it was in bad shape, but I never realized how bad until I started taking pictures. Eeeek!
Of course me being me, I couldn't just remove the old door knobs and replace with the new. Nope…not in this house. I had to do a little makeover on both doors so (A) they would close properly, and (B) so they would look their very best for our beautiful new glass door knobs.
The main door just needed a few spots caulked and a fresh coat of paint (SW Pure White) but the closet door needed a bit more attention. We had to remove it, along with the hinges that had layers and layers of paint on them, so that we could sand down the edges to allow the door to close properly. The door had been painted a ton of times over its 70 years and, with each coat, it built up and prevented the door from closing. Luckily some sanding fixed the issue (actually a lot of sanding). It's not perfect but it's so much better.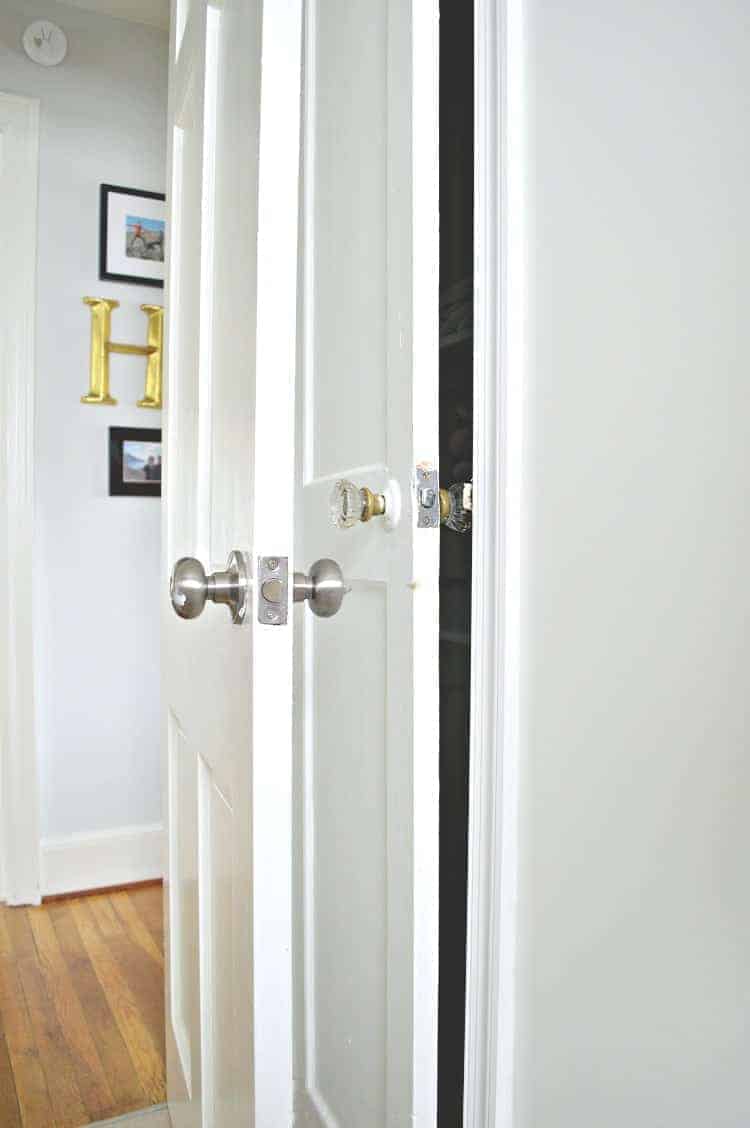 We also had to scrape and paint the closet door frame. OMG, talk about ugly. It was a mess.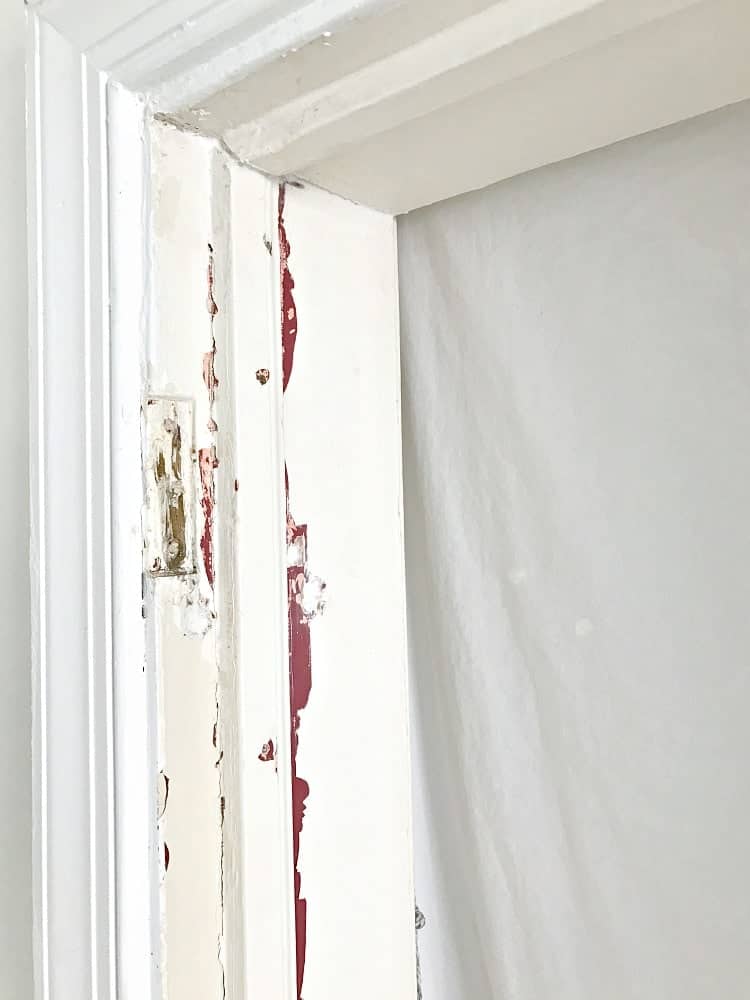 I've been dreading this project since we moved in but it was time. I scraped the loose paint and filled all of the holes. The right thing to do would be to strip the frame and start over but it's a huge job that's at the bottom of the list. At some point we'll do it right but, for now, it looks better and it closes. Plus it has that beautiful brass and glass door knob to distract you.
Once I scraped and painted both doors, we added the door knob to the main door. I went with Crystal Glass Privacy Door Knob with Studio Plate by Nostalgic Warehouse for the main door. They are so easy install and, in just a few minutes, we transformed the door. No more paint smear on a door knob that didn't match the era of the house.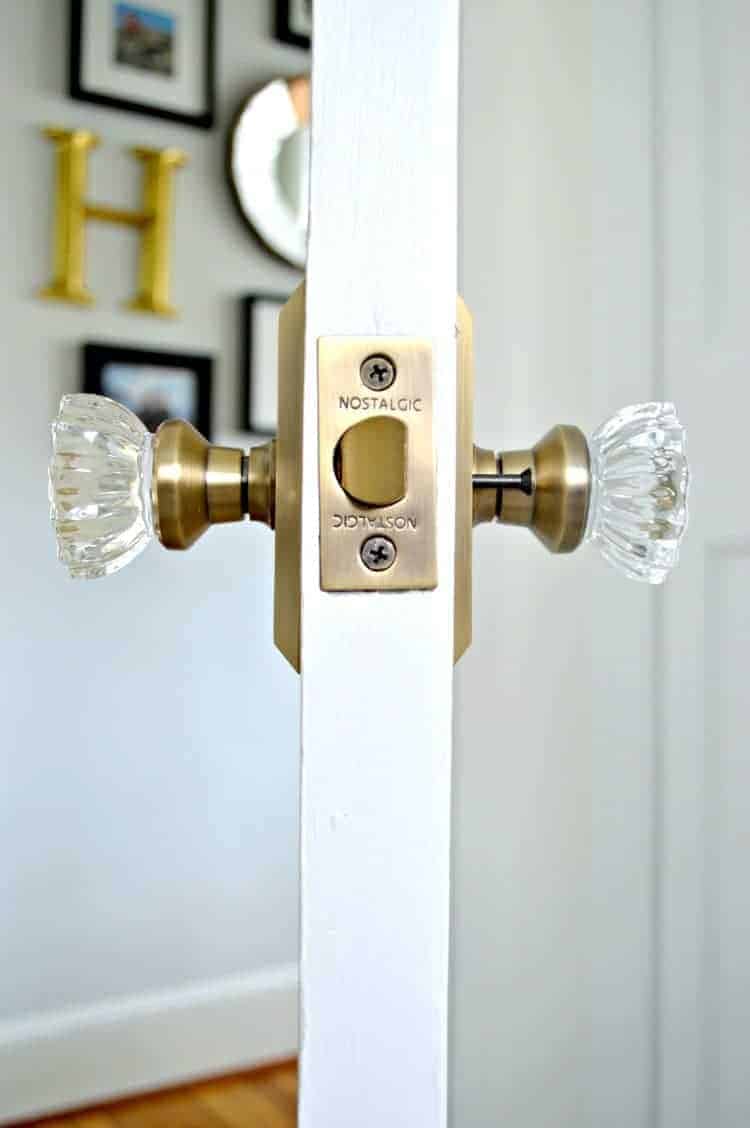 Full disclosure here…
Things didn't go the way we'd hoped with this project, which happens a lot but, because I'm always honest with you about our projects, I thought it only right to share everything that happened. The good and the bad.
The closet door was a bit more involved. I ordered a passage knob and it ended up not fitting. The door is only 1 1/16″ thick so it was tricky getting something new to fit a thin door. I worked with Nostalgic Warehouse, who went above and beyond to find a solution for me, but we just couldn't get it to work. It was nothing that they did wrong, it's just an old door, and an odd size.
You can see the difference in the thickness of the doors in this photo.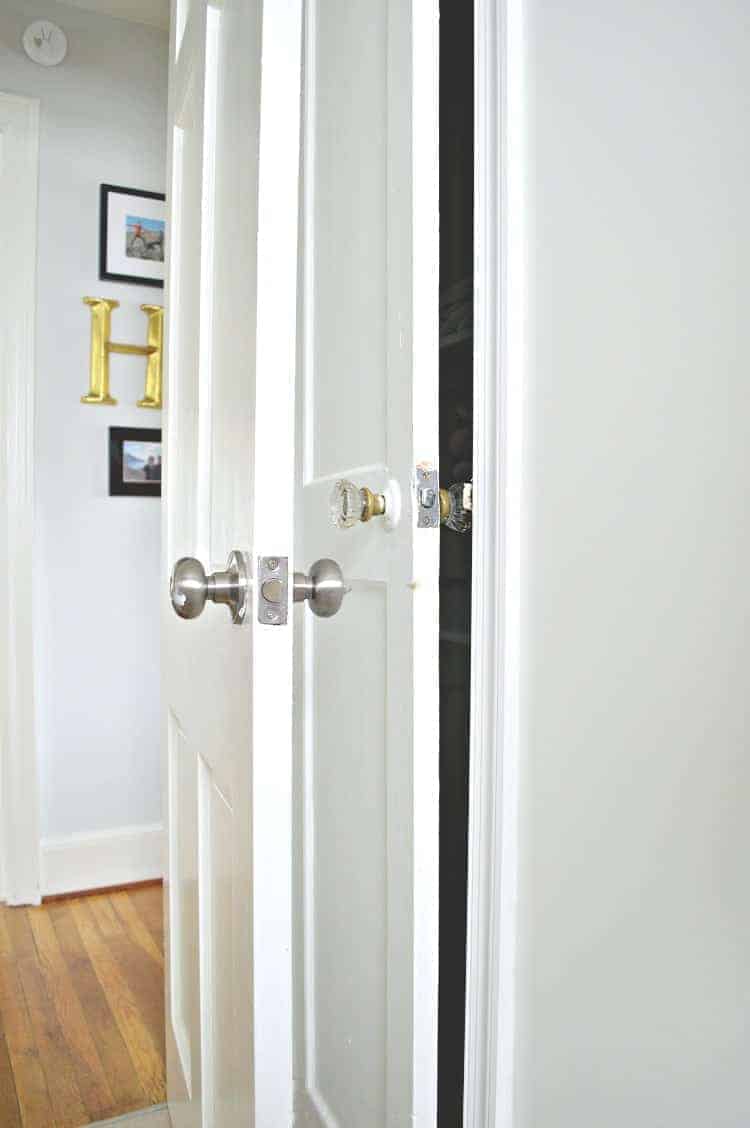 In the end we went with the Crystal Glass Double Dummy Door Knob with Studio Plate by Nostalgic Warehouse, which doesn't have a latch.
Besides the fact that there isn't a latch for the door, we had to move plate and glass door knob down a few inches, otherwise the plate would have rested over the panel. Not a good look.
The knob looks beautiful but we still have the holes where the latch and the strike plate go. They aren't centered with the placement of the new glass door knob, so we'll eventually fill them in and repaint. We're quickly learning that nothing is ever easy when it comes to an old house.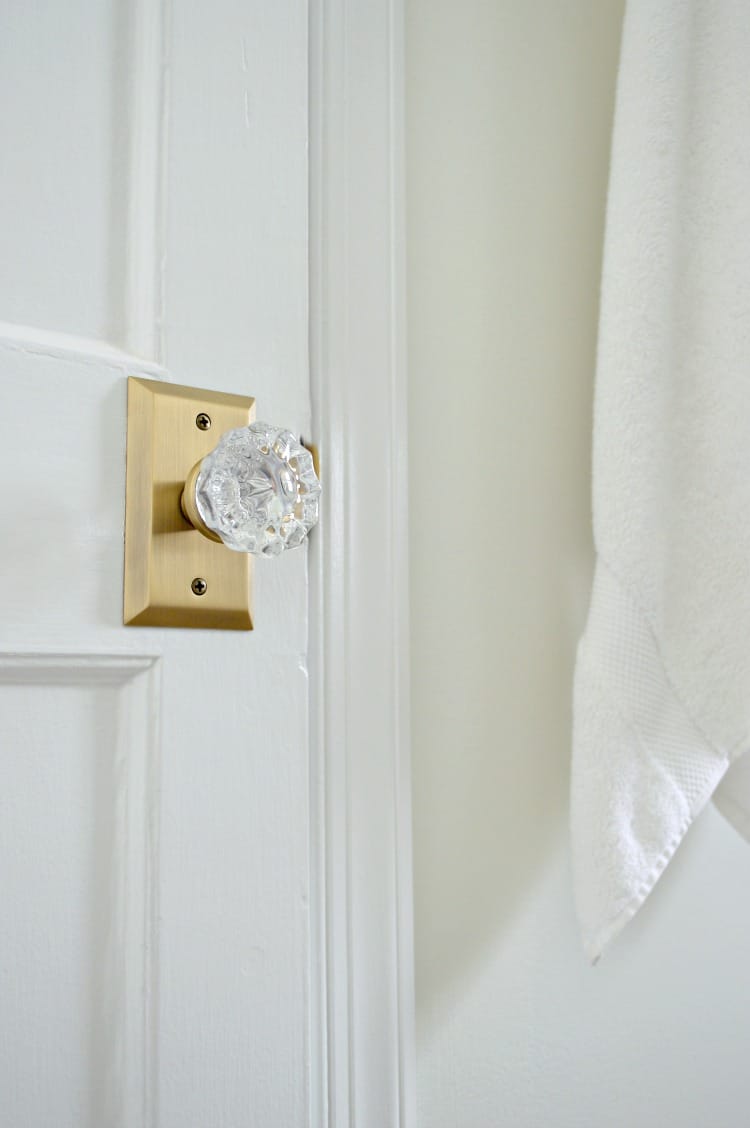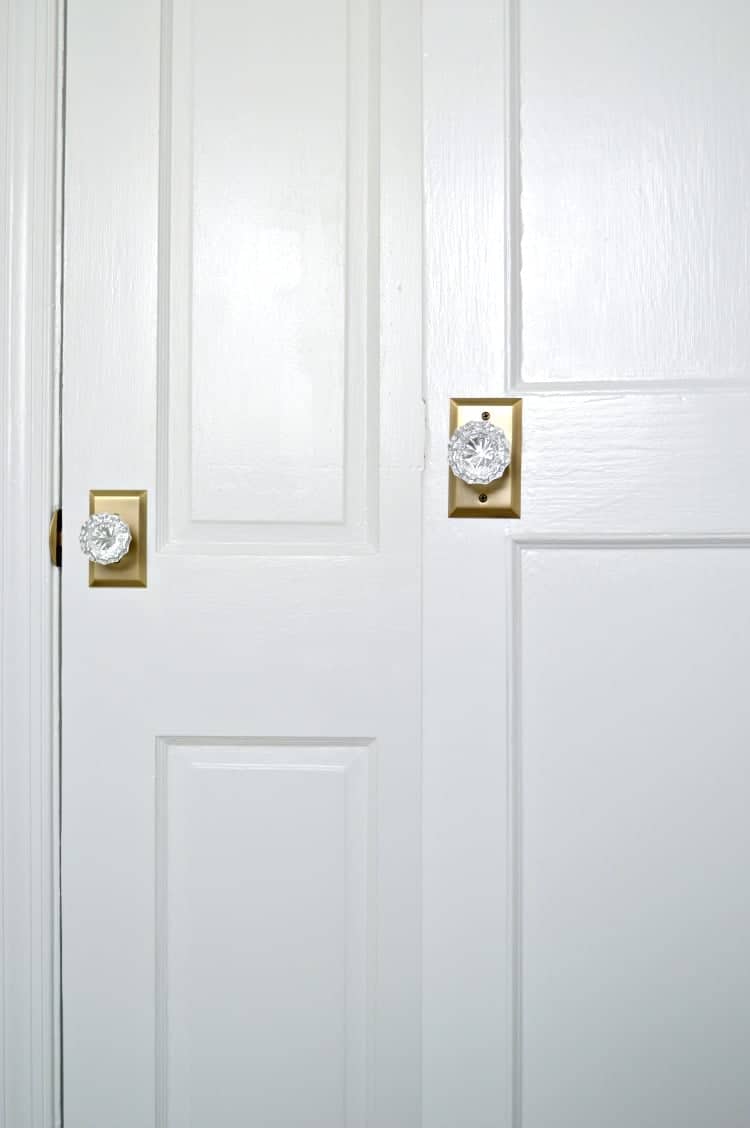 We still need to figure out a way to latch the door because it doesn't close tight on it's own. Something that will allow us to open and close it easily. I'll keep you posted on what we end up doing.
The new door knobs though?
Oh my…
I really love the way they look! I have antique brass scattered throughout the house, including the bathroom, so these glass door knobs fit in beautifully.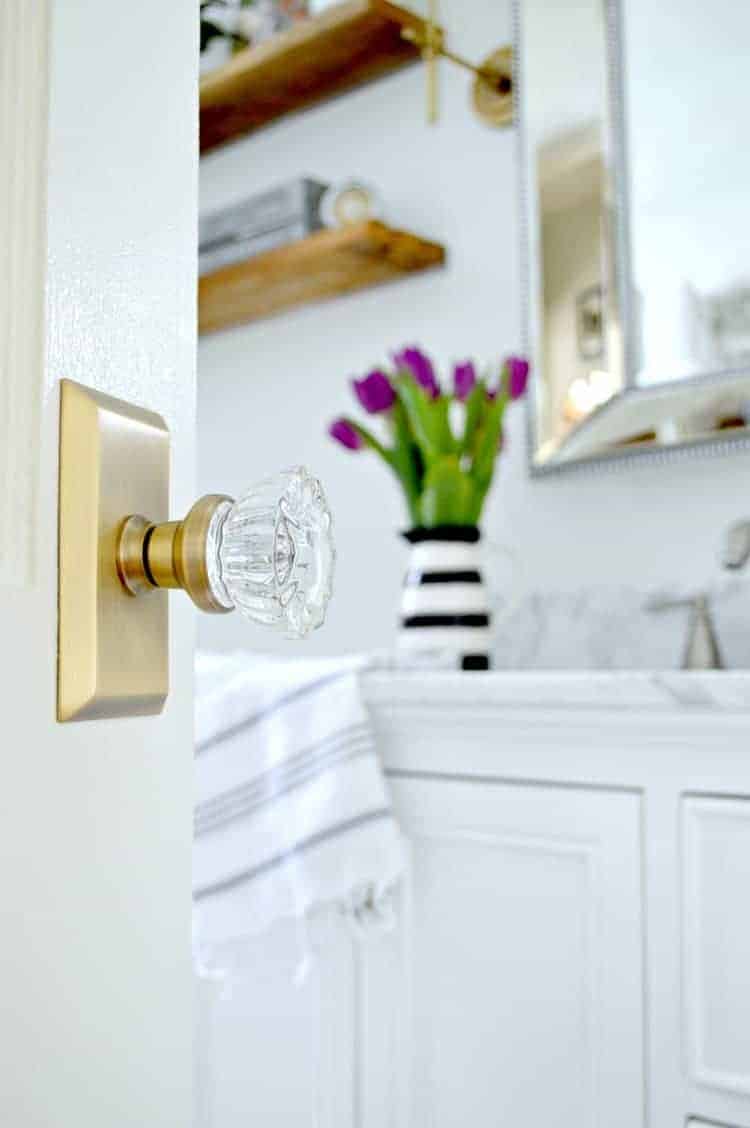 Now I'm anxious to get to all of the other doors.
After I figure out a way to butter up the hubs. 😉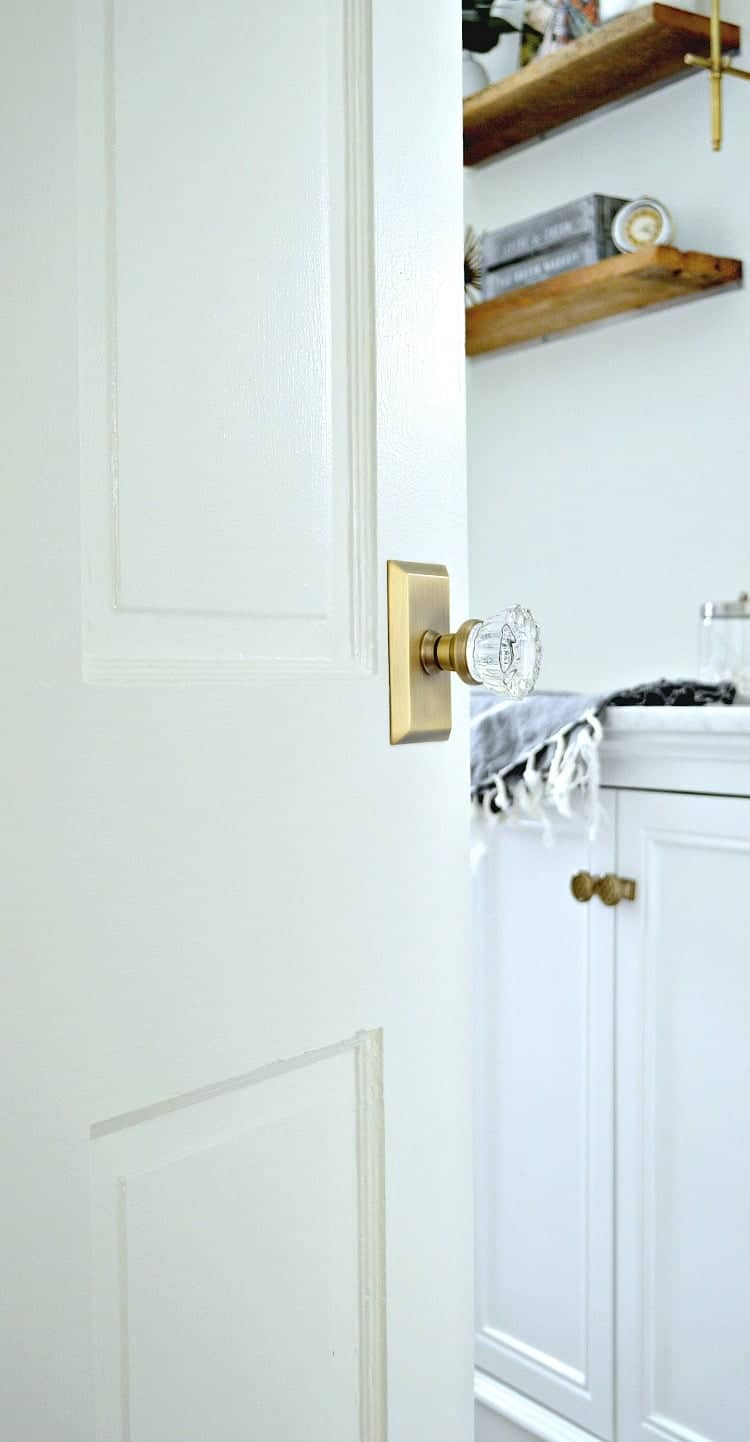 Thanks so much for stopping in. I hope you have a great weekend!