Tips for Moving In and Making a New House Feel Like Home
*As an Amazon Associate and member of other affiliate programs, I earn from qualifying purchases.
This is a sponsored post written by me on behalf of CORT for IZEA Worldwide. All opinions are 100% mine.
I've shared tips on getting your home ready to sell and helpful moving tips and tricks, but today is all about moving in and making a new house feel like home.
You've decided to make the big move, now what?
When you move into a new, or temporary home, you want everything to be as normal as possible, as quickly as possible. How do I know this? We've moved 11 times during our marriage so I have become somewhat of an expert at creating a cozy and livable space in a new home.
One of the first things I like to do, even before we make the physical move into our new home, is to make a list of things to do and prioritize things that need to get done immediately versus cosmetic updates that can wait.
Set up all of your utilities for the new house
When you have your own house, or apartment, there's a lot to consider.
Utilities are one of those big things that's totally necessary. Cable, internet, trash, recycling, water, electric and gas. It's definitely not the most fun part of moving but totally necessary to help you live comfortably in your new home.
I usually make a list with all of the names and phone numbers of the utilities for the new house and set that all up before move in day.
Rekey all exterior doors and locks
This is something that we learned pretty early on during our many moves. It makes sense really.
You'll usually get all the keys at closing but how do you know what's floating around out there. Rekeying your locks is a great option and much cheaper than buying new (especially if the door knobs you are inheriting are in decent shape).
So, be safe and save a little money. Who doesn't want to do that with all of the other big expenses that comes with moving.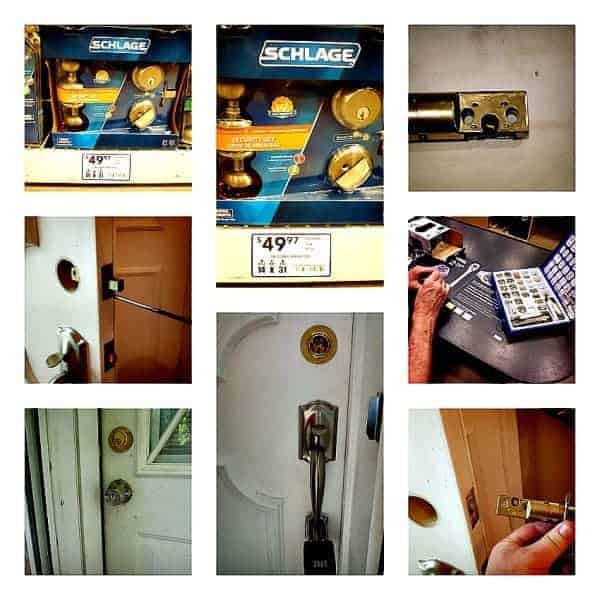 Install and inspect smoke and carbon monoxide detectors
This is a no-brainer but it's worth mentioning. You know that you should change the batteries once a year, but did you know that most smoke detectors only last 8-10 years?
When you move into a "new" house you never know how old the smoke or CO2 detectors are so it's best to get new ones and brand new batteries.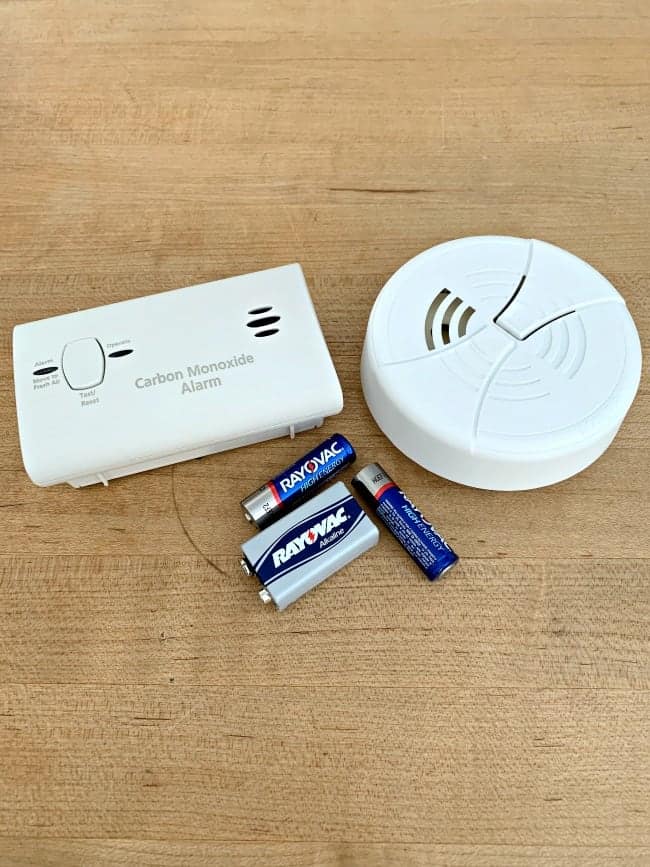 Give the kitchen (and bathrooms) a thorough cleaning
I don't know about you, but I've never moved into a house or apartment that had a spotless kitchen.
I always start with a good deep cleaning of the stove, fridge and all of the cabinets before we unpack our boxes. It's way easier to clean empty cabinets and an empty fridge than it is with stuff all inside.
I also do the same with the bathrooms. I clean the cabinets, sink and shower, hang a fresh, new shower curtain and install a new toilet seat. Don't forget to pack your towels in a clearly marked box so that you can get to them as soon as you move in. Trust me when I say that you'll really want a clean towel after you shower when you've had a long day of moving in.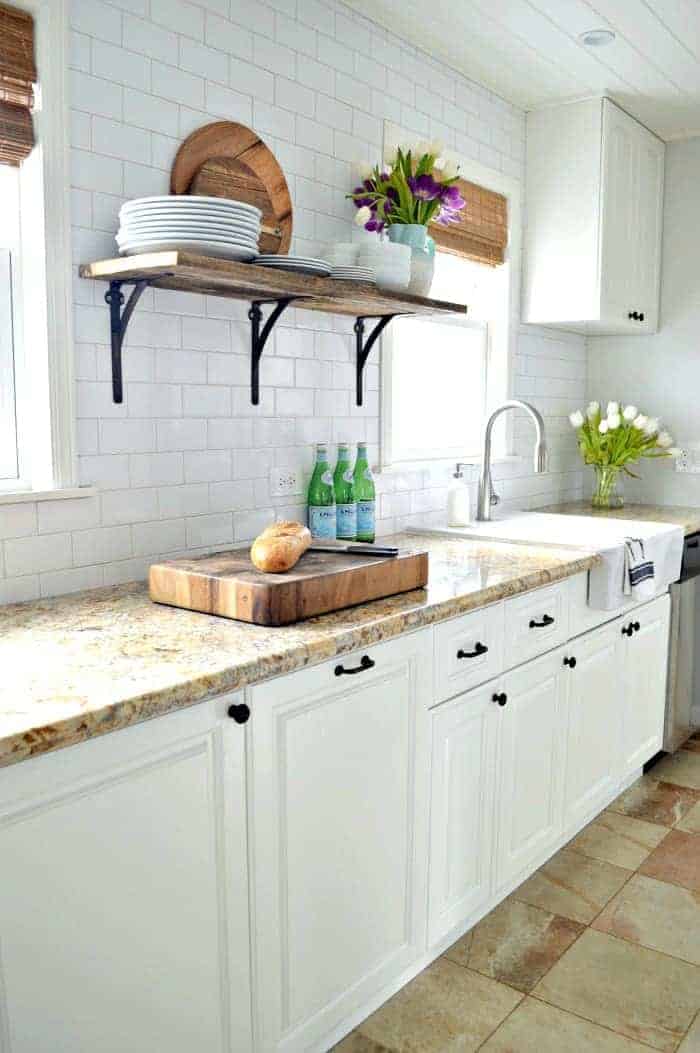 Renting (or buying) new furniture
Whether you are in your new house for the long haul, renting or in temporary housing, don't make major changes in your rooms until you've lived in them awhile. That means buying new furniture (have you seen the prices of new sofas?)
You don't need a house full of furniture when you move in but it is nice to be able to sit at a table to eat dinner or relax on a sofa after a long day of packing.
How about just renting furniture until you decide how you want to use a room? Yes, it's a thing and it makes setting up your new home so easy.
CORT has everything from beds, bedroom furniture and bedding, to dining rooms and living room furniture. They even have decor pieces and beautiful rugs.
All you have to do is go online, or visit a showroom, pick out the pieces you want, and they will deliver them to your home.
Talk about making a big move easier!
Make over just one room
With every move we've made over the years, one thing that is always a given is it that I feel overwhelmed with all there is to do.
We've always done all of our own work so it takes a while to get our house the way we want (sometimes years).
Knowing that this is a marathon and not a sprint, picking one room in your new house and giving it a quick makeover can make the transition easier.
I usually pick one that needs just a few cosmetic changes and try to get it all set up before we move in (I know that sometimes that's just not possible).
In our current house it was the master bedroom. We cleaned the room (that always helps), put up new window coverings, painted the walls and installed a ceiling fan. We also made sure to empty all of the moving boxes in the space. Of course there's more that I want to do with this room…eventually.
These little changes made a huge difference and every time we went to bed at night we felt at home, and less overwhelmed.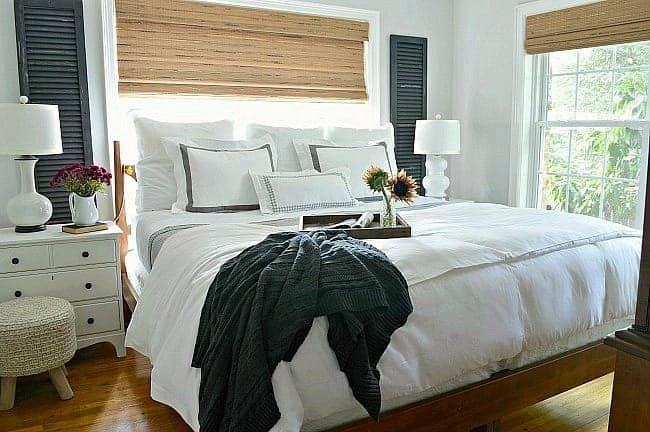 Just remember that it will take time to get your home where you really want it. Try to relax and enjoy your new space.
I'm not sure if we have any other moves in our future but I do know that it's a huge life change and being just a little bit prepared makes the change easier to deal with.
So…what are your must-do tips for moving in and making a new house feel like home?